Written by Allie Delos Santos
The growth of e-commerce has increased competition among retail brands. Standing out and holding onto customers in a highly competitive market requires excellent customer service. Shoppers are more likely to purchase from companies with good customer care.
This is where e-commerce customer service outsourcing comes in. When done well, outsourced e-commerce support brings many benefits.
Discover how to provide effective customer support with our tips for e-commerce outsourcing.
11 Tips for E-commerce Outsourcing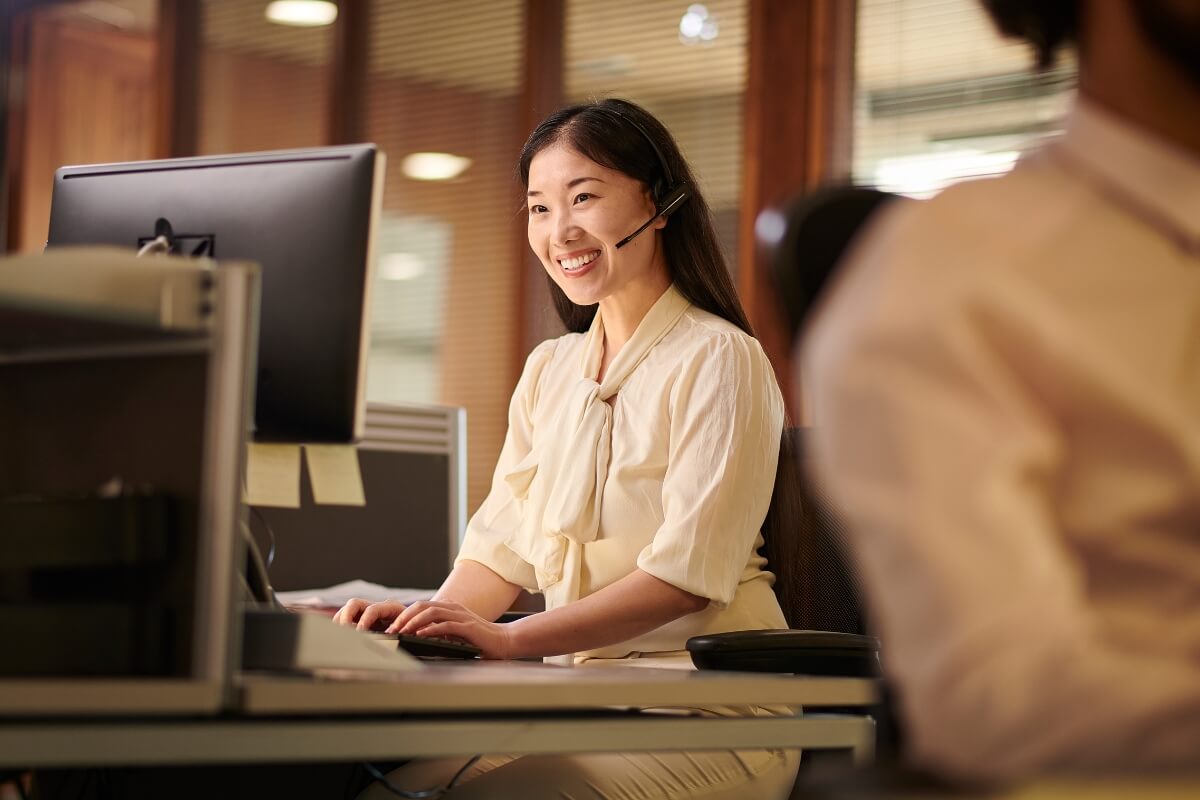 The e-commerce market is competitive; the good news is that customer experience levels the playing field. Research suggests that 93% of consumers will keep buying from brands with high-quality customer service.
Improving e-commerce customer service is a prime strategy to compete with the business giants in the online shopping sector. Consider outsourcing e-commerce if you have no idea how and where to begin.
Below are our 11 tips for e-commerce outsourcing.
1. Hire the Right Service Provider
The most important tip for e-commerce outsourcing is to find the right service provider. Your project's success depends on the BPO company you recruit to execute it. Finding the right team for the job leads to positive results; otherwise, outsourcing will become a nightmare.
Do not decide in a hurry, no matter how long or difficult the process is to find a reputable vendor. Exercise due diligence in finding the right team. Clearly outline the expertise, skills, and experience you want in a company, making it easier for you to find the right people.
2. Make Sure the BPO Provider Is Flexible
Flexibility in outsourcing customer support is the service provider's ability to adjust to changing environments. Clients have different expectations and being flexible means managing the intricacies of each shopper efficiently.
A flexible and adaptable service provider helps you adjust to changing customer demands and pivot as they evolve.
Our tip for choosing an e-commerce outsourcing vendor is to partner with one that improves all aspects of the support experience. These high-touch experts help you create long-lasting relationships with customers. Choose a vendor with multiple capabilities, from chat support to cloud phone systems and CS analytics, and knowledge of various integrations.
3. Check Whether There Are Lock-in Periods
Lock-in periods are major red flags for e-commerce brands. BPO providers with 30- or 60-day lock-in periods miss a crucial area of modern customer support—forecasting volume.
Being responsive to changing trends is vital. An e-commerce solution with lock-in periods is likely to be rigid in other critical aspects. Vet your BPO vendor thoroughly and ensure it keeps itself updated with the latest e-commerce customer care trends.
4. Know the BPO Company's Hiring and Training Processes
What is the business process outsourcing company's hiring process? How about its onboarding procedure? These are important questions to ask. Good customer care is crucial in the e-commerce sector because it gives a significant competitive advantage. A positive experience affects customer satisfaction and retention.
Between a standardized script or a customized and thoughtful interaction with a courteous agent, which gets a better customer service experience? The latter pleases your customer more and causes them to stick around if they have a pressing issue and call your customer service.
Effectively training customer service agents is crucial. Support agents keep buyers returning for more, persuading them to spread positive reviews and word-of-mouth referrals. 
Here are some ways you can better train employees:
Provide brand voice guidelines so that agents greet clients in a familiar way every time.

Provide staff training videos, frequently asked questions (FAQs), and other learning materials.

Specify phrases agents should avoid saying. Conduct simulations to see whether they apply this knowledge in hypothetical situations.

Cover a variety of scenarios, from customer issues to new client calls.
5. Monitor Customer Service
Another tip for e-commerce outsourcing is to assign an internal manager to oversee all communication with the BPO company. This individual is the liaison between you, your service provider, and your customers. The internal manager also monitors the current customer support process and addresses problems as they come up.      
6. Maintain Transparency and Open Communication
Maintain open, two-way communication with your BPO partner to strengthen your relationship. Proper communication helps you address ongoing problems, solve weak spots with additional training, and obtain insights that benefit your employees and customers.
For example, when you outsource data entry services, invest in tools that make communication with your contractor more efficient. Consider using Slack or other similar messaging and calling software. For more complicated matters, you can use project management software such as Asana or Trello.

7. Design Measurable Metrics To Monitor Quality
You cannot improve performance if you do not measure it. Creating actionable key performance indicators (KPIs) helps you design data-driven strategies to meet business objectives and boost revenue. Without proper metrics, you might make uninformed decisions that can put your business in harm's way.
You need not have a KPI for all aspects of the business. For instance, when outsourcing email support, you can just identify areas that affect your overall goals and focus on tracking and improving those metrics. If you do not have expertise in this area, seek help from e-commerce outsourcing providers that offer KPI implementation in their approach.
Key performance metrics and quality assurance help you monitor your support team. Here are some metrics to consider tracking when outsourcing customer service:
Conversion rate

is the percentage of e-commerce users purchasing from your platform. Understanding where you are in this metric helps you design and adjust strategies while reducing acquisition costs. Calculate your conversion rate by dividing your total website visitors by the cumulative number of sales transactions. Multiply the quotient by 100.
Conversion rate = (total no.of website visitors /
cumulative no.of sales transactions) x
100
Churn rate

measures how many customers you lose over a certain period. It lets you gauge your retention strategies and adjust customer support strategies. Get the number of clients you have lost over a period and divide it by the total number of shoppers at the beginning of that period. Multiply the quotient by 100.
Churn rate = (total no.of lost clients
/ total no.of clients)  x
100
Customer lifetime value

(CLV) is the amount of money a client spends on your brand over the period they do business with you. Keeping existing customers is cheaper than getting new ones; hence, you need to track CLV. Find CLV by multiplying the average purchase value by the average customer lifespan.
Customer lifetime value = average customer value x 
average customer lifespan
Return customer rate

indicates the percentage of clients who repeatedly purchase from your business. This score is the total number of repeat buyers divided by the overall number of completed sales transactions multiplied by 100. You are in a good position if you get a 20% to 30% return customer rate. 
Return customer rate = (
total no.of repeat shoppers /
cumulative no.of sales) x
100
Net promoter score = % of promoters  – % of detractors 
Average handle time

(AHT) pertains to the time customers spend on a call. Find this value by adding the time customers spend talking, being put on hold, and receiving follow-ups from agents. Divide the sum by the cumulative number of calls made and received. 
AHT = (
talk time + hold time + follow-up time) / 
total no.of calls
First call resolution

(FCR) assesses your team's ability to resolve customer issues on the first contact. Calculate this metric by dividing the overall number of tickets closed on the initial contact by the total number of cases. Multiply the quotation by 100 to get the percentage.
FCR = (total no.of resolved cases on first contact /
total no.of cases) x 
100
Customer satisfaction score

(CSAT) evaluates shoppers' level of satisfaction with your customer service process. To calculate this score, take the sum of all responses with a rating of 4 or 5, and then divide that by the total number of responses. Multiply the quotient by 100 to get the percentage. 
CSAT = (total no.of 4 and 5 ratings /
total no.of response) x
100
These metrics offer valuable insights to boost client satisfaction and improve customer care efficiency.
8. Delegate Tasks and Trust Your Provider
Wanting to do everything yourself is understandable, but sometimes you must let go of tasks. Delegation is crucial when your company starts to grow. Keeping all functions in-house wastes money and time and can lead to poor results.
Releasing control and letting others do the work might be difficult if you are a business person who wears many hats. Remember to focus on what you do best—your core competencies. Outsource the rest to free up your attention and time.
Trusting the service provider you choose is important when outsourcing e-commerce customer service. Find a reputable and trusted service provider to help you.
9. Prepare for Each Possibility
Even if you trust your service provider, you should still ensure everything is up to standard. Document and save important emails, related papers, contracts, phone calls, or videos.
A comprehensive description of responsibilities is also important to guarantee effectiveness. Make sure to keep your partner updated on every step of the outsourcing process so that you can quickly find a solution if something goes wrong.
10. Be Strategic
You should know your organization's strengths and weaknesses and outsource e-commerce support strategically. Do not be emotional and randomly choose functions to outsource.
For example, with inventory management outsourcing, crunch the numbers and compare them to the numbers if you do it in-house, to ensure you make the right decision. Make sure that the results from outsourcing are better than doing it in-house.
11. Provide Omnichannel Support
Thanks to technology, customers have more than one way to reach your brand. Being accessible through multiple communication channels is not enough. Our tip for outsourcing customer service is to deliver an omnichannel experience, which BPO providers are experts in.
Omnichannel customer support facilitates seamless interaction between agents and clients, regardless of the channel. This process needs a tool that integrates with various platforms and enables data sharing among agents.
The Bottom Line
Be strategic when you outsource and prepare for every possible problem. Choose the right e-commerce partner and consider the vendor's flexibility and technical expertise before committing. Once you find a provider that works for you, maintain open communication and track quality with relevant KPIs to propel your business to success.  
Competition in the e-commerce industry is high. Unity Communications is here to help you rise above market standards. By partnering with us, you can equip your company with the technology, process, and resources to compete with e-commerce giants.
Reach out to Unity Communications now to learn more about the benefits of our outsourcing solutions.