Written by Joyce Ann Danieles
Because technology changes so rapidly, telecommunications companies must upgrade their offerings constantly. They must meet changing connectivity requirements to survive the competition. They also need to address the growing amount of customer inquiries quickly. 
However, inadequate resources often hinder telecom operators from improving products and customer service. Hiring third-party providers can help ease telecom user support backlogs. This strategy also aids in enhancing core offerings. This is a form of business process outsourcing. 
But what is business process outsourcing (BPO) in the telecom industry?  How do telecom companies benefit from customer support outsourcing?  And what are the steps to take when selecting a provider? 
Read on to get an overview of telecom outsourcing focused on customer support.
What Is Telecom Customer Support Outsourcing?
Telecom customer support outsourcing is contracting a third-party service provider to address concerns from network users. 
Common customer problems requiring immediate resolutions include:
Internet service loss

Network misconfigurations

Poor mobile service signal

Network incompatibility

Slow wireless connection 

Network error

Incorrect service charges

Missing data

Locked or blocked accounts

Broadband hacking
Similar to e-commerce customer service outsourcing, telecom customer support agents respond to user complaints via phone calls, live chat, or email. Consumers can also seek help using self-service options such as chatbots, interactive voice response (IVR) systems, online manuals, and frequently asked questions (FAQs).
Eight Advantages of Outsourcing Telecom Customer Service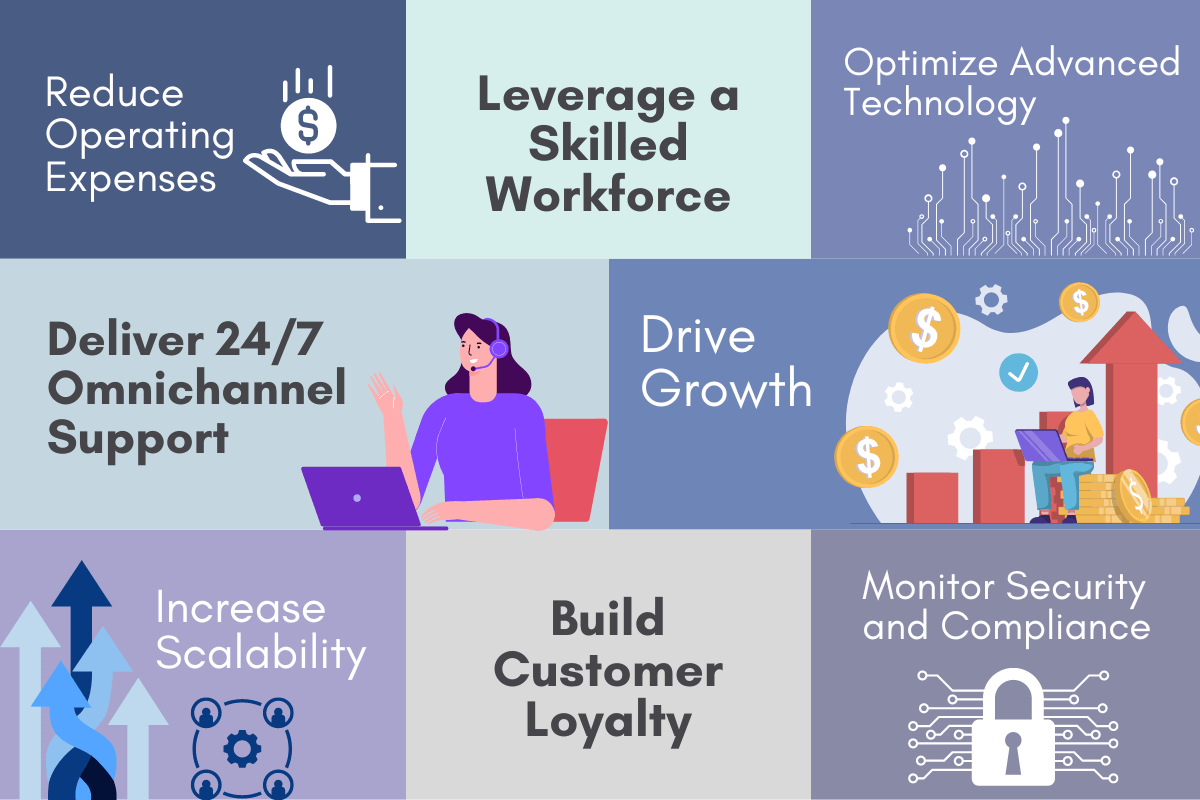 According to a report published by MarketWatch, the global telecom outsourcing market reached $18.6 billion in 2020. That market is projected to be worth $25.6 billion from 2022 through 2028, registering a 3.25% compound annual growth rate (CAGR) during the forecast period. 
Data shows that many companies continue adopting telecom outsourcing primarily for customer support. Accelerated customer response, increased customer satisfaction, and streamlined operations drive such growth. 
Below are the benefits of employing a BPO provider and an explanation of how outsourcing customer support helps telecom companies grow.
1. Reduce Operating Expenses
Providing excellent customer service requires recruiting and training agents. Telecom businesses must purchase modern software and hardware to accommodate this non-core task. They also have to pay for compensation, system maintenance, office space, and other miscellaneous expenses.
When a telecom company outsources customer support, they help reduce operating expenses by getting a full team and infrastructure at a reasonable cost. BPO providers employ well-trained and skilled agents to address customer concerns efficiently. They also have advanced tools and infrastructure to complete such time-consuming work quickly.
So when a telecom company outsources its customer support, it doesn't need to create an in-house team or invest extra dollars in technology. It can maximize its resources by paying its BPO provider a monthly fixed cost. It can also choose to pay only for its services without signing a long-term contract.
2. Leverage a Skilled Workforce
Despite being considered a non-revenue generating function, customer service still plays a crucial role in driving business and market expansion. Loyal customers would not exist without a superb customer experience. As Zendesk warned in an article, 61% of 3,500 consumers would switch to a company's competitor following a bad customer experience. 
But hiring a highly trained workforce costs telecom operators. Bringing in full-time skilled agents requires high-value compensation and benefits. Agents also need enough time to receive training and certifications, taking time away from a company's focus on its core functions.
Telecom outsourcing for customer support helps close these gaps. As mentioned, third-party service providers already have skilled agents to deliver a positive customer experience. They also ensure that their workers receive proper compensation and training to accomplish their tasks effectively.
3. Optimize Advanced Technology
BPO companies, such as those focused on inventory management outsourcing as well as customer support outsourcing, regularly adopt emerging technologies to accelerate work. They use artificial intelligence (AI), robotic process automation (RPA), and cloud computing to streamline workloads. They also use social media management tools and electronic systems for immediate customer outreach.
Furthermore, contractors rapidly monitor consumer feedback via knowledge base systems and analytical tools. Data collected data these tools and systems help identify business areas that need improvement.
BPO providers can provide telecom enterprises with these optimized platforms when they undertake customer support work. They can achieve customer satisfaction for the enterprises while the enterprises focus more on their main products and services.
4. Deliver 24/7 Omnichannel Support
Telecom outsourcing offers omnichannel customer support. BPO providers train their agents to handle customer inquiries through multiple communication channels—phone calls, email, live chat, social media, and self-service platforms. BPO workers can adapt to how customers want to relay their concerns.
Businesses can also ensure round-the-clock customer service when outsourcing email support, call center services, and other contact systems. Contractors implement a shift work schedule to ensure that their employees can accomplish tasks smoothly at all times of day or night.
5. Drive Growth
When delegating customer service to third-party providers, carriers can focus on their core functions. Contractors deliver an unparalleled customer experience with their highly trained workforce and modern technology. Telecom companies, therefore, don't have to worry about not meeting consumer expectations.
They also have enough time to scale up their business. BPO-collected ratings and reviews help improve telecom products and services based on what customers say they want and need. With a BPO collecting this data and sharing it, telecom companies know exactly which arenas to push forward and to increase profitability.
6. Increase Scalability
Telecom businesses can be more scalable when they choose to outsource customer support. BPO contractors can speed up task accomplishment with their advanced solutions. Their agents are also well-versed in getting the job, project, or customer support experience done, especially during peak season. 
Because they interact primarily with consumers, vendors understand nuances and changes in customer needs. They adjust their operations and work strategies to meet consumer demands.
7. Build Customer Loyalty
Good customer service helps establish consumer loyalty. Based on the latest Salesforce data, 71% of 12,000 surveyed consumers said the quality of customer service influenced their buying decisions. This means that telecom companies should seek to outsource customer service to assure superior service and greater customer loyalty. 
The 24/7 omnichannel support capability enables contractor agents to address customer inquiries immediately. This approach prevents long wait times for consumers, making them feel satisfied with the support they get. A community of loyal customers contributes to telecom operators' strong market reputation.
8. Monitor Security and Compliance
Third-party service providers follow strict policies to strengthen their system security. They ensure transparent data privacy so that consumers won't hesitate to share their information when transacting. They also use sophisticated antivirus software, multifactor authentication, and encryption to protect data.
Because of BPO providers' extensive safety and security measures, telecom operators can entrust them with their enterprise and customer data. For instance, companies can rest assured that their critical information is safe with their outsourcing partners if they choose to outsource data entry services.
In addition, contractors adhere to industry, national, and international compliance rules. They also perform regular audits to improve compliance strategies. These measures can help companies avoid the high cost of violation fees and sanctions.
Tips for Outsourcing Telecom Customer Support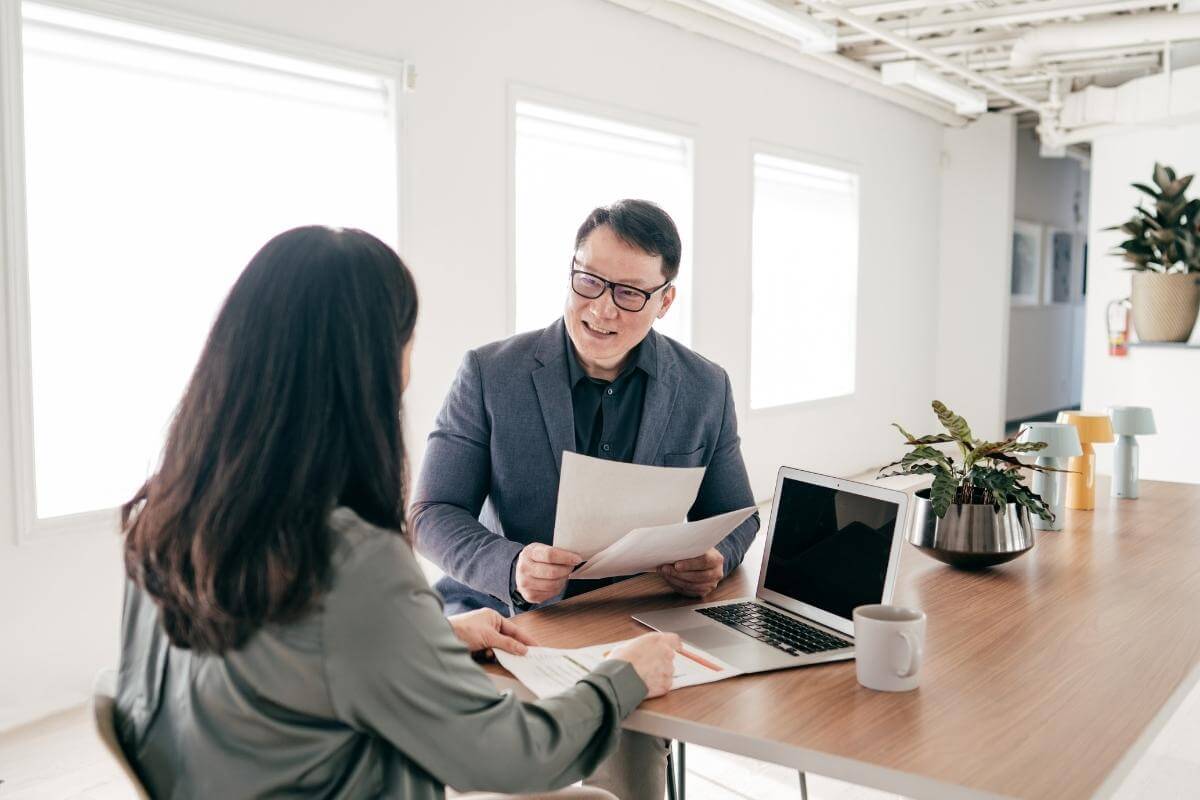 The advantages noted above of outsourcing telecom customer support allow companies to recognize how helpful BPO providers are in their business. If you're one of the telecom operators aiming to benefit from BPO, follow these tips for outsourcing customer service.
Identify Challenges and Goals.

Determine in-house issues affecting your core business functions and offerings. Also, set clear goals on how you want to resolve these gaps with outsourcing. These steps will help align BPO investments with your operational budget.
Seek Bids.

Post a proposal request to identify which third-party service providers can best fulfill your needs. Pick at least three bidders to compare service quality and pricing. Then narrow down your selection to one vendor that offers the most outstanding customer service at reasonable costs.
Check Vendor Qualifications.

Research your potential provider's market reputation, services, pricing, work ethics, and culture. Examine how well it accomplishes tasks with a set turnaround time. Seek referrals from current and former clients to add weight to your assessment.
Analyze Costs.

Conduct a cost analysis once you receive a service billing proposal from your selected BPO provider. Carefully match this potential outsourcing investment with your operational budget. Study whether you can get returns and positive outcomes from outsourcing.
Finalize Contract Terms.

Host a meeting with your potential outsourcing partner to finalize contract terms. Make sure both of you fully agree to the work arrangement before signing a contract. This action helps avoid misunderstandings and conflicts in the future.
Establish Provider Management Strategies.

Create a concrete action plan for managing your provider. The oversight strategy helps monitor your provider's performance and contribution to your business. This plan can also guarantee a long-term service agreement.
The Bottom Line
As technology advances, telecom companies must rapidly modernize their products and services to keep pace with the competition. But they also need to respond to customer concerns quickly. Insufficient resources impede them from completing these processes simultaneously.
BPO providers offer a practical solution to address these challenges. They have skilled personnel, use upgraded infrastructure, and provide omnichannel support to handle customer inquiries fast. They also implement stringent security and compliance measures to deliver an exceptional customer experience.
Telecom business owners can then focus on their primary capabilities. They also have sufficient opportunities to enhance their offerings. And to achieve continued growth, they just have to follow specific steps for selecting the right outsourcing partner.