Written by Allie Delos Santos
Today's consumers want access to support at their convenience. As your company and customer base expands, you must provide more assistance.
IT support is a crucial part of any business. However, in-house assistance tends to be too expensive and hard to manage. So, many businesses turn to outsourcing.
This article provides a closer look at what outsourced technical support services involve. It also discusses the tech support functions you can outsource and the benefits.
What Are IT and Technical Support?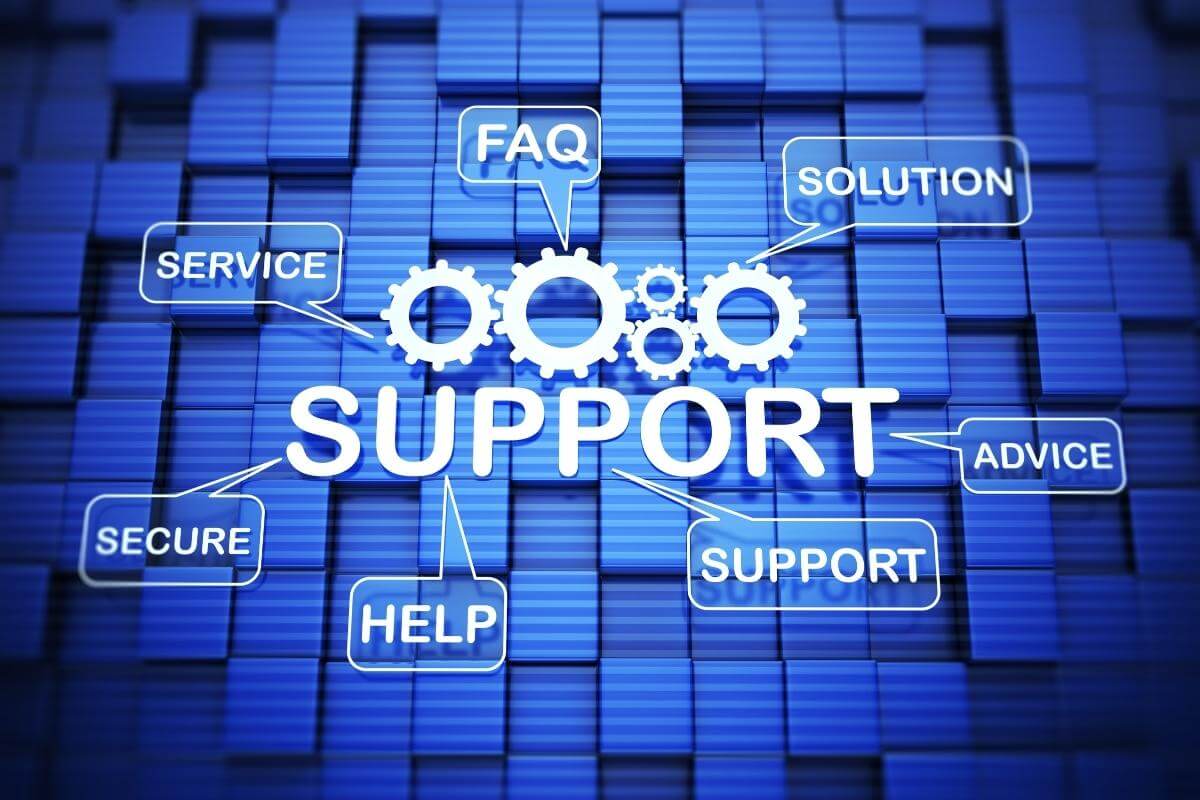 IT and technical support services cover products such as mobile devices, printers, other electronic tools, and software. IT support services assist users in troubleshooting rather than providing training in using a product.
Contact agents provide tech support services via phone, chat, and email. Support can also be provided using special software extensions that clients can use to initiate an interaction. IT support agents must be familiar with the ins and outs of the product for which they offer assistance.
Should a problem require a more complex solution, agents escalate it to the development team. They log the ticket as a bug to address on the next product iteration or in a future update.
Tech support services include:
 

Managed Services.

Large-scale clients, rather than individual customers, often receive managed service, which covers performance indicators and well-defined solutions for fixed rates. Meanwhile, tech support covers

outsourced data entry services

, help desk support, and server monitoring. Managed services can be on-site when remote solutions are not possible.
Time and Material.

Time and material or break-fix services are common in the tech industry. Such services involve paying for materials and service charges based on the provider's hourly rate or pre-negotiated price.
Block Hours.

In this prepaid support service, clients pay for how much time they can use monthly or yearly. This setup enables customers to use time flexibly without the burden of multiple bills and paperwork.
How Outsourcing Tech Support Works
Tech support is one of the most outsourced functions for small businesses. Companies used to consider it simply as a tactical solution. But outsourcing evolved into a cost-effective strategy, delivering consistent and convenient support and streamlining IT departments.
Technical support outsourcing includes help desk support, remote monitoring, diagnostics, and more. Companies might also outsource data entry for all tickets recorded.
Most tech support agents work remotely. So, companies can outsource IT through nearshoring, onshoring, or offshoring.
Offshore solutions move the function to countries that are overseas. Many businesses prefer this option for IT support services due to lower labor costs.
Tech Support Roles You Can Outsource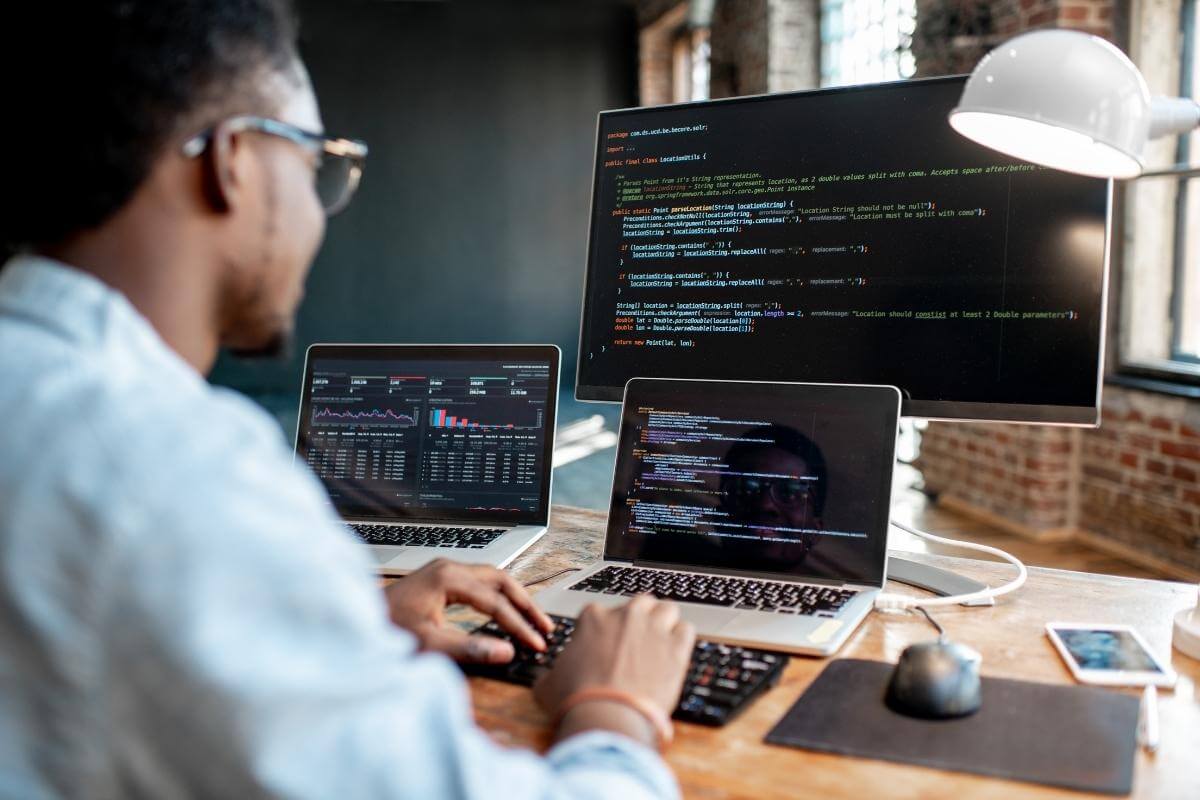 Tech support agents help manage, maintain, and troubleshoot IT systems. The role involves identifying hardware and software issues and solving issues in person or over the phone. 
Tech support functions you can outsource include:
Configuration and installation of a computer's operating system, hardware, and applications

Monitoring and maintenance of computer systems and networks

Logging and encoding tickets of clients and employees

Analyzing call logs to identify underlying issues or trends

Diagnosing and solving software and hardware errors

Testing and evaluating new devices or technology

Conducting electrical safety checks on the organization's computer devices

 

Answering calls and questions promptly

Following instructions, either in diagram or written format, to fix an issue or set up a system
You can also provide after-sales tech support and outsource this service to a reliable provider. Back-office outsourcing companies specialize in delivering IT maintenance and support. They can streamline workflows and improve your productivity for a fraction of the cost you might pay for in-house support.
Six Benefits of Outsourcing Technical Support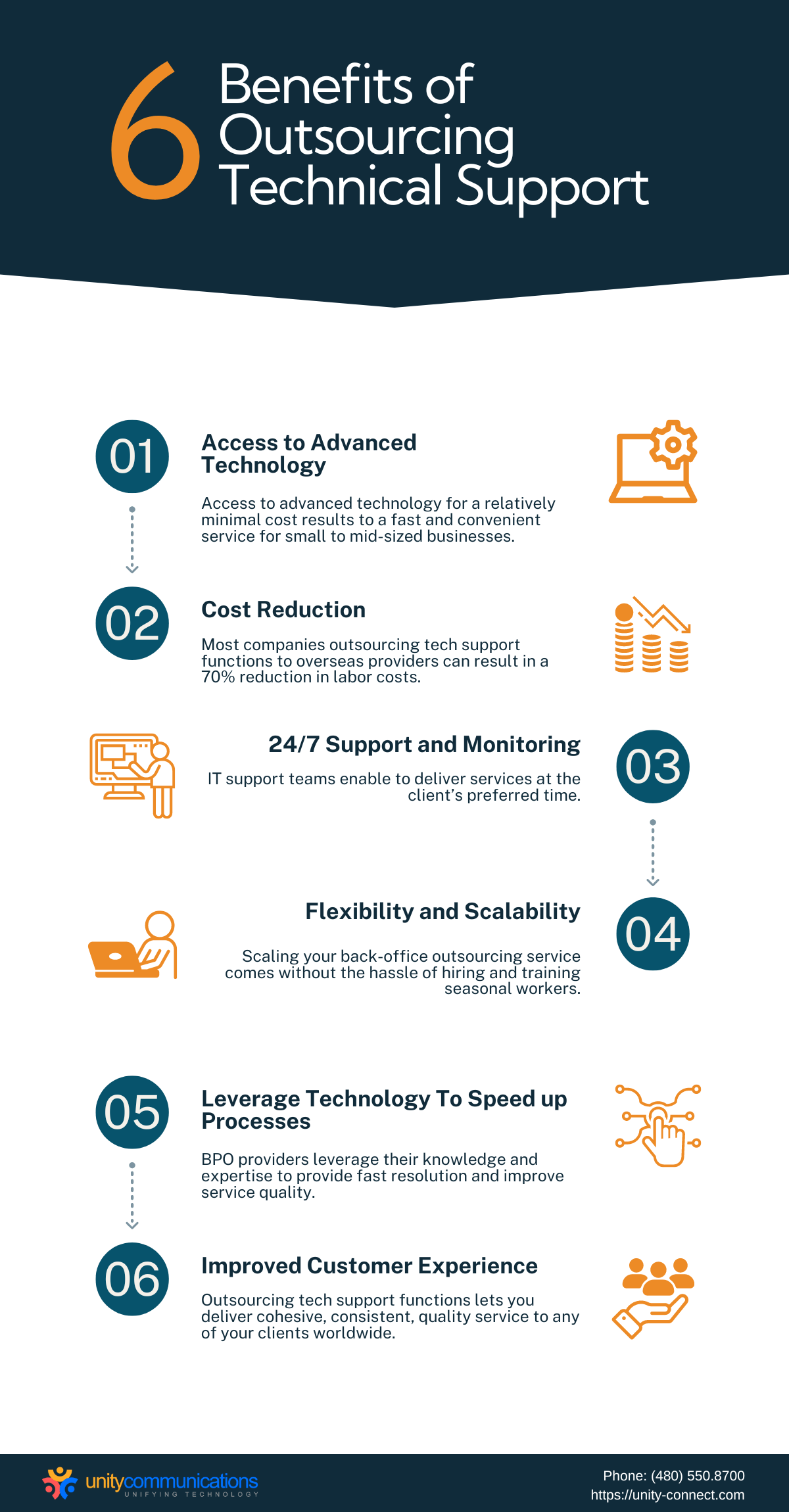 Now that you know what an outsourced IT provider is and its roles, here's how companies benefit from outsourcing technical support. 
1. Access to Advanced Technology
Large businesses might have a comprehensive and well-established IT support department. However, small to medium-sized (SMEs) companies often lack such resources. Many SMEs can afford to buy only a few computers and telephones to answer client calls and emails.
Companies that outsource tech support enjoy comprehensive solutions. Reputable BPO service providers provide access to advanced technology for a relatively minimal cost. The result is a fast and convenient service for small to mid-sized businesses.
2. Cost Reduction
Most companies outsource tech support functions to overseas providers. Such outsourcing can result in a 70% reduction in labor costs.
Moreover, the BPO service provider handles scouting, hiring, training, and employee retention. Clients, therefore, save money they might otherwise have used for an in-house team to perform these tasks. More importantly, they can also rest assured that they receive services from a skilled tech support team. 
3. 24/7 Support and Monitoring
The internet made it easy for clients to access your products anywhere in the world, anytime they want. However, customers also need immediate and round-the-clock access to tech support agents.
Most in-house IT support teams cover only one shift a day. Conversely, outsourced solutions work on rotating schedules. Their shift enables them to deliver services at the client's preferred time. Companies can leverage professional tech support agents minus the hefty expense and lag time of in-house IT solutions.
4. Flexibility and Scalability
As your company grows, you need a larger pool of professional tech support. But you might not have the time or budget to scale your tech support department to accommodate high ticket and request volume.
Outsourcing gives you access to large talent pools. Moreover, you can increase or reduce your IT support department depending on seasonal demand. Scaling your back-office outsourcing service comes without the hassle of hiring and training seasonal workers.
5. Leverage Technology To Speed up Processes
Tech support is likely not your primary focus. Hence, investing in the latest resources won't be a top priority. Moreover, you might not want to waste time training IT staff about new releases and updates.
Outsourcing helps you with this dilemma. BPO providers focus on various services, including tech support. They are well-equipped and well-informed so that they can handle tickets more efficiently.
You can leverage their knowledge and expertise to provide fast resolution and improve service quality.
6. Improved Customer Experience
Outsourcing tech support functions lets you deliver cohesive, consistent, quality service to any of your clients worldwide. Your clients can enjoy easy and hassle-free access to contact center agents without waiting in the queue.
Additionally, external agents undergo training and have experience in solving tech problems. They can offer effective solutions more quickly and efficiently.
The Bottom Line
Companies of all sizes outsource for cost savings and strategic technology solutions. Companies that outsource tech support can hire reliable BPO providers to manage the function on their behalf.
Access to round-the-clock support and low-cost service allows a consistent and top-notch customer experience, not to mention increased client satisfaction and an improved bottom line. Moreover, companies can reallocate resources to core operations for a competitive advantage.