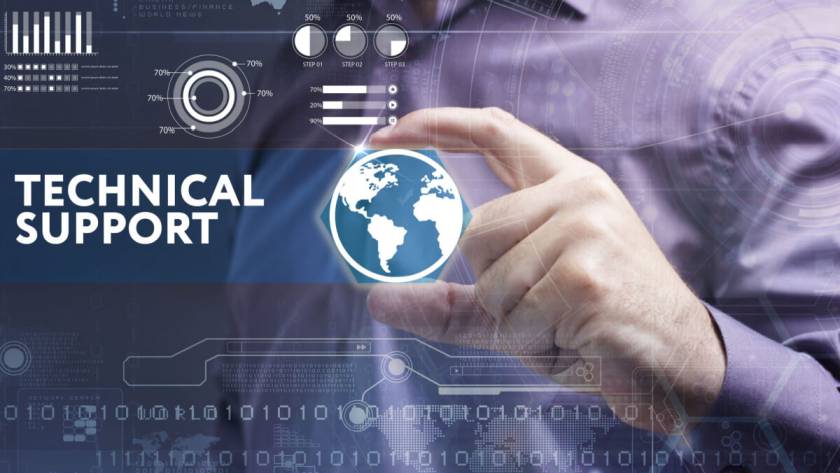 Written by Joyce Ann Danieles
Today, advanced technologies redefine how companies deliver technology products and services. Although these solutions accelerate productivity, they can also slow progress due to frequent system updates and errors. Businesses need considerable money and time to address such capabilities and gaps.
However, businesses with limited resources cannot afford these solutions. Setting up an in-house team to handle startup tech support requires extensive time and money. These factors hinder them from focusing on their primary offerings.
If you're just breaking into an industry, consider hiring outsourced technical support to resolve burdens like these. This article will detail everything you must know before hiring a contractor.
What Is Technical Support Outsourcing?

Entrusting a range of IT services to a company you hire defines technical support outsourcing. Skilled third-party agents respond to various customer inquiries regarding hardware and software issues. They address complaints about defects on electronic devices or misconfigurations on software-as-a-service offerings.
Third-party IT specialists usually provide tech support via phone calls, live chat, and email. With the rise of social media and automation platforms, rapid 24/7 tech support has become possible. Contractors can also provide on-site assistance if technical problems dictate.
Outsourcing tech support helps businesses achieve customer satisfaction and success at an affordable cost. And outsourcing can help enterprises facing resource constraints, such as startups, improve their operational efficiency without spending extra dollars.
Because of such benefits, Technavio reports, the global tech support outsourcing market value will likely reach almost $14 billion by 2026 at a 7.47% compound annual growth rate (CAGR). The research firm attributed the potential surge to consumers' demand for fast and convenient services during the Covid-19 pandemic. Companies' increasing need for cost-effective solutions also drives the market growth. 
Types of Outsourced Tech Support for Startups
Startups planning to adopt front-office or back-office outsourcing must know the different services they can delegate to a third-party service provider or a business process outsourcing (BPO) company. This step will help them better align outsourcing investments with their operational needs. They can fully or partially outsource the following IT services to enhance productivity.
Help desk support.

Handle basic IT issues and inquiries from customers.
Desktop support.

Remotely access mobile phones, computers, tablets, laptops, and other electronic devices to resolve issues.  
Data entry and management.

Encode and organize big data through virtual platforms.

 
Account creation and recovery.

Facilitate account creation for new users and recover hacked or blocked accounts.
Troubleshooting.

Identify and fix errors in various systems.
Telecommunications.

Monitor network systems and address related issues.
Cloud services.

Simplify resource accessibility, retrieval, and management via the internet.
Security monitoring.

Detect and resolve system vulnerabilities and cyber threats.
Repair and maintenance.

Preserve and restore components from damage. 

 
Application/software management.

Deploy and manage mobile apps and computer software.
Installation and configuration.

Help install and configure both software and hardware.
Data analysis.

Collect and study data relevant to business growth.
Why Should Startups Outsource Tech Support?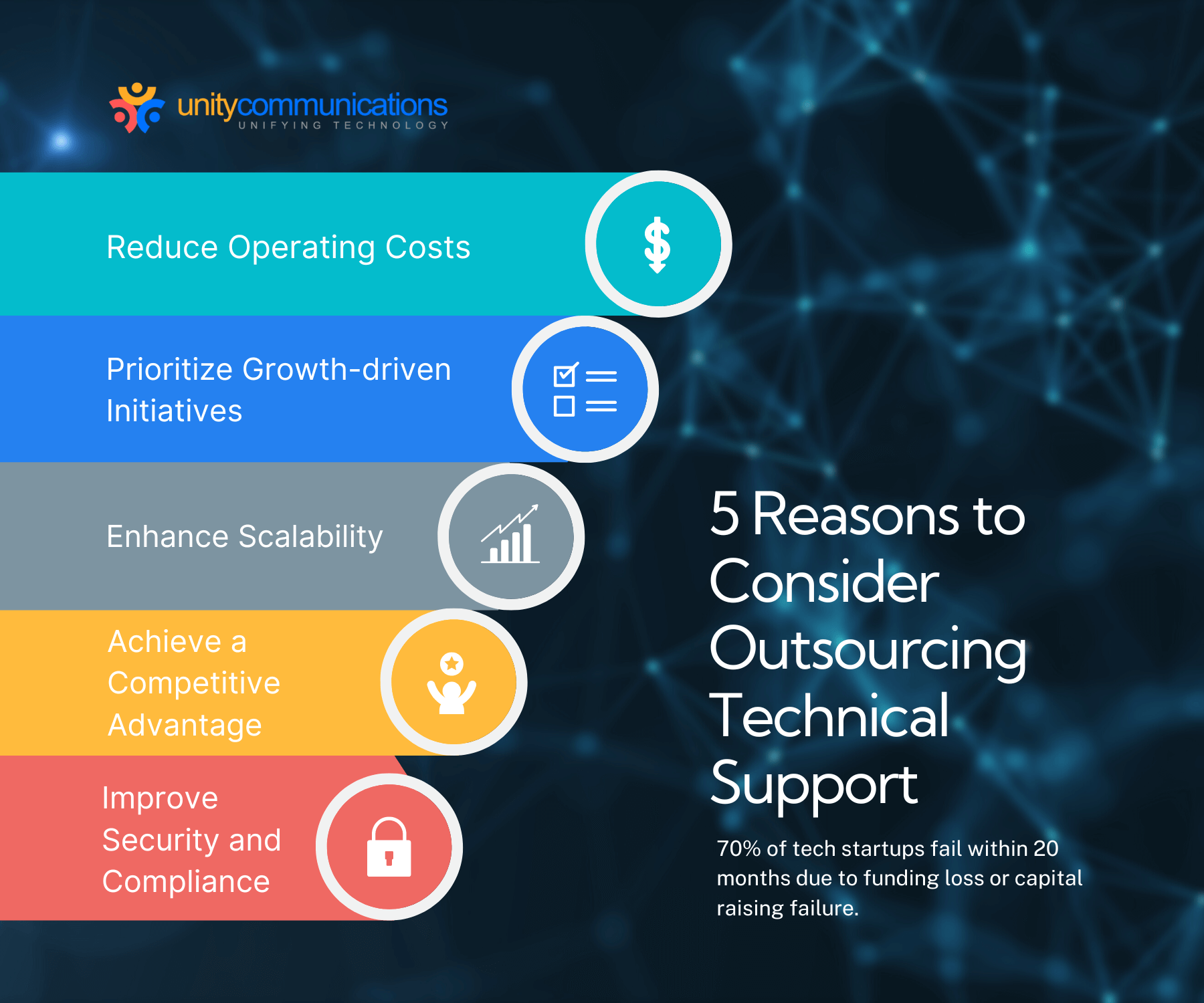 Insufficient funds, small labor size, and other resource constraints prevent startups from expanding. These factors also hinder them in the highly competitive tech industry. 
According to the latest research from CB Insights, 70% of tech startups fail. That is usually 20 months after their initial fundraising round. The market intelligence company cited funding loss or capital raising failure as the top reason startups collapse. 
An in-house tech support team might not be ideal for recently established businesses. It requires substantial money to recruit skilled workers, buy advanced systems, and acquire office space. Because tech support is considered a non-core task, it can impede these enterprises from working on their primary initiatives.
Outsourcing provides a cost-efficient solution to boost tech support for startups while prioritizing their core offerings. Below are the reasons outsourcing is a recommended growth strategy for startups.
1. Reduce Operating Costs
When using front-office and back-office outsourcing services, startups don't have to allot more money to labor and infrastructure. Contractors handle recruitment, training, upskilling, and compensation. Their affordable service packages also include advanced technology.
Startups can thus use their savings to reinvest in their revenue-generating programs. By doing so, their customers can receive products and services that satisfy their needs best. After all, personalized offerings result in customer satisfaction and business success. 
2. Prioritize Growth-driven Initiatives
Outsourced tech support for startups encourages an increased focus on core capabilities and business development programs. BPO companies specialize in managing repetitive IT tasks efficiently and quickly. With their well-trained staff and modern infrastructure, they can provide streamlined customer support 24/7.
This advantage enables startups to improve productivity without spending extra dollars. Because their routine tasks are in good hands, they can prioritize product development, network expansion, and fundraising efforts to ensure continued growth. 
3. Enhance Scalability
The early stages of expanding a new business are unpredictable. Employing permanent workers during this period marks a significant financial commitment. If these employees handle only non-core tasks, startups might encounter unsustainable payroll costs. 
Outsourcing tech support for startups provides a pay-as-you-go option that can help increase productivity without increasing fixed costs. For example, vendors offer a flexible contract that temporarily enables startups to expand their workforce during peak season. This capability also allows new businesses to set their own pace for growth while achieving cost efficiency. 
4.  Achieve a Competitive Advantage
Service providers empower startups to thrive in fast-paced competition without investing huge capital. Outsourcing helps these newly established enterprises access skilled professionals and advanced systems enjoyed by larger companies. These resources enable startups to provide the same level of tech support other businesses offer.
Moreover, startups gain more time to work on their core competencies. They can also enhance their products and services based on the latest market trends and changing customer preferences. These capabilities give them a better chance to outdo competitors.
5. Improve Security and Compliance
Like larger enterprises, though suffering from smaller budgets, startups must adhere to strict security and compliance requirements to avoid the high costs of addressing cyber incidents and potentially being financially penalized. 
When startups outsource data entry and other tech support services, they can improve their security and compliance processes. Contractors maintain client trust by implementing rigorous measures to strengthen systems and data protection. They also perform frequent audits to ensure compliance. And startups don't have to break the bank to pay for this. 
Five Steps in Outsourcing Tech Support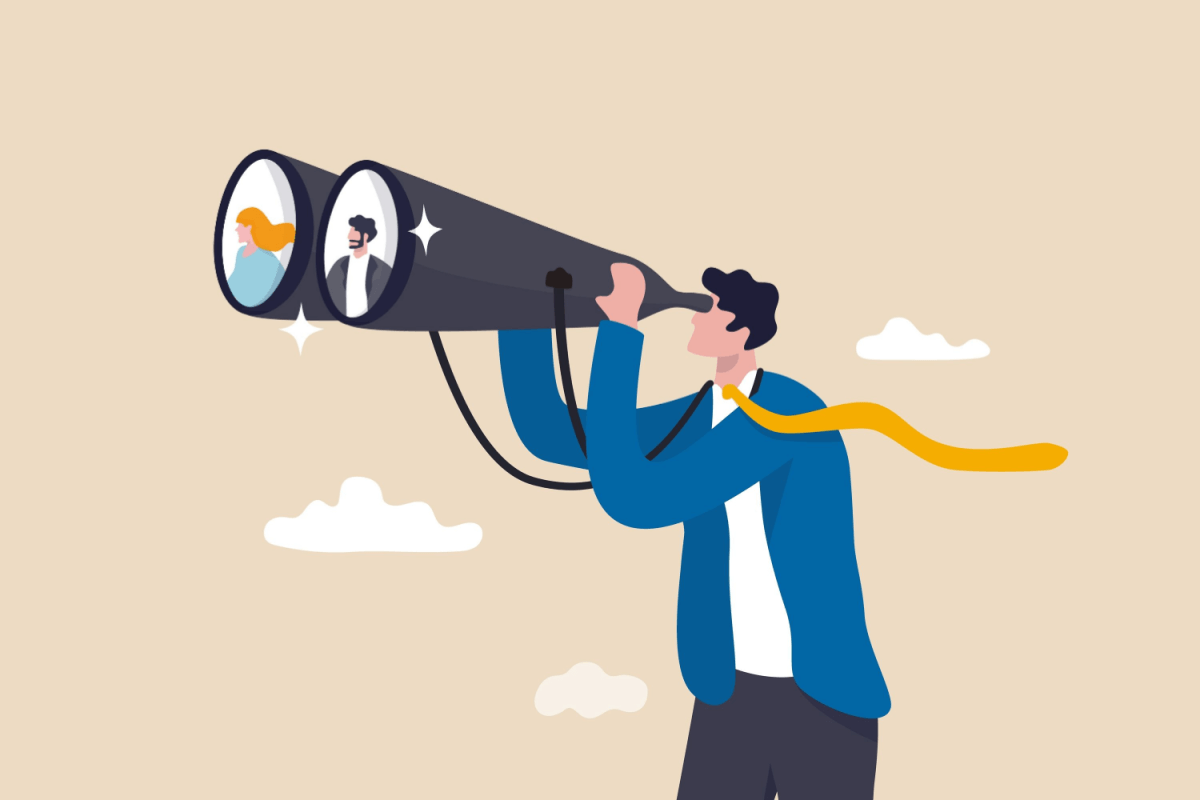 Before reaping the advantages discussed above, startups must know how to outsource their tech support properly. As one of these newly established businesses, you need a concrete plan to better align your operational needs and budget allocations. The following steps will help you guarantee returns on your outsourcing investments.
1. Set Scope and Limitations
Identify business needs and challenges you want to address with a third-party service provider. Whether you plan to outsource data entry services or help desk support, you must specify the extent and timeline of the support you want. This step will help you achieve measurable goals and outcomes. 
2. Seek Potential Contractors
Launch market research or a proposal call to find the right tech support provider. You can directly pick a single contractor or screen a set of vendors that meet your needs. The right outsourcing partner should:
Have a strong market reputation with excellent service history

Be an expert in the technical field

Be cost-efficient

Be transparent and open for seamless data sharing

Employ a skilled workforce

Use modern technology and infrastructure 

Emphasize high-quality tech support

Be scalable and flexible

Value stable communication and cooperation

Follow project turnaround time

Offer rapid, round-the-clock support

Hold a high trust rating

Understand startup needs

Be aware of current market trends
To further know what an outsourced IT provider is, ask for relevant details and referrals from your potential provider's previous or existing clients. You can also interview your potential provider.
3. Develop an Outsourcing Budget Plan
Carefully plan your financial arrangement when outsourcing tech support. Ensure your budget for this non-core task won't affect your overall funds for primary efforts. Conduct a cost analysis to have an overview of how much savings you will generate from hiring a service provider.
Follow these tips in computing your outsourced tech support expenses.
Identify the tech service you should outsource

Total the in-house costs you can free up with outsourcing

Sum up outsourcing expenses

Subtract outsourcing costs from in-house costs

Pursue tech support outsourcing after identifying potential cost savings
4. Finalize Contract Terms
Schedule a meeting with your selected provider to finalize service agreement terms. Match each other's work strategies, policies, and resource allocations. Don't forget to discuss billing details and communication channels.
Make sure you have point persons for this partnership to keep everything organized. You can also avoid misunderstandings and conflicts in the future. Close the deal with a simple contract signing ceremony.
5. Implement an Outsourcing Management Strategy
After formalizing a service agreement, execute a strategy to manage your outsourcing partner. The following steps will ensure the provider delivers superb tech support for your customers.
Revisit contract terms to identify and address issues

Sort out outsourced tasks and core functions to streamline workloads

Introduce products and services to third-party agents through regular training

Discuss service quality and customer feedback via scheduled meetings

Avoid potential threats and sanctions by monitoring security and compliance activities
The Bottom Line
Because of limited resources, startups struggle to keep up with customers' tech demands. These gaps hinder them from providing quick tech support while they work to stay competitive in their core offerings. If these gaps are left unresolved, failure will come eventually.
Tech support outsourcing allows startups to work on their revenue-generating initiatives. Without spending considerable funds, these new businesses can scale up and achieve a competitive advantage while ensuring security and compliance. BPO companies can provide them with the best talent and advanced systems to make such benefits a reality.
From setting goals to developing management strategies, startups need a guide to outsourcing their tech support more efficiently. Following these practical steps helps them find a dependable service provider such as Unity Communications.