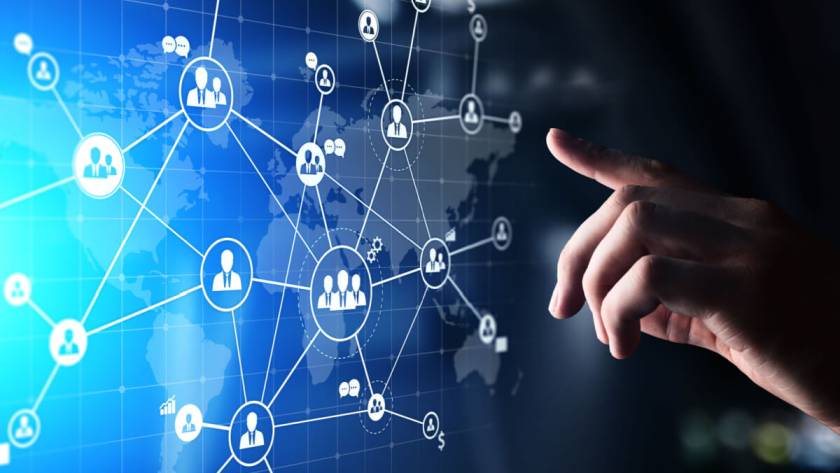 Written by Dion Jay Tality
Did you know that the Philippines comprises 13% of the global outsourcing market? The country is a popular outsourcing destination, even earning the title of the world's call center capital.
But there are pros and cons to outsourcing to the Philippines. Weighing all sides of the issue is crucial to making informed decisions.
Let us take a closer look at the potential benefits and drawbacks of hiring an offshoring provider in the Philippines.
Continue reading below.
Potential Benefits of Outsourcing to the Philippines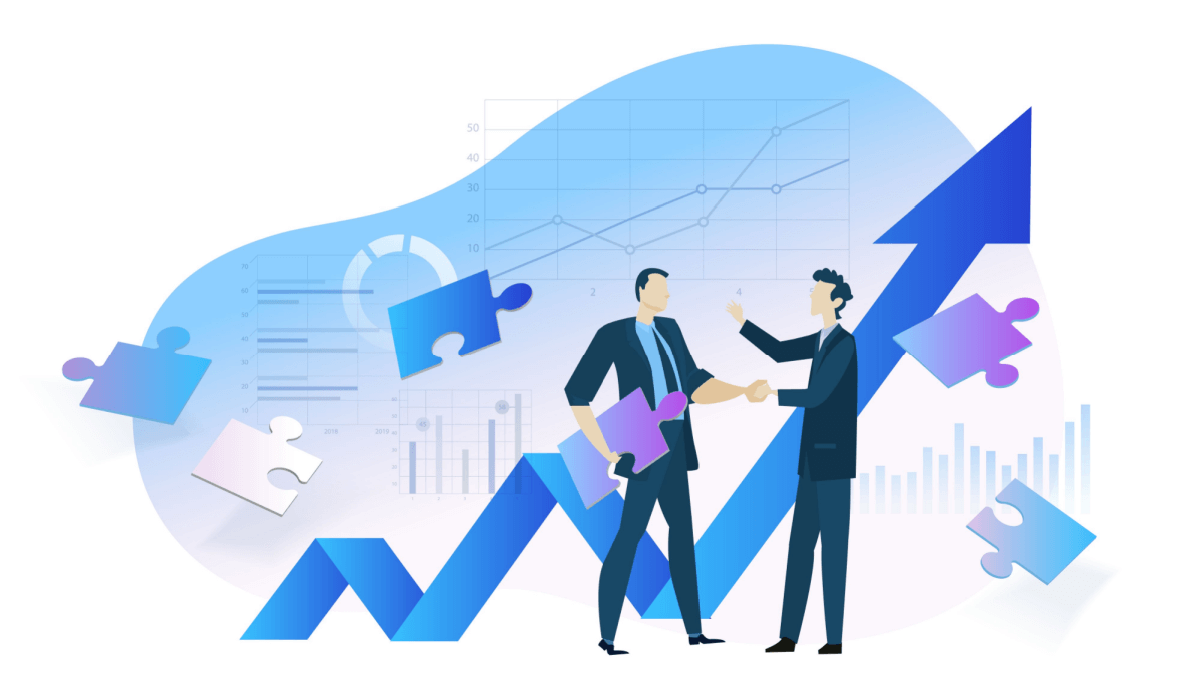 Business process outsourcing (BPO) has long been an effective business strategy. Offshore outsourcing, or outsourcing to far-off countries, is notable for reducing operating costs. But there is more to the Philippine BPO industry than meets the eye.
Accenture was the first to set up a call center in the Philippines. Sykes then established the first multinational BPO company in the country. Today, the Philippines has become a top outsourcing spot, with over 700 BPO companies in major cities and provinces.
The Philippines makes up 13% of the global BPO market share while ranking first in voice-related services. These numbers prove how beneficial outsourcing to the country is.
Let us explore the advantages of outsourcing to the Philippines.
1. Cost Efficiency
Outsourcing to the Philippines provides cost savings for enterprises and small and midsize businesses (SMBs). The country's low cost of living makes it a highly attractive destination for cutting labor and operating expenses.
The average hourly rate of BPO vendors in the Philippines is only $12 to $14. Meanwhile, the U.S. average is $24 to $28. Hiring a BPO provider in the country can cut your operating and labor costs by up to 50% and 60%, respectively. Despite the relatively cheap costs of their services, Philippine BPO vendors employ a highly skilled workforce that can increase efficiency and productivity for your business.
2. 24/7 BPO Operation
Businesses are now going the extra mile to serve their much-valued customers. According to Hiver, 76% of service teams offer customer support during non-working hours. Thus, availability is one factor to consider when weighing the pros and cons of outsourcing to the Philippines.
The time difference between the U.S. and the Philippines makes round-the-clock BPO operations possible. More importantly, most BPO companies in the country operate 24/7, with employees working on shifting schedules. Hiring a Filipino vendor guarantees the availability and reliability of your third-party staff.
3. Highly Skilled and Diverse Talent
Globalization provides access to a vast pool of talent worldwide. Address your labor shortage easily by tapping into the global workforce, where customer service and technical support outsourcing professionals abound.
In particular, the Philippines boasts a diverse population with a highly trained and skilled workforce. The country consists of English-proficient, customer-oriented, and diligent talent. Filipino contractors also have different educational backgrounds and undergo proper training. These factors make the country ideal for businesses looking for talent across various fields.
4. High English Proficiency
Outsourcing is a viable business strategy for tapping into the global workforce. But even global talent becomes less efficient if they face communication gaps. Thus, language proficiency is crucial when considering the pros and cons of outsourcing to the Philippines.
English is one of the Philippine official languages, widely spoken and understood by most of the population. It is also a medium of instruction in schools from grade school up to college. The high English proficiency of Filipinos gives the country a competitive edge in the BPO sector.
5. Cultural Affinity for Western Countries
Cultural differences lead to misunderstandings and conflicts during an outsourcing engagement. Bridging these gaps is crucial to ensure a seamless business partnership. Thus, cultural compatibility is a top consideration when weighing the pros and cons of outsourcing to the Philippines.
Did you know that the Philippines has a long history and friendship with the U.S.? This is why the country has a strong affinity for Western culture. U.S. influence remains significant today, resulting in some shared cultural traits. Plus, the ongoing partnership between the two countries makes outsourcing highly feasible and effective.
6. Desirable Attributes and Work Ethics
Filipino workers are known for their strong work ethics and positive attitudes. They are among the hardest-working and most resilient people in the world. Filipino culture also exhibits hospitality, politeness, empathy, and patience. These traits are ideal for a productive and smooth outsourcing relationship.
7. Proven Flexibility and Scalability
The Philippines has earned the title of the world's call center capital. Most of its BPO companies have now transformed into contact centers that use digital tools and communication technology, proving their flexibility and scalability.
BPO service providers can help more companies grow and scale as communication technology improves. The country's proven track record in outsourcing speaks for itself. Its BPO market could even get a bigger slice of the industry's global market share.
8. Long-term Government Support and Economic Growth
The Philippines is an ideal outsourcing hub because of its environment. It has seen significant economic growth, and the BPO industry receives continuous support from the national government.
For example, the Special Economic Zone Act (PEZA) was passed to attract foreign investors, create jobs, and boost the economy. The government has also pushed through the Digital Cities 2025 initiative for BPO growth and expansion.
As a result of these efforts, the BPO industry makes up more than 10% of the country's gross domestic product (GDP). In addition, it contributes nearly $30 billion annually to the economy. The industry also added around 120,000 full-time employees (FTEs) in 2020, ending 2021 with 1.44 million FTEs.
Possible Drawbacks of Outsourcing to the Philippines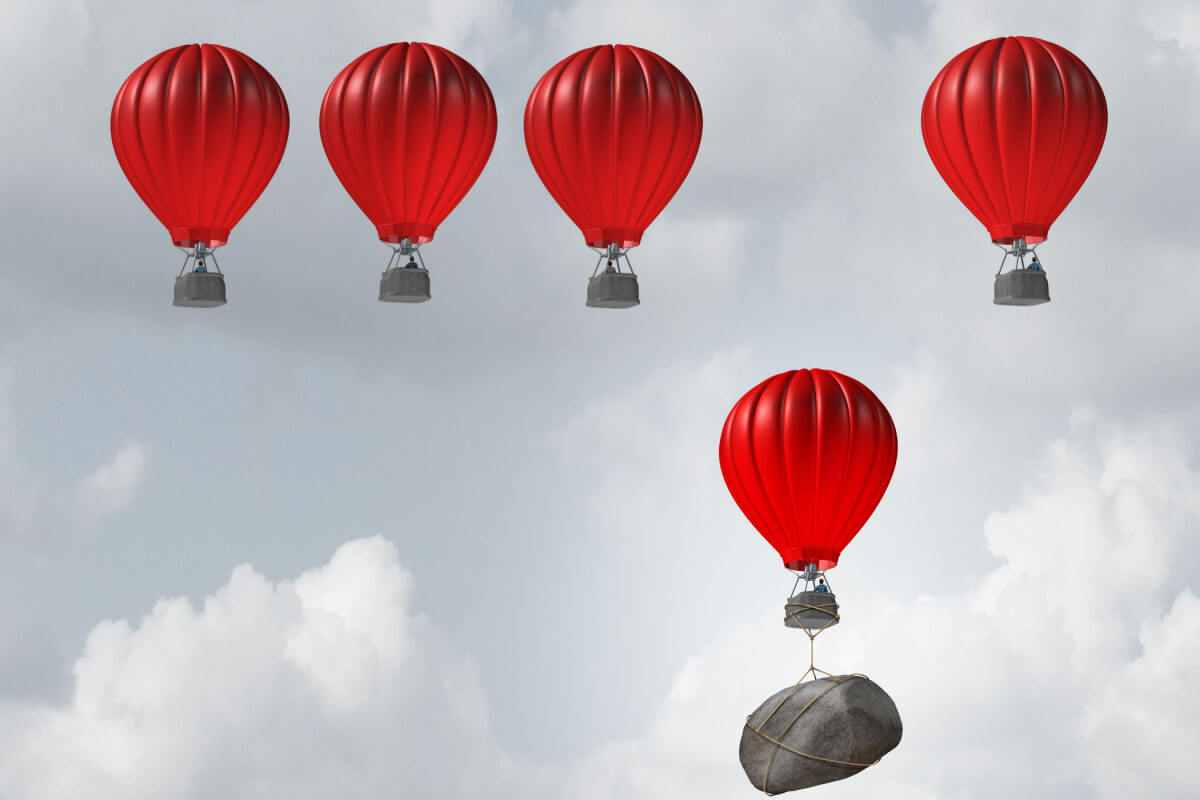 With poor planning and execution, front- and back-office outsourcing can lead to serious business risks. Partnering with the wrong BPO service provider exacerbates the potential drawbacks of outsourcing.
The Boston Consulting Group (BCG) looked into post-pandemic outsourcing trends for executives. Its report showed that more than 65% of global companies focused on building skills and increasing work in-house. Thus, they managed to cope with the pandemic and can keep up with trends in the coming years.
The survey revealed the importance of diversifying the workforce. While outsourcing proves beneficial in various ways, you should also maintain a core in-house team and fortify its capabilities. Offshore outsourcing is not the panacea for all business problems. Striking a balance between in-house and third-party teams leads to business success.
Now let us look at the disadvantages of outsourcing to the Philippines.
1. Unmanageable Offsite Staffing
Outsourcing to the Philippines means delegating your business tasks to teams in the country. As such, managing third-party staff can be difficult. Your means of interaction are often digital, which might lead to communication gaps. Even tracking performance and implementing changes for improvement can be challenging.
Solution:
Ensure constant communication and collaboration with your third-party team. Establish a quality assurance (QA) team responsible for monitoring and improving performance. Finally, ensure that your offshore staff has regular training and the utmost support..
2. Expected Time Zone Differences
Outsourcing to the Philippines means entrusting your functions to third-party vendors on the other side of the globe. Expect time zone differences that might make it hard to communicate and work with your customers and offshore contractors. Time differences can lead to delays and unresolved issues without proper adjustments.
Solution:
Orient your third-party team to the time zone differences. This way, your BPO agents serve customers better and resolve issues on time. Make sure to schedule regular check-ins and meetings at times that are favorable to you and your offshore team.
3. Strict Labor Laws and Regulations
The law is a determining factor in weighing the pros and cons of outsourcing to the Philippines. Hiring a BPO partner in the Philippines means being subject to the country's labor laws and regulations. So you should learn more about the minimum wage, 13th-month pay, overtime pay, and other contractor benefits. Noncompliance with laws leads to hefty fines and penalties.
Solution:
No other solution exists than to comply with labor laws and regulations. Work with a local legal expert to meet the legal requirements. Offshore outsourcing is generally affordable, but find a BPO service provider with a pricing model that works for your business.
4. Inconvenient Business Travel
Businesses often need to travel to discuss critical matters and implement key projects. Going to the Philippines to meet your team can be expensive and inconvenient. Frequent travel requires considerable time, money, and effort, which can disrupt your business operations and personal life.
Solution:
What better way to address travel inconveniences than to plan early? Plan meetings with your BPO partner throughout the year. But note that disruptions might occur, which require your immediate presence and prompt action. So you should still prepare for unexpected travel required for your business.
5. Poor Infrastructure and Outdated Technology
The Philippines still lags behind its Asian counterparts in terms of technological advancements. Poor infrastructure and outdated technology affect business performance and customer satisfaction. Your contracted vendor should address issues such as slow internet connectivity by updating its technologies and investing in process automation and contact center as a service (CCaaS).
Solution:
Offer your BPO partner guidance and support for their technological investments. Recommend digital tools to reduce manual work, accelerate business processes, and improve business performance. Work with local IT experts to ensure the BPO provider uses the most appropriate and efficient technology.
6. Potential Privacy Issues and Security Risks
Offshore outsourcing means entrusting your business data to a third party, whether you outsource customer service or data entry services. Outsourcing to the Philippines exposes your confidential business and customer details to your BPO vendor. Without data protection and network security measures, leaking your information to hackers and threat actors is possible.
Solution:
Before launching your BPO operation, sit down with your BPO team to discuss your privacy and security policies. Draft comprehensive guidelines for the contractors to follow. You should also work with local IT experts to secure the team's networks and systems. Implement stringent data privacy and network security protocols and hold every team member accountable.
7. Unexpected Business Disruption
Potential business disruption is one key consideration when weighing the pros and cons of outsourcing to the Philippines. Think of natural calamities, such as typhoons and floods, that frequently happen in the country. Additionally, consider the possibility of geopolitical issues, power outages, and even public holidays that might disrupt your day-to-day operations.
Solution:
Maintain a core in-house team even if you are outsourcing. This way, you can continue your business operation whenever the offshore team encounters a disruption. More importantly, set up a contingency plan to prepare for unforeseen events. Proper planning and preparation are keys to minimizing the impact.
8. Loss of Business Control
A major concern with offshore outsourcing is losing some business control. Whether you outsource tech solutions or customer support services, you no longer have full control over various aspects of your business. If you choose the wrong vendor, you might even put your business at risk.
Solution:
Hiring the right BPO partner is the best way to address a lack of control when outsourcing to an overseas country. Since you work toward common business goals, ensure your partner shares your values and culture. Never entrust the entire function to your hired service provider. Ensure constant communication and collaboration.
The Bottom Line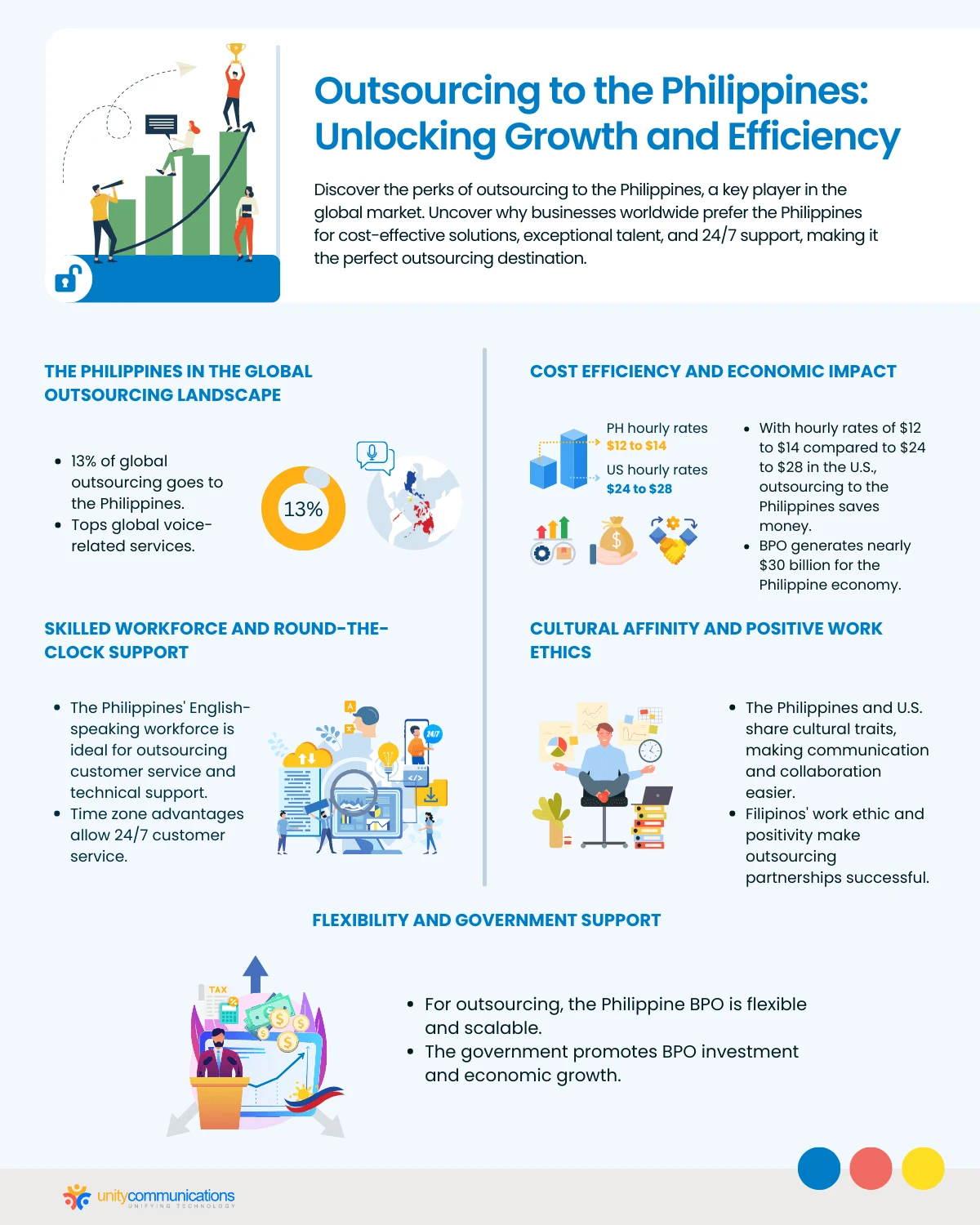 Offshore outsourcing is a wise business strategy for reducing costs, increasing efficiency, and achieving success. But as with any business endeavor, there are pros and cons to outsourcing to the Philippines.
Consider the potential benefits and drawbacks discussed here in this article. Take advantage of the fact that the country has a skilled, English-speaking workforce and shares a similar culture to the West. But be wary of the possible disadvantages, such as time zone differences, strict labor laws, and the loss of some business control.
Weigh the pros and cons, and you will make the right outsourcing decisions to achieve business growth and success.