Written by Dion Jay Tality
The e-commerce industry is booming. For entrepreneurs, launching a click-and-order store is a cost-efficient way to set up a business and reach out to target consumers.
But even digital stores have operational needs to consider. Your e-commerce website, digital marketing, sales, and customer support are just the tip of the iceberg. You also need expertise, technology, and resources to run everything smoothly.
The solution? Practice e-commerce outsourcing! A business process outsourcing (BPO) partner helps you with your back- and front-office operations.
Optimize e-commerce customer service outsourcing and similar services by following the steps below.
Eight Practical Steps in Outsourcing Your E-commerce Business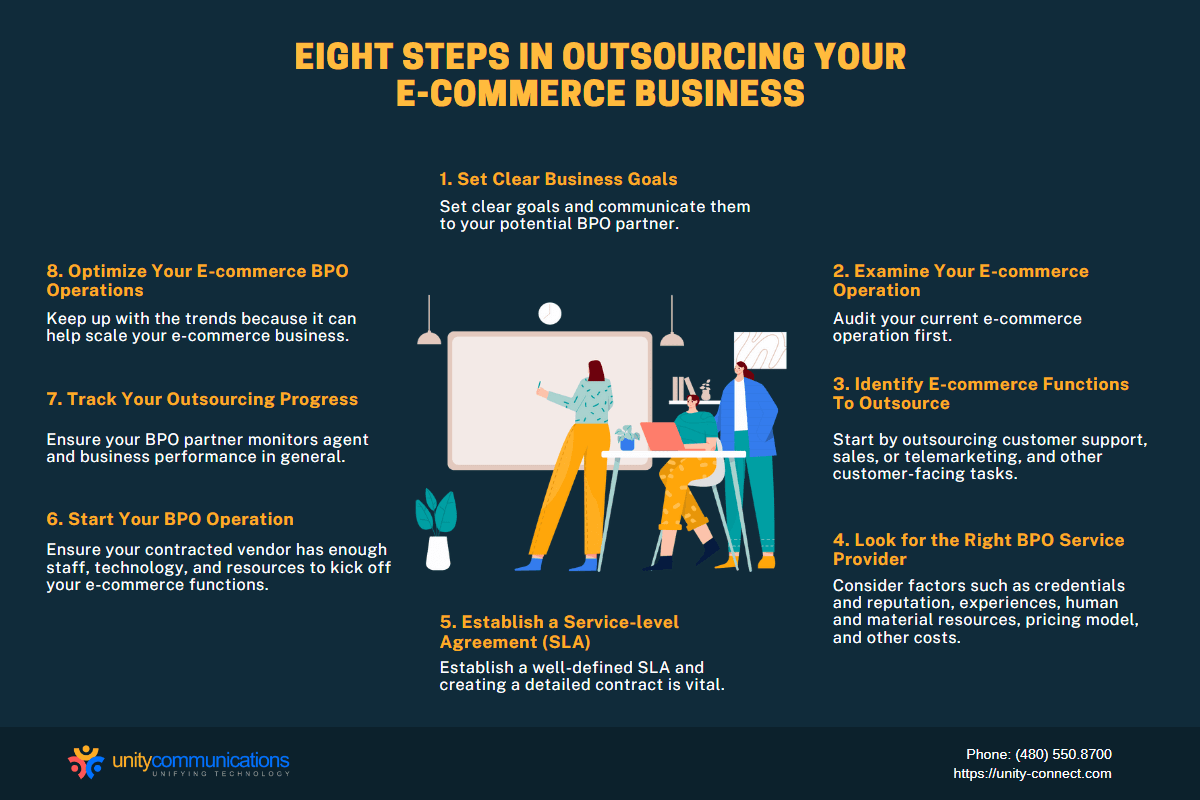 The global e-commerce market might grow from $10.4 trillion in 2020 to $27.2 trillion by 2027 at a compound annual growth rate (CAGR) of 14.7%. So it is safe to say the e-commerce industry looks bright and promising. 
Many consumers are open to doing business online due to its ease and convenience. They have seen the value and benefits of the e-commerce industry. 
Likewise, many entrepreneurs choose to run an online business due to the advantages it offers. But to make the most of the practice, they need to optimize their operations for competitive advantage.
E-commerce outsourcing is a practical solution for scaling your online business. It involves hiring a BPO company to handle some of your functions categorized as:
Front-office tasks

(sales, customer service, and technical support)

Back-end tasks

(data entry, order fulfillment, and administrative support)
The practice of e-commerce outsourcing is common among online startups and small stores. These businesses seek to scale their operations and grow. Even big e-commerce companies outsource to reduce operating costs. They also aim to free up time to focus on core functions that boost sales and help them win customers.
Interested? Read on to learn how to get started with e-commerce outsourcing with the steps below.
1. Set Clear Business Goals
As with most business ventures, always start with a goal in mind. Before you practice e-commerce outsourcing, ask yourself what you want to achieve from hiring a third-party service provider. Set clear objectives and communicate them to your prospective BPO partner. These targets guide you through operational strategies and business implementation.
Below are common business goals for the e-commerce sector:
Improve lead generation.

You are looking to generate more leads for your business. Outsourcing provides you with expert researchers who can find potential customers for your sales team.
Increase sales conversion.

You want to convert leads into sales for your online store. Outsourced sales representatives help win new customers for your e-commerce business.
Enhance customer engagement.

You aim to improve the buying experience and keep your customers happy. You can outsource customer support to boost your engagement.
Retain more customers.

Besides winning new customers, you seek to keep them for good. Outsourcing helps you build a community of loyal supporters for your online business.
Boost business profits.

As an online entrepreneur, your ultimate goal is to make money. Outsourcing gives you access to sales experts who can increase your profits.
Grow business rapidly.

You aim to grow and expand your e-commerce business in the long term. Outsourcing gives you access to an expert workforce and advanced technology, both of which can accelerate your business growth.
Outsourcing is best for e-commerce businesses to achieve the objectives above. But what is business process outsourcing? BPO entails hiring a third-party service provider to handle certain functions for your business. It means entrusting front- or back-office tasks to a BPO company instead of building in-house departments.
2. Examine Your E-commerce Operation
You can't practice e-commerce outsourcing right away, though. You need to audit your current operation first. An audit can help you identify the business problems and operational needs you have to address. This step helps you understand why you should outsource in the first place. Once you identify the issues your business is struggling with, it is time to outsource:
You have low sales revenue or profits.

Zendesk recommends prioritizing customers to increase your bottom line.

Nine out of ten customers

spend more on businesses with personalized customer experience. Outsourcing is a viable solution for boosting profits because a BPO partner employs sales experts to help you win customers.
You lack staffing, technology, and resources.

As your customer base expands, you need a larger workforce to assist them. You also need the latest technology to facilitate and expedite your processes. Outsourcing allows easy access to human and material resources.
You have high operating expenditures.

Launching an e-commerce business requires considerable capital outlay. Keeping it up and running might also be costly in the long term. Deloitte cites cost reduction as the

top reason for outsourcing

, and more online stores employ offshoring to save on operating expenses.
You have a struggling e-commerce operation.

As an online entrepreneur, you plan to scale your e-commerce business. But scaling your business requires an expert workforce, advanced technology, and significant resources. Outsourcing firms streamline certain processes; they share the burden of management with business owners.
You have poor customer satisfaction.

About 93% of service teams agreed that

customers today have higher expectations than ever

. Customers are highly critical and selective because they now have more options. Hiring a reliable BPO service provider improves your customer service and satisfies your much-valued customers.
You must focus on your core function.

Your core function is to sell products and services to earn a profit and win customers. Despite this, you should never neglect other vital aspects of your operation. Outsourcing lets you entrust tedious tasks to an external vendor. It frees up your time, allowing you to focus on your primary function.
You are looking to grow your business.

Clutch reports that

90% of small companies

plan to outsource this year. They aim to grow their business (19%), as well as access flexible resources (33%), and work with experts (29%). Practice e-commerce outsourcing if you want to grow your online business.
3. Identify E-commerce Functions To Outsource
Now that you know when to outsource, it is time to practice e-commerce outsourcing. In this step, there is one important question you must ask:
What e-commerce tasks should you entrust to a BPO service provider?
You can start by outsourcing customer support, sales, or telemarketing, and other customer-facing tasks. Then, you can include back-end functions and administrative work such as human resources (HR) and information technology (IT) support. There are several other e-commerce tasks you can outsource:
Sales or telemarketing.

This function is the most important for your online store. After all, you are running an e-commerce business to sell products and services. Outsourcing gives you access to sales experts. While outsourced telemarketers call your potential customers, sales representatives perform cold email outreach.
Customer service.

This e-commerce department is crucial for your business's success. It is a customer-facing function that can make or break your online store. Hire a BPO partner with highly skilled and trained representatives. They will answer product questions, provide order updates, and handle customer complaints.
Data entry.

This e-commerce task entails encoding customer data into digital formats. Customer data includes personal, billing, and bank details required for processing online orders.

Outsource data entry services

to a BPO partner for data accuracy and protection.
Order fulfillment.

This e-commerce function involves processing and fulfilling customer orders. Outsourcing this to a BPO vendor is best for product quality and safe delivery. How? Agents receive orders, process payments, and coordinate with other departments. They ensure the right products arrive at the customers' doorsteps on time.
Digital marketing.

E-commerce businesses harness the power of digital marketing. It is an effective way to reach out to your customers and promote your brand.

To reach a wider audience, outsource your search engine optimization (SEO) and pay-per-click (PPC) strategies

. Do the same for your email, content, and social media marketing.
Web design and development.

A website is a requirement for any e-commerce business. You need an online store where you will display products and services. But if you lack web skills and expertise, consider outsourcing to a web designer or developer. Expert professionals ensure your website's credibility and user experience (UX).
Inventory management.

This e-commerce function tracks your raw materials, components, and products. It includes procuring, storing, producing, and selling goods or items. Consider

inventory management outsourcing

for streamlined processes, cost efficiency, and product quality.
Supply chain management.

This e-commerce task focuses on the product flow, which starts with material acquisition and ends with customer delivery. Inventory management involves regulating your stocks, while supply chain management handles the processes. Outsourcing this function ensures the seamless flow of your products.
Administrative functions.

E-commerce businesses consist of administrative departments crucial to their operations. Departments commonly outsourced include payroll, HR, and IT support. Practice e-commerce outsourcing for your administrative tasks so that you can focus on selling your products.
4. Look for the Right BPO Service Provider
When you are ready to practice e-commerce outsourcing, you can start looking for a BPO partner to work with. The goal is to hire a third-party service provider specializing in the e-commerce industry. They must also suit your business type, size, and needs.
When searching for BPO prospects for your online store, consider such factors as:
Credentials and reputation.

Look for a BPO vendor with a good reputation. Examine your prospects' credentials, such as their business permits, standard certifications, and awards. Don't forget to check customer and client feedback, too. A BPO company's credentials speak volumes about its credibility and competence.
Experience and specialization.

You need to keep two things in mind when looking for a BPO partner:

First, find a third-party service provider with experience serving the e-commerce market. Second, ensure they specialize in the tasks you need outsourced, whether that is order fulfillment or inventory management.
Human and material resources.

A talented workforce is crucial to your e-commerce success. But you also need the right materials and resources to help them in their tasks.  So make sure to look for a BPO partner with a crew of skilled employees and access to the latest technology.
Outsourcing cost and pricing model.

Businesses outsource to reduce operating costs.

Get the most bang for your buck by comparing your prospects' different offerings and costs

. Check their pricing structures to see which best suits your business. Remember that the goal is to save money for the long term.
5. Establish a Service-level Agreement (SLA)
Outsourcing is a collaboration between two parties. Similar to any business partnership, establishing a well-defined SLA and creating a detailed contract are vital.
An SLA is a commitment between you (as the client) and your third-party vendor (your BPO partner). It defines the relationship between two parties. Specifically, it details your obligations and your BPO partner's duties and responsibilities.
Whether you are outsourcing email support or IT operations, including the following in your SLA:
Business objectives.

Define what you aim to achieve from e-commerce outsourcing. Consider the business objectives in Step 1 discussed above.
Key metrics.

Set key performance indicators (KPIs) for your outsourced e-commerce functions.

The three basic KPIs are service efficiency, quality control, and customer satisfaction (CSAT).
Service scope.

Identify what specific e-commerce tasks to outsource. They can be front-office or back-end functions.
BPO vendor's roles.

List all the duties and responsibilities of your hired BPO service provider. Make sure not to miss a single detail.
Client obligations.

Know your obligations as a client as well. List all your responsibilities aside from providing proper compensation based on an agreed pricing model.
Breach of contract.

Be clear about what constitutes contract violations. Include the corresponding penalties and legal consequences.
Service exclusions

. Highlight some exclusions in the service delivery to set the parameter and avoid any confusion.
6. Start Your BPO Operation
After choosing a third-party service provider and creating an SLA, you can start your BPO operation. Ensure your contracted vendor has enough staff, technology, and resources to kick off your e-commerce functions.
E-commerce outsourcing might be difficult at the outset. For this reason, you should offer strong support and assistance to your BPO provider. You can also prepare a set of detailed instructions to provide proper guidance for your service provider. Ultimately, you and your BPO partner should work together toward achieving common business goals.
7. Track Your Outsourcing Progress
The practice of e-commerce outsourcing does not end with hiring a BPO service provider. Understand that outsourcing is a business partnership. You do not leave your e-commerce functions entirely to your hired BPO partner. You can give them the liberty to operate, but you must also ensure constant communication and collaboration.
One vital aspect of your BPO operation is performance tracking. To do this, ensure your BPO partner monitors agent and business performance in general. You can also ask for regular business reports. This allows you to see whether they are following your SLA and meeting your KPIs.
Insights about your outsourcing progress guide future decisions. If areas for improvement exist, you can make the necessary operational changes. And if you are succeeding, you can confidently renew your contract with your BPO service provider.
8. Optimize Your E-commerce BPO Operations
Practicing e-commerce outsourcing is one thing; maintaining it over the long term is another. Optimize your e-commerce BPO operation regularly, no matter how successful it is.
Consumer behaviors and business technology are constantly evolving. One of your responsibilities is to keep up with the trends because they can help scale your e-commerce business.
Follow these tips for outsourcing customer service, sales, and other e-commerce functions:
Review your business objectives.

You should align your operational goals with consumer demands. That way, you can boost your e-commerce BPO operation.
Check KPIs and assess your BPO performance.

Check whether your agents are efficiently handling your e-commerce tasks. Ensure they provide customers with quality services. Most importantly, examine whether they satisfy customers. If not, guide them so that they can meet your key metrics.
Regularly train and update your BPO workforce.

Make sure to hire a BPO partner that provides foundation and process training. During your engagement, the BPO management team should still provide regular updates and training to help agents succeed.
Provide your BPO management with the utmost support.

There should be transparency between you and your BPO management team. You are paying them to provide your customers with the best service. So make sure to give your full support and proper compensation. In the end, this engagement should be a win-win for everyone.
Leverage digital tools and technologies.

E-commerce businesses can no longer ignore the power of modern technology. Look for a BPO partner that uses automation, artificial intelligence (AI), and cloud-based technology. Your hired provider should also update its technological resources regularly.
Ensure constant communication and collaboration

. As mentioned, outsourcing is a business partnership between two parties. You do not entirely entrust your e-commerce tasks to your contracted service provider. Ensure regular interaction and proper coordination between you and your service provider.
The Bottom Line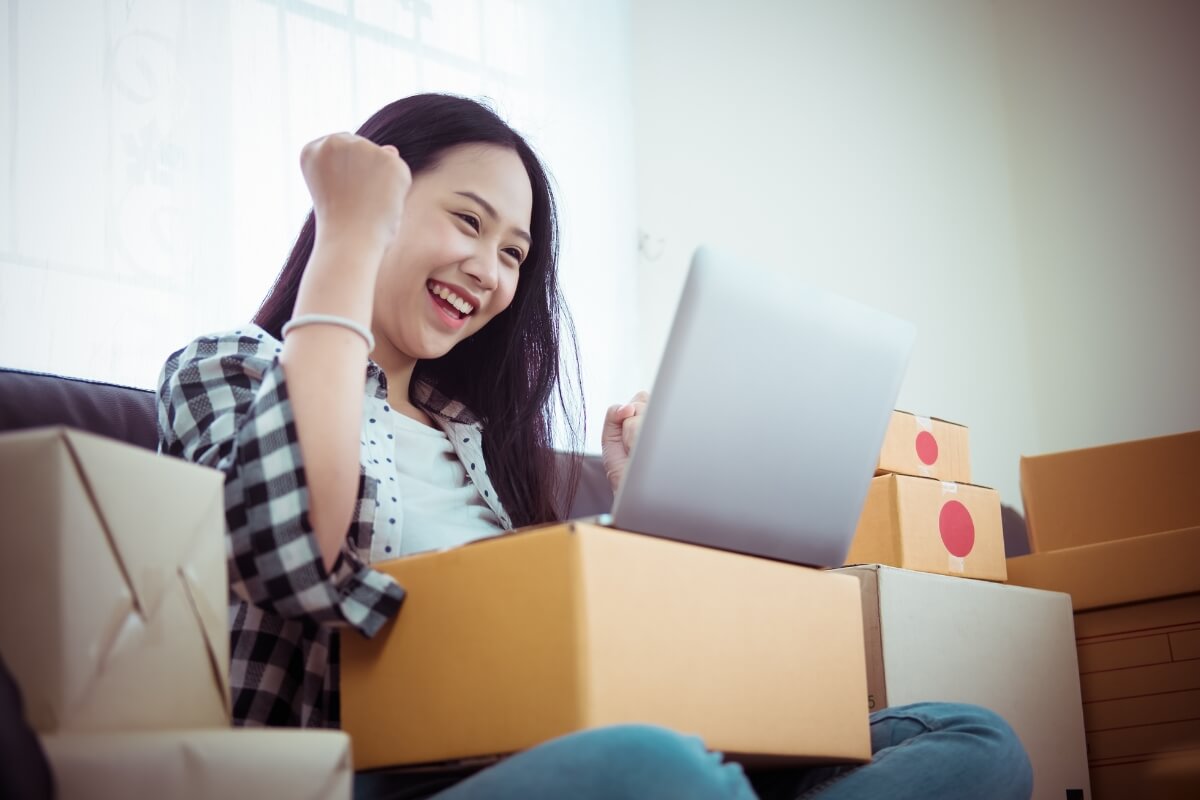 The e-commerce industry is thriving. Why? Entrepreneurs know the benefits of launching an online business, and retailers with brick-and-mortar stores have transitioned to online stores.
More and more consumers have become comfortable doing business online. In addition, the pandemic accelerated the global e-commerce market growth. That is the direction we're heading in. Thus, the future of the e-commerce sector looks bright and promising.
Practice e-commerce outsourcing to capitalize on its many opportunities. Consider all the valuable information discussed above. Ultimately, you will hire the right BPO service provider to boost and grow your online business.