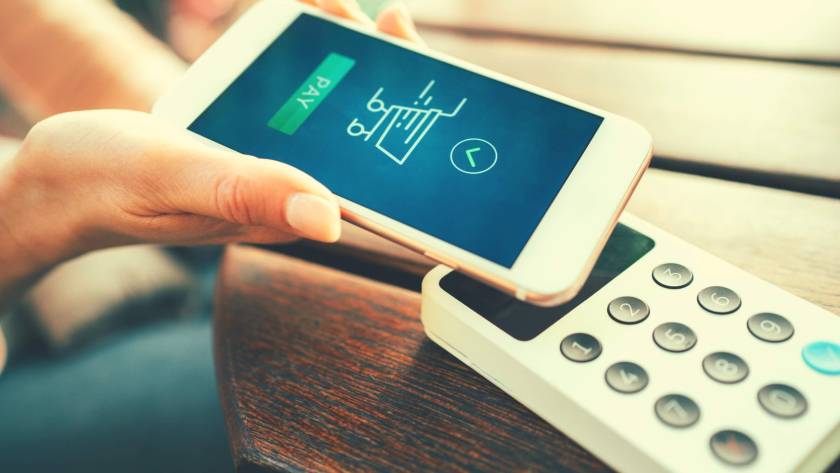 Written by Allie Delos Santos
Healthcare organizations face massive losses due to inefficient payment posting, late reimbursement from the payer's end, and rejected claims. Receiving full reimbursement without cash posting is almost impossible, making it a crucial part of revenue cycle management (RCM). Efficient cash posting also significantly influences patient satisfaction and overall financial health.
Read on to learn more about payment posting and how healthcare business process outsourcing (BPO)  helps streamline the process.
What Is Payment Posting?

Payment posting, also known as cash posting, lets you view payments and gives a snapshot of your medical organization's financial status, making it easier to identify and resolve issues. It also involves logging payments into healthcare billing software.
After the adjudication, a medical claim can either be paid or denied, and an explanation of benefits (EOB) is sent to the medical provider to be insured. Once the claim is ready for payment, the payer issues a check or an electronic fund transfer (EFT) along with the EOB to the provider. 
Payment posting examines the revenue cycle for significant development opportunities to increase the bottom line. It offers an overview of patient payments, insurance checks from electronic remittance advice (ERA), and EOBs. It also analyzes the root cause of recurring problems and prevents them.
Medical professionals manage payment posting in two ways, depending on the patient's financial ability and insurance coverage:
Manual posting.

Typically, admin staff performs manual payment posting, requiring a longer time to fill in patient information. This posting type has a higher risk of errors like typos, leading to delays.

Auto posting.

Auto payment posting is a software-driven approach that most providers prefer because it speeds up the medical billing process for a more consistent revenue stream. However, some solo healthcare practitioners argue that auto-posting offers less control over their revenue-generated system.
Get a complete overview of your medical facility's finances to determine leaks in revenue and solve them immediately. Because payment posting is a crucial medical BPO service, healthcare professionals assess its advantages before outsourcing it.
How Does Payment Posting Fit Into the Revenue Cycle?
Whether you use in-house billing or external healthcare BPO services, payment posting is vital to the revenue cycle. An accurate payment posting system helps identify opportunities to increase the bottom line by tracking daily trends in your organization. You need a precise process because payment posting significantly contributes to a smooth billing process and high revenue.
Ways your payment posting makes the revenue cycle more efficient and increases your bottom line include:
 

Handling denials

. Reroute and report denied claims to the right denial management and coding team for immediate rework and resubmission to payers.

In-person collection issues

. Offer insights into trends in prior authorizations, denials, non-covered services, deductibles, and copayment collection problems at the point of service.

EOB and ERA posting and reconciliation.

Guarantees data from ERA and EOB match payments.

Write-offs and adjustments.

Process adjustments and write-offs and report unusual contractual adjustments during payment processing. 

Patient responsibility.

Determining and transferring balances to the patient's responsibility ensures faster billing.
How Healthcare BPO Manages Payment Posting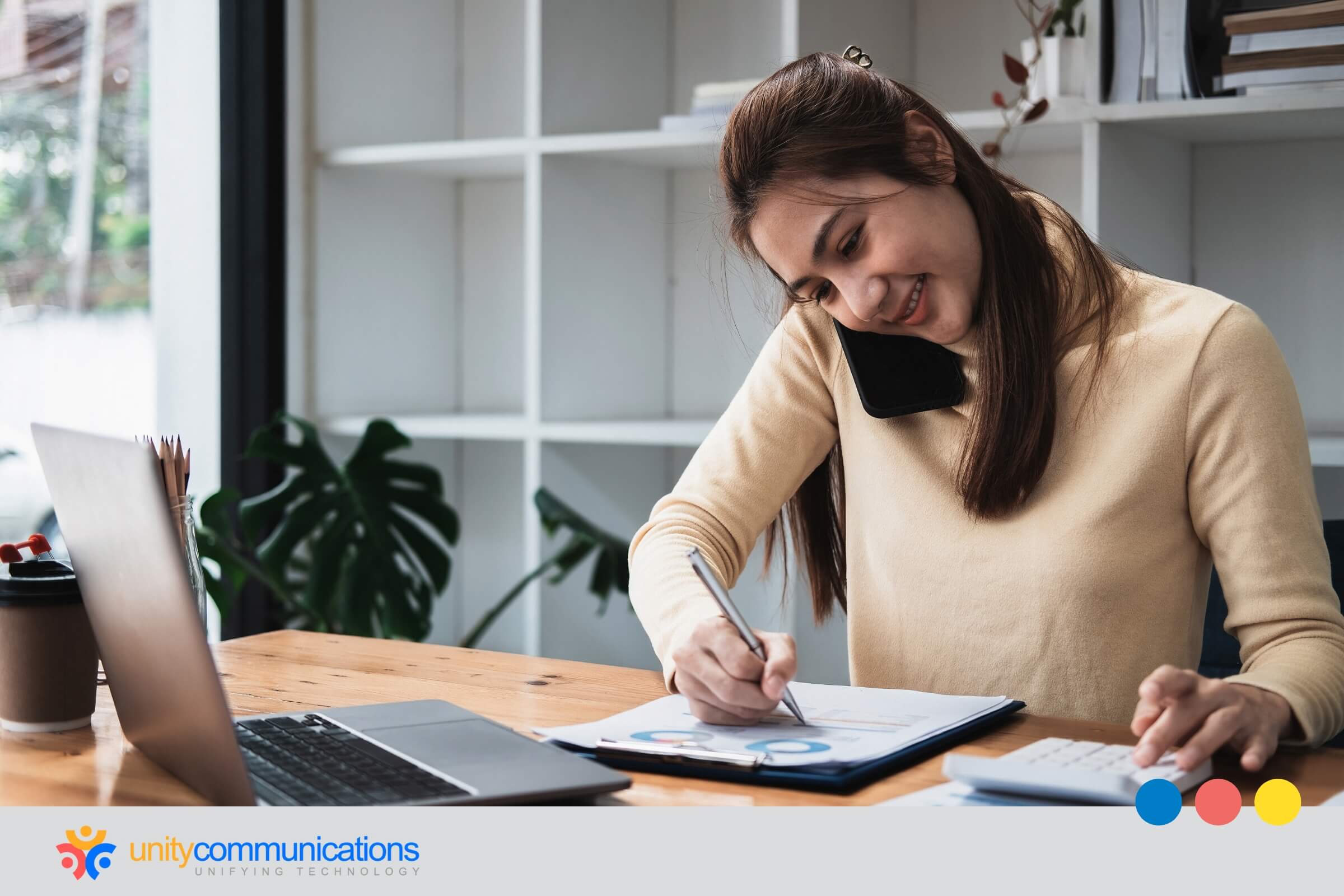 The global medical outsourcing market might reach $44.6 billion by 2027 with a 9% compound annual growth rate (CAGR). In other words, outsourcing in healthcare will continue to grow.
Billing professionals in medical BPO process payments and give you trends, insights, and reasons for denials, non-covered services, prior authorization, the effectiveness of your front-end patient collections, and the quality of coding processes and clinical documentation.
A reputable billing company processes the following kinds of remittance transactions accurately and promptly.
 

Electronic remittance advice (ERA) posting.

Electronic remittances contain a high number of payment transactions. Processing ERA batches includes inputting the files into the revenue cycle system. It also involves processing exceptions by making corrections using the feature available on the revenue cycle system.
Manual payment posting.

This remittance involves capturing payment data from scanned images of EOBs and posting each line item to the respective patient's account. Developing physician-specific business practices and rules along with the BPO vendor lets medical providers ensure accurate adjustments, payments, balance transfers, and write-offs.
Denial posting.

Medical billers know payer-specific comments and American National Standards Institute (ANSI) denial codes. They post denials in clients' practice management systems and take essential actions, including transferring balances to patient accounts, paying secondary payers, transferring denied claims to the right work queues, or making write-offs per policies.
 

Posting patient payment.

Billers must account for patient payment to properly close the claim and prevent inflated accounts receivables. Most healthcare BPO providers have substantial expertise in processing payments. Payment processors resolve credit balances, account for client payments, and transmit pending accounts to secondary insurers.
Healthcare BPO Automation Tools for Cash Posting
Accomplishing the reimbursement process without the help of the healthcare BPO industry is nearly impossible. Outsourcing helps expedite your payment posting and billing processes with advanced tools and technologies. Here's a closer look at the automation tools that BPO providers use.
Automated payment processing platform.

Intelligent OCR-enabled (optical character recognition) processing tools read printed EOBs in every payment batch and present transactions in tabular form.

Analytics.

BPO companies offer performance reports and insights into processing trends.

Knowledge management tool.

A reputable biller stores and organizes business and process rules using a knowledge management tool that tracks all updates.

Intuitive dashboards.

Dashboards offer quick access to enable continuous improvement and process health indicators.
Steps in Ensuring Accurate Payment Posting in Medical Billing
As costs rose and patients' visits for basic medical care declined, around half of the healthcare organizations in the U.S. saw a 25% decrease in revenue in 2020. As restrictions eased, more patients sought in-person appointments or virtual care services, though revenue is still below pre-pandemic numbers. Thus, medical facilities must examine ways to stabilize cash flow and increase revenue beyond pre-pandemic levels.
Freezing recruitment and rapidly growing the patient base are not the only methods of addressing cash flow. Providers should also focus on RCM. Payment posting is an integral part of the revenue cycle. It is possible through in-house or outsourced billing.
Below are some ways to ensure an accurate payment posting system.
Always follow up on denials efficiently.

Always make sure the data from ERAs and EOBs matches the payments.

Avoid errors by disclosing denials for medical essentials, prior authorization, and non-covered services to management.

Check for revenue cycle leaks or issues when collecting copayments or deductibles during insurance remittance processing.
The Benefits of Accurate Cash Posting in Medical Billing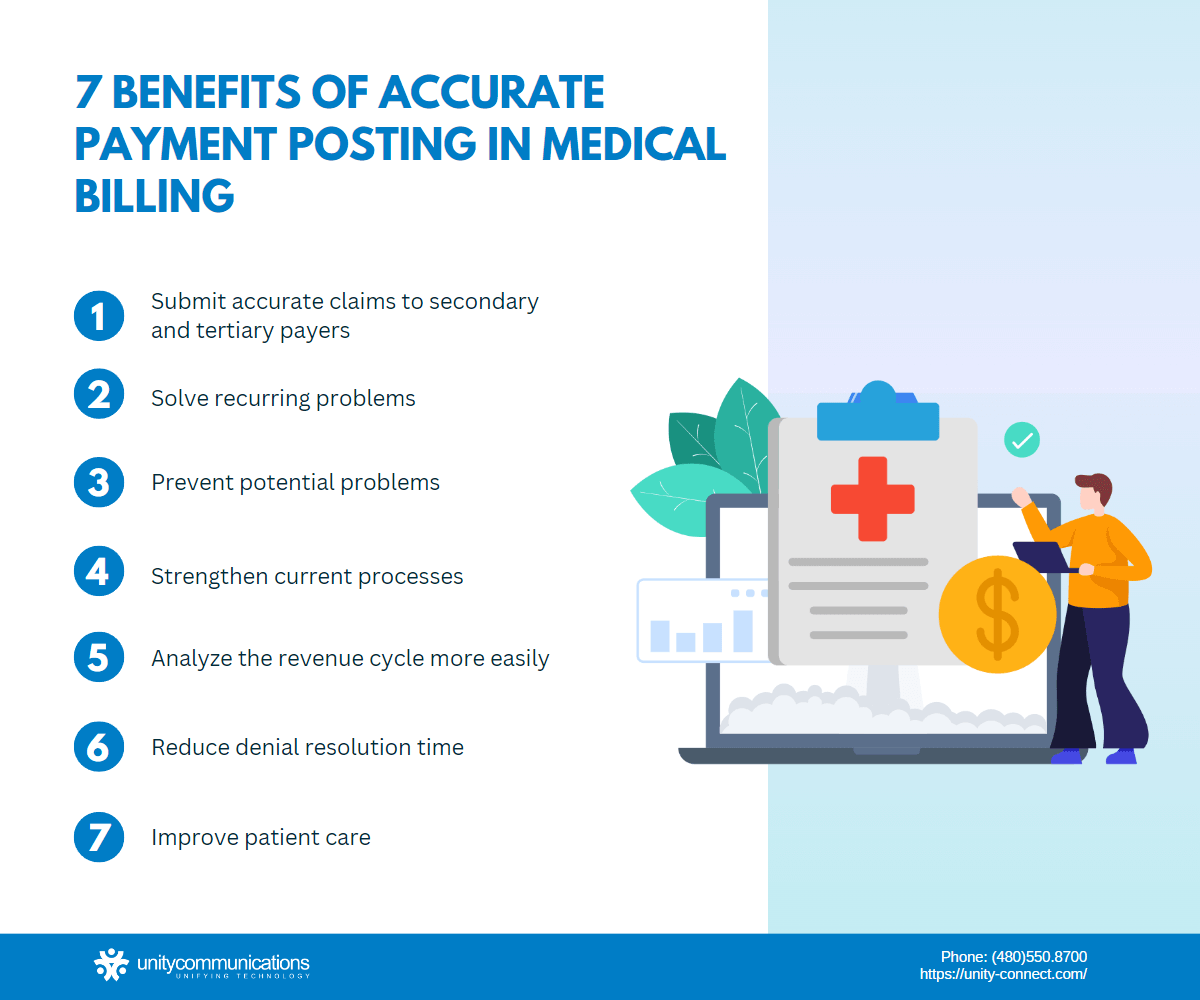 Cash posting is a vital step in billing and an integral component of RCM. Explore the benefits of accurate payment posting in medical billing.
Submit Accurate Claims to Secondary and Tertiary Payers
Payment posting directly influences the accuracy of claims submitted to secondary and tertiary payers. Conversely, failure to check for post-primary payment issues increases the chances of error for secondary and tertiary payers.
One of the advantages of healthcare BPO companies is that they regularly monitor the process and find ways to improve various revenue cycle areas to maximize reimbursement and remain in compliance with billing guidelines.
Solve Recurring Problems
Accurate cash posting helps solve existing problems in the revenue cycle. Cash posting in medical billing includes denial and payment adjustments. Identifying and addressing the cause of the denial helps prevent future claim denials.
Prevent Potential Problems
Cash posting allows healthcare professionals to monitor their incoming reimbursement, making it a critical part of the billing process. Cash posting helps detect and resolve problems quickly when accurately done and properly organized.
Strengthen Current Processes
Sometimes organizations neglect the processes that prevent their revenue cycle from running at its optimal level.
The efficiency of medical billing greatly affects the organization's RCM. After identifying the problem, the organization must examine whether a particular process can be changed, removed, added, or improved to boost the revenue cycle's effectiveness.
Analyze Revenue Cycle More Easily
Payments posted on patient accounts enable billers to analyze the medical revenue cycle and identify opportunities for improvement. Effective analysis helps you maximize the revenue cycle by enhancing profitability and improving your accounts receivable team's processes.
Reduce Denial Resolution Time
The most effective way to deal with denied claims is to prevent them. The best method of prevention is to monitor the guidelines from insurance companies. Do this by staying updated on bulletins and correspondence from payers who provide the mandate and coding or billing rules.
The faster you correct denied claims and send them to insurance companies, the better. Each day your denied claims remain unsolved contributes to your accounts receivable days.
Improve Patient Care
The medical billing process involves multiple steps necessary to maintain a constant revenue stream. If a problem appears at any of the steps, it severely interrupts the collection of incoming revenue while reducing the ability to treat patients and extend patient care.
The Bottom Line
Accurate payment posting is a result of advanced infrastructure and overall efficiency. It enables your revenue cycle to thrive, thus improving cash flow.
Instantly detecting and solving potential issues leads to a smoother medical billing process. Addressing issues in their infancy also helps you bill secondary and tertiary payers, thereby improving the medical billing process.
The payment posting services of Unity Communication guarantee accuracy and identify reasons for low inflows. Get in touch with billing experts to improve your cash posting and the entire medical billing process.