Written by Dion Jay Tality
In business, customers are the most important stakeholders. They are the reason your company exists. Happy and satisfied customers can make your enterprise profitable. That's why customer support is important for your business.
Having a client-centric operation is key to achieving customer satisfaction and business profitability. Outsourcing customer support services is a viable means to meet these business objectives. However, there's a right and wrong way to outsource.
Find out when you should and shouldn't outsource your customer support. Read below to learn more.
Outsourcing Customer Support Services Explained
Outsourcing customer support means that you hire a third-party service provider to assist your customers. A third-party company provides critical tasks such as:
Answering product questions

Processing requests

Fixing technical issues

Handling complaints

Resolving issues
You must understand the difference between customer support and customer service. The latter is a much broader term than the former, and the terms aren't interchangeable.
Customer service is an umbrella term for all interactions between representatives and customers. Meanwhile, customer support is a subset involving helping users of your products or services who have an issue or problem.
Outsourcing customer support services are best for your business and can be part of business process outsourcing (BPO). BPO is entrusting some aspects of your operations to an external vendor. Instead of hiring employees in-house, you allow a third party to handle some business processes. Customer support is one specific function best suited for outsourcing.
When To Outsource Customer Support Services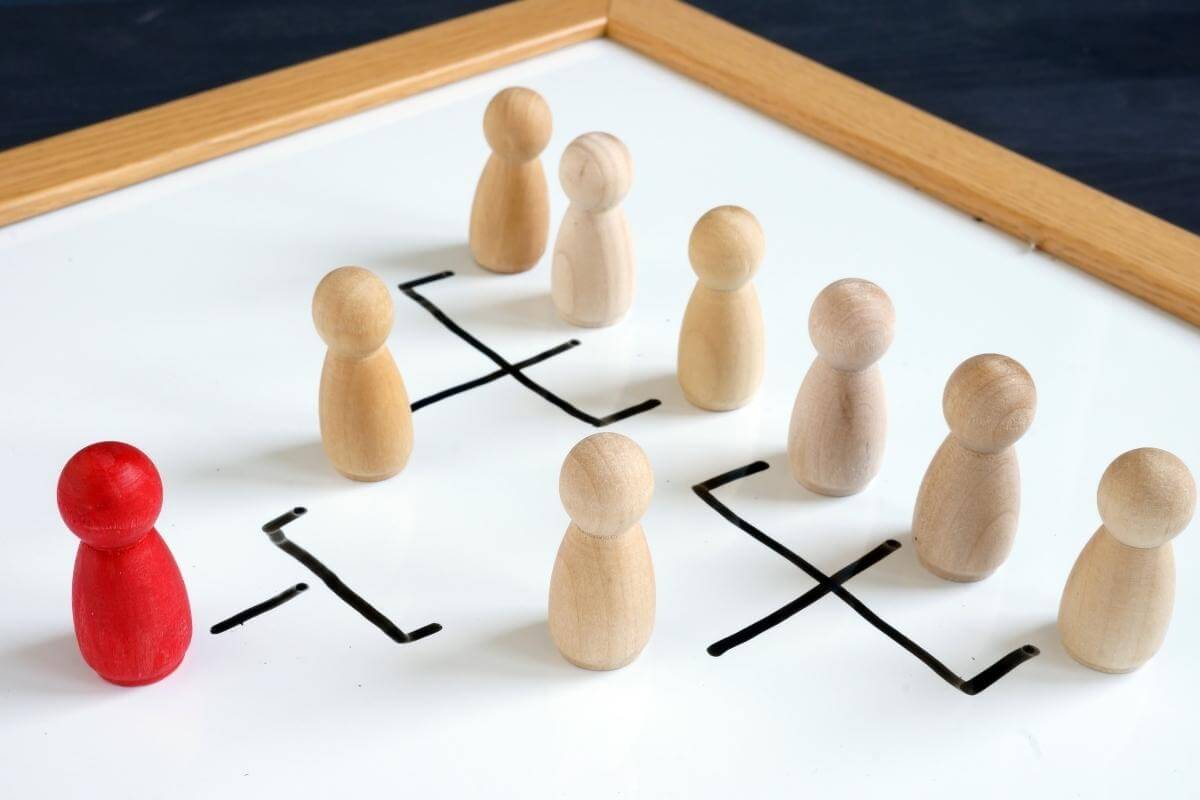 Outsourcing starts with organizational planning and critical thinking. Audit your current operation to identify business problems and needs.
The pandemic, for instance, has made companies see the need to optimize their work environment and access new talent. NTT reports that almost 50% of companies plan to outsource further.
Whether you outsource data entry services or customer support activities, decide if it's necessary. See if you can entrust a particular business function to a BPO service provider. 
Here's when you should outsource customer support services:
1. Losing Business Direction
Companies today face rapid changes. Industry trends, technological advancements, and consumer behavior are constantly evolving. Moreover, the Covid-19 pandemic has caused massive disruptions, so some companies might have lost their direction in the industry.
BCG surveyed 200 global corporations with BPO footprints amid the pandemic. It revealed that 82% of companies experienced a decline in revenue. Also, 73% encountered challenges in operations amid the health crisis. Outsourcing your customer support to a reliable BPO partner helps you regain your focus. Ultimately, this strategy will help set your business in the right direction.
2. A Lack of Resources
Clutch surveyed 1,003 small businesses in the United States in 2021. The survey sought to reveal how they deal with outsourcing and found that they outsource to fulfill some business objectives and realize some potential benefits. The survey showed that 33% look forward to accessing flexible resources, while 26% plan to work with experts.
You should outsource customer support services if you lack staffing and resources. Do the same if you have limited employees and outdated technologies. Note that outsourcing gives you access to experts and advanced digital tools. Both assets can optimize your operation and boost customer satisfaction.
3. Customer Support Backlogs
Sure, your company might have a robust workforce and updated resources. It's capable of assisting customers and resolving problems. But as your business grows and your market expands, your team can no longer accommodate all your customers. As a result, your company has backlogs with unassisted clients and unresolved cases.
But how do you deal with this problem? Outsourcing customer support is the key. A team of contractors can assist your customers almost immediately. The team can handle their concerns and resolve their issues promptly. Note that 90% consider "immediate" responses very important for those with questions.
4. Unhappy and Dissatisfied Customers
The global customer experience management market was worth $8.79 billion in 2021. It could achieve a compound annual growth rate (CAGR) of 18.1% from 2022 to 2030. Businesses now have a growing concern for understanding customer behavior and meeting expectations. They are looking to adopt customer experience strategies.
Outsourcing is a viable solution for improving customer experience. You should outsource customer support services if you have unhappy and dissatisfied clients. However, ensure that your service provider employs a competent workforce. Per HubSpot, 68% of consumers will pay more for products or services from a business that offers an excellent customer service experience.
5. Increasing Customer Complaints
Did you know that 80% of American customers will switch to a competitor after more than one bad experience with a company? That's according to Zendesk Customer Experience Trends Report 2020. Unfortunately, it takes 12 positive experiences to compensate for one negative experience. Hence, a customer complaint is a big no-no.
If you have increasing complaints, you should consider outsourcing. Hire a BPO partner with competent customer support specialists. Also, allow your service provider to optimize your business operation. That way, you can improve your customer experience and avoid receiving complaints.
6. Unprofitable Business
Robust customer support can come a long way. About 37% of business leaders reported a direct link between customer service and business performance. The report emphasizes that prioritizing customers can increase your bottom line. 
If your business is unprofitable, it's time to outsource customer support services. A highly reliable BPO partner can boost your business profits. Competent customer support specialists will help win new customers for your business. They will help retain old customers and build a community of loyal supporters.
7. A Startup or Small Business
BPO services used to be for large corporations only. Big companies are 66% more likely to outsource than small businesses (fewer than 50 employees). However, startups and small companies have started outsourcing. They can access resources that can help them scale and grow.
If you've just started your business, consider outsourcing your customer support. Hire a third-party service provider to help you win new customers and keep them for good. Ultimately, your BPO partner can help your business grow and succeed.
When Not To Outsource Customer Support Services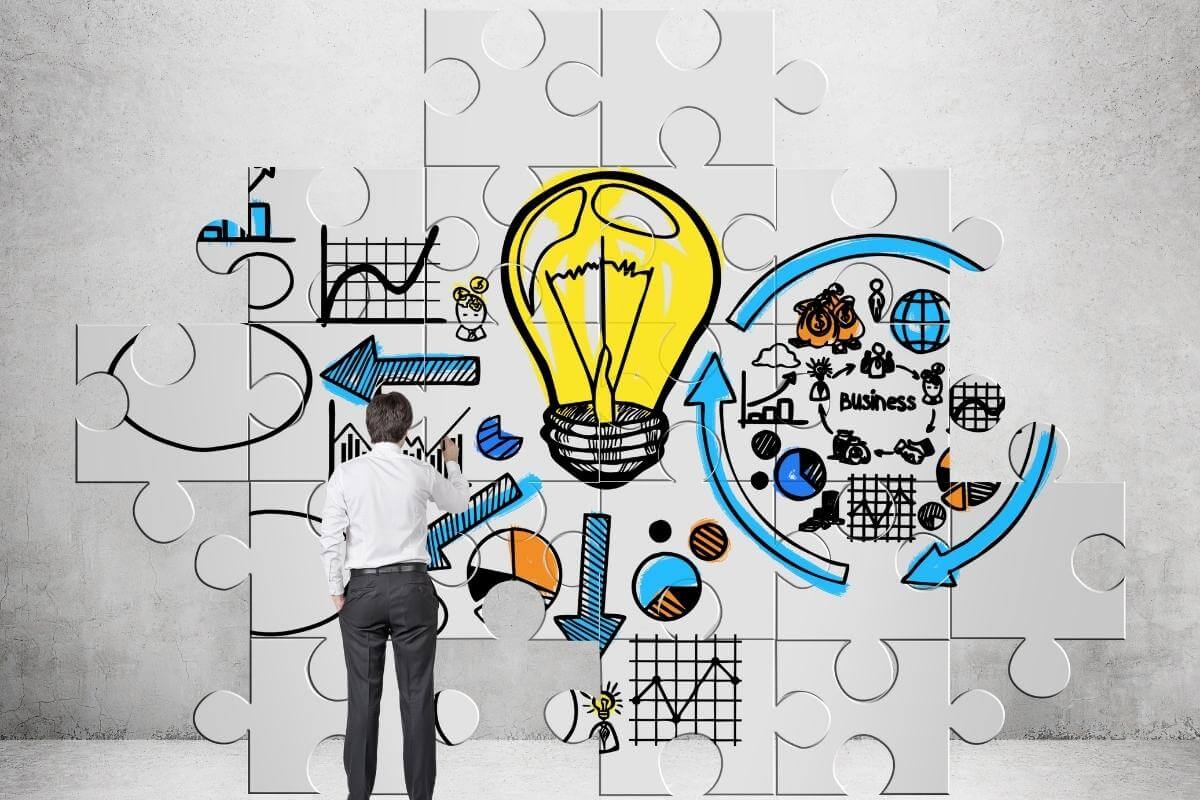 Outsourcing isn't a one-size-fits-all solution, and it isn't a panacea for all business problems.
For this reason, some organizations are hesitant to outsource. Also, 60% of companies want to renegotiate their contracts with their BPO partners amid the pandemic.
Whether customer support, sales, or inventory management outsourcing, make sure it will be worth your time, effort, and money. BPO should help—and not harm—your business. That said, here's when you shouldn't outsource customer support services:
1. Joining the BPO Bandwagon With No Other Reasons
It's no secret that BPO has grown exponentially in recent years. What was recognized as a business strategy in 1989 has become a robust industry today. Companies of all sizes have taken the plunge into outsourcing. But it isn't the ultimate solution to all business problems. It might not be suitable for your business.
Hence, don't outsource just to jump onto the BPO bandwagon. Just because other companies have done it, it doesn't mean you should, too. Outsource your customer support operation because you have organizational needs to meet. Before taking the plunge, critically assess if it's worth outsourcing.
2. Leaving the Entire Operation to an External Vendor
An external vendor can handle one function while you access to staff and resources. However, this doesn't imply you can leave everything to your service provider.
Never outsource customer support services if you plan to let a BPO company take full control. Outsourcing is pursuing long-term business partnerships. It takes constant communication and collaboration to ensure a successful BPO operation. To that end, you should always stay on top of your customer support.
3. Reducing Operating Costs as the Sole Purpose
Deloitte's 2020 global outsourcing survey identified cost reduction as the top outsourcing reason. Companies are looking to cut operating costs in the wake of the pandemic. This idea makes sense due to the impact of the global health crisis on businesses. This objective is essential now, more than ever.
But you shouldn't let cost reduction be your sole motivation. You don't want to outsource to save on costs at the expense of compromising your service quality. When outsourcing customer support, strike a balance between affordability and quality.
4. Already Maintaining a Robust Customer Support Operation
Clutch's 2020 outsourcing report notes that 90% of small businesses plan to outsource this year. Their top outsourcing reason is to access flexible resources and an expert workforce. Cost reduction is a valid reason, whether outsourcing email support, live chat, or customer support.
But what if you've already employed talented specialists and the latest technologies? It doesn't make sense to outsource customer support services if you have the resources you need to provide outstanding customer support.  If you have robust customer support, forget about outsourcing. Continue to optimize your processes.
5. Having Financial Constraints
Outsourcing can help you save in the long run. But doing so at the onset can be costly. Outsource Consultants reported the average hourly costs of outsourcing: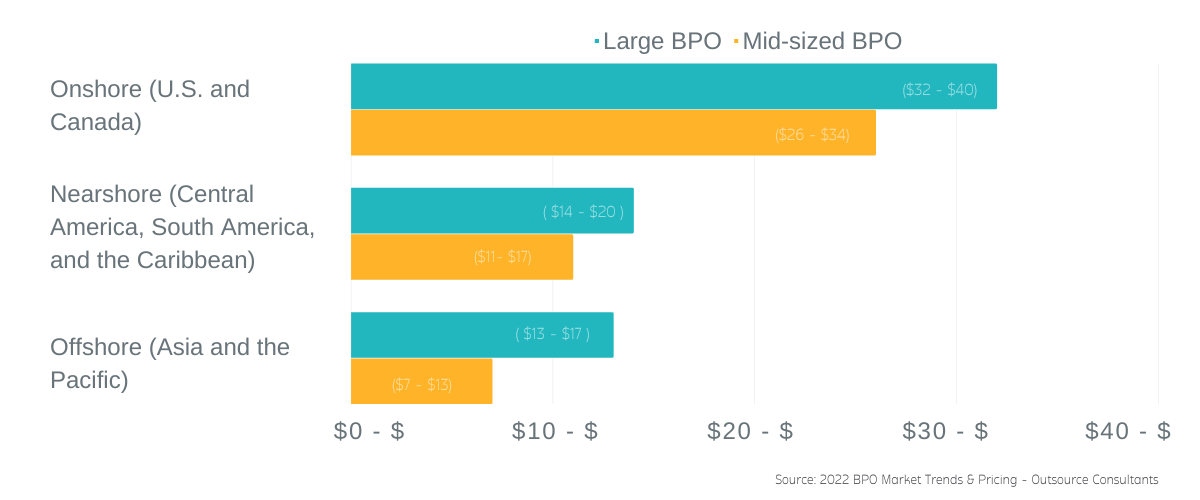 Given these figures, you should come in financially prepared for outsourcing. But if your business has a tight budget, it might not yet be the right time to outsource your customer support. The best thing you can do now is to scale your operation and please customers in the best ways possible.
Six Proven Tips for Outsourcing Customer Support Services
The BPO sector has continuously been growing. Per Grand View Research, it might be worth $525.2 billion by 2030, with a CAGR of 9.1% from 2022 to 2030.
Businesses of all sizes usually outsource front-office functions. A perfect example is e-commerce customer service outsourcing. Technical support and telemarketing usually get outsourced as well. However, you might want to consider outsourcing customer support services.
While BPO has long been proven effective, you should keep a few things in mind. Consider the following tips for outsourcing customer service, particularly customer support: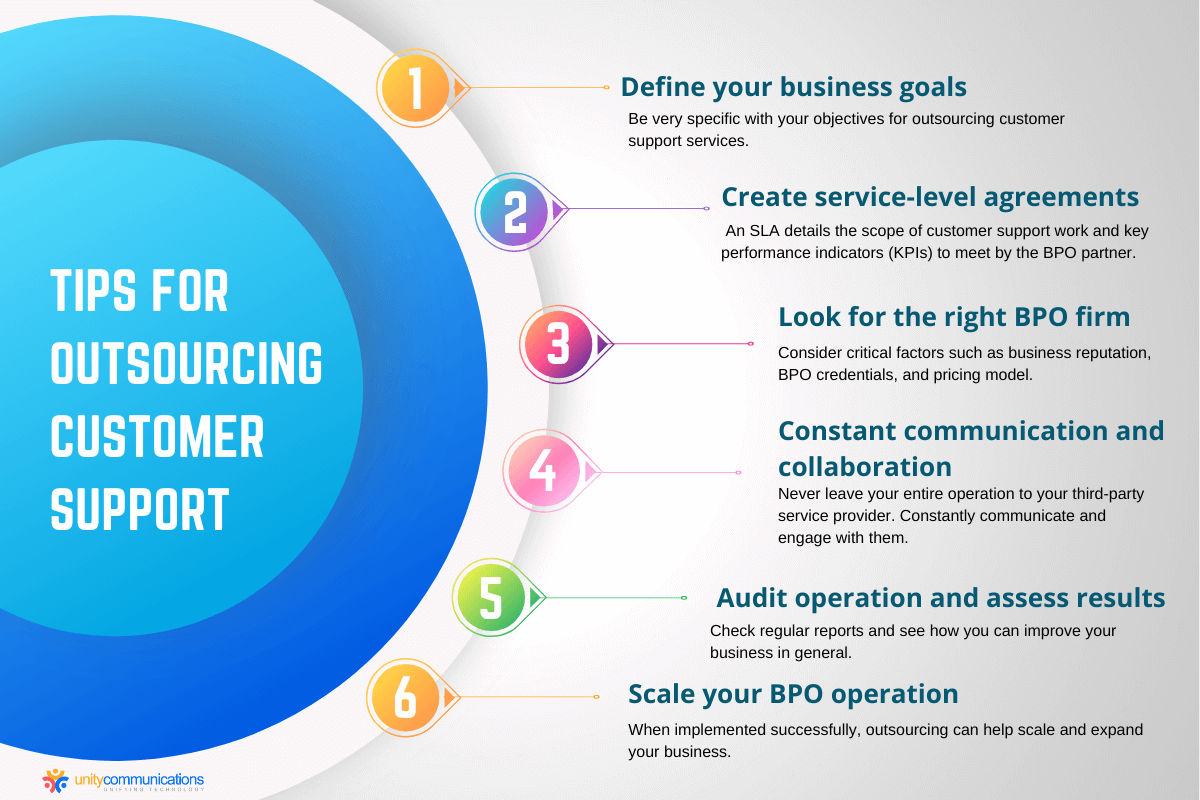 Define your business goals.

Goal setting is imperative in business. Be very specific with your objectives for outsourcing customer support services. Ask yourself what you want to achieve from BPO. Is it to increase customer satisfaction, generate leads, or convert sales?

Create service-level agreements.

An SLA defines your relationships with your BPO partner. It details the scope of customer support work and key performance indicators (KPIs) to meet. It also includes your obligations to your service provider. Both parties should agree to all BPO terms and conditions.

Look for the right BPO firm.

Make sure to do your homework before hiring a BPO partner. Consider critical factors such as business reputation, BPO credentials, and pricing model. Also, examine the workforce, technology, and resources fundamental to your customer support operation. All these will help you decide which BPO provider to hire.

Ensure constant communication and collaboration.

Outsourcing customer support services means pursuing BPO partnerships. Never leave your entire operation to your third-party service provider. Constantly communicate and engage with them. Ultimately, you must always be on top of your BPO operation.

Audit BPO operation and assess results.

You must track your outsourcing progress. Make sure to monitor the performances of your hired employees and the entire account. Check regular reports and see how you can improve your business in general.

Scale your BPO operation.

Setting metrics and monitoring performances are vital. But optimizing your customer support to boost customer satisfaction is the ultimate goal. When implemented successfully, outsourcing can help scale and expand your business.
The Pros and Cons of Outsourcing Customer Support Services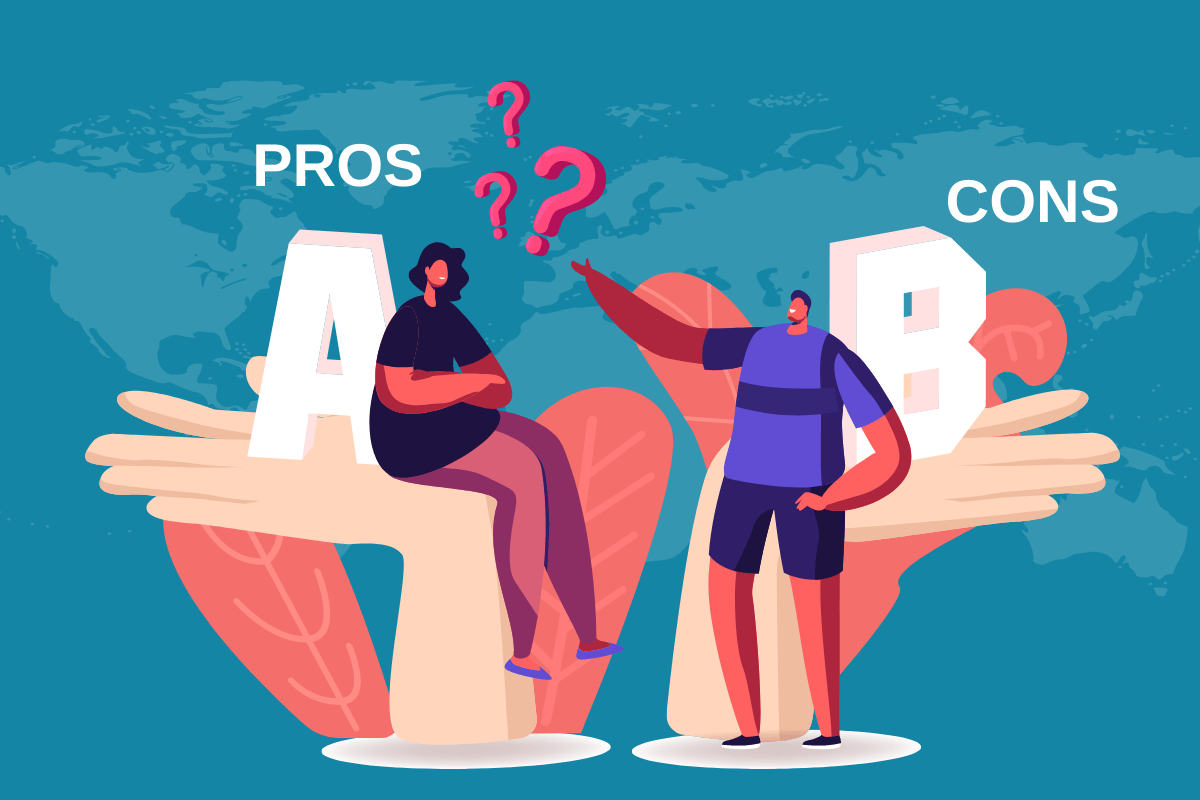 At this point, we've discussed whether outsourcing customer support services is right for your business. To help you further decide on your BPO pursuit, let's discuss the pros and cons of outsourcing.
Advantages of Customer Support Outsourcing
Prioritizing core operation.

Outsourcing allows a third party to handle front-office tasks. When doing so, you can focus on your core function, which is to grow your business. The rest of your team can work on their primary tasks as well.
Reducing operating costs.

Offshoring is the most practical cost-saving solution. Outsourcing your customer support to an overseas BPO service provider is economical. It allows you to save on your labor and production costs.
Accessing a skilled workforce.

BPO allows you to tap into a global talent pool. Outsourcing allows you to work with the best crew armed with skills, expertise, and experience. They can help win and keep customers for your business.
Employing resources.

BPO service providers invest in the latest tools and technologies because they serve other businesses hoping to improve their operations. Look for a BPO partner with resources such as cloud, automation, and omnichannel solutions.
Improving service efficiency.

The right BPO partner can enhance your customer support efficiency. Knowledgeable and skilled employees can immediately assist customers and promptly resolve their issues. Service efficiency is, in fact, part of the key metrics they should consistently hit.
Increasing customer satisfaction.

A reliable BPO firm has the best workforce. They have competent specialists who can effectively engage with customers. They can appease irate ones and please regular supporters, which can translate into a boost in customer satisfaction.
Boosting profits.

Outsourcing customer support can go a long way. With access to an expert workforce and advanced technology, you can enhance the experience. Satisfied customers will continue to patronize your business, which can increase your bottom line.
Growing a business.

The right BPO service provider does more than handle your customer support function. They can go as far as optimizing your operation and scaling your organization. In the end, they can help your business thrive and grow.
Disadvantages of Customer Support Outsourcing
Misalignment in business objectives.

BPO involves two separate companies working together. Unfortunately, both might have different core values, ideals, and philosophies. When outsourcing customer support, you might encounter a misalignment in business goals. Share your objectives with your BPO partner and strive to be on the same page.
A lack of customer focus.

BPO entrusts a business function to an external vendor. Hired customer support specialists might sometimes feel they are working

for

—and not

in

—your company. They might have less knowledge of your business and little customer focus.
Less control over the operation.

BPO removes your control over your business operation. For a successful outsourcing operation, look for a reliable BPO partner. While at it, ensure constant communication and collaboration.
Potential security risks.

Outsourcing also means sharing your business data with an external vendor, which might expose your information to cyberattacks if the vendor doesn't have security measures. Look for a BPO firm with robust security.
Disruptions in business.

Obstacles in business are inevitable. Take, for instance, natural calamities and unforeseen circumstances. BPO service providers have their fair share of business disruptions. When outsourcing customer support, come prepared and ready for such possibilities. Set contingency and disaster recovery plans in place.
The Bottom Line
We might all have heard the phrase, "The customer is always right." It rings true in the world of business. Customers should be your priority because they are the reason your business exists.
As such, you should optimize your operation. Outsourcing customer support services is the key to doing this. But there's a right and wrong way to entrust this business function to a third party. Know when and when not to outsource your most critical business operation.
Outsourcing your customer support the right way can boost customer satisfaction. Satisfied customers will buy your products or hire your services and continue doing so, which can translate to business profits and overall success.