Does it make sense to hand over some of your back-office operations to a third-party service provider? 
Will your business operate faster, more smoothly, and more efficiently?
Outsourcing is a commonly accepted strategy due to its concrete benefits to all types of businesses. But what exactly are those gains?
Keep on reading to find out why you should consider outsourcing back-end tasks. 
What Do Back Office and Outsourcing Back-Office Services Mean?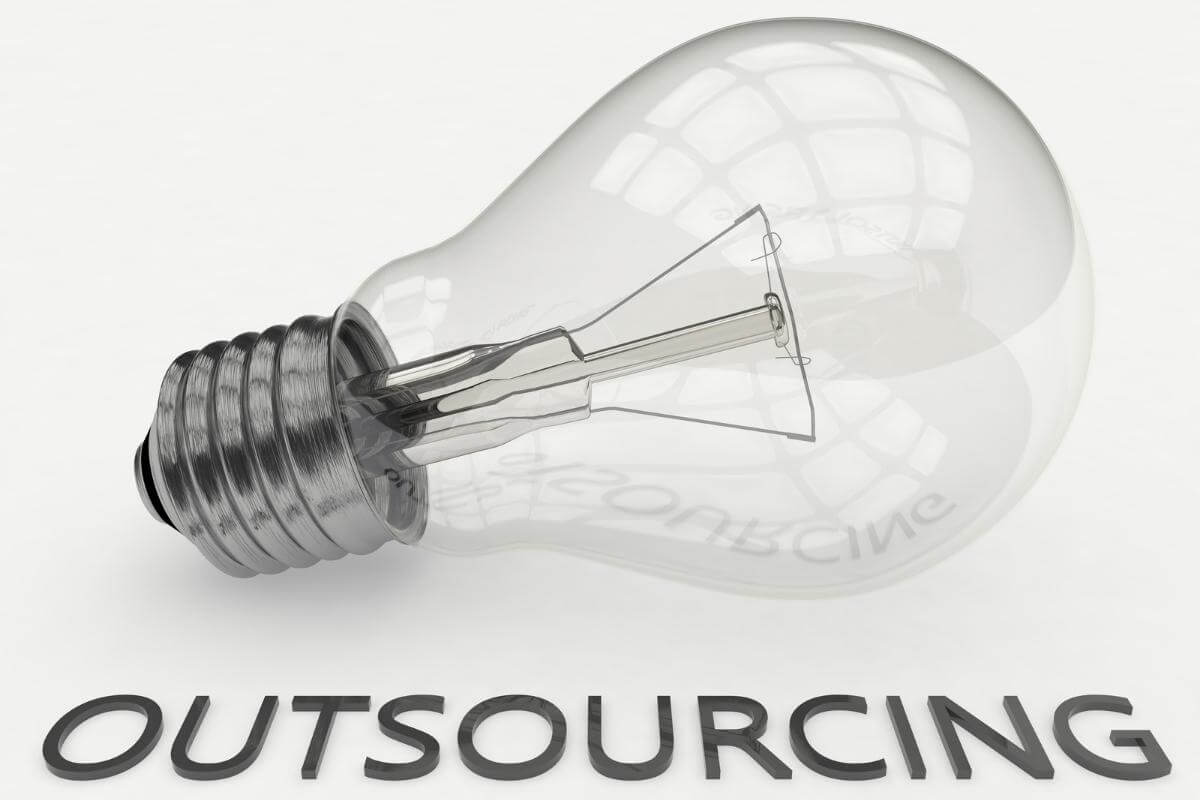 The back office is an organization's administration and employees working behind the scenes. It supports the front office, which comprises personnel directly dealing with clients. 
Back-office support contributes significantly to the company's success. Among its functions are:
Settlements and clearances

Human resources

Record maintenance

Logistics

Regulatory compliance 

Inventory management 

Accounting and bookkeeping 

IT services

Supply chain management
Any business can now outsource back-office activities, thanks to the growing affordability of high-speed audio and video communication technologies, not to mention telecommunications and transportation services.
Outsourcing back-office services means subcontracting back-office tasks to an external service provider, local or overseas.
Six Ways Outsourcing Back-office Services Makes You Efficient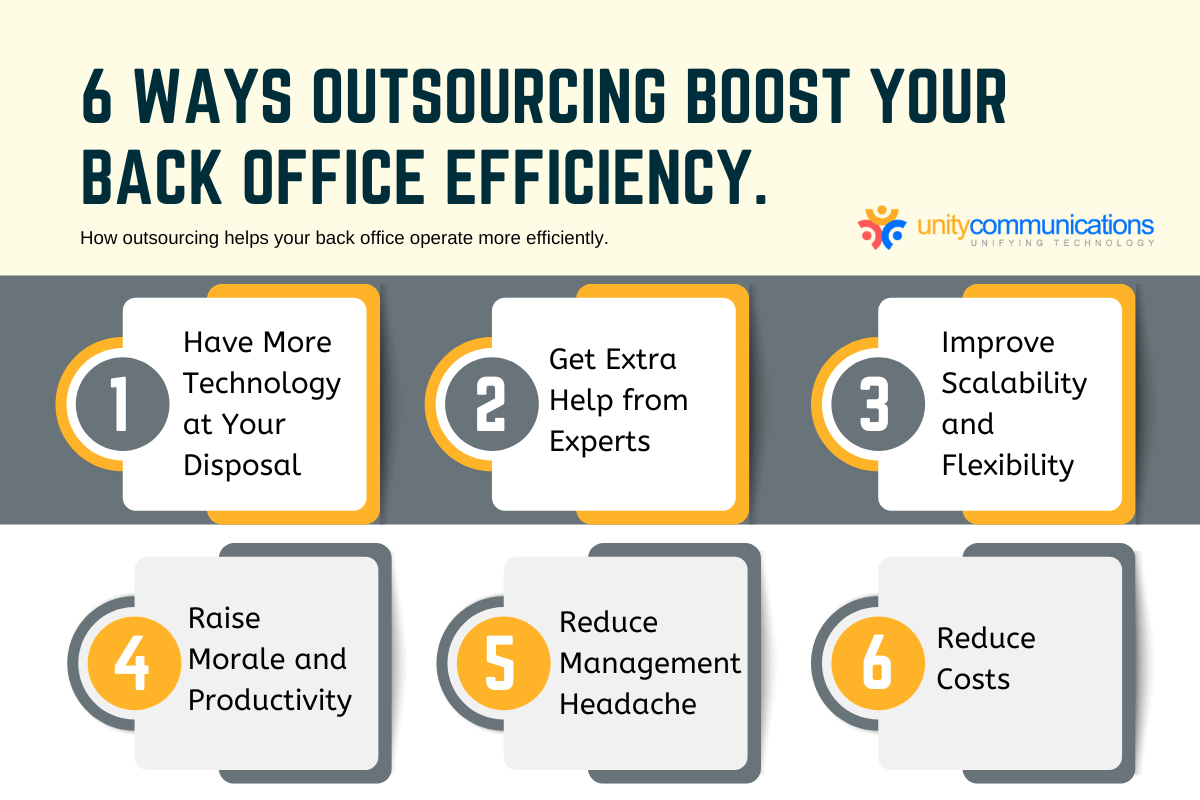 Below are ways hiring a business process outsourcing (BPO) provider for your back-office service lets your business operate more efficiently.
1. Have More Technology at Your Disposal 
If you outsource back-office support tasks to a third-party company, you can enjoy the benefits of the latest technologies.
A BPO company heavily depends on new technologies to simplify processes and ensure error-free business data. It applies advanced systems to deliver accurate and first-rate service, as well as an effective sequence of operations.
The BPO provider maximizes its systems to upload and send finished tasks automatically, which frees you from massive workloads. The provider's automation software also reduces human error, thus improving precision. You also access real-time reports and the BPO provider's ability to detect potential problems and fix them immediately.
In addition, a BPO company uses cloud software, which has drastically changed outsourcing services and workflow processes. Third-party bookkeepers, for instance, no longer need to go to your office to work on your financial records. The Cloud network makes a high volume of paperless work possible.
Many third-party providers use state-of-the-art technology, providing work protection and cloud storage security. Their security systems are at the same level as the world's top financial institutions, and they apply many layers of data protection.
2. Get Extra Help from Experts 
Outsourcing back-office services is a growing business strategy. It gives you access to more experienced and knowledgeable professionals. Expertise and proven methods that can improve your organization are available to you.
The back office of a small business typically comprises at least four employees, including a supervisor. If one resigns, the whole operation suffers. Your department faces setbacks and issues that are hard to address.
When outsourcing back-office operations, the provider makes specialists available to you. These specialists know the latest government regulations, industry policies, and procedures. They are aware of other issues that can influence your operations. As such, you can have your company's needs met without worrisome employee turnover.   
In addition, the third-party team can detect slight differences or variations in your processes. They can significantly improve your operations and finances if addressed accordingly.
One of the best perks of getting expert assistance is that your employees learn from them. The third-party team can pass on the technical and financial skills to the in-house staff. You no longer need to spend more on upskilling, coaching, and extra training.
3. Improve Scalability and Flexibility 
A BPO provider offers scalability that you can capitalize on to handle operating costs better. It can conveniently scale the back-office activities up or down according to your current and future business needs.
For example, you anticipate increased sales from the front office in the coming months. The volume of paperwork and other administrative tasks will follow suit. Your existing back-office workforce will be unable to cope with the increased demand.
The next logical step is to hire more employees and upgrade or purchase new technologies. But these ventures involve a lot of resources, which you don't have at the moment or can't take the time to raise.
Outsourcing the back office, like outsourcing finance and accounting, enables you to get the exact number of professionals from the BPO firm that you need. It will also take care of the hiring, onboarding, upskilling, and training of the extra personnel you need. The recruitment and retention process is not a major issue for you any longer.
When business transactions return to normal, the provider can reduce the number of employees assigned to you upon request. It will decrease its service rates correspondingly to adapt to your specific requirements.
4. Raise Morale and Productivity 
Outsourcing back-office services can enhance overall employee productivity. You liberate your staff from tedious and repetitive tasks, enabling them to work more efficiently.
Automation Anywhere, a California-based software company, found that data entry is employees' least favorite job. After data entry comes managing email traffic, filing digital documents, handling invoices, and collecting IT or software systems reports.
The report adds that half the polled workers say that administrative work is dull (47%). It makes minimal use of their skills (48%) and decreases overall productivity (64%). About 52% of millennial respondents felt they can be more productive if assigned fewer administrative tasks.
A BPO company will deliver all these "most avoided" tasks on time to help your company improve productivity and market growth. Its specialists are familiar with best practices to achieve the highest quality possible. They offer detailed work with precision.
Relieving your employees off tedious and time-consuming tasks through outsourcing will result in increased employee morale. Reducing the staff burden means less stress for them to meet tight deadlines. A satisfied workforce can better meet your organization and customer needs.
5. Reduce Management Headache
Outsourcing back-office services can aid in minimizing business risks in personnel recruitment. It takes plenty of resources to find the right talent and provide them with training. The average cost of hiring a new worker was around $3,500 from 2020 to 2021. That excludes training expenses, which are another costly investment you must make.
Through outsourcing, dealing with time-consuming and expensive recruitment activities is easy. BPO providers create employment ads, contact job agencies, screen and interview candidates, and onboard and train new hires. A system is already in place for the BPO provider to address these needs.
The BPO company ensures you get a team of professionals qualified and skilled in the functions you need. Team members undergo continuous training and upskilling to stay in their game.
Your only responsibility is orienting your third-party team to familiarize them with your back-office processes. This onboarding period is typically short and straightforward because your only requirement is to ensure you're on the same page with them.
6. Reduce Costs 
Cost reduction is a primary motivator when outsourcing back-office services. As your business grows, so do the total expenses. You invest in new people, infrastructure, technology, and other related resources. Handling the operations and spending of each department becomes complex as a result.
Hiring full-time employees will increase operating expenses. Even part-time professionals will keep payroll costs high because of the taxes you cover. But when you outsource, the BPO assumes holiday and sick leaves, retirement plans, insurance, and other non-monetary perks.
More workers in the organization mean higher office expenses. Your company needs more office space, supplies, and equipment, including computers and printers, desks and chairs, and air-conditioning systems. Adding to these are the recurring maintenance and repair costs.
With outsourcing, you don't need to hire people to support growth. The BPO firm will provide the business with teams to help with the expansion. Besides, this practice converts fixed costs, such as payroll, into variable expenses. If you need more work from the service provider, you only have to pay more. If you need less work, you pay your partner less.
You can invest the money saved through outsourcing in more important ventures. One is upgrading the IT system or retraining in-house employees to boost productivity.
The Bottom Line
Business process outsourcing results in benefits beyond what this article covers. If executed properly and promptly, outsourcing back-office functions will be one of your best strategies for cost reduction and improved productivity.
Many companies that adopt outsourcing are thriving and surviving. Big names such as Microsoft, Walmart, Google, Apple, Nike, IBM, and Toyota have relied on this business approach for many years.
Before deciding to outsource, make sure to learn more about it. One way is to check the provider's information resource, such as a BPO learning center, to gain valuable insights from subject matter experts.