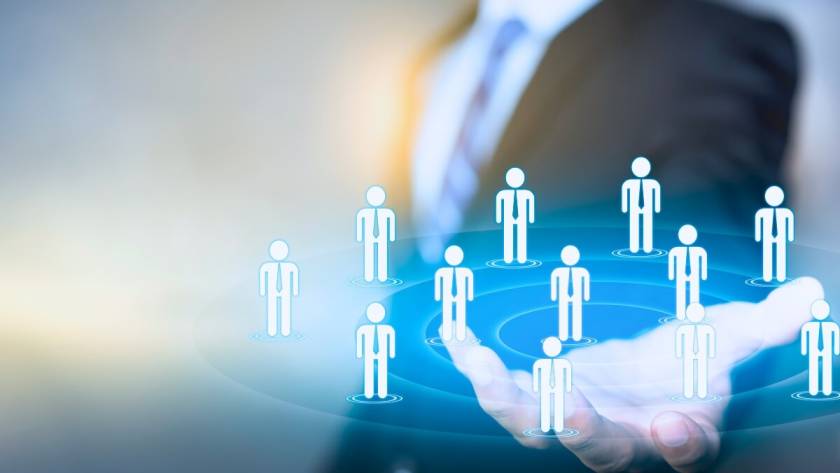 Online businesses with operations in different parts of the world share a common strategy. With ecommerce customer service outsourcing, they build strength and competitiveness. 
Buyers and users are the lifeblood of a business. So successful companies see the importance of maintaining strong and long-lasting customer relationships. They partner with third-party firms specializing in high-quality customer support. 
This article discusses several reasons businesses use outsourced customer service companies. It also names established organizations that work with third-party service providers.
Read until the end to learn useful tips for looking for outsourced customer service companies. 
Seven Reasons Businesses Use Services From BPO Companies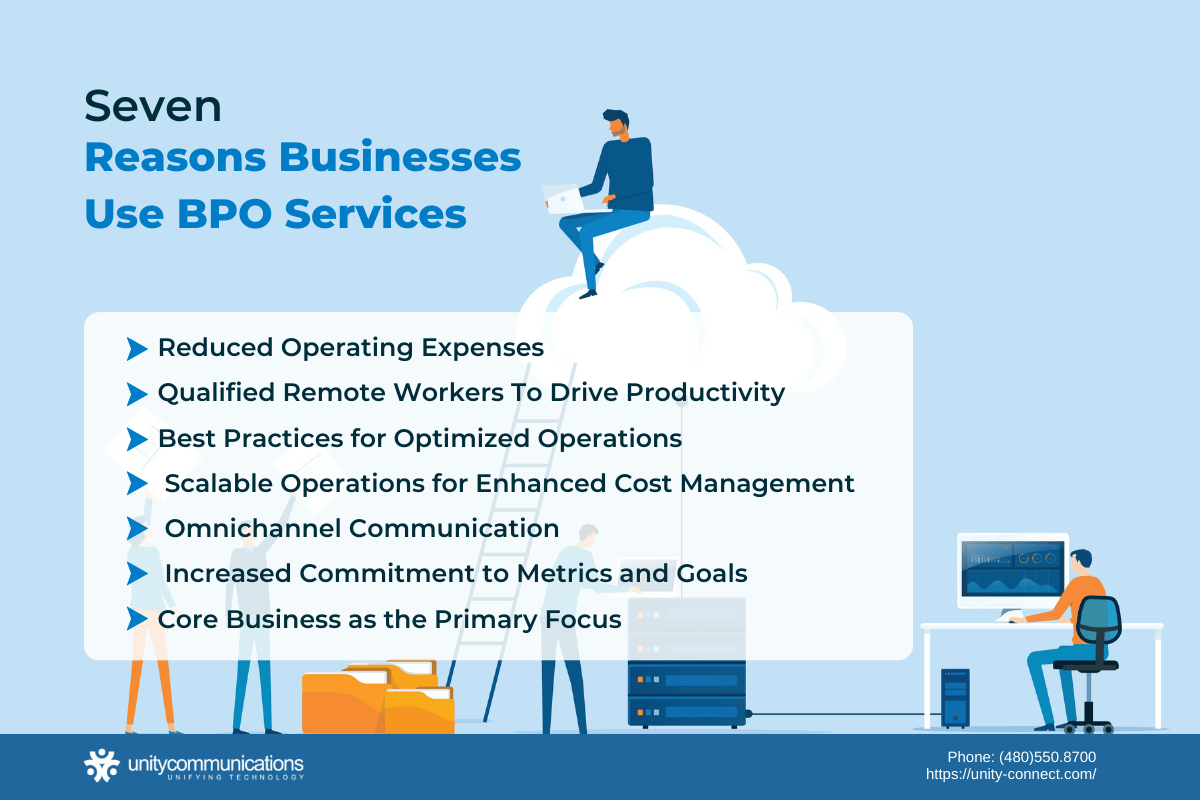 Below are the benefits of business process outsourcing (BPO) for customer service. 
1. Reduced Operating Expenses for a Better Bottom Line 
Compared to running an in-house operation, delegating processes reduces overhead costs. Outsourcing reduces the following expenditures: 
Capital equipment.

Providing the in-house customer service team with the necessary equipment, infrastructure, and tools requires significant financial resources. To function properly, the team needs new workspaces, office supplies, information technology (IT) systems, and more. 

Salary and similar compensation

.

Full-time customer support employees earn fixed salaries regardless of business performance. Government laws also direct companies to provide regular staff other benefits, including holiday or overtime pay, separation pay, and insurance. 

Recruitment.

Hiring extra employees increases the budget. Advertising a job vacancy, screening applicants, and orienting fresh hires require substantial funds. With outsourcing, a BPO company manages the hiring process and shoulders the expenses.

Training

.

Customer service agents must constantly update their knowledge and acquire skills to improve efficiency

. A third-party vendor pays for costly upskilling and training programs. 
2. Qualified Remote Workers To Drive Productivity 
A service provider can field competent and skilled work-from-home (WFH) agents when outsourcing customer support.  
Below are some factors that help maintain the efficiency and capability of remote customer service agents:
Dependable communication tools

. WFH agents use convenient collaboration apps such as Zoom, Skype, and Slack. These applications enable seamless, all-purpose, and real-time interactions. 

Better work conduct.

Customer service agents no longer need to travel to and from the office to work. They can cut heavy road traffic and long pre-work preparations from their daily routines.

As a result, WFH agents experience less stress than on-site staff, resulting in higher morale, stronger loyalty, and higher productivity. 

Adequate work equipment and gadgets

. Remote customer service agents receive relevant computer systems to help complete their daily tasks.

Strict and specific work standards

. Remote third-party agents must fully observe work policies set by the service provider. These high-standard measures foster better output, performance, and collaboration. 
3. Proficiency in Customer Service Best Practices for Optimized Operations
A customer service team is familiar with tried-and-tested measures that improve business performance. It uses these best practices to achieve business goals and adhere to government laws and industry standards. Noncompliance with such regulations can adversely affect a company's image and operations. 
Here are some examples of customer service best practices:
Answering all of a customer's questions during the first contact

Reaching back to customers and asking for service feedback

Going the extra mile to increase customer satisfaction

Personalizing messages to make customers feel important

Using automated responses to inform customers of relevant updates
The perks of implementing best practices are as follows: 
It strengthens a company's credibility and reputation. Agents gain the trust and confidence of the customers they serve. 

It optimizes business performance. Performing processes save valuable resources such as time, money, and effort in the best way possible. 

It reduces overall costs. Using best practices streamlines activities and minimizes delays and inaccuracies. 
4. Scalable Operations for Enhanced Cost Management 
Outsourcing email support, customer service, and similar processes enable businesses to adjust their activities and capabilities based on demand, needs, and current conditions. 
Customer service companies can reduce the number of agents provided for the client without affecting workflow. They can help businesses manage costs better. 
Here are some advantages of scalable operations:
Readiness

. Scalability allows companies to manage unforeseen events without disrupting customer service. 

Flexibility

. Outsourced operations can easily adapt to changing customer requirements and preferences. Adjusting to any situation and becoming agile gives a company a competitive edge over market rivals. 

Shared systems

. A company can distribute tasks between the outsourced customer service team and the in-house team. The latter addresses complex issues, while the former deals with common customer concerns.

Optimized cost

. Outsourcing gives companies their ideal customer support team size to avoid excess spending on human resources. A service provider also assists in determining ways to maximize performance.
5. Omnichannel Communication Capabilities To Interact Anytime, Anywhere
When companies outsource data entry services and customer support, they get a complete and integrated communication platform. This omnichannel platform lets them easily interact with their service partners and end users using different channels and devices. 
The features of omnichannel communication include: 
Email

– electronic messages are best for sending long messages and large files

Voice over Internet Protocol (VoIP) telephony

– ideal for heavy internet users or customers with a VoIP-powered phone

Chatbots

–

smart programs that instantly answer basic and ordinary questions

Standard phones

– fixed and reliable landlines for voice calls 

Short message service (SMS)

–

short text messages sent via cell phones or tablets for quick communication

Social media

– used to serve and respond to customers who post their questions, feedback, issues, and requests on social platforms such as Facebook and Twitter 

Live chat

–

a small messaging box for visitors on the company website 
6. Increased Commitment to Metrics and Goals To Improve Income
Outsourced customer service companies help clients achieve higher revenue by providing high-quality consumer support services and ensuring their satisfaction. They focus on helping clients achieve business goals. 
The following are ways a service provider can help hit customer service objectives:
Monitor relevant key performance indicators (KPIs)

. Third-party customer support teams regularly track essential

KPIs to achieve their targets. They analyze data to devise strategies and monitor progress.
Set specific, quantifiable, progressive, and achievable targets

. A third-party team sets measurable and realistic goals. For example, the team can aim to improve metrics by -30 seconds on average wait time, +15% on first call resolution, and +3 points on

net promoter score

.
Encourage members and reward achievers

. Supervisors or team leads frequently meet with members to assess their performance. They inspire and motivate agents and give incentives to high performers.
7. Core Business as the Primary Focus To Generate Higher Revenue 
Customer service is a critical business function. But the company's core business must take precedence over it to ensure long-term survival and growth. 
Delegating back-office operations through human resource and inventory management outsourcing, for instance, takes tedious tasks away from the in-house staff. The company can then use valuable resources on income-generating processes such as marketing and sales initiatives and product or service improvements. 
Paying more attention to core competencies leads to higher revenue and investible funds. This paves the way for more business opportunities such as:
Providing high-quality customer service for better brand loyalty and retention

Expanding to a new market for a larger customer base

Giving more employee incentives, commissions, bonuses, and perks for higher morale and productivity 
Examples of Businesses That Outsource Customer Service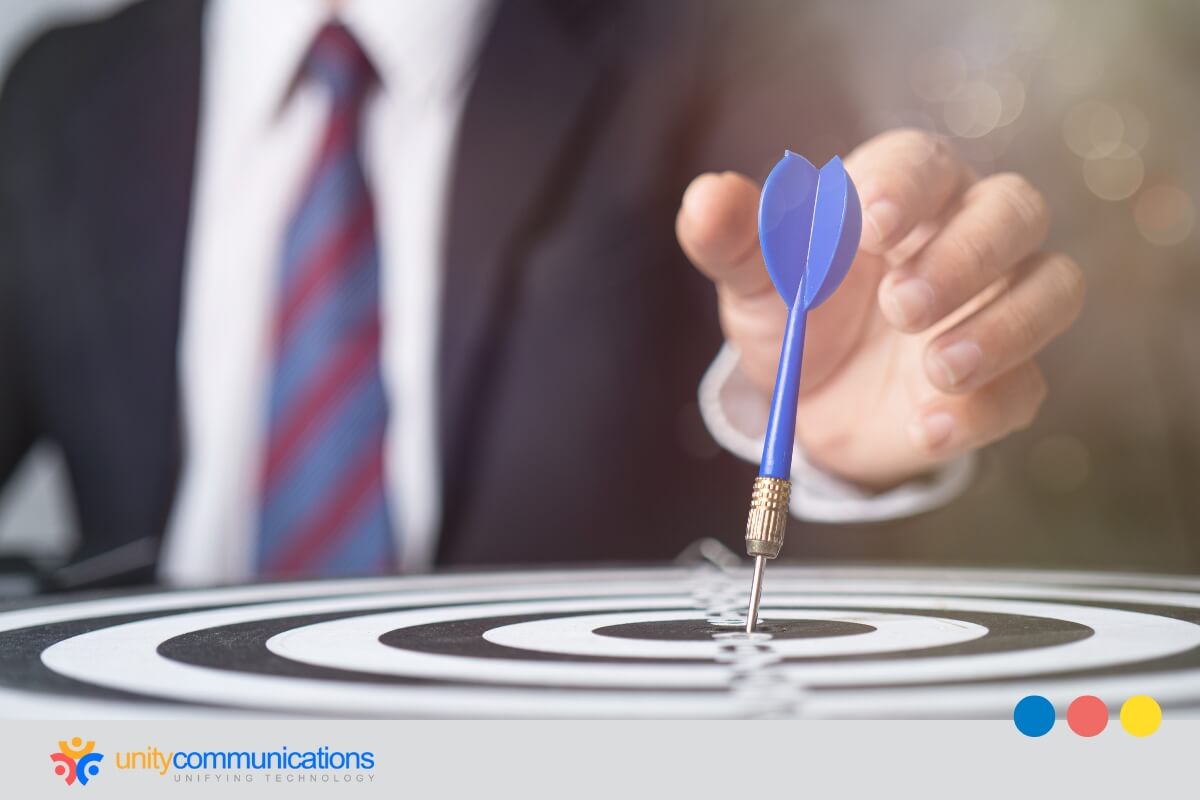 Here are some well-known online brands and e-commerce businesses that rely on outsourced customer service companies.
Alibaba Group
Headquarters: Hangzhou, Zhejiang, China
Main services: cloud computing, digital media, entertainment, online retail, operating system, e-commerce operator
Number of employees: 250,000+ as of March 2022
Alibaba delegates its customer service operations to call center partners in India and the Philippines. 
Amazon
Headquarters: Seattle, Washington and Arlington, Virginia, U.S.
Main services: e-commerce, digital streaming, artificial intelligence, cloud computing
Number of employees: approximately 1.5 million as of December 2022
Amazon outsources work to customer service centers in the Philippines to provide global shoppers with round-the-clock service regardless of their time zone and location.
eBay
Headquarters: San Jose, California, U.S.
Main services: online shopping, mobile apps, auctions, e-commerce  
Number of employees: approximately 10,000 as of December 2021
eBay has call center partners in the Philippines that handle customer service.
Google 
Headquarters: Menlo Park, California, U.S.
Main services: search engine, computer hardware, software, cloud computing, artificial intelligence, advertising, operating system 
Number of employees: approximately 140,000 as of 2021
Google uses outsourced customer service and email support for Google Ads.
Hootsuite 
Headquarters: Vancouver, Canada
Main services: software as a service and social media applications 
Number of employees: approximately 1,500 as of January 2019 
Hootsuite outsources customer service to BPO providers to scale its support operations.
LinkedIn
Headquarters: Mountain View, California, U.S.
Main services: employment and business-focused social media network
Number of employees: 21,000 as of 2022 
LinkedIn relies on third-party workers for customer service and technical support. 
Meta Platforms (formerly Facebook) 
Headquarters: Menlo Park, California, U.S.
Main services: social networking service, artificial intelligence, instant messaging, virtual reality, collaboration software
Number of employees: 75,000+ as of November 2022
Meta Platforms partners with BPO providers to manage customer service, content moderation, and technical support for its subsidiaries, Facebook and WhatsApp. 
Mercado Libre
Headquarters: Montevideo, Uruguay
Main services: online marketplace, financial technology, and e-commerce payment system, mostly in the Latin American region 
Number of employees: approximately 10,000 as of December 2021
Mercado Libre has BPO partners that offer customer service in Portuguese and Spanish.
Shopee 
Headquarters: Science Park Drive, Singapore
Main services: e-commerce, online shopping 
Number of employees: approximately 30,000 as of the end of 2020
Shopee outsources call center operations to BPO providers in the Philippines to serve customers in Indonesia, Malaysia, Taiwan, Thailand, and Vietnam. 
Shopify
Headquarters: Ottawa, Ontario, Canada 
Main services: online shopping, software as a service, and online retailing for small and medium-sized businesses. 
Number of employees: 10,000+ as of December 2021 
Shopify outsources customer support processes to call center affiliates in Ukraine, the Philippines, and India. 
Target
Headquarters: Minneapolis, Minnesota, U.S.
Main services: online retail and e-commerce marketplace 
Number of employees: nearly 410,000 as of 2020
Target operates call centers in India and the Philippines.
Tokopedia 
Headquarters: Jakarta, Indonesia
Main services: online shopping, consumer-to-consumer marketplace, transportation booking, on-demand delivery, and financial services
Number of employees: nearly 5,000 as of 2019
Tokopedia outsources call center services to provide Bahasa Indonesia as a language option.
Walmart
Headquarters: Bentonville, Arkansas, U.S.
Main services: online retail and e-commerce marketplace 
Number of employees: approximately 2.3 million as of January 2022 
Walmart chooses the Philippines as one of its outsourcing destinations for customer service. 
How To Get the Right Outsourced Customer Service Companies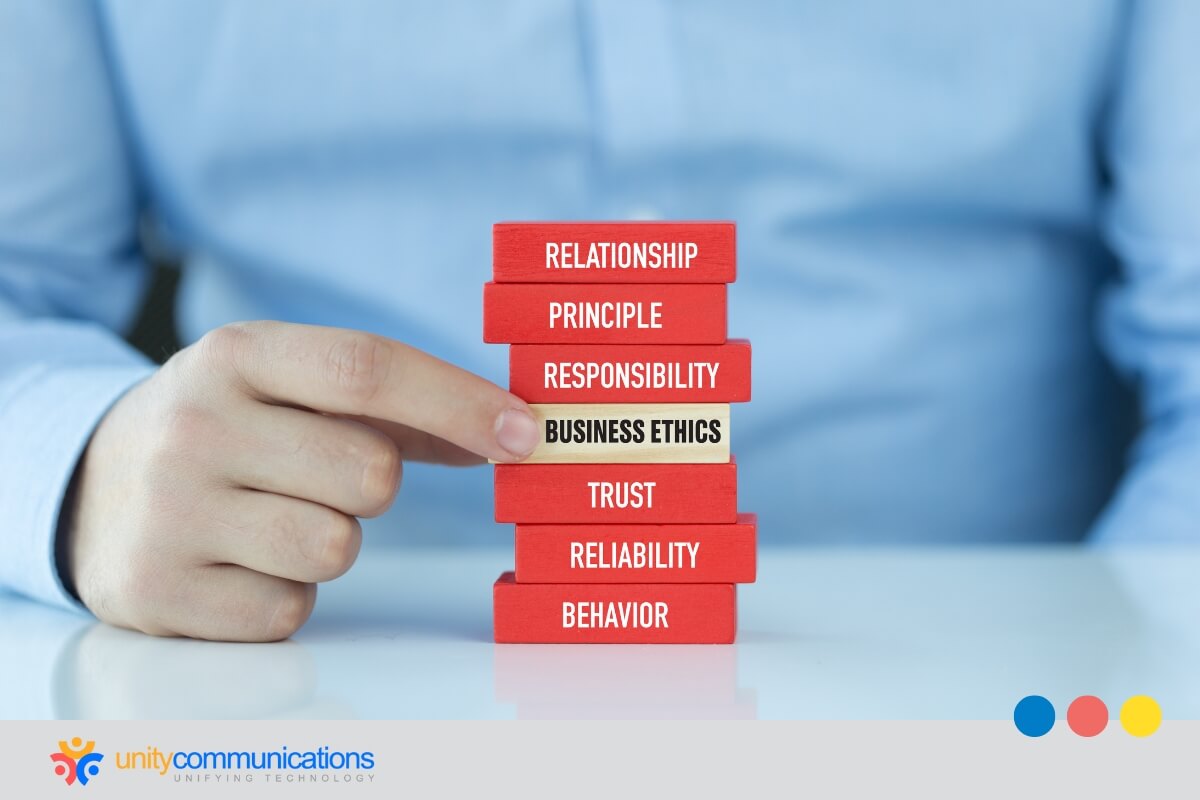 Outsourcing can be advantageous if planned carefully. Consider these tips for outsourcing customer service.
Conduct due diligence.

Investigate the prospective service provider's profile and background. The candidate should have comprehensive accomplishments to prove their performance, productivity, and dependability. 

Know its technological capability.

Opt for a third-party vendor that uses an advanced

customer relationship management platform

and the latest tools. These systems help the service provider drive output and efficiency to reach operational goals. New technologies can also effectively manage a high contact volume. 

Pick the type of outsourcing that suits your needs

.

Choose offshore or nearshore outsourcing to reduce operating costs and save substantial funds in the long term

. Both types of outsourcing charge lower service rates than onshore companies because of their cost-efficient workforce. 

Find the appropriate third-party team size

. Look for a BPO provider of your business size. Large-scale enterprises should work with a big BPO company that can handle high volumes of outsourced work. Startups or small and medium-sized companies should start with a smaller provider who can best prioritize their processes. 

Ensure transparency.

A company should ask prospective partners about undeclared or hidden service charges to manage its budget and avoid overspending. It should also inquire about service-related security policies.

Align workflow and business procedures.

A company and a service provider should agree on critical elements such as practices, objectives, and expectations. 

Prioritize a BPO partner with certifications

. Ensure your BPO partner has certifications or accreditations from government institutions, academies, or industry associations. Membership and credentials signify commitment, credibility, and professionalism. 

Generate a request for proposal (RFP)

. This document can attract numerous bidders and help the company get the best service provider. 
The Bottom Line
Using outsourced customer service companies is ideal if businesses want to stay competitive. Acquiring third-party services is a generally accepted practice to consistently deliver excellent customer service. 
The growing number of outsourced customer service providers worldwide indicates their ability to help businesses of all sizes and types. However, some business owners might be concerned about outsourcing for fear of losing control or experiencing data privacy issues. 
As such, companies, especially first-timers, must take cautious steps to minimize the potential risks of outsourcing.