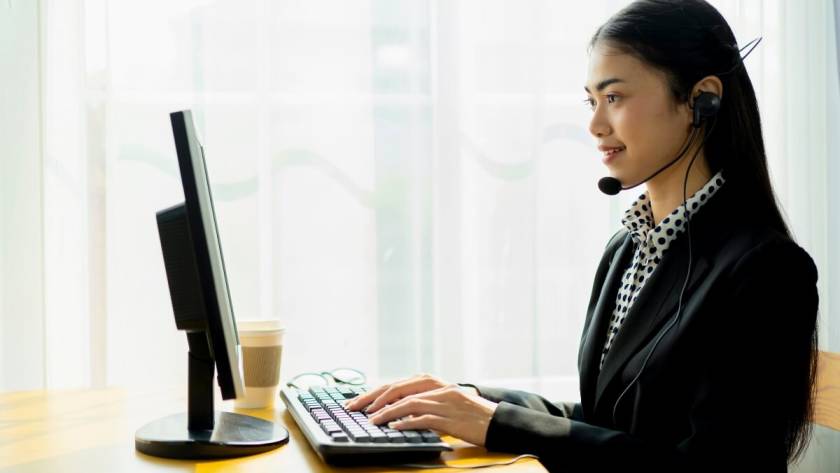 Written by Dion Jay Tality
Information technology (IT) support is imperative for business. Not only does it protect data, but it also maintains technology. More importantly, it provides technical assistance to ensure uninterrupted operations.
However, the lack of experts and resources for your IT support can cripple your business. That's where outsourced technical support comes in. You can hire either on-site or remote services for this.
But which is a better option? That's what you'll find out in this article. Learn about the difference between on-site and remote outsourced IT support.
What Are On-site and Remote Outsourced IT Support?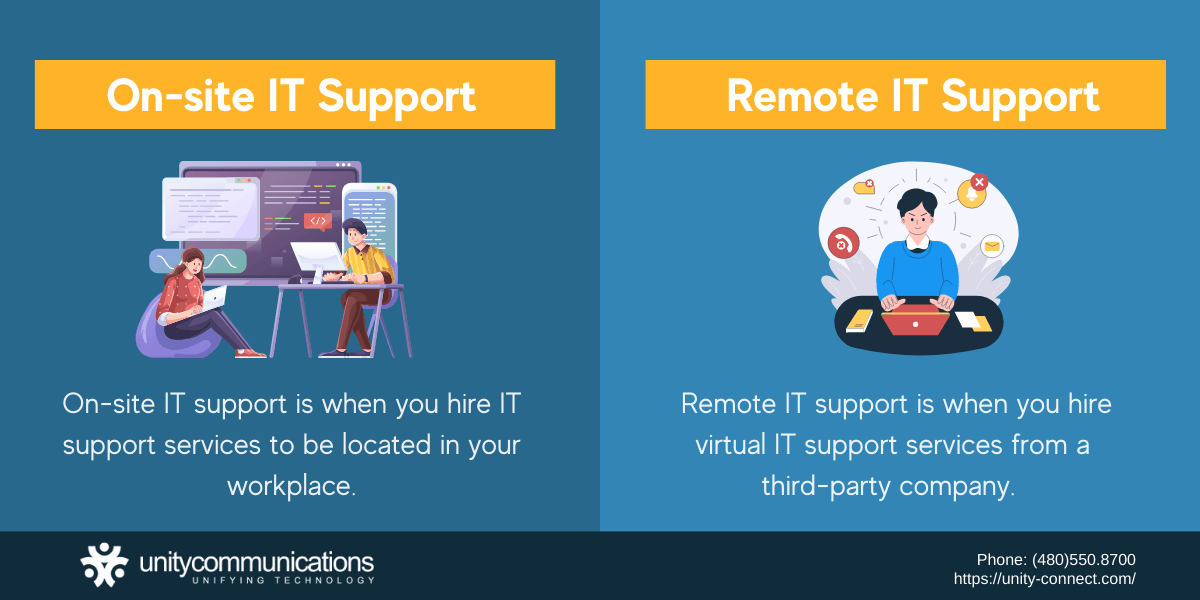 On-site IT support is when you hire IT support services to be located in your workplace. For instance, your service provider sends technicians to your site to fix devices – this is on-site IT support.
Today, service providers send specialists to a client's business locations to perform IT-related tasks. Some even report to the office regularly to assist employees.
Meanwhile, remote IT support is when you get virtual services from a third party. For instance, IT specialists troubleshoot your employees' computers online – this is remote IT support.
So what is an outsourced IT provider? It's an external vendor that provides you and your employees with IT support services. Specialists can now perform critical tasks on-site or remotely.
11 Major Differences Between On-site IT Support and Remote Outsourced IT Services
Here's a quick rundown of the significant differences between the two services:
| | | |
| --- | --- | --- |
| Key Factor | On-site IT Support | Remote IT Support |
| Location | Services delivered in a business location | Services delivered from a remote location |
| Availability | Operating during business hours and whenever necessary | Fully operational 24/7 |
| Accessibility | Access to IT experts  | Access to IT experts and resources |
| Familiarity | A deeper understanding of the business | Limited knowledge of the business |
| Resources  | Relying on the client's IT resources | Investing in digital tools and technologies |
| Outsourcing costs | Costly due to extra expenses (e.g., travel and vehicle costs)  | Cost savings by reducing operating expenses |
| Work scope | Focus on IT infrastructure and hardware services | Focus on cloud-based services |
| Support strategy | Optimizing the IT support function and scaling the business | Limited to handling IT support operations |
| Management | Easy monitoring of IT specialists | Entrusting operations to a third party |
| Security | Less security risk due to on-site services  | Potential exposure to cyberattacks |
| Business relations | Solid partnership due to face-to-face interactions | No direct interactions, purely online |
Let's dig deeper into these differences.
1. Location
The service location is the main difference between on-site and remote IT support. The former occurs at the workplace, while the latter happens off-site.
Previously, service providers offered only IT support services via digital channels. Today, outsourced IT specialists can report to the client's workplace. They provide technical assistance, monitor your IT systems, and manage your IT support operations on-site.
Unfortunately, tech talent is a growing concern in business today. According to McKinsey, 87% of companies are encountering or expecting skill gaps. Onshore and offshore outsourcing gives you access to IT talent.
2. Availability
On-site IT support typically runs during business hours. Outsourced IT specialists report to the office to provide in-house employees with technical assistance.
But some IT providers dispatch technicians whenever necessary. They send IT support specialists on-site beyond business hours. This happens particularly during emergencies.
But as with front- and back-office outsourcing services, remote IT support usually operates 24/7. IT providers typically have teams of specialists on shifts around the clock. They are always ready to assist your employees.
3. Accessibility
According to a Clutch report, 33% of small businesses outsource to access flexible resources. Another 26% need to tap into onshore or offshore partners with technical expertise.
That said, Burning Glass cited the ten most disruptive tech skills:
Quantum computing (135%)

Connected technology (104%)

Fintech (96%)

Artificial intelligence and machine learning (71%)

IT automation (59%)

Natural language processing (41%)

Proactive security (39%)

Software development (35%)

Cloud technology (28%)

Parallel computing (17%)
Outsourcing allows you to employ an expert workforce with those disruptive tech skills. It also gives you access to your IT provider's technology and resources, especially for remote IT support.
But for on-site IT support, your service provider doesn't need to invest in resources. Instead, they help set up your infrastructure because they work on-site. With their technical expertise, they can optimize your operations.
4. Familiarity
One major concern about outsourcing is business familiarity. This aspect of outsourcing IT support draws a clear line between on-site and remote IT support.
On-site IT specialists most likely know your business deeply. They understand your products or services simply because they work on-site. Meanwhile, remote specialists might have limited knowledge of your company and offerings. Why? They are not directly involved in your business.
5. Resources
The global IT expenditure might be worth $4.5 trillion this year, a 3% increase from last year. Companies spend not only on communications and IT services but also on software, hardware, and data centers.
An outsourced IT provider can help with your IT resources. For on-site IT support, it can set up your IT infrastructure. It also recommends investing in technology, equipment, and other resources.
But for remote IT support, your service provider handles everything. It probably has IT resources already set up in its remote office, enabling it to provide your employees with tech support virtually.
6. Outsourcing Costs
According to Deloitte, cost reduction is the top reason for outsourcing. Companies prefer not to spend on an in-house team and instead invest in IT resources. They'd rather outsource to save. But while outsourcing is cost-efficient, there's a cost difference between on-site and remote IT support.
Offshore IT support is more affordable than on-site IT support. The former helps you save for the long term. However, the latter involves miscellaneous expenses such as travel and vehicle rental costs. So service providers charge more for on-site IT support.
7. Work Scope
IT support is integral to operational success. Such services usually include:
24/7 help desk support

Troubleshooting

Software installation and updates

Hardware installation and maintenance

Network management

IT Infrastructure

Online Security

Datacenter

Data backup and recovery
Front- and back-office outsourcing are best for handling the services mentioned above. Your IT provider can manage them either on-site or off-site. But there's also a difference between the two in terms of work scope.
On-site specialists handle almost every aspect of IT support. They handle not only software issues but also hardware concerns. On the other hand, remote specialists provide only cloud-based services. They troubleshoot and fix systems virtually.
8. Support Strategy
According to PA Consulting (UK), the top reasons for IT outsourcing are:
Cost reduction (71%)

Business transformation (50%)

Improved service quality (50%)
Companies also choose IT outsourcing to improve performance and achieve growth. Remote IT specialists can help optimize your IT support operations and scale your business.
But the same report notes that companies prefer insourcing to:
Achieve faster time to market and improve service quality (88%)

Build and control intellectual property (63%)

Avoid the challenges of working with providers (58%)
That's where on-site outsourcing for IT support comes in.
Your hired IT service provider can have specialists report to your site regularly. Their support strategy can go beyond handling IT tasks and as far as optimizing your IT operations and scaling your business.
9. Management
Management is crucial whether you outsource data entry services or IT support functions. After creating a service-level agreement (SLA), you don't leave the entire operation to your IT provider.
Constant collaboration and monitoring are imperative for business process outsourcing (BPO) success. You must regularly communicate with your outsourced IT staff and track their performance.
Unfortunately, managing remote IT support specialists can be challenging. But on-site specialists employed by your IT provider can be easier to manage. That's where the difference lies in terms of outsourcing management.
10. Security
When it comes to business, security is a top priority. Unfortunately, outsourcing can put your security at risk.
Whether you outsource data entry or IT support, you might expose your business and customer data to cyberattacks such as:
Malware attacks

Phishing attacks

Ransomware attacks

Denial-of-service (DoS) attacks

Distributed denial-of-service (DDoS) attacks

Man-in-the-middle attacks

Internet of things (IoT) attacks
However, NTT reports that 32% rated security as the most important factor for outsourcing. It highlighted the fundamentals required for outsourcing:
Security credentials

Technical expertise

Business goal alignment
The key here is to hire a reliable IT support provider.
But when outsourcing, there's one more viable solution. Instead of remote IT support specialists, consider having on-site specialists employed by a third party. On-site IT support has fewer security risks than remote IT services. 
11. Business Relations
BPO is entrusting some or all of your business functions to a third party. But some companies think it's leaving the entire business operation to an external vendor.
In essence, outsourcing means pursuing business partnerships. And this applies to IT support outsourcing as well. So when it comes to business relations, on-site IT support can be more collaborative than remote IT support.
Remote specialists have no direct interactions with your in-house employees because they work completely online. On the other hand, on-site specialists work with your employees face to face. 
The Bottom Line
IT support is part and parcel of your business. It then makes sense to build a solid IT team to ensure continuous operation. Outsourcing is the key.
You can either have on-site or remote IT support services. To choose between the two, consider the differences discussed above. Weigh the pros and cons to make an informed decision. Either way, you'll have a solid IT team to support your business. You just need to know what works for you and your company.
In the end, robust IT support is what you need to achieve business success.