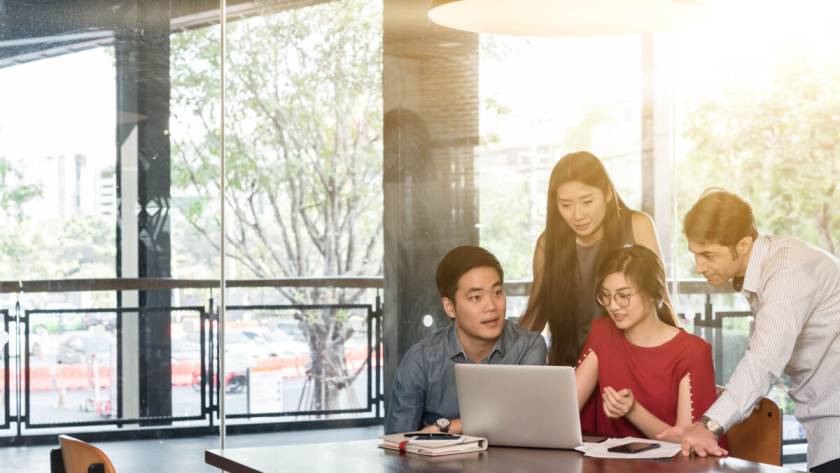 Written by Allie Delos Santos
All businesses require labor—the physical, mental, and social effort workers exert to render services or output. Sometimes finding the expertise and skills required for production and business growth is challenging. Hence, organizations tap into offshoring providers in the Philippines for help.
This blog post discusses everything you need to know about labor outsourcing in the Philippines, how it works, and its benefits and risks.
Read on to learn more.
What Is Labor Outsourcing?
Labor outsourcing involves acquiring third-party individuals from offshore locations, such as the Philippines, who have the skills and ability to perform specific job functions. The range of services and roles companies outsource is rapidly increasing. Businesses outsource functions such as:
Contact center as a service

(CCaaS)

Customer support

Technical support

Information technology (IT)

Back office

Management

Healthcare

Logistics

Manufacturing
Organizations outsource labor to the Philippines to reduce costs and gain the manpower they need. Companies opt for this business strategy for contractual, seasonal, and regular employment.
The practice of labor outsourcing is not without considerable controversy, though. Naysayers argue that it causes the loss of domestic jobs, especially in manufacturing. Supporters say that it creates an incentive for organizations to distribute resources where they are most effective and maintain a free-market economy on a larger scale.
Evolution of Labor Outsourcing
The idea of outsourcing labor did not dominate the business world until the Industrial Revolution. It was first recognized as a business strategy in 1989 and became a crucial player in business economics in the 1990s. Companies started outsourcing because they needed help with rapidly increasing production rates, influencing them to offshore more.
Businesses started outsourcing operational functions that were outside their core competencies. They engaged emerging specialized companies to provide back-office outsourcing services such as data processing, human resources, accounting, security, internal mail distribution, and maintenance.
Nowadays, many different types of labor outsourcing are available to increase an organization's productivity and cut back on costs.
History of Labor Outsourcing in the Philippines
Labor outsourcing began in the Philippines when Frank Holz established the country's first contact center in 1992. A few years later, President Fidel V. Ramos instituted the Philippine Economic Zone Authority (PEZA) to assist foreign investors in facilitating their business operations in certain regions of the country.
In 2005, the Philippine outsourcing industry cornered 3% of the global business process outsourcing (BPO) market and 2.4% of the nation's gross domestic product (GDP). By 2006, the BPO industry started growing at a rate of 46% per year.
The Philippines earned its title as the world's BPO capital in 2010 after employing 525,000 people and generating $8.9 billion in revenue. Data from the IT and Business Process Association of the Philippines (IBPAP) shows that the Philippine BPO industry saw a 1.4% increase in revenue in 2020 despite the pandemic.
The year 2021 was a watershed moment for the Philippine outsourcing industry; it employed 1.3 million people and generated $30 billion in revenue for the economy. The industry's steady growth continues to attract foreign investors to establish or expand their operations there. The Philippines is an excellent destination for outsourced call centers, data entry services, and more.
Why Do Companies Outsource Labor?
Companies use labor outsourcing with offshore nations such as the Philippines to significantly reduce costs. Outsourcing helps save money in many ways.
When a business outsources, it requests help from a third-party provider to complete certain functions. The third-party sets up different compensation structures with their employees or establishes operations offshore, allowing them to complete projects and jobs for a reduced fee. This enables BPO clients to save up to 70% on labor costs.
Outsourcing companies also avoid expenses related to technology, equipment, and overhead.
Apart from cost savings, organizations outsource to the Philippines to better focus on core business aspects. Outsourcing also improves productivity and efficiency because the service provider can handle the function better than the BPO client. Ultimately, the business strategy leads to increased industry competitiveness and faster turnaround time.
Types of Outsourcing in the Philippines
Apart from knowing the definition of outsourcing, one must also know its different forms.
Labor outsourcing in the Philippines comes in different forms, depending on the needs of the business. Below are the different types to consider.
BPO
Business process outsourcing is the most common type. It involves contracting repetitive tasks, such as administrative or customer service, to an external service provider. Take a look at the examples of this type of outsourcing below:
Telecom companies such as AT&T hire Filipino customer support teams to handle billing and tech support

A small business outsourcing lead generation to get more clients abroad or locally

A real estate agent hiring a virtual assistant to help them respond to emails, answer client inquiries, and schedule customer appointments
IT Outsourcing (ITO)
All businesses, whether startups or big corporations have IT needs. As such, ITO is common nowadays. It involves offshoring technology-related resources and services. 
ITO can be demonstrated in the following examples:
Telecom companies

outsource tech solutions

to the Philippines and India to enhance capacity and improve services

Alibaba is hiring offshore developers due to its inability to hire onshore specialists

Slack outsourcing its platform interface to a foreign software development company
Professional Outsourcing
Some activities are too complicated for small teams or entrepreneurs to manage. These roles might require professional licenses or additional training to complete. Scarcity might also increase the price of hiring onshore talent. Professional outsourcing is a viable solution in such cases because it saves on costs while giving businesses access to high-quality workers.
Explore the examples of professional outsourcing below:
Hiring bookkeepers and accountants to create income statements and comply with annual tax filing

Businesses outsourcing marketing to better manage promotions and strategies

Contracting computer-aided design (CAD) operators and engineers to create layouts, including mechanical designs and floor plans
Process-specific Outsourcing
Process-specific outsourcing involves hiring personnel for processes related to certain internal procedures or tasks. It is not uncommon for some businesses to engage a third-party provider specializing in a particular service.
For instance, an e-commerce company can outsource delivery to an external partner for international shipping. This approach involves comprehensive agreements detailing customer contacts, delivery timelines, and product costs. Process-specific outsourcing allows the brand to cut costs, focus on core activities, and save time on order fulfillment.
The following are different types of process-specific outsourcing:
Legal process outsourcing (LPO) covers all aspects of legalities such as regulatory compliance and litigation.

Knowledge process outsourcing (KPO) involves subcontracting knowledge development, such as research and data analysis, to improve products and services.

Recruitment process outsourcing (RPO) delegates all aspects of talent acquisition and hiring, from managing job posts to tracking applications and evaluations.
Project Outsourcing
Juggling multiple projects is tedious. It might also undermine the quality of the in-house team's output when they do not have the time to focus on each item. You can delegate the project to a third-party service provider in this case. You can outsource a project for various reasons, but the most common is the absence of skilled personnel to finish the work.
Below are situations where projects are outsourced:
E-commerce stores outsource advertisements and promotions for on-demand projects.

Law firms with a high number of cases use contract attorneys to manage the workload.
Multisourcing
This type of outsourcing combines the output of various specialized providers to create a finished product.
Multisourcing applies to any business area but is most common in complex sectors or those with extreme specialization. Sectors such as avionics, technology, automobiles, and space travel rely on multisourcing.
This type of labor outsourcing creates a team with members specializing in their craft. Multisourcing focuses on the outcome and builds relationships with many providers. Businesses that engage in this outsourcing model must have a comprehensive strategy and a network of relationships and governance.
Manufacturing Outsourcing
Manufacturing your own products in-house can be costly. You have to pay for the wages of factory workers, raw materials, infrastructure, and equipment. Outsourcing manufacturing processes helps you avoid high infrastructure and labor costs.
Explore the examples of manufacturing outsourcing below:
Ikea, one of the largest furniture companies, outsources manufacturing to increase profitability and save on costs.

Apple outsources manufacturing for mass production after designing the products.

Fashion brands such as Zara and H&M tap into clothing factories to produce the pieces.
Benefits of Outsourcing Labor to the Philippines
The most apparent benefits of labor outsourcing in the Philippines are strong government support, high English proficiency, and a large supply of available workers. The benefits are more than simply saving money; they add value to your business.
Here are ways that labor outsourcing can help your business:
Control cash flow
Instead of paying a worker's full-time salary, you acquire a flexible, pay-what-you-need service with outsourcing. This frees up the cash flow for other investments and expenses. Having more capital is crucial to investing in revenue-generating activities. You can better adapt to trends, market changes, and new ideas if you do not have unnecessary fixed costs.
The BPO provider also handles equipment and other logistical needs for your operations. You need not purchase expensive technology for temporary projects. Not worrying about these expenses makes it easier to grow.
Recruit staff faster
When you work with a BPO company, you gain access to a pool of knowledgeable and seasoned candidates who undergo training and assessment to fulfill your business needs. These professionals can start working whenever you need them.
Your outsourcing partner allows you to evaluate candidates using a temp-to-hire approach, wherein the talent agrees to work on a trial period. They understand that they might or might not receive the job when the project ends.
Promote growth
This is an excellent opportunity to scale your business. Outsourcing helps you expand your business and remain competitive in the market.
Besides unloading repetitive and menial work, outsourcing drives your organization toward innovation. Partnering with a reliable service provider gives you the peace of mind that your tasks are in good hands.
Common Risks and Challenges of Outsourcing Labor to the Philippines
Labor outsourcing in the Philippines has many benefits but is not without risk. Its challenges include potentially higher offshoring fees due to fluctuating currency exchange rates. Other risks are harder to anticipate and solve.
Generally, functions that do not directly interrupt the flow of products or services between a brand and its customers are the easiest to outsource. Hence, many organizations employ contact centers and technical support outsourcing.
The risks associated with labor outsourcing include those listed below. 
Loss of Control
Managers often complain about losing control over quality standards and process technologies after outsourcing specific functions. The consequences that losing control brings are severe.
Quality might suffer when you outsource functions previously managed by company personnel to third parties, over which you have little or no control. Service disagreements and production delays might also arise.
If your outsourcing contract improperly outlines work specifications, the service provider might be tempted to act opportunistically. They might, for example, charge unwarranted fees or increase prices to exploit your dependency.
Organizational Distrust
Another risk to consider when outsourcing is that workers might see this business move as a breach of the employer-employee relationship. They might wonder which function will be outsourced next or if there will be a massive layoff. 
The Bottom Line
Labor outsourcing involves hiring services from third-party providers. It provides higher levels of stability and flexibility for workers and businesses.
Organizations should recognize the benefits of labor outsourcing in the Philippines for specific business areas or projects to boost productivity and improve overall efficiency. Consider the business areas that can benefit from outsourcing and engage available BPO service providers.
Think outsourcing is the right move for your company? Let's connect to learn how Unity Communications can help.