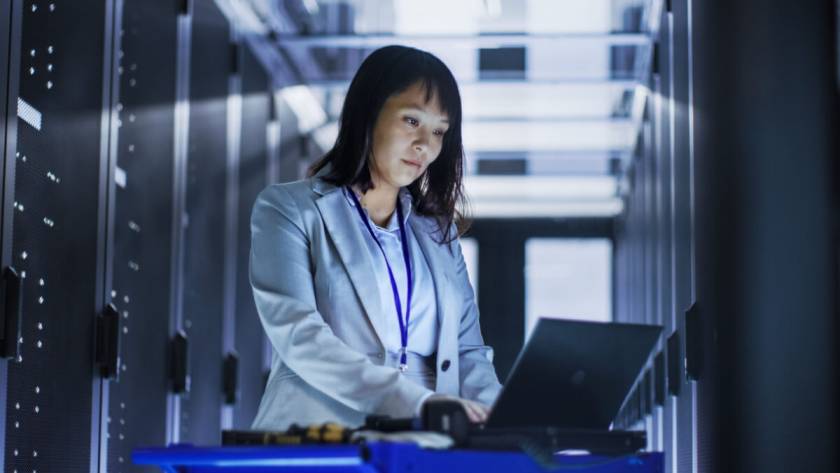 Written by Allie Delos Santos
Every business, big or small, requires an effective information technology (IT) system to ensure smooth operations and increase productivity. Companies rely on IT systems to promote their brands, cater to customers, and generate leads.
Hence, a flawless IT system is a must. This is where IT offshoring providers in the Philippines can help. They manage your system, support your processes, keep you updated, and prevent security threats.
This article discusses outsourced IT support services in the Philippines, their types, and their costs. It also explores the significance of IT outsourcing for businesses.
10 IT Support Services Offered in the Philippines
Different types of IT support services are made available by outsourcing companies in the Philippines. They differ in nature but serve the same purpose—to help your business operate smoothly and efficiently.
Want to understand IT services? Here are the common types of outsourced tech solutions:
1. Managed IT Services
With this solution, you hire a third-party vendor to manage the end-to-end maintenance of your organization's internal IT infrastructure. Managed IT services include everything from installing IT equipment to monitoring networks and managing tech activities and data storage.
Managed IT services agreements are flexible. You can decide which IT support functions to outsource or keep in-house. You can also choose which service level to acquire.
2. IT Help Desk Support
Help desk or technical support outsourcing provides IT assistance to end users. A user encountering a problem related to any hardware or software application contacts the support service provider. The technician then identifies the cause on-site or through remote assistance.
Technical support offers assistance in using IT tools such as computers, laptops, tablets, and mobile phones. It includes installing operating systems and apps, troubleshooting hardware or software problems, and advising users when solving computer problems. Lastly, it involves consulting solutions for tech projects, data recovery services, and desktop repair.
3. Cloud Services
A cloud service is an on-demand storage solution that allows organizations to store data using an off-site server, so they do not need to acquire physical infrastructure or store information on busy servers.
Cloud services are useful for small businesses that want to avoid the cost of procuring and maintaining an internal server. Cloud computing allows users to access data from any device, anytime, anywhere.
Outsourced IT solutions help companies avoid the upfront costs of buying resources and hiring personnel. It also eliminates the hassle of establishing and managing complicated infrastructure. The right IT support services provider in the Philippines is your partner; it offers consultation on appropriate cloud environments for your unique needs.
4. Data Backup and Recovery
Companies requiring protection from data loss should look into data and information backup solutions. Acquiring these professional services is a great way to prevent losing data in the case of malicious attacks, system failure, power outages, or natural disasters.
The third-party service provider is responsible for ensuring sensitive information is safe and secure on the off-site server. It also provides complete recovery services for corrupted or lost data and files.
5. Monitoring Services
Monitoring services oversee the performance and operations of IT systems to ensure they are running as intended. These services include monitoring network activity and server performance.
The monitoring technician detects potential issues that might arise and affect the company's operations. This prevents unforeseen downtime and data loss. The IT support team can fix all issues detected before they disrupt business operations.
6. Cybersecurity Services
Businesses nowadays need cybersecurity more than ever. Cyber threats are inevitable and cause extreme damage to any business. The average cost of data breaches is a hefty $4.35 million.
IT support providers offer cybersecurity solutions for safe access and control over systems and networks. They provide businesses with advanced data protection from potential threats. These solutions guarantee reliable network infrastructure and secure web hosting with end-to-end encryption to protect your company data.
7. Network Security Services
Companies need secure networks to safeguard sensitive information from internal and external threats. Network security services include managing access control to network resources. It also involves regularly checking networks and the security of the data that travels through them.
IT support service providers in the Philippines guarantee advanced protection using state-of-the-art encryption technologies. They offer various solutions to shield your systems, such as building firewalls, should there be cyberattacks or data breaches.
8. Software Development Services
This IT solution supports companies in their project's completion and development lifecycle. The service provider staffs businesses with developers with the necessary experience and expertise.
Based on the client's needs, they can customize software development solutions ranging from software and mobile application development, enhancement, and integrations to system analysis and quality assurance (QA) testing. The external provider also handles maintenance services and end-user technical support for the software developed.
9. Software as a Service (SaaS)
SaaS is an approach to software delivery where end users can access vital applications via the Internet. Service providers offer SaaS solutions, such as contact centers as a service (CCaaS), which they host on their servers.
Partnering with a SaaS provider makes accessing the newest and most advanced technologies easier without investing in any hardware or software. The vendor manages all technical aspects of the product, from installation to maintenance. Opting for this solution helps companies focus on their core competencies without worrying about the technical aspect.
10. Voice Over Internet Protocol (VoIP)
VoIP enables users within an organization to place calls and send messages via the internet instead of legacy landline devices. Unlike a traditional phone line, VoIP is more capable. It allows call forwarding, voicemail, video conferences, and more.
VoIP is an excellent option for companies across different industries and sizes, especially those with insufficient resources or who want to reduce communication costs. Engaging a third-party provider gives you access to VoIP solutions and IT support for on-site and remote assistance.
Depending on your company needs, the outsourcing provider might arrange a dedicated team or incorporate additional personnel into your existing team. The third-party staff works closely with your employees to provide efficient solutions and streamline operations. With IT outsourcing, you remain competitive and achieve greater success.
How Much Do Outsourced IT Support Services Cost?
An average help desk center in the Philippines charges $9 to $16 per hour. Thus, outsourcing IT to the country would cost you between $500 and $2,000 per month, depending on the type of staff you hire, giving you 70% savings. 
The Philippines has more affordable services compared to the U.S. ($24 to $32 per hour), Western Europe ($25 to $35 per hour), and Australia ($28 to $40 per hour), making it an ideal outsourcing destination for small businesses. But these numbers above are not final. The total price can change depending on the following factors:
Level of skill required

Project size

Project duration

Work type
Other factors that contribute to the final outsourcing fee include:
Training costs

Management costs

Communication costs
Overview of the IT Support Services in the Philippines
The Philippines is gaining traction for providing business process outsourcing (BPO) to various foreign clients, whether for customer service or technical support. The Philippine IT support industry is still growing, which makes this the perfect time to outsource your tech needs. Here are the reasons IT support services in the Philippines are booming:
Ongoing Tech Evolution
More business leaders and owners want to pave the way for tech innovation in their organizations. Information-based products and services are growing in popularity. 
Developers release applications daily, some potentially integrating sensory technology and artificial intelligence (AI). E-commerce is also highly popular as consumers demand customized shopping and payment experiences. 
One can expect to see more changes in the years to come. This ongoing tech evolution requires companies to build an efficient IT team to support development. Therefore, many turn to external service providers in offshore locations such as the Philippines to support their tech needs.
Higher Demand for IT Technicians
Gone are the days when companies had only one IT technician at their beck and call. More businesses are exploring tech possibilities and building efficient IT support service teams in the Philippines who can get tasks done in the shortest possible time.
A quick online search would show hundreds of job openings for tech and IT. Many of the job descriptions involve addressing security issues. A well-rounded IT team who provides 24/7 support is much needed with the fast pace of technological advancements and the growing number of cybersecurity threats.
Strong Government Support
The country has countless IT opportunities. As long as businesses and consumers exist, technology will continue to evolve.
In the Philippines, the IT outsourcing industry has the government's support. The Department of Information and Communications Technology (DICT) is the country's executive department responsible for planning, developing, and promoting information and communications technology. They aim to promote growth and development in the country.
When the government is involved, one can rest assured that the Philippine IT outsourcing industry intentionally expands its reach.
Strong Industry Reliance on Digital Platforms
The BPO industry is the country's leading income generator. The industry earned a total of $32.5 billion in revenue in 2022. The boom in the industry is due to foreign direct investments from international business owners and the innumerable job opportunities it provides, especially for IT roles.
The country's BPO industry is rapidly expanding. One can only expect the demand for IT support services in the Philippines to also rise. It is unlikely that the country will see a shortage of IT-related jobs anytime soon. With the high demand for technology and the surefire support from the government, the country's IT outsourcing industry will reach greater success.
Outsourcing IT to the Philippines might just be your best business strategy. Filipinos have the right skills and motivation to accommodate your tech needs.
Why Outsourcing IT Support Services to the Philippines Is a Good Business Strategy
Back-office outsourcing is a cost-effective strategy that big brand companies leverage. Outsourcing IT support services to the Philippines gives you access to a large talent pool of experienced and qualified technicians. 
If you are still deciding about outsourcing, here are ten benefits that might change your mind.
Round-the-clock Support.

You can have 24/7 IT operations in the Philippines, with staff assigned to day or night shifts. Enabling night shift work allows BPO companies to serve clients around the world. Filipinos have excellent work ethics; they are happy to work flexible hours to support clients.

Increased Profitability and Reduced Costs.

You save money on recruitment, HR, and staff salaries. The third-party provider supplies the infrastructure and resources your offshore team needs to fulfill their roles with your company, saving you even more money. You increase profitability by enhancing the ability to service end customers.

Flexible Scaling.

Outsourcing is the solution when you need to fill gaps in your operations. It lets you access a talent pool that can fulfill different roles. Plus, you need not stress about operational expenses restricting your choices, such as recruitment, office space, and security. You can scale flexibly without sacrificing costs.

Enhanced Efficiency.

You can offload repetitive tasks to the third-party team. For example, you can delegate spreadsheet work and

data entry services

to enhance the efficiency of your in-house team.

Retained Control.

With a reliable BPO partner, you control staff selection, training, and performance management. You can establish the processes that the external team must follow.

Strict Data Privacy and Security Regulations.

A trusted outsourcing partner should be ISO-certified in information security and quality management systems. The Philippine government supports the outsourcing sector by creating favorable laws. For instance, the Data Privacy Act ensures local procedures comply with international standards.

Reduced Legal Liabilities.

Third-party IT technicians are employees of a BPO company. It is responsible for handling local compliance rules and providing the necessary infrastructure and resources to the staff so that workers can do their job well. An outsourced model limits your legal liabilities to remote workers.

Better Access to Skilled Talent.

The Philippines is the place to go when you want IT support service technicians. It gives you access to over 40 million highly trained talent and over 680,000 yearly graduates. Your BPO partner will assign a team of remote professionals who can work in your company.

Fluent English Speakers.

It is no wonder Filipinos speak fluent English since it is one of their official languages. The country is one of the biggest English-speaking nations, with over 60 million English speakers. Your remote team will have no problem interacting with clients or discussing complex problems with in-house team members.

Similar Cultural Traits.

You will not encounter issues integrating Filipino offshore workers into your local team. They possess a good mix of

Eastern and Western cultures and are familiar with American English. Their attitudes and skills make them ideal for customer service and IT roles.

Long Track Record in BPO.

The UK body of the National Outsourcing Association named the Philippines the "Offshoring Destination of the Year" three times. The Philippines is a popular offshoring provider with a proven track record in the BPO sector as a reliable destination.
The Bottom Line
IT support services in the Philippines cover a broad range of solutions, from monitoring, help desks, and cloud storage to cybersecurity and network security.
From handling simple processes to deploying complex systems, third-party providers' advanced tech stacks exceed what in-house systems can do. With their help, businesses can progress, expand their network, and attain success.
Let's connect if you are looking for a reliable IT outsourcing partner in the Philippines! Unity Communications provides top-notch solutions to your unique needs.