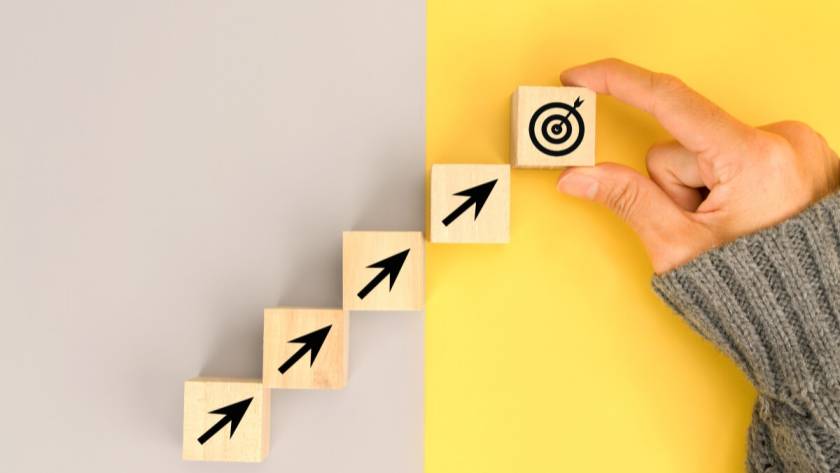 Written by Joyce Ann Danieles
The unsteady technology market can derail your efforts toward success. Constant updates make your IT operations inconsistent with your business goals. Because you need to focus on your core capabilities, you lack the time and resources to enhance this back-office function.
This article reveals what IT processes and procedures you should delegate to technical support providers. You'll see how outsourced technical support helps address gaps and streamline your daily tasks.
Read on to learn more. 
15 Commonly Outsourced IT Processes and Procedures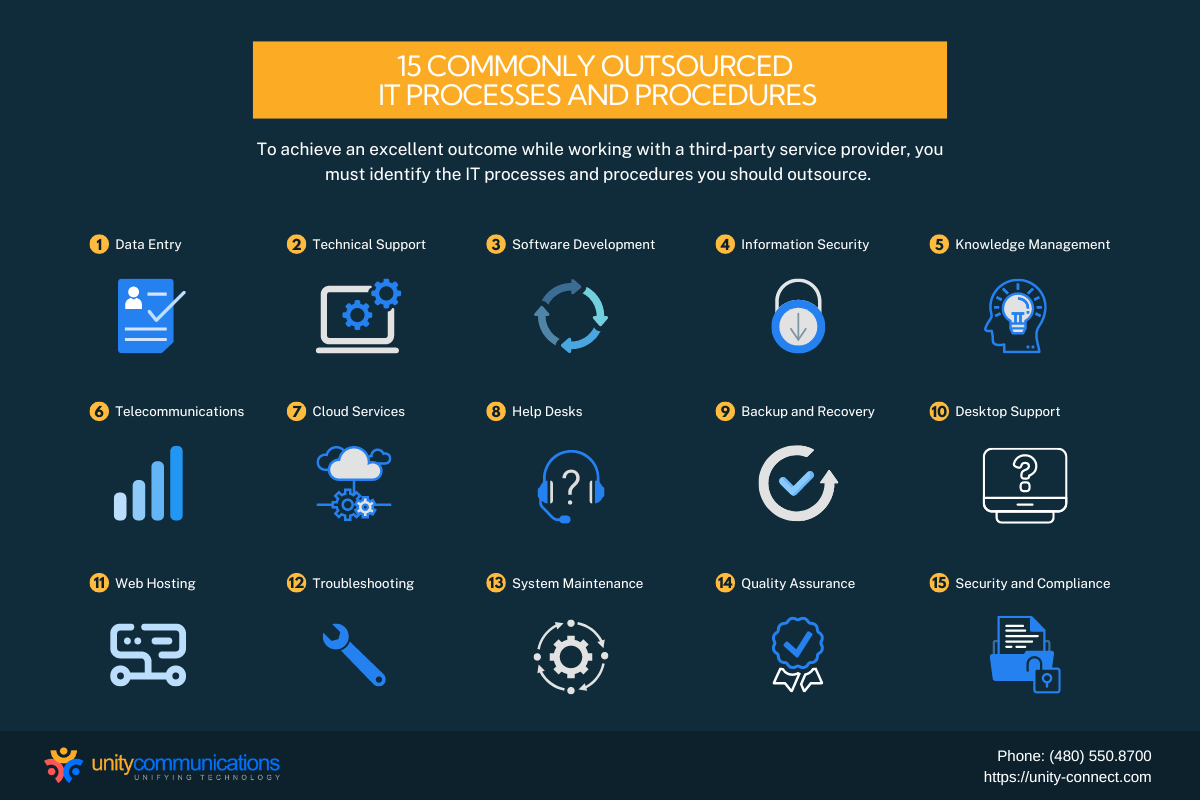 Today, billions of day-to-day transactions take place digitally. Companies rely on their IT departments to ensure smooth operations. But constant technological advances and evolving market trends leave their processes and systems outdated, resulting in inefficiencies and increased backlogs.
Although this back-office function doesn't directly generate revenue, it requires considerable funding to keep everything updated and avoid serious problems. Businesses must hire skilled employees and deploy solutions to perform non-core IT tasks efficiently. But establishing an in-house team is costly and doesn't ensure returns.
As a result, many companies acquire back-office outsourcing services to reduce operating expenses. Business process outsourcing (BPO) companies provide well-trained staff and advanced infrastructure to handle IT-related activities fast. They allow companies to prioritize their primary offerings and growth-focused initiatives.
Providers offer their services in package and retail-like options. Organizations planning to outsource their IT division should sign a long-term service agreement for cost efficiency. They can also pay for a specific service only when needed or after completion, thus further reducing costs.
To achieve an excellent outcome while working with a third-party service provider, you must identify the IT processes and procedures you should outsource. This will help ensure you get returns on your outsourcing investment. Below are IT functions ideal for you to outsource. 
1. Data Entry
Data entry is one of every company's most basic tasks. The process involves encoding relevant information into a dedicated software application using appropriate electronic media such as computers and laptops. It is a time-consuming and repetitive activity that hinders in-house teams from working on their primary projects.
Businesses aiming to manage datasets cost-efficiently outsource data entry services. They don't have to recruit professionals or deploy modern systems to perform this labor-intensive job. Their BPO contractors provide the necessary resources to handle information.
2. Technical Support
Customers or users seek technical support when facing issues with their software solutions, mobile phones, printers, computers, laptops, and other electronic devices. Technical support teams deliver consulting and repair services through multiple communication channels such as phone calls, live chat, and email. Clients can also contact support agents via social media.
Companies outsource this non-core function to promptly respond to duplicate inquiries at minimal operating expenses. Working with a service provider gives their in-house staff enough time to address complex technical issues. They just need to know what an outsourced IT provider is to maximize benefits in the long run.
3. Software Development
Part of a tech specialist's main job is to design, develop, and maintain the software necessary to speed up business operations. They produce different types of software to deal with day-to-day IT processes and procedures.
System software:

Used to support core business functions such as operating systems, utilities, and other operational necessities.
Programming software:

Contains text editors, linkers, debuggers, compilers, and other tools that programmers need to create code. 
Application software:

Assists users in conducting tasks. Some examples are data management platforms, media players, security programs, and office productivity suites.
Embedded software:

Helps navigate machines and devices not considered computers, such as telecommunication networks, cars, and industrial robots. Teams connect them as part of the internet of things.
Many organizations use outsourcing options for software development to increase productivity, reduce expenses, and access top talent. BPO providers also help them ensure quick time to market for delivering key software features and updates. 
4. Information Security
According to Statista, global internet users experienced approximately 52 million data breaches during the second quarter of 2022. Although the figures were lower than the previous quarter by 56%, they still show that cases of compromised data remain huge and are worldwide.
Hence, companies must strengthen their information security to prevent or mitigate cyber threats. They implement practices to safeguard their confidential data against unauthorized access or modification. Purchasing sophisticated software solutions from information security providers helps triple the protection.
5. Knowledge Management
Collecting, sharing, and analyzing business data and statistics is called knowledge management. Companies maximize their organizational knowledge assets to improve products and services. Such insights also help boost their innovative efforts to achieve a competitive advantage.
When businesses outsource data entry, they often include knowledge management in their service agreement. Contractors provide well-trained employees to execute a unified approach to data transcription, sorting, and analysis. As a result, companies don't have to spend extra dollars employing separate teams.
6. Telecommunications
Telecom companies offer connectivity services via phones, fiber optics, satellites, broadcast networks, and the internet. They usually hire BPO providers to manage front-office and back-office functions such as customer service and technical support. Outsourcing enables their in-house teams to focus on tasks involving complex IT processes and procedures.
7. Cloud Services
Third-party providers host and provide access to software, data, and infrastructure through the internet. Cloud services don't require additional software downloads. They include the as-a-service solutions below.
Infrastructure as a service (IaaS)

consists of computing, networking, and storage.

Platform as a service (PaaS)

enables applications to run.

Software as a service (SaaS)

gives access to software solutions via subscriptions.

Function as a service (FaaS)

allows developers to build and manage app packages.
8. Help Desks
The help desk is a centralized business division performing essential IT support services such as addressing inquiries and providing simple problem-solution guidelines. It's the equivalent of customer service in the technology sector. Outsourcing this front-office function ensures quick, 24/7 responses to customer queries at an affordable cost.
9. Backup and Recovery
Creating, storing, and retrieving copies of data is backup and recovery. Companies use portable memory disks, on-premises data centers, or cloud technology to execute those processes. They set up an in-house or a third-party team to facilitate the function.
10. Desktop Support
Desktop support is a type of technical support focused on assisting end users with computer issues. Technicians help users address computer software and network problems remotely. They communicate in real-time through face-to-face interactions, virtual chat, or phone calls.
Unlike a help desk, in-house employees are the users who receive support for system monitoring and network management. They use similar hardware and software, so the function is much easier to perform. Large companies outsource the process as part of their contract with a tech support provider.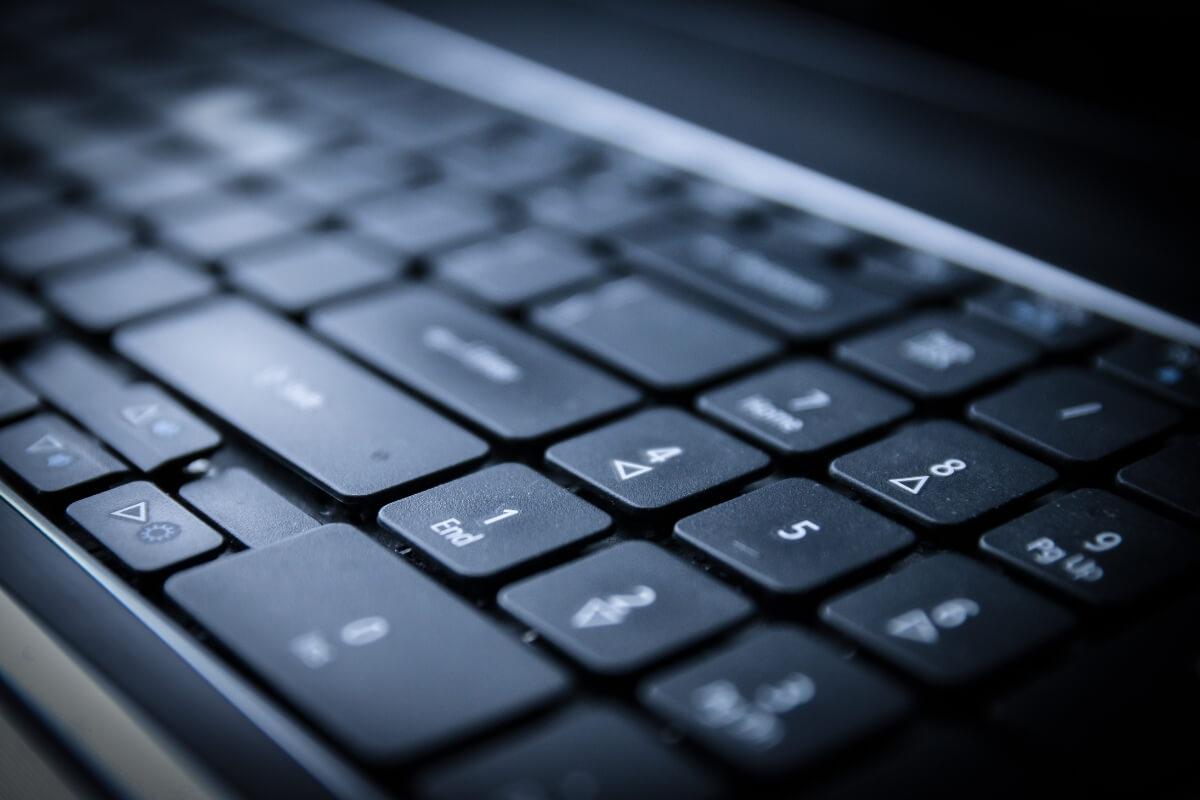 11. Web Hosting
Businesses of all sizes make their product and service content accessible on the internet through web hosting. They store all their website data on their rented server. Web hosts ensure their clients get the required resources for secure and efficient website operations.
12. Troubleshooting
IT support teams troubleshoot to identify and resolve errors within computer systems, drivers, and software apps. Companies outsource this process under a cost-effective service agreement for technical support. Third-party support teams help streamline the work to avoid project delays.
13. System Maintenance
System maintenance is crucial to keeping business operations smooth and effective. It covers a wide range of tech sustainment activities, such as enhancing equipment performance and installing regular updates. It's better to include this function when hiring a provider for back-office outsourcing so that you reduce operating expenses.
14. Quality Assurance
Ensuring high-quality software products and services helps companies satisfy and retain their customers. Quality assurance for in-house IT processes and procedures allows them to keep pace with changing market demands. Seeking third-party support generates faster insights into which business areas need further revamps.
15. Security and Compliance
In its Cost of Data Breach Report 2023, IBM found that high-level compliance failures contributed to the annual growth in data breach costs. The tech company said this led to a USD 4.45 million increase compared to the costs of data breaches from organizations adhering to industry standards and policies.
Companies apply strict technical measures to defend their assets against malicious threats and cyberattacks. They also practice rigorous compliance measures to meet regulatory requirements and standards. To ensure a cost-effective process, they tap into third-party providers to perform the following services around the clock.
Monitor system threats and vulnerabilities.

Deliver regular system security updates

Implement multi-factor authentication for user accounts

Prevent unauthorized access through data encryption

Conduct frequent compliance reviews and reporting

Perform risk management and threat mitigation
The Bottom Line
As the tech market changes and advances, organizations constantly encounter unmatched IT operations and business goals. The need to prioritize growth-focused projects prevents them from making constant updates to this back-office function. Their lack of time and resources also contribute to such issues.
BPO companies help close those gaps by offering affordable service packages. They help companies streamline their workloads and reach their targets. Outsourcing also enables them to focus on their core capabilities to keep up with the fast-paced competition.
Have you decided which IT processes and procedures you should outsource? Book a meeting with Unity Communications to start boosting your tech business.