Written by Dion Jay Tality
Clinics, hospitals, and other medical institutions must always prioritize healthcare delivery. However, non-clinical operations that are still essential for running their businesses can sometimes overwhelm them. They run the risk of losing focus on their commitment to treating patients and promoting the public's health.
That is where healthcare BPO can help.
Outsourcing frees up your time and allows you to focus on what truly matters: delivering quality healthcare without compromising non-medical functions. Choosing the right healthcare business process outsourcing (BPO) partner is key to optimizing your operations.
But what makes a great healthcare BPO provider? Read on to find out.
12 Key Attributes of a Great Healthcare BPO Provider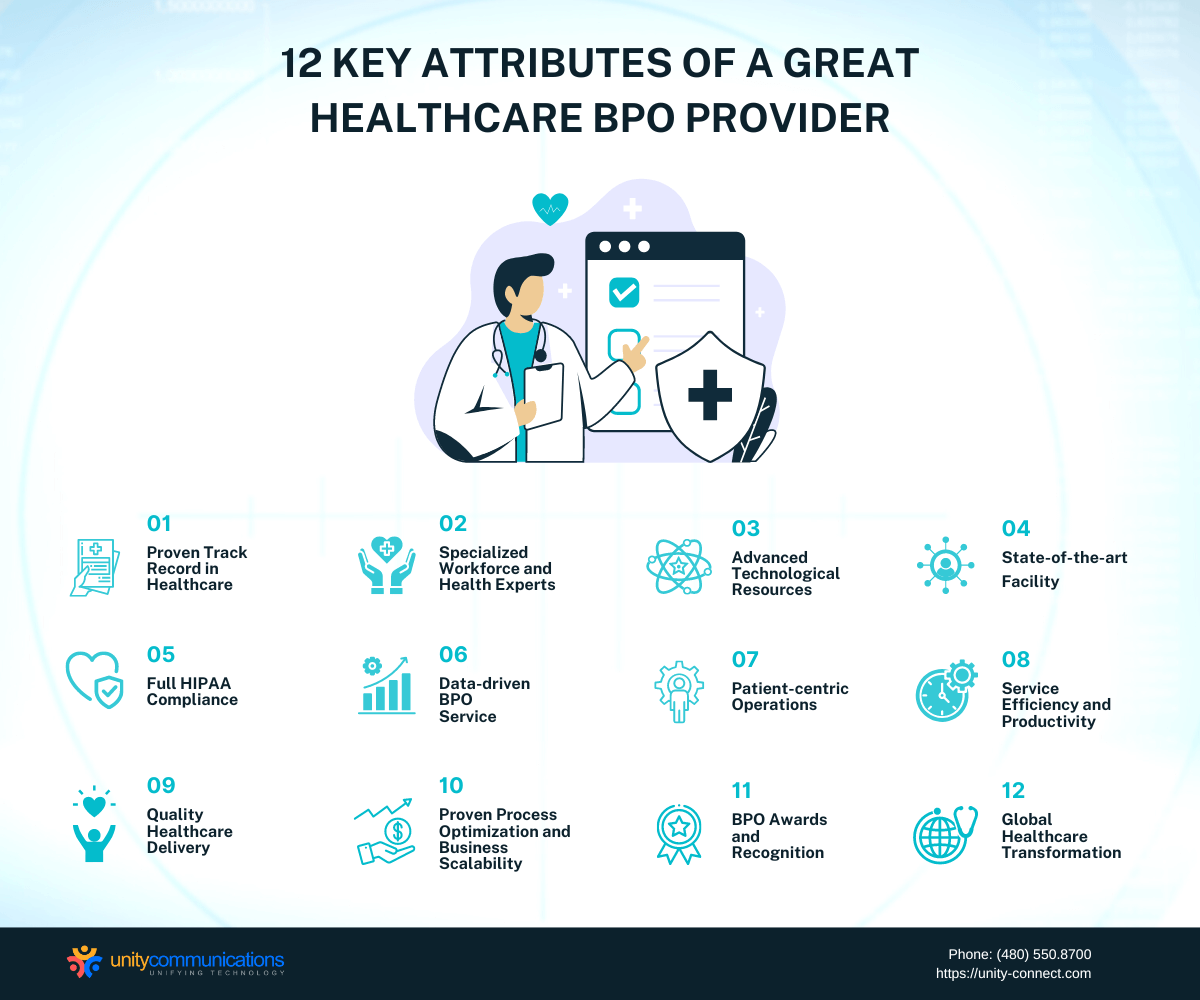 Some third-party vendors expand their healthcare BPO services from non-medical to medical operations. They go beyond medical billing, claims processing, and administrative tasks. Other providers have already started offering telehealth and remote patient monitoring (RPM).
However, choosing the right healthcare BPO partner is key to outsourcing success. When looking for a great BPO provider, consider the 12 crucial attributes below.
1. Proven Track Record in Healthcare
The healthcare BPO industry continues to grow and expand. Some service providers cater to various industries, including the healthcare sector. Meanwhile, others specifically serve the healthcare market. A great BPO service provider has a proven track record in the industry.
If you plan to hire a BPO vendor, opt for one specializing in the healthcare sector. Make sure it has the industry experience and healthcare specialization. Ask how long they've been offering such outsourcing services. More experienced service providers are more reliable.
2. Specialized Workforce and Health Experts
The healthcare outsourcing market requires a workforce with medical backgrounds. BPO agents don't necessarily have to be healthcare professionals such as doctors and nurses. But they must undergo related training and acquire the associated experience. A great BPO vendor has a specialized crew of trained professionals and experts.
If you're looking for a healthcare BPO partner, focus on the workforce. Agents are on the front line, performing day-to-day activities. They can be medical billers, data entry specialists, or administrative assistants.
3. Advanced Technological Resources
As in many industries, the healthcare sector, including the healthcare BPO segment, has been deeply impacted by the changes in technology over just the last few years. The BPO industry should use the latest technologies for efficiency, quality, and operational success. The best healthcare BPO provider employs advanced technologies in its operations.
If you're looking for a BPO vendor, check their technological resources. Make sure they capitalize on artificial intelligence (AI) and automation. Consider Deloitte's top BPO digital enablers, such as RPA (72%), single-instance ERP (55%), and cloud/AWS (53%). They'll help optimize your healthcare operations.
4. State-of-the-art Facility
World-class facilities make a difference in organizations; they ensure optimized processes and uninterrupted operations. They are essential to operational success. The same applies to the healthcare outsourcing market.
A great healthcare BPO partner has a state-of-the-art facility; it has a solid infrastructure equipped with the latest technologies and advanced resources. It has communication channels for patient support and internet connectivity for remote work. Lastly, it has security measures in place to protect patient information.
5. Full HIPAA Compliance
HIPAA stands for Health Insurance Portability and Accountability Act of 1996. It's a federal law created "to protect sensitive patient health information from being disclosed without the patient's consent or knowledge." Its privacy rules govern the use of patients' protected health information (PHI).
Just as is true of healthcare providers and insurers, BPO providers are subject to HIPAA guidelines. The best third-party service providers are fully compliant with these. Hiring an already compliant vendor helps you avoid hefty penalties and legal ramifications. For further information, check the U.S. Department of Health and Human Services HIPAA website.
6. Data-driven BPO Service
We live in a data-driven world; data is critical in many industries. The healthcare sector deals with a massive amount of information. But healthcare providers must collect and protect data for healthcare forecasting and decision-making. Thus, it makes sense to hire a data-driven healthcare BPO partner.
Healthcare outsourcing relies heavily on patient information, insurance details, and medical reports. A reliable healthcare BPO provider fosters patient data protection, ensuring 100% HIPAA compliance. It also employs big data analytics (BDA) for accurate forecasting and robust decision-making.
7. Patient-centric Operations
If most industries are customer-focused, the healthcare sector must be patient-centric. This means that healthcare providers always put patient needs on top. A great healthcare BPO provider upholds patient-centered operations.
So when hiring medical BPO services, check your prospects' reputation. Start by checking online reviews from other clients and getting actual patients' testimonials when appropriate. Whether medical coding or claims processing, the best provider meets your patients' needs.
8. Service Efficiency and Productivity
Healthcare operations are sometimes a matter of life and death. Medical providers' services are often needed immediately and under urgent circumstances. These include non-clinical tasks that impact the quality of healthcare delivery. The goal is to alleviate health conditions and improve overall well-being.
That said, a great healthcare BPO partner offers service efficiency and productivity. It consists of a knowledgeable and skilled workforce that gets things done immediately. It also employs advanced technologies to eliminate manual work and expedite processes. Choose an efficient and productive service provider.
9. Quality Healthcare Delivery
The global healthcare services market is projected to grow from $6,872.86 billion in 2021 to $7,548.52 billion in 2022. The need to optimize operations and recover from the pandemic has triggered this. And while the industry does consist of various segments providing goods and services, it really boils down to delivering quality healthcare.
A great healthcare BPO provider focuses on delivering quality medical care. While optimizing healthcare operations, it aims to achieve three things:
Treating patients
Saving lives
Promoting health
When choosing a BPO partner, the quality of healthcare matters the most.
10. Proven Process Optimization and Business Scalability
The healthcare outsourcing industry will not falter anytime soon. The healthcare BPO market is expected to grow from $334.15 billion in 2021 to $755.76 billion by 2030 at a CAGR of 9.49% between 2022 and 2030.
Such market growth is due to the need to optimize healthcare operations. The best healthcare BPO partner has proven ability in process optimization. It not only handles clinical and non-clinical functions; it is also capable of scaling your operations up and down.
11. BPO Awards and Recognition
Healthcare outsourcing is also effective for optimizing non-medical operations such as revenue cycle management (RCM). RCM is a financial process for managing payments, claims processing, and revenue generation. The global healthcare RCM outsourcing market was worth $20.1 billion in 2021 and might hit $53.5 billion by 2027.
Entrusting your non-clinical operations to any third-party vendor is easy. Of course, hiring a reliable healthcare BPO partner is your best decision. But what makes one service provider better than the other? The answer is BPO awards and recognition. These credentials are a testament to the provider's overall competency—hire them!
12. Global Healthcare Transformation
Global healthcare companies are increasing in number and scope. The healthcare sector is constantly expanding as healthcare delivery goes beyond borders. That is why healthcare BPO is thriving and growing as well. According to Deloitte, the goals are to:
Give access to healthcare by increasing the reach
Reduce costs through outsourcing
Formulate outcome-based medicine
Improve public health and well-being
If you are looking for the best healthcare BPO partner, choose one with a global mindset. Select a BPO vendor that focuses on:
Providing value rather than handling volume
Creating innovative healthcare delivery models
Using the latest technologies (BDA, AI, wearables, etc.)
Shifting the focus to prevention and holistic public health
All these will contribute to the global healthcare transformation. Thus, partner with the right BPO vendor.
The Benefits of Choosing the Right Healthcare BPO Provider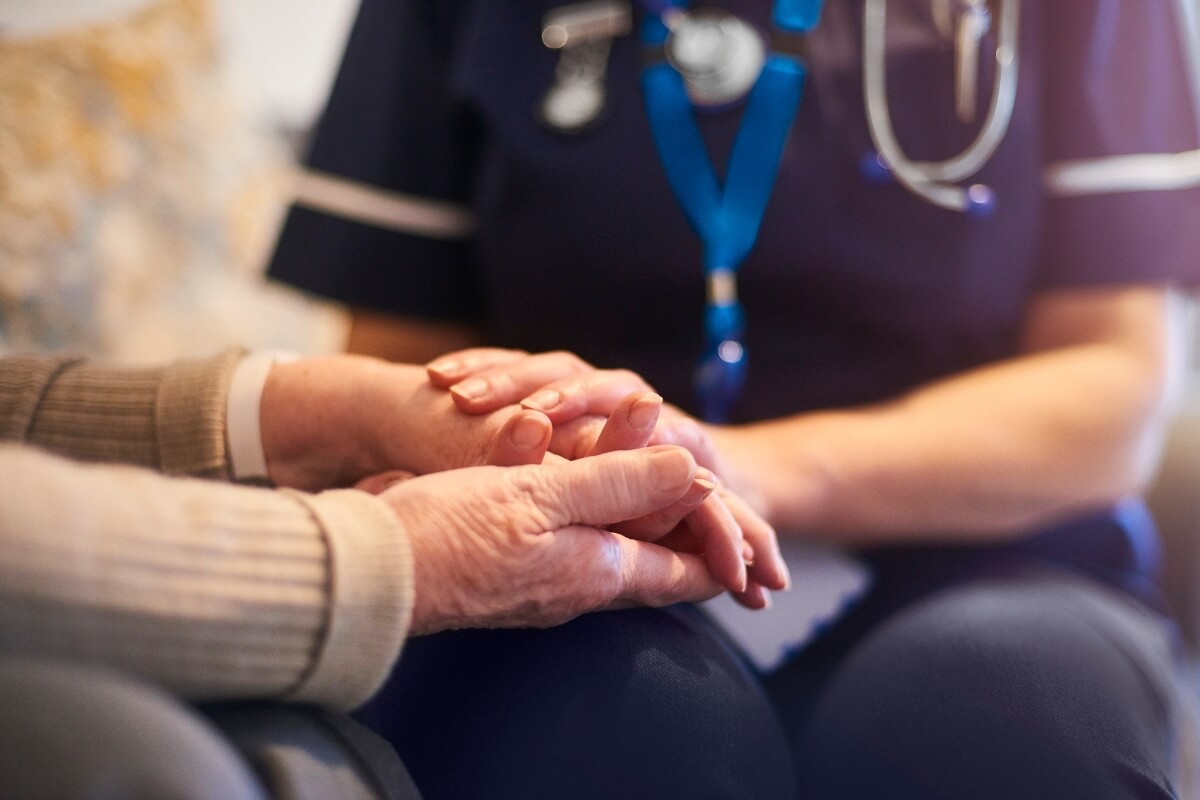 Clinics, hospitals, and other medical facilities cannot ignore the advantages of healthcare BPO. The goal is to hire and work with the right vendor.
Consider the 12 essential attributes of a great healthcare BPO partner. With these in mind, you will reap the following benefits:
Focus on patient care. Treating patients is your priority as a healthcare provider. However, you cannot ignore back-end operations (data management, medical coding, and claims processing). Entrusting them to a third-party vendor gives you peace of mind while enabling your operation to focus on the essentials.
Quality healthcare. Non-clinical operations can affect the quality of healthcare delivery. Expediting insurance verification and medical reporting ensures immediate diagnosis and treatment. Also, outsourcing allows healthcare professionals to prioritize their patient care duties. Ultimately, BPO healthcare improves your service quality.
Patient satisfaction. Compromising patient care leads to dissatisfaction. Even tedious tasks such as processing claims and obtaining medical reports might frustrate them. These can escalate to complaints, hefty penalties, and legal ramifications. The right BPO partner avoids these and ensures patient satisfaction.
Improved performance. A reliable BPO partner not only handles your tasks, it also optimizes your healthcare operations with its solid workforce and advanced technology. The best service provider significantly improves your overall performance.
Cost reduction. Hiring and training non-medical personnel can be costly. The same applies to investing in healthcare technologies and resources. In working with a BPO provider, you have the option to employ offshoring. Hiring the best BPO vendor with the proper pricing structure will reduce operating costs. Ultimately, it will help you save for the long term.
A boost in profits. Healthcare RCM outsourcing is one segment of healthcare BPO. It lets you entrust your financial management to a third-party service provider. The right vendor will manage your medical billing, claims processing, and revenue generation, which will translate into a boost in profits for your healthcare business.
Business scalability. Outsourcing is key to growing and expanding your healthcare business. Third-party service providers handle specific functions and also help improve your processes and optimize your operations. But make sure to hire the best healthcare BPO partner.
Are you looking to reap the benefits of healthcare BPO? Count on us!
Unity Communications offers healthcare BPO services, including medical coding and billing, insurance verification, and claims processing.
As an award-winning BPO company, we are committed to providing white-glove outsourcing services. Get in touch with us today to see how we can help.
The Bottom Line
Healthcare BPO is a practical solution to scale your operations. Outsourcing lets a third-party vendor handle your non-clinical functions efficiently and effectively. This way, your healthcare professionals can focus on their primary obligation: treating patients.
But choosing the right healthcare BPO partner makes a difference in your medical institution.
Before taking the plunge, assess your current operations and decide what to outsource. Consider the 12 vital attributes above when looking for a third-party service provider to help you pick the best BPO vendor for your needs.