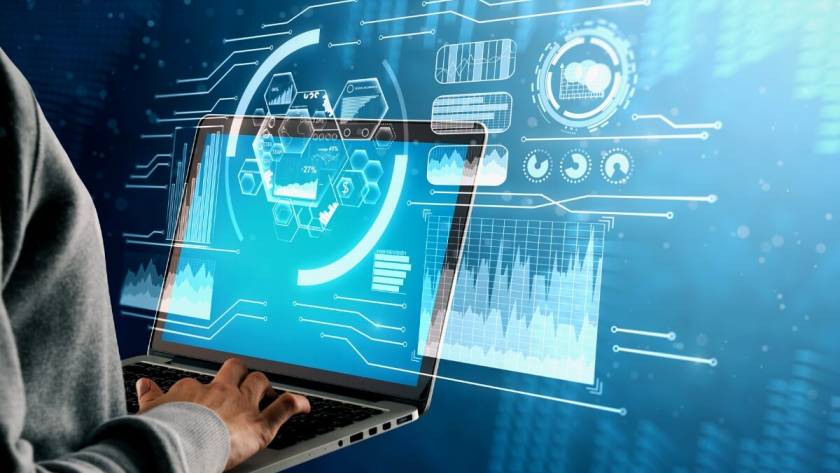 Written by Dion Jay Tality
Many organizations struggle to scale their operations using advanced technologies. They may lack the technical know-how and financial resources to invest in these technologies. That's where business processing outsourcing (BPO) comes in.
The healthcare sector is no exception. Clinics, hospitals, and other medical institutions benefit from healthcare BPO. Third-party vendors can help optimize their operations using the latest technologies.
Artificial intelligence (AI) has become a game changer in various industries. It's also one of the top digital enablers in the BPO industry.
Let's see how AI drives the growth of the healthcare BPO market.
How AI Impacts the Healthcare BPO Market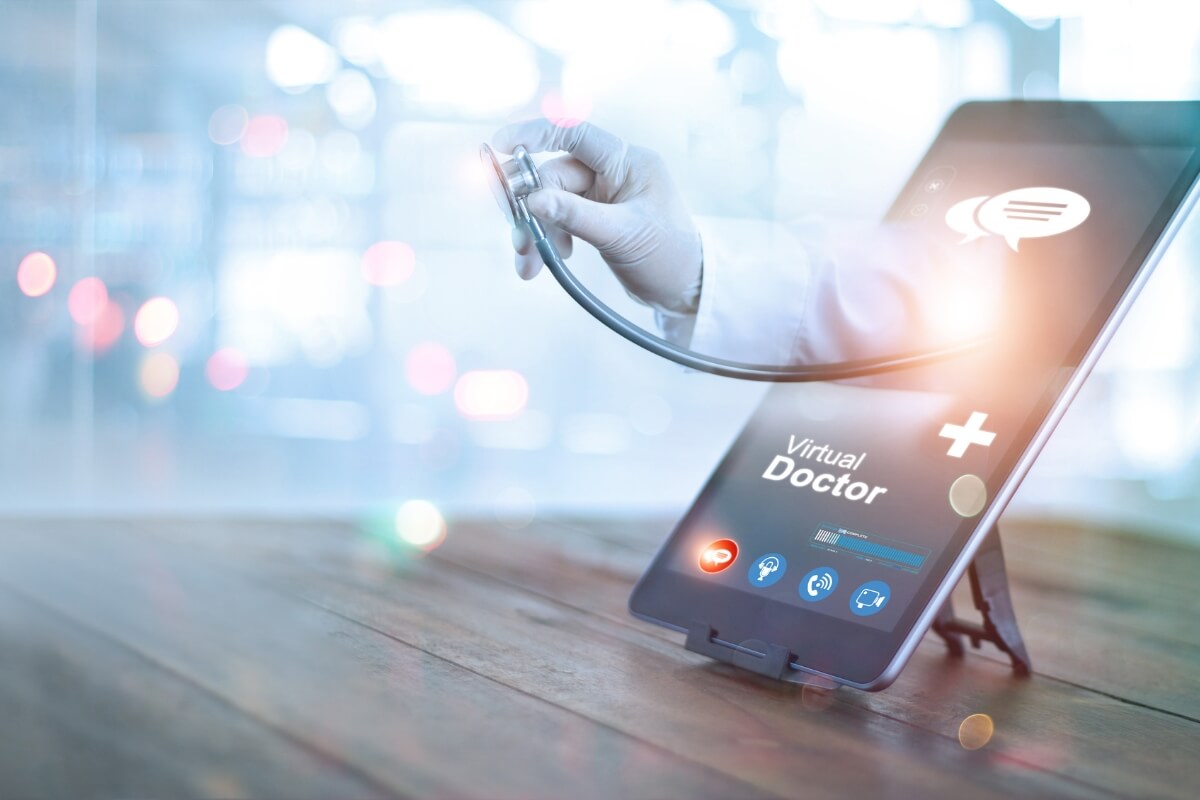 The breadth, scope, and sophistication of AI technology increase every year. AI is the simulation of human intelligence into machines. It aims to make digital tools and technologies think and work like humans. AI learns to make decisions and conduct transactions on behalf of users.
AI is a rising technology across different industries. The global AI market was worth almost $60 billion in 2021. It is expected to grow to $422.37 billion by 2028 at a compound annual growth rate (CAGR) of around 40%.
AI's Impact on BPO in General
AI is an emerging trend in the BPO industry and helps agents become more efficient and productive. It also provides customers with self-service support and more communication channels. Lastly, it assists many companies in business forecasting, reporting, and decision-making.
Customer Contact Week (CCW) forecasts customer-facing and company-facing AI as the drivers in the industry's future. Below are some AI-integrated technologies used in the BPO industry.
Interactive voice response (IVR) is a self-service support service that enables customers to access information and transact with the automated machine.
An intelligent virtual agent (IVA) is a machine that interacts with humans. It answers common inquiries and provides simple solutions. It works by employing machine learning, natural language programming, and advanced speech recognition.
AI-powered chatbots serve as customer service representatives on websites. They answer common questions and refer customers to agents for more complex issues.
Computer telephony integration (CTI) has advanced AI-powered features, including automated dialing, intelligent routing, and predictive analytics.
Contact center as a service (CCaaS) software incorporates AI technology. It has advanced features such as machine learning, automation, and analytics.
AI's Impact on the Healthcare BPO Industry
AI plays a crucial role in the healthcare BPO market. It optimizes many non-clinical operations by automating workflows and assisting agents. It also improves data management for reporting and delivers insights for forecasting. Lastly, it improves on-site medical services and enables remote clinical operations such as telehealth.
The global healthcare BPO market might grow from $334.15 billion in 2021 to $755.76 billion by 2030, growing at a 9.49% CAGR from 2022 to 2030. And AI will be a driver in that growth.
Let's look at some AI-integrated technologies in the healthcare BPO market.
Predictive analytics for disease diagnosis
AI-integrated medical imaging and screening
Robot-assisted surgery
Conversational AI (IVR, IVA, and chatbots) for healthcare customer service
Automation for medical coding and billing
Automation for electronic health records
Big data analytics (BDA) for medical reporting and healthcare forecasting
Mental health analytics
Communications technology for telehealth services
AI for personalized health insurance plans
AI-enabled wearable technologies
Predictive health trackers
How AI Drives Healthcare BPO Market Growth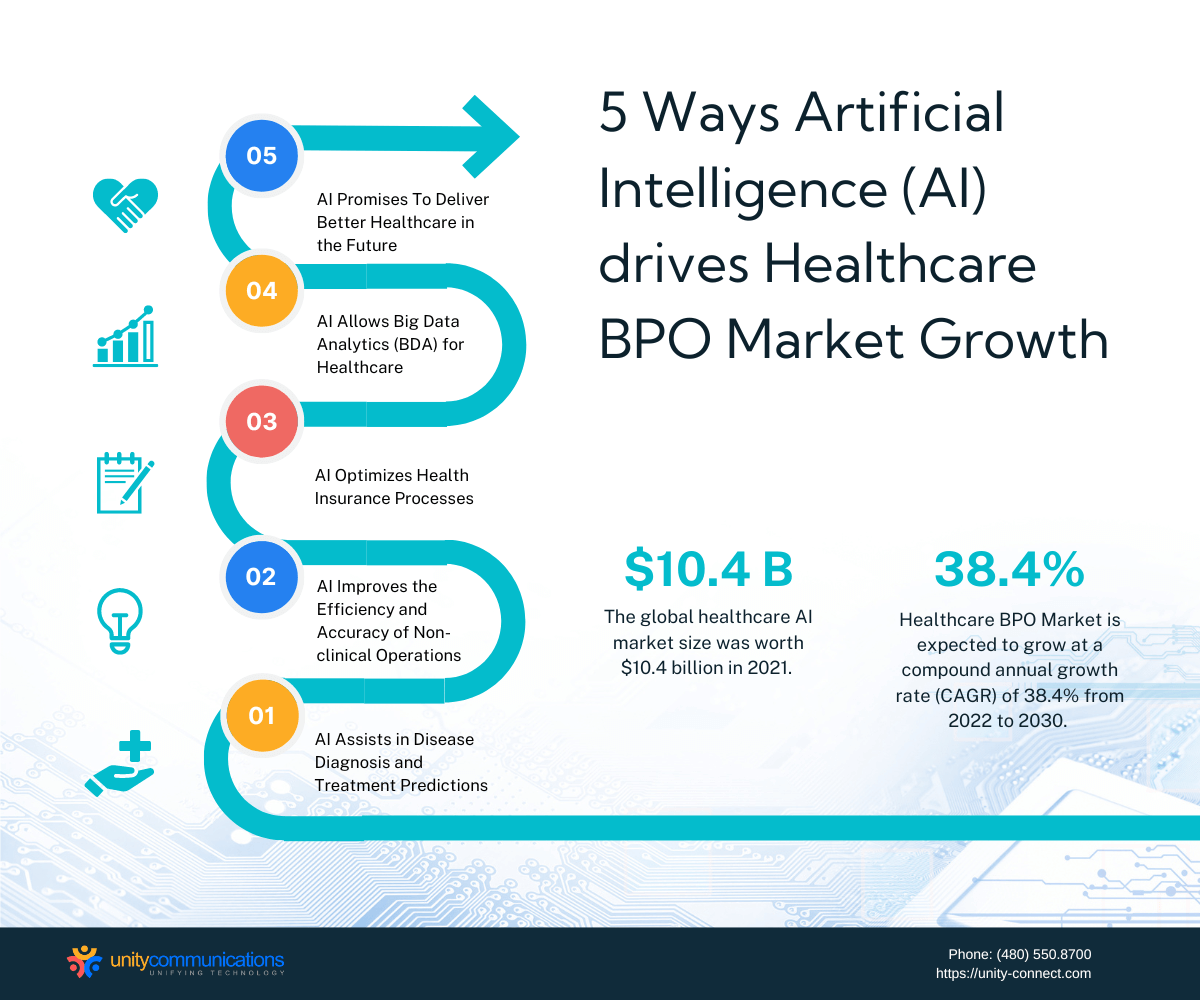 The global healthcare AI market was worth $10.4 billion in 2021. It might reach a 38.4% CAGR from 2022 to 2030. The market's growth was due to the following factors:
The need to collect and manage health datasets
The demand for personalized medicine
The need to reduce rising healthcare costs
Let's look at how AI drives healthcare BPO market growth below.
1. AI Assists in Disease Diagnosis and Treatment Predictions
The healthcare industry uses AI algorithms to predict illnesses and determine medical treatments. These algorithms work based on historical datasets. They help diagnose diseases and provide early treatments.
The pandemic has further amplified the use of AI in healthcare. Medical institutions have adopted this technology for urgent virus detection and patient diagnosis.
Specifically, BPO service providers rely heavily on AI for:
Disease diagnosis. The healthcare outsourcing sector is instrumental in collecting health-related information. The collected and built datasets make the AI algorithms. For example, the data insights into COVID-19 based on symptoms, medical imaging, and pathological findings allow doctors to see whether individuals have the infection.
Treatment predictions. AI has also recently begun assisting doctors in medical treatments. A perfect example is the use of surgical robotics in medical operations. This technology has yet to develop further to handle clinical tasks. But healthcare BPO services have already started using AI in their operations.
Expect the AI algorithms to evolve. The data-driven healthcare BPO market will further build the industry's datasets. Ultimately, they'll benefit healthcare providers in disease diagnosis and treatment predictions.
2. AI Improves the Efficiency and Accuracy of Non-clinical Operations
As mentioned, AI helps healthcare professionals with disease diagnosis and treatment predictions. But AI has also been beneficial in non-clinical operations. It helps improve the accuracy and efficiency of several healthcare functions.
Many healthcare providers tap into BPO companies to handle:
Medical coding and billing. Medical billing is generating accurate claims to submit to insurance carriers that pay for medical services rendered. But it requires accurate coding using ICD, CPT, and HCPCS codes. AI helps by identifying codes, automating calculations, and automatically producing invoices. Ultimately, it scales up or down the medical BPO services offered.
Claims processing. Healthcare providers submit claims to insurance carriers to ensure health coverage and optimum reimbursements. Insurance carriers then process these claims to either deny or pay for medical services. They use AI to identify codes, check claims for errors, and expedite the entire process.
Data management. The healthcare sector deals with a massive amount of information. Think of patient information, insurance details, and medical reports. AI enables the automation of data collection and management for accuracy and efficiency. Also, data analytics aids the healthcare BPO market in forecasting and decision-making.
Administrative functions. Healthcare providers require administrative work for uninterrupted operations. Administrative functions include accounting, payroll, human resources (HR), and IT support. AI technology assists in their operations, offering some advantages to healthcare BPO firms.
3. AI Optimizes Health Insurance Processes
Health insurance is vital for healthcare access and financial protection. Take, for instance, the Patient Protection and Affordable Care Act (ACA) in the U.S. The ACA recorded an all-time high of over 35 million health insurance members.
In response, health insurers outsource their operations to third-party service providers. They employ healthcare BPO firms to reduce operating costs. They also use the service providers' AI technology to ensure service efficiency and quality. That is why the healthcare outsourcing market continues to grow.
Below are some outsourced health insurance processes.
Underwriting. This process involves assessing the risks involved in getting approved for health insurance. The process matches the patient's health coverage and insurance premium. BPO service providers usually handle this critical function. AI algorithms help identify risks and decide on health coverage.
Benefits. Health insurance members have individual or employer-based plans. These policies have specific coverage based on member eligibility. Healthcare BPO service providers handle customer service, in which representatives assist customers and explain their coverage. AI empowers agents and even offers patients self-service options.
Claims. Health insurance members or healthcare providers file insurance claims. Health insurance carriers usually entrust their operations to third parties. BPO service providers handle back-office functions (claims processing) and front-office functions (patient support). AI helps with these functions in more ways than one.
4. AI Allows Big Data Analytics (BDA) for Healthcare
We live in a data-driven world. Many industries depend on the collection of information for forecasting and decision-making. That's why the global big-data analytics (BDA) market might grow from $240.56 billion in 2021 to nearly $272 billion in 2022. It might reach $655.53 billion by 2029 at a 13.4% CAGR.
The healthcare industry is no exception. For one, it collects information for research and development purposes. It also uses data insights for medical diagnosis and treatment decisions. IBM's Watson project collected scientific articles for the last 20 years. It used AI tools to examine disease symptoms and forecast potential diagnoses.
Health institutions use AI to improve and speed up data acquisition and analysis. They hire BPO service providers that incorporate AI into their operations. The BDA solution is a milestone in the healthcare industry. AI technology further propels the growth of the healthcare BPO industry.
5. AI Promises To Deliver Better Healthcare in the Future
According to the World Economic Forum, AI will deliver better healthcare outcomes. Its recent report cites that 80% of doctors say it's useful for healthcare. Medical institutions use AI to examine and treat patients in their facilities. But for AI's wider adoption, healthcare providers should focus on three key factors:
Responsible use of data and AI algorithms
Functional competence in using the technology
Transparency about the technology's limitations
Additionally, the pandemic has led to the rise of telehealth services. Telehealth uses digital tools and communications technology to provide healthcare services remotely.
Virtual medical consultations and remote patient monitoring (RPM) are commonplace now. AI technology enables doctors to conduct online diagnoses and make real-time decisions. It also improves patient experience and leads to better health outcomes.
A Massachusetts Institute of Technology (MIT) study on AI's effect on healthcare revealed that 75% of medical institutions improved their disease management capabilities. Also, 90% of medical facilities significantly reduced employee fatigue. As a result, over 75% of organizations plan to increase their AI investments in the next two years.
Medical institutions outsource to third parties for cost reduction. But they capitalize on BPO firms offering AI integration. MIT also reported that 80% of medical institutions believe AI helps increase their bottom line. Another 81% say that AI makes them more competitive as service providers. Hence, the healthcare BPO market benefits from AI in very practical ways.
The Bottom Line

The healthcare industry plays a crucial role in society. It's committed to saving lives, treating patients, and promoting public health. Thus, healthcare institutions should scale their operations using advanced technologies.
The healthcare BPO market is a viable solution for using the latest technology. On top of this is AI, which significantly drives the industry's growth.
Consider all the valuable pieces of information discussed above. Ultimately, choose a health BPO service provider that incorporates AI into their operations to make a difference in your business.