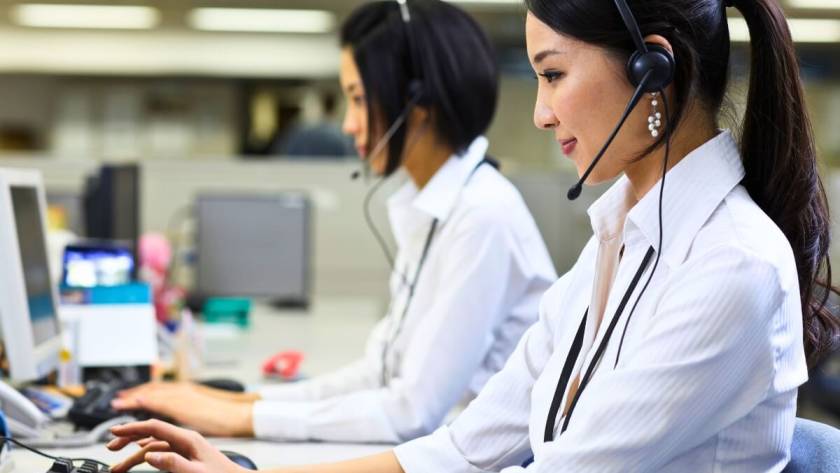 Written by Allie Delos Santos
Consumer expectations are more demanding than ever. A satisfied customer is more likely to repurchase from you and remain loyal to your business. Happy customers also reward you with recommendations and positive reviews. An unsatisfied client does the opposite, costing your business much money.
Hence, customer service is crucial. Outsourcing your customer service is one of the best decisions you can make for your business in 2023.
Here is a complete guide to finding third-party experts to manage your customer service processes for half the cost of in-house staffing.
What Is Customer Service Outsourcing?
Customer service outsourcing involves hiring a third-party team for most contact-center-related activities. Delegating customer management tasks to an offshore provider is an excellent solution because it helps increase customer satisfaction rates. Companies can meet constant changes in consumer demand, improve turnaround speed, and enhance output quality by outsourcing.
Neglecting the buyers' journey and customer satisfaction can affect profit, ultimately hurting your bottom line. According to a HubSpot report, 88% of respondents state customers now have higher expectations; therefore, you must invest in exceptional support. 
Outsourced customer support can lead to an enhanced customer experience and business growth. You can also tap into the offshore market to address a shortage of contact center agents. Filipino customer support representatives are known to have proficient English-speaking skills and a client-centric attitude.
Types of Customer Service Outsourcing
Customer service outsourcing allows you to subcontract various aspects of contact centers to improve client experience and achieve sustainable business growth. 
Here are the most commonly outsourced customer service functions:
Chat Management
Outsourcing chat management includes delegating live chat tasks to agents outside your company. Chat management covers live chat via social media, messaging platforms, or your website. The potential customer or client initiates the interaction, so promptly responding with exact information is crucial.
Customers expect immediate responses no matter the time, which can be expensive and challenging to manage in-house. This is especially true for online shops, which are technically open 24/7. Outsourcing contact centers for e-commerce lets you meet the expectations and needs of shoppers in an efficient and cost-saving way. 
A team of third-party chat management agents takes care of non-voice tasks such as:
Answering client inquiries quickly and accurately

Interacting with shoppers in a professional and friendly way, following brand expectations

Escalating complex issues to the next support level

Guiding customers to the appropriate resolutions or outcomes

Tracking and maintaining buyer contact records
As expectations grow, companies of all sizes must find new ways to meet customer needs. Customer service outsourcing is one-way brands can fulfill demands and improve satisfaction rates. It scales chat management support to adapt to future business needs.
Outsourced chat management solutions integrate with the latest technological platforms to effectively manage customer messages. The vast pool of non-voice agents available in offshore locations makes hiring and training staff easier than in the local market. Offshore outsourcing helps you achieve 24/7 responsiveness without incurring high overhead.
Inbound Sales Support
Outsourced inbound sales support involves engaging an external provider to handle sales-related tickets. The agent interacts with customers from the start of a sale to its end.  
Outsourcing inbound sales and fulfillment allows you to concentrate on more important activities, such as business and product development. You greatly benefit from having a dedicated team manage this part of sales. Inbound sales support requires a customer-centric attitude and building trust with clients to close the sale.
An offshore customer service outsourcing solution helps complete sales-related work, including:
Directing customers through the sales journey

Converting warm leads to closed sales

Personalizing products and services to fulfill customer needs

Building rapport

Following up with potential clients

Answering customer questions about a product or service via phone calls or messaging

Handling customer retention and renewal

Meeting sales quota
Growing companies and large enterprises get to a point where they have stretched their resources thin and additional sales support is necessary. Hubs such as the Philippines are popular outsourced e-commerce customer service providers due to their professional expertise.
When you fully train your agents about your products and services, they can utilize their customer service experience to convert leads into closed sales. This leaves your in-house team free to strategize on lead generation or develop new products and services.
Outbound Sales Support Consulting
Outbound sales support consulting involves providing administrative support to agents who contact prospects and ongoing customers to sell new or existing products or services. Workers who manage this function provide the sales team with leads that convert and generate revenue for the company.
An outbound sales support consultant handles the following tasks:
Collecting prospective customer information

Updating records in the customer relationship management (CRM) system

Informing customers about relevant products and services

Solving customer needs using their product knowledge to ensure a successful sale

Helping sales representatives win leads and achieve productivity goals by accomplishing all outbound admin tasks
This customer service task is ideal for outsourcing. Companies free up time for their in-house team by delegating this aspect to the offshore team. The result is more productive employees with better performance and revenue-generating work.
Lead Generation
Lead generation agents acquire, evaluate, and qualify new leads. They collect and pursue leads created by marketing activities such as customer referrals, advertising, and social media.
The primary goal of lead generation specialists is to find the right prospect, client, or business for a brand to sell to. They are good at identifying leads to transfer to sales representatives to guarantee a faster and more efficient sales process. 
The duties and tasks of lead generation assistants include the following:
Performing market research to source potential leads

Following up on prospects

Tracking data in the CRM for new and existing leads

Building rapport with prospects by contacting them and following up on communications

Transferring leads through the sales funnel

Supporting the sales team by administering lead documentation and maintenance

Collaborating with the marketing team to suggest ways to drive online traffic and leads
The sales tasks above are great for customer service outsourcing. Companies not only free up time, but they also empower the in-house team to perform higher value, revenue-generating work.
Advantages and Disadvantages of Customer Service Outsourcing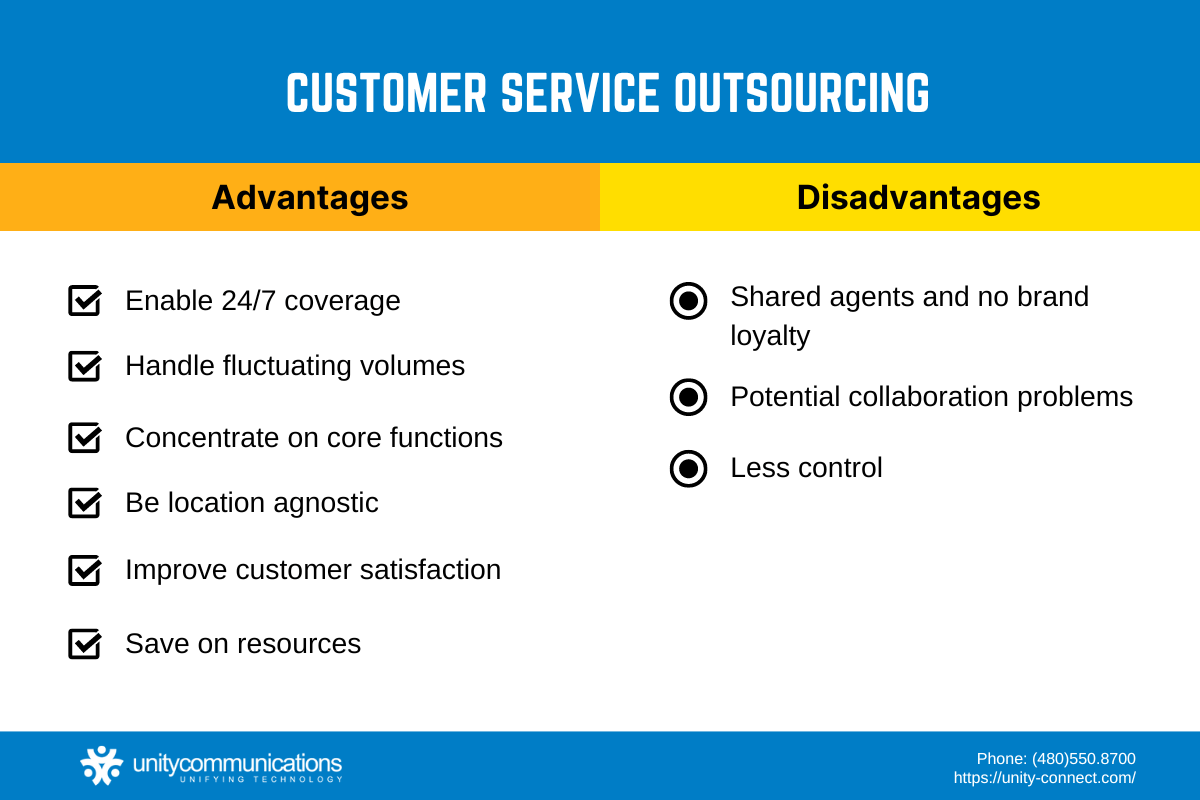 Customer service outsourcing is expected to grow in the years to come. Hence, this might be the best time to learn more about this strategy. Before moving forward, consider the outsourcing customer service pros and cons because they can help you decide whether this is a venture worth exploring.
Here are the advantages of outsourcing customer service:
Enable 24/7 coverage.

Round-the-clock customer service is essential, especially for e-commerce; staff members need incentives to work longer hours or on the night shift. Outsourcing solves this problem by hiring agents with different time zones so that customers worldwide can access support.

Handle fluctuating volumes.

Outsourcing helps you handle spikes in customer ticket volumes more effectively. Outsourcing lets you easily hire and dismiss agents depending on the season or ticket volume. Remember that the more tickets you resolve, the more clients you satisfy.

Concentrate on core functions.

If you do not need to oversee customer service, you can commit to developing new products or strengthening your marketing strategies. You still need to periodically manage and communicate with your remote agents. This requires less time and intervention than an in-house department.

Be location agnostic.

Offshore outsourcing means agents can work from anywhere worldwide, provided they can connect with customers via the internet. This allows you to expand your customer service potential beyond what an in-house team can do.

Improve customer satisfaction.

The perks of outsourced customer service discussed above lead to higher satisfaction rates. Multi-language assistance, round-the-clock support, and better products due to resource reallocation promote a positive user experience.

Save on resources.

An in-house contact center is expensive. Outsourcing lets you

save up to 70% on labor costs

. You also save infrastructure and potential training fees. You can then allocate the money you have saved to profit-generating investments.
Here are the disadvantages of outsourcing customer service:
Shared agents and no brand loyalty.

One downside of outsourcing is that you might have to share agents with other businesses using the same service. You can solve this issue by hiring dedicated agents whose sole function is to support you. Dedicated representatives train to become experts in your brand, which leads to better service quality.

Potential collaboration problems.

Language barriers and time zone differences can lead to collaboration problems, which affect productivity. The difference in laws and regulations is another cause of concern. Ensure to employ and consult someone proficient in international law to avoid misunderstandings with the service provider. 

Less control.

Outsourcing might feel such as trusting someone with your child. Although you can draft customer service policies and guidelines, you cannot guarantee that the service provider meets your expectations. Thus, you should pick a firm with a reliable track record to avoid quality problems.
Best Practices for Outsourcing Customer Service in 2023
Customer support is critical because it can make or break your brand. After pursuing customer service outsourcing, you must do your best to ensure a successful partnership. 
Here are some best practices to help you start outsourcing customer service.
Establish Specific Objectives
Establish clear goals for your outsourcing plan before transferring the work to your service provider. Consider the specific, measurable, achievable, relevant, and time-bound (SMART) framework for setting your customer support goals.
You should not depend on your service provider to set goals for you. You know your organization best, and no one else understands your vision or how customer satisfaction relates to your business strategy.
Regardless of your main focus for outsourcing customer service—whether to reduce costs, improve response time, enhance service quality, or raise support coverage—make sure to let your business process outsourcing (BPO) partner know. Discuss your expectations with them and ask how they will fulfill your requirements.
Pick the Right Service Provider
Customer service outsourcing is not a one-size-fits-all solution. Your support delivery varies based on your goals, your industry, your brand strategy, and the types of customer requests you receive. Thus, you must select a BPO collaborator who knows your brand, vision, and clients.
The market has many outsourcing providers with varying strengths and weaknesses. Some vendors are more capable of managing large amounts of generic customer tickets. Others are better at resolving unique and complicated customer requests.
Based on your needs and pricing considerations, narrow down the selection of potential BPO partners. Other aspects to consider before deciding are data security, legal risks, language requirements, cultural compatibility, and time zone differences.
Train Agents for Quality
A furniture e-commerce brand has a different language and voice than an insurance company. The kind of assistance customers expect to receive also differs. Thus, you need to train agents on your unique brand identity. 
Check whether agents genuinely understand your company—from the vision and mission to the technical features of your product or service. Inform them about your most common inquiries and teach them how to answer them.
If you choose an offshore service provider, consider the language and cultural differences and how they affect your brand communication. Most BPO workers undergo training on these differences, but your brand might have particularities that agents should know about.
Lastly, make sure to monitor how each agent interacts with customers. This way, you can assess quality, address problems, and improve certain aspects.
Conduct Regular Discussions and Meetings
Any customer service activity can fail if you do not communicate with your outsourcing partner. You should receive updates on what will happen if problems arise and how the remote team can handle them.
Regular review discussions let you notice specific trends in customer requests. For instance, if multiple customers request the same feature in your product, you might consider incorporating it in future versions.
Assess Performance and Measure Success
Lastly, you must regularly monitor the output of your external customer service team. Verify whether its results align with your objectives and strategies.
Every successful customer service endeavor, whether in-house or outsourced, involves analytics. Data shows your average response and resolution times, how easy it is to resolve problems, how happy your customers are, and how effective cost management is.
Regular conversation monitoring tracks qualitative metrics in customer service, such as the agent's ability to communicate effectively, knowledge levels, and attitude in service.
Whatever metrics are relevant to you and your customer support strategy, ensure your BPO partner regularly tracks them. Also, do not forget to add them to your service-level agreement (SLA).
Criteria for Picking an Outsourcing Provider
Some entrepreneurs have reservations about customer service outsourcing and for good reason. Customer support is the primary mode of communicating with clients. Low-quality customer service significantly affects your brand.
A good BPO provider does not sacrifice quality. Instead, it improves your service. Consider the following criteria for choosing a customer service vendor that does not disappoint:
Specialization.

If a service provider says they are good at everything, they most likely are good at nothing. Selecting an outsourcing partner specializing in your niche and industry is a good idea.

Size.

Although small BPO providers can build a closer and more personalized relationship with your business, a vendor with more members on the team is more capable of supporting the scope of your project. It is also more likely to provide better, more professional services. Take your time picking the provider that suits you best.

Pricing model.

BPO companies that charge by calls or tickets handled are less likely to focus on quality because they aim to close more tickets. They also try harder to resolve problems on the initial contact, even if a follow-up is necessary, which frustrates customers. If quality is a priority, choose a provider that charges per agent monthly.

Setup process.

Setting up customer service outsourcing must be straightforward and include candidate selection, training, and tool integration. A no-hassle implementation process assures that your BPO partner centers on providing you with the best support.

Agent selection.

A reliable customer service provider must have a strong human resources (HR) team. Do not take recruitment lightly because the right agents contribute to 80% of the team's success. Ask how the vendor selects candidates, and do not be afraid to reject vendors that lack sufficient selection criteria and recruitment processes.

Training procedure.

Make sure to check whether your potential vendor has an automated system for managing training. If not, you might encounter issues when scaling or when agents leave. Training automation ensures a standardized and streamlined workflow.

Success supervisor.

Successful supervisors are crucial because they check whether the third-party team performs within the agreed standards. They also check whether the selected agents fit your ideal candidate profile and whether the provider follows your SLA. In addition, the success supervisor tracks metrics and customer intelligence on demand.

Shift management.

Schedule and time-clock management is vital for 24/7 customer service teams. Your BPO partner must have a robust process for monitoring shifts. Round-the-clock support is one economy of scale you should leverage. Thus, consider the next option if a potential vendor does not have a good strategy for this.

Systems integration.

A system integrator is crucial during the deployment process, so ask prospective providers if they have this personnel before deciding. You can provide agents access to your existing tools, but a system integrator is handy when scaling or adding functionality.

CEO involvement.

The CEO's involvement determines what the service provider stands for. Visit their website and research their organizational leadership. Typically, CEOs reflect your prospective service provider's whole culture and personality.

Quality assurance.

Any reliable customer service outsourcing has a quality assurance process in place. Generally, they should have two procedures: one for the overall team and another for individual agents.
Five Questions To Ask Potential BPO Providers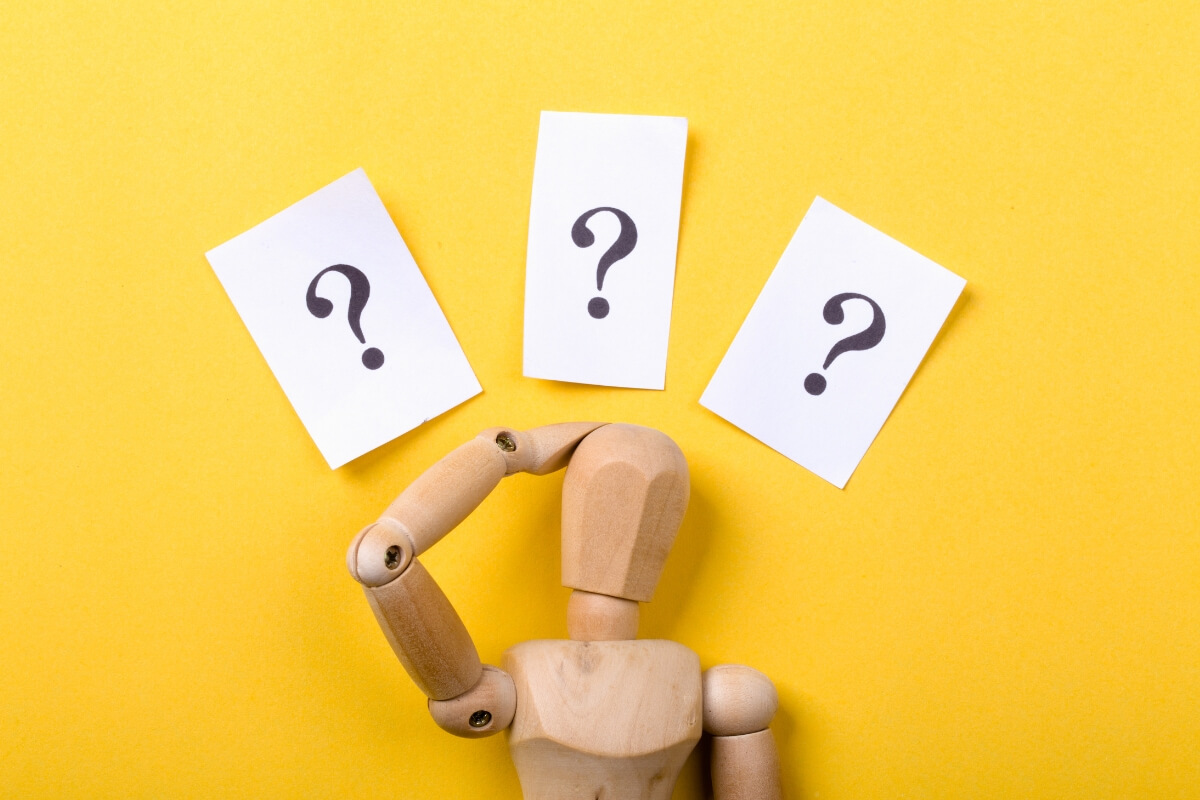 Outsourcing offers many benefits when done correctly. However, choosing the right customer service outsourcing provider is difficult. Given the many BPO vendors on the market, you must find the best one to minimize costs and potential risks.
Here are some questions to ask a potential partner when outsourcing customer support:
1. Do You Have a Work Portfolio?
A work portfolio is one of the best ways to measure prospective providers' quality of service. Ask for samples of their work, if possible. It helps you gauge their standards and confirm their industry knowledge.
Looking at their work portfolio lets you see the services they have rendered over the years and the types of companies they have handled. Do not just check the quantity; look at the nature of their experience, too. Some outsourcing providers use the number of previous clients as a selling point, but this should not deceive you.
2. What Is Your Industry Track Record?
One of the criteria to consider when picking a customer service provider is long-term success.
Nothing can top experience in any industry, which is true for the BPO sector. Partnering with a firm with a good track record guarantees that the tasks you outsource are in good hands. Their track record shows whether they can be trusted to effectively manage the work you delegate to them.
An industry track record helps you develop the necessary trust to pursue the partnership. Make sure to check important details about the firm to identify their experience and expertise in the industry.
3. Is Your Culture Aligned With Ours?
Culture defines your people and your business approach. Organizational culture includes how you interact with your clients and their needs and communicate with each other. The partnership does not work if you are not culturally compatible. Thus, your culture should align with that of the potential vendor.
Since the outsourcing firm acts as an extension of your company, it must be on the same page as you. As a business partner, it should know what drives you, share your values, and understand your goals.
4. Are You Willing To Adapt to Our Business Needs?
Sometime during the partnership, your needs might change. Hence, you want the service provider to be flexible to match your evolving customer service requirements. For instance, if you require additional manpower for a new team, they should be able to hire and train agents quickly.
Additionally, you might encounter shifts in objectives due to new protocols or programs, so agents must be trainable for a smooth transition. Having a service provider who adapts to your business needs contributes to success. Partnering with a flexible provider ensures a smooth and continuous business process.
An adaptable BPO provider guarantees that your preferred systems and processes improve your business operations instead of slowing them down. Both you and your collaborator should be open to suggestions to keep the partnership productive. This lets you achieve the best results from collaboration.
5. Could We Speak to Your Previous Clients?
Talking to former clients gives you an idea of how the firm works. Ask them for complete and truthful feedback about the provider's strengths and weaknesses. Check whether they encountered any issues while working with the BPO firm and, if so, how the BPO company resolved them. Also, gauge how happy they were with the vendor's management skills and quality of service.
Determine the provider's client churn rate. A negative reputation for customer satisfaction means it is likely to fall short of your expectations. The reviews from their previous clients indicate their reliability and guarantee how well they work.
You should be able to trust the firm in fulfilling its obligation should you pick them as your partner. After all, putting your confidence in a BPO company means entrusting them with your customers.
Other Tips for Outsourced Customer Service
Once you know the pros and cons of call center outsourcing, you can assess the risks and decide whether it suits your company. 
Discover our tips for outsourcing customer service to ensure the benefits outweigh the drawbacks.
Perform thorough background checks.

Ensuring the people you hire are reliable is important to secure your information. Although background checks do not show you everything to know, it is the initial step in building trust.

Employ intermediary managers.

You want to remain in control of your remote customer service team. So assign someone whose main job is to ensure everything goes according to agreements.

Opt for the latest technology.

Make sure your customer service provider uses state-of-the-art hardware and software products. This makes feedback accumulation and quality control easier. It also helps with training and overall performance improvement.
The Bottom Line
Excellent customer service improves retention, which enables your brand to grow organically. In-house customer service is costly and resource-intensive. You must train each contact center agent you hire about your brand.
If you own an e-commerce site or run a growing small business, you must focus on finding new customers, developing better products, and fulfilling orders. That said, you cannot put customer service on the back burner. Your clients are your supporters, so you should support them as well.
Delegating contact center functions to a third-party team is a proven and cost-effective way to scale operations to support your growing business. Just make sure to do your due diligence and make an informed decision.