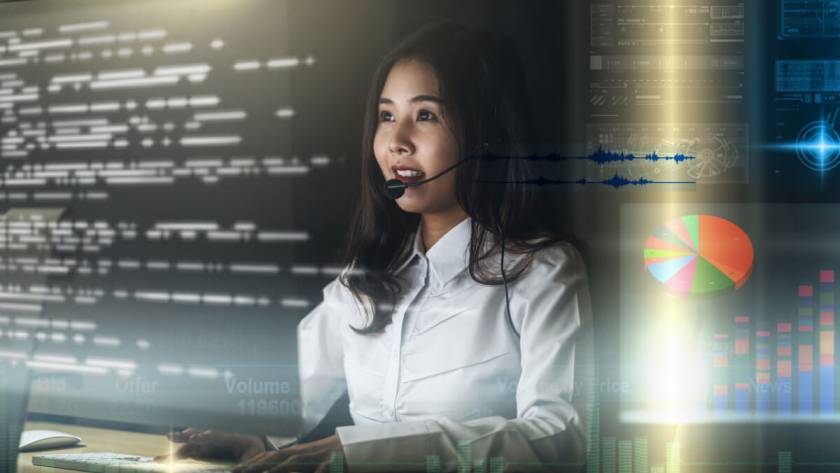 Written by Dion Jay Tality
Customer interaction is crucial to winning and keeping new customers. It's instrumental in building customer relationships, boosting profits, and achieving business success.
Unfortunately, some companies lack staffing, technology, and resources to enhance customer experience. That's where contact center services come in. Such services offer more than multiple channels. 
Contact center support providers usually employ a knowledgeable and skilled workforce. They use the latest technologies such as computer telephony integration (CTI) and contact center as a service (CCaaS) software.
Check out our comprehensive guide to contact center services. Learn more about their key features, types, and benefits.
What Is a Contact Center?

A contact center is a hub for customer interaction. This department allows customer contact across various channels.
A contact center team communicates with customers via phone calls, live chat, email, social media, and more. They even offer self-service options such as chatbots and online resource pages.
A contact center usually handles front-office functions, including:
Customer service

Sales or telemarketing

Technical support
Either build an in-house, virtual contact center or outsource the function to a third-party vendor. If you hire a third-party vendor, that's where contact center services come in.
The next section will examine the difference between a contact center and a call center.
Call Centers vs. Contact Centers
The contact center industry evolved from the call center sector. The industry now offers more channels—and yes, more solutions.
The most apparent difference between the two is their communication channels. Call centers offer only phone services, while contact centers provide multiple channels.
According to the 2020 Contact Center Satisfaction Index (CCSI) report, phone calls remain the most preferred customer service channel (76%). Nevertheless, other channels prove worthwhile. 
Other communication channels contact centers use are:
Email (20%)

Interactive or online chat (14%)

Online contact forms (10%)

Facebook (4%)

Twitter (2%)
Key Features of a Contact Center
Let's look at the essential features of a contact center.
Accessible omnichannel solutions:

Hiver's 2021 report shows that multichannel support has become the norm. About

60% of teams provide more than two channels

for customer support. The omnichannel solution is the best feature of a contact center.
Seamless data recording:

Contact center technologies don't only provide multiple channels. Through automation, they also allow accurate and efficient data recording. They enable call recording and keep records of emails, live chat, and text messages.
Live and asynchronous monitoring:

Contact centers use communications technologies that enable monitoring. Quality assurance (QA) and compliance teams track calls in real-time. Because of data recording, they also audit contacts to measure and improve performance.
AI-powered analytics

: Artificial intelligence (AI) has made analytics plausible in contact centers. Predictive analytics assists in business forecasting based on patterns and trends. It helps with proper scheduling and enough staffing. How? Workforce analysts accurately predict the volume of calls, emails, or messages.
Business reporting:

Contact centers usually have key performance indicators (KPIs) to meet. They measure critical metrics such as efficiency, quality, and customer satisfaction to improve performance. Contact center automation and AI integration technologies help optimize business reporting.
Technological integration:

Contact centers use digital tools such as

CCaaS

, unified communications as a service (UCCaaS), and customer relationship management (CRM). Integrate them into a centralized platform for seamless customer interaction management.
Contact Center Technologies
Now, let's discuss some vital technologies used in contact center service.
Computer telephony integration (CTI)

allows phones to work with computers.

Contact center agents

take advantage of advanced features, including automatic dialing, intelligent routing, data analytics, and reporting.
An

automatic call distributor (ACD)

employs intelligent call routing. It routes calls to available agents and the most suitable representatives. The system decides such a route based on customers' initial input.
Interactive voice response (IVR)

provides customers with self-service support. They don't need to talk to live representatives. They can access information and conduct transactions through this automated system.
Customer relationship management (CRM)

software is a contact database for managing customer interaction. It's also the best resource for recording, organizing, analyzing, and reporting customer data.
Quality management software (QMS)

is a platform for QA and compliance analysts. This resource enables them to access and review agents' contacts. It also allows them to monitor live calls, chat, and email exchanges. Ultimately, QMS helps them assess and improve contact center performance.
Workforce management software (WMS)

helps workforce analysts manage employees to ensure availability. The system enables efficient staff forecasting, scheduling, and monitoring.
A

web chat platform

allows agents to chat with customers in real-time. It lets them handle multiple sessions to assist as many customers as possible. Allied Market Research says that by 2023, the global market for live chat software might reach $987 million.
An

email response management system

allows email communication between agents and customers. The system receives and acknowledges customer emails. It routes them to the appropriate specialists for handling.
Social media channels

were ideal for personal interactions in the past. Today, companies use social media for business and marketing. According to Zendesk, customer inquiries increased by 36% in messaging apps (Facebook, Messenger, and WhatsApp). That's significantly higher than other channels.
Primary Types of Contact Center Services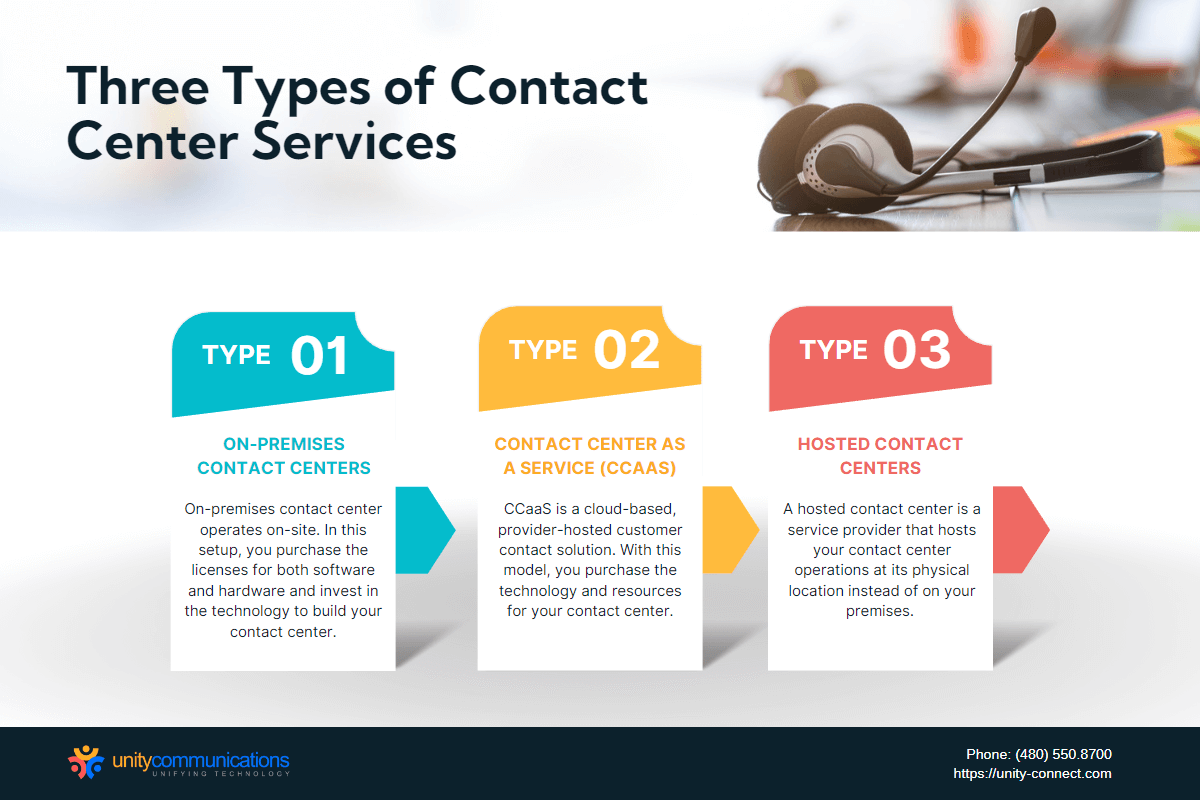 Consistent customer interaction is imperative in business. Most companies must establish contact centers for customer service, sales, or technical support. As mentioned above, they either build an in-house team or outsource to a third-party vendor. That is why contact center services have recently become in demand.
Contact center services come in three different types. Let's find out more about each.
On-premises Contact Centers
As the name suggests, an on-premises contact center operates on-site. Typically, you hire employees and invest in technology to build your contact center.
But you can also hire contact center services as an on-the-ground solution. A contracted vendor provides technologies and resources, often including a workforce.
In this setup, you purchase the licenses for both software and hardware. However, you are responsible for updating and maintaining them for the long term. As far as employees are concerned, you include them in your payroll.
Contact Center as a Service (CCaaS)
CCaaS is a cloud-based, provider-hosted customer contact solution. With this model, you purchase the technology and resources for your contact center. Then, your contracted vendor hosts them in an off-site data center.
But how does it help? There's no need to invest in expensive software and hardware. You don't need an IT staff to oversee and maintain them. Your hired service provider takes care of everything remotely. You just have to manage your team and contact center workflows.
Note: The global CCaaS market was worth almost $4 billion in 2021. It might reach $17.12 billion by 2030 with a compound annual growth rate (CAGR) of 18.4%. This market shows no signs of stopping or even slowing down. It means that it's a constantly growing industry. Capitalize on it.
Hosted Contact Centers
A hosted contact center is a service provider that hosts your contact center operations at its physical location instead of on your premises.
Your managed service provider (MSP) has the facility, technology, and other resources for your contact center. They even employ workers to handle your customer-facing functions.
Outsourcing your contact center operations to a third-party vendor is best if you lack staffing, technology, and resources.
Key Benefits of Contact Center Services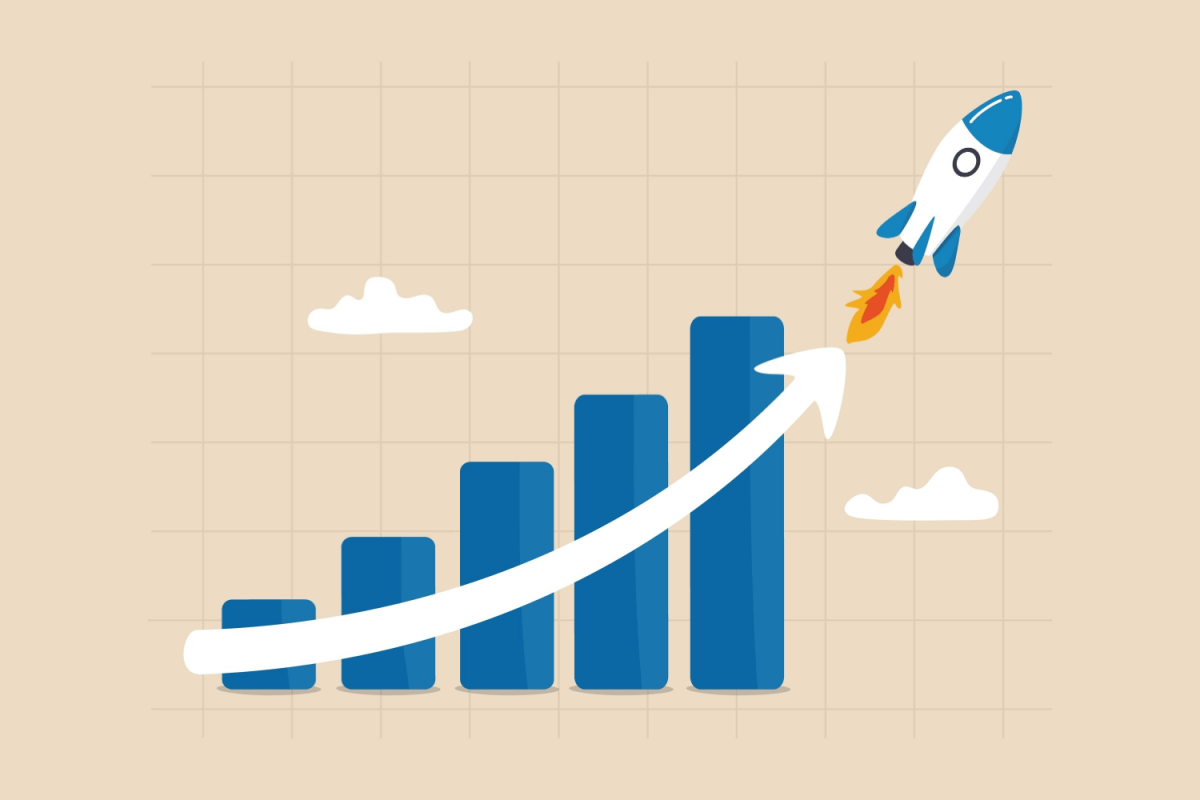 Hiring contact center services comes with a handful of benefits. Whether on-premises, CCaaS, or hosted contact centers, your provider helps optimize your operations.
However, assess your needs first and see what customer contact solution works for you. From there, you decide on the third-party service provider to hire.
But for now, let's look at some of their key benefits.
For Employees
1. Empowered Workforce
According to the 2020 CCSI report, agent effectiveness and empowerment remain an issue. To address this, hire a third-party service provider.
Contact center services offer the latest technologies and advanced resources. These empower your agents to be adept at what they do.
Increased efficiency:

Contact center technologies have automation features. They assist your representatives by automating workflows and eliminating manual work. As a result, they become more efficient.
Improved quality:

Contact center technologies have data recording and live monitoring features. They help your quality analyst (QA) team track agents and audit contacts. The goal is to improve business performance and offer quality services.
A boost in productivity:

A service provider helps scale your contact center operation. An optimized contact center increases your productivity for customer support or sales. 
For Customers
2. Enhanced customer experience
According to a HubSpot report, customers have higher expectations than ever before. A whopping 93% of service teams have agreed with this statement.
So what are contact centers for? They are crucial for customer-facing tasks such as customer service and technical support. Take note of the following.
Increased customer satisfaction:

Customer satisfaction is the contact center's most important metric. Providing customers with omnichannel solutions makes them satisfied. Also, an empowered workforce improves customer experience. Both will help boost your customer satisfaction.
If you plan to optimize customer contact, consider hiring contact center services.
For Businesses
3. Optimized contact center operations
Customer Contact Week (CCW) states that digital transformation remains the top contact center priority. In the next three years, the main goal of 85% of companies is to use digital channels more. Other business objectives include:
Increasing automation

Achieving customer satisfaction

Collecting and actioning customer insights

Increasing customer loyalty
Additionally, companies view the following as the key ingredients for future contact centers.
Remote work support

Customer-facing AI

Company-facing AI

Customer data initiatives

Omnichannel solutions
Contact center services help your business achieve the objectives and initiatives mentioned above. You'll realize all these as long as you partner with the right service provider.
4. Informed decision-making
Data is critical in business. Companies rely on big data and analytics (BDA) for forecasting and decision-making. According to Statista, the global BDA market might grow from $169 billion in 2018 to $274 billion this year.
Enter contact center services. A CCaaS vendor or hosted contact center provides you with the latest technologies. They have some of the most advanced features required for contact center operations.
Take CCaaS software, for instance, with data mining and predictive analytics. These tools help you record, analyze, and report business data. They allow you to make sound decisions to optimize your contact center operations.
5. Scalable and profitable business
Contact centers are crucial in business. Why? They handle front-office functions such as customer service, sales, and tech support.
Zendesk's CX Trends 2022 focuses on putting customers on top to increase the bottom line. According to the report, a solid customer service team will attract new customers and keep old ones.
Also, 73% of companies reported a direct link between customer service and business performance. Here are some of the key findings:
Ninety-three percent (93%) of customers will spend on companies offering their preferred communication channels.

Ninety percent (90%) of customers will spend on a personalized customer experience.

Ninety-two percent (92%) of customers will spend on companies where they don't need to repeat information.

Eighty-nine percent (89%) of customers will spend on companies providing self-service options.
A third-party service provider helps you achieve robust customer service. It also helps increase your revenue through your telemarketers or sales team by employing an expert workforce and offering advanced technology.
Ultimately, contact center services lead to business scalability and profitability.
How To Start Hiring Contact Center Services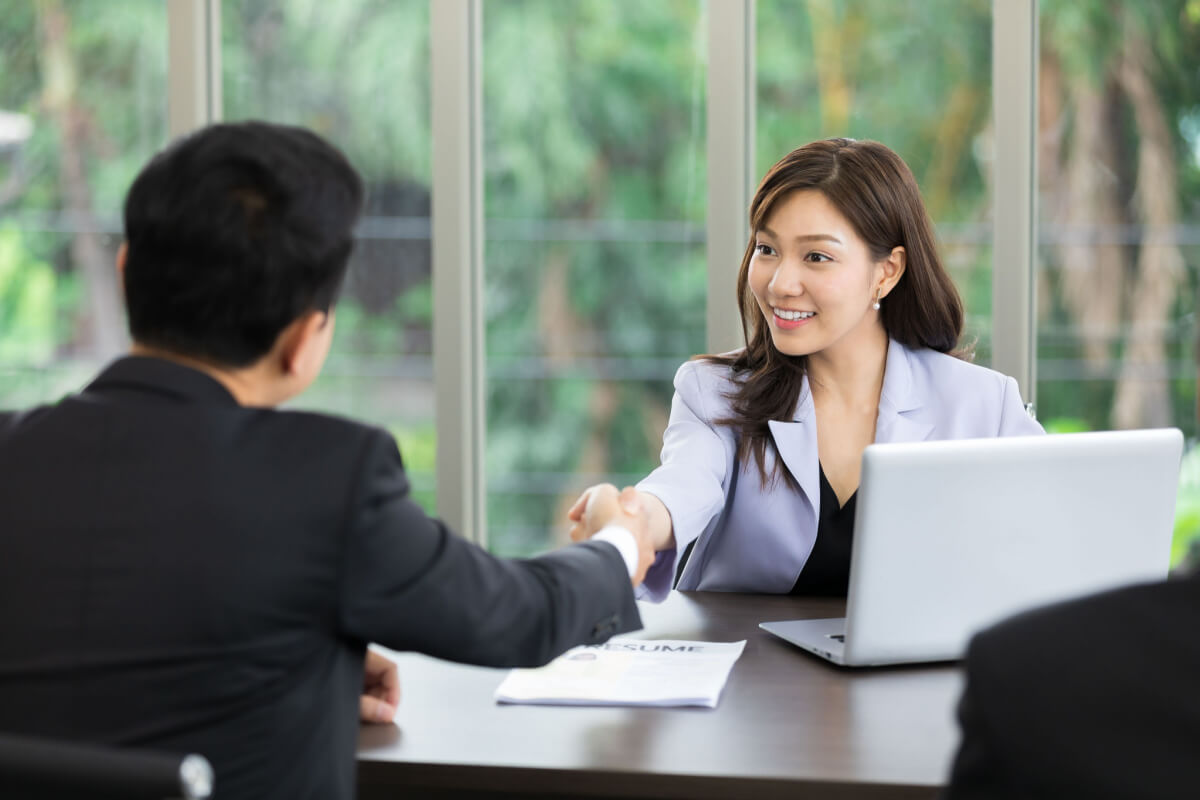 We have already discussed almost everything you need to know about contact centers. Now, it's time to consider hiring contact services.
To get started, follow the crucial steps below.
1. Reevaluate your business goals
When it comes to pursuing business endeavors, start with goal setting. Everything you do should rely on your business objectives. So if you're looking to hire contact center services, ask yourself what you aim to achieve. Do you wish to:
Integrate multiple channels;

Employ a skilled workforce;

Use the latest technology;

Improve customer experience;

Generate more leads and convert more sales;

Optimize your contact center operations; or

Scale your business?
Define your business goals, and you'll kick off your contact center relationship on the right foot.
2. Identify contact center needs
After defining your goals, look into your contact center needs. Establish a contact center or optimize your current operations. Whatever it is, know that the right service provider will help.
Now, examine your business and identify your contact center needs.
Multiple channels

: phone services, live chat, email support, and social media

Self-service options

: IVR, chatbots, knowledge centers, FAQ web pages, and online resource guides

Enough workforce and experts:

customer service representatives, telemarketers, or tech support specialists

Contact center technologies and tools:

CTI, ACD, CCaaS software, UCaaS software, and CRM

Contact center features

: omnichannel solutions, data recording, contact monitoring, data analytics, business reporting
List all you need to guide you in choosing a service provider best suited for your contact center needs.
3. Determine business functions to outsource
Of course, you must decide what particular business functions to outsource. A contact center handles front-office tasks such as:
Customer service:

Assist customers with inquiries, requests, issues, and even complaints.
Sales or telemarketing:

Promote products or services through cold calling or email outreach.
Billing and collections:

Receive calls to discuss invoices. Make outbound calls to collect payments.
Technical support:

Offer technical assistance (troubleshooting software, repairing hardware, or fixing network issues.
Help-desk center:

Serve as a single point of contact for technical problems.
IT support:

Provide IT-related services such as troubleshooting, software installation, hardware maintenance, and network management.
4. Decide the service type to hire
Earlier, we discussed the three primary types of contact center services. Now, you already know the difference between the three options. But to reiterate, take note of the following.
On-premises contact center:

Purchase technological resources and run a contact center operation onsite.

CCaaS:

Use technological resources hosted in the provider's remote data center.

Hosted contact center:

Entrust the entire contact center operations to an MSP.
Make sure to evaluate your business resources and contact center needs. From there, you'll arrive at an informed business decision.
5. Consider six factors for choosing a service provider
Now, it's time to look for a contact center support provider. Consider such key factors as:
Business credentials

: Check their licenses, certifications, and awards/recognition.

Service types

: Choose among on-premises, CCaaS, or hosted contact centers based on your contact center needs.

Workforce and experts

: Check not only agents but also QAs, support, and management teams. They are all instrumental to your contact center's success.

Tools and technologies:

See what resources are best for your contact center. (

Note:

Refer to

Contact Center Technologies

)

Facility and resources

: These include the infrastructure, hardware, software, internet connections, and phone lines.

Pricing model

: Opt for a vendor that will help you save in the long run. Also, consider one of these pricing structures: fixed price, staffing, time and material, cost-reimbursable, or consumption-based model.
Make sure to shop around and compare prices. From there, you'll be able to decide what works for your business.
6. Kick off your contact center operation
At this point, you have hired a third-party service provider for your contact center. Don't forget to create your service-level agreement (SLA) as defined in the contract. Here are a few practical tips for you.
Include your KPIs in the contract

Provide clear instructions and set policies

Offer assistance and support at the outset

Ensure regular communication and collaboration

Monitor contact center performance and track your outsourcing progress

Optimize your operation whenever necessary

Celebrate your contact center's operational success
The Bottom Line
A robust contact center is a key to enhancing customer interaction and experience, which translates into customer satisfaction, business profitability, and overall success. Thus, a company should take the initiative to increase its customer contact.
Hiring contact center services is the answer to the objectives mentioned in this article. Consider the information above, from essential features and service types to valuable benefits. This will help you make informed decisions. The right contact center support provider will kick your business up a notch.