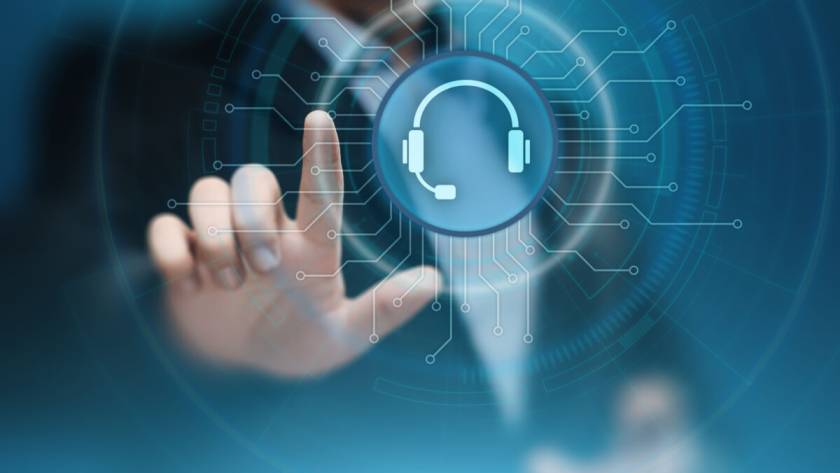 Written by Allie Delos Santos
Customer demands and touchpoints are increasingly complex. Customer service departments must evolve beyond the legacy call center to a call center as a service (CCaaS). A thriving customer support department adopts its clients' most used channels. It then goes above and beyond to deliver unique experiences.
Contact centers are the norm, making it easier for businesses to reach and interact with consumers.
This article discusses the contact center industry and how it operates. We will also explore the different types of contact centers, the various sectors that use them, and industry trends.
What Is a Contact Center?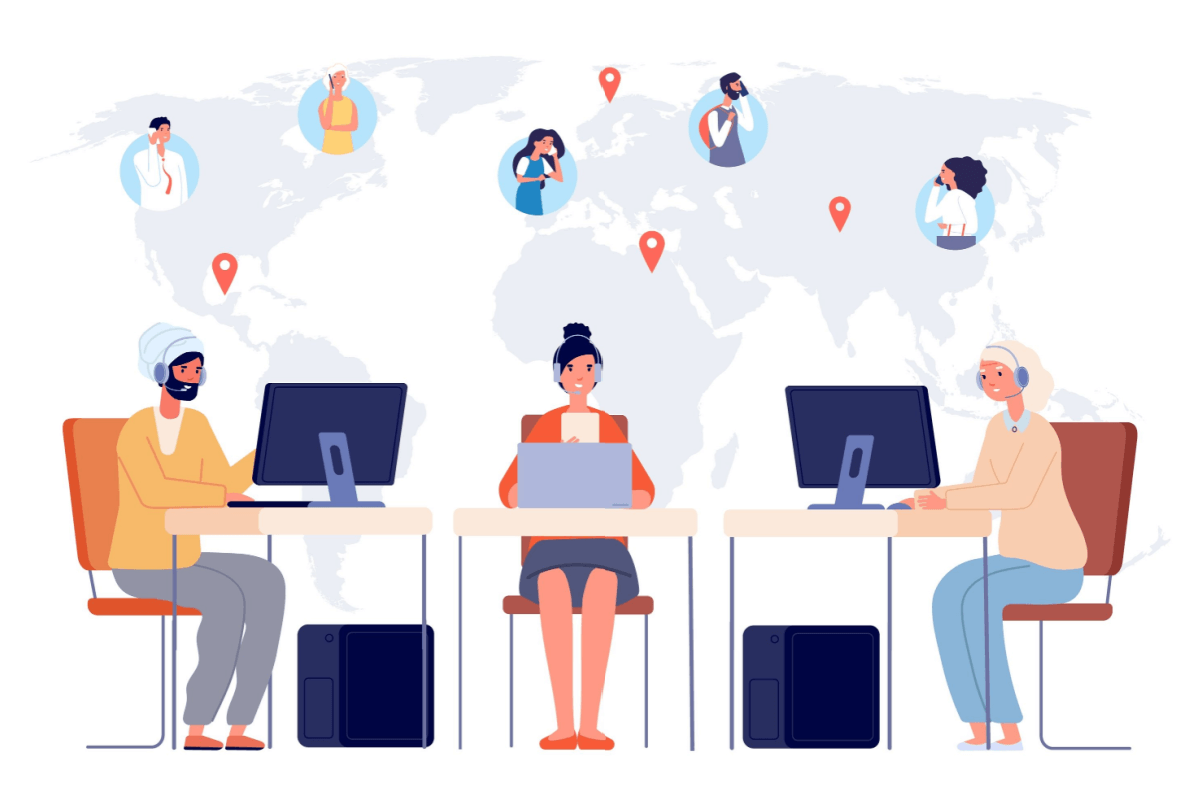 A contact center is a remote or centralized managed facility that receives and transmits inquiries via phone calls, chat, email, or SMS. It is a primary point where brands oversee all customer interactions across many channels. Its main goal is to deliver quick and effective customer service, tech support, and sales assistance.
Typically, contact centers include one or more call centers. But they can also involve other customer service platforms such as web chat, social media, and email. Furthermore, companies integrate their contact centers with a customer relationship management (CRM) strategy.
Contact centers are becoming increasingly important. More consumers expect businesses to be constantly available on various channels. The contact center industry takes an omnichannel approach, which allows you to increase efficiency, refine service quality, enhance insight into customer needs and behavior, and create better experiences.
Contact Centers vs. Call Centers
Call centers and contact centers are both customer service centers. But the two terms are not interchangeable. A call center handles only inbound or outbound tickets. Meanwhile, a contact center provides omnichannel customer support.
Here's a more detailed look at the differences between a contact center and a call center.
Channels
Call centers service inbound and outbound calls from clients. Legacy call center agents handle customer inquiries, telemarketing, billing, debt collections, and other client-facing functions. A call center operation can be based within the organization or contracted to a business process outsourcing company.
Conversely, a contact center manages inbound and outbound customer interaction. Contact center functions can be managed in-house or outsourced to a third-party provider. Unlike their legacy counterparts, contact center agents interact with consumers across various platforms such as apps, messaging, phones, social media, and the web.
Management
A contact center manages all customer contacts. It requires company-wide integration and coordination of people, technology, and processes. For instance, managers train agents in each communication channel's best practices. Contact center teams also adapt performance metrics for each platform to account for their different capabilities and functions.
Legacy call centers use traditional metrics such as average handle time (AHT). Such metrics are not relevant to other channels, such as mobile messaging.
What Are the Types of Contact Centers?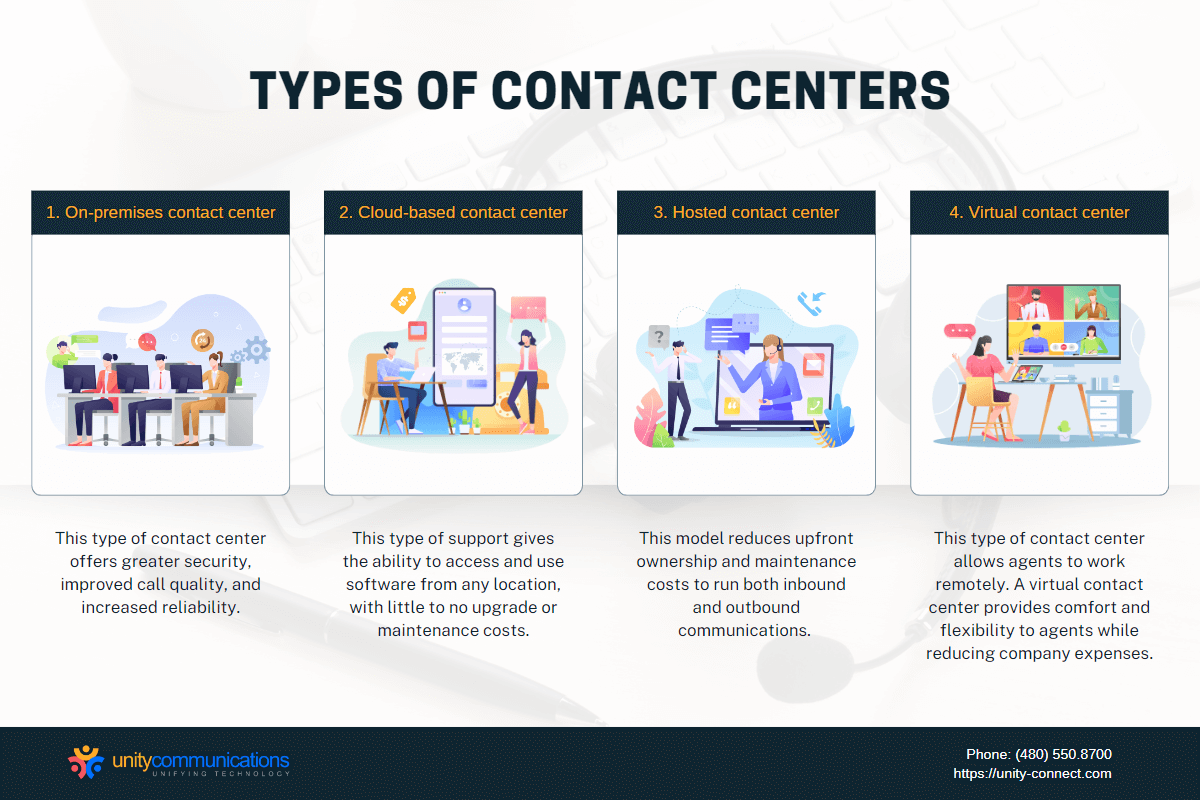 The contact center industry comprises several types of centers, including hardware, hosted, cloud-based, and virtual. Companies can use each type of contact center depending on the need. Explore the features of each contact center model.
Hardware contact center.

Organizations can deploy and host hardware contact centers on premises-based servers. Companies must have enough capacity and space to house and maintain the servers. Lastly, a competent hardware update process and robust disaster recovery plan are necessary.
Cloud-based contact center.

The internet servers of cloud providers host this type of contact center. A cloud provider filters inbound and outbound communication.

Cloud-based contact center

agents can access the system with a strong internet connection.
Hosted contact center.

This contact center involves outsourcing the infrastructure to an external vendor that maintains the system in-house. This model can reduce maintenance and costs upfront, resulting in better return on investment.
Virtual contact center.

This type of contact center allows agents to work remotely. A virtual contact center provides comfort and flexibility to agents while reducing company expenses.
Choosing a type of contact center starts by checking the product offered and exploring the functionality of each approach. Check the tools and technology that agents will need. Lastly, identify all the customer relationship management integrations necessary to support customer data collection.
How Do Contact Centers Work?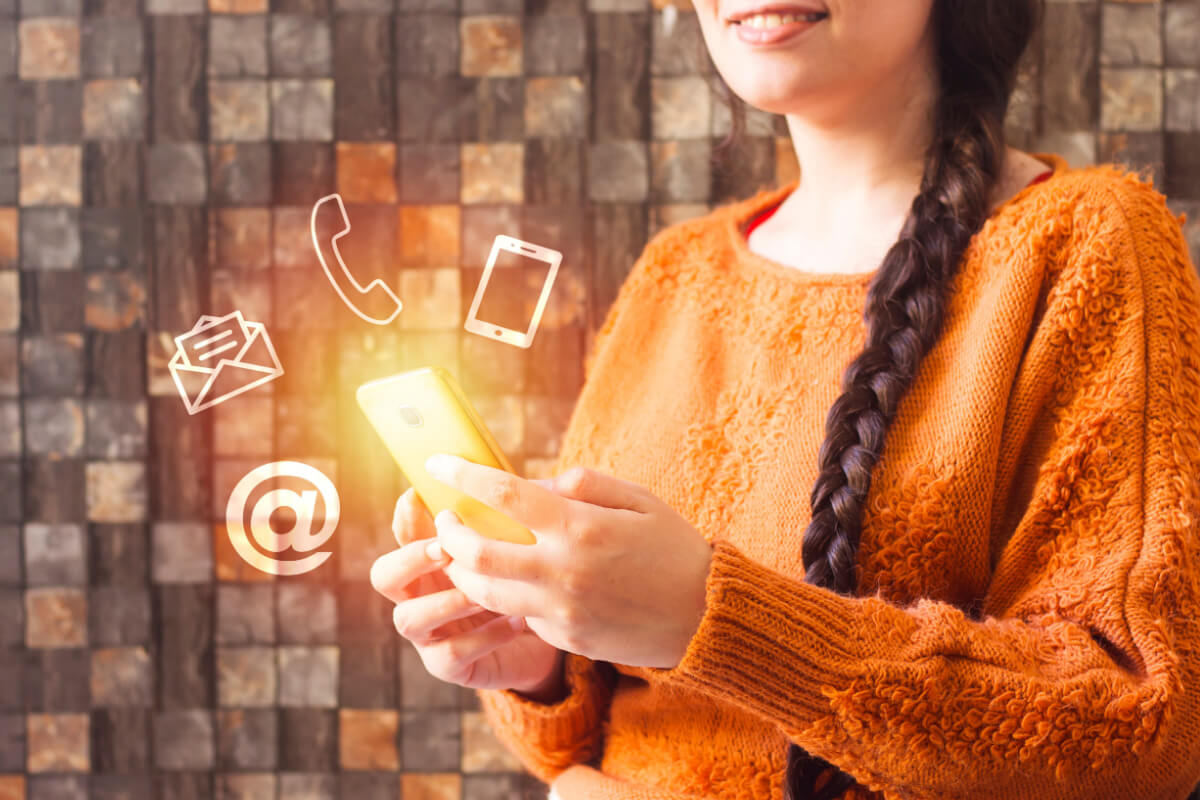 Contact centers work using omnichannel customer engagement, including voice over Internet protocol (VoIP), chat, website, or email support. Reports show that companies with strong omnichannel support can retain 89% of buyers.
When you notice a "Contact Us" or customer service tab on a website, chances are those redirect to a contact center. Customer service agents are responsible for answering calls, resolving complaints, taking orders, connecting calls to management, and acquiring and retaining clients.
The primary purpose of the contact center industry is to ensure that all customers are happy and satisfied. A contact center's key features include the following.
Automatic call distributor (ACD)

allows agents to increase the number of calls answered while ensuring a good customer experience.

Real-time reports

enable contact center managers to monitor and analyze agent performance. It also tracks customer satisfaction in real-time across multiple platforms.

Scripts

give call-takers a framework to assist customers and provide excellent support.

Interchangeable assignments

allow agents to share contacts and objects while maintaining individual stations.

Live agents

chat with customers through an internal messaging system, where consumers press a live chat link to inquire about their accounts, order status, and more.

Help desk agents

answer phone calls from clients, troubleshoot, and escalate tickets to specialists with more advanced technical skills if necessary.

Telemarketing agents

are part of an outbound team and use leads to contact prospects and promote products or services.
What Are the Different Industries That Use Contact Centers?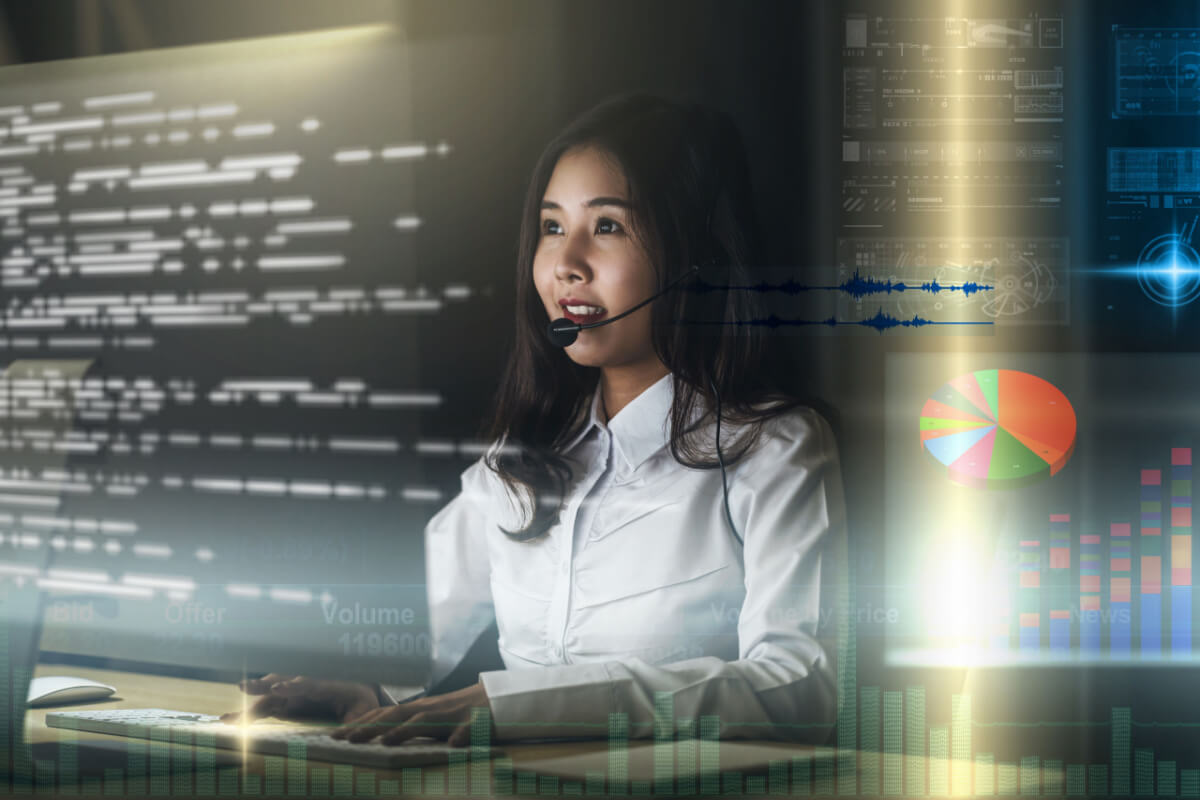 Sectors such as finance, ecommerce, retail, healthcare, and travel rely on the contact center industry to manage customer interactions. These sectors use contact center services to retain customers and make more money.
Others acquire contact center services to streamline daily tasks. For instance, insurance and telecommunications use customer support solutions to ease complex processes and provide beneficial services for customers.
Here's a breakdown of the various sectors that rely on contact centers and how they use services.
Healthcare
A high-tech and digital customer experience model gains market share and increases revenue in a stiff healthcare market. Contact centers provide a unified system for distributed networks because most medical companies have a large presence with facilities, hospitals, and diagnostic clinics in several places.
Most healthcare providers use contact center technologies to deliver a personalized experience. Patients can use their preferred channels to access appointment notifications, communication, and billing details.
Banking and Financial Sector
Banking and financial services rely on the contact center industry to maintain and manage loan offerings and policy inquiries regarding government rules and updates, taxes, and more.
Automation with contact center software makes banking and financial services more accessible. Features such as conversation history and call recording also help banks keep transcripts of interactions for future review. Contact center agents have information and scripts to make interacting with customers a breeze.
Banking institutions that outsource customer support include:
 

Bank of America

Wells Fargo & Company

JPMorgan Chase

Prudential Financial

Capital One
Automotive Sector
Automotive businesses can unlock operational value with contact center software. Seventy-four percent of consumers are likely to purchase based on customer experience. Moreover, buyers are more likely to return to brands that provide post-sale support.
A contact center helps automotive companies call clients for their maintenance service, provide a personalized experience, and offer discounts on certain products.
Retail Sector
The competition in retail and ecommerce is tough. Brands that sell similar products saturate the market. Thus, gaining a competitive advantage is one of the reasons retail and ecommerce companies rely on the contact center industry.
Contact center solutions help retail businesses with lead generation, customer service, and market research. A contact center handles all customer inquiries, complaints, direct responses, order processing, and more.
Retail and ecommerce companies that outsource customer support include:
Utility Sector
Utility companies are consumer-facing, which means they deal with numerous customer calls. Tickets can range from billing inquiries and payment and credit to service requests and connection assistance requests.
Popular utility companies that use contact center solutions are:
Enel Energia

Dominion Energy

Entergy Corporation
Telecommunications
The telecom industry faces tough competition because internet services and low prices are the norms. Staying ahead of the crowd requires excellent customer service because customers won't hesitate to change their service provider given that options abound.
Due to their massive consumer base, phone companies get thousands of customer tickets daily. Callers inquire about billing, service outages, and more. A contact center simplifies tasks and is crucial in managing customer tickets.
Telecom companies that outsource customer support are:
AT&T

Verizon

Telstra

Comcast

Vodafone

Telefónica
The Future and Trends of the Contact Center Industry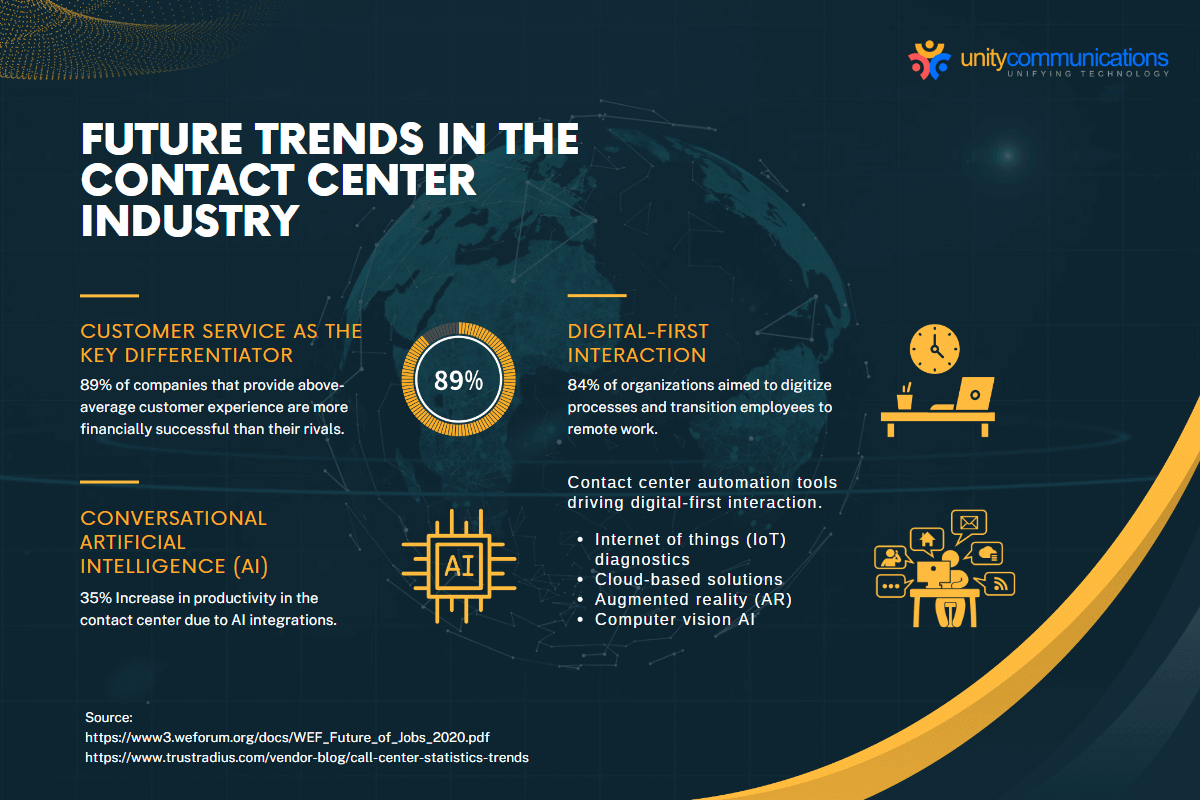 The contact center industry saw the rise of virtual assistance and omnichannel support and even the start of the metaverse in the past decade. The development of CX-driven disruptors and the adoption of new technologies drive the expectations of modern customers.
As new realities unfold, imagining what lies ahead for customer service and contact centers is interesting. Let's look at the contact center trends to keep an eye on.
Customer Service as the Key Differentiator
Consumers demand an overall positive experience because they have little patience and can easily stop supporting a brand after a poor experience. Data from Vonage Global Customer Engagement Report 2021 outlines the actions that break customer loyalty:
Overall frustration (52%).

An annoying experience repeatedly happens while interacting with a brand or service provider.

Communication dead ends (46

%). A customer calls in, and no agent is available, but there's no other support channel.

Hello, human? (46%).

A

caller wants to speak to a human agent, but there's no option to connect to one.

Stranded in self-help

(

46%).

A self-help option does not solve the problem, but there's no option for other support or to call an agent.

Stuck in a waiting loop (44%).

A customer calls in, and the waiting time is too long, but there is no option to request a callback.

Sent in the wrong direction (38%).

A client calls in and selects a number from the recorded list of options but gets connected to the wrong agent.

AI roundabouts (38%).

A customer has to repeat themselves to an agent after explaining the problem to a chatbot or another agent.

No changing lanes (26%).

There is no option to switch between communication platforms.
Companies can no longer hide poor customer service. A single mistake can jeopardize customer loyalty. Businesses have an online reputation, so they compete based on customer service quality.
Digital-first Interaction
Digitally helping customers is nothing new. Companies have tried to solve customer problems remotely to enhance overall effectiveness for years.
Based on the 2020 report from the World Economic Forum, 84% of organizations aimed to digitize processes and transition 44% of staff to work remotely.
Remote assistance gaining popularity in the following year was not surprising. The increasing complexity of cases, growing customer expectations, and the availability of new contact center automation tools drove the growth of remote assistance. The following are examples of such tools.
Internet of things (IoT) diagnostics

Cloud-based solutions

Augmented reality (AR)

Computer vision AI
Conversational Artificial Intelligence (AI)
Conversational AI uses advanced analytics strategies for voice and text interactions. Meanwhile, conversational AI uses AI-powered voice bots and chatbots. AI automates many query resolutions, especially for recurring problems and frequently asked questions (FAQs). Conversational AI accomplishes simple activities such as order cancellation with an intuitive chat flow.
Both contact center technologies benefit from further developments in data processing.
The Bottom Line
The contact center industry offers companies a view into their customer interaction, allowing them to solve issues quickly without asking callers to repeat themselves or wait on hold for a long.
Contact centers allow you to connect with consumers using various digital platforms and obtain more insights into their preferences, buying behaviors, and needs. The analytics feature helps you monitor and assess key platform consumer experience metrics.
Combining various types of support, proactive engagement, empowered agents, and personalized experience build a dynamic department capable of maintaining customer loyalty that will pay dividends.