Contact center as a service (CCaaS) has been a frequently used term in the outsourcing industry since the Covid-19 pandemic began. But what exactly does it mean? And did you know that this service offers many practical benefits for small businesses and startups? 
If you are running a small enterprise and are interested in improving customer service, this blog post is for you. We'll define CCaaS and discuss how it can help your bottom line and customer retention.
Keep reading to learn more. Make sure to check out our bonus tips at the end! 
Definition of CCaaS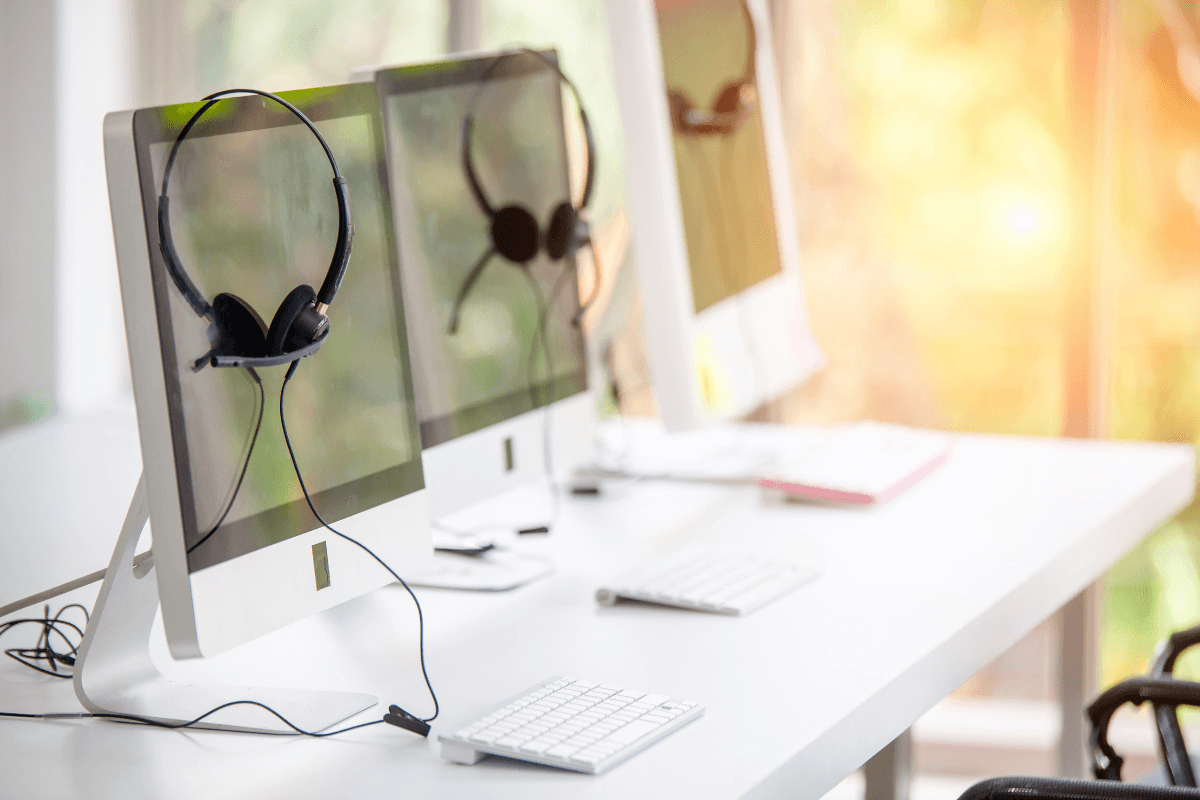 CCaaS is a cloud-based contact center platform that enables businesses to interact with consumers using third-party communication software. You access the application via the internet. Meanwhile, hosting, management, and maintenance are done in an off-site data center.
Use of the application requires a subscription to the services. Payment occurs monthly or annually on a pay-as-you-go or pay-per-use payment scheme. Ultimately, you pay depending on how much you use the system.
Typically, the basic CCaaS solution already allows access to multiple communication channels. Thus, contact center agents can interact with customers at every touchpoint. However,  you have to lease or buy the rest of the resources required to operate a contact center, such as infrastructure and unified collaboration tools.
CCaaS Definition: A List of Solutions
CCaaS solutions enhance customer experience by simplifying customer service processes. It enables customer service, help desk, and sales support agents to communicate smoothly with consumers. This helps build and maintain customer loyalty for a better income stream.  
This technology also allows contact center team leaders or supervisors to track agent calls and interactions. This is vital for quality and training purposes. For instance, team leaders can listen during conversations, advise agents in the background, and intervene to resolve or mitigate arguments. 
A CCaaS solution includes:
Multichannel routing 

Call queuing

Workforce optimization 

Omnichannel

Real-time reporting 

Interactive voice response (IVR) 

Automatic call distribution (ACD) 

Call routing

Chat messaging

Skills-based routing

Analytics

Artificial intelligence (AI)

Natural language processing (NLP)

Machine learning (ML)

Voice recognition

Workforce management

Recording

Remote and mobile agents 

Customer relationship management (CRM) integrations
CCaaS Definition: How It Helps Small Businesses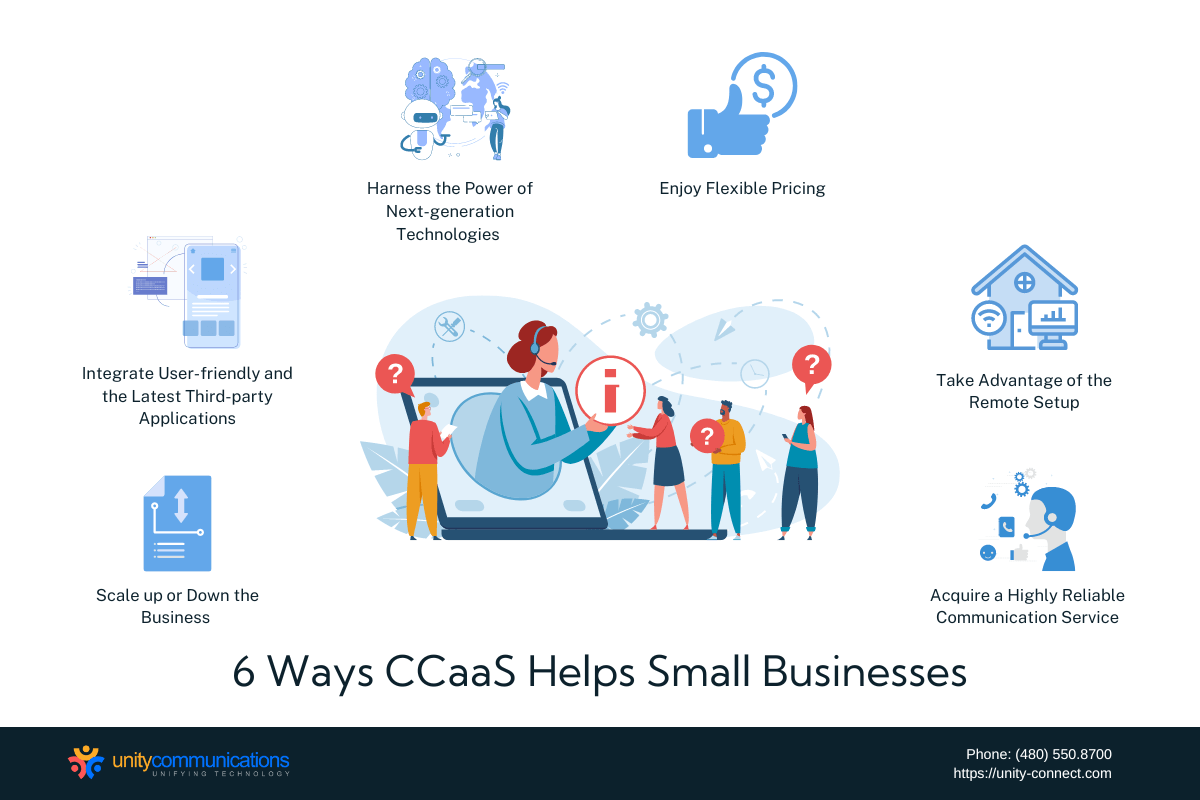 Explore the ways CCaaS can help your small business grow and be more efficient.  
1. Scale up or Down the Business 
CCaaS enables you to add or remove functions, features, and capabilities at any time, according to your business needs. You can add more contact center agents when call volumes go up or trim the number during a slowdown. Neither option will interrupt your current operations and workflow.
Here are a few reasons scalability is a critical factor for businesses:
On-demand capability.

CCaaS offers self-service functions that are always accessible. You can use this feature during peak season when call volumes and sales transactions are high. This particular service is highly effective during a special online shopping event. 
Cost-effectiveness

.

The contact center platform lets you choose the number of agents to make the most of your processes

. It helps save money on hiring, training, and onboarding additional staff. 
Flexible operations setup

. Scalability allows you to distribute contact center activities between your in-house team and the service provider. Your team can handle high-value tasks, while the BPO firm handles customer and user inquiries. Flexibility setups also allow the team to work remotely or from home. 
2. Integrate User-friendly and the Latest Third-party Applications
CCaaS solutions are typically compatible with independent software suppliers and providers. Available third-party applications for CCaaS are support ticketing, CRM, and marketing automation, to name a few.
Note the following popular third-party software that is CCaaS-friendly.
Zoho CRM

. The cloud-based communication system offers customer, IT, market, and sales automation tools. Its unique feature is an AI-powered virtual assistant known as Zia, which supports the contact center team and the customers.  
Asana

. This project management tool is ideal for your digital sales and marketing teams. It helps generate content, promote new and existing products and services, and launch and manage marketing campaigns. The platform can also share files and documents, assign tasks, and handle project updates.
Slack

. This cloud-powered project collaboration application is considered among the best. It simplifies communication between contact center teams and the other departments. Its interaction channels are grouped into public, private, and direct channels, catering to all conversation needs. 
3. Harness the Power of Next-generation Technologies (AI, NLP, and ML)
A CCaaS system uses powerful applications that closely simulate human conversations, collect large amounts of data, and analyze consumer behavior and patterns. AI, NLP, and ML also manage various tasks to ease agent workloads.
With CCaaS, these latest technologies are at your fingertips at reasonable costs. Below are the benefits of leveraging an AI/NLP/ML-driven contact center platform:
Enhanced key performance indicators (KPIs).

KPIs are used to numerically gauge contact center performance and agent productivity. Metrics include abandonment rate, first call resolution, average answer speed, and transfer rate. AI and ML can help improve quantitative metrics for better output and efficiency. 
Reduced operating costs

. AI-ML-based virtual assistants, voice bots, and chatbots do not tire out. They can be used as good substitutes for human contact center representatives during certain work shifts. You no longer have to recruit extra agents to cover weekends or late-night shifts. 
4. Enjoy Flexible Pricing (and Make the Most of It)
Reasonable and flexible costs make CCaaS stand out among the available communication services today. A BPO provider offers pay-as-you-go pricing options for its CCaaS solutions such as inbound and outbound calls, video calls, and messaging. 
Pay-as-you-go is a charging system similar to the billing policies of utility companies. Your payment varies according to usage. The more you use the service, indicating high consumer interaction volume, the larger the fee. The rate is also lower if your consumption is lower due to weak business transactions.
Pay-as-you-go is ideal for your small business for three reasons:
Decreased expenses

. No high upfront costs because you rent rather than buy CCaaS. You do not need expensive hardware and equipment to operate the platform.
Improved overall income

. Lower investment or up-front costs free up resources to fund more productive activities. Flexible pricing plans also allow you to control expenses and raise total revenue. 
Optimized features and functionalities

. You pick the contact center features you need to run the initial processes. You pay more when you get extra functions as call, interaction, or sales volume grows. You pay less when removing functions that are no longer needed. 
5. Take Advantage of the Remote Setup 
CCaaS makes remote working more convenient and efficient. Below are the possible gains when running a work-from-home team.
Bigger talent source

. A CCaaS-based contact center allows on-site and off-site employees to collaborate seamlessly. In addition, many skilled agents in the job market

prefer the work-from-home setup

. Remote setups allow you to reach other high-caliber employees in other parts of the country.
Higher morale

. Telecommuting allows agents to remain productive without the need to take a leave of absence or time off when emergencies or urgent matters arise. Moreover, they don't have to commute to and from the office, which is stressful and time-consuming. These overlooked perks keep employee morale high.   
Higher cost savings

. Contact centers running on the cloud don't need to buy additional equipment or office furniture. Maintenance and utility expenses are also lower when agents work remotely. If the setup continues for a long time, you can reduce the physical workspace to save on rent. 
6. Acquire a Highly Reliable Communication Service 
CCaaS solutions offer high dependability and uptime. This means that your contact center process continues running regardless of the situation. Such characteristics boost consumer experience and satisfaction, sales, and team productivity.
CCaaS promises at least 99.9% uptime, which means it is always functional under normal circumstances. Its downtime is not more than 0.1%. 
When CCaaS keeps a nearly 100% uptime, you can:
Prevent substantial financial losses

. Notwithstanding technical breakdowns, power outages, or uncontrollable events, an operational contact center is favorable for consumers. An unreliable service might trigger customer attrition, leading to revenue losses. 
Provide round-the-clock service and support

. Existing and prospective customers can contact you for issues, requests, complaints, and inquiries anytime. Your CCaaS system stays operational during nights, holidays, and weekends. Twenty-four-seven availability increases customer satisfaction and loyalty, contributing to bottom-line improvement. 
CCaaS Definition: How It Helps Small Businesses' Customers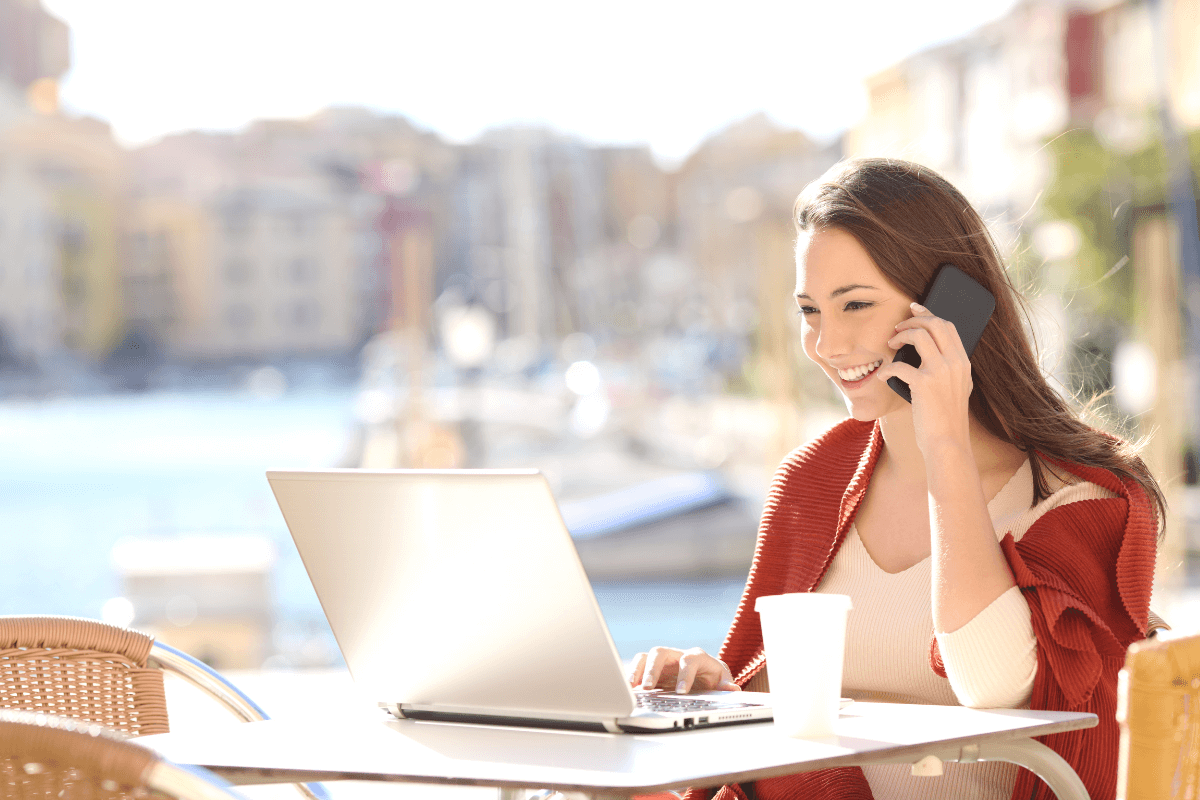 Here are some ways CCaaS can provide customers with a reliable and excellent experience: 
1. They Have Access to Self-service Options
CCaaS solutions provide self-service or assisted-service features that can be integrated into the contact center operations. These options include:
Online knowledge base

– a searchable online resource of information regarding certain subjects, products, or services

Frequently asked questions (FAQ) page

– a space on your website that answers FAQs consumers have about the company's services, products, and processes.

Web support forum

– also known as a customer forum; a space on your website where consumers share information, concerns, tips, and ideas

Product tutorials

– instructional resources in the form of articles, videos, infographics, and webinars that educate current and potential consumers about your products and services

Virtual assistants, voice bots, and chatbots

– AI-based software applications that communicate with customers or users through text-to-text, text-to-speech, or speech-to-speech communication
Consider these benefits of self-service options:
Empower customers and users

. Customers do their research, buy or subscribe to products, and find answers to their questions without contacting agents. Assisted-service functions save them time, money, and effort by letting them do common tasks themselves.
Offer consumers instant help

. Self-service functionalities quickly solve simple customer or user issues and questions.

Common concerns include placing a product or service order, asking about a bank balance or paying a credit card bill, verifying a business address, and requesting a warranty policy or membership form.
Send automatic updates

. Self-service options let your users receive updates and reminders that reduce their concerns and future inquiries. Examples are special events, due dates or past due accounts, and product delivery status. 
2. They Can Contact You on Any Digital Device Anytime, Anywhere 
CCaaS provides omnichannel support that allows consumers to contact you about products and services on any platform. They can contact businesses using their digital devices (e.g., smartphones, voice-over-internet-protocol (VoIP) phones, fixed-line phones, laptops, desktops, and tablets).
Omnichannel combines all the channels into a single platform for seamless customer interaction. Their conversation with an agent keeps going even when they switch from one communication mode or digital device to another.
Here's the list of different omnichannel communication channels:
VoIP telephony

. Consumers can contact you with an internet-connected VoIP phone.
Social media.

Consumers receive support or service via social networks such as Facebook, TikTok, and Twitter. They post feedback, reviews, suggestions, and comments about your service on these platforms.
Live chat

. Users can contact live agents in a small pop-up panel on your website and receive replies instantly.
Standard phone.

Customers use standard or fixed-line phones to call you about product requests or questions. Most still rely on this technology for its affordability and practicality.
Self-service portal.

As discussed above, this channel allows customers to resolve issues independently.
Email

. The questions, requests, or issues sent through email are not urgent but must be addressed promptly. Customers receive surveys, questionnaires, and product or service promotions through email.
Short message service (SMS).

This mode is one of the fastest ways to reach a business. Consumers send short text messages to the contact center team using smartphones or other mobile communication gadgets.
CCaaS Definition: The Ideal Contact Center Features for Your Small Business (Bonus Tips)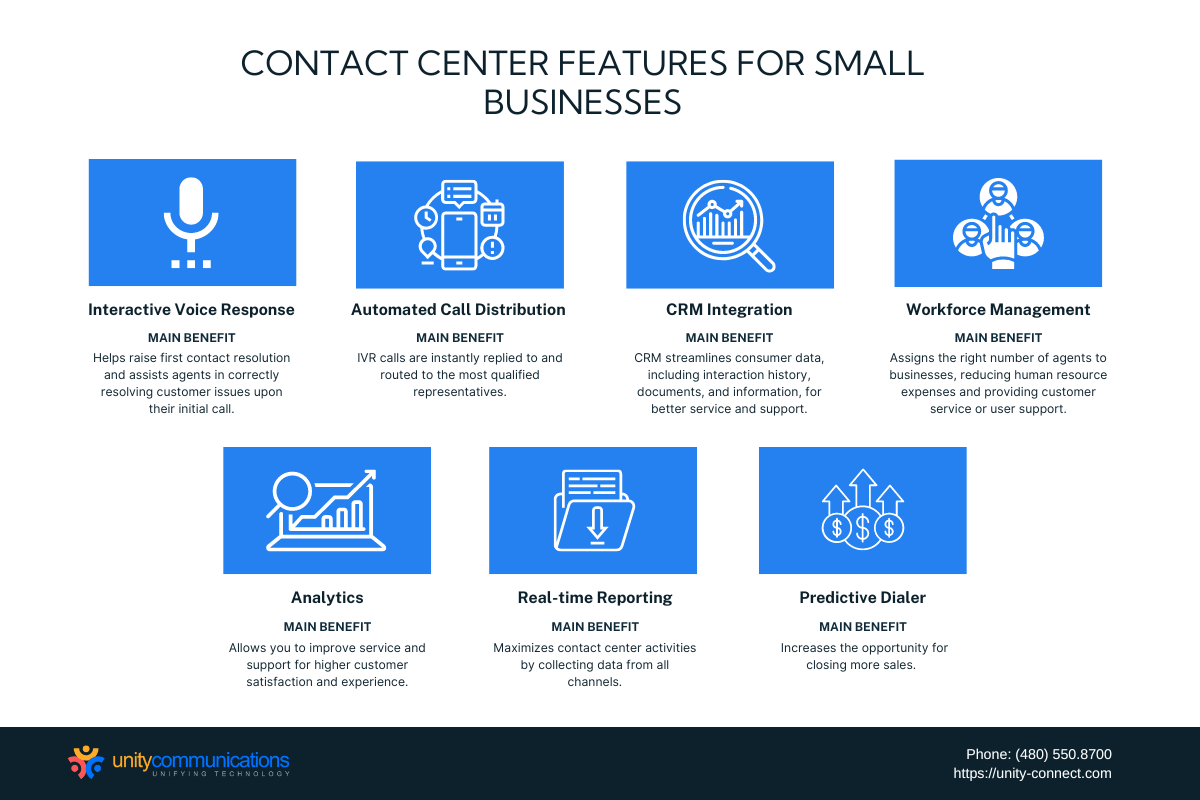 Consider this list of must-have features to make the most of CCaaS solutions for your business:
Interactive Voice Response.

Permits consumers to talk to automated software that answers and directs their calls to the appropriate agents.
Main benefit: Raises first contact resolution or the instances when agents properly resolve customer issues upon their initial call.
Automated Call Distribution (or call routing)

. Distributes voice calls to qualified agents according to preset procedures.
Main benefit: Transfers to the wrong agents are reduced if not avoided. Like IVR, calls are instantly replied to and routed to the most qualified representatives.
CRM Integration

. CRM is the application that handles interaction and relationships with customers and users.
Main benefit: When linked to CCaaS, CRM streamlines consumer data, including interaction history, documents, and information, for better service and support.
Workforce Management

. Workforce management effectively distributes agents with skill sets that match customer requirements. 
Main benefit:  Assigns the right number of agents to businesses, thus reducing human resource expenses and providing enhanced customer service or user support.
Analytics

.

Collecting and evaluating consumer data to discover valuable insights into your contact center's performance.
Main benefit: Gaining insights into consumer patterns (e.g., complaints, preferences, and dislikes) allows you to improve service and support for higher customer satisfaction and experience.  
Real-time Reporting

. Pertains to the process of gathering, viewing, and accessing data while events are taking place. 
Main benefit: Maximizes contact center activities by collecting data from all channels to provide an overall picture of the operations.
Predictive Dialer

. An automated dialing system that connects sales support agents to the right sales prospects. 
Main benefit: Increases the opportunity for closing more sales. 
The Bottom Line
CCaaS is the way to go for cost-effective and efficient customer communication technology. While the service poses some issues not discussed in this article, its advantages for small businesses and startups are enough to consider investing.
Maximizing the benefits of CCaaS while minimizing its potential drawbacks helps improve consumer satisfaction and revenue in the long run.
The recommended next step is to find the right partner or organization to guide you. You can contact a BPO company such as Unity Communications to help you keep moving forward.