Written by Allie Delos Santos
Even if your company has the best price points and features, you cannot engage consumers if you do not deliver the meaningful experience they want. Customer demands are always changing, and a legacy contact center makes it harder to adapt to the times. Outdated, expensive, and poorly performing software and hardware can even harm the flexibility of growing businesses.
That's where contact center as a service (CCaaS) comes in. Cloud-based contact centers make digital transformation easier.
This guide explores the definition of CCaaS cloud, the difference between "as a service" systems, and the right way to choose the best vendor.
What Is CCaaS Cloud?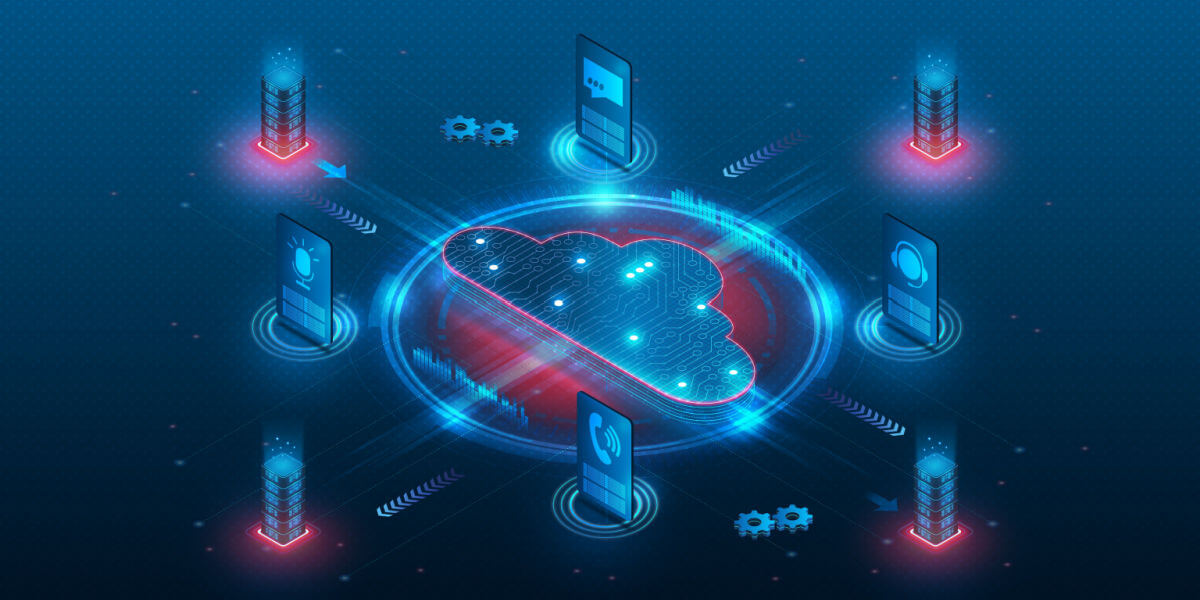 CCaaS is a cloud-based system that allows businesses to use a service provider's software. A CCaaS model enables companies to buy only their required tools, reducing the need for information technology (IT) support. 
CCaaS is an ideal solution for many organizations because it provides scalability as those organizations' operational requirements change. With the flexibility to pay for only the technology they need, businesses can use up-to-date platforms that fully support their companies, better serve their clients, and are extremely low-cost. 
History and Evolution of CCaaS
The CCaaS cloud dates back to the beginning of call centers. Legacy call centers were entirely phone-based, and a business' clients called a toll-free number to talk to an agent from the company. These calls were the only communication customers could have with businesses and the only way to reach out to brands.
Contact centers came after call centers, allowing clients to communicate with brands using their preferred channels—social media, chatbots, or email. Contact center technologies emerged as business process outsourcing (BPO) companies continued to innovate and grow in popularity.
CCaaS results from continuous innovation and businesses' desire to leverage cloud technology in customer service operations. Industry experts already see advancement in the relationship between CCaaS, unified communications as a service (UCaaS), and the rise of cloud adoption.
Companies that adopt CCaaS can see benefits such as lower costs, better flexibility, and improved customer service. Studies also found that moving your contact center to the cloud improves customer satisfaction by 59% to 85%.
How Does CCaaS Work?
CCaaS is a cloud-based platform that provides all the software a company needs to maintain its contact center without complex provisioning and hardware. It integrates with the existing technology and external devices that you have.
This technology also simplifies the process of creating a future-proof contact center. The initial cost is lower than traditional contact centers because you pay for cloud software solutions. Operating costs are also easier to plan with pay-as-you-go pricing.
CCaaS includes all the basic tools you get from its traditional counterparts, such as call recording, routing, and management systems. The difference is that it lets you extend functionality and add new members to your contact center team when needed. 
CCaaS unlocks access to the following:
Workforce automation and management

Call analytics and customer experience tracking

Call recording and management systems

Intelligent interactive voice response (IVR) and call routing

Customer relationship management (CRM) integrations and extensions

Virtual assistants and artificial intelligence (AI)
Furthermore, you do not need to worry about investing in maintenance because your service provider handles maintenance for you.
UCaaS vs. CCaaS vs. CPaaS: The Main Differences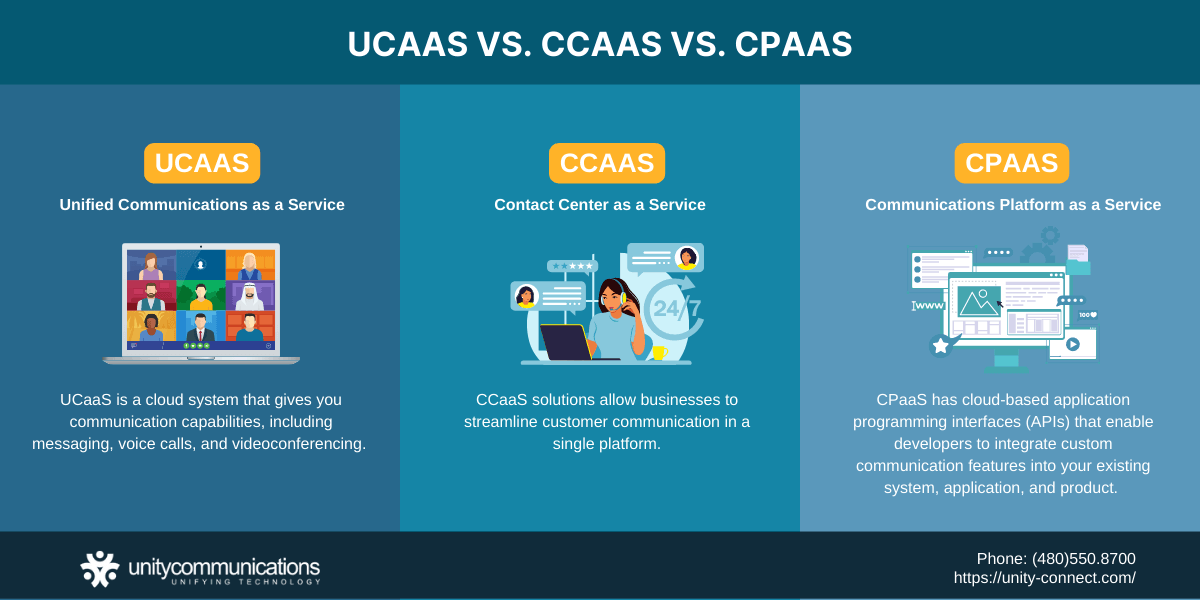 CCaaS and UCaaS are one-stop-shop platforms with built-in communication features. On the other hand, communications platform as a service (CPaaS) gives developers tools to layer on the messaging features you need, including the functionalities available in CCaaS and UCaaS. 
CCaaS, CPaaS, and UCaaS are three remarkably similar tools—all essentially being cloud phone systems for business. But they have some key differences. Let's look into them.
UCaaS
UCaaS is a cloud system that gives you communication capabilities, including messaging, voice calls, and videoconferencing. UCaaS offers integrations with adjacent applications such as CRM to drive efficiency and keep cloud tools interconnected. 
Businesses use UCaaS for internal collaboration and communications within teams.
CCaaS
CCaaS primarily accommodates customer communication. This solution brings contact centers into the cloud for sales or customer service purposes. The system allows businesses to streamline customer communication in a single platform. Placing and receiving calls and tracking agent availability are among the many capabilities of CCaaS.
CPaaS
CPaaS has cloud-based application programming interfaces (APIs) that enable developers to integrate custom communication features into your existing system, application, and product. CPaaS is also called "embeddable communication."
Embedding communication used to be challenging and time-consuming. CPaaS made it easy for developers to layer communication platforms without creating back-end interfaces to support the said feature. 
Types of Contact Centers: Cloud-based vs. On-site
About 62% of businesses plan to use cloud-based contact centers because of the advantages their companies gain. But before deciding, companies must weigh all options to find the right fit. Cloud and on-premises contact centers differ in staff requirements, costs, and management.
Here are the key differences between on-site and cloud contact centers to help you decide which one fits your organization best.
| | | |
| --- | --- | --- |
|   | Cloud-based | On-premises |
| Cost | Minimal costs because the technology is hosted in the cloud | Wide-ranging initial costs for licenses, hardware, and on-premises servers |
| Time to Market | Requires only a strong internet connection and CCaaS cloud to be deployed | Implementation takes longer due to the installation and purchase of hardware |
| Reliability | The quality of the service provider and internet connection mitigates call quality concerns | On-site hardware can improve call quality and lag |
| Scalability | New functionality and lines can be added with a few clicks | More money, time, and effort required to add extra hardware |
| Maintenance | The service provider manages all maintenance | Many potential points of failure due to on-site hardware |
What To Look for in a CCaaS Vendor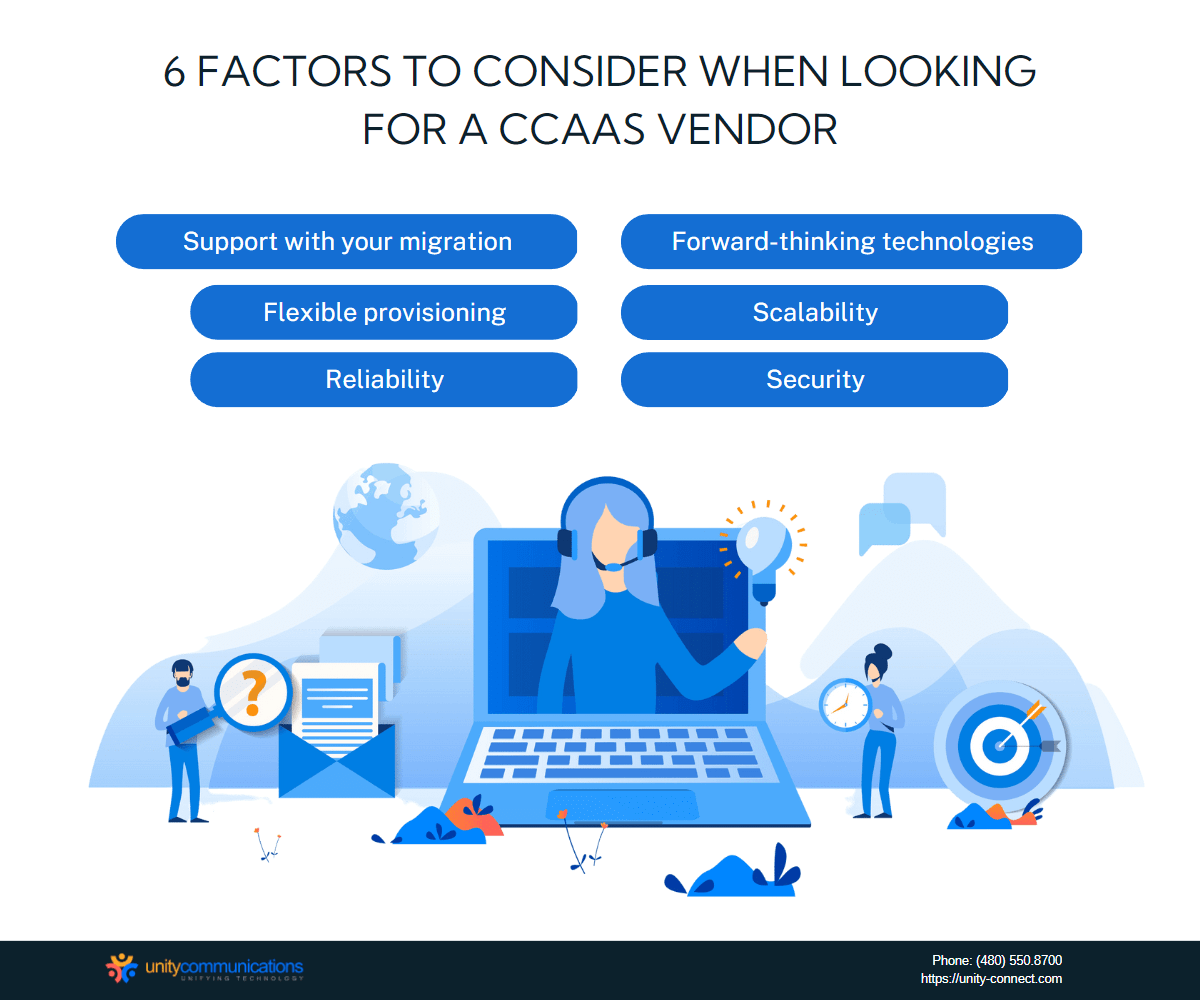 Most CCaaS providers in the market today want to give their clients the best mix of ways to communicate internally and externally.
When searching for the right CCaaS vendor, look for the following:
Support with your migration.

Moving from a legacy contact center to a CCaaS cloud solution requires a vendor that can make the migration as easy as possible. Look for a provider that offers a phased approach with hybrid software and technology that functions on any endpoint.
Flexible provisioning.

The right contact center system depends on your organization and the type of experience you want to give your customers. There is no one-size-fits-all solution. Ensure your service provider offers unique strategies that fit your needs. Think about multi-tenancy, hosted offerings, and more.
Reliability.

Your contact center is the heart of your customer service strategy. You need to ensure that it performs well, no matter the situation. Look for a vendor with guaranteed high uptime and a commitment to reliability.
Forward-thinking technologies.

Whether you like it or not, the future will come. So prepare for transformative technologies that can help your company thrive. Consider the possibilities of automating your workflow, natural language processing, and transcribing notes with AI to make them more searchable.
Scalability.

Can your CCaaS vendor be as agile as you? Ensure your service provider can evolve and scale to suit your changing needs. Cloud contact centers are great for incorporating new staff into your department anytime. Also, consider how you can scale up by integrating new customer service tools and platforms.
Security.

Using CCaaS requires having the right security measures. Some vendors offer encryption for conversations and messages. Ask where the service provider will store the information gathered in your contact center. Check whether they comply with industry standards. Lastly, consider tools for limiting data breaches and fighting toll fraud.
CCaaS Features To Look For
After narrowing your selection to a few top-performing CCaaS vendors in the market, compare their offerings. Assess how they perform and which type of business they are best suited for.
While the exact functionality and features you need vary, you must consider several factors below when comparing CCaaS solutions.
Reporting and analytics

ensure you have the right data to facilitate ongoing growth. Whether you want insights into your center's bottlenecks or customer experience reports, you need a tool that provides a complete overview of your business.
Contact center monitoring

comprises all analytics that CCaaS can track and measure. This feature guides your agent training programs and improves contact center performance management. More sophisticated solutions offer speech analytics and multichannel text.
Call accounting

, or call logging, gathers and records phone usage within a contact center.
Call analytics

tracks metrics to allow agents and managers to evaluate the success rate of call campaigns.
Interactive voice response (IVR)

comprehends voice and dial pad input from the caller to respond or take the next best action.
Predictive dialers

are automated calling systems that sales teams use. They automatically dial numbers and connect them to agents that are free to talk to customers.
Automatic call distribution (ACD)

routes calls to find the right customer service agent for the ticket.
Benefits of CCaaS

CCaaS introduces companies to various benefits and market-leading solutions. Look at the following benefits of this tool to learn more.
CCaaS Creates Omnichannel Experiences
Contact centers have moved to cloud-based models as the need for multichannel and omnichannel support grows. This ensures each customer connects to a representative who can help them best. CCaaS cloud providers offer chat, email, SMS, social media, voice, and video contact opportunities.
Having multiple communication means is fine, but omnichannel support is better. It meets more customer needs. With an omnichannel experience, customers are not continuously passed between agents, degrading support quality. It also stops clients from repeating information across channels, making it easier for brands to resolve their concerns.
More than half of customers still prefer voice support, but 18% prefer communicating via email. Another 11% say they prefer to contact brands using chatbots, social media, and push notifications. As Gen Z and millennials lead the way, more customers prefer to use other channels.
CCaaS Allows Easy Integrations
Integrations make modern contact centers more flexible and appealing. You might need CCaaS to integrate with your existing unified communications stack or other collaboration tools.
The more unified your applications are, the easier it is to keep track of your tools and maintain efficiency in your workflow. At the very least, having a contact center that integrates with your CRM system is a good idea.
CCaaS Provides Analytics Capabilities
Legacy technologies are difficult to integrate and rarely optimized to allow data gathering and analysis across multiple solutions. Upgrading to a CCaaS solution helps businesses gather data that they can use to generate valuable insights.
Analytics helps businesses identify trends and leverage opportunities as they arise. Having all channels connected to a single platform improves data gathering and consolidates information easier.
Disadvantages of CCaaS Cloud
Cloud-hosted contact centers help you deliver excellent customer care, but you might encounter obstacles in implementation. The risk is higher if your agents do not have adequate training or a reliable internet connection. 
Consider the following potential drawbacks:
Current workflow adjustments.

Departments might need to adjust or establish new rules regarding processes, such as how staff escalates a ticket or when a representative can use the do not disturb (DND) feature. 
Employee training requirement.

Team leaders and supervisors must learn the ins and outs of CCaaS to support agents properly. Similarly, customer service representatives need adequate training using a voice-over-internet protocol (VoIP) and CCaaS features. 
Reliance on internet connections.

Similar to other cloud solutions, CCaaS needs a strong internet connection. Without it, your team will be unable to interact with customers or use contact center tools. 
CCaaS Cloud Trends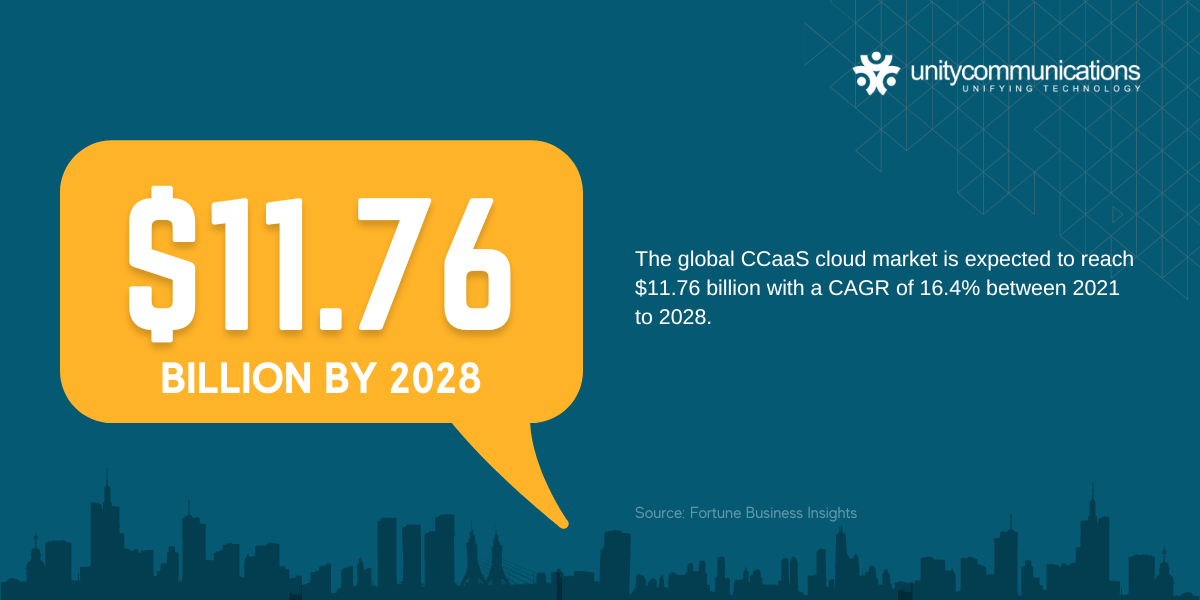 The global CCaaS cloud market is expected to reach $11.76 billion by 2028. This number promises opportunities for new and existing companies. As the demand for cloud contact centers grows, businesses have many vendors to choose from.
Leading service providers in the market discover new ways to enhance the customer experience in the cloud with more informative and intuitive technology. Some vendors even put together different as-a-service tools in the cloud to create a single contact center environment.
Below are the most appealing CCaaS trends.
The Complete As-a-service Environment
CCaaS cloud is a solution offered by business leaders as an addition to the UCaaS tool. As organizations try to limit the number of applications agents use, we will likely witness customizable as-a-service stacks powered by APIs and CPaaS for more modular control.
Workforce Management and Optimization
Workforce management and optimization tools are becoming more popular as business leaders look for new ways to do things, such as remote work. 
The work-from-home (WFH) and work-from-office (WFO) technologies built into CCaaS offer a complete overview of agent performance, regardless of location. These technologies also use leaderboards and scoreboards to help team members stay on task.
Analytics and Customer Journey Mapping
The analytics features in CCaaS will provide valuable insights as businesses gather huge amounts of data from omnichannel communications. These insights can help determine the steps people take when buying your products or services. Analytics lets organizations track customer journeys and deliver better experiences.
Virtual Assistants and Artificial Intelligence
We are far from AI replacing human customer service representatives. In the meantime, business leaders can empower agents with AI technology via CCaaS.
Tools such as speech recognition can listen to how a customer service agent sounds and tell when they need more help. AI also tracks trending tickets. In addition, it can use voice biometrics to bring up information that the representative might need to put the interaction in context.
Better Security
As new speech recognition and voice biometrics technologies emerge, they can open up new ways for the CCaaS cloud to stay safe. Toll fraud and similar problems plague contact centers. With analytical strategies and unique voice fingerprints, business leaders can limit the risk of letting the wrong people access sensitive customer data.
The Bottom Line
As customer needs change, businesses look for every competitive edge. In this environment, moving to the CCaaS cloud is an urgent matter.
The best CCaaS software solutions are always up-to-date. They have state-of-the-art contact center features such as data loss prevention and security. This program ensures scalable operations, business continuity, and a smooth transition to the cloud. What features you include in your contact center software will come down to what your company needs.
If you want more information about CCaaS, contact Unity Communications now.