Written by Dion Jay Tality
Do you need help managing tedious, time-consuming business processes in-house? Or do you plan to establish new departments to match your growing customer base? If yes, then this year is the perfect time to outsource.
Outsourcing is now easier than ever. Advanced technology, global talent, and resources abound in the market. As a result, the business process outsourcing possibilities are endless.
If outsourcing is on your docket, read on to find out what business process outsourcing options are available for your company.
What Is Business Process Outsourcing?
Business process outsourcing (BPO) is when a company hires a service provider to handle certain functions. Instead of building an in-house team to accomplish tasks, you delegate them to a trusted third-party service provider or BPO firm. 
BPO is like the ultimate delegation hack. Think of it as farming out mundane, cumbersome, or complex tasks to a team of skilled professionals and experts. That way, you can focus on your core functions—running your business and making big decisions.
Let us look at an example to understand what business process outsourcing is.
You run a successful click-and-mortar store that sells apparel via your physical store and e-commerce platform. But you constantly get swamped with online and offline orders, resulting in delays. You can outsource your data entry, order fulfillment, and customer service to a BPO company to solve this problem. 
Outsourcing gives you peace of mind because you know that a reliable BPO partner takes care of your non-core functions. At the same time, you can commit to prioritizing your core operations, such as increasing profits and growing your business.
Learn more about your business process outsourcing options in the next section.
What Business Process Outsourcing Options Are Available?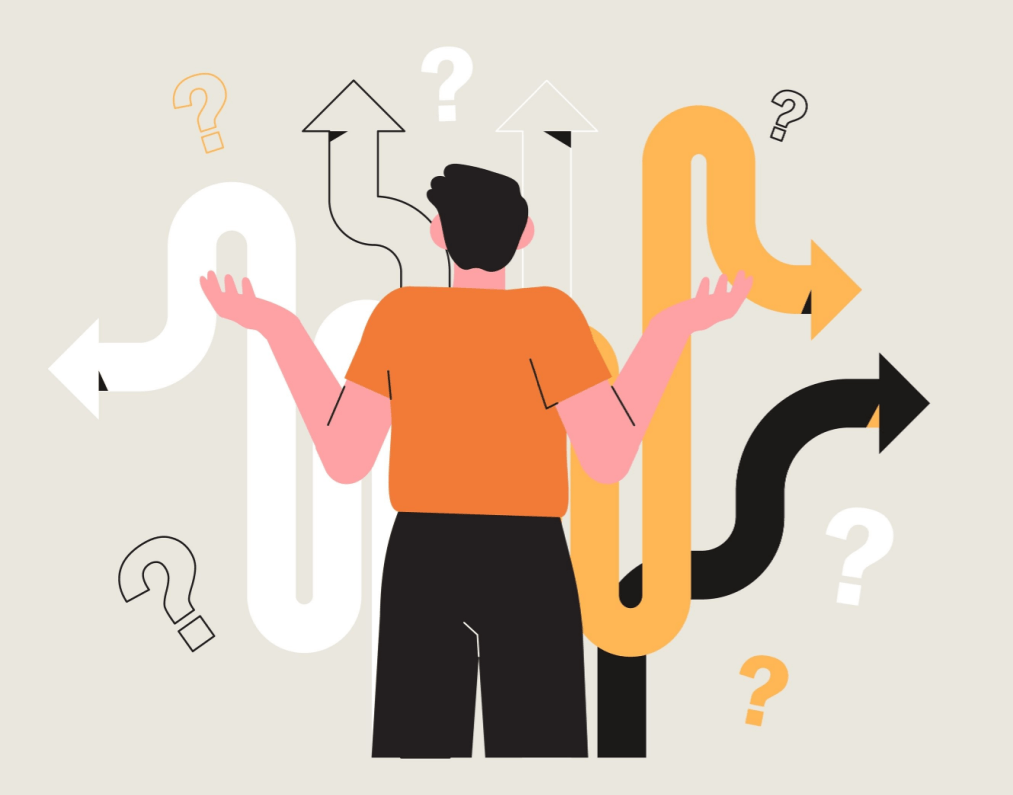 The BPO industry offers several options based on the service provider's location, business functions, and industry segments. 
First, you can outsource to a domestic partner or a third-party service provider located in a nearby country or overseas. Second, you also have the option to outsource customer-facing tasks or back-end functions. Lastly, you can work with any BPO company, regardless of industry.
These BPO options prove how the outsourcing sector has exponentially grown over the years. It is expected to grow from $251 billion in 2021 to $492 billion by 2028 at a compound annual growth rate (CAGR) of 10%.
Given these figures, outsourcing is a viable business strategy for optimizing your operations. 
Let us further explore the business process outsourcing options available to you. 
Types of BPO in Terms of Location
According to Clutch, 90% of small businesses planned to outsource in 2022 to achieve their business goals. More than 25% wanted to work with experts by collaborating with onshore or overseas partners.
The location makes a world of difference in outsourcing. Ask yourself: Do I want to keep things close to home by hiring an onshore BPO vendor? Am I ready to take a leap and work with a third-party team overseas? 
Here are your business process outsourcing options based on location.
|   | Onshore Outsourcing | Nearshore Outsourcing | Offshore Outsourcing |
| --- | --- | --- | --- |
| Definition | You work with a BPO provider in the same country as your headquarters.  | You hire a BPO provider in a nearby country. Such vendors are usually within the same time zone or a few hours ahead/behind you. | You work with a BPO company located on the other side of the world.  |
| Example | A walk-in clinic works with a laboratory center in the same country to provide diagnostic testing services for its patients. | A Canada-based e-commerce business hires a BPO company in Latin America to handle its bilingual customer service (with agents speaking in both English and Spanish). | A giant tech company in the United States outsources its IT support and help desk functions to a BPO firm in Asia. |
| Benefit | Best if you want to take control of your business, keep your operations local, and reduce any potential language or cultural challenges | Ideal if you want to outsource but are not ready to go entirely offshore. You will benefit from the minimal time zone difference, ease of travel, and cultural affinity. | Helps with reducing labor costs while tapping into a pool of global talent and technological resources  |
According to Outsource Consultants, regional disparities have rapidly shrunk in terms of cost, technology, and quality. Since last year, selecting a BPO partner has no longer been based on location alone but on language needs, experience, and cost. No matter which option you choose, find a BPO provider that helps meet your business needs. 
Types of BPO in Terms of Outsourced Functions
The BPO industry has grown to cover a vast scope of work. However, do you need help with customer-facing tasks, or do you want to streamline your back-office functions? 
Discover below what your business process outsourcing options are in terms of outsourced functions.
Front-office Functions 
These are tasks requiring direct customer interactions. 
Customer service

is all about taking care of your valued customers. Customers are the most important stakeholders in your business. Whether answering questions, processing orders, or handling complaints, you want to keep your customers happy and satisfied.

Technical support

offers technical assistance to end users, whether customers or employees. This function involves troubleshooting technology such as computers, mobile phones, and electronic devices. The end goal is to promptly and effectively resolve technical issues.

A

help desk

is a single point of contact (SPOC) for all end-user concerns. It is a combination of customer service and technical support. While some help desk agents provide customer support, others offer technical assistance.

Sales or telemarketing

entails contacting potential customers to sell products or services. Sales representatives perform cold email outreach by sending promotional emails to prospects. Meanwhile, telemarketers make outbound calls to contact customers based on leads.
Back-office Functions 
These are non-customer-facing tasks that support your business operations.
Data entry

is the process of recording business data, especially customer information. It often involves organizing, managing, and securing such information.

Outsource data entry services

if you are looking to protect crucial business data.

Order fulfillment

starts with taking order requests from customers and ends with delivering products to their doorsteps. Quickly and safely getting customers' orders out the door is a crucial aspect of a business. Through outsourcing, you can rest assured that your customers receive quality products on time.

Inventory management

involves procuring material supplies, storing items, processing orders, and shipping products. Tracking your inventory can be challenging, especially with a large product line. You can ensure you always have the right products in stock through

inventory management outsourcing

.

Administrative work

is critical to your business operations and organizational success. Below are commonly outsourced administrative tasks:

Accounting

– managing business finances

Payroll

– paying employee salaries

Human resources (HR)

– hiring, training, and keeping employees

IT support

– hardware and software installation, troubleshooting, maintenance, network management, etc.
Companies of all sizes now outsource several business processes to BPO service providers. According to Deloitte, the top five functions performed in outsourcing are: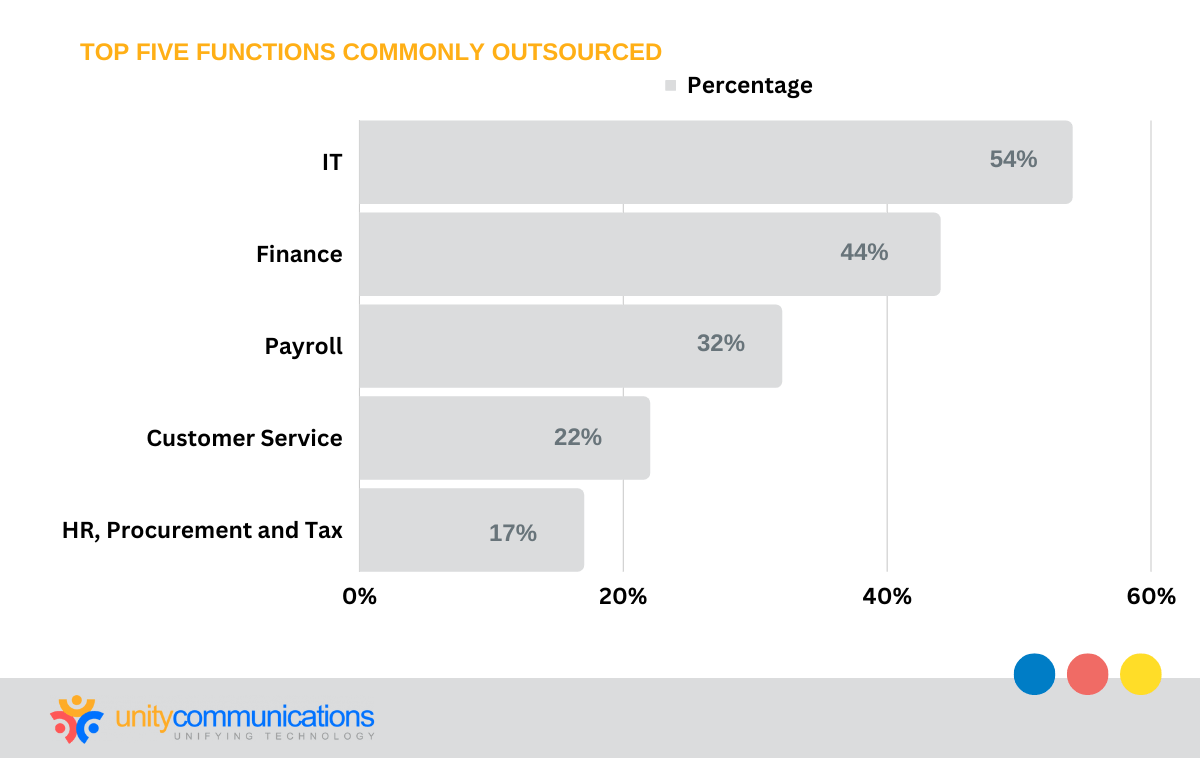 Examine your business operations to identify which functions you need to outsource. Make sure to find the BPO partner best suited for your industry type, business size, operational needs, and overall budget.
Types of BPO in Terms of Industry Segments
The outsourcing sector caters to different industries; however, various businesses have different needs. Hire a BPO partner that understands your industry and shows true expertise in handling your business functions. 
According to Grand View Research, the BPO sector has seen significant demands across end-use industries such as healthcare, IT and telecommunications, banking, financial services, and insurance (BFSI). This high demand for outsourcing is due to its potential benefits, such as business flexibility, cost reduction, and service quality.
Explore business process outsourcing options according to the industry segments below.
BPO Segment

(in terms of industry type)

Outsourced Function
Market Growth
Recommendation
IT Outsourcing (ITO)

Software and hardware troubleshooting

IT installation, maintenance, and upgrades

Network and server management

IT security and compliance

In 2021, the IT and telecom segment brought in the most money, amounting to almost 35% of the total market share.

Consider

outsourcing email support

, live chat, or phone support for your IT help desk. You can also entrust your entire IT operation to a managed service provider (MSP).

BFSI BPO

Customer service

Billing and collections

Sales and marketing

The BFSI segment might have the fastest growth by 2030 at a 10% CAGR. 

Consider outsourcing processes for various BFSI domains, such as investment and asset management, to improve your cost efficiency.

Healthcare Outsourcing

Non-clinical tasks:

Medical coding and billing

Claims processing

Revenue cycle management (RCM)

Clinical tasks:

Direct patient care

Telehealth services

Remote patient monitoring (RPM)

The global healthcare BPO market could grow from

$296 billion in 2021 to nearly $469 billion by 2026

at a 9.6% CAGR.

Outsource some of your healthcare functions so that you can focus on treating patients and saving lives.

Retail and E-commerce BPO

Customer service

Data entry

Order fulfillment

Inventory management

Warehouse operation

Global retail e-commerce sales might grow from

nearly $5 trillion in 2021 to $7.4 trillion by 2025

. 

Consider

outsourcing customer support

and/or back-end tasks if you have a growing customer base.
The Pros and Cons of Business Process Outsourcing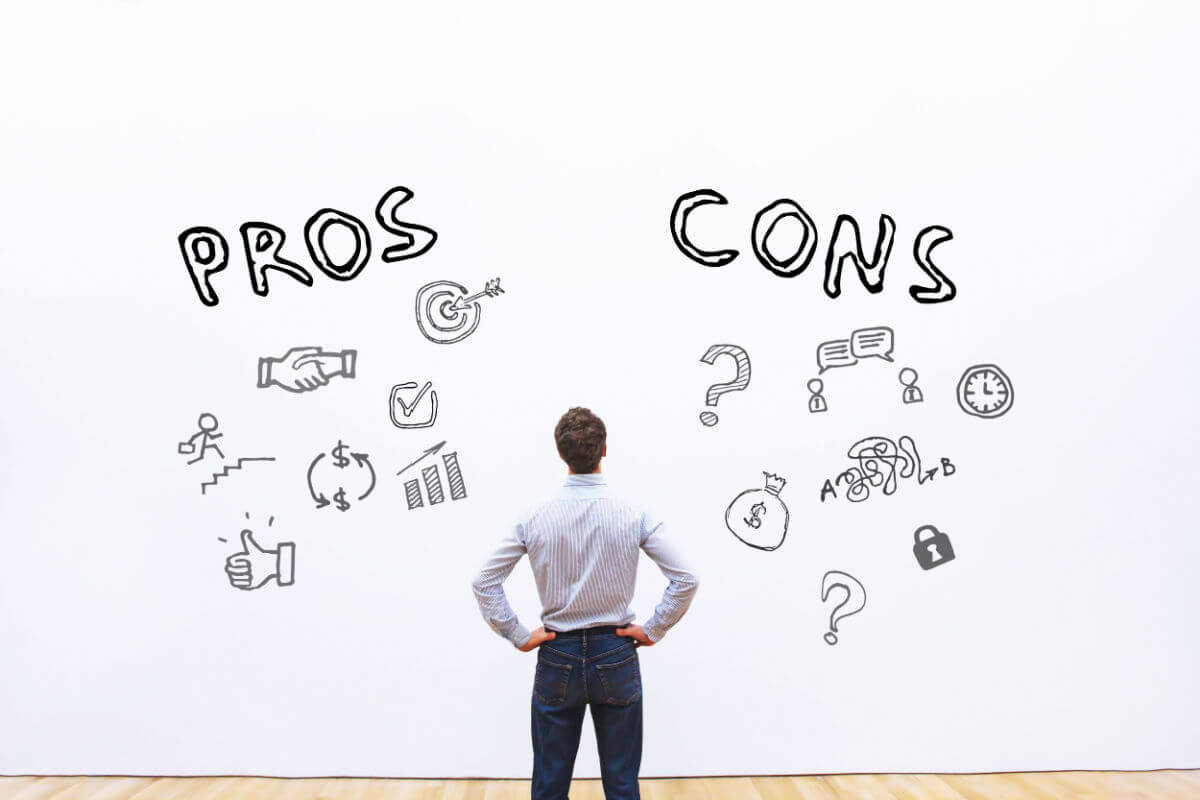 The outsourcing sector has grown by leaps and bounds, serving businesses across different industries. This sector indeed provides many business process outsourcing options.
However, the BPO industry also has some possible drawbacks, even though it offers several potential benefits. Therefore, weighing the good, the bad, and the ugly so that you can make the right outsourcing decisions is crucial.
Let us dive into the BPO pros and cons.
Advantages of Business Process Outsourcing
Undivided focus on core operations.

Prioritize critical tasks in your business by outsourcing non-core functions. This frees up your time, allowing you to concentrate on income-generating activities that grow your business. You can better focus on long-term planning and strategic decision-making.
Greater business flexibility.

Outsourcing benefits your company if you experience fluctuating demand for your products or services. How? It allows you to scale your

business operations up and down as necessary. Additionally, diverse business process outsourcing options give you greater flexibility to respond to market changes and opportunities.
A reliable pool of global talent.

The BPO industry has a pool of skilled professionals and experts worldwide. These include customer care agents, IT professionals, technical experts, accountants, and more. Outsourcing lets you find the talent you need to handle business functions, scale your operations, and grow your business.
Easy access to innovative technologies.

The BPO sector is among the first to invest in the latest technology. Because they have a wide scope of services and clients, BPO companies leverage digital tools and resources such as automation and artificial intelligence. You can take advantage of next-generation technology to improve your operations through outsourcing.
Massive performance improvements.

Outsourcing helps improve business performance by tracking and meeting key performance indicators (KPIs) such as efficiency, quality, and customer satisfaction. Most service providers achieve the targets for these metrics by employing expert staff and innovative technology. Enjoy this benefit when you hire a competent BPO partner.
Boost in business profits.

BPO helps increase your profits by reducing operating costs and improving performance. You no longer need to build infrastructure, invest in technology, and hire staff through outsourcing. Not only do you increase your cost savings, but you also generate more revenue by improving your business performance.
Significant reduction in operating costs.

Did you know that BPO can

reduce your labor costs by up to 70%

? Aside from this, outsourcing helps you cut expenditures on property lease and utilities as well as tools and technology. A reliable BPO partner provides economies of scale and expertise.
Guaranteed growth and global expansion.

As mentioned, business process outsourcing offers several options. By leveraging the resources and expertise of a BPO company, you can expand your operation into new markets. Your BPO partner provides the support you need to scale and grow your business, opening doors for global expansion.
Disadvantages of Business Process Outsourcing
Loss of some business control.

When outsourcing, you might lose some control over how business processes get carried out. A lack of accountability and oversight can negatively affect the quality of outsourced work. To gain control, create a service-level agreement (SLA) and ensure constant collaboration with your BPO partner.
Misalignment in business goals.

Outsourcing is when two companies work together toward common objectives. However, the goals of both parties might not always be aligned, resulting in conflicts and difficulties in achieving desired outcomes. Determine the crucial KPIs and targets that your BPO partner must meet to avoid goal misalignment.
Considerable gaps in communication and collaboration.

Business process outsourcing options include offshoring and nearshore outsourcing. Communication and collaboration might be difficult with these options since the vendors are in different countries. To prevent misunderstandings and potential delays, ensure regular interactions.
Inevitable cultural differences.

Cultural differences, such as communication gaps and differing business practices, present challenges when outsourcing. Such differences might lead to misunderstandings and conflicts between your company and your chosen service provider. Provide culture orientation and training to encourage openness to cultural differences.
Security risks and privacy issues.

Did you know that data breaches led to

about 15 million exposed records

last year? Outsourcing requires you to disclose sensitive information to your contracted vendor, which might pose security risks and raise privacy concerns. Work with your trusted BPO partner to establish security protocols and privacy policies.
Overdependence on an external vendor.

Entirely entrusting your operation to a third-party service provider without direct involvement is a big mistake. Your contracted provider can help scale your business. However, becoming overly dependent on the provider creates vulnerabilities, especially if it cannot fulfill its obligations.
Disruptions due to unforeseen events.

Offshoring or working with an overseas BPO provider might lead to potential business disasters. Unforeseen events, such as natural calamities and geopolitical instability, might affect your business. Make sure to set a contingency plan before contracting an overseas provider.
How To Get Started With BPO This Year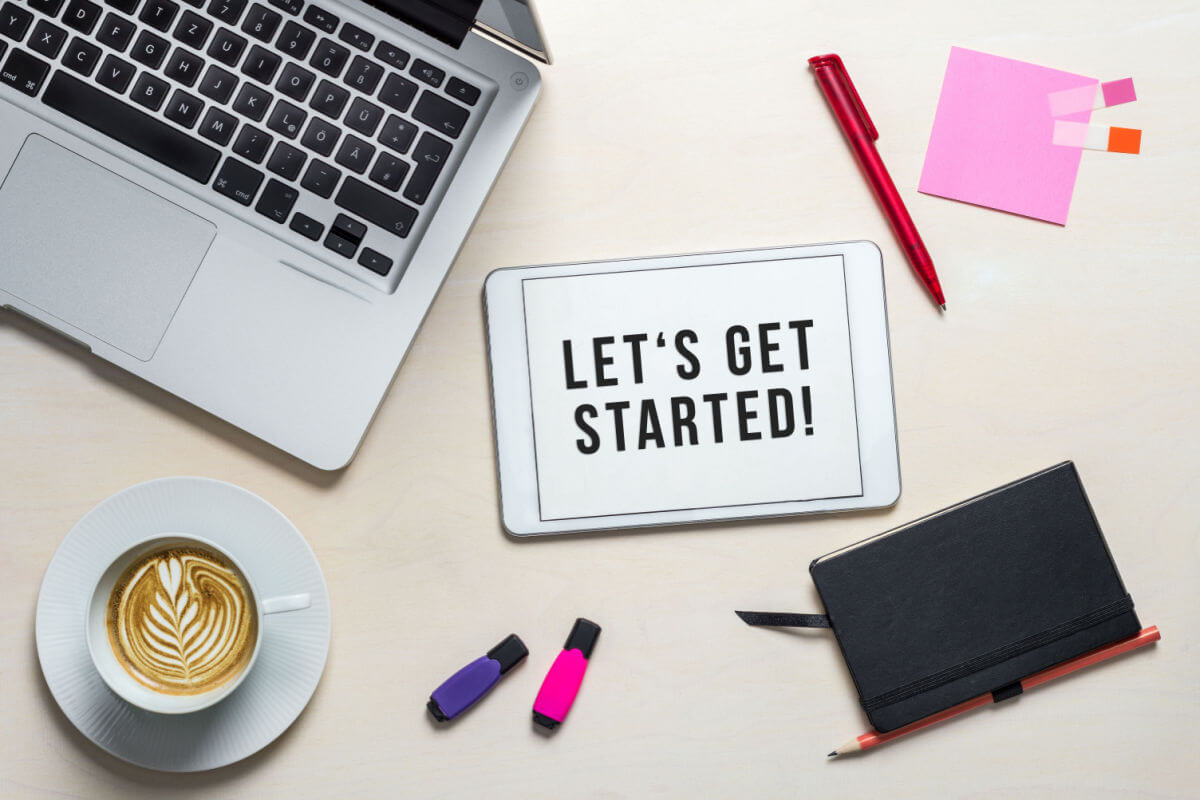 At this point, we have discussed almost everything you need to know about your business process outsourcing options. We have also tackled the pros and cons of outsourcing to help you make informed decisions. To ensure a successful outsourcing experience this year, follow our tips for outsourcing customer service, data entry, or administrative work below:
Examine your entire business operation

Identify operational problems and needs

Choose functions, processes, or tasks to outsource

Search for potential third-party vendors

Send requests for proposals (RFPs)

Select a BPO service provider

Create a comprehensive SLA

Help set up your BPO operation

Track outsourcing progress and development

Constantly scale your BPO operation
The Bottom Line
These are all your business process outsourcing options this year. When planning your outsourcing engagement, consider the different types of BPO operations in terms of location, functions, and industries, as discussed above.
Outsourcing helps you save time, money, and effort while prioritizing core functions, improving performance, and satisfying customers. However, you might confront challenges such as cultural and communication barriers and a lack of control. Do your due diligence and weigh the pros and cons before outsourcing.
More importantly, choose a BPO service provider that truly understands your needs and commits to delivering high-quality services. Outsourcing offers several options in 2023—find the solution that works best for your business.