Written by Joyce Ann Danieles
The healthcare sector is vital in fostering a patient's physical, mental, and social well-being. But because of the extraordinary need for healthcare, the back-office backlogs in healthcare organizations threaten to overwhelm the quality of patient care. 
Business process outsourcing (BPO), specifically healthcare BPO, offers a cost-efficient way to streamline these essential administrative tasks. Highly competent service vendors provide various BPO healthcare specialists to take over these tasks and enable you to focus on your primary role – providing outstanding patient care. 
Keep reading to learn more about the jobs healthcare BPO can do for you and why outsourcing them benefits your medical organization.
10 Most Common BPO Healthcare Jobs To Outsource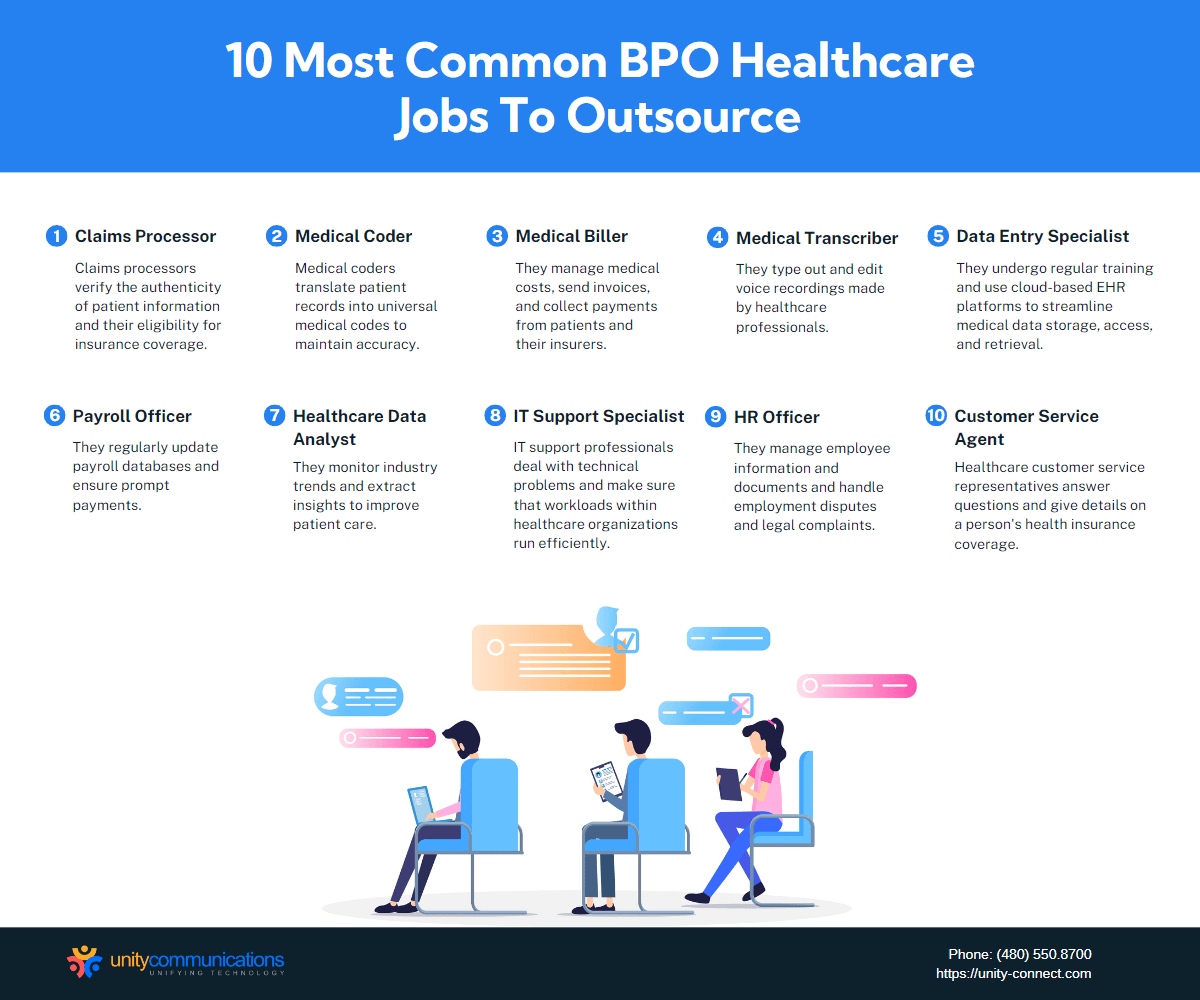 Most clinics, hospitals, and other medical organizations outsource their non-clinical tasks. As a result, the global healthcare BPO market is continuously growing. Reports predict it might be valued at almost $756 billion by 2030. This is no surprise; BPO companies use trained personnel and sophisticated solutions to help healthcare professionals focus on patient care. 
But before you sign a deal with a service provider, know the different healthcare roles you can outsource. For example, you can start with areas where you have little to no expertise, such as record-keeping and invoicing. The patient's health comes first, so always keep your specializations in-house.
Treat outsourcing as a supplement to your primary services and a way to fill in the gaps in your operations. Below are the typical healthcare jobs worth outsourcing to a BPO service provider. 
1. Claims Processor
Claims processors review and validate insurance claims. They verify the authenticity of patient information and their eligibility for insurance coverage. Other responsibilities include:
Preparing and producing documents and guidelines for policyholders

Processing reimbursements upon approval

Responding to insurance-related inquiries

Reporting management issues and updates

Conducting analysis and case management
A reliable claims processor should:
Understand various claim types, policy documents, and other paperwork

Pay attention to client inquiries and submissions

Communicate and relay information clearly

Collect and analyze relevant data for verification purposes

Be mindful and observant of all essential details
2. Medical Coder
Medical coders translate patient records into universal medical codes to maintain accuracy. Insurance companies and healthcare providers use such codes for record-keeping and billing. The activities below are also part of the responsibilities of a medical coder.
Code patient encounters, physician's notes, lab reports, and other medical data

Adhere to medical coding guidelines and policies

Ensure proper medical data collection, research, and filing

Identify and address document deficiencies

Validate documentation for diagnoses, procedures, and treatment results

Pin down diagnostic and procedural information

Perform chart audits

Make sure all medical documents are grammatically correct
Healthcare and insurance providers emphasize data precision because even a tiny mistake can threaten a patient's life. Thus, individuals performing this BPO healthcare job must be:
Detail-oriented

Highly ethical

Organized

Articulate

Analytical

Technically proficient
3. Medical Biller
The primary responsibilities of medical billers are to manage medical costs, send invoices, and collect payments from patients and their insurers. They work with patients to create and handle reasonable payment plans. Reliable medical billers and coders share many of the same qualities. Medical billers are tasked with:
Logging patient data into administrative systems

Recording information on outstanding claims

Performing audits and health insurance program reviews

Resolving payment denial instances
4. Medical Transcriber
Medical transcribers are also known as medical transcriptionists or medical language specialists. They type out and edit voice recordings made by healthcare professionals. These recordings contain patient symptoms, test results, and diagnoses. In addition to transcriptions, medical transcribers perform duties such as:
Creating reports, correspondence, and other administrative materials

Proofreading transcriptions for grammar, spelling, and correct medical terminology

Storing and monitoring medical files and databases
This BPO healthcare job requires varied skills to transcribe medical records accurately and efficiently. Hence, medical transcriptionists must:
Have effective oral and written communication skills

Use medical dictionaries and drug reference books for grammar and spelling

Be familiar with transcription software such as audio and word-processing applications

Accomplish assignments according to deadlines

Have in-depth knowledge of medical terms and language for editing transcripts

Keep patient data and medical records confidential
5. Data Entry Specialist
In the healthcare BPO industry, data entry specialists input patient data into electronic health record (EHR) systems. They undergo regular training and use cloud-based EHR platforms to streamline medical data storage, access, and retrieval. Below are some duties of data entry specialists.
Gather data from different departments

Maintain and monitor digital hospital records

Prepare and process reports

Operate office equipment
Data entry is one of the most common BPO healthcare jobs. It is often associated with other positions such as medical billers and coders. Standalone data entry roles are available for specialized work, such as dealing with insurance or federal billing systems. This simple job requires qualifications such as:
Excellent organizational skills

Strong verbal and written communication skills

Moderate to fast typing skills

Proficiency in word-processing applications

High adherence to rules and ethics
6. Payroll Officer
Payroll officers prepare and release compensation for all medical staff. They regularly update payroll databases and ensure prompt payments. A smooth and accurate payroll process is the core target of their work. Other responsibilities include:
Gathering daily, weekly, or monthly digital timesheets

Computing salaries, bonuses, and allowances using software

Scheduling and distributing bank payments

Reporting on payroll costs

Making sure wages and tax withholdings adhere to regulations
A proficient payroll officer must have the following qualifications:
Familiarity with human resources (HR) information and accounting systems

Strong mathematical skills and an ability to identify numerical errors

Knowledge of labor policies and procedures

Excellent time management skills

Ability to manage sensitive data
7. Healthcare Data Analyst
Collecting, analyzing, and interpreting healthcare information from multiple resources are the primary duties of healthcare data analysts. They monitor industry trends and extract insights to improve patient care. They also perform these medical BPO services daily:
Understand healthcare operations and systems

Develop and implement record-keeping strategies

Assess and process raw data

Identify discrepancies and patterns in health services

Produce models and reports to improve healthcare operations

Recommend ways to boost healthcare quality and reduce operating costs

Work with management teams to execute recommended enhancements
This BPO healthcare job requires employees to hold qualifications and skills such as:
Proficiency in data analysis and visualization methods

Familiarity with healthcare rules and processes

Knowledge to extract, transform, and load frameworks

Experience in structured query language (SQL) and analysis tools

Enterprise data warehouse and data management software skills

Analytical and communication skills

Aptitude for organization and problem-solving 
8. IT Support Specialist
Information technology (IT) support specialists address technical issues and ensure that workloads within healthcare organizations run smoothly. Support engineers maintain the hardware and software infrastructure. They also run updates to improve IT systems.
A reliable IT support specialist must have extensive experience delivering assistance in a fast-paced environment. Seamless technology and infrastructure operations help medical providers boost productivity. Other tasks for this BPO healthcare job include:
Assisting staff and clients with their IT needs

Training end users on hardware functionalities and software tools

Monitoring EHR system performance

Tracking and addressing system vulnerabilities

Documenting processes and conducting diagnostic tests

Implementing strict security and compliance measures
9. HR Officer
HR officers handle all aspects of a healthcare provider's employment processes, from recruitment to onboarding and training. Their specific daily assignments are listed below.
Prepare job descriptions and recruitment campaigns.

Monitor and evaluate employee performance

Develop and implement workforce engagement programs

Discuss work policies and procedures

Conduct regular consultations related to staffing and performance issues

Manage employee information and documents

Handle employment disputes and legal complaints
HR officers require the following skills and traits to be successful:
Effective oral and written communication skills

Knowledge of employment legislation

Understanding of HR functions and best practices

Strong interpersonal skills

Excellent time management
10. Customer Service Agent
Healthcare customer service agents address inquiries and provide information on an individual's health insurance coverage. They usually handle healthcare BPO services in contact centers owned by or affiliated with health insurance providers. Using advanced contact center software solutions, these workers perform tasks such as:
Responding to inquiries using multiple communication channels

Resolving claim-related problems

Collecting, organizing, and analyzing insurance data

Explaining details regarding health insurance benefits, policies, and procedures

Reminding members of outstanding co-payments

Addressing and forwarding claim requests to the appropriate departments
Customer service establishes a solid foundation for provider-client relationships. Therefore, agents must have these skills to provide a superb customer experience:
Emotional intelligence

Healthcare-specific technical proficiency

Problem-solving abilities

Strong oral and written communication skills

Customer-centric mindset
Why Outsource Your BPO Healthcare Jobs?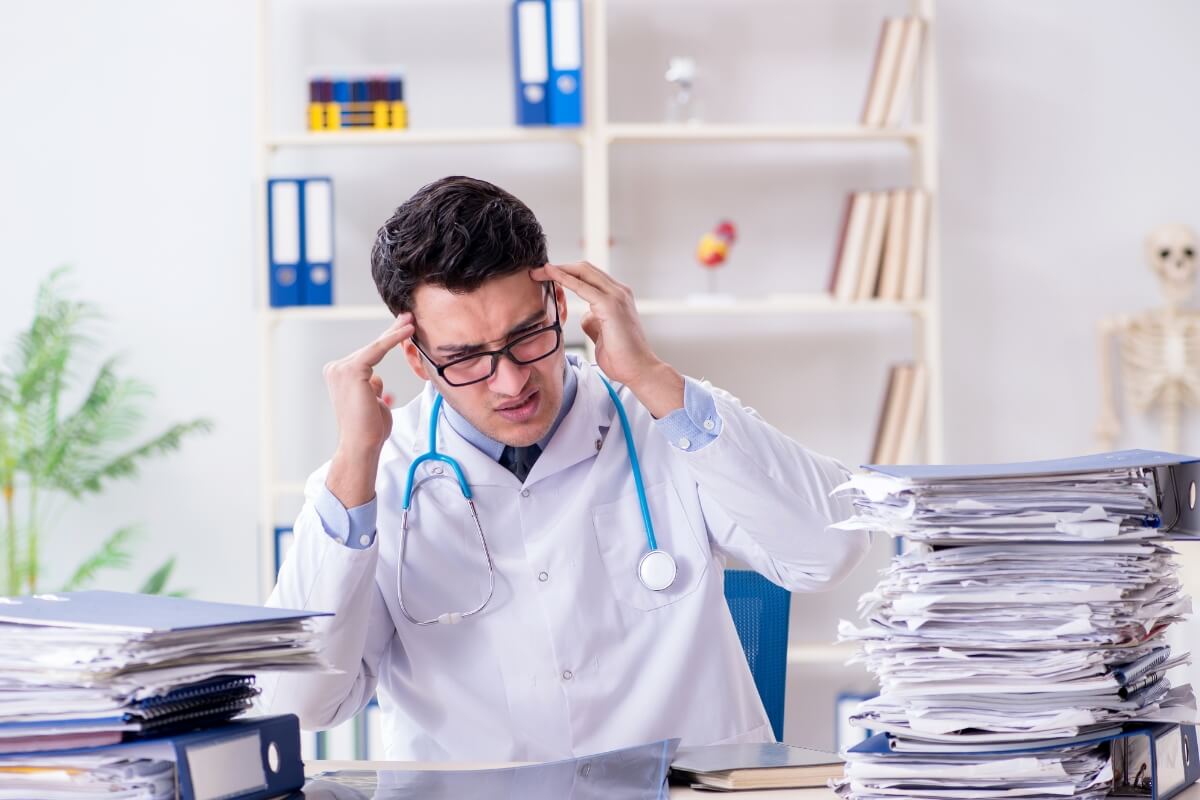 The healthcare industry is a crucial sector that contributes to every individual's wellness. As the demand for health services grows, backlogs and administrative tasks also grow. 
Thus, medical providers rely on outsourcing to reduce operating expenses and improve productivity without compromising the quality of patient care.
Factors to Consider When Outsourcing
Before exploring the reasons you should outsource BPO healthcare jobs, here are some factors you should consider before outsourcing.
Changing patient expectations.

Digital transformation has changed patients' expectations of service and accessibility. Similar to other industries, healthcare consumers increasingly prefer and expect omnichannel options. Third-party agents can efficiently use integrated contact center solutions to fill such needs.
Staff shortages.

Morning Consult reveals in its 2021 survey that

18% of healthcare employees

quit their jobs during the pandemic. The report notes that insufficient pay and burnout led to workers leaving their posts. BPO providers help address staff shortfalls by providing well-trained professionals at affordable costs.
Time-consuming paperwork.

Too much paperwork hinders medical providers from delivering high-quality patient care. Back-office incompetency also results in errors. BPO contractors specialize in administrative work, enabling in-house healthcare teams to prioritize their core duties.
Service quality.

Growing administrative workloads and backlogs for employees affect their ability to provide healthcare. Overwork also leads to poor performance and service quality. Outside workers let in-house teams focus on improving patient care by streamlining back-office tasks.
Data privacy and security.

Limited time and expertise prevent in-house staff from monitoring data privacy and security. This gap increases the risks of cyberattacks and data breaches. Employing third-party IT specialists equipped with the necessary skills and knowledge help strengthen data and privacy protection
Benefits of Outsourcing 
Here are the reasons you should consider hiring non-clinical experts from BPO providers.
Save on costs.

Outsourcing reduces costs on labor, infrastructure, and real estate. Vendors offer these resources through service packages payable via monthly billing or as a pay-as-you-need option.
Improve patient care.

Contractors train their employees to perform non-core tasks quickly and effectively. Hence, in-house workers do not need to spend considerable time and effort on repetitive back-office activities. They can confidently work on enhancing the quality of patient care instead.
Access global talent.

Most BPO healthcare jobs can be done remotely. Thus, medical organizations have the opportunity to hire the best talent worldwide.

These professionals can accomplish their tasks efficiently with a stable internet connection and reliable cloud solutions.
Optimize advanced technology.

BPO companies use modern technologies such as artificial intelligence (AI) and automation to accelerate task completion. These systems allowed skilled contractors to perform time-consuming administrative work quickly and effectively.
Boost efficiency and accuracy.

Healthcare organizations can avoid delays in providing services when they entrust duplicate, non-medical functions to third-party teams. Employees also gain sufficient time to prioritize their primary tasks. This advantage improves competency and reduces potential errors.
Address employee burnout.

Delegating administrative duties to outside professionals helps ease the burden on in-house team members. By freeing up non-core workloads, employees experience work-life balance. They can then consistently perform well in providing healthcare services.
Improve scalability.

Vendors adapt to rapid changes and market trends. They can adjust their operations to satisfy patient needs during emergencies and hectic seasons. They execute a unique problem-solving approach to manage pressure without compromising service quality.
Strengthen security.

Contractors comply with strict security rules and regulations to preserve the confidentiality of medical records. They also deploy sophisticated cybersecurity software to safeguard sensitive patient data. 
The Cost of BPO Healthcare Jobs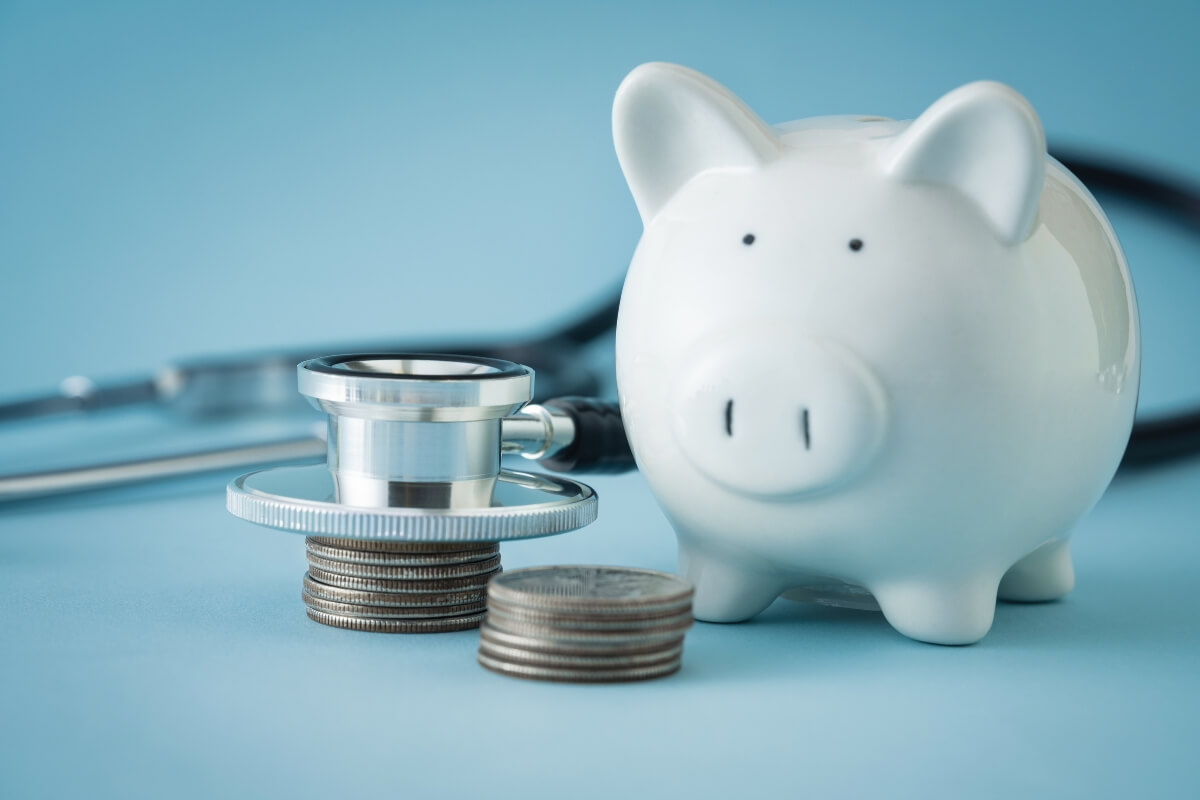 So far, we have learned about the factors influencing outsourcing investment decisions and the advantages of healthcare BPO. Now, we need to know about the cost of hiring third-party contractors. The value of outsourced healthcare services differs among freelancers and full-time workers.
Location also influences the amount to be paid. For instance, offshore vendors in Asia-Pacific are more cost-efficient due to the region's lower labor fees. Meanwhile, onshore or nearshore BPO contractors follow basic salary rates similar to your service area. In this case, they have limited options for cost reduction.
Other than locale, the end cost of healthcare outsourcing also depends on factors such as:
Type of service –

the back-office function you want to outsource

Number of staff –

the team size necessary to perform specific administrative work

Level of expertise –

the years of experience third-party workers have

Number of hours –

the working hours rendered by hired contractors

Length of contract –

the duration of the service agreement

Cost of add-ons –

the miscellaneous fees for additional minor tasks
How To Find a Good Healthcare Service Provider
Getting a list of third-party service companies from the internet is easy. Screening, evaluating, and selecting the contractor that suits your needs are much harder. 
You must create criteria to ensure you work with the right vendor. This aligns your outsourcing decisions with your operational strategies and budget.
Consider the following factors when seeking the best provider of BPO healthcare jobs.
Track record.

Look for contractors with a good market reputation and a proven track record. Many healthcare clients refer to them because they provide excellent back-office support. Ensure the authenticity of their high ratings and positive feedback by contacting some of their past customers.
Service pricing.

Pick a vendor that offers superb healthcare service packages at the most reasonable price. Conduct a cost analysis to identify potential savings. Afterward, you can collect cost estimates from competing BPO companies to track how well they align with your budget.
Workforce.

Assess whether third-party healthcare support professionals meet your work standards and requirements. Ensure they blend well with your in-house teams and adhere to strict policies. Moreover, verify their compensation and training benefits to ensure they can accomplish tasks efficiently.
Technology and infrastructure.

Evaluate a service provider's technological capabilities. Confirm whether it can support your automation and digital transformation needs. Its technology and infrastructure should help address patient expectations regarding convenient and accessible healthcare services.
Business continuity.

Check whether your potential BPO partner implements business continuity measures. Determine how it delivers support amid unforeseen events such as disasters, sudden workforce shortages, and power interruptions. This is essential if you plan to outsource offshore.
Quality control.

Examine the vendor's quality monitoring procedures. Confirm whether it can maintain good service quality, especially during peak season. This helps ensure you will not get substandard service in the future.
Security and compliance.

Find out how a contractor executes stringent security rules and regulations. You should also validate its ability to obey compliance policies and procedures. These steps will help you avoid high losses due to cyberattacks.
Transparency.

Team up with a vendor that shares all data necessary to your service agreements and operations. A transparent BPO provider should routinely exchange insights with your healthcare organization to strengthen your business relationship and achieve long-term success with your company. Such a practice emphasizes trust and loyalty and bodes well for your working relationship.
Scalability.

Know how a third-party service provider adapts to planned or sudden changes in your operational strategies. Explore its ability to provide high-quality, non-clinical healthcare services while you work on your core initiatives. Ensure your third-party teams perform their back-office tasks effectively, especially during peak season and the off-season.
The Bottom Line
Healthcare providers encounter increasing administrative workloads and backlogs as they respond to the growing demand for medical services. Performing all these tasks by themselves can compromise the quality of patient care. But adding new employees and systems to focus on those non-core functions is costly and does not ensure returns.
Third-party service providers have various BPO healthcare jobs available to support your needs at affordable costs. These professionals take on different roles and responsibilities to easily accomplish your back-office tasks. They also provide significant advantages to help boost patient care experience.
But before you can reap the benefits, you must know the different factors to consider when outsourcing your non-clinical processes. This way, you can develop a concrete strategy and budget plan for your BPO investment. Implementing the right outsourcing plan lets you prioritize your healthcare offerings.
If you need help with your processes, reach out to Unity Communications. The Inc. 5000 company offers multiple BPO healthcare jobs to improve patient care experience at affordable costs.