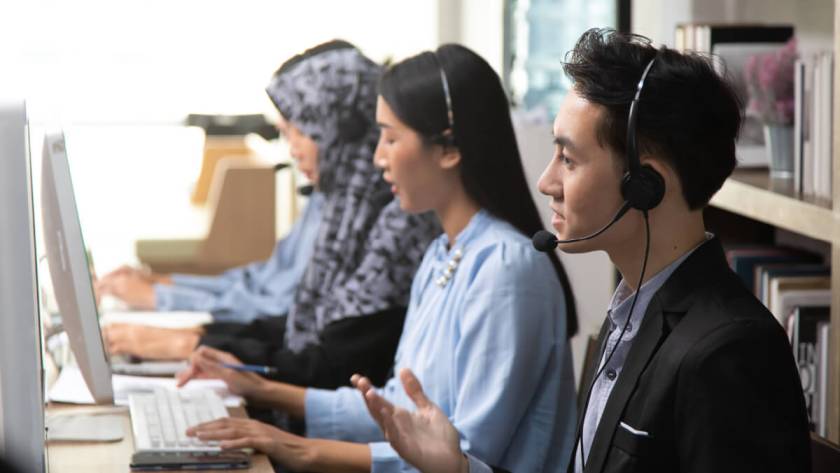 Written by Joyce Ann Danieles
The back office serves as one of your business pillars. Although it does not directly generate revenue, it supports your front office and ensures smooth daily operations. One wrong move in this business aspect leads to operational chaos and inefficiency.
Many companies thus rely on back-office outsourcing to avoid such issues. They specifically seek offshoring providers from the Philippines to achieve cost efficiency. 
Before hiring a Filipino service provider, let us explore what this sector offers and why you should consider it for your business.
An Overview of Philippine Back-office Outsourcing
Back-office outsourcing means entrusting your back-office operations to a third party. You employ an external team to handle the paperwork and non-customer-facing tasks. Addressing backlogs, avoiding delays, and increasing cost savings drive businesses to adopt this approach. 
Outsourcing back-office processes to the Philippines is a cost-efficient option for companies, thanks to the country's skilled workforce and advanced solutions. The country also hosts a government-supported outsourcing environment, letting foreign clients enjoy tax incentives and regulatory benefits.
As a result, the Philippine BPO market constantly expands. According to data from the IT and Business Process Association of the Philippines (IBPAP), the sector achieved $29.49 billion in revenue in 2021. The amount shows a nearly 11% increase year over year.
Types of Back-office Processes To Outsource
The back office has a broad service scope. Though repetitive, the functions that fall under this department are time-consuming and labor-intensive. So handling all back-end functions in-house might hinder your team from improving your business offerings and capabilities. 
To give you sufficient time to focus on your core competencies, delegate the processes below to back-office outsourcing providers in the Philippines. 
Accounting and Finance:

Business process outsourcing

(BPO) providers help manage financial transactions and resources. They perform various accounting and finance functions such as bookkeeping, tax preparation, and financial analysis.
Credit Reporting:

BPO providers offer credit reporting services to help verify an individual or organization's creditworthiness. They collect and analyze financial history and related data to assist banks, financial institutions, and other agencies in making decisions for purposes such as loan applications.
Human Resources (HR):

You can tap into vendors to manage your HR tasks, including recruitment, staffing, training, and performance evaluation. They also offer support for payroll processing and benefits administration.
Data Entry and Management:

Data entry services

involve inputting and organizing relevant data into computer systems or databases. Filipino BPO companies provide these services to help ensure accuracy and smooth access to large volumes of customer and business data.
Legal and Compliance:

Delegating legal and compliance paperwork to your employees might add to their burden of addressing daily core assignments. Errors are highly possible, too, due to the lack of focus. Fortunately, providers can take over and accomplish the job more effectively.
IT Support:

Philippine managed service providers (MSPs) deliver information technology (IT) support such as hardware and software troubleshooting, repair, and maintenance. They also offer

technical support outsourcing

, help desk assistance, network administration, and software development at affordable costs.
Appointment Scheduling:

Although customer service or healthcare appointment scheduling is simple, it becomes time-consuming and tedious due to simultaneous requests. BPO contractors use advanced solutions to automate booking services such as appointment prioritization and notification.
Manufacturing:

Many businesses offshore their manufacturing services to the Philippines to maximize lower labor costs. Filipino workers undergo rigorous training for producing goods through various processes such as assembly, fabrication, and processing.
Inventory Management:

Besides outsourcing manufacturing, companies entrust inventory management to Philippine BPO firms. These third-party units deploy advanced tools to monitor stock levels and optimize supply chain processes quickly and effectively.
Order Processing and Fulfillment:

Whether you own a traditional or e-commerce store, employing Filipino service providers for order processing and fulfillment helps you save on costs and increase productivity. They leverage innovative technologies and skilled talent to process orders, payments, and product shipping around the clock.
Medical Claims Processing:

Healthcare institutions acquire back-office outsourcing services from the Philippines to speed up medical claims processing. Service providers help them verify patient eligibility, code medical claims, and manage bills on time.
Content Moderation:

Due to various content posted online every second, your in-house team cannot consistently keep tabs on all your published materials. Filipino contractors let you focus on your primary efforts while ensuring your content meets community standards and policies.
Market Research:

Knowing the latest industry trends and changing consumer demands help you develop a concrete plan to improve your products and services. BPO providers offer a cost-effective way to streamline your market research. They optimize artificial intelligence (AI) solutions for rapid data collection and analysis.
Five Reasons To Adopt Back-office Outsourcing With the Philippines 
The Philippines is one of the Asia-Pacific region's most trusted BPO hubs. Recent data shows the country holds 10% to 15% of the global outsourcing market share. Let us find out below why many businesses entrust their back-office functions to Philippine-based providers. 
1. Cut Operating Expenses
Cost reduction ranks first when you ask why companies outsource tech solutions and administrative tasks to the Philippines. 
The country is a developing nation in Southeast Asia. Hence, its cost of living and income are lower than in countries such as Japan and India. So if you hire Filipino professionals, you receive significant cuts on labor expenses. 
Besides, you do not need to worry about infrastructure and real estate costs since you work with the provider remotely. You pay only a monthly bill if you sign a service-level agreement (SLA) or a subscription fee if you purchase a contact center as a service (CCaaS) solution.
2. Access Skilled Professionals
The Philippines houses a large talent pool with high English proficiency and educational attainment. These professionals also value continued training and upskilling to satisfy your business' needs and requirements. 
Furthermore, Filipinos are naturally resourceful and flexible. They constantly explore ways to produce creative and superior outcomes despite the repetitiveness of their work.
3. Leverage Advanced Technologies
Philippine providers use different technologies to meet your demand for enhanced back-office operations. Here are the standard tools they use to achieve that goal:
Communication and collaboration tools

include instant messaging, email, videoconferencing, and project management software. These solutions facilitate seamless remote interaction and task distribution between your in-house and third-party teams.

Accounting and finance platforms

simplify the management of financial transactions, invoicing, billing, and payroll.

Data management and analytics solutions

automate data collection, categorization, visualization, and analysis. They produce quick insights to inform your strategic business improvements.

Enterprise resource planning (ERP) software

is a single system that oversees multiple business processes such as accounting and supply chain management.

Document management applications

help safely store, organize, and retrieve digital files. They comprise various features such as version control, document sharing, and workflow administration.

Cybersecurity tools

safeguard computer systems, virtual documents, and sensitive account details against online threats and malicious attacks. These solutions include firewalls, antivirus apps, intrusion detection systems, and data encryption tools.

Robotic process automation (RPA)

automates repetitive and rules-based tasks using software bots. It allows human workers to focus on more complex initiatives.

Artificial intelligence and machine learning (AI/ML) technologies

simulate human intelligence to automate repetitive tasks. They also quickly provide market insights to help improve your decision-making processes.
4. Match Business Operations
As mentioned, Philippine BPO companies use collaborative tools to ensure smooth and effective communication with their foreign clients. These solutions enable real-time engagement and close the gaps created by distance and time zone differences.  
Moreover, Filipino providers implement the following approaches to match your operations regardless of different geographies and time zones:
Appoint account managers

as the primary point of contact for back-office outsourcing clients. They oversee task distribution and team progress to meet your daily requirements.

Provide comprehensive onboarding and training programs

to ensure third-party workers understand your needs, offerings, and policies. These efforts include communication and technical training.

Execute extensive quality control processes

to satisfy your operational standards. These procedures include quality assurance reviews and regular performance monitoring.

Implement time zone flexibility

to match your business hours. Philippine BPO companies train their staff to work on mid or night shifts to provide support during your schedule.
5. Receive Strong Government Assistance
The Philippine government recognizes BPO's vast contribution to the national economy. So it has developed rules and programs to protect the interests and rights of Filipino and foreign businesses operating in this sector. These policies and initiatives include data privacy laws, tax benefits, and flexible work arrangements.
The Bottom Line
The back office is crucial to maintaining your business success. It supports your customer-facing functions and streamlines your workflow. But it can also hinder your in-house team from focusing on primary tasks due to growing backlogs.
Hiring a BPO company lets you save money while increasing your back-office efficiency. Acquiring back-office outsourcing services from the Philippines even doubles or triples such benefits. A skilled workforce, advanced technology, and strong government support make that possible.
Want to experience similar advantages? Connect with Unity Communications today to learn more.