Written by Allie Delos Santos
Are you looking for ways to reduce expenses on your organization's phone system? Perhaps you've been contemplating the costs associated with hiring personnel to manage these phone systems in theory.
Well, fret not! Hosted PBX services are here to provide a solution.
But before we delve into the details, let's start by defining what hosted PBX is.
Hosted PBX: Definition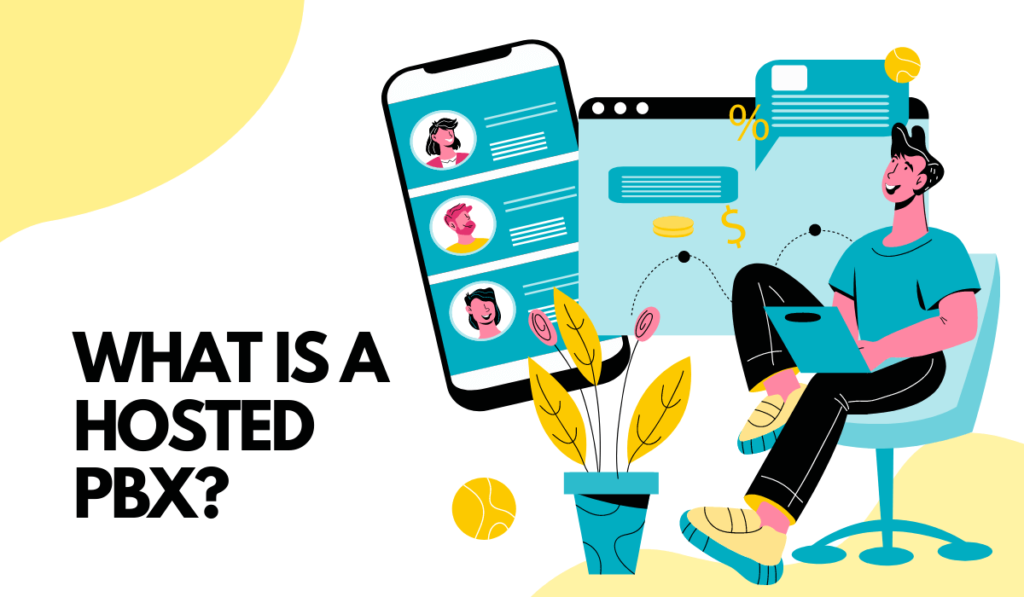 A hosted PBX is a virtual Private Branch Exchange that a service provider hosts. This means that an outside provider or 'host' provides the physical servers and services for running your network. A traditional Private Branch Exchange is a private telephone network used by companies and organizations.
PBX gives you access to a traditional phone system's features minus the costly hardware equipment. It's an IP communication method businesses use to make calls over the internet. It could also make use of both traditional PBX and VoIP phone systems. This makes it easier to transition your existing PBX set-up into an internet-powered telephone network.
Let's take a closer look to better understand some core concepts and hosted PBX definitions.
What Are Hosted Phone Systems?

A hosted phone system is a telephone system that is hosted in an encrypted off-site data center. It usually has an array of features and can receive outbound and inbound calls over the Internet. A hosted PBX is accessible in the cloud and uses Voice over Internet Protocol (VoIP).
Businesses usually use a PBX system to cut equipment costs and space requirements.
What Is a Cloud-hosted PBX Phone System?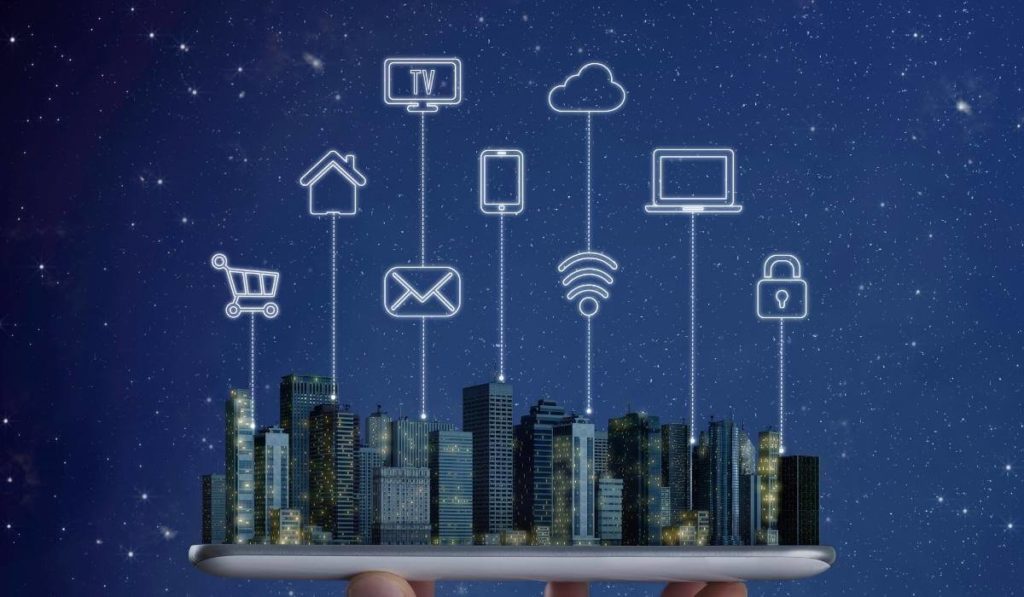 Although they are similar, a PBX and a hosted PBX are not completely the same.
Here's a cloud-hosted PBX Definition:
A cloud PBX, also called virtual PBX, is a phone system that delivers reliable phone service through the internet instead of being hosted and managed on a server you own yourself.
 Cloud-hosted PBX has characteristics that set it apart from a hosted PBX.
Servers are kept in the cloud by service providers. These servers and other hardware aren't stored in a physical or off-premise location.
 Accessing the service requires a direct network connection. When accessing a cloud PBX, as with all cloud-based things, you need access to the internet.
 It's expandable and scalable. Scaling up or down is made easier through the cloud because it is more flexible.
Service is directly affected by an increase in demand. Due to difficulties predicting network traffic, a sudden spike in network traffic affects other users connected to the network.
Storage capacity may be limited. There is a limit to how much you can store. A large-scale business might want more storage space depending on how they use their network.
You only have to pay for what you use. Unlike other subscriptions or services, cloud-based PBX is usually pay-per-usage.
What's the Difference Between Hosted and Cloud PBX?
It's easy to distinguish the similarities and differences between cloud and hosted PBX.
Neither of these on-premise solutions requires you to own or purchase any hardware and are accessed via an internet connection. However, this is where the similarities end.
A hosted PBX solution is non-scalable and, in this sense, is very uniform. Due to being pay-per-seat, it is suitable for a conventional company that doesn't need to suddenly hire more employees and has low data consumption.
Conversely, a cloud-based PBX solution is very flexible and scalable. Since it is pay-per-usage, this option is very suitable for small companies that are planning to expand or for business startups.
Here's another article if you want to know about the Best Cloud-Based Business Phone System.
How Does a Hosted PBX Work?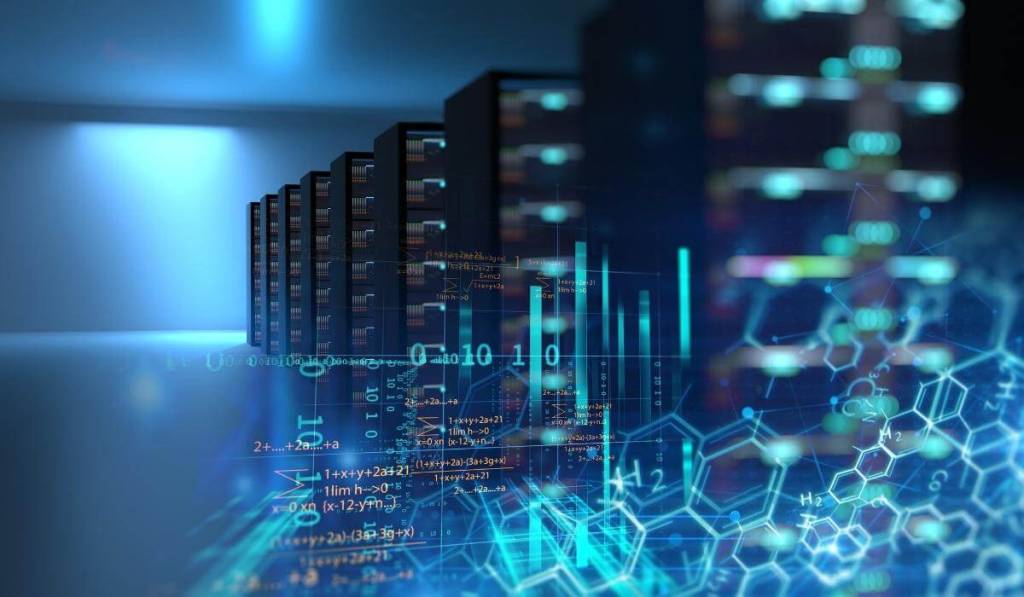 Now let's talk about how a hosted PBX works.
In a hosted PBX system, regular phone extensions are replaced with VoIP desk phones. A trusted telephone provider is in charge of your phone and communication infrastructure.
Your existing data network can be used when the hosted PBX is implemented. Through this, business broadband can easily adapt and cope with the communication needs of the entire office. The VoIP service also provides all its top features, such as routing, recording, and even teleconferencing.
For compatibility, SIP phones are preferred over proprietary telephones. Calls are made and encrypted in the same network where your computers are connected.
Information travels over IP and then to the cloud PBX, which then reaches scalable data centers. Calls made to other VoIP providers and publicly switched telephone networks (known as PSTN) are routed.
An available online voice portal manages the calls. This portal makes it easier to access advanced call features and to edit and enable standard call features. Changes made through this portal are applied instantly when saved.
The exact process is applied to small businesses and large businesses alike. After plugging in your phones, you can just get on with your work.
Hosted PBX vs. Traditional PBX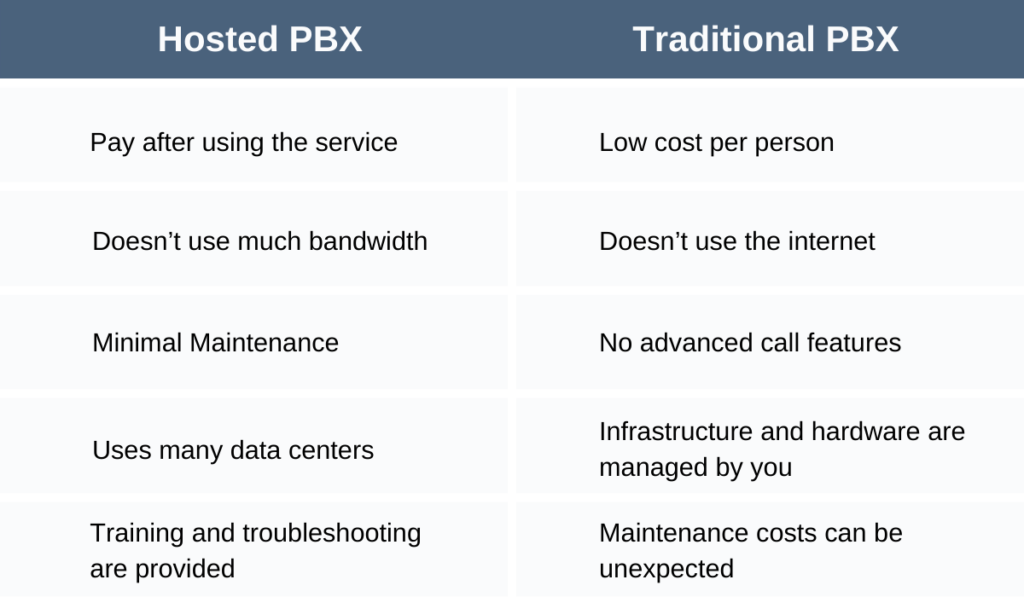 PBX phone systems are of two different types. Here's a table for a side-by-side comparison to help you see which is the better option for your organization.
Each type of PBX has advantages and disadvantages. There is also a technical difference in how the data are transmitted when making phone calls.
One of the big differences between a hosted PBX system and a traditional PBX system is that a cloud-based PBX does not need additional hardware to make phone calls. 
For on-premise PBX, the data is moved through the cloud over the internet and is then managed by a third party. This option is best for companies that want more flexibility and room for future growth. IP desk phones have many fully compatible variations.
Computers and mobile phones can connect as clients through your PBX by downloading a VoIP softphone app in a startup. You can make phone calls using this connection like you regularly would do.
In contrast, traditional PBX systems have hard-coded dialing prefixes and restrict long-distance phone calls. This option can be changed by plugging into it and changing the settings. On-premises PBX usually has a steep learning curve and is rarely updated.
In some cases, a plain PBX might be better if you don't have enough budget for IT and aren't planning to expand your office phone service. PBX is reliable when nothing changes, and the business doesn't need to change.
The Benefits of a Hosted Phone System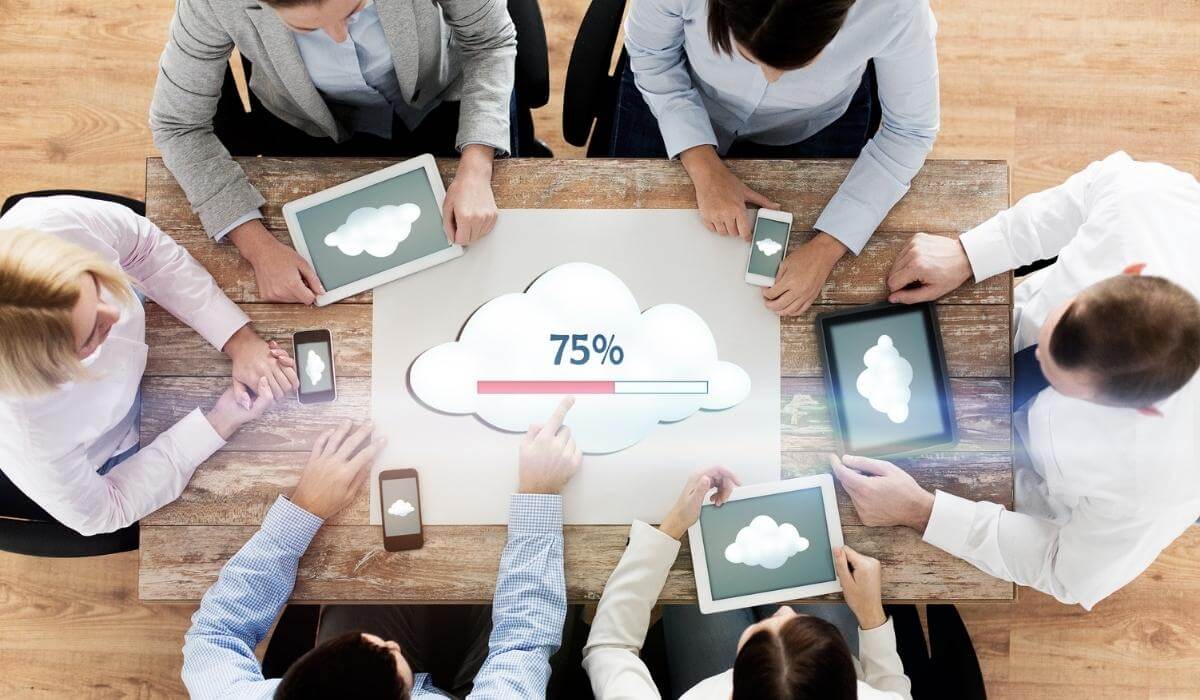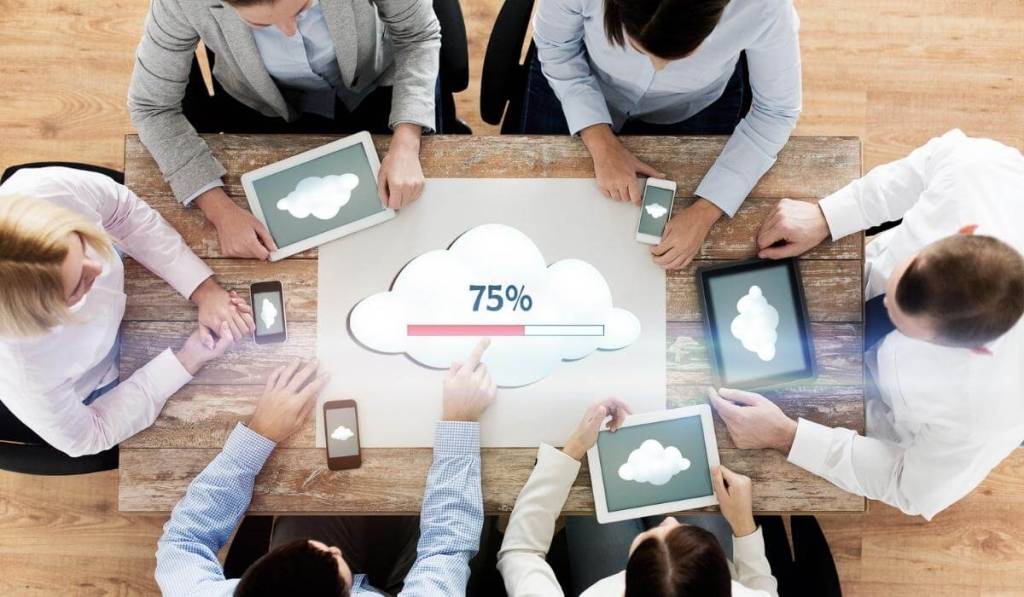 Although a traditional setup has specific advantages, it falls short of the benefits of a hosted phone system. Here are some features a hosted phone system offers that a traditional set-up cannot provide:
Easy Installation
Setting up a traditional phone system can be difficult and expensive, but a hosted phone system removes nearly all complications.  A hosted phone system offers easy installation and setup making it very simple to get started. Because it's cheap, it's practical for small businesses or remote teams.
Cost Savings
There are two reasons why hosted phone systems are cheaper than traditional phone systems.
There's no need to buy new sets of equipment. In a cloud-based phone system, you can use the equipment you already have: softphones, desk phones, VoIP handsets, mobile devices, and cell phones.
You save on maintenance. There's no need to hire an engineer to fix the problem since your IT staff can fix common VoIP problems without the need to contact your service provider.
It's a Unified Communications Platform
Communication in a unified communications platform is accomplished with a single tool. It lets you communicate both externally and internally and simplifies communicating with multiple teams.
Depending on your provider, you can often take advantage of additional features aside from just making calls. These could include instant messaging team members, hosting video conferences, and calling your customers through the same network where your phone is hosted.
This lowers the cost of your phone system because it now becomes a multi-functional tool.
Flexibility for Remote Teams
Due to the pandemic, ever more companies are opting for a work-from-home approach. In such cases, the flexibility of hosted phone systems could be very useful because you don't need to be in your office to answer work calls.
This is all possible because many hosted phone system providers offer software for their users. It's as easy as downloading their business software onto their devices. Callers won't even notice a difference, especially if you use a masked caller ID.
Better Scalability
A phone system that can grow with your business is a must. In traditional phone systems, increasing your connections every time someone new is added to the team is frustrating and expensive. This is why scalability is one of the biggest advantages of using a hosted phone system.
With a hosted phone system, adding a new team member can be as easy as opening your software and adding them to the user base.
It's More Secure
When the prices to pay for a data breach average around $4.24 million, it's not surprising that businesses prioritize the security of their phone systems.
One of, if not the most common, type of data breach is social engineering. Social engineering happens when hackers imitate your phone provider and then gain access to your information. This acquired data can be used to get further into your system.
The Future of the Hosted PBX

The rise of technology has brought about many changes to business operations in the past 20 years, especially in the last five. This is noticeable through changes in the structure of workspaces that now offer more flexibility. Traditional phone systems have been left out of these advances.
Business owners and IT administrators want to be up-to-date with the latest technology. The cloud is a major part of business emails and even productivity apps. Companies nowadays don't waste time on outdated software just to save a few dollars.
Modern offices are shifting towards less hardware. Softphones are replacing desk phones as the new standard. Many centers are upgrading their PBX to connect their agents all around the world just by the use of the internet.