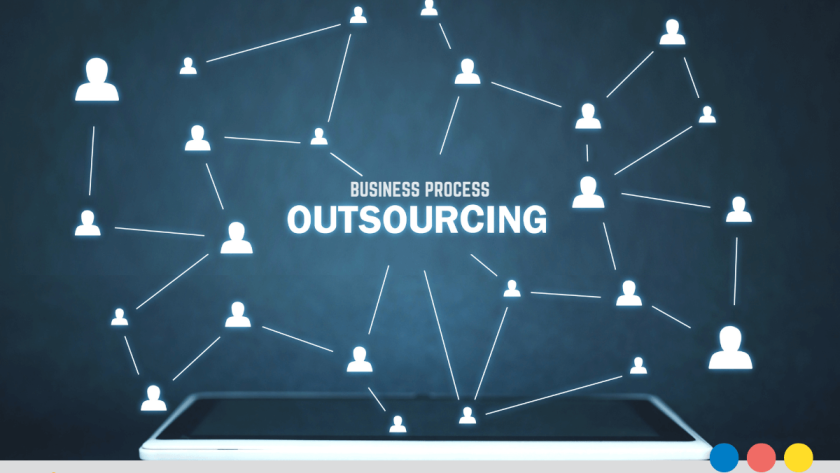 Written by Joyce Ann Danieles
As an entrepreneur, you always want your products and services to shine. To do that, you need dedicated resources to further improve your business offerings. But you must ensure your front- and back-office functions do not hinder your progress. 
Companies of all sizes thus rely on business process outsourcing (BPO) to improve their overall operations at affordable costs. Service providers have specialized technology solutions and human resources (HR) to meet your evolving requirements.
To help you further learn what BPO is used for, we tackle the top use cases and benefits of outsourcing below.
What Is BPO Used For?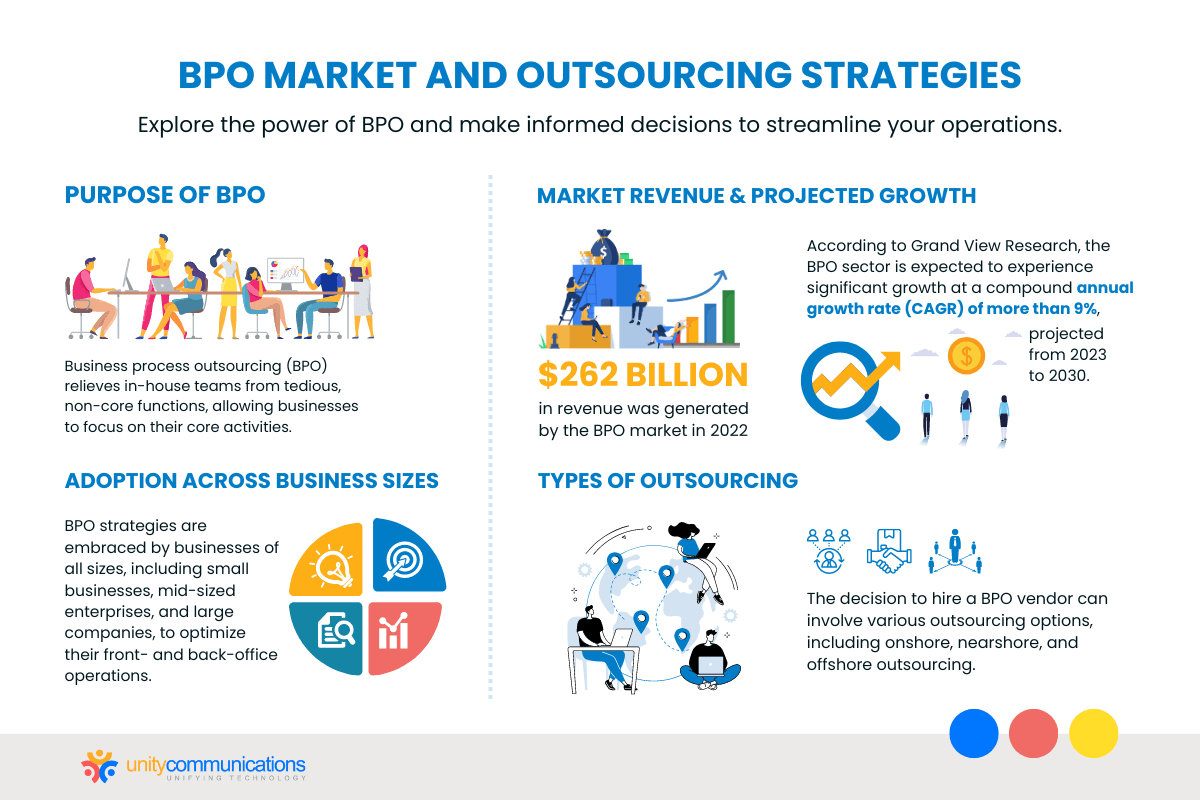 BPO is used to free in-house teams from performing tedious, non-core functions. Small businesses, mid-sized enterprises, and large companies adopt this strategy to ensure streamlined front- and back-office operations while prioritizing their core business functions.
Due to its ability to meet such demands, the global BPO market achieved almost $262 billion in revenue in 2022. Grand View Research expects the sector to grow at a compound annual growth rate (CAGR) of more than 9% from 2023 to 2030.
To help you decide whether to hire a BPO vendor, note the following use cases of onshore, nearshore, and offshore outsourcing:
Provide Quick and Effective Customer Service
Organizations hire a contact or call center to provide quick and effective customer support. BPO providers have agents with specialized skills and certifications. These professionals undergo regular training to perform the following types of BPO services.
Inbound and outbound customer support

Help desk assistance 

Omnichannel support

Multilingual support

E-commerce support

Complaint management

Problem resolution

Order processing and tracking

Supply chain management

Self-service portal
Streamline Data Entry 
Handling massive datasets daily might overwhelm in-house staff, but outsourcing helps streamline data entry services. A BPO company gives its workers access to innovative word-processing tools for various information management tasks, such as the following:
Online and offline data entry 

Document drafting

Spreadsheet-based encoding

Database handling

Product data organization

Forms processing

Data cleansing and validation

Data conversion
Deliver Information Technology-enabled Services (ITES)
Whether you procure offshore, nearshore, or onshore outsourcing, you can find providers that deliver ITES. This outsourced work involves using IT and digital tools to accomplish the following processes quickly and effectively: 
Technical support 

Software development and maintenance

Cloud computing services

IT consulting and professional services

Cybersecurity support

Web and mobile app development

Quality assurance and testing

Network security and maintenance
Enhance HR Procedures
As your business expands, you might find it challenging to recruit the best talent. Fortunately, BPO exists to enhance your HR procedures. With the right workforce and modern technology, service vendors take over these processes to assist you in hiring the experts you need:
Recruitment and talent acquisition

Employee onboarding

Worker data management

Payroll and benefits administration

HR help desk assistance

Employee self-service

Performance management and training

Compliance and legal support

HR analytics and reporting
Speed up Finance and Accounting Processes
Accelerating finance and accounting processes comes to mind when someone asks what BPO is used for.
Service vendors use specialized expertise, process optimization, and automation to help your business achieve faster financial close cycles. Advanced technologies such as cloud-based accounting systems also speed up payment processing, financial analysis, and accounts receivable and payable procedures.
Accelerate Non-clinical Healthcare Services
BPO contractors help boost patient satisfaction and improve operational efficiency by accelerating non-clinical healthcare services. To focus on delivering exemplary clinical services, medical organizations entrust the non-primary tasks below to a third party:
Medical coding, billing, and transcription

Claims processing

Revenue cycle management

Appointment scheduling

Patient support

Health information management

Back-office support

Health data analytics and reporting

Healthcare compliance and regulatory support
Produce and Moderate Creative Content
When exploring what BPO is used for, you should know that this approach includes creative content production and moderation. BPO professionals deliver unique content for your business by:
Understanding your brand's image, products, and requirements,

Undergoing orientation and training,

Researching, writing, and proofreading original articles and blog posts,

Creating appealing visual content such as infographics, posters, and videos,

Monitoring user-generated content based on client-provided guidelines,

Reviewing and filtering content submissions,

Making judgment calls on content that falls within gray areas,

Adhering to quality assurance processes, and

Ensuring close collaboration and communication with clients.
Boost Market Reach and Sales
Service providers leverage specialized knowledge and ITES to boost your market reach and sales. They use sales tools such as customer relationship management (CRM) systems, data analytics tools, and automation platforms to execute these functions effectively:
Market research and analysis 

Lead generation and qualification

Sales support and customer acquisition

Digital marketing and social media management

Data analytics and sales forecasting
What Advantages Does BPO Bring?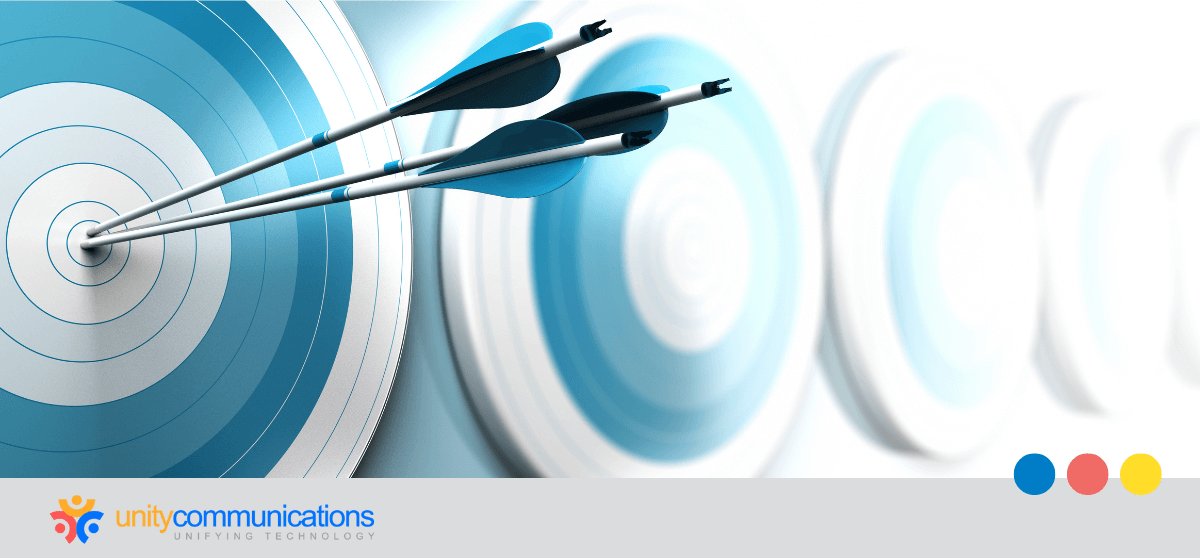 From better cost efficiency to an expanded market reach, BPO brings significant advantages to your business. Knowing what BPO is used for and its benefits will guide you in deciding whether to outsource certain tasks or keep them in-house. 
Such insights also help you weigh the positive outcomes against the risks of working with a third party. Note this list of common advantages of onshore, offshore, or nearshore outsourcing. 
Increase Cost Savings
Although hiring BPO services is another form of investment, it still increases cost savings for your business. This growth strategy primarily provides significant cuts in labor expenses as it removes training and recruitment fees. 
For instance, outsourcing to the Philippines can reduce your wage payouts by 70% or even up to 90%. The current minimum daily wage in the developing nation is about $10.60, which is lower than the minimum hourly wage in the United States, which is $8.50.
You do not need to worry about infrastructure or real estate expenses. Service providers already have these resources. You simply need to pay monthly or hourly fees to receive high-quality support services.
Leverage Specialized Talent
Service providers have specialized and well-trained talent that might not be available to your business internally. They employ a pool of skilled professionals with expertise in specific domains, making them suitable for your operational needs.
So partnering with a BPO firm allows you to benefit from such workforce skills without overspending. Besides, you can quickly access talent whenever necessary, especially when you need extra hands during a hectic period.
Optimize Advanced Technology
As mentioned, BPO providers optimize up-to-date solutions to deliver services faster and more efficiently. The following modern technology is what BPO providers use for speeding up processes, improving data security, and enhancing accuracy:
Artificial intelligence and machine learning (AI/ML)

Robotic process automation (RPA)

Cloud computing

Natural language processing (NLP)

Predictive and data analytics

CRM software

Word-processing application

Omnichannel software

Collaborative platforms
Enhance Productivity and Scalability
Given their skilled workforce and upgraded technology, service providers help enhance your in-house productivity and scalability. Third-party workers take over your time-consuming, repetitive processes, giving your team sufficient time to focus on primary functions.
Moreover, BPO companies adjust their work strategies and resources to meet your demands. This capability enables you to easily scale operations to accommodate your changing business demands.
Expand Global Footprint
BPO firms facilitate your global expansion due to their presence in different regions. Providers located in a neighboring country or overseas help reach your target markets by tapping into local knowledge, cultural expertise, and linguistic capacity. This opportunity lets you serve customers in new regions and establish a global footprint without spending extra dollars.
Strengthen Data Security
Delegating front- and back-office functions to service providers means strengthening data security. According to Deloitte, 81% of executives trust third-party vendors to deliver cybersecurity capabilities. 
Service providers use robust solutions and strict security measures to protect sensitive data. They also safeguard information and privacy by adhering to non-disclosure agreement (NDA) terms and regulatory policies.
How to Make the Best Use of BPO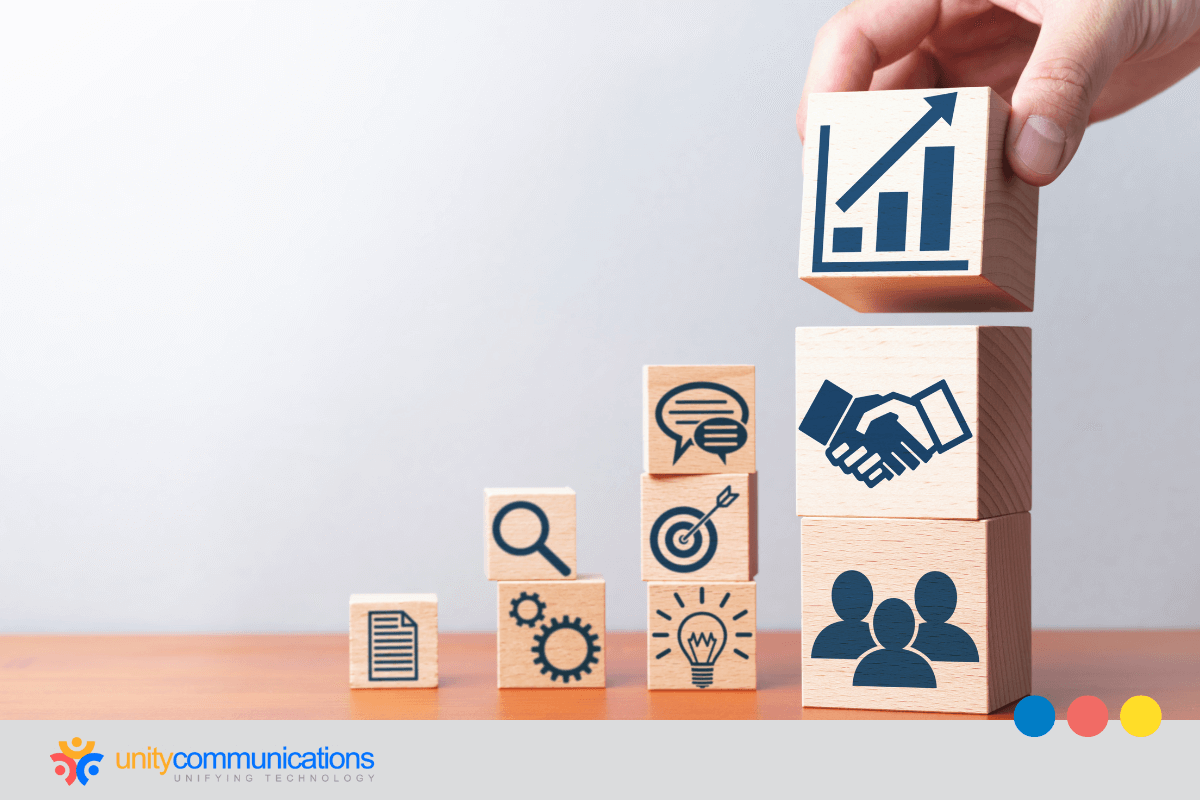 Making the best use of BPO begins by clearly defining your needs, goals, and requirements. Doing so helps you select the right BPO provider that matches your work strategies and meets your qualifications.
Once a deal is finalized and signed, establish effective communication and collaboration channels to ensure a strong relationship with your BPO partner. Having a contact person or team makes the joint effort more organized, helping avoid conflicts and misunderstandings. 
Most importantly, identify how productivity is calculated in BPO. Ensure performance metrics are in place to monitor your third-party team's daily outcomes. This action lets you see whether investing in BPO enhances your operations.
The Bottom Line
BPO has numerous use cases, from addressing customer concerns to expanding your consumer base. No matter what function you outsource, expect to receive benefits that support your continued business growth. 
Now that you know what BPO is used for, you must know how to maximize your outsourcing investment. You must implement the right methods to outsource your non-core functions to gain confidence that you will not waste money and effort, allowing you to reallocate them to your primary initiatives.  
Are you ready to improve your business with BPO? Contact us, and let's connect. Unity Communications helps you succeed by complementing your strengths. The service provider's talented workers and innovative solutions assist you in optimizing production and increasing output at reduced costs.
Enjoyed what you just read? Share it with your network.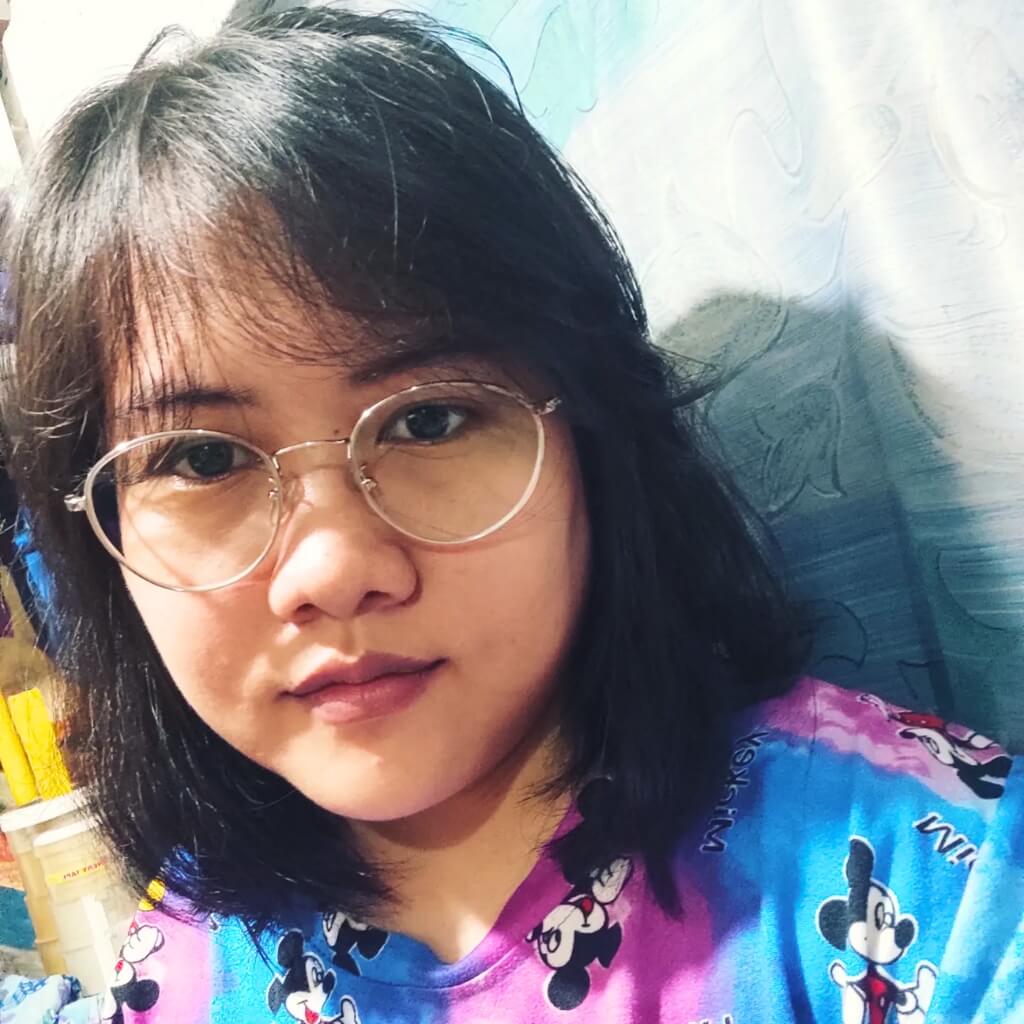 Joyce Ann Danieles is an SEO content writer from Manila, Philippines. She's comfortable writing outsourcing-focused articles, helping you clarify the confusing concepts surrounding the BPO industry. With her experience in news writing and copywriting, she's always ready to feed your brain with random facts and creative insights.
Outside work, Joyce explores the world of literature. She tries to write fiction she hopes to share with everyone someday.