Is your in-house technical support team overwhelmed with workloads because of growing customer calls and requests? Are your skilled tech employees spending more time on tedious tasks rather than focusing on more important assignments? 
Are there complex information technology (IT) issues and concerns from customers or within the organization that your tech support group can't solve?
If your answer is yes to any of these, it's time for you to hire a technical support outsourcing vendor. This strategy proves to be effective and beneficial when properly done. Read on to learn how to find the right outsourced technical support partner. 
10 Ways To Select the Right Technical Support Outsourcing Vendor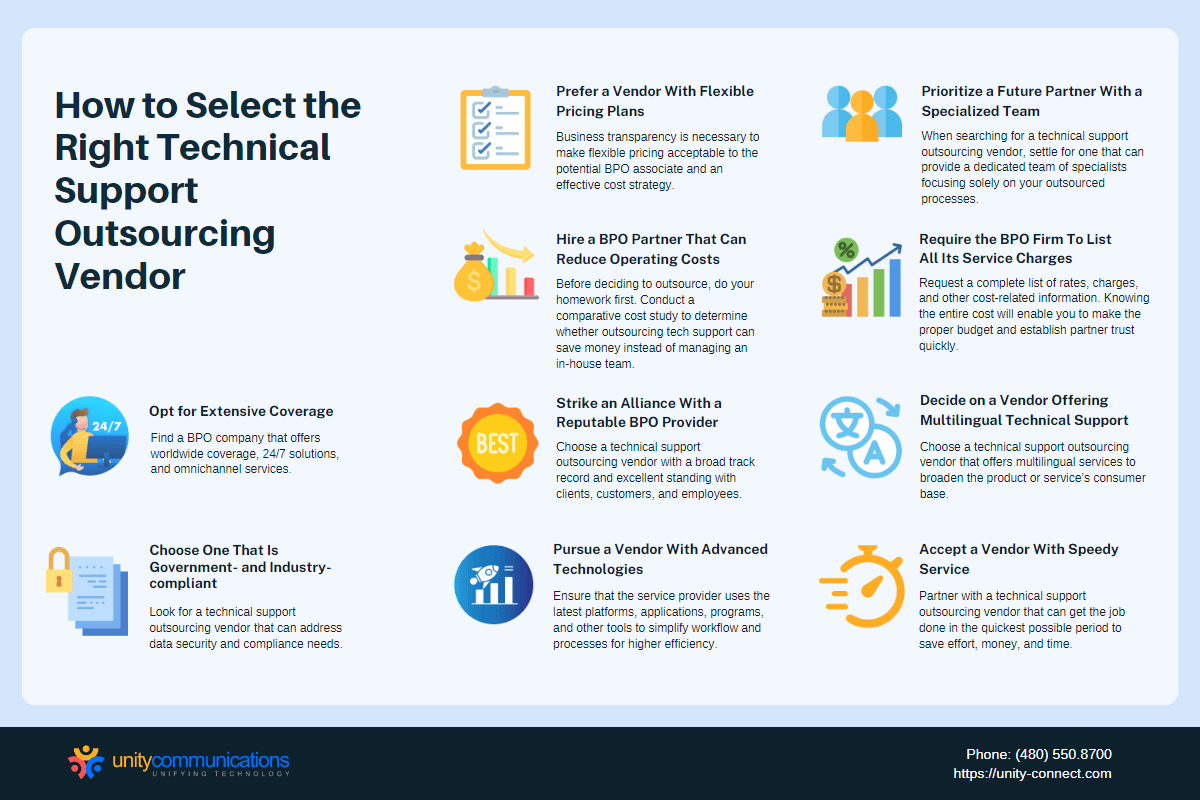 Business process outsourcing (BPO) companies number in the thousands worldwide and offer various services. It can be hard to find the right fit for your company.
Meanwhile, tech support is vital for companies because it is how customers can reach you to voice their concerns, issues, comments, feedback, and requests. It can mean business success or failure, depending on how you serve customers. Besides, tech support is a key differentiator for companies selling technology products. It can impact your customer retention.
The crucial role tech or IT support plays means that searching for the right BPO partner to outsource such a process needs your focus and attention – and you need a knowledge base for making a decision. 
Below are ten ways to identify the best technical support outsourcing company for you.
1. Opt for Extensive Coverage 
Find a BPO company that offers worldwide coverage, 24/7 solutions, and omnichannel services. This way, the support team is accessible to customers anywhere, around the clock (including on weekends, holidays, and after-hours) across various communication platforms. An international provider will also allow your business to expand to new markets.
Check whether the service provider can deliver seamless and steady technical support services through phone calls, live chat, email, social media, chatbots, knowledge base resources, and other online portals.
Some benefits of multichannel and nonstop tech support teams operating globally are:
Greater customer experience for increased buyer satisfaction and trust 

Better customer retention and loyalty for repeat sales 

Uninterrupted communication regardless of location, time, or device

Higher-quality customer data collected for deeper insight 

Wider reach for the brand to attract new consumers 

Improved product or service resulting from customer feedback 

Faster tech support service for shorter response time 

More communication options for customers 

Quicker access to diversified technical staff to boost efficiency
2. Choose One That Is Government- and Industry-compliant

Look for a technical support outsourcing vendor that can address data security and compliance needs. For one, the U.S. government and industry groups are responsible for protecting consumers from unauthorized access to private data. They monitor companies' and organizations' adherence to laws, specifications, and guidelines for customers' interests.  
Find out whether your prospective partner uses cloud technology and advanced customer service software, such as customer relationship management (CRM) systems, to protect and store all crucial and sensitive information. Ensure that it provides tight security procedures with its networks to keep hackers, web scammers, online breachers, and cybercriminals at bay. 
Privacy breaches due to poor data security can affect your business, reputation, and brand. In particular, tech support fraud has been rising. According to the FBI's Internet Crime Complaint Center, the scam targets senior citizens. The federal agency reports 13,900 tech support complaints from victims over 60 who lost nearly $240 million in 2021. 
3. Prefer a Vendor With Flexible Pricing Plans 
Seek a third-party vendor that offers a variety of pricing models so that you can pick one most optimal for the outsourced technical processes. If possible, hire a BPO partner that lets its service fees adjust according to market conditions or your business status. When operations are up, you pay higher fees; when it's down, the service provider's rates decrease accordingly.
Business transparency is necessary to make flexible pricing acceptable to the potential BPO associate and an effective cost strategy. Tell the vendor the possible revenue or losses that can be derived or incurred from outsourced processes. Provide all the information the service provider needs to increase the chance of a flexible pricing plan. 
Many third-party service providers offer different pricing options to clients such as
Per-user fixed fee

. The amount to pay depends on the number of devices used.

Per-device flat fee

. The amount depends on the number of users.  

Monitoring only

. The service provider charges for system maintenance.

Ad hoc fees

. Payment is on a per-project basis.
4. Hire a BPO Partner That Can Reduce Operating Costs 
Using back-office outsourcing services can lead to financial gains, one of which is lower operating expenses. Subcontracting tech support functions to a third-party provider is typically cost-effective compared to running an in-house IT department. Many external help desk teams are in countries rich with skilled yet affordable talent. 
Additionally, BPO organizations bear recruitment costs. They oversee talent scouting, screening, interviewing, testing, onboarding, and staff training. These processes take time, effort, money, and other resources. Likewise, the service providers have their infrastructure, saving you from buying hardware, software, network devices, and other equipment. 
Before deciding to outsource, ask your potential partner for details on how it will reduce your operating spending. Request documents or similar records as proof of their cost-reducing capabilities. Do your homework, too. Conduct a comparative cost study to determine whether delegating tech support can save money as opposed to managing an in-house team. 
5. Strike an Alliance With a Reputable BPO Provider 
Choose a technical support outsourcing vendor with a broad track record showing the well-known clients it has served. A BPO firm with excellent standing with clients, customers, and employees indicates its trustworthiness and stability. Such solid attributes also attract experienced and skilled workers who are valuable but can be hard to find.  
Conduct research. Acquire client testimonials from independent and reliable sources besides the vendor's website, contacts, or network to learn more about its achievements and milestones. Contact your BPO candidate and require it to submit the latest key performance indicators (KPIs) and other metrics to know its customer support productivity, efficiency, and output. 
Unity Communications is one example of a BPO provider that has garnered international awards and served established companies since its founding in 2009. The Arizona-based vendor consistently delivers on client requirements, ranging from outsourced data entry services and help desk support to customer and e-commerce support. 
6. Pursue a Vendor With Advanced Technologies  
Ensure that the service provider uses the latest platforms, applications, programs, and other tools to simplify workflow and processes for higher efficiency. Outsourced IT support is a strategic back-office outsourcing service supplemented with new and relevant technologies that can handle high work and call volume. 
The latest help desk systems enable tech support agents and officers to deal with customer issues, requests, and concerns about your products or services. They help the IT team manage complex, time-consuming, and tedious tasks, speeding up service to buyers and users and enhancing their satisfaction. 
Consider a BPO firm that runs platforms having all or most of these features:
AI-driven

Omnichannel communications 

Incident management software

Service analytics at an enterprise level

Multi-lingual support

Knowledge base support
More importantly, the vendor's tech support solutions must be cloud-based. The revolutionary technology can integrate all platforms, including CRM, help desks, and other call center software. Cloud computing offers a vast storage and network infrastructure, accelerating connectivity and service delivery for the IT team.
7. Prioritize a Future Partner With a Specialized Team 
When searching for a technical support outsourcing vendor, settle for one that can provide a dedicated team of specialists focusing solely on your outsourced processes. Hiring a "dream team" can be expensive but worth it. Their main task and forte are to deliver an excellent customer experience using an accurate, responsive, and personalized approach.
Confirm from the third-party provider if it can supply you with a complete lineup of agents, developers, engineers, and consultants. A well-rounded team can address nearly all IT problems and issues, from installing antivirus software and diagnosing hardware to handling complex networks and designing security applications.
Entry-level support specialists bear most of the daily tasks, including replying to customer calls, providing basic technical assistance, collecting feedback, and communicating through different messaging platforms. In this regard, check the applicants' qualifications as much as possible. Each candidate should have such qualities or skills as:
Background in help desk software

Thoroughness and organization

Teamwork skills

Above-average analytical skills

Active listening abilities

Proficiency in using standard operating systems 

Problem-solving skills
8. Require the BPO Firm To List All Its Service Charges 
The main reason for hiring a technical support outsourcing vendor is affordability. Request the potential outsourced companies to send you a complete list of their rates, charges, pricing models, hidden fees, and other cost-related information. Knowing the entire cost will enable you to make the right budget and establish partner trust quickly.
Service providers offer different pricing packages depending on different factors, such as the client's specific requirements, business size, work or call volume, completion date, and more. Here are the steps to help you find the best price.
Examine each prospect's pricing scheme (probably many candidates at this point) 

Choose the pricing type that you prefer and eliminate the vendors not chosen

Compare the same pricing plan of the shortlisted vendors, and pick the one that suits your budget and business needs best
Important note: Not all service providers will reveal their hidden charges or additional cost at the start. The hidden expenses can come in the form of unexpected work disruptions, employee termination, extra staffing, work transfer costs, and extra-legal services. 
9. Decide on a Vendor Offering Multilingual Technical Support 
Single out a technical support outsourcing vendor that offers multilingual services to broaden the product or service's consumer base. Your company can also serve the needs of overseas customers when the third-party provider can deliver technical solutions in at least two languages. Brazil, Japan, the U.S., the UK, and Germany depend on multilingual tech services.
Few providers offer multilingual customer support services. Vendors find managing a team and communicating with consumers or users in different languages challenging and expensive. However, many buyers prefer to purchase products or services that provide information and after-sales assistance in their native language. 
Some of the advantages of having a multilingual tech support function are:
An opportunity for you to increase customer satisfaction and loyalty as well as sales and revenue with reduced or eliminated communication barriers.

Staying ahead of competitors as multilingual services can extend your market reach and serve these new-found customers with a personalized approach when speaking in the same language.
10. Accept a Vendor With Speedy Service
Partner with a technical support outsourcing vendor that can get the job done in the quickest possible period to save effort, money, and time. Enlist a BPO provider that can deliver speedy customer service but not at the expense of accuracy and quality. Quick response time indicates competent IT specialists and translates to high customer satisfaction.
Delegate processes to a BPO company. Outsource data entry, bookkeeping, call center processes, and logistics to achieve high efficiency with fast response time. Having this attribute contributes to better customer retention. The more loyal customers are because of their strong trust in the brand, the more products or services they will buy from you.
Quick response time effectively applies the concept of customer first. The business strategy emphasizes customer-centricity – consumers are at the core of operations. The decisions and actions always consider their effect on customer needs, expectations, experience, and satisfaction. 
The Bottom Line 
Finding the right technical support outsourcing vendor to address business requirements and help attain overall objectives can never be done overnight. Besides diligence and patience, you must conduct extensive research and investigation. After all, outsourcing is a major decision that involves significant financial resources.
In the final analysis, BPO firms can provide outsourcing services. This article can guide you in choosing a suitable BPO partner. But everything will still be based on your needs, preferences, and expectations.