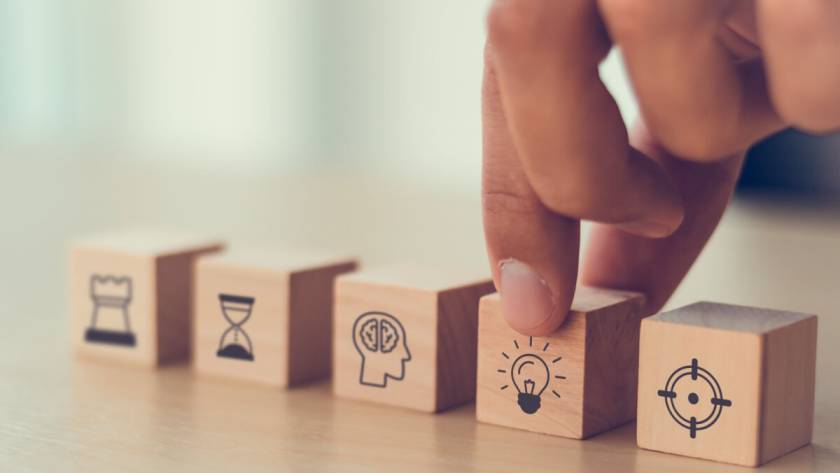 Written by Dion Jay Tality
The Philippine outsourcing industry looks bright and promising. This sector had a 10% increase in revenue last year, generating $32.5 billion. According to Colliers, it could also grab a bigger slice of the global market.
These positive long-term projections for the Philippine outsourcing industry promise a sustainable business strategy. Working with an offshoring provider in the Philippines can help you achieve greater growth. However, it requires careful planning and execution to ensure a successful and long-lasting engagement.
Read below to learn how to achieve sustainable outsourcing in the Philippines.
Seven Practical Ways To Ensure Sustainable Outsourcing to the Philippines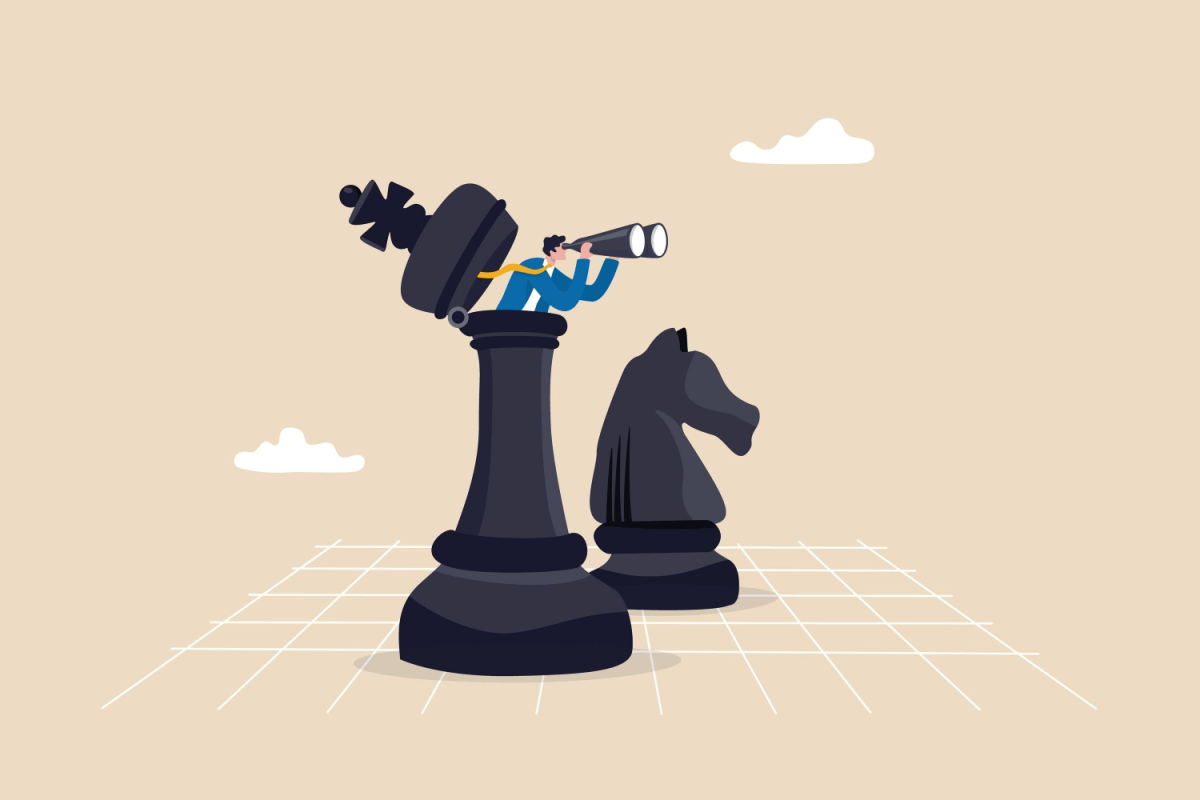 Business process outsourcing (BPO), the practice of delegating tasks to third-party providers, is a popular strategy for scaling operations and reducing costs. The Philippines is among the top outsourcing destinations. 
The country's hard-earned titles speak volumes about its outsourcing growth and success:
According to Outsource Accelerator, the nation is the world's BPO capital. Before receiving this recognition, it was also known as the call center capital. The country has all the makings of the next major tourist destination.
Thus, you should capitalize on the country's outsourcing success. Follow our crucial steps below to succeed in the long term and ensure sustainable outsourcing in the Philippines:
1. Study the Country's Outsourcing Market 
Whether you are outsourcing for the first time or have experience in the field, studying the Philippines' BPO market is crucial. This allows you to see whether it is worth outsourcing to the country. The Philippine outsourcing market is thriving and has a chance of grabbing a bigger portion of the BPO market share worldwide.
According to the IT and Business Process Association of the Philippines (IBPAP), the sector earned $32.5 billion in revenue in 2022. Its information technology and business process management (IT-BPM) industry also had an 8.4% increase in full-time employees (FTEs), totaling about 1.57 million FTEs.
Discover other key milestones of the country's IT-BPM industry, as cited by IBPAP, below:
The biggest job generator in the country,

generating 1.44 million direct jobs and 3.61 million indirect jobs in 2021

The largest contributor to the local economy,

earning $29.5 billion in revenue and comprising 7.5% of the country's gross domestic product (GDP) in 2021;

Expanding to provinces

, where 30% of the country's industry workforce resides;

Continuously expanding business verticals

, such as retail trade, real estate development, and telecommunications.
2. Work With the Government and Key Players
Government support is one of the biggest advantages of outsourcing to the Philippines. Since enacting the Special Economic Zone Act, the government has been actively supporting the industry. Why not? This sector provides employment opportunities for Filipinos and contributes significantly to the country's economy.
Work with the Philippine government and other key players if you plan to align your outsourcing endeavors with their initiatives. They can help you with your offshoring or outsourcing investments in the country. Here are the top agencies to work with:
The

Philippine Economic Zone Authority (PEZA)

focuses on building ecozones and information, communication, and technology (ICT) hubs.

The

Department of Trade and Industry's (DTI) Board of Investment (BOI)

is responsible for creating an investor-friendly business environment. 

IBPAP

is the enabling association for the country's IT-BPM industry.
Whether you outsource customer service, technical support, or data entry services, partnering with these agencies will make a difference. These organizations will help you achieve sustainable outsourcing in the Philippines.
3. Select a Location in Ecozones/ICT Hubs
When outsourcing to the Philippines, choosing a BPO partner in ICT hubs and ecozones is best. However, strike a balance between geographical opportunities and outsourcing costs.
Currently, most of the BPO companies in the Philippines are located in three metropolitan cities: 
Metro Manila

Metro Cebu

Clark, Pampanga 
In 2020, IBPAP identified the following as Next Wave Cities:
Davao City

Iloilo City

Baguio City
Recently, IBPAP launched the Digital Cities 2025 initiative to transform far-flung areas outside big cities into full-fledged digital hubs. 
These initiatives resulted in the Philippines landing in the 15th spot in the 2023 Tholons Global Business Innovation Sustainability Index. The country scored high in Super Cities, Business Diversity, and Equity and Inclusion (DEI) areas. As a "Big Kahuna" nation, the country is described as having "new leaders who have built a vibrant foundation." 
4. Choose the Right Outsourcing Partner
The key to sustainable outsourcing in the Philippines is to hire the right BPO partner. Whether you employ front- or back-office outsourcing services, select a service provider best suited for your industry type, business size, operational needs, and overall budget.
To draft a list of prospects, perform the following:
Search online for Philippine BPO companies

Get referrals from other businesses already outsourcing to the country

Attend industry events

Consult the government agencies mentioned above
Following these steps guarantees that you will have an exhaustive list of potential service providers. Choose the right outsourcing partner by thoroughly screening your prospects. Consider the following factors:
BPO track record.

Check their credentials, including operating licenses, standard business certifications, and BPO awards and recognition. 
Industry experience and expertise.

Examine how long your prospects have worked in the industry and ensure they specialize in your niche.
Human and technological resources.

Consider three key aspects: a skilled workforce, modern technology, and state-of-the-art facility.
Outsourcing cost and pricing model.

Choose a service provider to help you save money long-term without risking your business.
Business reputation.

Check online reviews and collect references from previous clients to gauge prospects' service performance.
5. Create a Service-level Agreement (SLA)
When you have selected a BPO service provider, create an SLA. Not only does this contract help you achieve outsourcing success, but its project timeline will also ensure the sustainability of your outsourcing engagement.
An SLA is a legally binding contract between you and your outsourcing partner. It defines your partnership with your hired contractor while protecting both parties. Whether you outsource tech solutions or customer support services, include the following details in the SLA: 
SMART goals.

Define your outsourcing goals while ensuring they are specific, measurable, achievable, relevant, and time-bound.
KPIs.

Set key performance indicators (KPIs) that will allow you to measure outsourcing performance and track progress. 
Work scope.

Define the hired contractor's duties and responsibilities, including deliverables, timelines, and other relevant details.
SOPs:

Highlight the standard operating procedures (SOPs) for your service provider to follow and orient them beforehand.
Contract breach:

Emphasize the legal and financial consequences of not honoring the SLA.
6. Ensure Constant Communication and Collaboration
Effective communication and collaboration are key to sustainable outsourcing in the Philippines. Whether you employ customer service or technical support outsourcing, these factors help establish trust, build relationships, and sustain engagement. They help ensure your successful outsourcing partnership with your hired contractor lasts as long as possible.
Here are a few recommendations to guarantee regular interaction.
Set regular check-ins.

Schedule regular virtual meetings with your BPO team to ensure everyone is on the same page.
Use communication tools.

Employ

contact center as a service

(CCaaS) technology for multiple communication channels and use collaboration tools for regular engagement. 
Clarify expectations.

Clearly outline the outsourcing scope, timeline, milestones, and desired outcomes to ensure everyone understands what they need to achieve.
Open lines of communication.

Encourage open communication and make it safe for team members to ask questions and share their ideas. 
Build relationships.

Take the time to get to know your BPO team, including their culture, career goals, and personal needs. Doing so helps establish trust and promote positive working relationships.
7. Stay Abreast of the Country's BPO Trends
The Philippine BPO industry shows no signs of stopping or even slowing. Companies should keep up with their trends to thrive and survive. 
According to the Outsourcing Journal, IT-BPM firms will prioritize business optimization, digital transformation, and talent upskilling programs. So, businesses that outsource or are looking to outsource to these firms should capitalize on these opportunities. Here are key initiatives to consider for sustainable outsourcing in the Philippines: 
Accelerating digital transformation.

Work with your BPO partner to invest in the latest technology, such as artificial intelligence (AI) and cloud computing.
Upskilling of digital talent.

Capitalize on the government's IT-BPM Roadmap 2028 aimed to ensure a consistent supply of talented BPO workers through curriculum modification, internships, and talent hub creation

. 
Optimizing business processes.

Take advantage of the Special Economic Zone Act, which welcomes foreign investments, provides tax incentives, and streamlines registration processes.
Strengthening the nation's position.

You should outsource to the country if you are in the banking, financial services, and insurance (BFSI), high-tech and telecom, manufacturing, and healthcare segments.
Fortifying the IT-BPM ecosystem.

Hire a BPO partner located in ecozones and ICT hubs in the country.
The Bottom Line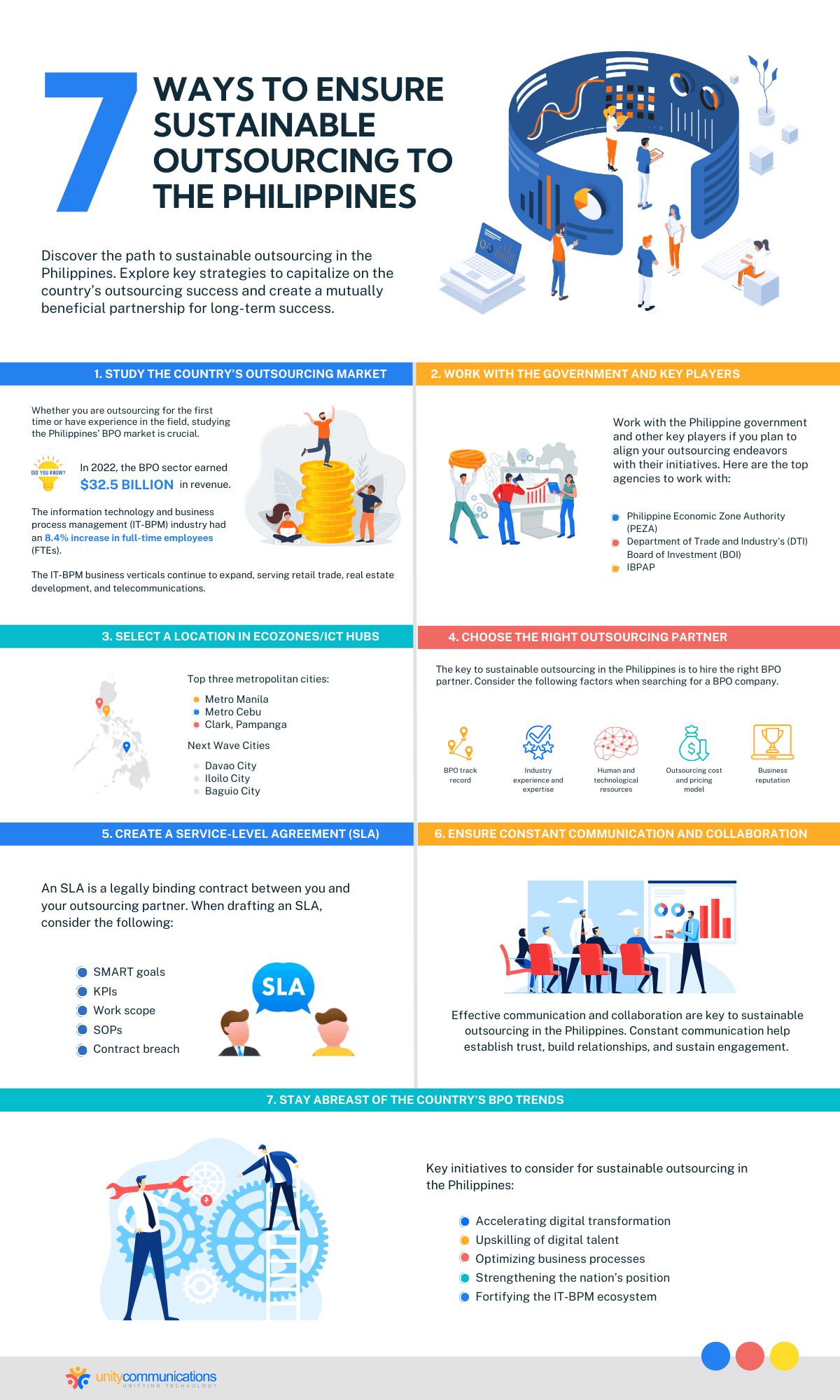 Sustainability has become a buzzword in business and the BPO industry. Outsourcing to the Philippines is sustainable in the long term due to its continued market growth, government support, and favorable business environment.
To make the most of the practice, you should be strategic in the planning and execution of your outsourcing engagement. Consider the seven tips recommended above to ensure sustainable outsourcing in the Philippines. More importantly, choose a BPO partner best suited for your business niche, size, needs, and budget.
With all these in mind, you will sustain a successful outsourcing engagement in the country for as long as possible.