Written by Joyce Ann Danieles
Contact centers are the go-to hub for customers seeking help with their purchases. By implementing a contact center as a service (CCaaS) solution, your business can answer massive consumer inquiries quickly and effectively.
But how do you know if you are working with the right contact center? 
This article highlights the features of a great customer service hub. Let's explore them.
10 Characteristics of a Good Contact Center

Contact centers help customers with purchases and answer questions about product features. They use voice or video calls, live chat, email, text messaging, or social media. But investing in in-house non-core functions such as a contact center does not guarantee returns. The manpower, infrastructure, and real estate costs total a hefty sum. In addition, building your own in-house center is a time-consuming effort. 
If building functions in-house seems too laborious, contact center outsourcing is your best bet. Service providers optimize CCaaS for cost-effective client service. It combines communication channels, automation technologies, and analytics tools for quick, personalized service. All these enhancements make for happy and loyal consumers.
Zendesk found that customers switch brands when support is slow, inconvenient, or ineffective. To make third-party customer service run smoothly, you must find the right contact center for your business. This way, you can prepare a concrete investment plan for outsourcing that fits your budget, needs, and resources.
Discover the key characteristics of a reliable contact center below. 
1. Understands Your Specific Needs
In any given scenario, people work well with others who empathize with their situations. The same goes for the enterprise landscape. You need a business partner that understands your specific needs.
Even so, that does not mean you should demand that a potential contact center provider meet all your standards. Every outsourcing provider has its unique working strategies and rules to follow. You have to compromise and understand their ways of doing business. After all, a partnership means working together to deliver an unmatched customer experience.
Some firms fail to find compatible contact center providers. As a result, they have conflicts and misunderstandings that hurt customer service. The worst-case scenario is that loyal clients might even switch brands if third-party call centers do not satisfy their requirements or provide a good experience.
But the right contact center can avoid these problems by understanding your needs and taking steps to meet them. It exercises the following business values to meet the partner's demands:
Trust and Respect.

An ideal provider gains your trust and respects your choices in customer service delivery. It understands that you know your customer base best and offers solutions that fit your operating budget and vision. It does not force you to take add-ons and other unnecessary solutions.
Brand Alignment.

A competent contact center studies and familiarizes itself with your brand. It does its best to match your strategies and policies to provide a superb customer experience. As a result, it can provide support without risking your brand's image.
Shared Values and Goals.

A reliable contact center shares your business' customer-first approach. It understands the importance of providing excellent service for customer satisfaction and retention. Hence, it ensures its consumer support strategies align with yours.
Before you reach out to potential contact centers, clearly define the scope and limitations of your partnership. Write down everything you hope to gain from hiring a contact center and the functions you need to outsource. 
2. Supports Your Cost Savings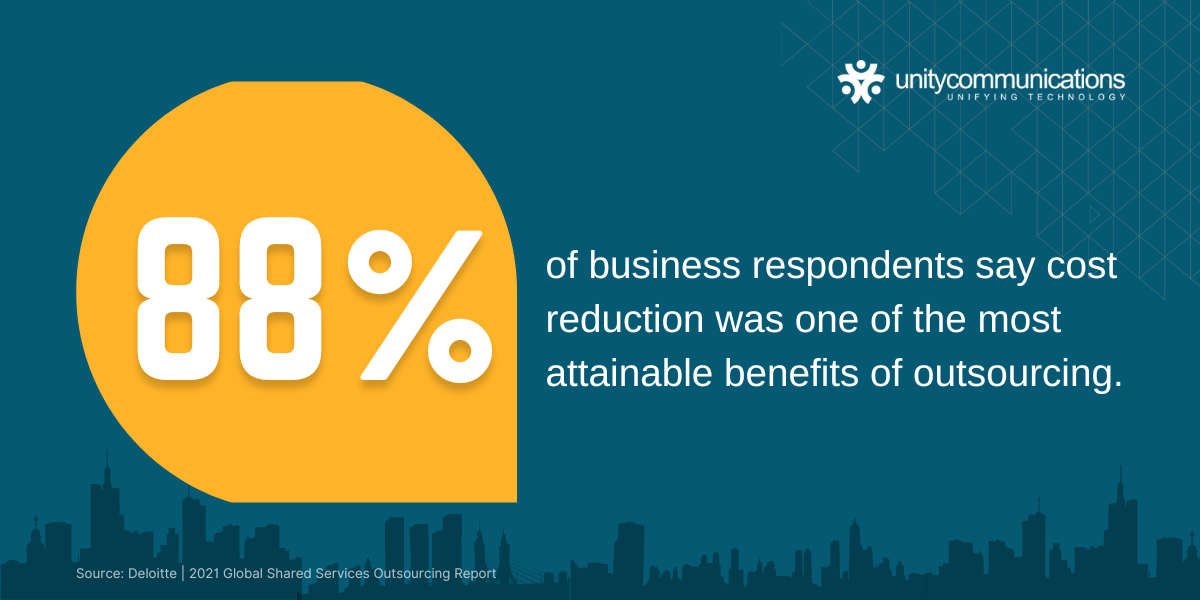 In Deloitte's 2021 report, 88% of the businesses polled said that cost reduction was one of the most attainable benefits of outsourcing. Letting a contractor handle your customer service helps you save money on labor, infrastructure, and real estate.
The right contact center does not require you to recruit, hire, or train customer service representatives in-house. The hub already has agents who undergo regular training and certification to help customers promptly, compassionately, and effectively. Plus, it lets you pay only a certain number of employees according to your needs and operating budget.
You also do not have to purchase niche equipment for the non-core function. Your contact center partner deploys and provides a CCaaS platform accessible through internet connectivity. This cloud-based solution delivers an omnichannel and automated approach for streamlined customer service.
Furthermore, even when employees work from home, the best call centers give customers the best experience possible. Hence, you do not need to spend extra dollars on comfortable office space. You just have to focus on paying for its service package via monthly billing or a pay-as-you-need model.
3. Empowers Employees

A good customer service provider values workforce empowerment. It gives its employees a certain degree of autonomy and control over their daily tasks. 
Empowered workers are encouraged to:
Have a voice in process improvement and issue resolution

Help develop and implement new business strategies

Undergo regular training and certification

Join company events and competitions

Participate in upskilling workshops and mental health counseling
The right contact center also gives its agents the tools and resources they need to do their day-to-day tasks. The vendor distributes workloads equally to avoid burnout and overwork. The most important thing is that the provider pays its employees well and gives them incentives for doing a good job.
Because of this, agents become loyal and committed to being as productive as possible and delivering good service. You can trust your contact center partner to handle customer service while you focus on your primary goals.
4. Integrates With Your Data Management Systems
Data is crucial to delivering a personalized customer experience. Information on buying patterns and customer profiles validates your efforts for continued enterprise growth.
A dependable contact center provider knows how to manage data accurately and seamlessly. Its CCaaS platform integrates well with your customer relationship management (CRM) system.
The consolidation enables the contractor to collect and analyze customer data comprehensively. The resulting insights help you better understand customer needs and preferences. Thus, you can enhance your products and services based on those presented patterns.
5. Adapts to Your Existing Organizational Structure

In addition to knowing your specific needs and collecting valuable data, the right contact center adapts to your business setup. Even though it has its own ways of doing things, it is willing to adapt to how your business works. It combines its customer service techniques with yours to ensure effective consumer support. 
Your well-informed contact center partner collaborates with you for scalable and smooth operations, ensuring strategic alignment with your enterprise. It also knows that having a shaky business relationship with you leads to the following risks:
Difficulty acquiring the necessary resources to provide excellent customer service.

Without that level of trust and confidence, you are less willing to give access to sensitive data and systems.

Difficulty scaling your customer service approach in the short term

. This gap prevents the contact center from deploying an appropriate number of people to address constantly changing market demands.
Unstable communication.

The contact center has trouble reaching out to you during urgent matters. The lack of communication also hinders the provider from sharing critical data relevant to your customer service strategy.
Delayed crisis response.

Due to unstable communication and poor cooperation with your team, the contact center cannot quickly resolve unexpected issues. It does not have enough resources to address such problems, possibly compromising consumer support offerings.
6. Ensures Quality Service
A recent report from Emplifi says that 17% of surveyed American customers usually do not complete their purchases because of bad customer service. Bad experiences result from slow response time and not having customer service available 24/7. Emplifi adds that companies providing accelerated support win customer loyalty.
The right contact center helps you build a loyal customer base by putting customer service quality first, even if the service prices are low. The provider ensures cost-efficient customer service by optimizing CCaaS. Artificial intelligence (AI) and automation tools are available on the cloud platform to help people around the clock. 
The solution also allows for an omnichannel approach to customer service, which lets customers talk to agents on their preferred platforms. Using this technology, agents quickly and seamlessly respond to inquiries using a single CCaaS-hosted dashboard. These abilities give you a competitive advantage in today's fast-paced market. 
7. Allows You To Prioritize Core Initiatives

A seasoned contact center knows the ins and outs of the customer service industry. Therefore, the hub implements cost-effective strategies to provide an excellent customer experience. It employs skilled agents and deploys current solutions to streamline this non-core function.
So having the best contact center provider handle your customer service lets you focus on improving your core skills and programs. You do not need to worry about hiring agents or buying relevant equipment. The provider already has those resources. You just have to pay them monthly or immediately after service.
Because the contact center provider is an expert in the field, your in-house team has enough time to focus on growth-driven projects. But you still need to work with the provider to ensure things run smoothly, especially during busy seasons.
8. Helps You Track Market Trends
Understanding the latest market trends lets you spot and interpret changes in customer tastes, needs, and buying habits. The right contact center provides you with such insights with the help of a CCaaS platform.
The AI-powered analytics tools in this software make it easy for agents to collect, compile, and analyze information about ratings, response feedback, and preferred communication channels. The collected data supports advancements in customer service, products, and business strategies. 
9. Strengthens Your Security and Compliance

Verizon's report from 2022 showed that outsiders were to blame for 80% of the more than 5,000 data breaches in 2021 alone. These malicious actors led the cases of compromised data, followed by internal sources.
The best contact center guarantees strong cybersecurity to earn its client's trust. The provider strictly follows security rules and regulations to safeguard your sensitive data. It also deploys sophisticated security software to strengthen protection.
Furthermore, the trusted vendor adheres to industry and government standards. It also helps ensure you follow such policies by conducting regular compliance reviews. If you do these things, you will not have to deal with the high costs of threat mitigation and sanctions.
10. Has References and Established Connections
Before consumers buy a new product, they look for ratings and reviews from other customers to find out how good it is and how well it works. This is what you need to do when outsourcing your customer service. You need referrals and recommendations to know whether you are contracting with a provider that fits your operational needs. 
The right contact center has well-known connections and references and provides them to you as you determine if this is the right center for your business and customers. It is known for providing good customer service at a low cost. When even big enterprises recommend a contractor, you can be sure that the vendor worked well with the enterprise.  
The Bottom Line

Many customers call customer service centers when they have problems with their purchases or questions about how the products work. These customer service hubs employ well-trained agents and modern systems to streamline operations. They also optimize CCaaS to enhance customer support.
Knowing how to select the right contact center to match your operational needs and budget allocations is critical. This guide lists the most important things you should consider when choosing a contact center provider. These tips help guarantee returns on your outsourcing investment.
Do you want to team up with the best contact center vendor? Contact Unity Communications to know how you can start delivering superb customer service. The Inc. 5000 company has a robust contact center platform that can make your customers' experiences better and more personal.