Written by Dion Jay Tality
Offshore outsourcing is a practical solution for improving business operations while reducing costs. But it can come with complications. Doing your homework is a must when choosing an offshoring destination. 
The Philippines is one of the leading outsourcing destinations, offering skilled workers at a fraction of the cost compared to other countries. But is hiring an offshoring provider in the Philippines the right decision for your business?
Find out in this definitive guide to outsourcing to the Philippines. Read on to learn more about:
Its outsourcing industry,

Potential benefits and drawbacks, and

Key outsourcing steps to get started.
Exploring the Philippine Outsourcing Industry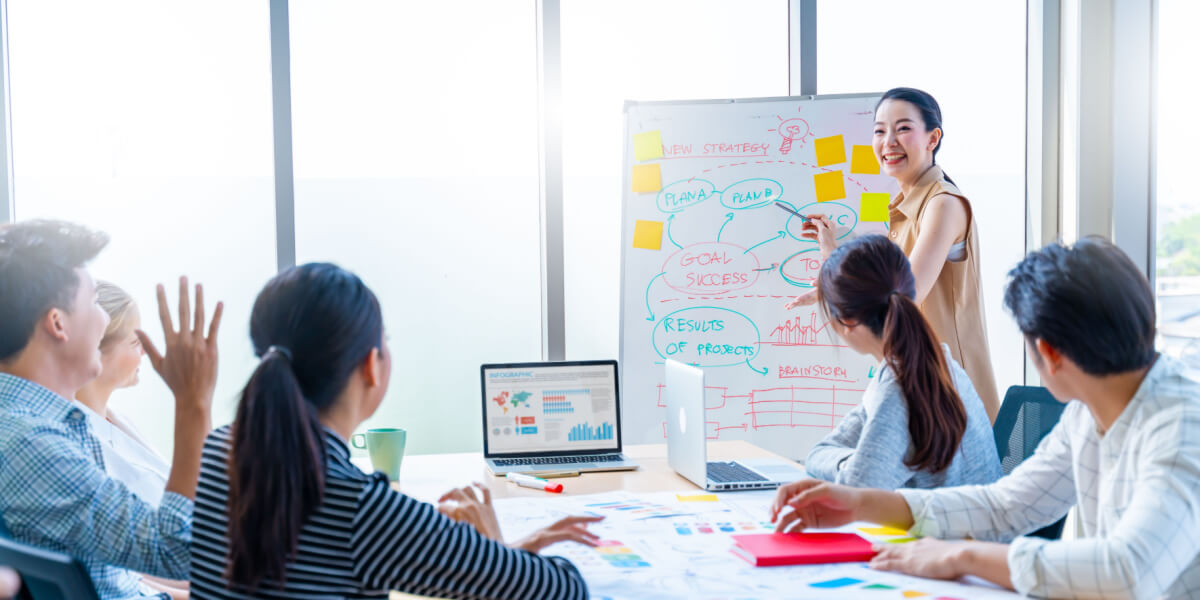 Business process outsourcing (BPO) is when a company delegates tasks to a third-party service provider instead of handling them in-house. It encompasses various business functions such as customer service, sales, and administrative tasks. Its primary goal is to increase efficiency and lower costs while improving the service quality.
On the other hand, offshoring is a popular strategy for companies looking to reduce operating expenses and ensure global competitiveness. It is the practice of moving business processes to a location outside your company's home country. It takes various forms, from hiring an external vendor to establishing a subsidiary in a foreign country such as the Philippines.
The Philippines has become a top hub of outsourcing and the world's BPO capital. Companies across the globe are outsourcing to the Philippines to take advantage of the following:
Affordable costs

English-speaking talent

Skilled workforce

Government support

Continued BPO growth
What Philippine Outsourcing Entails
The Philippines holds a vast scope of outsourcing work. BPO companies in the country handle front- and back-office outsourcing. They also cater to various industries in horizontal or vertical markets.
Here are some examples of tasks you can outsource to the Philippines:
Call center.

A call center usually provides customer support over the phone. Call center agents answer inquiries, process requests, and resolve complaints. As mentioned above, the Philippines has become the world's call center capital.

Contact center.

A contact center works like a call center but provides customer service via multiple channels. The top three communication channels are phone calls, email, and live chat. BPO firms use technologies such as

contact center as a service

(CCaaS) software to improve the customer journey.

Order fulfillment.

This involves receiving, processing, and delivering customer orders. You can outsource this function to a BPO service provider in the Philippines. It is a viable solution for reducing operating costs, increasing processing efficiency, and improving delivery time.

Data entry.

This business process is the accurate and efficient inputting of information into computer systems. You can outsource

data entry services

to an external vendor in the Philippines. This business move frees up time and resources to focus on your core competencies and strategic initiatives.

Sales or telemarketing.

Sales or telemarketing entails reaching potential customers to promote your products or services. Through outsourcing, salespeople in the Philippines can perform outbound calls or email outreach on your behalf. The ultimate goal is to increase your sales and decrease your expenses.

Technical support.

This provides assistance to customers with technical issues. Third-party representatives troubleshoot software and hardware devices. Consider

technical support outsourcing

to leverage the latest technology and expertise.

IT services.

Information technology (IT) services usually include troubleshooting, hardware and software installation, system maintenance, network management, and security and compliance. Entrust your IT processes to a managed service provider (MSP) in the Philippines to stay on top of your IT needs.

Administrative tasks.

Administrative functions are crucial to business operations. Some companies delegate these tasks to third-party service providers to stay on top of them while focusing on core functions. Here are some administrative tasks to consider outsourcing to the Philippines:

Accounting

is the management of your business finances. It involves recording, tracking, analyzing, and reporting financial transactions. A third-party accountant in the Philippines helps maintain your company's financial health.

Payroll

is the management of employee compensation, which includes salary calculation, benefits administration, and tax filing. You can tap into accounting professionals in the Philippines to guarantee accurate and prompt salary disbursements.

Human resources (HR)

is the management of employee relations. This department covers four critical aspects: recruitment, onboarding, training, and employee management. A third-party Philippine provider aims to win and keep employees.
The global outsourcing industry has grown exponentially. It is now serving various businesses across different sectors. Outsourcing to the Philippines is an excellent business strategy to globalize your business. 
Primary Verticals in Philippine Outsourcing

According to the Philippine Board of Investments (BOI), the primary verticals in the Philippines are banking, financial services, and insurance (BFSI), high tech and telecom, manufacturing, and healthcare segments. 
The Philippines is also notable for IT-BPM services, particularly voiced accounts. Companies in these industries outsource to the country to scale their businesses and reduce costs. 
Let us expound on each of the primary verticals in the country.
Banking, Financial Services, and Insurance (BFSI)
The BFSI segment offers financial services, including banking, insurance, and investment.
The BFSI industry is undergoing regulatory changes, such as the U.S. Patriot Act, which is causing compliance costs to increase. This segment also has a growing number of digital customers.
For this reason, financial institutions outsource transactional and non-transactional finance and accounting (F&A) functions to third-party vendors to reduce costs. They also adopt advanced technologies, such as automation, to serve a growing number of digital customers.
As a bank, insurer, or other financial institution, consider outsourcing to the Philippines to save on costs and leverage technologies.
High Tech and Telecommunications
The high-tech and telecom segment provides technology and communication services. But this industry is facing some challenges.
For one, telecom companies are dealing with high capital investments and the rise of mobile communications. Even over-the-top (OTT) participants, such as video and audio services, are becoming increasingly popular.
As such, telecom providers are transitioning from outsourcing transactional processes to outsourcing network operations, content bundling, and solutions. They also offer value-added services such as next-generation communication services.
Lastly, they create a digital environment with privacy and security through outsourcing. You should outsource tech solutions and telecom services to the Philippines to keep up with these trends.
Healthcare
The healthcare sector commits itself to treat patients and saving lives. But the global industry is undergoing regulatory reforms, especially because of the pandemic. Healthcare providers must also free up time and resources to focus on patient care.
For instance, healthcare providers employ outsourcing to digitize medical records through electronic medical records (EMR). Laboratories are also automating their processes for receiving and storing data with the help of third-party providers.
Hospitals and clinics outsource non-clinical and clinical functions to BPO service providers. So consider outsourcing healthcare functions such as medical billing and claims processing to the Philippines.
Manufacturing
This business vertical entails producing goods, including consumer products, machinery, and electronics. It constantly evolves and now requires the following:
Specialized talent for process optimization

Efficient resource management

A need to strengthen core capabilities
That is where outsourcing comes in. Manufacturing BPO offers the following:
Analytics and performance management

Planning and control support

Quality management system
If you plan to optimize your manufacturing processes, work with an offshore provider in the Philippines.
The State of the Philippine Outsourcing Industry
The Philippine BPO industry has become a major player in the outsourcing sector. It has an interesting history, leading to what it is today. And its future looks even brighter and more promising.
Let us look at the state of outsourcing in the Philippines.
History of Philippine Outsourcing
Philippine outsourcing began when Accenture started outsourcing services. Sykes was the first to set up a multinational BPO company, while eTelecare Global Solutions established the first call center in the country.
The Philippine government has been actively supporting the BPO industry since the beginning. It established the Special Economic Zone Act to attract foreign and local investors. It later established the Philippine Economic Zone Authority (PEZA) to encourage investments by providing tax incentives.
In 2005, the BPO sector hit 3% of the global market and almost 2.5% of the country's GDP. Last year, the IT-BPM market comprised nearly 15% of the worldwide market share and almost 8% of the GDP. Today, the nation has over 700 BPO firms across the country.
Current Outsourcing Market
Colliers cited that the Philippines, along with the United States, followed India as the top outsourcing hub. But the nation could capture a bigger slice of the global market share.
In fact, the Philippine IT-BPM market accounted for 13% of the global market share, reaching $29 billion in revenue in 2022. According to Outsourcing Journal, the country ranked first in voice-related outsourcing services.
The IT and Business Process Association of the Philippines (IBPAP) highlights some of the key milestones of the country's IT-BPM industry:
It is the

biggest employment provide

r in the country, having generated 1.44 million direct jobs and 3.61 million indirect jobs in 2021.
It

significantly contributes to the local economy

, accounting for 7.5% of the country's gross domestic product (GDP).
It expands to provinces, where 30% of its total industry workforce is

outside Metro Manila

.
It has fortified

top industries

such as retail trade, real estate development, and telecom.
With all these facts and figures, outsourcing to the Philippines is an effective business strategy for scaling your operations and reducing costs.
Future Outsourcing Market
As a leading hub, the Philippine BPO sector continues to expand. But companies investing in the country must stay informed of the latest industry progress and developments. 
Outsourcing Journal reports that the IT-BPM sector will focus on process optimization, digital transformation, and employee upskilling. To achieve the industry's growth potential, BPO firms should focus on the following imperatives:
Accelerating digital transformation.

BPO firms should adopt digital tools and technologies to enhance their services, such as automation, artificial intelligence (AI), and cloud computing.
Upskilling the digital workforce.

The Philippine

IT-BPM Roadmap 2028

initiative seeks to provide a continuous supply of skilled BPO employees. Companies can achieve this goal by implementing curriculum modification, internships, encouraging work immersion, and creating talent hubs.
Streamlining business operations.

BPO firms in the country should improve their processes to stay globally competitive. The Roadmap 2028, for instance, covers flexible work arrangements. The government approved BPO companies' requests to continue the work-from-home (WFH) arrangements without losing tax incentives.
Strengthening the nation's position.

BPO companies should expand their work scope to maintain their global position. They cater to verticals such as those mentioned above. As such, they should stay updated with changing regulations, capital, and process optimization.
Fortifying the country's IT-BPM ecosystem.

The Philippine government, major BPO players, and other stakeholders are working together to achieve this goal. Expect progress and development in the IT-BPM market to further strengthen its ecosystem.
Outsourcing to the Philippines is a viable solution for business growth and success. But companies looking to work with BPO firms in the country should study its current market and future trends.
Philippine Laws and Regulations Governing the BPO Industry
One of the challenges of offshore outsourcing is complying with a nation's laws and regulations. Noncompliance might result in legal and financial implications. The same applies to outsourcing to the Philippines, although the country has favorable laws for foreign companies.
Discover the Philippine laws and regulations that govern the outsourcing sector.
Potential Benefits and Drawbacks of Outsourcing to the Philippines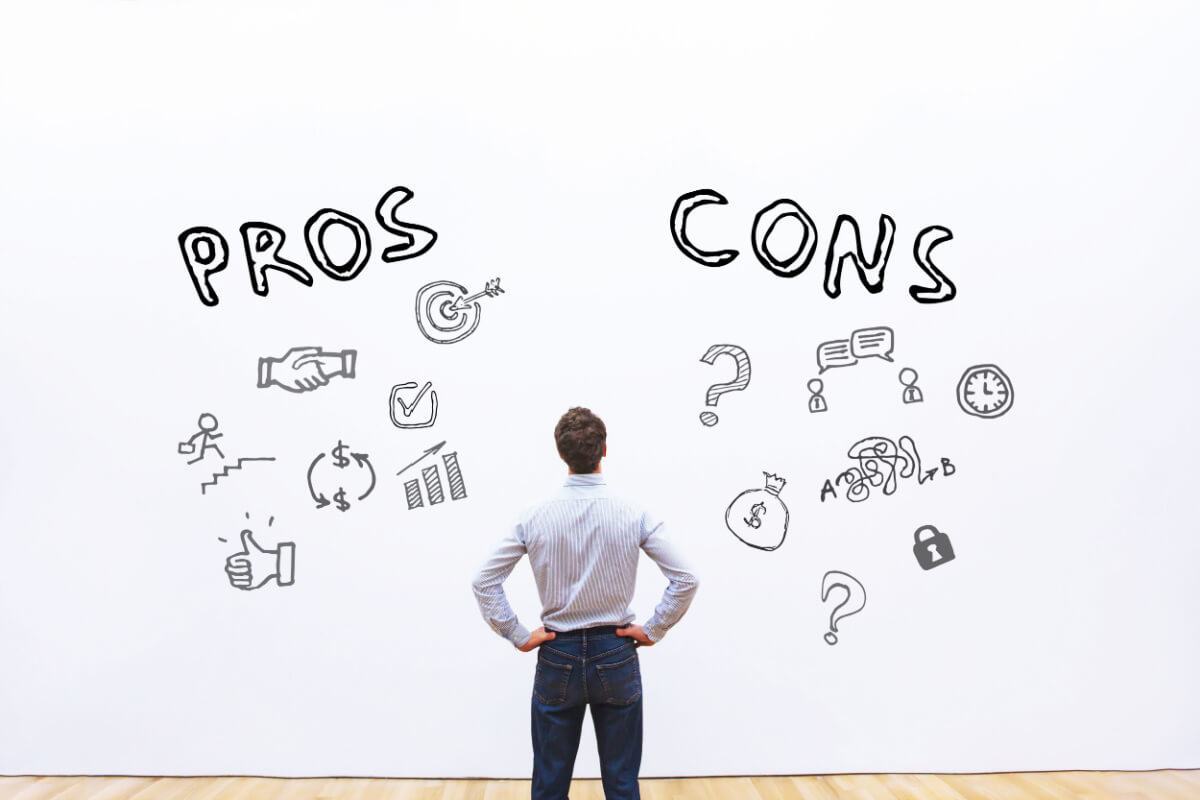 Outsourcing to the Philippines proves beneficial in many ways. Not only does it reduce your operating costs, but it also helps scale and grow your business. On the flip side, it poses
possible obstacles and challenges, such as a lack of control and time zone differences. Weighing these advantages and disadvantages is crucial to making informed decisions.
Let us look at the pros and cons of Philippine outsourcing.
Potential Benefits of Philippine Outsourcing
When you outsource to the Philippines, you experience and enjoy the following benefits:
Excellent track record.

The Philippines has established a strong reputation in the outsourcing sector, having served businesses for over two decades. This longevity has resulted in a wealth of outsourcing expertise and experience. Its title as the world's BPO capital speaks volumes about its BPO track record.
Proven cost efficiency.

Outsourcing to the Philippines provides cost-effective solutions for businesses. The

average hourly rate

for Philippine BPO vendors ranges from $12 to $14 compared to $24 and $28 in the United States. With lower labor costs, you save money without compromising service quality.
Highly skilled workforce.

The Philippines is home to highly skilled, trained, and educated professionals. Its outsourcing sector had 1.44 million full-time employees (FTEs) in 2021, and the government is investing in people through talent upskilling. Thus, the country offers the talent that companies need.
English-language competency.

Globalization has made English -language proficiency a critical factor in outsourcing. The Philippines has a competitive advantage because the language is widely used and spoken in the country. In fact, the nation ranked 22nd worldwide and second in Southeast Asia in the

2022 English Proficiency Index

(EPI).
Enhanced privacy and security.

The government implements network security laws and data privacy policies, making the Philippines a safe destination for confidential information. Take the Data Privacy Act of 2012 and DITC Act of 2015 discussed above. You trust your hired service provider to safeguard your business data.
Cultural compatibility.

The Philippines has a colonial past with the Americans and continued partnerships with Western countries. These factors make the country a culturally compatible destination for outsourcing. Such cultural affinity with Westerners ensures both parties' strong working relationships and positive experiences.
Good work ethics.

The Philippines boasts a pool of hard-working individuals. Filipinos are known for their dedication to work and unwavering determination to succeed. These qualities make them valuable assets to any company. So outsourcing to the Philippines gives you access to a committed and dedicated workforce.
Desirable Filipino traits.

Filipinos are known for their politeness, hospitality, and friendly nature. They are also among the most patient and resilient people in the world. These positive traits make an excellent workforce that cares for your customers and business. If you want to build great teams, consider outsourcing to the Philippines.
Strong government support.

The Philippine government is actively supporting the BPO industry. The enactment of the Special Economic Zone Act and the establishment of PEZA are proof of its utmost support. The government creates favorable policies and offers tax incentives to businesses.
Rising BPO growth.

The Philippine outsourcing industry could significantly contribute to the global market share. It has expanded to the provinces comprising 30% of the total industry workforce. The

Digital Cities 2025 program

launched by DICT aims to help 25 non-Metro-Manila locations become fully digitized cities.
Possible Drawbacks of Philippines Outsourcing
Like every other strategy in business, outsourcing to the Philippines might have some drawbacks, including the following:
Lack of business control.

One disadvantage of outsourcing to the Philippines is a lack of control over business operations. Limited control over workflow and service quality might lead to goal misalignment and business failure. To avoid these, hire a reliable BPO partner and ensure constant collaboration.
Unmanageable third-party team.

Managing a third-party team can be challenging, especially if the vendor is in a different country. Communication barriers and cultural differences all contribute to difficulties in managing teams. So be open to differences, update your external team regularly, and ensure regular communication.
Stringent laws and regulations.

The country has strict laws and regulations governing the BPO industry, such as labor laws, data privacy regulations, and taxes. What better way to avoid legal and financial implications than to ensure full regulatory compliance? When outsourcing to the Philippines, consider the laws discussed above.
Interrupting public holidays.

The Philippines has 18 national holidays yearly, with four special non-working days. Unavailability during these days might impact your BPO team's overall productivity. Meanwhile, the law requires you to give workers extra pay for working during holidays.
Expected time zone differences.

Working with third-party teams on the other side of the globe might be difficult. Expect time zone differences potentially affecting collaboration and causing delays. To avoid these, schedule regular meetings and leverage digital tools for seamless communication.
Poor infrastructure.

The Philippines still has an underdeveloped infrastructure in some areas, which might affect service delivery and work quality. For instance, your business might encounter frequent power outages, internet connectivity issues, and limited resource access. Avoid these problems by choosing the right BPO partner in the best outsourcing location.
Outdated technology.

Some BPO firms in the Philippines might not have access to the latest technology. This issue can significantly affect your overall business productivity and work quality. Look for a BPO vendor with the digital tools and technological resources required for your business operation.
Bad weather:

The Philippines is prone to natural disasters such as typhoons, floods, and earthquakes. You might encounter business disruptions if you choose to outsource to the Philippines. This problem can affect your service delivery and overall performance. Let your in-house teams handle your core activities and create contingency plans.
How To Start Outsourcing to the Philippines

At this point, you have learned much about the Philippine outsourcing industry. You have also weighed the pros and cons of working with an offshoring provider in the country.
Now, here are the steps in kick-starting your outsourcing to the Philippines:
1. Study the Country's, Outsourcing Market
Before you take the plunge, familiarize yourself with the Philippine outsourcing industry. Study its strengths, limitations, and regulations. This step helps determine whether outsourcing to the country is right for your business.
Start by researching the country's outsourcing market to understand the opportunities and challenges. Look into the following factors:
Philippine outsourcing history and market growth 

Services commonly outsourced

Available talent pool and their skill sets

Language proficiency of the workforce

The regulatory environment in the country

Cost-effectiveness compared to other countries
With due diligence, you can make an informed decision about outsourcing.
2. Assess Your Current Business Operation
After studying the Philippine outsourcing industry, it is time to evaluate your current business operations. This step helps you identify the services to outsource and the support you need from an external vendor. 
To do this, ask the following crucial questions:
What are your business goals and operational objectives?

What are your current challenges in your business operations?

What business needs do you have to address to scale your operations?

What processes should you automate to increase efficiency?

What is the current capacity of your in-house team?

What non-core business functions can you outsource?
3. Find a BPO Vendor in the Country
Be on the lookout for potential BPO service providers. To find a suitable outsourcing vendor, follow these crucial steps:
Search prospects online, ask for recommendations, or attend industry events.

Research and short-list potential outsourcing vendors.

Schedule consultations with the vendors and send requests for proposals (RFPs).

Assess your prospects' reputation, experience, expertise, workforce, resources, and cost.

Evaluate their ability to meet your business requirements and goals.
With all these steps, you can hire a BPO service provider best suited for your business.
4. Create a Service-level Agreement (SLA)
Once you have selected a BPO partner, you can start negotiating. After reaching an agreement, create a service-level agreement. This legally binding contract outlines the terms and conditions of your outsourcing relationship. Your SLA should include the following elements:
Business goals and operational objectives

Key performance indicators (KPIs)

Scope of services (including inclusions and exclusions)

Standard operating procedures (SOPs)

Communication protocols and reporting requirements

Outsourcing cost and payment structure

Termination and renewal terms

Breach of contract
5. Set up Your Outsourcing Operation
Once you have finalized the SLA, you can set up your outsourcing operation by establishing the following:
Technology and infrastructure (including hardware, software, and communication channels)

A clear description of roles and responsibilities (for both your in-house team and the outsourcing vendor)

Processes and procedures for managing the outsourcing relationship (even regular performance evaluations and reviews)

Clear and specific outsourcing instructions critical to your business operation
With all these in place, you can start outsourcing to the Philippines. Provide your contracted partner with the utmost support, but give them the liberty to operate your business functions. Ensure constant communication and collaboration to achieve outsourcing success. Remember that outsourcing means pursuing business partnerships.
The Bottom Line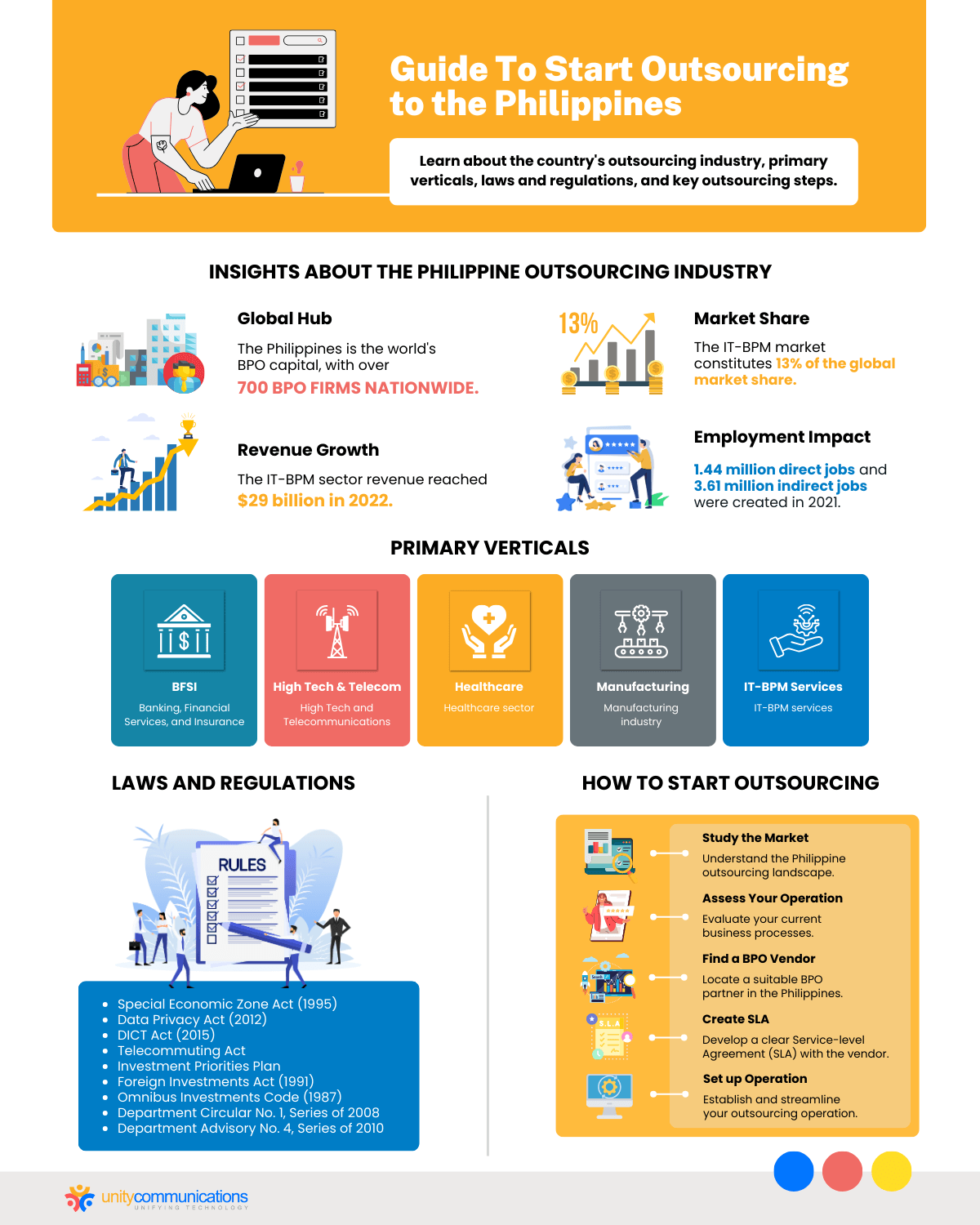 Outsourcing to the Philippines is a game-changer for companies looking to scale their businesses and reduce their operating costs. The country is a leading outsourcing destination with its highly skilled workforce, ideal business environment, and a supportive government. 
However, proper research is crucial before starting your Philippine outsourcing journey. Take the time to find the right outsourcing partner and establish a strong working relationship.
Follow this definitive guide to capitalize on the benefits of Philippine outsourcing. Contact Unity Communications now to know how we can help you.