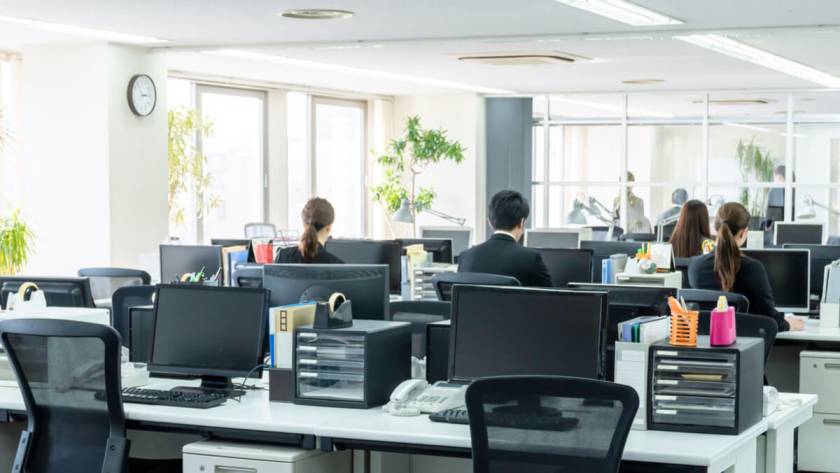 Written by Allie Delos Santos
A high-performing business requires a back office that supports client-facing departments. Often, the back office is seen as a cost center since it does not generate revenue, unlike the front office.
The challenge for many back-office employees is managing various types of work, processes, and people. Outsourcing back-office services are one of the best alternatives to managing the function in-house.
Continue reading to learn more about outsourcing back-office services and how it can address modern back-office challenges.
How To Get started With Outsourcing Back-office Services?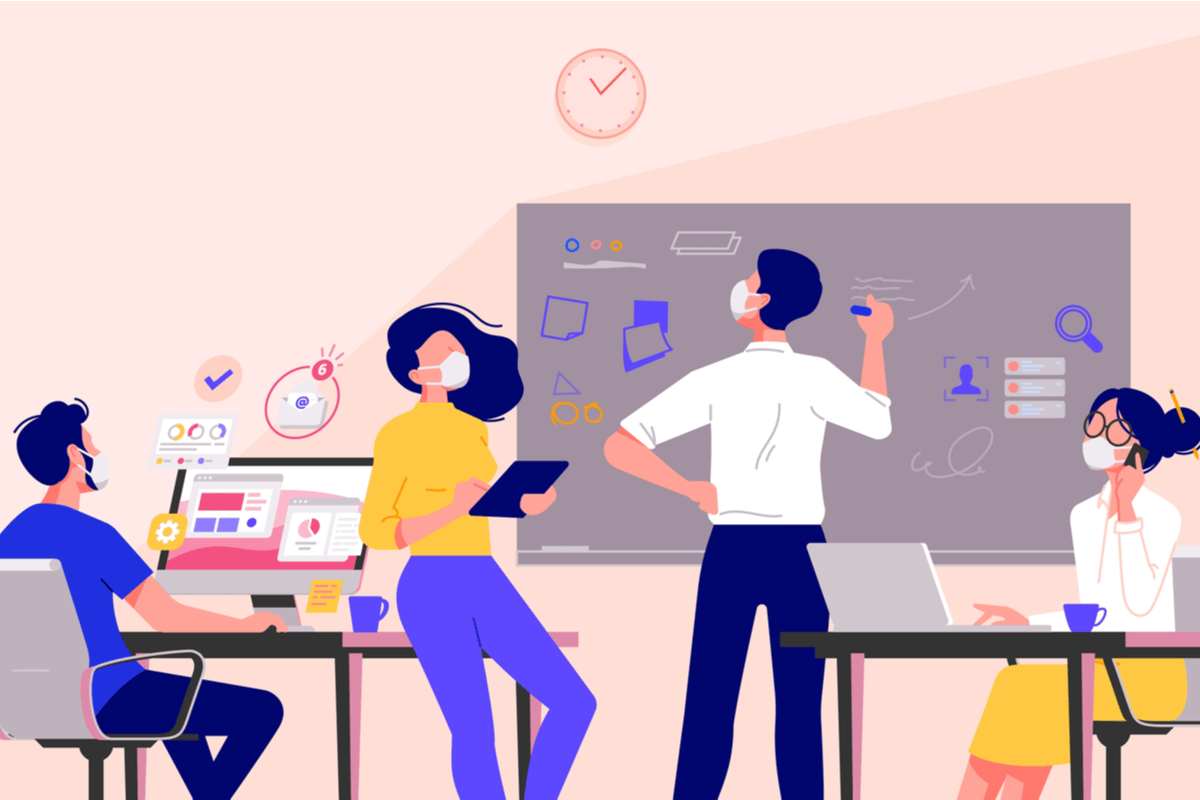 Ultimately, the main reason why you should start outsourcing back-office services is you can make more money doing so than by keeping the functions in-house. Outsourcing back-office services will not be logical unless it makes sense financially.
Similarly, outsourcing back-office services isn't a way to take on more transactional tasks. It should be used to generate more sales and drive revenue. That said, it pays to check where you could boost efficiency and profit generation.
Keep in mind that there's no shortcut to outsourcing back-office services. It's not a one-size-fits-all solution. When outsourcing, you must be careful in selecting a provider and maintaining a good relationship with them. The easiest way to do that is by knowing your requirements and ensuring open communication between you and your provider.
Here are the steps to get started with outsourcing back-office services:
1. Know What You Want To Get From Outsourcing Back Office Services
If you're aware that you need certain back-office functions removed from your plate, but have no idea what that entails, then you have work to do. Determine what you want to outsource by brainstorming the tasks you want to delegate. Consider your overarching goals and try to work your way backward to formulate the necessary steps.
Ask yourself these two questions if you know a specific function isn't part of your core competency.
Are you only outsourcing back-office services to save money? Sometimes there can be good reasons for outsourcing that involve money, but other times, that money is well spent. Not all tasks should be based on the money and resources at stake, and focusing only on cost-saving in the short term might actually cause you to lose more in the long term.
Are you only outsourcing back-office services because you don't like managing the function? Although it can be great to think of outsourcing back-office services that you don't enjoy doing, it can be a mistake.
Some parts of your operations like recruitment and sales are not fun to do but are critical to your business. Carefully consider which processes you want to outsource and which ones you need to keep in-house.
2. What You Should Not Delegate to a Back Office Service Provider
There's a thing called too much outsourcing. If you allow third parties to manage tasks that your company excels at, you can lose your ground. If you can delegate everything, then that means your competitors are merely a few outsourced employees away from beating your business at your own game.
So you need to ensure you're not outsourcing your core competency. Figure out what you're fundamental competencies are. You might think that's your primary business, but core competencies do not necessarily lie in the good you produce.
The key is in your competitive advantage. What sets your business apart? What makes your products stand out from your competitors? What decisions and focus define your brand?
Let's take Apple as an example. Although Apple outsources the majority of its manufacturing, they still do the design in-house. Any manufacturing company can build a smartphone, but only they can make it appear like an iPhone.
3. Look for the Right Provider
It's important to be honest and clear about your expectations and what you want your outsourcing partner to accomplish. With the plethora of back-office services that offer various market proposals, selecting one can be challenging. Consider the tips below in deciding which provider you should partner with when outsourcing back-office services.
Do Your Due Diligence
Look for an outsourcing provider with similar values and culture that aligns with yours. It's also essential to look for a BPO company that meets your requirements and KPIs. Ensure that their best feature doesn't end with cost savings but includes top-of-the-line service.
Lastly, go for an outsourcing partner that specializes in your industry and has a reliable track record.
Calculate the Costs
Before selecting one provider, make sure to compare prices between different vendors. A reliable and experienced outsourcing service provider will be able to give you a detailed breakdown of expenses so you can check if you are receiving the best solutions for the price. Keep in mind that successful businesses always prioritize both service quality and cost savings.
Plan Ahead
Plan for expansion and assess if your BPO partner can scale with you. Agility and flexibility are vital in growing a business. Make an outline of your needs and the type of services you might need to expand your company.
Ultimately, your outsourcing provider must understand your goals, work efficiently to help you achieve them, and review them regularly. You need to assess whether they're meeting the milestones you set.
4. Maintain Your Outsourcing Relationship With Active Communication
You need to schedule regular meetings with your provider to address problems and loopholes in their infancy before they obstruct the efficiency of your work. You may also consider assigning someone from your organization to oversee your outsourcing initiative. This is to ensure a smooth and easy workflow, and they can also serve as the primary messenger to discuss operational issues with your outsourcing partner.
5. Track Their Performance
Outsourcing doesn't stop after transferring the tasks to your service provider. You have to manage and track their performance to ensure they are functioning following the metrics you've set.
You can use software monitoring tools to keep track of your vendor's performance. Some of the things you can do with an employee monitoring tool include:
Monitor employee productive time to accurately measure billable hours
Integrate with existing business and project management tools like Asana., Trello, Slack, and more
Manage budgets and projects for maximum efficiency
Generate detailed productivity reports for future analysis
Benchmark productive work time to pre-set performance indicators
Tracking your agents' performance proves its importance because most outsourcing agencies charge by the hour. This way, you can ensure you are getting your money's worth.
Solutions Provided by Outsourcing Back-office Services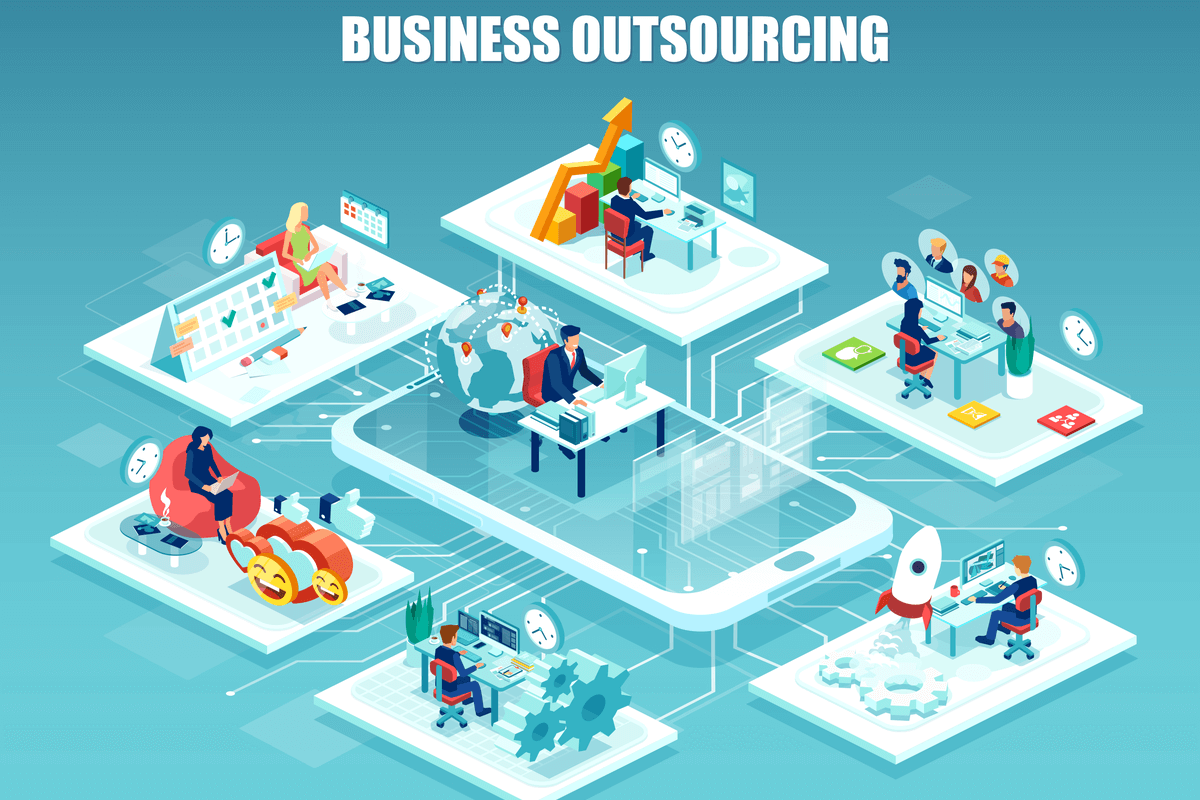 Standard services included in the outsourced back-office are data entry, invoicing, insurance administration, email management, and other admin functions. Back office outsourcing allows organizations to focus on their primary business and relieve the burden on in-house employees.
Businesses across all sizes have started outsourcing back-end functions with the future in mind. The main reason behind this move is cost reduction. In addition, plenty of businesses don't want to be burdened by hefty paperwork, which is why outsourcing back-office services has become increasingly popular.
With the benefits of back-office outsourcing services, many companies are grabbing the opportunity to experience the advantages of outsourcing. Listed below are the usual back-end roles in an organization that businesses can consider outsourcing.
Payroll
When it comes to payroll, employees make calculation mistakes when they lack expertise and proficiency in practice. Another common reason why mistakes happen is the lack of concentration.
One of the many benefits of outsourcing back-office services is getting dedicated employees who will only work on your account. BPO vendors also provide intensive training to the offshore agents to ensure their proficiency and skills for the job.
You can minimize human error and avoid incurring penalties when you outsource payroll operations to back-office services providers. The reduced number of mistakes ensures that your employees receive their compensation accurately and promptly.
Human Resource
Outsourced human resources assist businesses in getting their recruitment process in order, improving employee retention and satisfaction, and strengthening their workforce. It also helps develop a better HR approach and creates workflows and systems. All these benefits are attainable as outsourcing back-office services offers your company access to the newest technologies and more top-of-the-line HR professionals.
IT Support
IT support is one of the vital functions of any company, and it's also one of the most comprehensive in terms of outsourcing. This process is essential since the outsourced team professionally manages the concerns and questions from clients.
By taking advantage of the help of outsourcing back-office services, you can have access to the most recent computing arsenals. Outsourced IT also gives you remote assistance. Other benefits of outsourcing include high-level privacy and security, cost-efficient storage, and disaster risk reduction services.
Data Entry
This function involves extracting data kept in a particular medium and inputting that information into a computing system with the help of a data entry interface in a different medium. Put simply, data entry is the process of copy-pasting information from the source into the target system. The challenging part of this function occurs when the data entry specialist needs to research, interpret, and classify the information or when they need to apply a particular business rule before registering into the system.
Companies outsource data entry services intending to improve efficiency and productivity. In doing so, they can focus on business management rather than menial data entry activities.
Marketing
Businesses across all sizes—from startups, and SMEs, to conglomerates—all understand the value of having a good marketing plan. However, developing your plan internally consumes a lot of time.
Outsourcing marketing to a third-party service provider helps you create and implement marketing strategies across all mediums while providing your business the freedom to focus on your core function. On top of that, you can rest assured knowing that marketing experts manage your strategies and execution.
The decision behind outsourcing back-office services is crucial to free up your internal team's workload and pay attention to more pressing business concerns. That said, the benefits of outsourcing back-office services are not the only things you need to consider. You must also pick a service provider that matches your company's culture and needs.
Why Do Companies Prefer Outsourcing Back-office Services?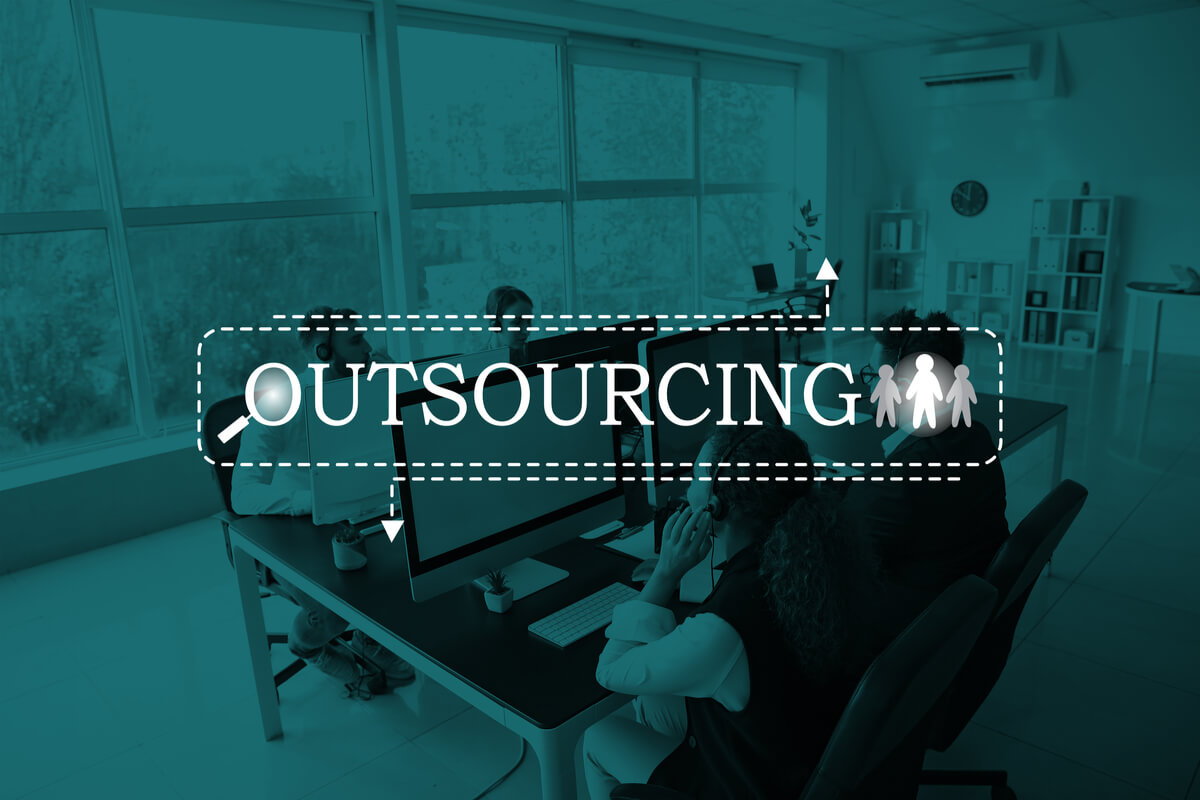 Reports show that the majority of Fortune 500 companies are losing almost $480 billion because of bottlenecks in back-office processes. The primary driver behind this includes:
The ever-increasing workload.
Leadership challenges that businesses face.
The difficulties in achieving service timelines and goals.
Furthermore, managing back-office functions tends to be expensive due to tools, facilities, and other expenses related to tech resources.
Over recent years, outsourcing back-office services, particularly for call centers in countries like the Philippines, has only grown stronger. BPO providers hired no less than 1.2 million workers in the last two years alone. And back office outsourcing companies in the country stayed resilient despite the current social climate.
Before, only larger conglomerates used outsourcing back-office services to solve inefficient work processes. Nowadays, even small and mid-sized businesses can reap the benefits of outsourcing.
Is Outsourcing Back-office Services Cheaper?
Yes, it is generally cheaper.
Outsourcing back-office services help businesses save money. The west's developed countries have higher labor expenses than developing nations like the Philippines and India. The identical work can be done for 70% less in the Philippines.
Reduced Operating Expenses
Even though you still need to pay for your outsourced services, the price is often lower than if you were to perform the functions. Lower wage patterns are part of it, but it is much more profound.
For instance, one outsourced employee who isn't working in the office means one less device you need to buy and upkeep. That also means you'll pay less for electricity to keep your computers running. Depending on your business operations, the saving can be massive.
Cheaper Labor Training Costs
Training and onboarding new employees can be expensive, especially in roles with high turnover rates, such as customer service and call center agents. Each agent may require one to three weeks of training before being fully capable of working. On top of that, you need to create training materials and hire trainers.
But by outsourcing back-office services, the BPO provider can handle the entire training procedure for you.
The Bottom Line
Companies looking to increase their profits and enhance productivity have witnessed that outsourcing back-office services are a reliable solution. Nowadays, everyone from small to mid-sized businesses to multi-national companies chooses to outsource at least one area of their back-office operations.
Back-office outsourcing initiatives offer immense benefits to those who have tried them. The significant benefits include flexibility, scalability, cost-efficiency, access to new technologies, broader talent pools, and the ability to focus on primary business activities. If you're still not outsourcing back-office services, it's time for you to invest in it.