Written by Allie Delos Santos
Managing business accounts can be expensive and complicated. Nevertheless, companies must ensure profitability, financial transparency, and business longevity, so many turn to offshoring providers in the Philippines for help with accounting.
Outsourcing accounting to the Philippines has numerous benefits. This guide covers the dos and dont's of outsourcing accounting and bookkeeping services to help you get started.
The Dos of Outsourcing Accounting to the Philippines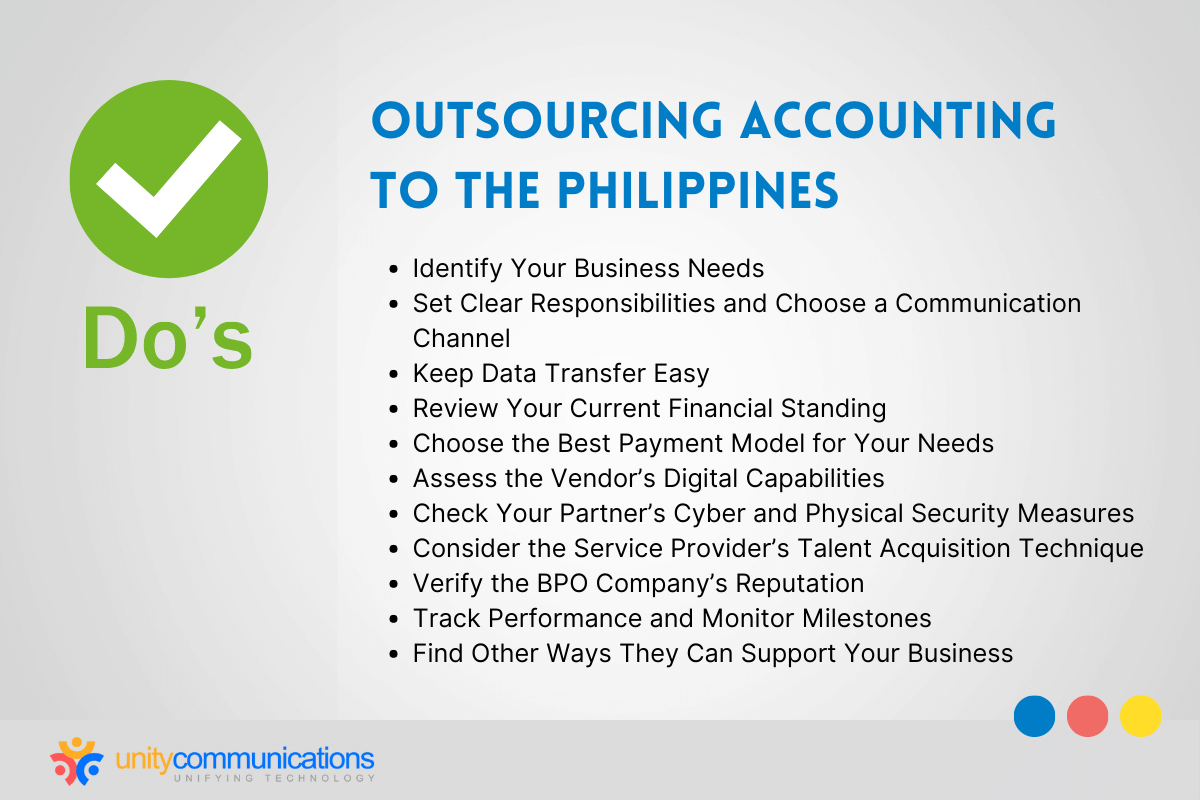 Back-office outsourcing has become a more prominent solution, thanks to technological advancements and the adoption of remote work. Organizations can now outsource various functions offshore, including accounting.
What used to be a strategy for large enterprises is now accessible for small to midsize businesses. Since every company needs payroll, financial reporting, and compliance, accounting experts are necessary.
You want a good relationship with your service provider and offshore team to ensure success and peace of mind. 
Here are some best practices to consider when outsourcing accounting to the Philippines:
Do Identify Your Business Needs
Business process outsourcing (BPO) companies offer various solutions to grow your business. Each solution comes with a different price point. That said, price alone should not sway your decision.
List your business needs and make sure your chosen vendor can meet them. Remember that high-quality service is more important than scoring the cheapest option. Rather than just helping you save money, each decision should take you a step toward achieving your goals and growing the business.
Do Set Clear Responsibilities and Choose a Communication Channel
Establishing the duties and responsibilities of your offshore accountants helps ensure efficiency and avoid confusion. Consider whether your third-party team should have access to all accounts to sync other books.
You should also determine which communication platform to use to update the team. Figuring this out from the start reduces misunderstandings. Plus, it creates a solid foundation between your in-house and remote teams.
Do Keep Data Transfer Easy
Outsourcing accounting tasks to the Philippines has inherent risks because it requires sending sensitive financial data to a remote team. You must ensure security when managing documents. Various software applications and tools make transferring data safer and easier.
Additionally, you should organize accounting information in a user-friendly and coherent manner. That way, your offshore contractors can easily understand them when working.
Do Review Your Current Financial Standing
Whether you are outsourcing accounting or data entry services, you must review your management reports and financial statements. This step gives you a better idea of your business operations and performance. Use this time to track your BPO team's work.
All organizations must report their finances for compliance to verify if their data adds up. Maintaining finances also helps you avoid cash flow problems and make smarter business decisions.
Do Choose the Best Payment Model for Your Needs
Budgets are crucial in outsourcing. Some perks of outsourcing to the Philippines are 70% savings on labor costs and predictable budgets. Explore the pricing models below and consider their pros and cons to see what suits your business best.
The fixed-price model involves parties agreeing to a set price for accounting services over a given period.
Advantages
Disadvantages

More control over the budget

Fewer surprises and risks with project results and billing

Little to no management

Less innovation and flexibility

Not suitable for complicated projects

Needs more preparation before drafting the final agreement
The time and material model is the opposite of the fixed price model. This approach bills you according to the resources and time you have acquired.
Advantages
Disadvantages

More room for innovation

More flexibility

More control over results and processes

Needs more involvement in project management

Less control over the budget

Potential disagreements about the price
The incentive-based billing model promotes the advancement of business goals.
Advantages
Disadvantages

Incentivizes vendors to go above and beyond

Promotes innovation and creativity

Builds stronger relationships

Not suitable for small companies

Disagreements are possible

Creates tension if disagreements are not solved
The shared risk-reward model enables both the vendor and client to be responsible for the project and split gains and losses. This is ideal for jointly funded initiatives.
Advantages
Disadvantages

Supports innovation

Keeps the vendor committed

Mitigates risks for both parties

Needs more project involvement

Potential clashing between two parties

Needs detailed and accurate accountability outlines
Do Assess the Vendor's Digital Capabilities
Gone are the days when accountants used only pens, ledgers, and calculators. Online accounting suites help companies organize vital records anywhere, anytime. You should take advantage of these tools to support your business. 
Check your BPO service provider's digital capabilities, regardless of whether you are outsourcing contact center as a service (CCaaS) or accounting solutions to the Philippines.
Do they support multichannel or omnichannel communication? Can they smoothly incorporate robust technologies into your process? 
These questions help ensure that your BPO partner equips remote accountants with the latest tools.
Do Check Your Partner's Cyber and Physical Security Measures
Security should be your primary focus. Your financial information is particularly sensitive. So make sure to outsource only to a reliable service provider.
Your potential BPO partner should fulfill your operational and technical security needs. Review their security protocols and ask them to sign a non-disclosure agreement.
Do Consider the Service Provider's Talent Acquisition Technique
The Philippines has a highly competitive accounting program, with only 11% of students able to finish it. Of that number, only a few pass the licensure exam. This rigorous process guarantees you will be working only with the cream of the crop.
Ask your service provider if it uses modern recruitment and engagement approaches to attract the best talent. How do they find talent in your industry? Pay attention to their hiring strategies and ways of adapting to the newest recruitment procedures.
Do Verify the BPO Company's Reputation
Writing about core values and making claims about one's ability are easy. The question is whether your prospective service provider can back up their claims.
Ask the BPO company about their tenure rates and employee retention. How long have they been in the industry? How transparent is their pricing?
These factors speak volumes about the service provider's reputation. Check reviews and feedback from previous or current clients to understand what working with the provider is like.
Do Track Performance and Monitor Milestones
A lack of control, miscoordination, and problems with supervision are common drawbacks of offshore outsourcing. Avoid these issues by making cross-border communication and collaboration the norm.
Set milestones to monitor progress. Establish attainable and measurable goals to improve project turnaround time. A key performance indicator (KPI) also helps evaluate performance efficacy.
Do Find Other Ways They Can Support Your Business
Although cost savings are the primary benefit of outsourcing accounting to the Philippines, deciding based solely on price is not smart.
Explore the other solutions your BPO service provider offers. These can be management support, ongoing training, or outsourced tech solutions. Pick a solution that provides holistic value to your organization and builds strong, long-term relationships.
The Don'ts of Outsourcing Accounting to the Philippines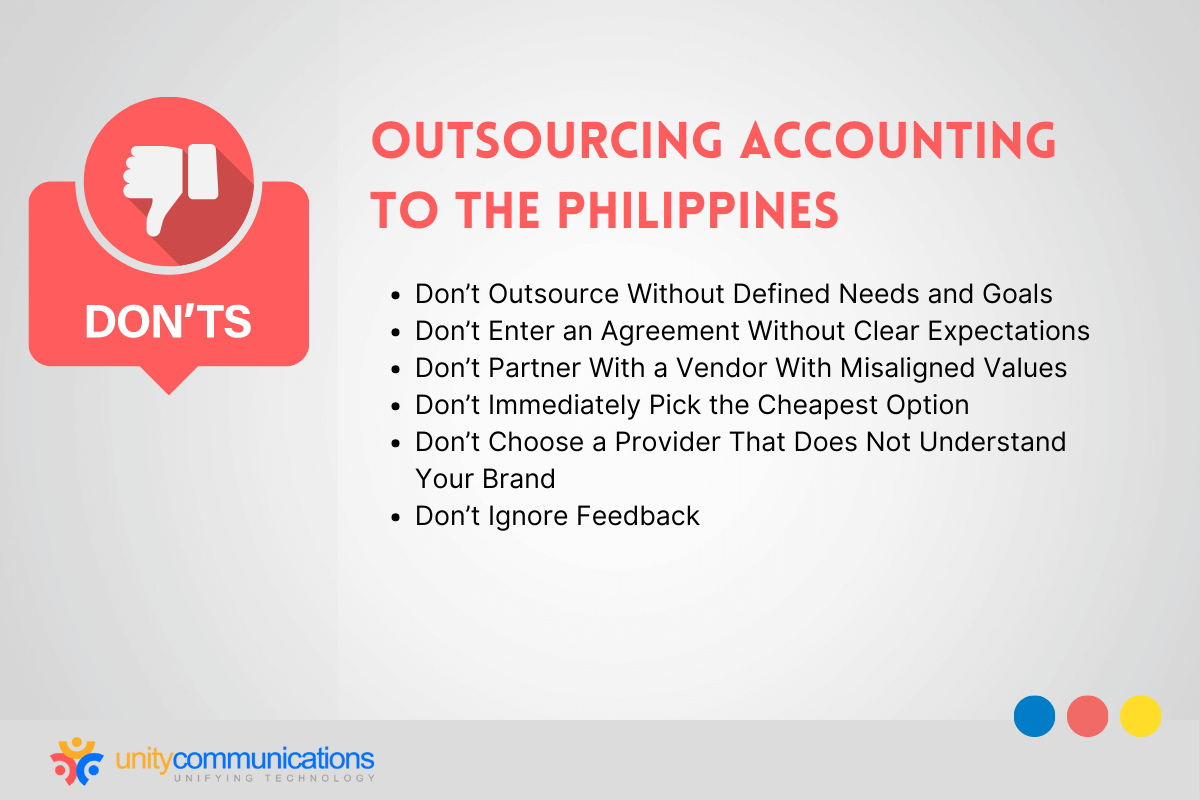 Companies tend to make mistakes when outsourcing accounting tasks to the Philippines. To avoid these common mishaps, consider the tips listed below:
Don't Outsource Without Defined Needs and Goals
Not defining goals and requirements is a big mistake. Without them, your offshore accountants would not know what to work for.
Identify how you plan to benefit from your outsourcing decision. Do you want to save on costs and time or access specialized services? Ultimately, the success of offshoring accounting to the Philippines or doing other offshoring strategies depends on what you want to achieve.
Don't Enter an Agreement Without Clear Expectations
Setting goals is not enough; you should establish clear expectations and communicate them to your BPO partner. Ideally, you set your goals before finalizing a contract and during your initial discussion. Then, ratify this by signing a service-level agreement (SLA).
Some points to include in your agreement are:
Mode and frequency of communication

Methods of handling accounting-related issues

People in charge of solving problems

Frequency of checking and reconciling accounting books 

Hours accountants should spend on accounts

Protocols for power or internet outages, security breaches, etc.
Don't Partner With a Vendor With Misaligned Values 
Selecting a provider with different values and visions from yours does not help your business. Instead, look for one with similar missions and goals as you.
Partnering with like-minded organizations creates a better working relationship with your in-house team and remote accountants. A common objective fosters fast development and growth.
Don't Immediately Pick the Cheapest Option
Paying less does not guarantee good service. Considering only the price is a big mistake when outsourcing.
Cheap services might have subpar quality and delayed outputs. You might also encounter data inaccuracies, a lack of transparency and communication, and non-compliance issues.
The bottom line is to partner with a reputable BPO firm with certified public accountants (CPAs) and custom solutions, even if it costs more.
Don't Choose a Provider That Does Not Understand Your Brand
Working with an offshore provider that does not understand your brand is a magnet for problems.
Choose a service provider that conducts thorough research to understand your needs. This process helps them develop unique solutions tailored to your needs.
Don't Ignore Feedback
If your accounting partner has sufficient experience, assign the next task before giving feedback on the first activity. You can also correct mistakes yourself instead of asking them to correct those mistakes. However, you want to avoid doing either.
Not giving feedback might work in the short term, but it can harm your remote team's work quality. The service provider might repeat the same mistake, costing you more money and time.
Communication is crucial for optimal results, so remember to provide constructive feedback after each task or project.
The Bottom Line
Outsourcing accounting to the Philippines is a big decision you should not make hastily. One tiny mistake can lead to significant repercussions and put your business at risk.
The dos and don'ts above apply whether you own a small business or a large company. Use this guide to avoid being swayed by offshoring benefits and making a hasty decision.
Accounting can be challenging to manage. Hence, Unity Communications is here to help with your financial and staffing needs. Grow your organization by partnering with us today.