Written by Dion Jay Tality
The Philippines is the "BPO capital of the world," according to Outsource Accelerator. It has become a leading outsourcing destination, significantly contributing to the global market share. It also shows no sign of stopping or slowing down.
The country is notable for its cost-efficient services, skilled talent, and strong government support. Companies should consider offshoring to the Philippines to reduce costs and improve operations.
Looking to work with an offshoring provider in the Philippines? Keep reading to discover the actual advantages of offshoring to the Philippines.
12 Real Advantages of Offshoring to the Philippines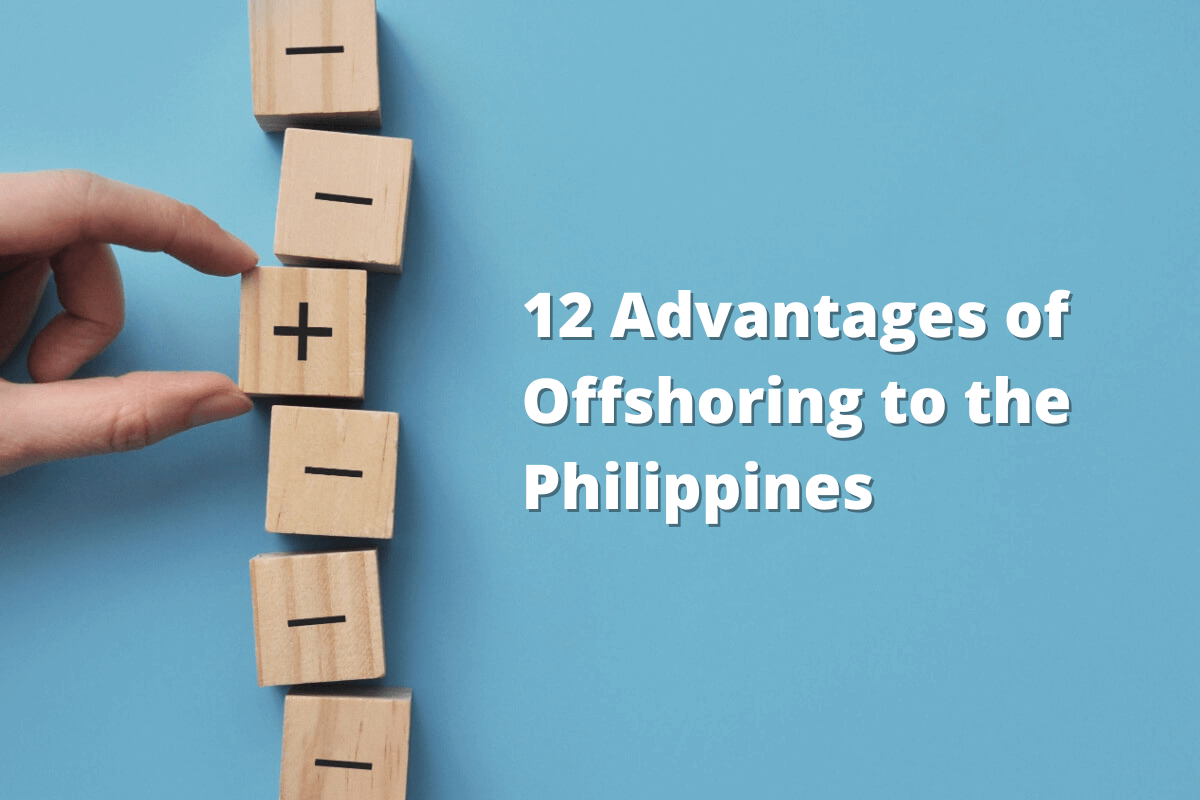 The Philippine outsourcing industry began when Accenture set up offices in 1992. Today, the country has more than 700 BPO firms serving various businesses across the globe. It has become a major player in the business process outsourcing (BPO) industry.
The numbers do not lie. The Philippine information technology and business process management (IT-BPM) industry takes up 13% of the global market. While ranking first in voice-related services, this sector could grow from $26.7 billion in 2020 to $29 billion in 2022.
The IT and Business Process Association of the Philippines (IBPAP) highlighted the advantages of outsourcing to the country as follows:
Diverse talent

Cost competitiveness

Expanding infrastructure

Strong government, academe, and industry linkages

Voice and non-voice BPO capabilities (including IT)
However, there is more to these qualities than meets the eye. If you are looking into offshoring to the Philippines, take advantage of the benefits below.
1. Lower Labor and Operating Costs
Cost reduction is the primary reason companies outsource. Labor costs in the Philippines are relatively lower than those in other countries. Operating expenses of Philippine companies, such as office rental and utilities, are also cheaper.
The Philippines generally has lower cost of living, allowing companies to reduce their overall expenditures. Offshoring to this country can cut operating expenses by 50% and labor costs by 60%. At the same time, you gain a competitive advantage by accessing its skilled and trained workforce.
2. Highly Skilled and Diverse Talent
The Philippines has a vast talent pool readily available for the BPO industry. Most of its graduates specialize in IT, accounting, healthcare, and communication. So whether you hire customer service or technical support outsourcing, you can use professionals and experts in this country.
Businesses can expect a skilled and trained workforce. The Philippine government invests more in talent upskilling through its IT-BPM Roadmap 2028 initiative. To ensure a consistent supply of BPO employees, they implement the following:
Curriculum modifications

Work internships and immersions

Talent hub creation
3. High English Language Proficiency
The Philippines is an ideal destination for businesses impacted by globalization, especially those companies operating in English-speaking markets such as the U.S., the UK, and Australia. They offshore to the Philippines due to Filipinos' high English-language proficiency.
The English language is widely spoken and understood by Filipinos and is also a medium of instruction in the country's education, from the elementary to the tertiary levels. The Philippines also ranked 22nd worldwide in the 2022 EF English Proficiency Index (EPI).
4. Shared Culture With Western Countries
The Philippines shares cultural traits with Western countries, making it an attractive BPO hub for these markets. As a former U.S. colony, the Philippines easily accommodates American companies seeking outsourced services. Its BPO firms handle customer-facing services such as customer service, sales, and technical support.
The two nations have had fruitful business partnerships. The U.S. plans to expand its investments in the Philippines on top of its current BPO and tech investments. It also seeks to explore more industries such as the energy sector.
Offshoring to the Philippines is ideal for the business growth and expansion of any U.S.-based company.
5. Strong Filipino Work Ethics
Did you know that Filipinos are known for being hardworking? That is why you can easily find Filipinos employed in different parts of the world.
Globally, the Philippines is one of the biggest exporters of skilled professionals. On a domestic level, the BPO industry is the biggest job generator in the country, creating 1.44 million direct jobs in 2021.
Hardworking people make up the Philippine BPO workforce. Filipinos have good work ethics; they treat their jobs with enthusiasm and passion. So if you want contractors serious about their work, offshore to the Philippines.
6. Desirable Traits for Customer-facing Tasks
Companies outsource to access the latest technology such as contact center as a service (CCaaS) platforms. They also seek to build a dedicated workforce with a positive attitude.
Here is the good news: Filipinos possess desirable attributes such as hospitality, empathy, and respect. These positive traits are ideal for BPO, especially for front-office tasks such as customer service.
Filipinos are also notable for their patience and resilience, which can go a long way toward business success. If you consider offshoring to the Philippines, these desirable attributes are a bonus.
7. Growing Infrastructure and Robust Communications Technology
The Philippines might need to catch up in terms of technological progress and development. However, its government has long invested in communications technology and infrastructure for its BPO market.
The Philippine government enacted the Special Economic Zone Act and later established the Philippine Economic Zone Authority (PEZA). This law aims to set up information and communications technology (ICT) hubs to attract local and foreign investors.
The BPO industry is at the forefront of this government initiative. So if you want to outsource call centers, help desks, or data entry services, this nation is a top choice. 
8. Significant Investments in Digital Cities
The Philippine BPO industry paved the way for economic growth and business expansion. The three major BPO hubs in the early years were Metro Manila, Clark, and Cebu. In 2010, IBPAP identified the Next Wave Cities as alternative hubs. These cities were also in Tholons's Top 100 Digital Cities.
IBPAP, PEZA, and the Department of Information and Communications Technology (DICT) have recently worked together to develop ICT hubs and ecozones. This time, they focus on the preparedness of 25 areas outside metropolitan cities through the Digital Cities 2025 program.
9. Foreign Investment Opportunities
The Philippine government implemented policies and programs to attract foreign investments. These initiatives include providing tax incentives, streamlining business registration, and enforcing favorable regulations. Companies offshoring to the Philippines can capitalize on these investment opportunities.
Below are Philippine laws and regulations that support foreign investments:
The

Special Economic Zone Act

provides tax benefits to businesses operating in special economic zones (SEZs). SEZs are designated areas designed to promote economic growth and development.
The

Foreign Investments Act

allows foreign investors to own and operate businesses in the country. It aims to attract more foreign capital while creating employment opportunities for Filipinos.
The

Omnibus Investments Code

consolidates the various investment incentives provided by the government. This law offers tax holidays, duty-free importation of capital equipment, and other benefits. Its goal is to encourage foreign investors to invest in priority sectors such as the BPO industry.
10. Solid Government Support
The Philippine government has been actively supporting the country's IT-BPM industry. This sector is the top contributor to the country's economy, generating $29.5 billion in revenue and contributing 7.5% to the gross domestic product (GDP).
The Philippine government's support goes back to the BPO industry's inception. It enacted the Special Economic Zone Act in 1995, which led to the PEZA's establishment.
Fast forward to the current year, and the government continues to invest in the BPO industry by:
Implementing favorable regulations,

Providing foreign investment opportunities, and

Creating ICT hubs and digital cities.
11. Growing BPO Market
The Philippine IT-BPM industry experienced significant growth in recent years. Such market growth is due to its:
Highly skilled and diverse workforce;

Favorable laws and regulations; and

Full government support.
According to Outsourcing Journal, the Philippines is one of the leaders in the global IT-BPM industry. As mentioned earlier, this industry accounts for a significant worldwide market share and will continue to grow and expand.
Companies can capitalize on this growth through front- or back-office outsourcing.
12. Proven Outsourcing Track Record
The Philippine outsourcing industry has come a long way. Today, the nation has over 700 BPO companies catering to various businesses.
Its outsourcing history speaks for itself. Its credential as the world's BPO and call center capital demonstrates its proven track record. The country has long earned reputable names and accolades in the outsourcing field.
Offshoring to the Philippines is indeed a wise business decision. The country always offers something great, whether you outsource tech solutions or customer support services.
The Bottom Line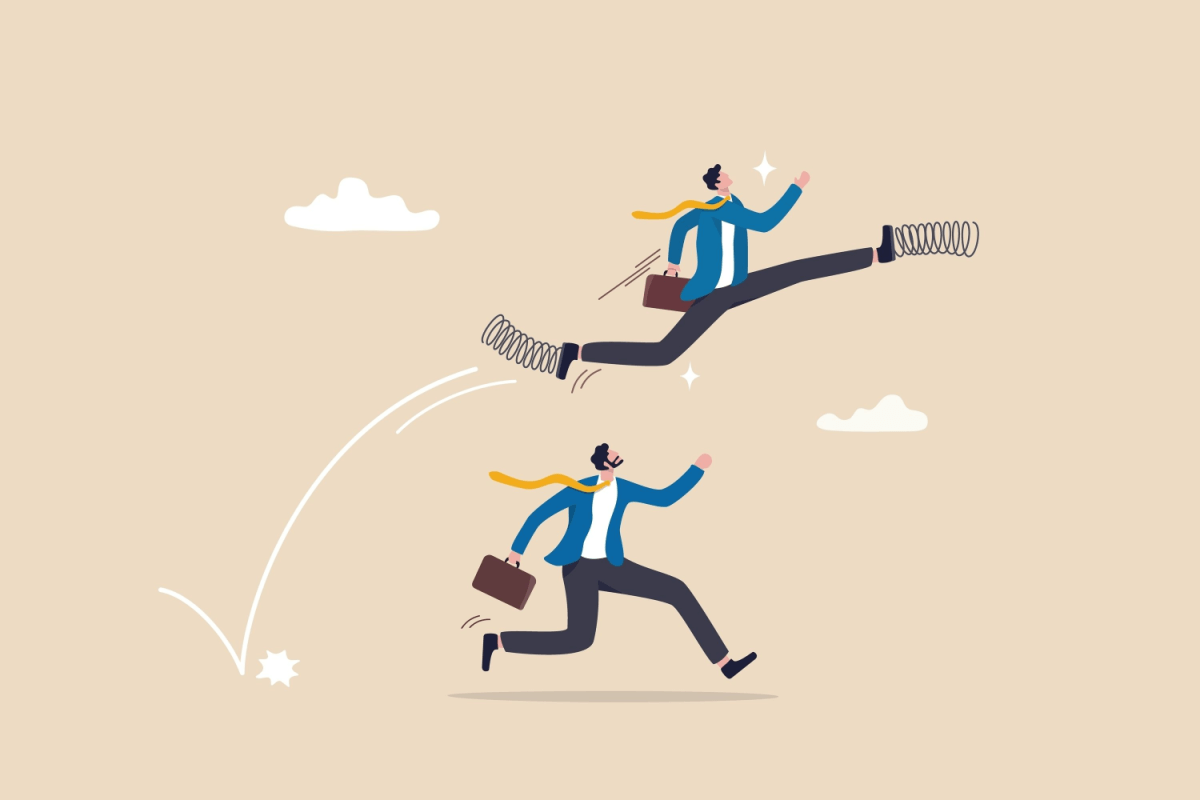 Offshoring to the Philippines benefits businesses of all sizes. From providing cost efficiency to having a strong BPO track record, the Philippines is a leading outsourcing destination.
However, if you plan to outsource to the country, do your homework. Familiarize yourself with its BPO market growth, economy, laws, and regulations. More importantly, search, screen, and select the BPO company best suited for your business.
So what are you waiting for? The Philippines has so much to offer—grab these outsourcing opportunities!