Written by Joyce Ann Danieles
Offshoring business processes to the Philippines is one of the key options for organizations looking to cut costs and boost revenue. The country offers a large pool of highly skilled and English-speaking talent. The widespread adoption of advanced technology also contributes to the quality of its service delivery.
But partnering with an overseas company often involves challenges and complex processes. 
This article contains the information you need to know when searching for an offshoring provider in the Philippines. It also addresses essential steps in managing your selected provider. 
Introduction to Philippine Offshoring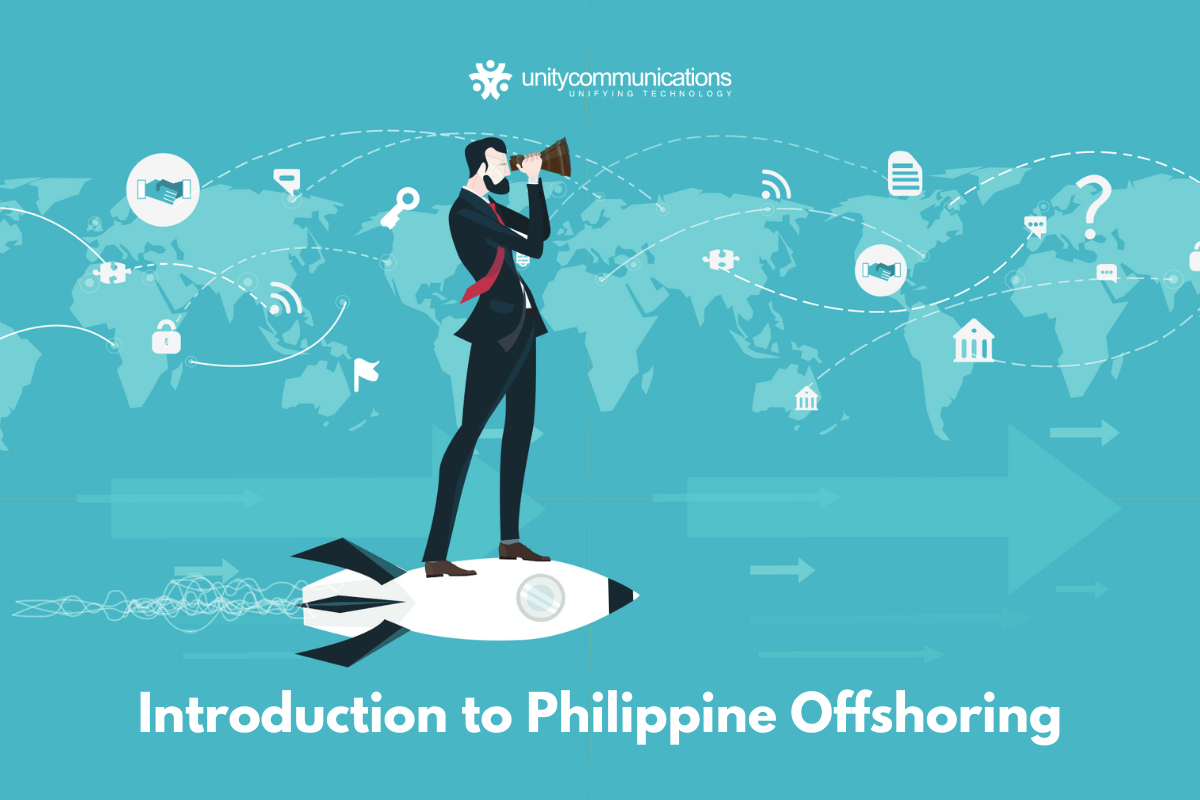 Many businesses entrust their front- and back-office functions to a non-U.S. provider for cost reduction and improved productivity. Offshore outsourcing, or simply offshoring, enables you to access worldwide talent and high-quality services without excessive spending. 
As one of the most reliable offshoring hubs in the Asia-Pacific region, the Philippines captures 10% to 15% of the global outsourcing industry. Apart from significant cost savings, the country is known for its large pool of skilled and English-speaking workers. Philippine-based service providers also use innovative technologies to accomplish the services below:
Customer service

–

e-commerce and retail voice and non-voice support

Technical support

– IT-related voice and non-voice support

Sales and marketing

– lead generation, appointment setting, telemarketing, social media management, email marketing, and digital advertising

Data entry and management

– data encoding, processing, mining, cleansing, and analysis

Finance and accounting

– accounts payable and receivable, bookkeeping, financial analysis, payroll processing, and tax preparation

Human resources

– recruitment, benefits administration, employee engagement, training, and performance management

Healthcare support

– medical transcription, billing, coding, claims processing, health information management, and clinical services

IT and software development

– software engineering and testing, website and mobile application development, and system administration

Creative services

– graphic design, animation, video editing, and content creation

Manufacturing

–

product design,

inventory management, and production
Because of the services and benefits it offers, the nation's offshoring industry is constantly expanding. In fact, the IT and Business Process Association of the Philippines (IBPAP) recorded a 10.6% growth in the outsourcing market in 2021. 
According to IBPAP, the industry also achieved $29.5 billion in revenue that same year. The growing demand for enhanced efficiency, lower operating expenses, and improved capabilities contribute to this growth.
Ways To Find the Right Philippine Offshoring Partner
Similar to developing a new business project, adopting business process outsourcing (BPO) requires careful planning. This is especially crucial when offshoring work to the Philippines. The country has different economic, labor, and security policies that you must remember.
So you must select the right service provider to guarantee returns on investment and avoid high sanctions. Let us walk you through the steps in picking the Philippine BPO company best suited to your needs.
Research the Prospects' Reputation and Credibility
Looking up prospects' reputation and credibility helps identify trustworthy and reliable offshore outsourcing providers. Since the process involves varied data and resources, you must learn to determine which information is critical. 
Consider these tips to quickly assess your potential BPO partner's industry standing:
Check online reviews and ratings of the offshore vendor you want to screen.

Turn to websites such as Glassdoor and Clutch for reviews and ratings from your prospect's previous employees and clients.

Confirm the service provider's industry-specific certifications and accreditations.

These accolades showcase the provider's expertise and ability to meet government, industry, and company standards.

Examine the vendor's website and social media presence.

This step helps you learn more about their market reach, service scope, and history. The vendor's website might also show customer testimonials.

Conduct background checks to verify the provider's legal and financial status.

Use online business data repositories such as Dun & Bradstreet or Experian for a thorough background check.

Ask the BPO company for references from their previous clients.

Contact and consult references about their experience working with the provider. Make sure your interactions help you know more about the vendor's workflow and service pricing.

Consider a site visit to the vendor's physical location to assess their operations and capabilities.

Set up an in-person meeting only if possible and deemed necessary. You can also perform a site tour through video chat to avoid the hassle of traveling abroad, especially when offshoring to the Philippines.
Expect the following benefits if you follow the steps above:
Reduce risks of fraud, financial loss, and reputational damage

Ensure business and customer data security

Establish smooth collaboration plans

Align work strategies and procedures

Avoid delays and misunderstandings

Receive high-quality service outcomes
Know the Workforce Size and Capabilities
Research a Philippine BPO company's reputation and credibility to determine your ideal provider's workforce size and capabilities. The insights you collect help you identify if the provider has sufficient workers to meet your business needs.
Moreover, understanding this factor guides you in developing a concrete offshoring plan. The more information you have, the better you can match your budget with the number of third-party workers you need. Follow these steps:
Research the Philippine BPO labor market, specifically your prospective service provider's workforce.

The resulting data gives you the approximate number of available contractors and their skill sets.

Perform interviews and assessments.

Schedule virtual or physical interviews with your potential service provider and their contractors. This helps you directly understand and evaluate what skills and capabilities they can bring to your business.

Consider cultural and language differences.

Assess your cultural and language compatibility when offshoring to the Philippines. Filipino BPO workers are highly proficient in English and immersed in Western culture, so they and your team members probably have a high cultural affinity.
Evaluate the Technology and Infrastructure
Check the technology and infrastructure once you have short-listed candidates for your Philippine BPO partner. This step is necessary when outsourcing tech solutions. The method detailed below helps mitigate the risk of technical issues and output delays that might arise during the project's implementation.
Assess the provider's technology landscape.

Seek information from company websites or directly from vendors. This informs you about commonly used hardware and software platforms and their compatibility with your systems.

Rate the vendor's internet connectivity and reliability.

Ensure your potential BPO partner's internet service is fast and stable. Otherwise, it will significantly destabilize your remote communication and collaboration. 

Investigate how the vendor protects their systems.

Since outsourcing requires exchanging sensitive data, you must ensure your selected provider implements or matches your security strategies. This helps safeguard your data against intrusions.

Note the availability of technical support.

This is especially critical when purchasing a

contact center as a service

(CCaaS) solution. Confirm whether the provider can provide quick after-sales technical assistance, especially during emergencies.

Evaluate the technology and infrastructure's scalability.

Ensure such third-party platforms can grow and adapt to meet your changing business needs.
Analyze Pricing and Potential Cost Savings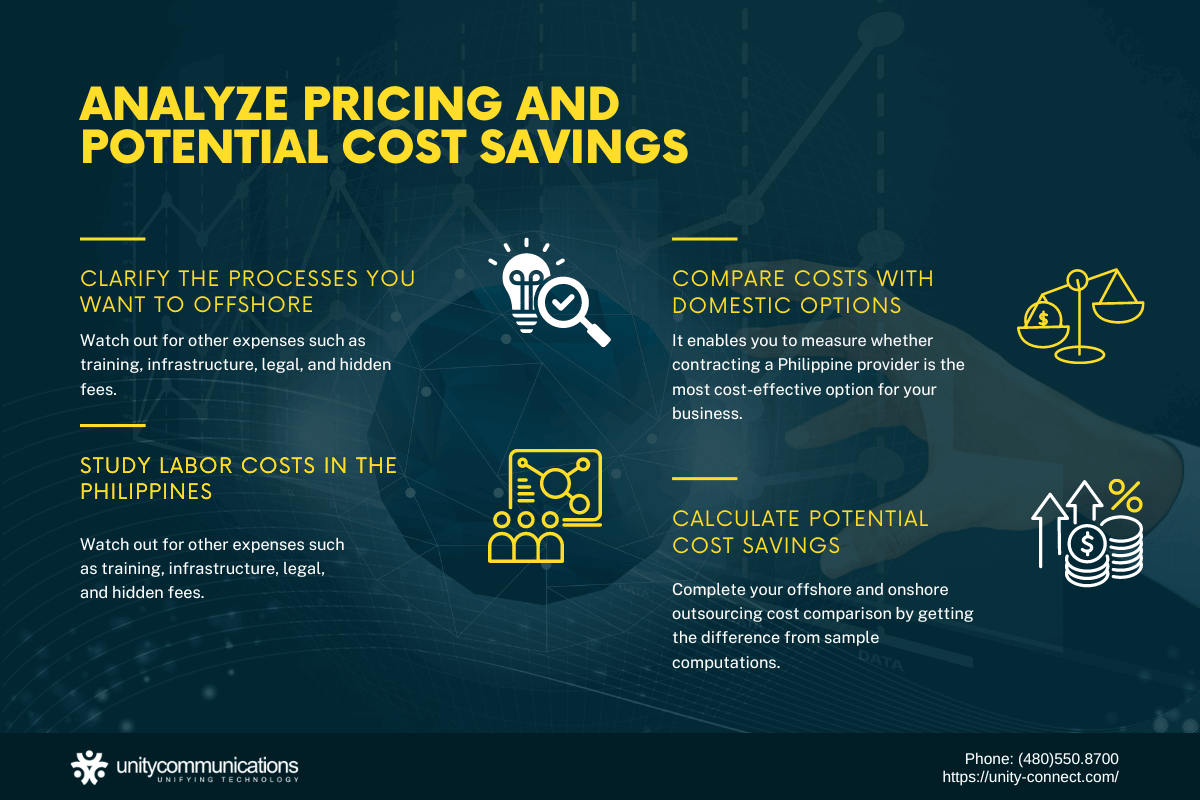 Review the country's labor costs, tax incentives, and other economic advantages when offshoring to the Philippines. Remember that you want to hire a non-U.S. service provider to cut operating expenses.
Conducting a cost analysis lets you estimate how much you can save by partnering with a vendor. This approach also helps you allocate resources between your primary and non-core activities. Analyzing your chosen provider's pricing and potential cost savings involves the following steps:
Clarify the processes you want to offshore.

Start your cost estimations by specifying the front- and back-office tasks you need to streamline. These functions can include customer service, IT support, or

data entry services

.

Study labor costs in the Philippines.

Watch out for other expenses such as training, infrastructure, legal, and hidden fees. This step lets you understand how much you can allot for the number of third-party contractors you need. 

Compare costs with domestic options.

Once you know the labor costs of offshoring to the country, perform this step. It enables you to measure whether contracting a Philippine provider is the most cost-effective option for your business.

Calculate potential cost savings.

Complete your offshore and onshore outsourcing cost comparison by getting the difference from sample computations. Invest in a Philippine BPO company if you see possible cost reduction and improved profitability.
Confirm Business Operating Compatibility
Verify your business' operating compatibility with your ideal front- or back-office outsourcing provider from the Philippines. Ensuring your working hours match with your provider despite the time difference guarantees smooth operations and avoids downtime in the future.
Trusted BPO service providers have a team capable of working during your business hours. Find the right offshoring vendor in the Philippines by following these steps:
Look for a provider that offers services during your business hours.

Visit the vendor's official website and social media accounts for such data.

Directly ask for their operating schedules during negotiation.

Discuss time zone differences to prepare for any potential issues.

Study the local government's night shift policies for budget planning.
Ensure Security and Compliance
Because offshoring to the Philippines involves sharing confidential data, you must ensure your potential provider's security and compliance rules are up to par. This way, you avoid the high cost of attack mitigation activities, penalties, legal actions, and reputational damage.
Ensure security and compliance when acquiring technical support outsourcing and other services from a Philippine-based provider by following the tips below:
Determine the risks associated with offshoring.

Such threats include those related to data privacy, intellectual property, and regulatory compliance.

Know the provider's security and compliance plan.

The strategy should detail the vendor's measures to protect your data and ensure regulatory compliance.

Look at the contractor's data protection mechanisms.

Your possible BPO partner must have established information security policies and solutions. This guarantees that your data has protection from unauthorized access.

Verify whether the service provider complies with relevant regulations.

Check whether they have the necessary certifications and regulatory approvals for data security, privacy protection, and cybersecurity.
Best Practices for Managing a BPO Provider
After selecting your offshoring provider in the Philippines, learn how to oversee the third-party team effectively. This step helps resolve work challenges and guarantee superb outcomes as you prioritize your business development efforts.
Manage your BPO company well by following these methods.
Establish joint service and security policies for safe and efficient output delivery.

These rules and regulations should cover data security, confidentiality, and the service-level agreement (SLA). You and your BPO partner must regularly review and update the documents to retain relevance and effectiveness.

Assign a point person to monitor your relationship with the vendor.

As the primary point of contact, the manager facilitates day-to-day interactions with the provider. They ensure the third party meets your requirements and expectations.

Develop clear communication strategies.

These techniques include scheduling regular meetings, producing reports, and providing updates. Such initiatives keep both parties informed about the work progress and related challenges.

Provide worker training support.

Because your team has insufficient time to train third-party professionals, prepare a comprehensive document of guidelines instead. This handbook should contain all the necessary information the BPO team needs. It helps them understand and meet your expectations and standards.

Perform consistent performance evaluation to identify areas for improvement.

Assess your contractor's progress and output based on key performance indicators (KPIs). Make this process collaborative; include feedback from your in-house team members and customers to ensure the provider satisfies your desired outcomes.
The Bottom Line
Offshoring non-core functions to the Philippines requires in-depth research and planning so that you can find the best service provider. You must know critical information about the vendor, ranging from market position to security and compliance capabilities.
The steps detailed here help you ensure long-term benefits and avoid potential pitfalls while outsourcing. The tips on handling your selected BPO vendor further guarantee returns on investment and positive outcomes. 
Do you want to start your offshoring journey? Connect with Unity Communications now. The award-winning BPO company has a well-structured and skilled team in the Philippines to help streamline your daily front- and back-office operations.