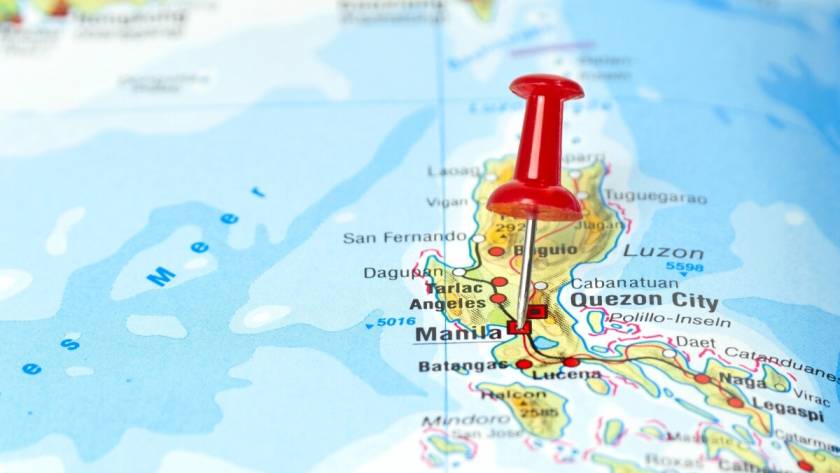 Written by Dion Jay Tality
Offshore outsourcing—or simply offshoring—has become increasingly popular over the years. Many companies outsource some of their business processes to other countries to reduce costs and increase efficiency. 
The Philippines, in particular, has become a top outsourcing hub due to its competitive labor costs and skilled workforce. Hiring an offshoring provider in the Philippines promises many benefits for businesses.
Let us take an insider's glance at offshoring companies in the Philippines to explore the ins and outs of working with a service provider in the country.
An Insider's Look at Offshoring Companies in the Philippines

The Philippine business process outsourcing (BPO) industry is thriving. The leading outsourcing marketplace, Outsource Accelerator, recognizes the Philippines as the world's BPO capital. Its longest-held title, however, is as the world's call center capital.
Learn more about the Philippine outsourcing industry in the next section.
Examples of Philippine BPO Companies
The Philippine outsourcing industry is expanding. What began as a single business contract has grown exponentially into a massive BPO network. Today, around 700 offshoring companies operate in the Philippines.
Philippine offshoring began when Accenture started offering outsourcing services in 1992. Sykes was the first to establish a multinational company in the country, and eTelecare Global Solutions later set up the first call center. Since then, many offshoring companies have sprouted, with key players dominating the BPO scene.
The top BPO players in the Philippines include Accenture, Concentrix, Teleperformance, and Wells Fargo. The country also hosts Indian BPO firms such as Hinduja Global Solutions, Infosys, Genpact, and Tata Consultancy Services. The Philippines also has many emerging players, such as Unity Communications, that offer front-office and back-end outsourcing services.
The Current Philippine BPO Market
The Philippine outsourcing industry has come a long way. The numbers do not lie. The Business Process Association of the Philippines (IBPAP) cites the key milestones of the country's information technology and business process management (IT-BPM) industry as follows:
Biggest job generator.

This sector generated 1.44 million direct jobs and 3.61 million indirect jobs for the country in 2021.
Top economy contributor.

This industry has amassed $29.5 billion in revenue, contributing 7.5% to the country's gross domestic product (GDP).
Provincial BPO expansion.

This sector is expanding its reach outside Metro Manila and to the provinces, where 30% of the total industry workforce resides.
Strengthening industry segments.

This sector seeks to fortify top industries such as retail trade, real estate development, and telecommunications.
Growth Potential of the Philippine Outsourcing Industry
The Philippine IT-BPM industry is one of its more resilient sectors. Despite the COVID-19 pandemic, most BPO firms have continued their operations through flexible working arrangements. The industry is crucial to the country's economic recovery because it provides high-value services and job opportunities.
To meet employee preferences and adapt to the new normal, the national government granted BPO firms' request to extend the work-from-home (WFH) setup beyond the pandemic. In turn, they must transfer their BPO registrations from the Philippine Economic Zone Authority (PEZA) to the Board of Investments (BOI) to continue enjoying tax benefits.
Despite these concessions, the government and key players have yet to unleash the industry's full growth potential. However, efforts are underway to ensure the Philippine outsourcing industry continues to grow and expand in revenue, workforce, and location.
According to Outsourcing Journal, IT-BPM firms will focus on business optimization, digital transformation, and talent upskilling programs. Below are key initiatives for fostering the industry's growth potential:
Accelerating digital transformation.

Technological adoption is imperative in business. Deloitte identified the

top digital enablers

as automation, single-instance enterprise resource planning (ERP), case service management, and cloud computing. The country's BPO firms should consider transforming digitally to have a competitive advantage.
Upskilling of digital talent.

The Philippines is known for its cost-effective labor; however, a need to hone digital skills exists. The government launched the

Philippine IT-BPM Roadmap 2028

to ensure a consistent supply of talented BPO workers. The roadmap aims to modify curriculums, encourage internships, and create talent hubs for upskilling.
Optimizing business processes.

IT-BPM firms should consider focusing on the ease of doing business with their clients. The Philippine government has actively supported the industry in this aspect. The Special Economic Zone Act is a perfect example that welcomes foreign investments, offers tax incentives, and streamlines the registration process.
Strengthening the nation's position.

The BPO industry should expand to

primary verticals

such as the banking, financial services, and insurance (BFSI), high-tech and telecom, manufacturing, and healthcare segments. BPO firms must keep up with regulations, capital requirements, and process optimization to maintain the country's global position.
Fortifying the IT-BPM ecosystem.

The IT-BPM ecosystem must be strengthened as well. The Special Economic Zone Act seeks to establish ecozones and information and communications technology (ICT) hubs in the country. The most recent government initiative is the Digital Cities 2025 program, which aims to host many BPO firms and serve various clients. 
Advantages of Offshoring to the Philippines 
Offshoring is a viable solution for reducing operating costs while scaling business operations. Working with an offshoring company in the Philippines offers other potential benefits. The IBPAP highlights the country's advantages as an outsourcing destination as follows:
Robust and diverse talent.

The Philippines is notable for its highly skilled workforce, with a vast pool of trainable university graduates. The industry added 120,000 full-time employees in 2020, amounting to 1.44 million in 2021. So whether you employ customer service or

technical support outsourcing

, you can use skilled professionals.
Cost-competitive services.

Labor costs in the Philippines are significantly lower than in other countries. Despite this, you can expect a highly skilled workforce that meets and exceeds service delivery expectations. Cost efficiency makes the Philippines attractive for front- and

back-office outsourcing

.
Expanding infrastructure.

The Philippine government is investing in the BPO industry's infrastructure. As mentioned, this effort started with the

Special Economic Zone Act

, which aims to set up ICT hubs. Now, the focus is on implementing the Digital Cities 2025 initiative and preparing 25 locations outside big cities.
Strong government linkages.

The government has actively supported the BPO industry, the Philippine economy's biggest contributor. It coordinates with different schools for talent upskilling and partners with various industries for ecozone creation. Such linkages will ultimately benefit your business if you

outsource tech solutions

or customer support services.
Voice and non-voice BPO capabilities.

The Philippine IT-BPM industry

ranked first in voice-related services

, comprising 13% of the global market share. Such recognition is due to the country's high English-language proficiency and dedicated workforce. The industry is further expanding its capability to offer non-voice IT-BPM services.
Find, Hire, and Work With an Offshoring Company in the Philippines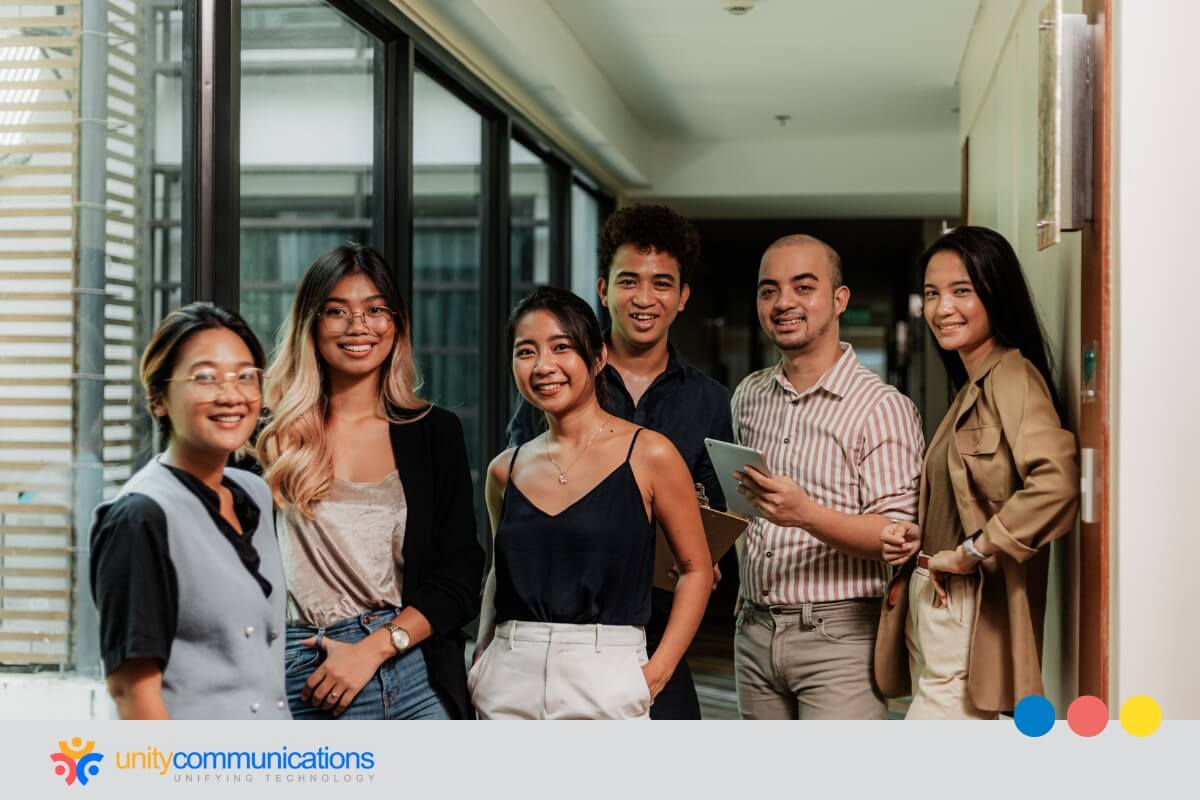 Offshoring is the best strategy for reducing operating costs and improving business operations. But selecting an offshoring provider to work with can be daunting.
We can help you pursue your outsourcing journey with ease and confidence. Follow these steps in finding, hiring, and working with an offshoring company in the Philippines:
Study the Philippine BPO market.

Determine whether the country's outsourcing market is worth your investment. Conduct more research to track its growth trajectory and familiarize yourself with the laws and regulations governing the BPO industry. These steps enable you to capitalize on the Philippine government's various initiatives and tax incentives.

Examine your business operations.

This step identifies the areas where offshoring can provide the most value. Start by identifying business problems such as high labor costs and low sales revenue. Determine your outsourcing needs. Finally, decide on business functions you must outsource, such as customer or

data entry services

. 

Look for potential BPO companies.

Start searching online to create a list of prospective offshoring companies in the Philippines. You can also get referrals from professionals and companies already outsourcing to the country. Lastly, consult government agencies such as IBPAP and PEZA for recommendations.

Pick the right offshoring provider.

Choose an offshoring company in the Philippines that suits your industry, business needs, and overall budget. When screening, consider your prospect's track record, experience and expertise, workforce and management, infrastructure and technology, business reputation, and work culture.

Create a service-level agreement (SLA).

An SLA ensures that your offshoring pursuit runs as smoothly as possible. This legally binding contract defines your business partnership with your chosen BPO partner. Include your business goals, key metrics, work scope, policies and procedures, and the consequences of a contract breach.

Set up your outsourcing operation.

Check the provider's infrastructure and technology such as its

contact center as a service

(CCaaS) software. You should also help your BPO partner provide the necessary training for the third-party team. Most importantly, establish regular communication and track your outsourcing progress.
The Bottom Line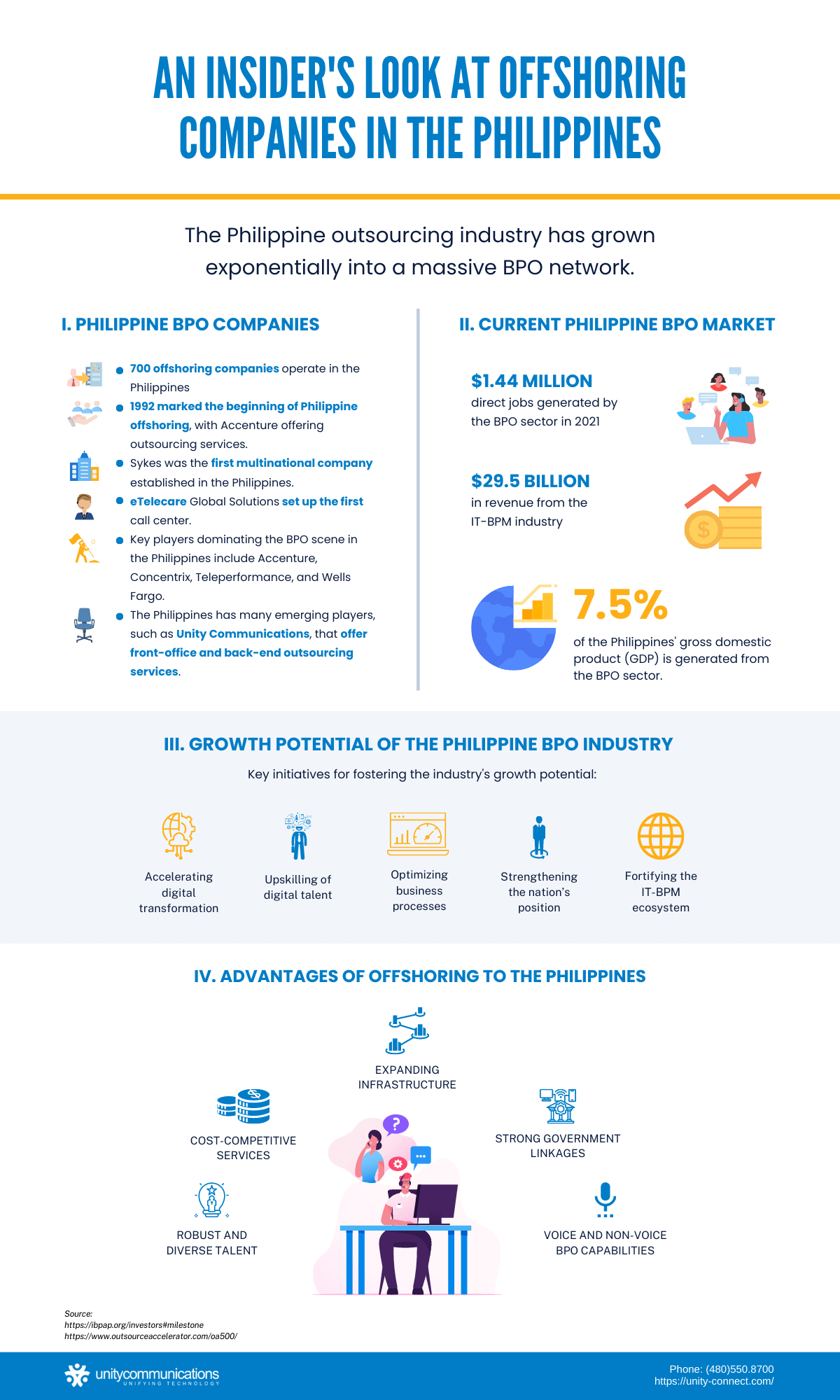 Offshoring to the Philippines is a wise business decision because it offers access to a talented workforce at a fraction of the cost of hiring locally. Apart from its cost-effective labor, you can take advantage of its strong government support, favorable laws, and ideal business environment.
Consider the valuable pieces of information discussed above when considering contracting offshoring companies in the Philippines. More importantly, follow our crucial steps in finding, hiring, and working with a BPO service provider in the country.
You can make informed business decisions by understanding the ins and outs of Philippine offshoring. Not only will you maximize the benefits of this strategy, but you will also minimize the risks of working with an offshore team.