Written by Joyce Ann Danieles
Digital transformation has pushed many businesses to upgrade their systems and processes. Among them, customer service hubs are modernizing to meet market demands. The growing need for fast and convenient consumer support drives the sector's improvement. 
Companies interested in contact centers and their services should find it helpful to know how the sector evolves. Learning about different cloud-based contact center options helps improve outsourcing decisions. Insight into the future of these centers also helps companies make informed decisions for better management.
Let us discuss the origins, current conditions, and prospects of contact centers. We will also cover how contact center as a service (CCaaS) and other cloud platforms have changed the contact center industry.
A Brief History of Contact Centers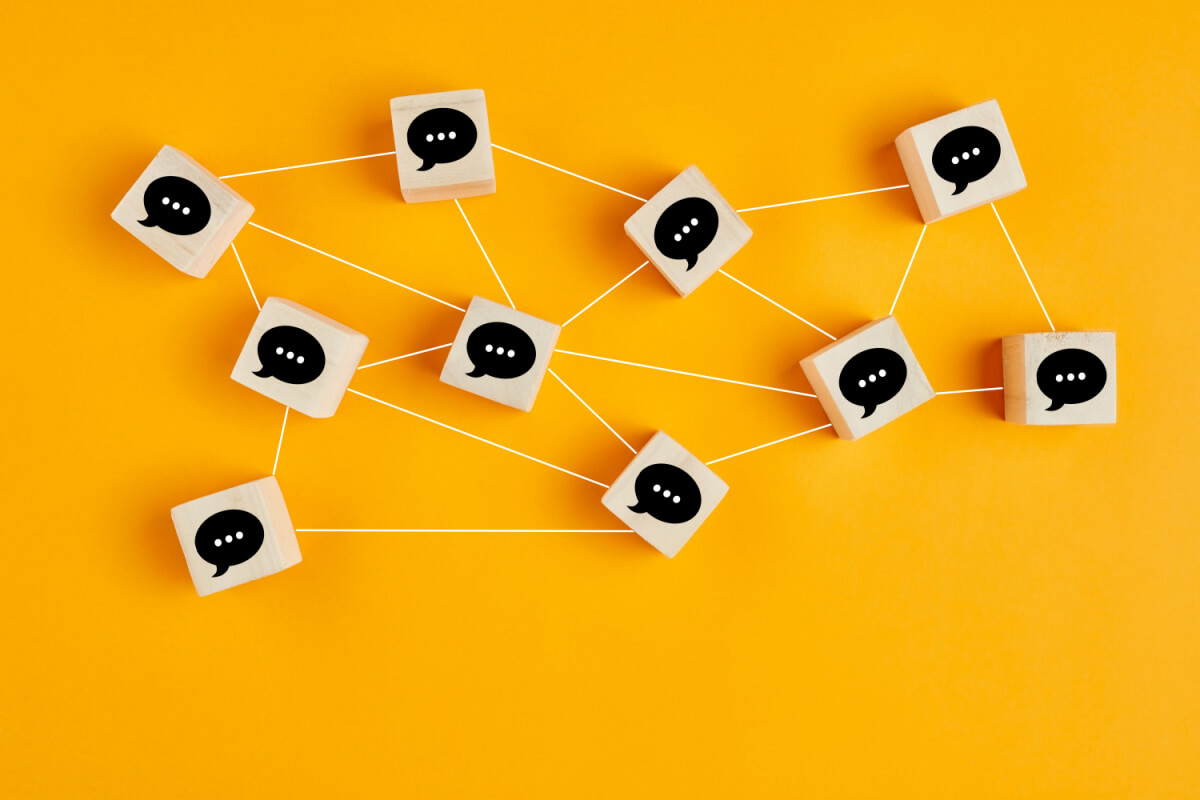 Before contact centers existed, call centers dominated the industry from the 1960s forward. Major telephone companies initially used them to manage operator inquiries. Call centers became mainstream after large enterprises adopted them for telemarketing in the 1970s and 1980s.
In the 1990s, the increased relevance of toll-free 800 numbers to support customers paved the way for inbound operations. In response to their marketing efforts, call centers started receiving and handling incoming consumer inquiries.
Technology Upgrades Gave Birth to Contact Centers
The emergence of the internet kicked off the shift from call centers to contact centers. Widespread internet access led to email becoming a popular mode of communication for consumers. Companies thus had to follow suit.
As technology advanced, various other digital communication lines cropped up. Today, customers reach out to contact centers through their preferred communication channels:
Voice calls

are the traditional way of seeking customer support. Consumers speak with agents via telephones or mobile devices.
Email

was the stepping stone to contact center adoption. Customers use the platform to send various digital materials over a network.
Live chat

is

a pop-up chat window found on a company's website. It allows customers to connect and interact with agents in real-time.
Text messaging

allows consumers to send short electronic messages using mobile devices or smartphones. Text messages are handy communication tools when internet connectivity is unavailable.
Social media

enables buyers to engage with support agents through social networks such as Facebook, Instagram, and Twitter. They can post, comment, or message businesses to share insights and issues regarding their purchases.
Video calls

are now the means of customer-company interaction for many businesses. They help ease problem resolution because agents can perform live demos.
These technologies have been increasingly adopted since the global health crisis of 2020. According to a Salesforce report, approximately 60% of digital customer engagement in 2021 occurred online. This figure is significantly higher than the previous year's 42%.
The adoption of cloud contact center options has increased worldwide as well. The expansion comes as businesses need more flexibility to support their customer service teams and consumers in remote, cost-effective ways.
The Emergence of CCaaS, UCaaS, and CPaaS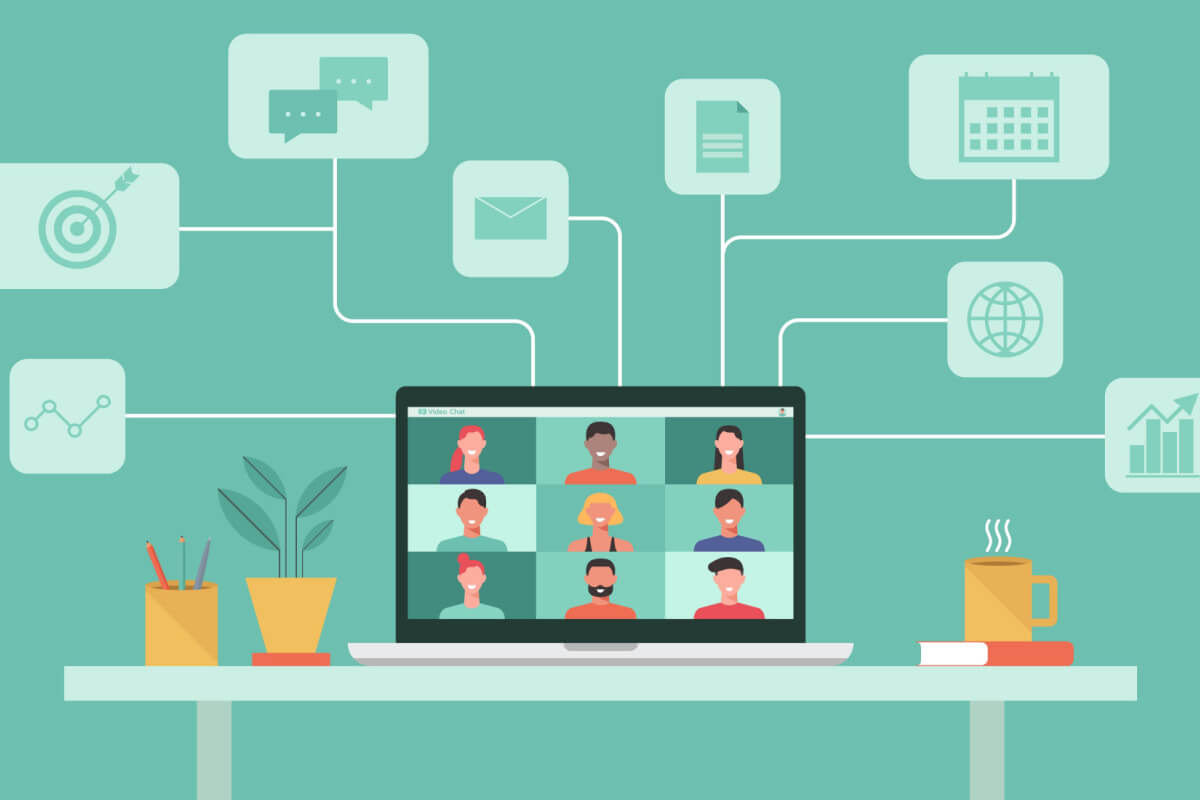 CCaaS, unified communications as a service (UCaaS), and communications platform as a service (CPaaS) have become the primary contact center options for addressing cloud-based communication needs. These platforms enable organizations to cooperate effectively and provide customer support.
The three service models help reduce operating costs by offering accessible monthly or yearly subscriptions. On top of that, businesses no longer need to acquire and maintain on-premises equipment. Providers deliver and manage all necessary resources.
Despite having similar features, CCaaS, UCaaS, and CPaaS have varied communication purposes. Explore how these cloud solutions transform contact center operations below.
CCaaS Upgrades Customer Service Delivery
CCaaS is a cloud-based contact center solution that facilitates an omnichannel approach to customer service. It integrates multiple communication channels to promptly and efficiently respond to customer inquiries. Agents can simultaneously address queries across all platforms with a single management dashboard.
Contact centers serve as the touchpoint for billions of daily customer transactions. So agents need up-to-date tools to accelerate their work. On top of merging communication channels, CCaaS has the following technology features to ease repetitive support tasks.
Artificial intelligence (AI)

mimics human intelligence to quickly and accurately perform large-scale, time-consuming activities.
Robotic process automation (RPA)

automates data collection and customer response by deploying software bots.
Interactive voice response (IVR)

combines text-to-speech technology and a dual-tone multifrequency interface (DTMF) to assist customers in providing and retrieving information independently.
Automatic call distribution (ACD)

automatically routes incoming calls to available customer service representatives (CSRs).
Email response management (ERM)

implements an automated ticketing system to organize consumer complaints and questions sent via email.
This contact option aims to provide a superb customer experience. It accomplishes this goal by streamlining data collection, analysis, and reporting. The resulting insights inform business innovations and investment decisions.
Furthermore, CCaaS empowers employees by balancing workloads and enhancing performance tracking. It enables users to complete activities by incorporating the advanced solutions listed below.
Customer relationship management (CRM)

speeds up customer data gathering, storage, and analysis.
Cloud computing

uses internet-hosted remote servers to store, manage, and process sensitive customer and business data.
Knowledge management

is a digital content repository allowing CSRs to access and review work policies, strategies, and procedures.
Workforce management

simplifies staff scheduling and task distribution. It guides team leaders in monitoring and evaluating agent performance.
UCaaS Merges Enterprise-wide Communications
CCaaS modernizes customer-facing workflow. But UCaaS focuses on unifying all in-house communication channels into a single unit. This cloud contact center option allows agents to move seamlessly among digital communication systems.
In short, UCaaS implements an omnichannel approach similar to CCaaS. But this time, it is solely for the benefit of in-house teams. UCaaS helps improve and personalize workforce collaboration with the following solutions.
Virtual meeting tools

(e.g., audio, video, and web conferencing) enable employees to hold regular training and consulting sessions online.
Enterprise telephony

lets team members communicate via phone calls. This system consists of basic features such as caller hold, call transfer, call forwarding, and three-way calling.
Unified messaging

combines different non-voice communication channels such as email and short messaging service (SMS) into a portal for hassle-free information exchange. 
Mobile voice-over internet protocol (VoIP)

allows workers to take and make calls using smartphones and tablets. They do not have to stay at their desks all day.
Business app integration

combines critical enterprise apps with VoIP communication platforms. This capability simplifies sensitive data access, retrieval, and sharing for smooth operations.
Since UCaaS runs over the internet, agents can access it using any device. Hence, they can connect in real time, even when adapting to remote or hybrid work setups. This advantage accelerates task accomplishment and increases productivity.
UCaaS has three architecture types to accommodate companies' varying operational needs. Such options help companies meet their budget allocations for cloud contact center investment. Each UCaaS model below also aligns with companies' work requirements and growth strategies.
Single-tenancy

is a highly customized UCaaS software architecture that integrates well with existing on-premises systems. This personalized model accommodates each client's needs and demands. It also provides more robust security because business data is stored and managed separately.
Multi-tenancy

hosts multiple clients in a single UCaaS platform. This model offers fewer selections for customization. However, it helps organizations save on costs of infrastructure, management, maintenance, and system updates.
Hybrid

is suitable for companies wanting to keep certain components of their unified communication systems on-premises and on the cloud. This offering assists them in balancing their budget, agility, and security.
CPaaS Scales up Existing Business Systems
CPaaS is another contact center option, serving as an extension of both CCaaS and UCaaS. The platform includes application programming interfaces (APIs), sample codes, and pre-built apps. All its tools help businesses add communication features to their existing systems. In a nutshell, CPaaS allows clients to fully customize their communication stack.
The cloud service model helps companies reduce costs because they no longer have to purchase a complete software package. Instead, they can acquire only the communication tools they need. They can integrate into their existing systems any of the following CPaaS functions:
Outbound voice APIs

assist businesses in scaling their calling capacity up or down, depending on current market trends or operational needs.
Inbound call routing

, also known as ACD, automates the queuing and distribution of incoming customer calls. This feature provides extra help during busy seasons. 
WebRTC

is a free, open framework that uses APIs to enable real-time communication (RTC) on web browsers and mobile apps.

CPaaS providers offer this solution so that clients can embed voice and video communications into their collaboration tools.
Text messaging

streamlines sending of SMS notifications, alerts, and promotional messages using business numbers.
On-demand session initiation protocol (SIP) trunking

enhances scalability and flexibility for IP-based communication infrastructure.
Multimedia and video messaging

sends and receives images, videos, and other digital formats through an SMS API. 
Social media messaging

facilitates the real-time sending and receiving of multimedia messages and files over the internet. This tool (e.g., WhatsApp, Viber, and Telegram) helps improve customer engagement by accelerating data sharing.
Number masking

connects two parties without revealing their phone numbers. This service feature protects customers' identity, sensitive data, and privacy.
Call recording

tapes interactions between agents and consumers. Team leaders use the recordings to monitor, review, and assess employee work performance. Such files also help analyze and understand changing customer demands.
Compared to other contact center options, CPaaS enhances internal teamwork and coordination. But as communication systems become more complex, businesses must spend extra dollars updating them. This disadvantage can still occur even with the CPaaS provider's support.
The Cloud-based Future of Contact Centers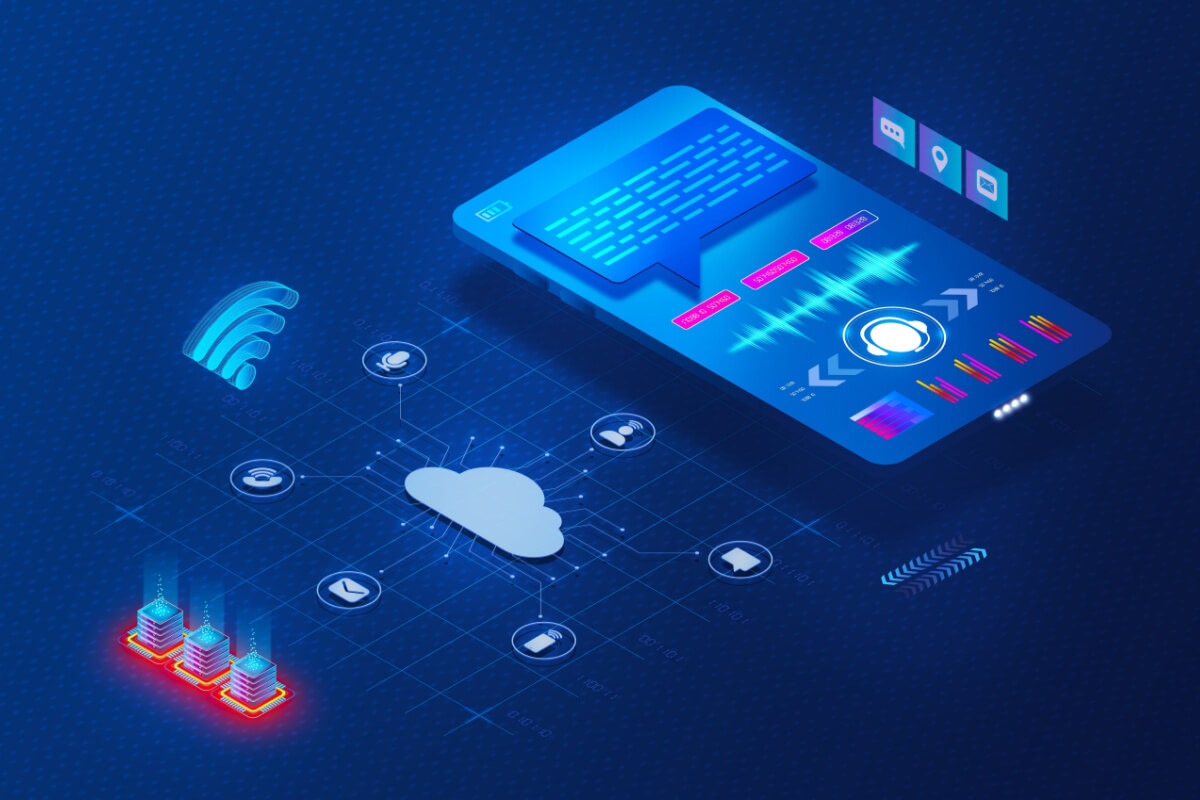 Fortune Business Insights reveals that the global contact center software market was worth nearly $27 billion in 2021. The research firm expects the industry to grow from $30.74 billion in 2022 to $78.75 billion in 2029. It further reveals that the segment will register a 14.4% compound annual growth rate (CAGR) during the forecasted period. 
According to the study, the market grows as businesses compete over maintaining loyal customers. Seamless customer service is one major advantage for their cause. The report also states that AI, cloud, predictive analysis, and machine learning (ML) will constantly advance contact center capabilities. 
Other factors influencing the growth are as follows.
Pandemic To Broaden Cloud Contact Center Adoption
The pandemic pushed businesses and consumers worldwide to follow work-from-home (WFH) policies. The transition significantly disrupted many business and production processes. But because of the need to go digital in order to stay safe, the public health crisis benefited the contact center software market.
Today, most transactions and purchases occur digitally as many customers order services and products online rather than from brick-and-mortar stores. Zendesk confirmed that, following the pandemic, over 60% of polled consumers expect quick, convenient, and effective customer service. Customers are more apt to switch brands if they do not have a positive customer experience.
Hence, companies increasingly deploy cloud contact center options to meet consumer demands. Their various solutions allow real-time, remote access to data and support services to protect employees and retain consumers. Cloud adoption might expand continuously due to post-pandemic WFH and flexible work settings.
Competitive Advantage and Cost Reduction To Fuel Industry Growth
Businesses of all sizes face fast-paced competition and increasing on-premises solution costs. One way to avoid these issues is to increase the use of cloud-based contact center software. Because this solution implements an omnichannel approach, it helps agents deliver customer service promptly and effectively.
The platform also enables consumers to seek support via their preferred communication channels. By personalizing customer support, companies can strengthen their loyal customer base.
Because contact center options are on the cloud, companies do not need to have their own on-premises systems and data hubs. They only have to invest in broadband connectivity, laptops, and related accessories to run cloud software. Plus, they might not need mass agent hiring because AI and automation handle many repetitive tasks.
Such advantages will help grow the cloud contact center segment even further by 2029. The technology's deployment and cost-effectiveness will continue to drive market expansion.
Small and Medium-sized Enterprises (SMEs) To Improve Sector Size
Based on the same study, Fortune Business Insights predicts that large enterprises will gain a considerable sector revenue share during the forecast period. Integrated cloud and AI solutions expedite contact center software adoption across big companies.
Meanwhile, SMEs will experience high growth as the competition to expand their customer base tightens. In addition to AI and automation, contact center options feature analytics tools to help companies monitor changing customer demands and preferences. The resulting insights inform and validate their strategies for achieving customer satisfaction and retention.
North America To Lead Industry Expansion
The consulting firm expects North America's contact center software market to account for the largest market share. The U.S. will witness high growth because of heightened integration and innovation in emerging technologies such as big data, AI, and cloud computing. These solutions bring analytics capabilities to customer service platforms. 
Meanwhile, Europe will sustain its contact center software growth due to its broadening service-based industries. Germany and the UK are forecast to spearhead the regional industry's expansion.
However, Asia-Pacific's contact center software market might soar during the predicted timeline. The increasing presence of IT and IT-enabled service companies in the region might significantly boost contact center options. Healthcare, finance, and retail industries are also experiencing accelerated expansion, which will impact contact centers worldwide.
Downtime and Cyberattacks To Restrain Market Demand
Contact centers encounter increasing data compromises, cyber threats, and system faults. In its latest study, Verizon recorded 23,896 cyber incidents in 2022. Of that number, 5,212 were confirmed data breaches. Infrastructure, data management, and attack surface drive the risks.
Such security challenges will continue to hinder the growth of cloud contact center options worldwide. Extended downtime due to threats will also cost businesses extra dollars for prevention and mitigation efforts. Moreover, their industry reputations might be damaged, weakening customers' trust in their brands.
Service providers must constantly explore ways to strengthen their cybersecurity. To avoid large-scale incidents, they must consistently improve and implement strict security and compliance policies. These steps help their clients continue to feel safe investing in cloud contact center software.
Steps in Choosing the Right Contact Center Option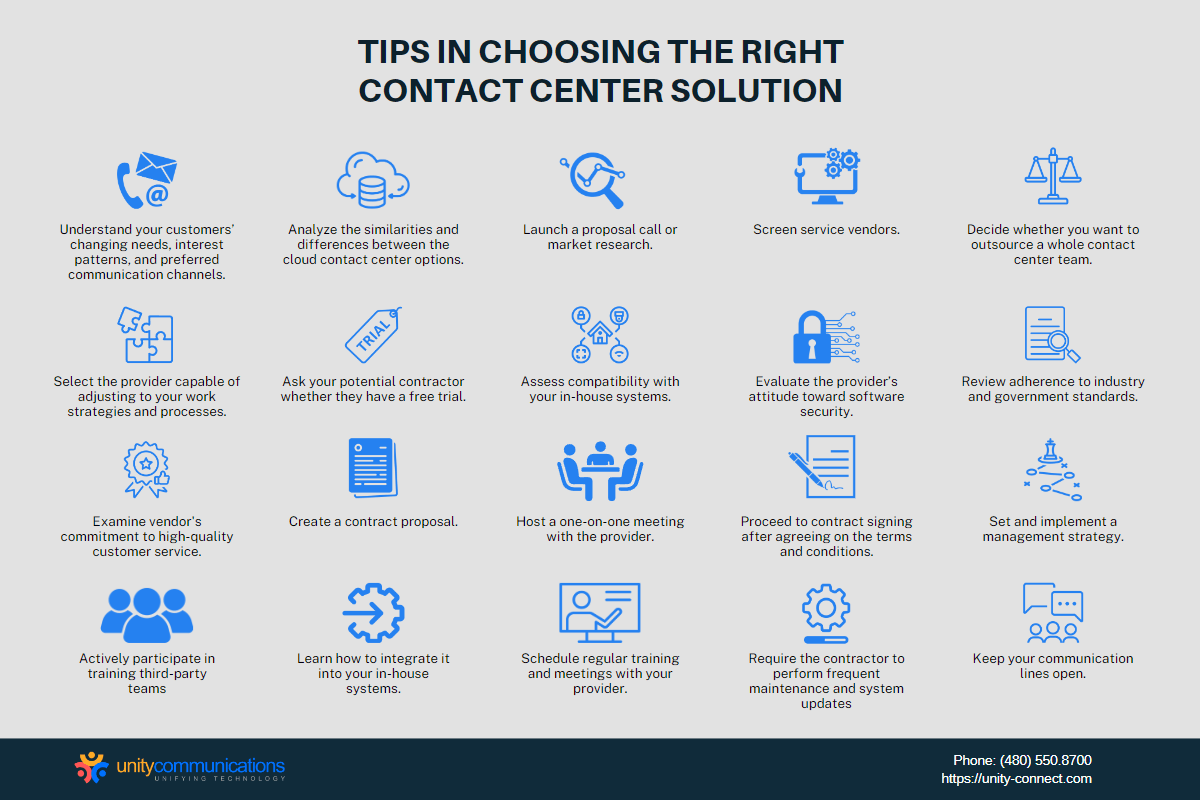 The quality of your cloud-based contact center software plays a vital role in properly addressing customer inquiries. You must prioritize creating measurable goals and feasible strategies when selecting the best customer service solution.
Such activities help ensure investment returns in the long run. Begin your hunt for the right cloud contact center software by following these tips.
Understand your customers' changing needs, interest patterns, and preferred communication channels. Also, carefully define your operational needs, customer service goals, and budget allocations. These insights guide your purchase of a cloud contact center service.

Analyze the similarities and differences between the cloud contact center options. Ensure you know how they operate, will integrate with your existing services and system, and affect your customer service function. This helps you better align your budget plans and working strategies.

Launch a proposal call or market research to identify your potential cloud contact center software provider. Seek referrals and review client ratings before deciding which contractor to choose. 

Screen service vendors after completing the third step. Check their service and pricing proposals. Study how their subscription plans and software offerings work.

Decide whether you want to outsource a whole contact center team or purchase software to support your in-house customer service department. Conduct a cost analysis to determine whether you can afford a long-term contract. This approach also helps identify whether a subscription plan fits your business needs.

Select the provider capable of adjusting to your work strategies and processes. Confirm their service offerings. Double-check whether you can afford the pricing of their service package.

Ask your potential contractor whether they have a free trial. A trial allows you to test the features of their cloud contact center software. It lets you determine whether their labor, infrastructure, and other resources match your needs.

Assess whether the vendor's software offering is compatible with your in-house systems. Ensure you can easily integrate their cloud solution into your enterprise software. This step helps avoid conflicts, system faults, and high mitigation expenses in the future.

Evaluate the provider's attitude toward software security. Examine how they respond to system vulnerabilities and cyber threats. Also, check their risk mitigation rules and the ways they are implemented.

Identify how the contractor adheres to industry and government standards. Make sure they perform frequent compliance reviews. This step will determine which business areas need further prioritization and improvement.

Examine the vendor's commitment to high-quality customer service. You must still emphasize service quality even if your goal for outsourcing is to reduce costs. Remember that low-quality service drives loyal customers away.

Create a contract proposal. Include your objectives, work conditions, service needs, and pricing. Set your terms, policies, and procedures for the contract duration. 

Host a one-on-one meeting with the provider. Be transparent and exchange insights with them. Carefully align contract terms and conditions. Do not forget to confirm payment processes and set regular consulting sessions.

Proceed to contract signing after agreeing on the terms and conditions. Discuss the transition if you decide to outsource an entire third-party customer service team. Talk about how to set up the contact center software if you select the subscription plan. 

Set and implement a management strategy for your third-party team or purchased software plan. Assign a point person to handle this project. 

Actively participate in training third-party teams to familiarize them with your products and services. This step helps agents respond appropriately to consumers facing issues with their purchases. 

Work with your provider when setting up the contact center software. Learn how to integrate it into your in-house systems. By doing so, you can easily identify and address any issue with the platform in the future.

Schedule regular training and meetings with your provider. This helps enhance agents' knowledge about your company offerings. You can set it weekly, biweekly, or monthly to still focus on your core projects.

Require the contractor to perform frequent maintenance and system updates for your contact center software. Ensure your security definitions and patches are always up to date to avoid risks.

Keep your communication lines open. Use online messaging platforms to connect with your provider in real-time. Such solutions enable you to promptly reply to your contractor in an emergency.
The Bottom Line
Digital transformation is fueling the widespread deployment of cloud software to upgrade contact center operations. Global challenges and changing market trends also boost demand for fast, personalized customer service.
However, understanding how contact centers evolve is crucial for enhancing consumer support. Knowing the various cloud-based contact center options also validates investment decisions. A glimpse into the future of cloud customer service hubs also helps prepare for upcoming challenges.
Team up with Unity Communications to maximize your cloud-native contact center software. The award-winning service provider offers a robust CCaaS platform that helps you retain your loyal customers.