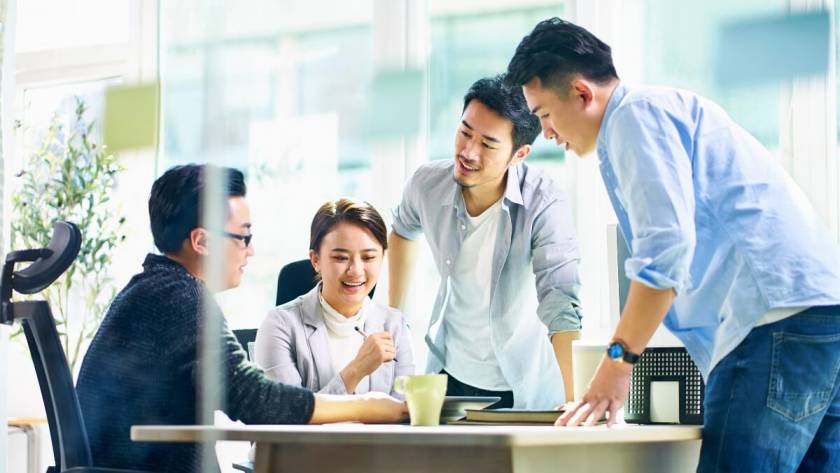 Written by Joyce Ann Danieles
Recent pandemic-related challenges pushed many consumers to prioritize online purchasing of goods and services. As digital transactions continue to increase, consumers are demanding more convenient and personalized customer service. 
Small, midsize, and large enterprises thus tap into contact center as a service (CCaaS) companies to address those demands. CCaas vendors combine cloud, automation, and analytics tools in a single solution to accommodate changing customer preferences.
Explore the capabilities of CCaaS providers with this guide. Here, we share the benefits of CCaaS and tips for finding a partner company.
What Are CCaaS Companies?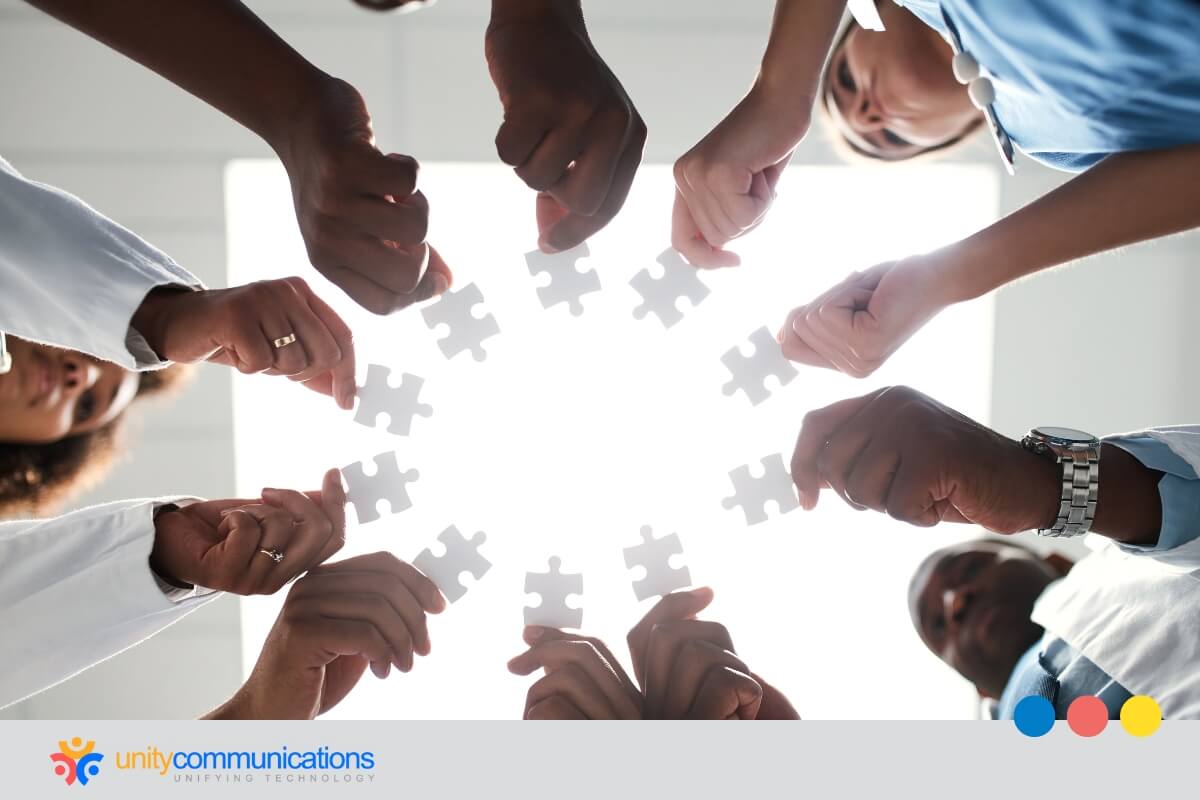 CCaaS providers develop, offer, and manage cloud-based contact center software. This omnichannel solution helps you deliver excellent customer experience via the internet. Through its toolset, it streamlines the following types of contact center services.
Inbound.

Responds to incoming customer inquiries, product questions, and complaints.

Outbound.

Contacts consumers for promotions, research surveys, and telesales.

Automated.

Provides self-service options such as chatbots.

Hybrid.

Combines and

delivers all the services mentioned above.
What Does CCaaS Do?
CCaaS merges communication channels into one dashboard to deliver fast, personalized customer service. This capability allows your customer service representatives to seamlessly and effectively respond through the following media.
Voice Calls.

This capability enables customers to talk to agents through telephones and mobile devices.
Video Calls.

This option allows agents to engage with customers through live audio-visual calls using videoconferencing apps.
Email.

This helps

consumers send long-form complaints regarding purchases with supporting digital attachments.
Live Chat.

An option that facilitates real-time customer-agent conversation through a pop-up chat window on company websites.
Social Media.

This capability lets

buyers easily reach out to support agents via social networks such as Facebook and Instagram.
Text Messaging.

This enables consumers to send short electronic inquiries to agents when internet service is unavailable.
In addition, optimizing CCaaS helps you understand changing customer needs, engagement preferences, and buying behaviors. Cloud software has automation and analytics tools to expedite data collection and analysis. The resulting insights can inform your efforts for product and service improvements.
What Does CCaaS Include?
CCaaS companies provide the platform on a pay-as-you-go basis; you pay only for your specific communication needs. You also have the option to access all features through monthly or yearly subscriptions. Below are the common solutions included in the contact center software.
Artificial Intelligence (AI).

Simulate human intelligence to ease repetitive tasks.

Interactive Voice Response (IVR).

Automatically answer calls even without live agents.

Cloud Computing.

Facilitate data storage, access, and retrieval over the internet.

Machine Learning (ML).

Use statistical models and algorithms for data analysis.

Robotic Process Automation (RPA).

Automate customer service operations.

Natural Language Processing (NLP).

Help computers understand text and speech.

Speech Recognition.

Recognize and transform spoken words into readable text.

Voice Biometrics.

Validate identities using unique customer voices.

Automatic Call Distribution (ACD).

Simplify inbound call routing.

Email Response Management (ERM).

Handle customer concerns sent via email.

Customer Relationship Management (CRM).

Organize customer records.

Knowledge Management.

Consolidate work policies, procedures, and strategies.

Workforce Management.

Streamline staff scheduling and task distribution.
Top Seven Benefits of Working With CCaaS Companies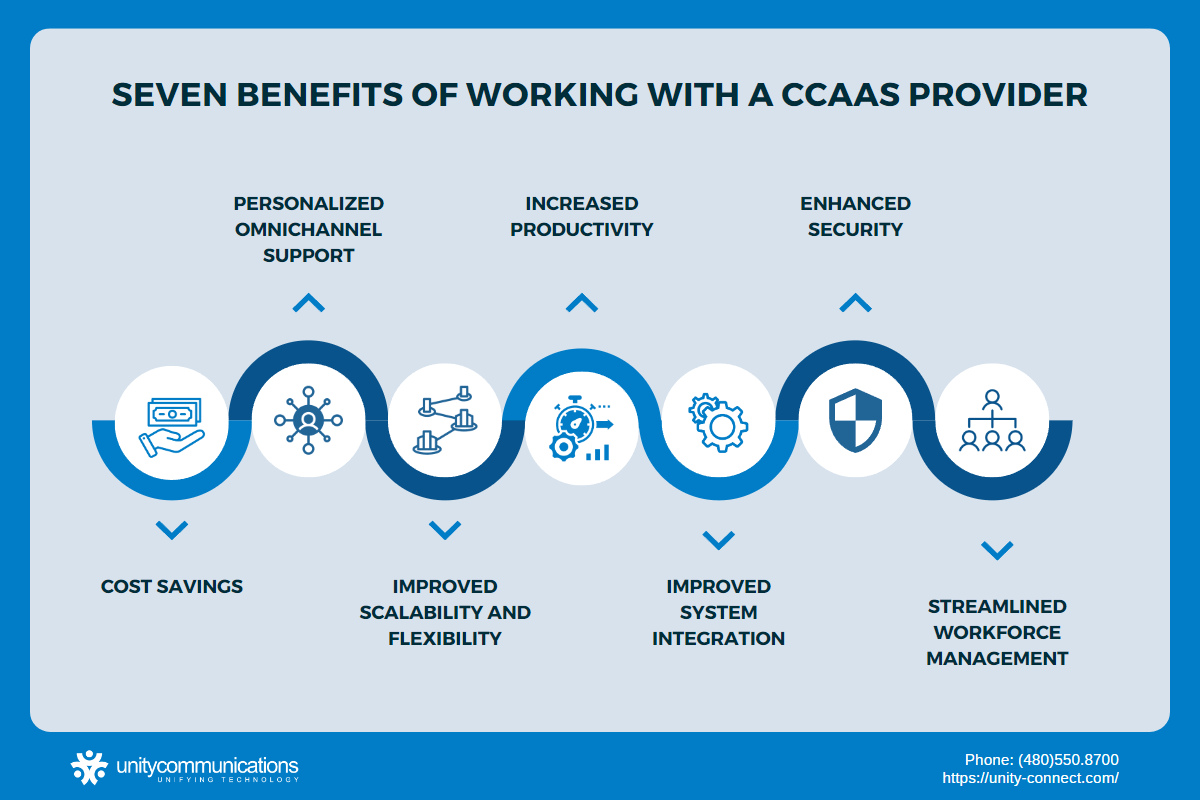 In its latest report, Future Market Insights (FMI) reveals that as of mid-2022, the global CCaaS market was worth approximately $4.5 billion. FMI expects the industry to reach $16 billion by 2032 at a compound annual growth rate of nearly 14%.
According to the research firm, the market is growing because more people are using cloud software to handle repetitive tasks with minimal or no human intervention. Businesses use those solutions to organize customer interactions and deliver a superior experience. 
Here are the key benefits of teaming up with CCaaS providers.
1. Cost Savings
Software vendors help reduce labor, infrastructure, and real estate expenses. CCaaS is easier to manage and run than on-premises contact centers because it is in the cloud. You need only workstations and internet service to start running the platform.
That means you do not need a big building to house customer service workers, data centers, and physical communication systems. You can perform data management, collaboration, and task completion remotely.
Moreover, you no longer need to hire many in-house or third-party customer service agents. These features free up your employees' time to focus on projects that help your business grow.
As mentioned, CCaaS companies offer their solutions through pay-as-you-go or subscription setups. Such payment models help save on costs because you no longer have to spend much for every resource.
2. Personalized Omnichannel Support
Consumers want to engage with support agents through their preferred communication channels. Zendesk's CX Trends 2022 report says that 93% of 3,500 buyers polled will continue to buy from businesses that offer their preferred customer service options. Another 90% express their loyalty to brands offering a personalized experience.
Time is money, and this applies to your business and customers. Customers seek fast and convenient service when encountering issues with their purchases. In the same study, Zendesk warned that customers would leave brands if they failed to meet such demands.
Third-party CCaaS vendors help you achieve personalized and accelerated support. This cloud platform enables an omnichannel approach to customer service. That means all inquiries made through different communication systems appear on a single dashboard for agents to review.
The capability allows them to provide buyers with fast problem resolutions and product recommendations through their chosen medium. Ultimately, CCaaS guarantees customer satisfaction and retention by giving your customers what they need and want.
3. Improved Scalability and Flexibility
Procuring and implementing CCaaS enables you to easily adjust your customer service operations. The platform helps you customize your work strategies during off or peak seasons. It lets you add new system functionalities or expand operating capacities if necessary.
These benefits help your agents adjust to changes in the market without affecting their performance. They are ready to complete their daily assignments regardless of the situation.
The cloud software reduces downtime even when you do not have an internet connection. After all, it is a problem that is easier and faster to fix than broken communication systems and data centers on-site.
Your increased service reliability and accessibility strengthen your loyal customer base. Customers will always buy from you if they are happy with how well you answer their questions. Good customer experience leads to an increase in your sales and income.
4. Increased Productivity
Every day, your customer service teams deal with massive amounts of data and inquiries. Managing all this information is hard without digital solutions and new technologies. The resulting issues, such as delayed tasks, lead to employee burnout and poor performance.
Working with CCaaS companies enables you to address such gaps quickly and economically. Their cloud software offerings have various automation tools to streamline repetitive tasks.
These capabilities automatically detect urgent and high-priority inquiries. Your support staff has more time to focus on the important, high-touch problems that specific customers have. They can also focus on analyzing the market and giving you useful insights, allowing you to improve products and services.
5. Improved System Integration
Providers ensure the compatibility of their CCaaS platforms with your in-house CRM systems. Because the third-party software also has a CRM feature, combining it with your own makes it easier for customers and agents to work together to solve problems. Your agents get access to data necessary for personalized customer interactions.
Because CCaaS runs on the internet, your team has a real-time overview of task distribution and progress even when teleworking. The cloud computing feature allows team members to share files, exchange ideas, and communicate smoothly. This benefit boosts their productivity and avoids backlogs.
6. Enhanced Security
IBM said in its 2022 report that 45% of data breaches occurred in the cloud. The technology giant noted that organizations with public clouds encountered more than $5 million in average data breach costs. This is a significant increase compared to the over $4 million average for those with private clouds. 
Knowing the figures, you might think investing in cloud contact center software is unsafe for your business. Cyberattacks cost millions of dollars to monitor and resolve. If you let your guard down, such incidents might require you to spend even billions.
But partnering with a trusted CCaaS company allows you to avoid these challenges altogether. They undergo regular third-party security audits. A good software provider also adheres to the following security best practices:
Product Security.

Implement identity protection procedures to combat malicious actors. The vendor standardizes role-based administrative access to the software control panel, password management, and two-factor authentication.
Network Security.

Use enterprise-class firewalls. The contractor executes robust intrusion prevention and detection strategies. It also has powerful network access control.
Privacy Protection.

Carry out strict privacy policies and procedures. The provider complies with all North American and European data security and privacy standards.
7. Streamlined Workforce Management
An essential factor in delivering superb customer service is your support agents. They engage directly with consumers to answer concerns regarding company products and services. Their effective communication skills help keep buyers loyal as they work to solve problems.
Thus, you must empower support agents by providing good benefits and compensation packages. You must also ensure a balanced distribution of workloads to avoid overwork and burnout. Working with CCaaS companies assures smooth workforce management.
The cloud contact center has automation tools you can use to give your agents the same number of customer service tasks. The omnichannel system lets agents respond quickly and effectively to customer questions over different channels.
Moreover, CCaaS analytics solutions simplify employee performance tracking and evaluation. These tools easily spot an agent's ability to meet daily targets and accomplish routine tasks. They also notify you of barriers hindering agents from achieving customer service objectives.
These insights are actionable and can improve agent training and upskilling. They hint at what new technologies and important tools your team needs to work better. Once you have the trust and loyalty of your employees, you can expect high customer satisfaction ratings and business growth.
Eight Steps in Choosing the Right CCaaS Provider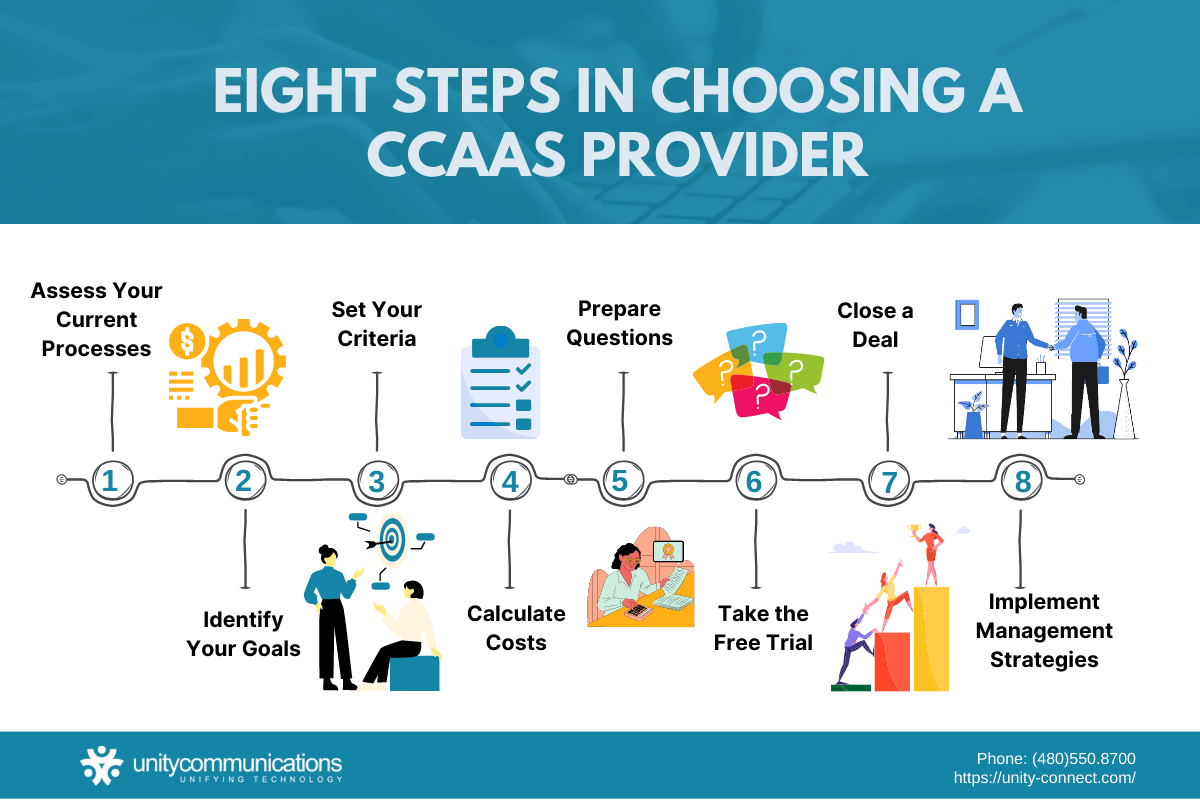 Customers who do not get fast, personalized help flood your business with low ratings and bad reviews. Increasing backlogs and unresolved in-house problems also upset your staff. These gaps result in lower productivity and delayed revenue generation.
CCaaS reduces the strain of having to deal with customer inquiries daily. The cloud software expedites customer service by analyzing large amounts of data and answering the same questions more than once. These advantages let you prioritize your core functions.
Follow these eight steps to find the best vendor and ensure you get a reliable platform. These measurable tips guarantee returns on your CCaaS investment.
1. Assess Your Current Processes
Before you look for CCaaS companies, you need to gauge the current state of your customer service operations. Determine your pain points. Identify which resources you need to deal with repetitive tasks and increase your daily productivity. Pin down the challenges preventing you from delivering an unmatched customer experience.
Before you buy and implement CCaaS, ask yourself whether the solution will help you organize your work and support services. Determine its usefulness by answering the questions below:
How much can the platform help me save?

How can I personalize and speed up customer service with CCaaS?

How does the software improve scalability and efficiency?

How will the solution match my existing enterprise systems?

How can I best manage risks with CCaaS?

How will the platform help me facilitate work-life balance?

How can I prioritize my business growth?
2. Identify Your Goals
The first focuses on determining your business needs and areas for improvement. Now, it is time to list your objectives for partnering with CCaaS companies. This helps you track progress after acquiring the cloud contact center software. This step will tell you if the platform helps you grow your business and attract loyal customers.
Try the SMART strategy when defining your desired outcomes. Your customer experience goals should be:
S

pecific – simple and easy to understand

M

easurable – motivating and quantifiable

A

chievable – attainable and tangible

R

elevant – realistic and reasonable

T

ime-bound – time-sensitive
Suppose you are an online seller of smartphones and related accessories. You want to hire a CCaaS provider to help increase the number of your loyal consumers by 50% during the first half of 2023. This is a SMART goal because:
You specify your desire to contract a CCaaS vendor to help broaden your loyal customer base.

You want to measure your target growth by working toward a 50% increase in the number of loyal consumers.

Your goal is attainable because the provider's CCaaS platform includes advanced tools to personalize and accelerate customer service.

The objective is relevant because it increases positive customer ratings and product sales.

It is time-bound because you want to achieve the goal within the first half of 2023.
3. Set Your Criteria
After figuring out your current operations and goals, develop criteria to help you choose the right CCaaS company. This step helps you decide whether the provider fits your customer service plans and budget. 
A good contractor must:
Have a cost-efficient CCaaS offering

Have a strong market reputation

Have excellent service history and a high trust rating

Be transparent and support seamless data exchange

Emphasize high-quality cloud software

Have flexible payment terms

Be scalable

Prioritize stable communication and collaboration

Provide rapid software management assistance

Comply with strict security policies and procedures

Value data privacy and protection
4. Calculate Costs
When partnering with CCaaS companies to meet your contact center needs, you should plan carefully and create a budget. Otherwise, a single mistake can result in a competitive disadvantage and wasted capital. A wrong decision might also delay your primary projects and increase backlogs.
For a successful CCaaS investment, conduct a cost analysis to see whether deploying the platform will help your business in the long run. The decision-making process helps confirm what might happen if you buy cloud contact center software. You will also learn how the software will impact your operating expenses by performing the following steps.
Clarify whether you want to procure the full or partial features of CCaaS.

Compute in-house costs you can save by buying the platform.

Calculate the total cost of purchasing the software.

Deduct software acquisition costs from in-house expenses.

Proceed to procurement after identifying potential cost savings.
5. Prepare Questions
Once you have finalized your criteria and cost analysis results, screen your prospective CCaaS partners. Make a standard list of questions to ensure a vendor's CCaaS offering has all the features and requirements you need.
This way, you can easily compare and contrast which provider and CCaaS product best meet your customer service needs. Here is a list of questions to guide your screening process.
What features and functionalities make your platform unique?

Do you have client references who can verify your claims?

Where do you host your software?

Where is the geographic location of your service nodes?

How do you deploy your CCaaS?

What are your payment terms and service-level conditions?

What are the inclusions of acquiring the software?

How many agents can the platform accommodate?

Do you offer a free trial?

Do you offer software training for staff?

How do you implement data security policies and procedures?

How do you adhere to compliance rules?

Which third-party systems, tools, and apps can integrate with your solution?

What are your disaster or emergency recovery strategies?

Does your software use multiple availability zones?

Is the platform deployable to various regions?

Who is your primary customer base?

Can I obtain the data I need to enhance my customer service operations?

Do you charge extra fees for system updates and maintenance?

What are your post-sales processes for ongoing success?

Can I opt out of the service offering anytime?
These questions help you identify which of your potential providers values transparency and high product quality the most. Their answers also guide you through developing a concrete CCaaS investment plan. Such insights allow you to set expectations and align budget allocations.
6. Take the Free Trial
Do not hesitate to test products first when evaluating CCaaS companies. The free trial allows you to use any platform's features and functionalities. It helps you determine whether the software fits your customer service needs without any cost. 
Trying out the product first also gives you an idea of how to set up and operate the platform. This way, you will know how fast and convenient the software is. It gives you an idea of the learning process your agents will go through when you buy and implement the platform.
This marketing strategy is the best way to showcase the products' value from the providers' end. They gain important feedback to improve their offering. Use these free trials to help you decide which CCaaS solution to buy.
Time-limited

enables access to the platform within a specified period. The trial usually lasts between two weeks and a month.
Feature-limited

disables a vital function or feature in the software. This insufficiency urges you to buy the full version. 
Nagware

gives you access to all software features. However, the service nags you periodically to purchase the entire product.
Usage-limited

controls the number of times you perform a particular action within the platform. For instance, the number of times you answer social media inquiries is only up to 10 clicks.
Hybrid-trial

combines different trial types. It often combines time-limited, feature-limited, and usage-limited trials.
No trial

offers a money-back guarantee when buying the product for the first time. But you are free to cancel your subscription if you are unsatisfied with the platform.
7. Close a Deal
After careful planning and assessment, close the deal with your selected CCaaS provider. Make sure to end the terms and conditions of the agreement to avoid problems and conflicts in the future. 
Here are the things to do when finalizing a deal:
Meet the vendor personally or virtually.

Review every contract term and condition thoroughly.

Tackle and combine working strategies and policies.

Schedule a one-time session for agents' software familiarity, setup, and usage training.

Discuss possible resolutions for unforeseen issues related to the platform.

Confirm billing and payment options.

Sign an official contract.
8. Implement Management Strategies
Your CCaaS investment does not conclude with the contract signing. You must keep in touch with your provider to ensure smooth deployment of the cloud contact center software. 
Make sure your vendor immediately responds to your concerns in case of unexpected issues with the platform. Such situations include system updates, random errors, and maintenance activities. Doing so lets you keep customer service operations on track and focus on your main tasks. 
Therefore, you need a well-developed strategy when working with your CCaaS partner. A concrete action plan allows you to maximize the software's benefits. It determines potential growth areas to advance your customer service capabilities.
Your brand-new CCaaS operation will come with some risks, as does any implementation. You must engage in fault management and identify cyber threats before they compromise your platform and operations. Ensure the efficient management of cloud contact center software by:
Delegating an employee to monitor the solution and coordinate with the provider

Communicating frequently with the vendor, especially during complicated software issues

Training your agents to familiarize themselves with the platform after updates

Monitoring your monthly billing and subscription payments to avoid sudden shutdowns
The Bottom Line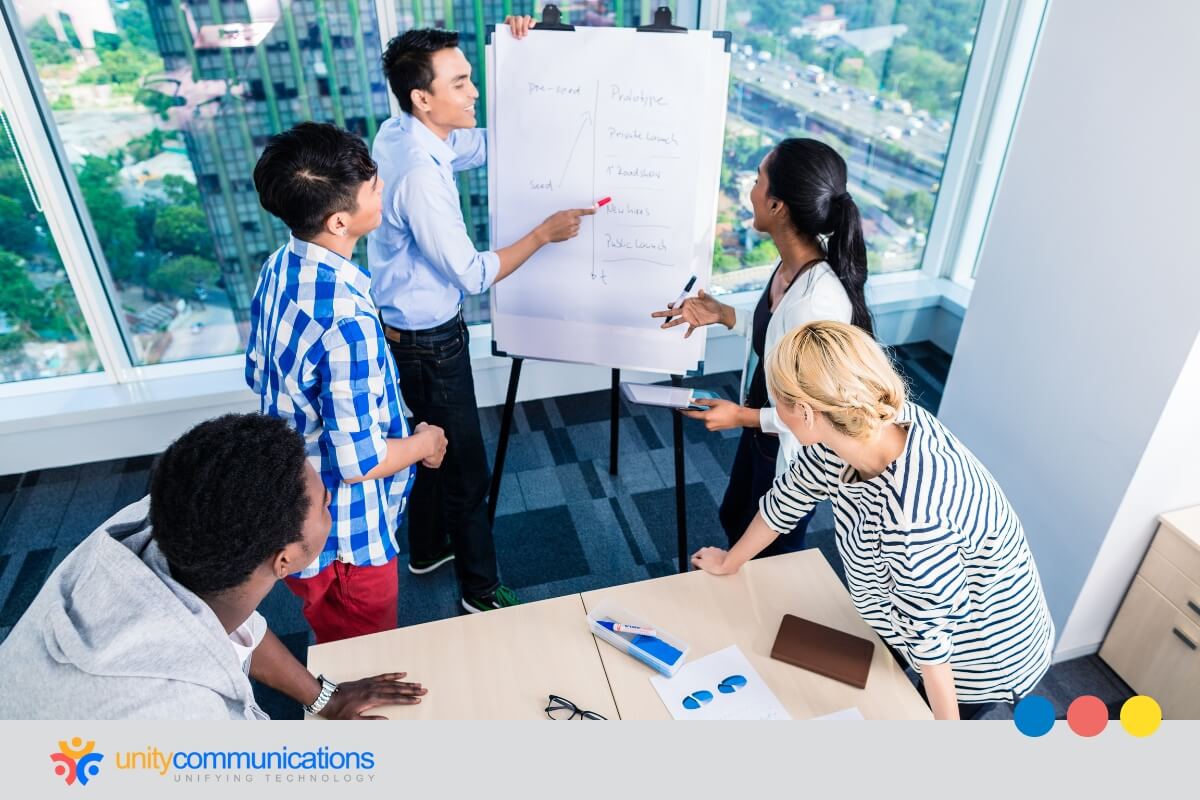 Customers rely on digital services to purchase the goods and services they rely on. But as technology improves and problems worldwide persist, they want more personalized and easy-to-use customer service online. Hence, many companies acquire and use CCaaS to meet those demands.
CCaaS providers combine cloud, automation, and analytics solutions in a single platform for easy engagement and customer retention. Follow our guide to choose the right CCaaS company and fully reap the software's benefits. This complete guide teaches you the step-by-step selection process for CCaaS providers to help you achieve your goals.
Don't wait any longer! Contact Unity Communications today to begin your cloud contact center experience. The award-winning service provider offers a robust cloud-based solution to boost your customer service.