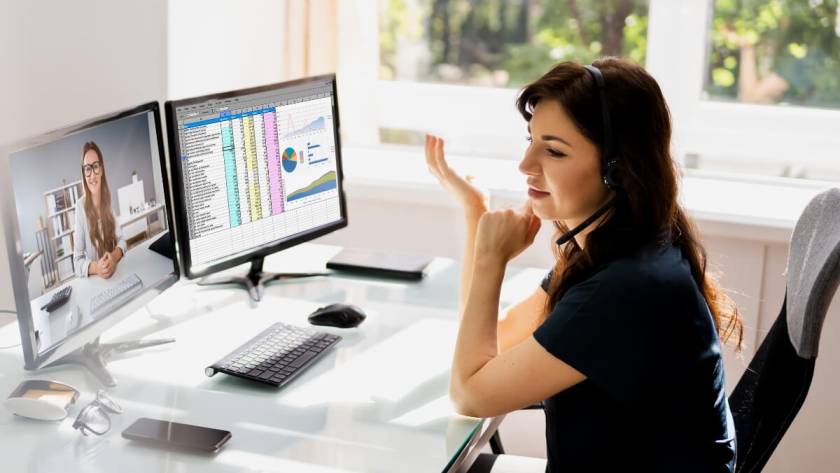 Office phone systems offer businesses of all sizes a means of handling their incoming and outbound calls. As they essentially manage call volume and routing, these systems are commonly accessible in VoIP (voice over internet protocol) and PBX (private branch exchange).
Choosing the right business phone system could make or break your bottom line. It is a major decision that enterprises take that could impact their financial and operational performance. 
To help your organization find the perfect solution that fits your needs, we have listed 19 of the best office phone systems that are currently available. Each list consists of a summary of the vendor along with the pros and possible downsides of its services. 
Our Best Office Phone Systems guide includes the company's track record, types of services, client reviews, pricing, benefits, potential issues, and customer service feedback. This will aid you in your decision to choose the right service that meets your requirements. 
Our List of Best Office Phone Systems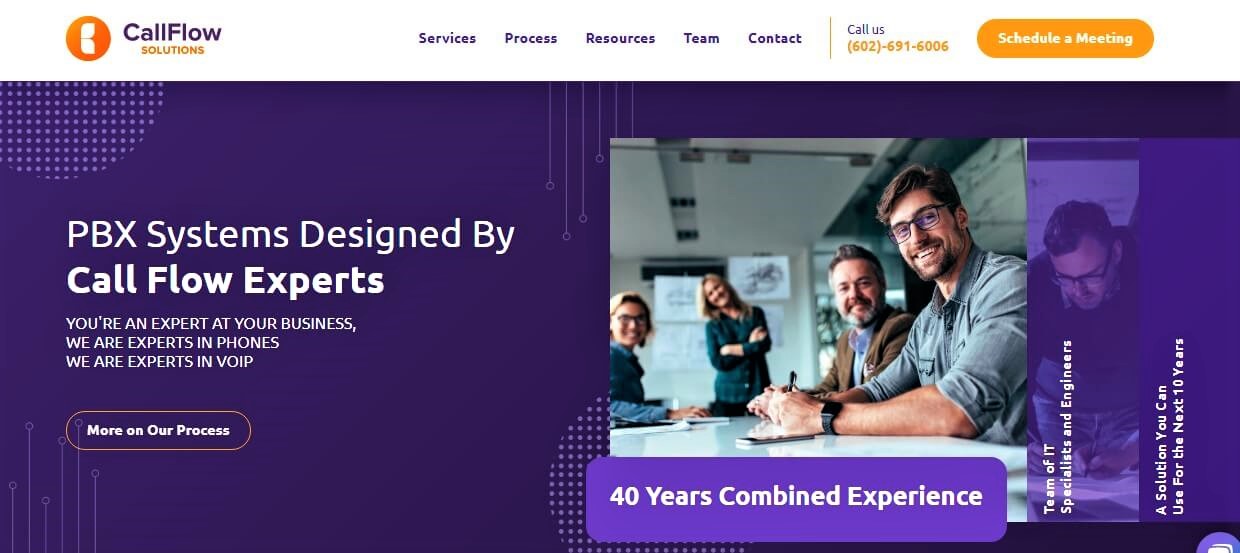 1. Call Flow Solutions
Headquarters: Gilbert, Arizona
Services offered: call flow designs, VoIP systems, PBX system navigation, internet service, business phone systems, small business, and unified communications as a service (UCaaS)
First, on the best office phone systems list is Call Flow Solutions. The provider has more than 40 years of combined expertise in communications systems, such as business phone & VoIP systems, call flow, and PBX system navigation. Steve Wiggins, IT director for manufacturing at warehousing company Handling Systems Inc., notes that the Call Flow system is a  "very well planned and executed project." It not only helps the business map how sales calls are handled but also offers a simple way to keep recordings for disputes. 
The Arizona-based phone system provider has an extensive track record, among them: 242,781 phone system extensions provisioned; 7,812 VoIP phone systems designs implemented; 491 whiteboard sessions; 256 daily configuration changes; and 507 greetings recorded. 
The firm's team of IT specialists and engineers offers free-of-charge consultation services to help clients design a system and compare all types of phone systems. After the design and recommendations, the group is also involved throughout the implementation process to manage and check the project. 
For pricing quotes, please contact the company for details. 
Pros
Guarantees the lowest possible cost, the best terms, and extensive experience

Does not charge fees for the expertise and call flow designs. Works with vendors as referral partners 

Provides the best office phone systems design in three easy steps: discovery, design, and execution

Its experts came from leading phone system manufacturers, including Mitel, Verizon, ATT, Ring Central, and Avaya.
Cons
Less brand recognition due to its current small-sized operations 
Visit Call Flow Solutions here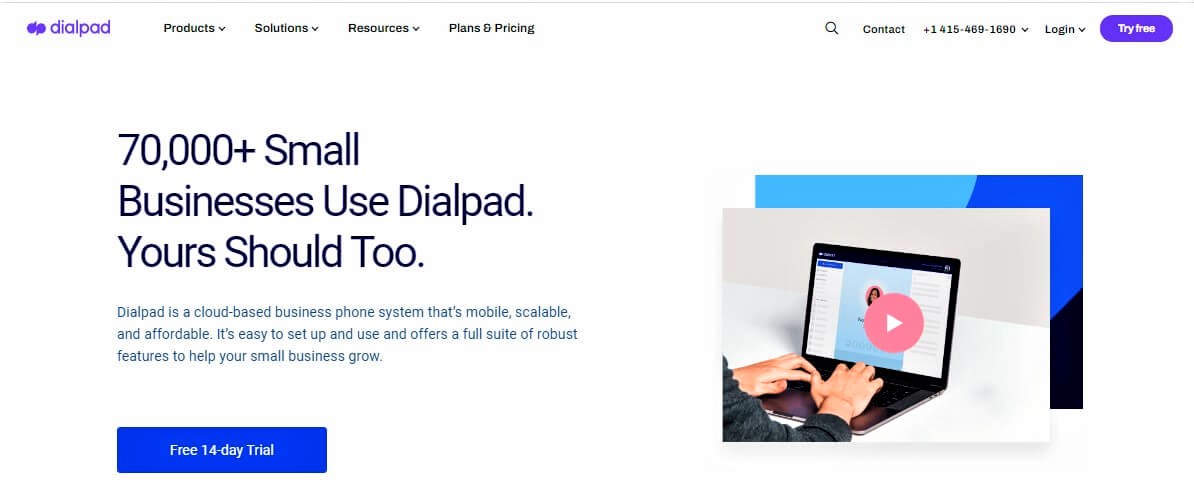 2. Dialpad
Headquarters: San Francisco, California
Services offered: business services, telephony, telecom, and communications
A cloud-based business phone system, Dialpad helps its clients turn conversations into opportunities and make better calls at any time and any place. Established in 2011, the company has a platform that provides an easy-to-use but professional phone experience.
Its services include cloud call centers, enterprise phone systems, sales coaching, dialers, and video meetings, all of which are integrated with the current AI (artificial intelligence) technologies for smarter calls. 
Among the provider's main customers are Domo, Xero, Motorola Solutions, WeWork, and Uber. Since its founding, it has received investments from various institutions, such as Work-Bench, Felicis Ventures, Amasia, Andreesen Horowitz, GV, Section 32, Scale Venture Partners, GV, ICONIQ Capital, and Salesforce Ventures. 
Chad Pierce, head of building technology at WeWork, says the Dialpad has one of the best office phone systems because of its "hands-on management and customer service" from the entire team. 
Dialpad offers a 14-day free trial and three pricing tiers (starting from $15) — standard, pro, and enterprise. Please contact the company for additional details. 
Pros
All-in-one communications — talk, message, and meet in one app

AI-enabled customer service and sales with inbound and outbound support

Simple to use

 that allows businesses to quickly communicate with their clients and vendors as well as see call logs and messages
Cons
One of the concerns is that not all calls get through. Some calls register as "calls missed," and no notifications were sent, according to a customer. 

A reviewer says the issue with Dialpad is that "when I get a callback, sometimes it won't ring, and it will list as a missed call."

One user encounters a delay notification on the mobile phone. "It rings an hour later. I missed the call from my computer." 
Visit Dialpad here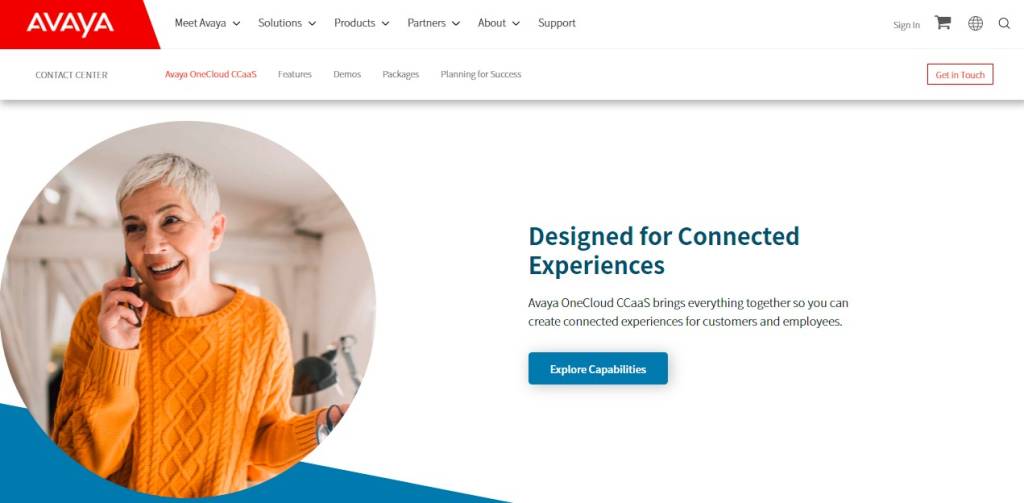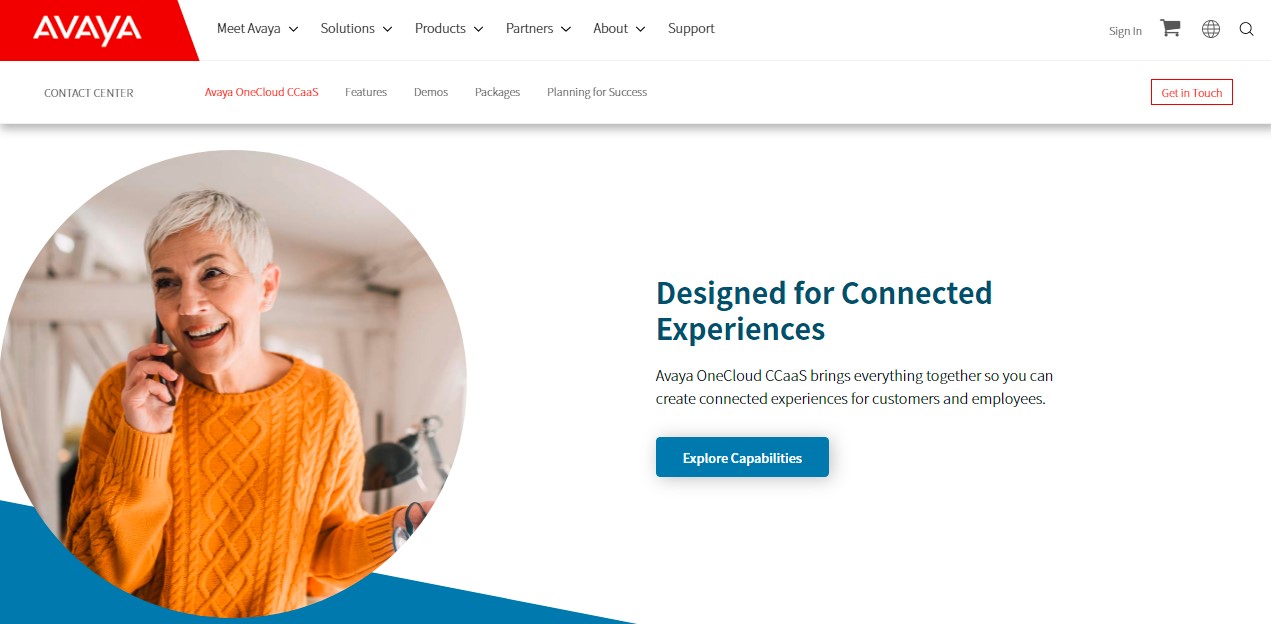 3. Avaya 
Headquarters: Durham, North Carolina
Services offered: cloud computing, unified communications, small and midsize business, UCaas, communications platform as a service (CPaaS), contact center as a service (CCaaS), enterprise, and contact centers
Formed in 2000, Avaya focuses on cloud communications and workstream collaboration solutions as well as serves over 200,000 customers in almost 200 countries across the globe. 
The company provides a cloud phone platform that allows users to collaborate — call, chat, and meet — with clients and other contacts in a single app. Its service is meant to deliver personalized, smart, and smooth communications among Avaya users.
In 2019, the firm introduced the Avaya Cloud Office, which offers users an all-purpose experience. In particular, they can interact with customers or employees via the system's voice or SMS apps using any device. Along with its analytics feature that can measure the performance of business communications, the cloud platform likewise provides video meeting software that can accommodate as many as 200 online participants. 
Pedro Oliveira, a software developer at Brazilian cosmetic company Grupo Boticário, considers Avaya Cloud Office as among the best office phone systems  as the solution allows employees to have an extension wherever and whenever "by having the application installed on the workstation or compatible mobile device." 
Avaya offers four pricing tiers (starting from $19.99) — essentials, standard, premium, and enterprise. Please contact the vendor for further details. 
Pros
The user interface is simple. The options and inputs are easy to learn

Mobile and desktop applications

Call logs and on-demand call recording
Cons
The app needs to boost integration with other systems

Management interface access through mobile devices needs enhancement

Delayed refresh rate when used in higher resolution monitors for meetings
Visit Avaya here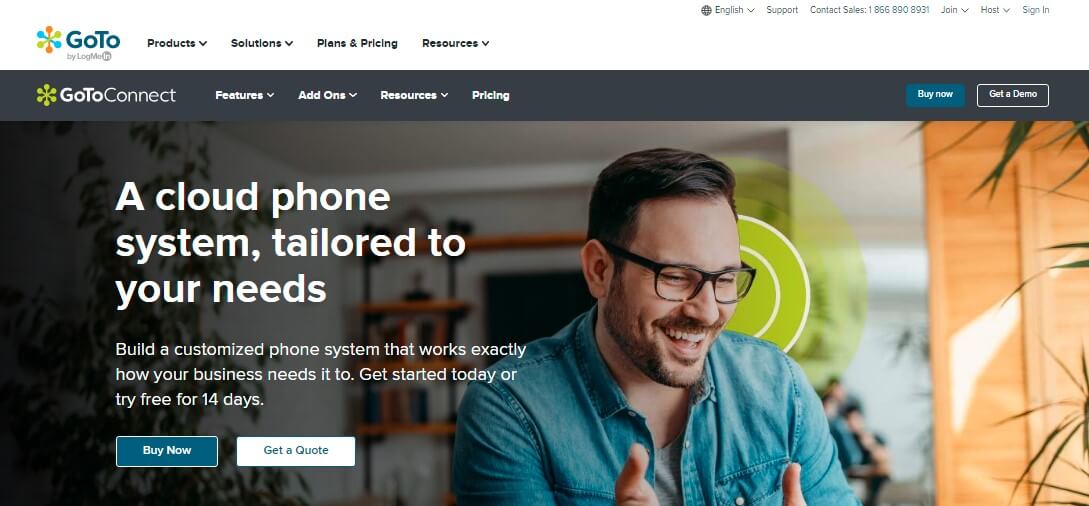 4. GoToConnect
Headquarters: Lindon, Utah
Services offered: auto attendants, audio and video conferencing, mobile apps, call forwarding, virtual voicemail, ring groups 
Formerly known as Jive, GoToConnect is an all-in-one, cloud-powered VoIP phone service built to manage all calls, meetings, and messages. With audio, video, and screen-sharing capabilities, the platform enables employees and executives to work from anywhere and anytime.
The platform offers over 100 features and tools. Among its features are audio and video conferencing that can host up to 250 participants with 25 HD feeds, design personal meeting rooms, and share screens for better sessions and presentations. 
Trevor Brown, a systems infrastructure administrator at Port Hawkesbury Paper in Canada, views GoToConnect as one of the best office phone systems available. His company uses the platform for nearly all of its business and conference calling. He adds that not only does the app can run on any device, but it has "ease of use and low latency." 
GoToConnect offers three service plans (starting from $24) — basic, standard, and premium. Please contact the provider for additional details. 
Pros 
Lets a user assign phone numbers to employees' personal mobile phones without using their personal data or phone usage

Enables a user to connect services across all devices with GoToConnect Mobile with HD voice regardless of network conditions

Features a drag-and-drop interface that allows a user to easily follow and adjust call flows
Cons
A reviewer notes that

GoToConnect's potential issue 

is that the platform's feature of hosting up to 250 online participants may not be recommended for bigger meetings, webinars, or video conferences. 

Prices for add-ons are not shown on its website, so the real costs cannot be determined. 

One user says the onboarding process was lengthy and complicated as a result of its various features. 
Visit GoToConnect here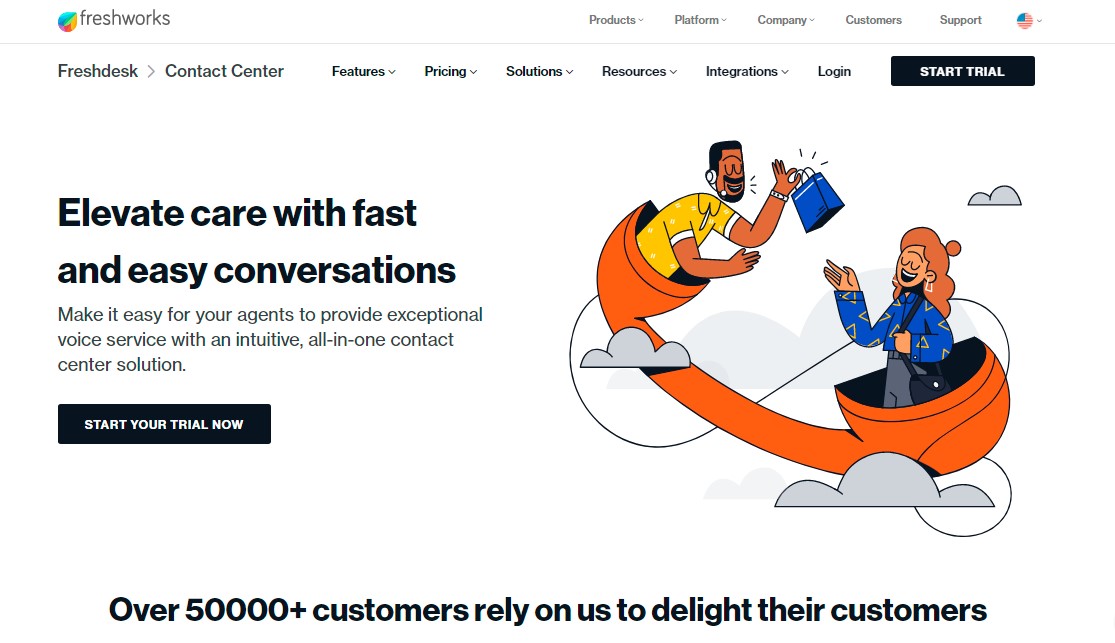 5. Freshdesk Contact Center
Headquarters: San Mateo, California 
Services offered: software as a service (SaaS),  IT ticket tracking tools, call center management software, customer service, marketing automation, IT service management,  sales automation, human resources (HR) management 
Formerly called Freshcaller, Freshdesk Contact Center is a newly established call center that provides a range of customer support solutions for businesses, especially for small and medium-sized enterprises (SMEs). These include the Freshdesk Messaging platform that features web, mobile, live chat, and AI chatbots that help shorten call wait times. 
The firm additionally provides various software services for human resources, IT service management, marketing, and sales.
Jessica Holzbach, co-founder and chief compliance officer at German financial services company Penta, said Freshdesk is one of the best office phone systems as it efficiently records customer conversations as well as their data and personal notes. Likewise, the solution enables her company to set different lines so that "multiple agents can answer queries simultaneously."
Freshdesk Contact Center offers a free trial and four-tier pricing plans (starting from $0) — free, growth, pro, and enterprise. Please contact the vendor for additional inquiries. 
Pros
Simple to use; the dashboard shows the live status of all calls and queries

The app can assess an agent's performance and evaluate the call volume periodically; high-quality sound when talking to customers

Setting up of Freshdesk across the organization and migration from a different platform is not difficult to execute
Cons
No customer support phone number or chat system for support 

Does not work with some virtual private networks (VPN)

The software's reporting module  needs improvement, and the premium offer is considered pricey per agent
Visit Freshdesk Contact Center here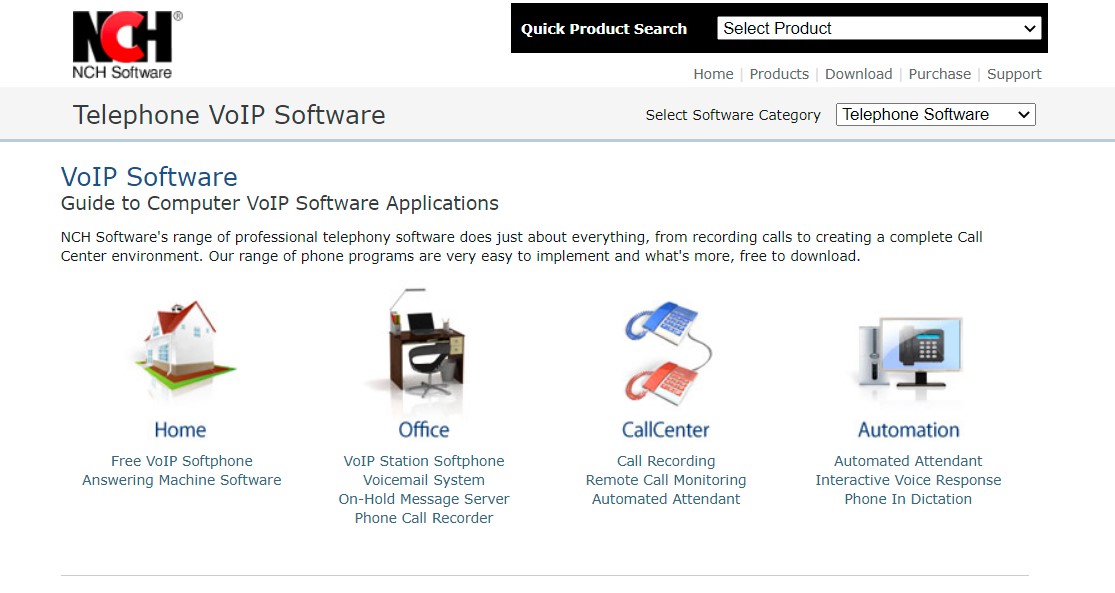 6. Axon Virtual PBX (by NCH Software) 
Headquarters: Greenwood Village, Colorado
Services offered: cloud applications, mobile apps, software utilities, dictation software, video software, computer utilities, business software, audio software, and graphics software 
Axon Virtual PBX is an all-in-one VoIP-based PBX program built for business process outsourcing companies and various enterprises. The software can run on computers that rely on the Windows operating system. Harnessing the power of VoIP technology, it serves as a phone switch that directs calls to phone lines and extensions. 
The system is designed by NCH Software, a leading developer of business technology solutions and applications, such as dictation, video, and audio software. Axon Virtual PBX is one of the telephone software products that the company offers to businesses of all sizes.
Classified as among the best office phone systems, the platform is meant to manage calls that can be sent through as many as 64 telephone lines and provides unlimited extension lines. It also has the standard features of a regular PBX phone system, including transferring and recording calls as well as putting calls on hold. This application is compatible with NCH Software's other telephony solutions. 
Axon Virtual PBX offers a free trial and three service plans — basic edition (free), business edition ($139), and enterprise edition ($259). Please contact NCH Software for more details. 
Pros
Handles a maximum of 64 phone lines and unrestricted extensions

Easy to use web-like control panel with remote access

Features Axon Agent, a predictive and automatic dialer that enables users to accelerate outbound calling tasks and campaigns
Cons 
One user points out that the software has limited features, such as computer telephony integration (CTI), and not as many as other applications 
Visit Axon Virtual PBX (NCH Software) here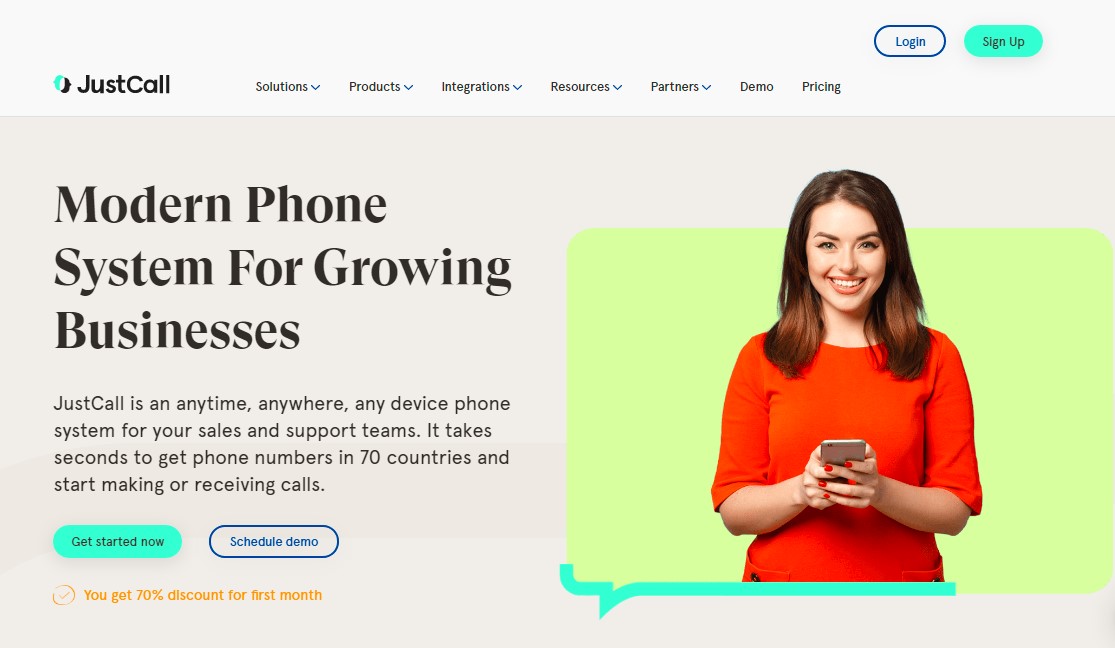 7. JustCall
Headquarters: Newark, Delaware
Services offered: cloud phone system, sales calling software, online sales call tracking, virtual phone number, and VoIP
Established in 2016, JustCall is a privately-held company specializing in a cloud-based, multi-device phone system for sales and support teams. It offers clients workflow automation through local integrations using business tools. 
The firm's phone system lets users conduct inbound and outbound calls with local phones numbers in almost 60 countries. The platform is suitable for local enterprises with global customers as it helps sales and support teams monitor and record messages and calls instantly. 
JustCall also integrates with customer relationship management applications, such as Google Contacts, Google Calendar, Zapier, Groove, Pipedrive, Intercom, Zendesk, Freshdesk, and Zoho. 
Carmen Rodriguez, enterprise retail sales manager at Bank of America, says JustCall lets her schedule calls to any of her contacts or teammates. The app likewise allows her to organize calls with clients and helps maintain communication with them for as long as she wants.
JustCall does not offer a free trial and has three service plans — standard, premium, and quote-based plan. Please contact the vendor for additional details. 
 Pros
Provides multiple numbers — manage and use various international numbers

Features office hours settings–  route unanswered calls to voicemail or team members

Customer service is responsive to questions and support requests
Cons
One reviewer notes that his company encounters some incoming call transfer issues, causing them to lose many calls.

A customer says the support team is based in India, and the language barrier poses an issue from time to time.
Visit JustCall here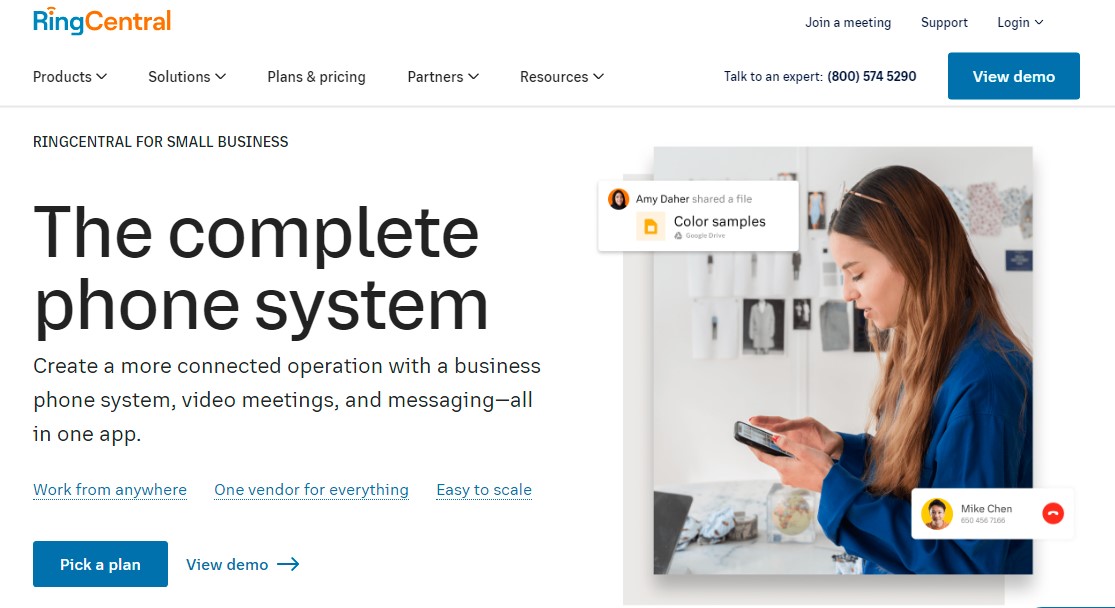 8. RingCentral 
Headquarters: Belmont, California
Services offered: contact center, virtual PBX, team messaging and collaboration, VoIP, cloud-based business phone systems, smartphone apps, HD video and audio conferencing, online meetings, unified communication, professional services, open application programming interface (API)/integration, internet fax, short message service (SMS), and global office
Founded in 2003, RingCentral is a publicly-listed company focusing on cloud-based communications and collaboration services for enterprises. It is deemed as among the world's best office phone systems providers and the leading unified communications as service specialist based on revenues and subscribers. 
Its platform, called the RingCentral Office, is a comprehensive cloud communications process that facilitates an organization's handling of tasks on employee and customer collaborations. Included in the cloud phone system are messaging and web conferencing channels that are designed for remote teams and SMEs seeking simple and affordable video meetings.
Also, users can link to its platform in two options. The first one is through their own mobile phones via the system's free iPhone operating system and Android apps. The second option is through vendor-issued phones and headsets. The system incorporates the phone and messaging systems with other applications, including Microsoft, Salesforce, ServiceNow, and Google. 
RingCentral offers a free trial and four-tier pricing plans (starting from $19.99/month per user) — essentials, standard, premium, and ultimate. Please contact the company for further information. 
 Pros
Easy to customize the system

Ability to handle large volumes of numbers with ease

All services are cloud-based, so no issue of hardware obsolescence
Cons
A reviewer notes that the support team is not readily available by email for the most part. 

One user says its video conference quality is not on par with Zoom, and its chat system is not as smooth and elegant as Slack.
Visit RingCentral here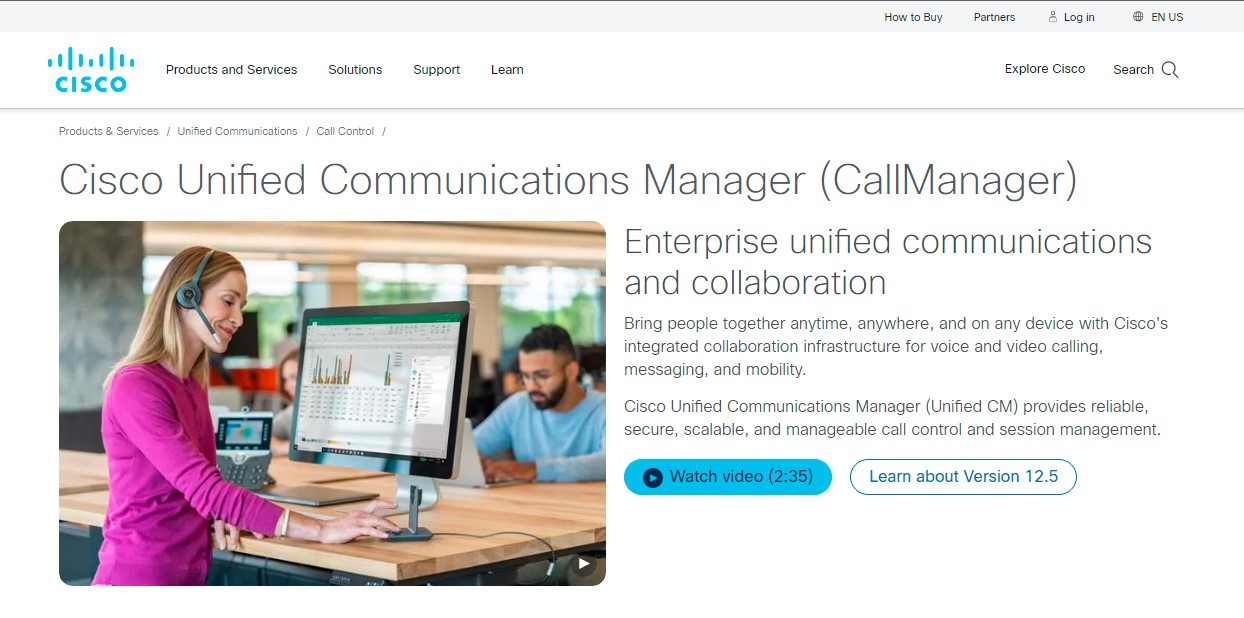 9. Cisco Unified Communications Manager (by Cisco)
Headquarters: San Jose, California
Services offered: unified computing systems, networking, cloud, security, wireless, unified communication, collaboration, virtualization, and data center 
Cisco Unified Communications Manager (CM) is a collaboration solution that enables call processing. Among its features are: directory services, backup and restore tools, administration of phone characteristics, signaling, and control of devices, external application interface, and administration of the dial plan. 
The system is developed by Cisco, a leading computer networking company that a small team of technology experts from Stanford University formed in 1984. With over 70,000 employees worldwide, the firm offers various products and services, including routing and switching, optical and home networking, security, wireless technology, storage area networking, and internet protocol (IP) telephony. 
Regarded as one of the best office phone systems currently available, Unified CM is an all-in-one communication platform that allows businesses to simplify correspondence. It is accessible on any device notwithstanding the user's location. The solution incorporates messaging, calling, voice and video, and call and session management, among other features. 
Javier Alejandro Denacimiento, IT manager for unified communications at cybersecurity company NortonLifeLock, says Unified CM is Cisco's specialty in corporate telephony. His firm used the solution in its offices worldwide, "supporting 20,000 phones."
Unified CM is not available for a free trial and is offered on a quote-based plan. For more details, please contact the technology provider. 
Pros
A reviewer describes the system as reliable, flexible, and scalable. In addition, Cisco's support team is responsive and knowledgeable. 

Versatile as it supports all protocols and integrates with third-party applications. 

Ideal to track and handle on-premise phone systems without the expensive cost of a consultant 
Cons
Lengthy deployment time — from purchase to full production, according to one reviewer
Visit Cisco Unified Communications Manager (by Cisco) here.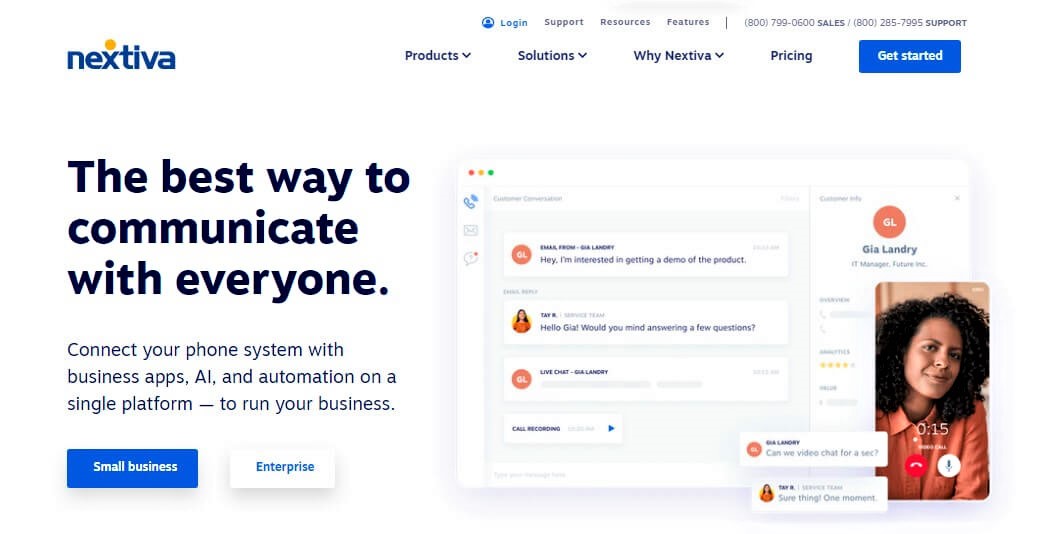 10. Nextiva
Headquarters: Scottsdale, Arizona
Services offered: hosted PBX, business communications, internet fax, product, VoIP, business analytics, professional services, business VoIP, chat, unified communications, business surveys, SaaS, sales, software development, service CRM, customer service, and business services
Created in 2006, Nextiva is a VoIP company offering a communications platform that combines a wide range of channels, including SMS, chat, surveys, voice, video, and collaboration. Its solution integrates automation and business applications to enhance communication and connection with customers and employees. 
The vendor's cloud-based and customer-centric system, Nextiva Office Service, is designed for businesses of all types. The Office Service consists of Nextiva Drive, Nextiva Call Center, and Nextiva Connect. It enables organizations to easily migrate from their standard IP/PBX setup to a cost-effective virtual platform. 
A consistent top placer in the best office phone systems category, Nextiva has experienced zero outages since 2018 for its over 100,000 customers that generate more than a billion conversations annually. In late 2021, the company announced that it would receive a $200 million investment from Goldman Sachs Group, increasing its business value at $2.7 billion. 
Ashley Fairchild, general manager at Arizona-based scooter maker Phat Scooters, notes that using the Nextiva platform in the business resulted in substantial "improvements in business productivity and overall customer experience."
Nextiva is not available for a free trial and offers three service pricing plans for Office Service (starting from $19.95/month) — pro, pro plus, and enterprise. Please contact the vendor for more details. 
Pros
Efficient customer service

Dependability, as one reviewer reports, his company has not experienced outages for the past six years of using the system. 

Provides a wide array of products depending on business needs
Cons
Lacks integration. One user says Nextiva's integration features are basic compared to other VoIP vendors. 
Visit Nextiva here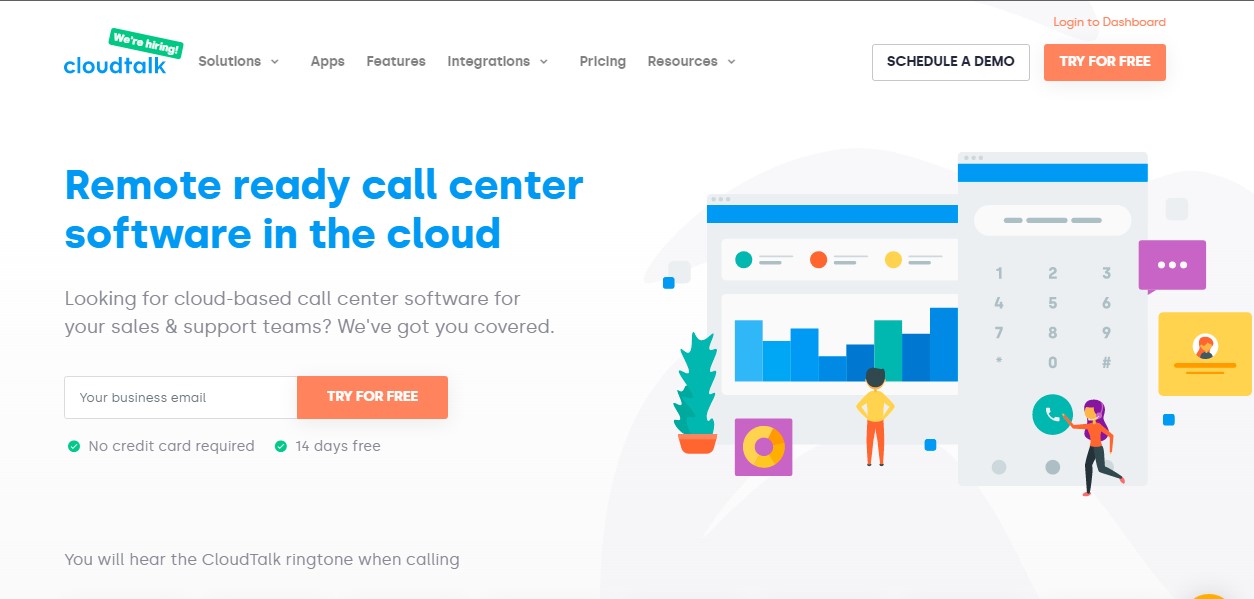 11. CloudTalk
Headquarters: New York City, New York
Services offered: call center software, inbound/support center, outbound/sales, business phone system, virtual call center/remote teams, eCommerce and retail, SaaS, financial services and insurance, healthcare, travel, and hospitality
Founded in 2016, CloudTalk is a privately-held company specializing in business phone and call center software services. Its cloud-based solution is meant to help sales and support teams at call centers in remote locations. 
In particular, the software lets users do inbound and outbound calls from their browser or a mobile app, as well as automatically record and monitor calls.  It likewise allows integration with other applications, such as Zendesk, Salesforce, and Hubspot.  
One reason why CloudTalk belongs to the group of best office phone systems is that the application is designed with multiple enhanced call center and call routing options, namely contact tags, automatic call redirection, interactive voice response menu, personalized call greetings, skill-based routing, and voicemail. 
The SaaS startup managed to raise $7.3 million in early 2021 and $1.6 million in 2019 in funding to expand its services to other regions outside of the European market. The goal, according to co-founder Martin Malych, is to build its own infrastructure to provide the best quality VoIP services. 
Eran Shust, CEO of travel company Splitty Travel, says CloudTalk's system is an ideal tool that allows them to run their call center operations remotely. 
CloudTalk offers a 14-day free trial and four-tier pricing options — starter, essential, expert, and custom. Please contact the company for further information. 
Pros 
The app and the administrator dashboard are user-friendly and easy to navigate.

 The support team's quick response time 

Automated solutions for incoming calls
Cons
One reviewer mentions that the service is unable to get the local numbers in some European countries.
Visit CloudTalk here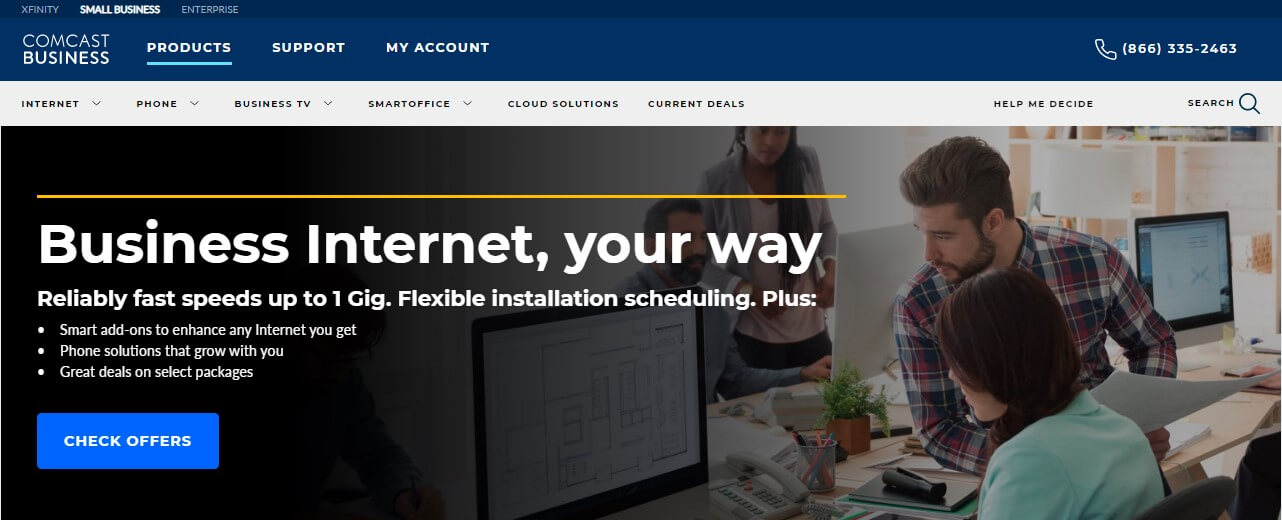 12. Comcast VoIP (by Comcast Business) 
Headquarters: Philadelphia, Pennsylvania
Services offered: broadband internet, business TV, ethernet data service, and business phone
Comcast VoIP offers the market the Business Voice, a business phone system designed to manage mobile-based communications. The solution allows users to apply calls regardless of their location and features voice messaging they can listen to and send to others.
The application was developed by Comcast Business, a unit of telecommunications conglomerate Comcast. The division is in charge of overseeing the sales, marketing, and delivery of cable television, phone, and internet business.
With Comcast VoIP's cloud-enabled PBX phone system, businesses are not required to buy extra equipment to start their own platform. Its cloud system can run the PBX line, which is a private telephone network that does not need numerous phone lines.
What makes Comcast VoIP among the best office phone systems is that it provides high-quality calls and helps users monitor call quality all the time. The service also has a phone line monitoring feature that identifies who answers the call or is available to receive one. Not to mention that the application includes a virtual attendant that can direct incoming calls to the proper extension or department. 
While the company does not have any free trial offers for its VoIP service, it has a variety of pricing plans to suit the needs of any business. Among these plans are business with an advanced phone solution, phone system voicemail, starter internet, business internet, and business voice edge. For further inquiries, please contact the vendor. 
Pros
Provides cybersecurity support

No lagging. Up to one gigabit of internet speed

Has multiprotocol and integration capacity
Cons
One reviewer says the system has occasional outages 

Installation can be bumpy, particularly when migrating from an analog system
Visit Comcast VoIP (by Comcast Business) here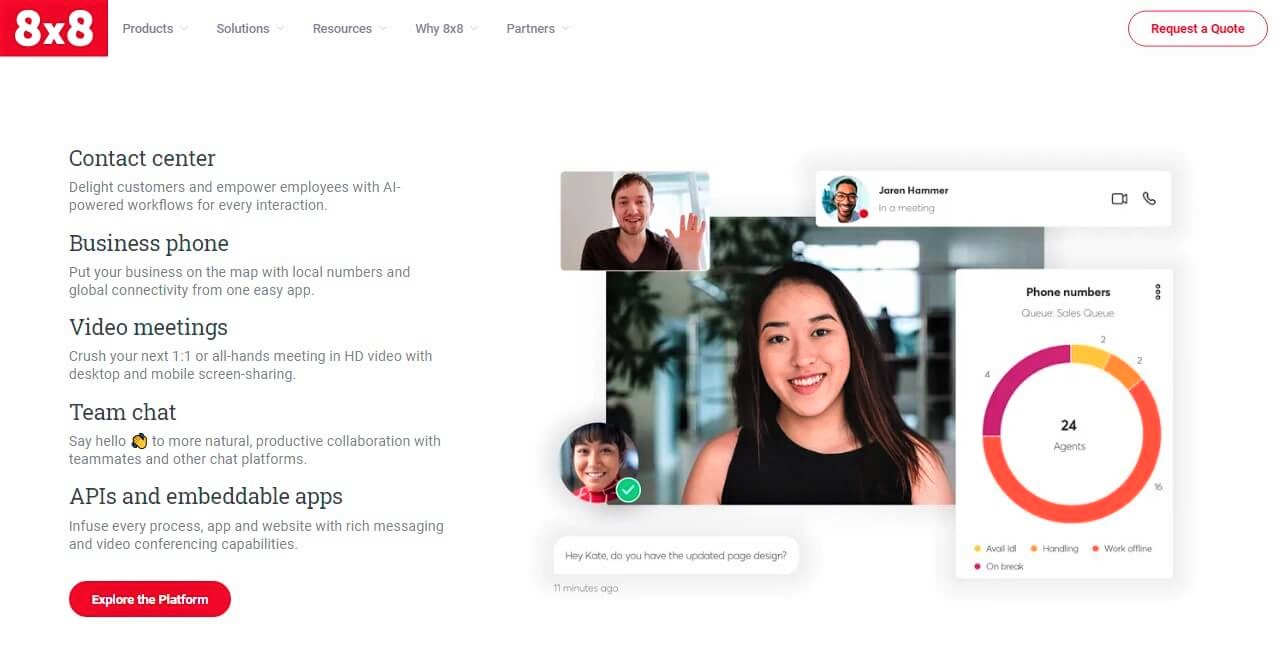 13. 8×8
Headquarters: Campbell, California
Services offered: contact center, web conferencing, unified communications, VoIP business phone service, customer experience, business phone systems, virtual contact center, enterprise global communications, enterprise engagement management, hosted PBX, video conferencing, virtual call center, team collaboration, and hosted VoIP
8×8 is a company established in 1987 engaged in providing various technology solutions, such as VoIP, contact center, cloud-based voice, video, mobile and unified communications for enterprises. 
The provider offers a unified communication system that has collaboration, calling, and mobile features for small businesses. With over 50 standard features, the system lets organizations use its various options, including call recording, texting, faxing, music on hold, ring groups, caller ID, three-way calling, call monitoring, call blocking, call queues, and visual voicemail. 
In addition, The SaaS vendor offers the communications platform called 8×8 Call Center that delivers a scalable and cost-effective means of interacting with customers using advanced inbound and outbound call options. It can improve productivity as users can dial quickly and automate the dialing with a smart outbound dialer. The system also lets customers connect to the proper persons for their queries and concerns. 
Brian Himstedt, senior director for technology at The Kansas City Royal, says 8×8's communications and contact center system gives them the flexibility to promptly handle "all employee and customer interactions" anywhere.
As one of the best office phone systems, 8×8 offers various plans depending on business needs. It also gives a 30-day trial period, with some plans starting from $12 per month. For more information, please contact the vendor. 
Pros
Reliable customer support

Easy to set up and user-friendly system 

Decent pricing
Cons
One review notes that the provider has a hidden annual contract  It does not let a customer downsize its service without a high "cancellation" charge.
Visit 8×8 here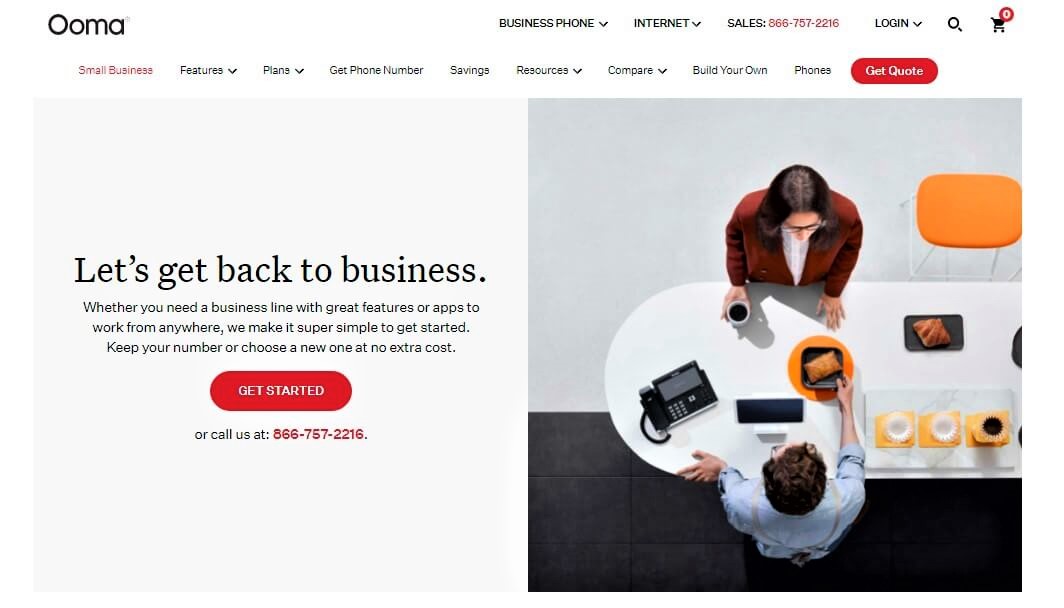 14. Ooma Office (by Ooma)
Headquarters: Sunnyvale, California
Services offered: small business phone systems, enterprise communications, home phone service, security cameras, smart home devices, and home security systems
A cloud-powered VoIP system meant for SMEs, Ooma Office is considered a low-cost and reliable solution that is easy to use and user-friendly. Its straightforward process allows customers to simplify their business communications for better operations. These features make it among the best office phone systems currently available in the market. 
The cloud platform is developed by Ooma Office, a publicly-traded IT service company established in 2004 catering to commercial and residential markets. The firm offers advanced voice and collaboration solutions, such as video conferencing, messaging, and intelligent virtual attendants, to name a few.
Ooma Office is said to be simple to install and has a responsive support team to help users during the setup process. The system has several features, namely, ring groups, call log, extension dialing, virtual receptionists, call transfer, and call forwarding. 
Included in the application are the Ooma Linx and the Base Station features, enabling organizations to extend their VoIP system with any telephone and support analog phones. It also has a mobile Android app that helps businesses handle calls anywhere. 
Hillary Louarti, manager at logistics company Diamond Transportation Arizona, notes that the Ooma Office is good value for money, easy to use, and has varied features. In terms of price, it's "a great option for small businesses."
Ooma Office is offered a free trial. It has two pricing plans – small business ($19.95 monthly per user) and enterprise. Please contact the company for further inquiries.
Pros
Easily blocks spam and robocalls

Affordable and user-friendly
Cons
One reviewer says it needs more features for texting

A user notes phones often reboot or "search for the base." 
Visit Ooma here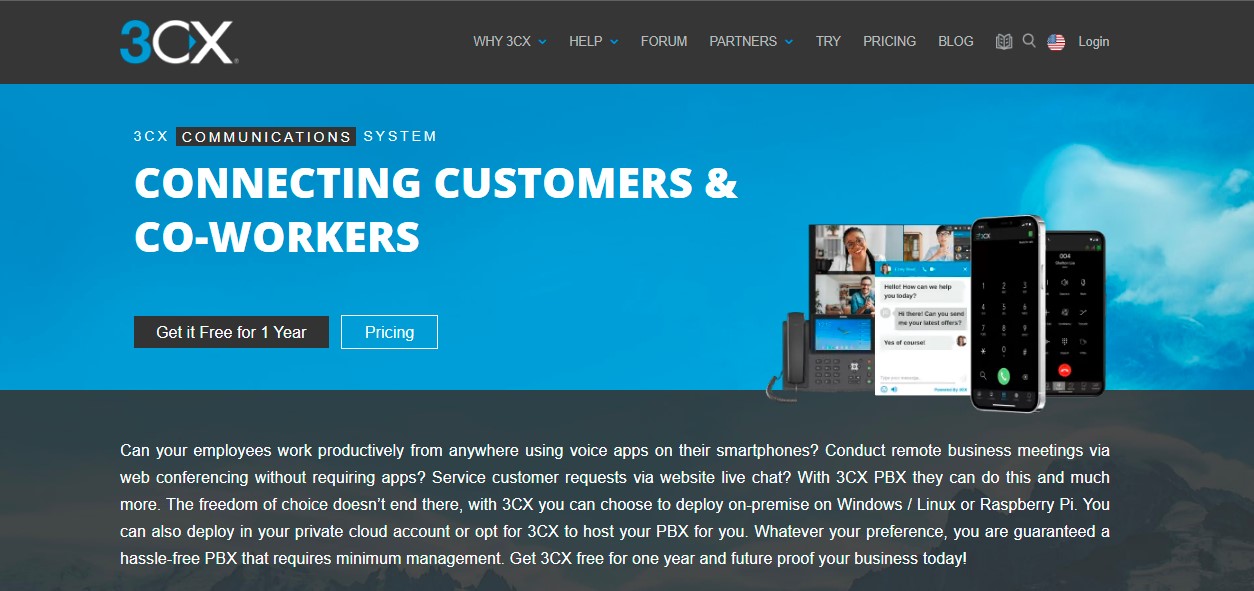 15. 3CX
Headquarters: Nicosia, Cyprus
Services offered: unified communications, PBX, phone systems, mobile telephony, VoIP, iPhone software, android, and hotel phone systems
Incorporated in 2005, 3CX is a privately-held channel company that develops the 3CX communications software and promotes the open standards IP PBX for a more efficient phone system. With its solutions, the firm aims to reduce a business' telecommunications costs, improve its customer experience, and increase worker productivity. 
The technology solution provider offers a variety of communication services, including softphones for Mac and Windows, website live chat, WebRTC video conferencing, to name a few. It has around 50,000 users across the globe, with Pepsi, Hugo Boss, Harley Davidson, and McDonald's among its main customers. 
3CX communications system is software-based and adopts an open standards PBX phone system that improves business operations and output. Being part of the best office phone systems in the industry, the unified solution operates either in the cloud system or on-premises. It delivers sophisticated features, including hosting webinars and online meetings, sending faxes and voicemails via email, transmitting text messages, among others. 
The company received the title "Best Software 2021" by SoftwareSuggest for providing a unified communication solution that addresses business needs and maintains high customer experience. 
3CX offers a free trial and three pricing service plans — standard, pro, and enterprise. The standard plan is free for the first year. Please contact the company for additional information.
Pros
Easy-to-use user interface

Simple to set up new extensions, ring groups, and call queues

Flexible and cost-effective system
Cons
One reviewer points out that the system crashes from time to time, affecting the organization's flow of communication. 

Limited SMS support 
Visit 3CX here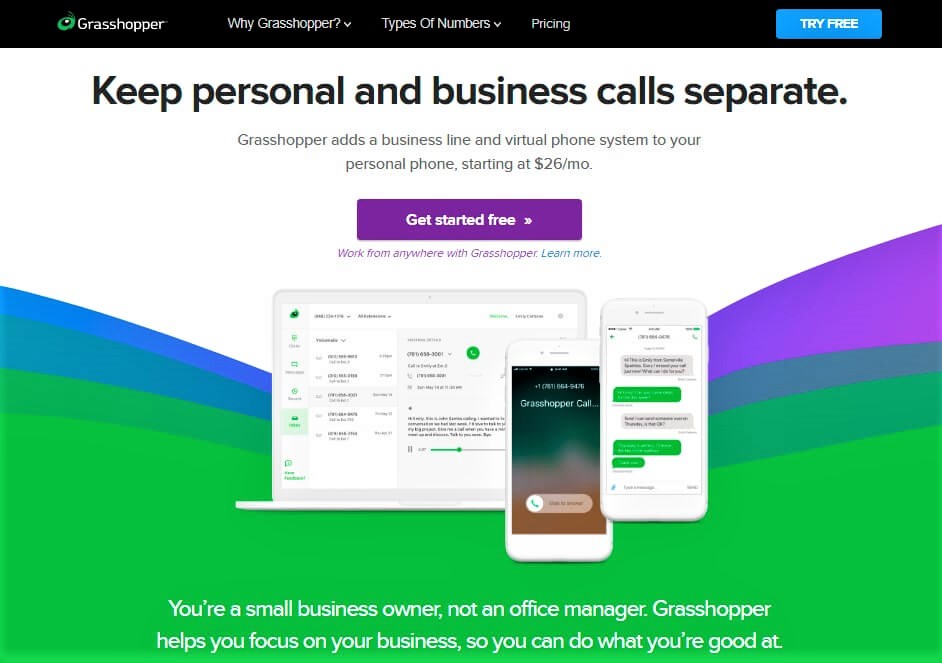 16. Grasshopper (by LogMeIn)
Headquarters: Boston, Massachusetts
Services offered: desktop and mobile apps, business texting, call forwarding, VoIP and wifi calling, voicemail transcription, virtual receptionist, instant response
Grasshopper is a company that offers voicemail transcription, call forwarding, and other VoIP services that let businesses use mobile phones to run operations while on the go. Software provider Citrix Systems acquired the virtual phone service firm in 2015 for $175 million from owner David Hauser.  
Currently owned by SaaS vendor LogMeln, Grasshopper is a VoIP business phone service that is one of the best office phone systems for in-house and remote teams. The service helps startups and thriving enterprises improve their operations and customer experience with innovative virtual telephony features. 
Its communication platform allows users to obtain local and 800 numbers. With Grasshopper, they can likewise set up the phone system easily. 
In addition, the system can make a personal smartphone into a business mobile device, enabling the user to run operations at any time and in any location. It can also separate and filter phone calls, helping the user identify whether a certain call is personal, business, or otherwise. 
Jamie Eilerman, the co-founder of consumer service company Clean Home Club, says Grasshopper helps his business manage all incoming phone calls. As such, his small business operations improve as he can respond to customers faster. 
Grasshopper does not offer a free trial and has three-tier pricing quotes –  solo ($24/month), partner ($49/month), and small business ($89/month). 
Pros 
Converts voicemails to text t that can be read on a phone or desktop

The appearance of professionalism to first-time callers

Ease of system implementation and management 
Cons
No trial period

Better call display
Visit Grasshopper here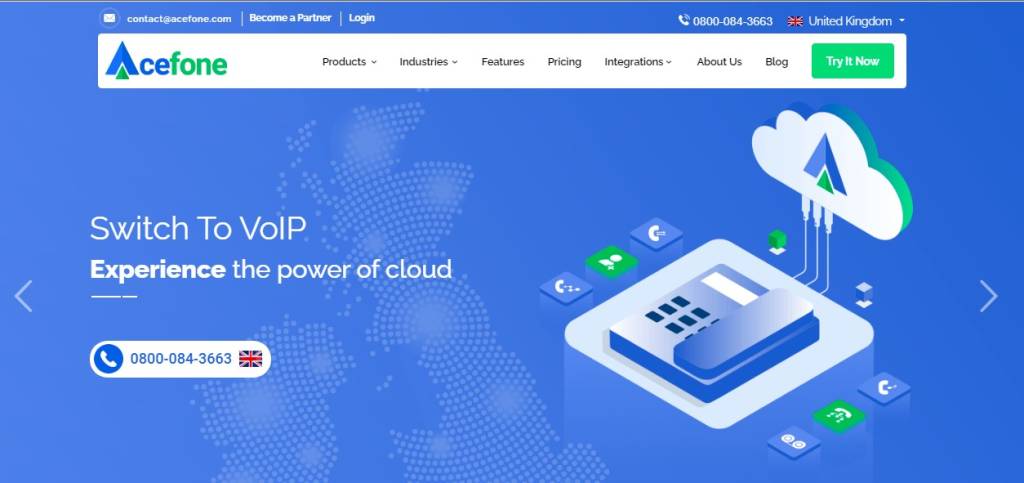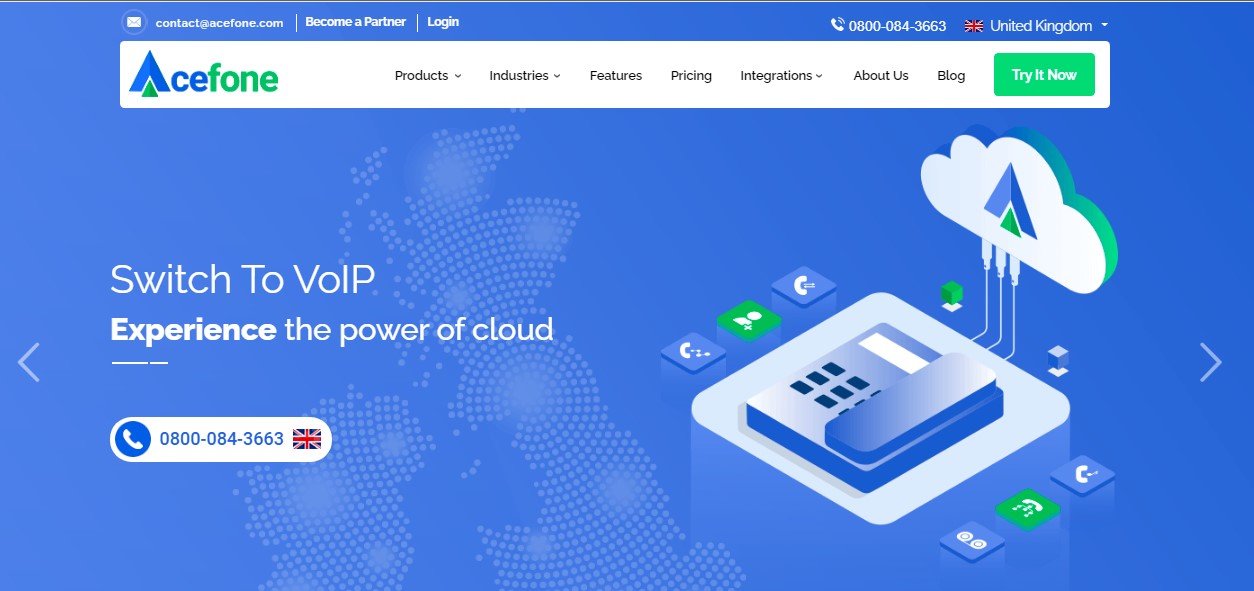 17. Acefone
Headquarters: Kent, England
Services offered: cloud-based business phone systems, virtual PBX, unified communications, call recording, customer support, call center software, business phone system, contact management, VoIP, call routing, API/integration, online voice transmission, call center software, IVR/voice recognition, contact center software, access control/permission, voicemail transcription, and session initiation protocol (SIP) trunking 
A leading provider of cloud telephony and considered one of the best office phone systems, Acefone focuses on optimizing customer convenience and automating business communication processes. Among the technology solutions it offers to businesses of all types are freephone numbers, call centers, and VoIP calling systems. 
The company delivers a cloud-hosted telephone system built to facilitate correspondence for an enhanced customer experience and smoother group collaboration. It features a customizable portal to supply relevant data on call-related activities as well as allow users more control over call queues, routing, screening, and the like.
The Acefone solution provides almost 100% uptime, different backups, no-hidden-fee pricing structures, and 256-bit encryption. It is compatible with various apps, such as Salesforce, Zendesk, Office 365, and Google Workspace.
Niall Bradley, the founder of the education management company Bradley Tuition, describes Acefone's customer service as remarkable. He adds that during the trial, the vendor served his business skillfully to make the system work within expectations.
Acefone offers a free trial and has two pricing service plans – basic ($9.99 monthly per user) and premium ($17.99 monthly per user). Both plans are billed annually.
Pros 
Knowledgeable and friendly support team 

Integration with a business app like HubSpot is quick and easy

The setup process is simple and done remotely by technical support
Cons
One reviewer notes that the recordings are laggy. and unclear from time to time
Visit Acefone here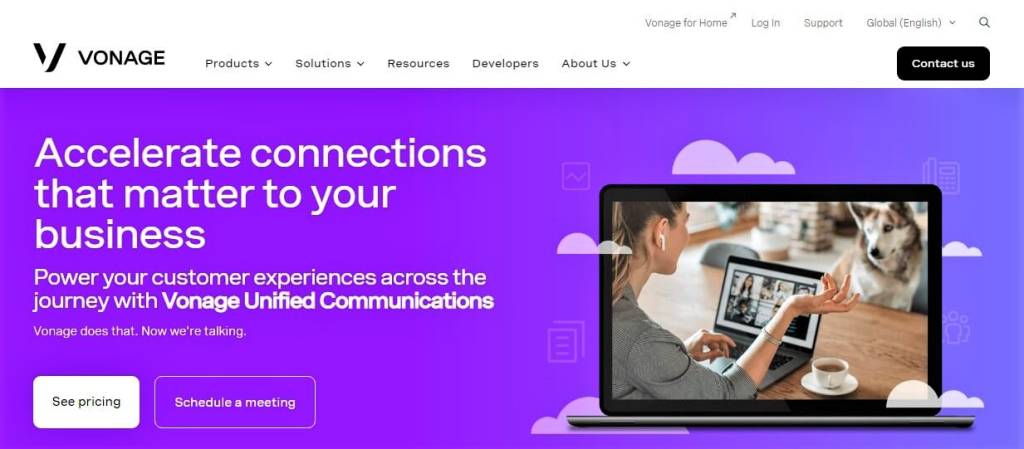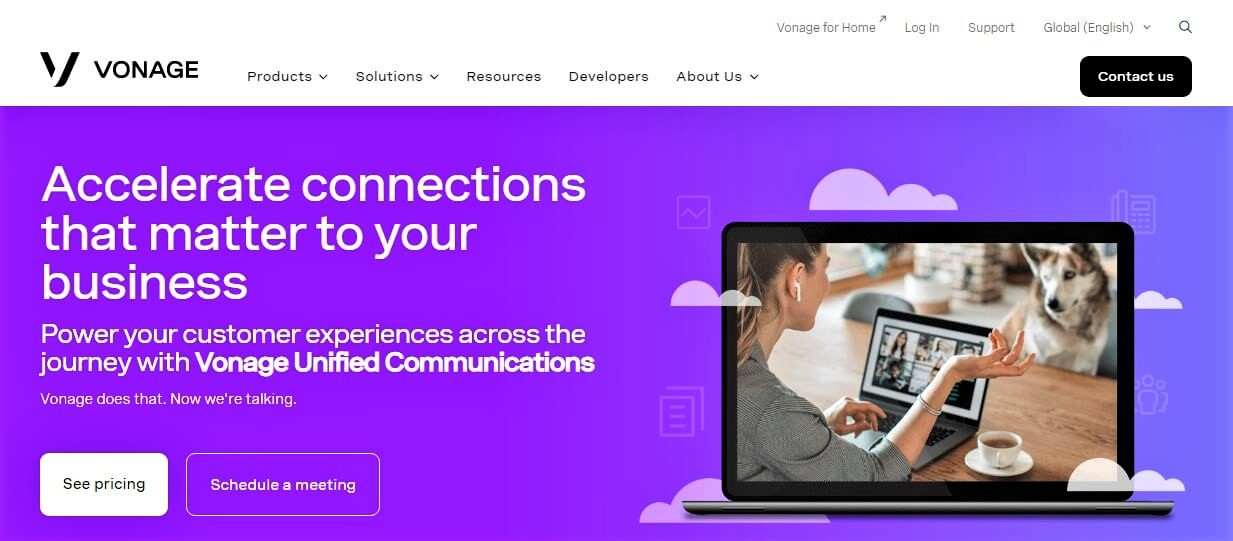 18. Vonage Business Communications (by Vonage)
Headquarters: Holmdel, New Jersey
Services offered: office phone systems, cloud communications, UCaaS, mobility, unified communications, CCaaS, call center, communication API, CPaaS, and contact center
Vonage Business Communications is a unified communications platform that connects users through messaging, video, and voice from any device anytime and anywhere. It provides more than 40 features that give businesses adaptability and control for more efficiency. These features include voicemail to email, mobile phone integration, and desktop plugins, to name a few. 
The system is created by Vonage, a publicly-traded company incorporated in 2001 specializing in business cloud communications. As one of the best office phone system providers, the vendor helps enterprises speed up their digital transformation. 
Vonage Business Communications has a function called Busy Lamp Field that enables users to check the telephones being used in the current time. It can also identify whether an incoming call is a business one or not to prepare the recipient to make the proper response. Another feature is call monitoring, which lets managers listen to calls without being heard to monitor the performance and situation. 
Carol Fairchild, chief customer officer at automotive video firm CitNOW, says Vonage delivers a unified and scalable cloud communications system that helps the organization improve customer service experience while employees work remotely. 
Vonage Business Communication is offered with a free trial and a free version. The price starts at $14.99 monthly per line. For pricing details, please contact the vendor. 
Pros
Provides a seamless transition from mobile to desktop

Simple to make changes to user profiles and voicemail passwords

Includes an app that lets personal mobile phone check messages 
Cons
One review notes that some international numbers are blocked and only accessible upon request

Customer and tech support  needs improvement
Visit Vonage Business Communications here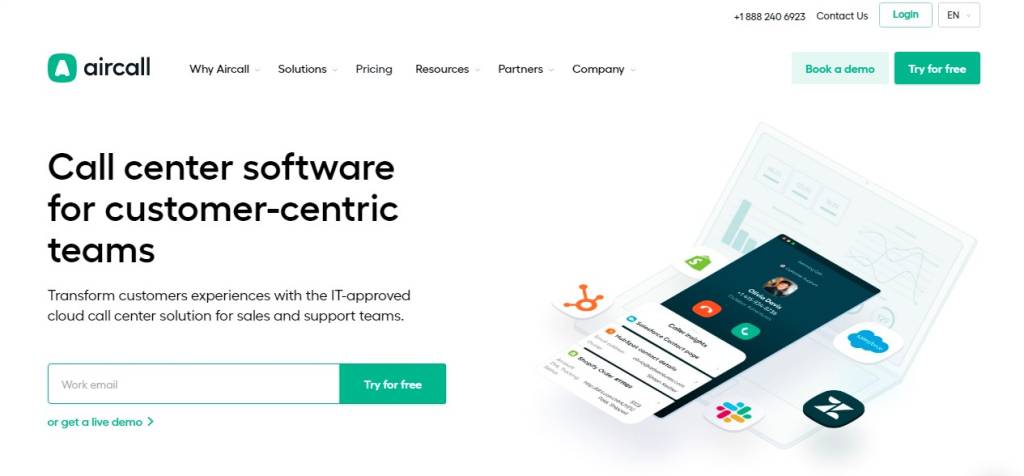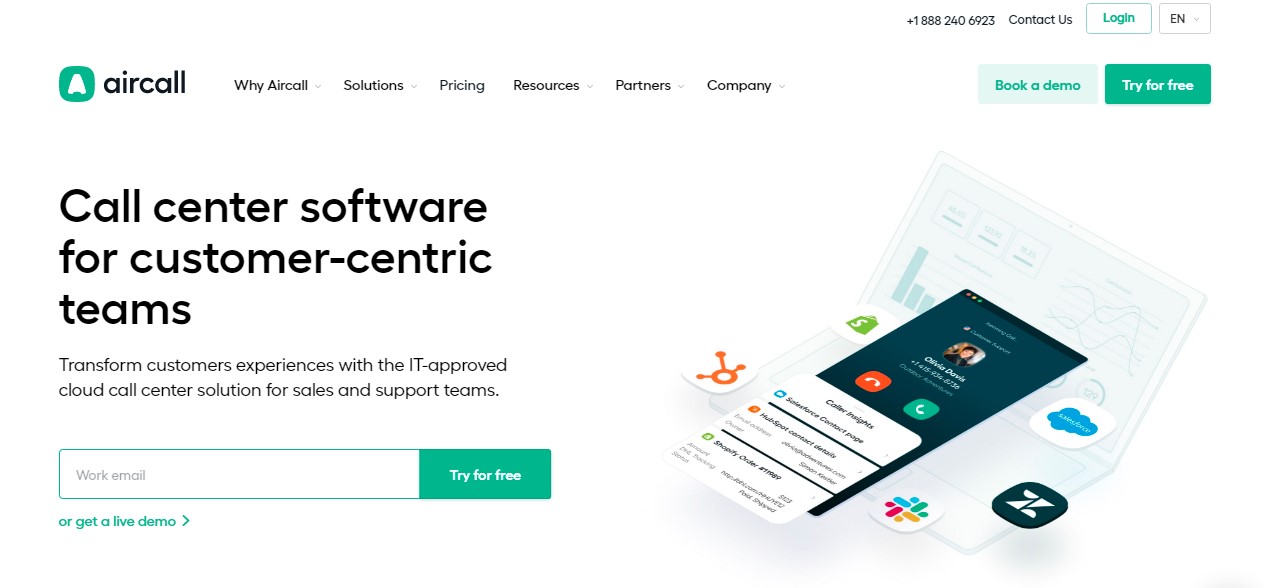 19. Aircall
Headquarters: New York, New York
Services offered: business phone system, call center, VoIP, sales, cloud, call recording, call center software, business phone, CcaaS, sales calls, and customer support
With more than 400 employees and four offices worldwide, Aircall was set up in 2014 offering a cloud-based call center and phone system for businesses. Its platform is one of the world's best office phone systems as it is easy to manage, collaborative, transparent, and accessible. 
The system is considered a call center solution and compatible with known third-party productivity tools. Physical phone lines are not needed. Users can set up the VoIP network easily and quickly to form dedicated sales or support teams as well as connect with customers immediately. 
The platform offers a function called the Aircall Dashboard, which acts as the control center of the communication team. With this feature, the activities of each group member are viewable via the live feed. It can likewise track team performance and monitor live calls to increase productivity. 
Lauren Panken, operating systems manager at clothing company UNTUCKit, notes that Aircall helps the business to see customer expectations. She adds that instead of going through various systems to search for clues, "the right information is already there."
Aircall pricing starts at $30 monthly per user. While it does not have a free version, the vendor offers a free trial. For pricing details, please contact the company.
Pros
Affordable VoIP service

Stable connection and high-quality audio 

Customizable features — set own ringtones, play audio through computer and headset
Cons
A reviewer says the vendor is not available for businesses with less than 3 employees and does not allow registration of popular email addresses, such as Yahoo! and Gmail. 
Visit Aircall here
What Is an Office Phone System?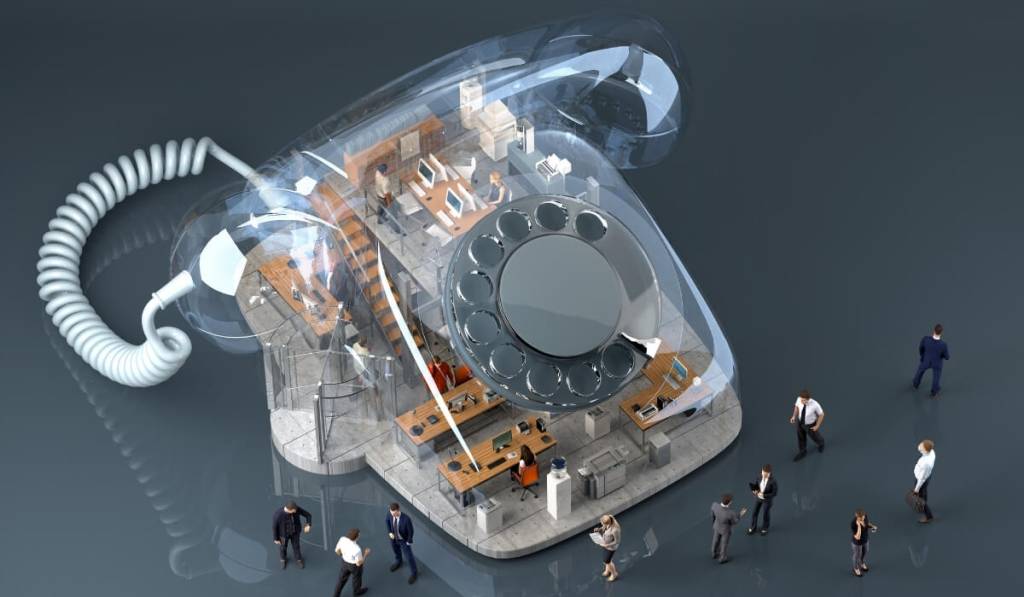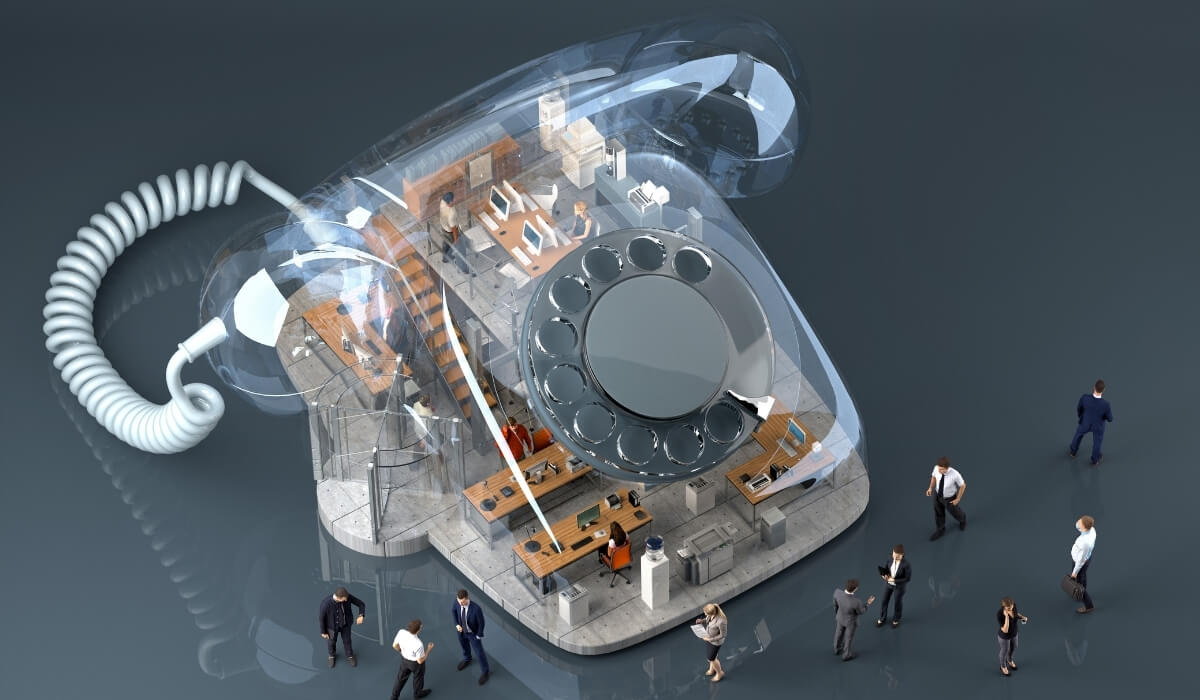 An office phone system allows businesses to use various phones in an interconnected way. It is a structure of phones based either on hardware or software dependent on internet protocol and traditional phone lines. Such a network enables sophisticated telephony tasks in an organization for better communication and productivity. 
In any business setting, an office phone system provides several functionalities, including call handling, call transferring, shared and voice message box, call metering, and conference calling. Small enterprises need only a handful of telephone lines to install the phone network while medium and big companies certainly require a more extensive and complex system such as a PBX.   
Whether running over the public switched telephone network or VoIP and internet telephony, an office phone system can be offered as a hosted service where the infrastructure is situated outside an organization's physical location. In such a setup, a business can reduce investment costs in large and expensive facilities. 
What Are the Types of Office Phone Systems?
PBX Phone System
The main benefit of the PBX system is that it enables a business to save costs since the service removes the need to install a phone line for each user. It allows users to share external phone lines and switch calls on local lines. This network is different from the traditional Public Switched Telephone Network (PSTN) where a separate line is required for every employee.
The PBX structure can use both analog and digital technologies to serve the needs of all types of enterprises. The PBX provider, which can be a third-party company and is not necessarily owned by a telephone company, operates a switching system to make analog phones function in an organization's digital network. 
There are two types of PBX networks. The first one is the standard PBX system, which relies on telephone lines made of copper to go inside a business establishment. The phone lines are linked to a PBX box consisting of telephony switches that properly spread the calls to various phones across the office and from outside lines.
The second is the internet protocol PBX system, which depends on digital phone signals to transmit calls. Unlike the traditional ones, the IP PBX network does not need rewiring as it operates using ethernet cables to link phones. This setup requires less equipment, allowing a business to save on hardware expenses. The enterprise only has to spend on fees to the service provider that hosts the system. 
The PBX network provides a variety of useful features. One is the auto attendant, in which callers are automatically directed to the right extension using a set of recorded options. Another feature is the active call control that allows a user to avail of advanced functions, such as recording, whispering, barging, and monitoring. Also included in the mobile call routing option, where incoming calls to the PBX system are delivered straight to the handheld device, which can also be used to make outbound calls.
VoIP Phone System
By far the latest telephone innovation available for businesses, the VoIP system is more sophisticated than a PBX as it does not need any hardware or special equipment to communicate with anyone anywhere in the world. What a user only needs are the internet and a device, such as a desktop, laptop, smartphone, softphone, or tablet. 
VoIP technology is becoming increasingly popular with the accessibility of faster and more stable internet speed connections as well as affordable smart devices. Over the years, organizations have been shifting away from conventional phone systems to this more advanced network. 
Like its counterpart, the VoIP network can be hosted by a service provider. The benefit of a hosted telephone system is that the provider has the expertise and experience to install and maintain the platform. Such an arrangement allows an organization to focus its resources on core businesses. 
VoIP runs when it converts voice into digital data, sending it via an internet connection using a router device. When a user calls a regular phone number, the data is turned into a phone signal before reaching the recipient. The system enables anyone to make a call straight from any communication device as long as it is attached to a VoIP adapter. While away from the office or home, a user can still access the technology by staying in places that offer wireless connection services, such as in parks, cafés, shops, or airports. 
Similar to the PBX system, VoIP provides not only regular phone calls via the Internet but also other practical features, including conference calling, call waiting, caller ID, call forwarding, and voicemail, to name some. The software also combines smoothly with regular computers having voice and audio capabilities. 
To maximize the benefits of VoIP, a broadband connection or a high-speed internet speed service (such as a digital subscriber line or DLS, local area network, or fiber optic)  is needed. VoIP providers offer users to have the service either over their computers and customized phones or regular telephones linked to a special adapter. 
How Do Business Phone Systems Work?
Knowing the two basic types of business phone systems is important to understand how they essentially work. These two types are multiline and PBX. 
The multiline phone type has the capacity of up to 10 separate lines going into a single phone. Each line is commonly tagged as "Line 1," "Line 2," and so on. When there is an incoming call in Line 1, for instance, a light will blink, which means that the receiver should answer it and make a call transfer. However, the caller will receive a busy signal if that line is being used or the call will be directed to voicemail. 
The PBX type has a more or less similar function but offers additional features not found in a multiline setup. This includes automation that instantly sends a call directly to the proper recipient, so that caller will no longer get a busy signal. In other words, human assistance is minimal in this type of system. 
Who Uses Office Phone Systems?
Different types of businesses across the globe mainly count on their office phone systems to help them perform effectively all the time. Here are some: 
customer service call centers

colleges and universities 

law firms 

healthcare practitioners

charities and churches

hospital sector

real estate companies

non-profit organizations

manufacturing plants and factories 

retail stores

restaurants

franchises

tech companies

hospitality services

startups

professional services

construction companies

financial services

auto care

insurance agencies

advertising  agencies 

government institutions 

telecommunications companies 
More and more companies are spending their resources on business phone systems. They realize communication plays a vital role in enhancing customer service experience and relationships, and employee productivity.  
The office phone system sector is seen to expand in the next couple of years. According to the Global Market Insights 2019 report, the worldwide VoIP phone system market size was $20 billion in 2018. The total value is expected to increase to around $55 billion in 2025.
What Are the Benefits of Office Phone Systems?
Below are some of the benefits of having an office phone system
A user receives an email with a written message from the caller who leaves a voicemail. He/she can simply check the message to know the content. 
Music playing when on hold
Callers put on hold can listen to music to keep their patience and from boredom. Lively sound enables them to retain their lines longer. An automated message such as "thanking them for patiently holding," is a bonus.
Having the latest office phone system lets users make and take business calls from any location and at any time. They can reach their important contacts anywhere and do other tasks outside of the office. 
Administrators or managers can record calls and listen in to help employees how properly interact with customers. Businesses can maintain or improve customer service and satisfaction with this feature. 
Other benefits include a remote callback, reduced conference call expenses, simultaneous ringing, sending voicemail messages to an email inbox, and shared phone lines.
Are Cloud-based Office Phone Systems Cheaper Than Traditional Phones?
Yes. Cloud-based office phone systems are more affordable than the conventional, on-site telephone network. It also lowers your expenses in the long run as the latest platform simplifies and improves communication across the organization.
In addition, standard phone systems require both higher fixed and recurring expenses to install and maintain. In particular, an organization has to make an initial investment upon setting up the system in a physical location. Not to mention that costs for maintaining the equipment and hardware will take a toll on the spending budget. 
An article posted on the Nextiva blog site notes that a modern VoIP service can lower phone bills by as high as 60%. The reason is that a VoIP solution offers free installation fees, unlimited nationwide calls, and low international calling.
A cloud-based network also provides extra features that could indirectly bring down business costs. These are voicemail transcription, call queueing, auto attendants, call control, and more. 
What Are the Average Costs of Office Phone Systems?
To acquire the latest business phone system, a business should spend at least $1,250 per month on average, according to CostHack.com, a blog that provides individuals and business owners accurate prices for software, business-to-business services, and other technology products. 
It notes that the price of a VoIP phone system is $40 monthly per user, while a PBX network is placed at $1,450 per user on average. The average cost of a cloud phone system is not less than $30 monthly per user plus extra costs on contact center functions. 
The website adds that phone system providers usually offer their pricing plans on a monthly payment per user. Their packages differ from each other and depend on the requirements of the company. These requirements include the specific type of phone network, the number of users who will employ the system, and the class of hardware (if necessary), to name a few.