Processing payments from customers means generating money for your business. As such, you should consider delegating this operation to business process outsourcing (BPO) providers to reduce costs and improve your bottom line. This approach in BPO is called payment processing outsourcing.
Read this article to learn how outsourcing payment processing can help streamline your payment operations.
What Is Payment Processing Outsourcing?
In BPO terms, payment processing outsourcing is when you delegate your payment processes to a third-party service provider. You can delegate such tasks as payment posting, transaction reconciliation, fraud detection, and even customer support to an external vendor. A reputable BPO partner can help streamline payment operations, reduce costs, and increase profits.
But what is BPO? It covers a vast scope of front-office and back-office services. Some businesses might hesitate to outsource payment processing services because they involve financial transactions. But the right BPO company can help simplify, automate, and improve your payment operations.
Practical Benefits of Payment Processing Outsourcing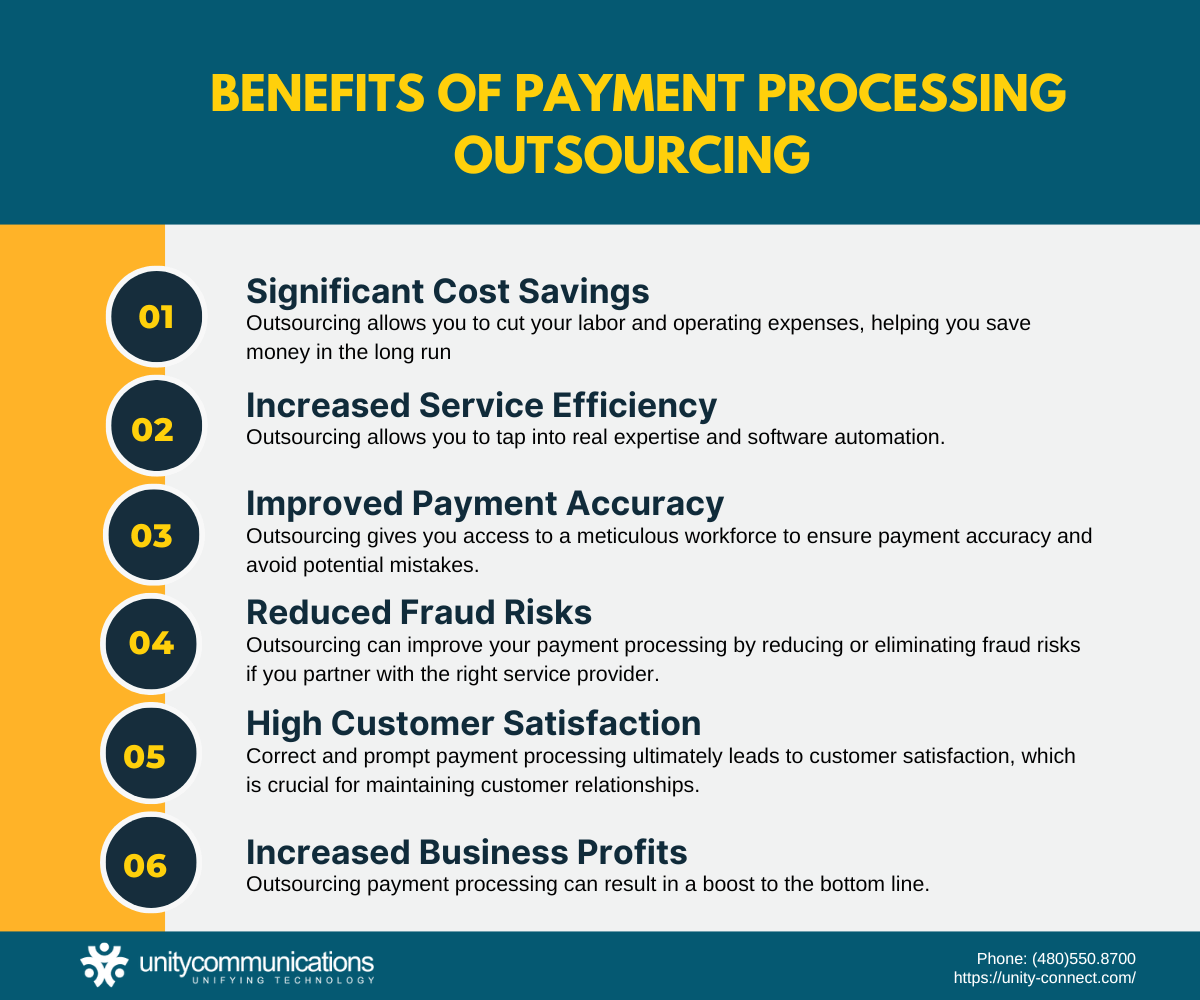 Payment operations are a crucial part of any business. In recent years, we have seen the rise of online banking transactions.
According to Statista, the total transaction value in the digital payment industry could grow from $9.5 trillion this year to $14.8 trillion by 2027. The sector is projected to achieve a compound annual growth rate of 11.8% during this period.
Companies looking to optimize payment operations and offer online banking solutions should consider working with BPO vendors. They can outsource payment processing to streamline financial transactions and improve customer experience.
Here are a few reasons you should consider outsourcing your payment processing:
Significant Cost Savings.

Maintaining your in-house payment operations can be costly. You must invest in infrastructure, technology, and talent. Meanwhile, outsourcing allows you to cut your labor and operating expenses, helping you save money in the long run.
Increased Service Efficiency.

Outsourcing allows you to tap into real expertise and software automation. Both resources can help streamline your workflow and accelerate your payment processing. Plus, they give your customers access to online banking for faster transactions.
Improved Payment Accuracy.

Errors in payment processing can be expensive for businesses. In addition to causing delays, you might incur additional costs and experience dissatisfied customers. Outsourcing gives you access to a meticulous workforce to ensure payment accuracy and avoid potential mistakes.
Reduced Fraud Risks. Unsecured payment portals and careless processing can put your business at risk. Exposure to fraudulent activities can have financial and legal ramifications. However, BPO deals with improving your payment processing by reducing or eliminating fraud risks if you partner with the right service provider.
High Customer Satisfaction.

Outsourcing to a reliable

BPO

provider can help streamline your

payment processing

. Optimizing this business function can

increase efficiency

and improve accuracy. Correct and prompt payment processing ultimately leads to customer satisfaction, which is crucial for maintaining customer relationships.
Increased Business Profits.

Outsourcing payment processing can result in a boost to the bottom line. Working with a reputable BPO partner helps cut costs, reduce fraud risks, improve efficiency, and increase customer satisfaction. All these factors lead to a consistent cash flow for your business.
How To Choose the Right BPO Provider for Your Payment Processing

You can engage in three types of BPO for your payment operations: onshore, nearshore, and offshore outsourcing. But the success of your outsourcing engagement boils down to partnering with the right BPO vendor.
So here is how to pick the right BPO provider for your payment processing:
Examine Your Current Payment Processing.

The goal is to identify the pain points, inefficiencies, and bottlenecks in your payment operations. You can determine specific tasks to outsource and set your particular outsourcing requirements by conducting a thorough examination.
Look for Potential Service Providers.

To do this, you have three options. First, search online to see which

outsourcing companies

offer payment processing services. Second, ask for recommendations from other businesses or professionals. Lastly, attend outsourcing industry events and work with consultants to create a list of prospects.
Evaluate Human and Technological Resources.

Choose a BPO service provider whose workforce has financial backgrounds. Opt for a provider offering electronic payment systems, mobile payment apps, and digital wallets. Ensure it employs

next-generation technologies

such as biometric verification and blockchain.
Assess Customer Support Services.

Customer service

is a critical component of payment operations. Customers contact businesses to send inquiries, process payments, and get status updates. If possible, look for a BPO partner with a dedicated

call center

operating 24/7.
Check for Security and Compliance.

Anything related to money should be completely secured and protected. So when looking for a

BPO

provider for your

payment processing

, your prospect should have data privacy, network security, and regulatory compliance protocols.
Consider the Pricing Model and Cost.

Choose a BPO partner with a favorable pricing structure, whether a fixed price (FP), staffing, or time and materials (T&M) model. Remember that the goal is to reduce costs and save money in the long term.
Choose the Right BPO Service Provider.

Finally, you have reached the last and most crucial step. After evaluating your prospects based on the factors mentioned above, it is time to select a BPO partner. Once done, help them set up your payment operations and track your outsourcing progress.
Best Practices for Payment Processing Outsourcing

The global payment market could grow from $561.77 billion in 2022 to $612.04 billion this year at an 8.9% CAGR. Worldwide transactions will continue to grow, seemingly heading toward a cashless society. 
Companies outsourcing payment processing should implement best practices to streamline operations and gain a competitive advantage. 
Here are some recommendations for you:
Offer Multiple Payment Methods.

Do not accept only credit and

debit cards

as payment options. Consider electronic fund transfers, mobile payments, digital wallets, and cryptocurrencies.
Provide Flexible Payment Solutions.

Consider offering recurring payments, payment schedules, and even payment plans to help customers manage their finances well.
Maintain Transparent Pricing.

Gain customers' trust and prevent billing disputes by being transparent about all fees, transaction costs, and payment terms.
Use a Secure Payment Gateway.

Choose payment portals with encryption and tokenization capabilities to ensure the highest level of security.
Ensure PCI Compliance.

Evaluate

your

payment processing

sy

stems regularly to ensure compliance with Payment Card Industry Data Security Standard (PCI DSS) requirements.
Protect Customer Data.

Use encryption, password protection, and access controls to prevent unauthorized access to customer payment information.
Set Fraud Prevention Measures.

Implement fraud detection software, transaction monitoring, and chargeback prevention policies to reduce fraudulent activities.
Utilize Software Automation.

Consider automating invoicing, billing, and reconciliation for payment efficiency and accuracy.
Train Staff on Best Practices.

To keep BPO staff informed and accountable, provide them with regular training on payment processing procedures, security measures, and fraud prevention.
The Bottom Line
Seeking the help of a BPO company and outsourcing your payment processing are cost-effective solutions for streamlining your payment operations. Follow the steps and best practices here when choosing a service provider.
Using these suggestions, your BPO partner can increase payment processing productivity, accuracy, and timeliness. It can help you save money, increase revenue, and make your customers happier.
Looking to streamline your operations? Reach out to us, and let's connect! Unity Communications is a BPO company that offers reliable payment processing services to help manage your financial transactions and improve your cash flow.