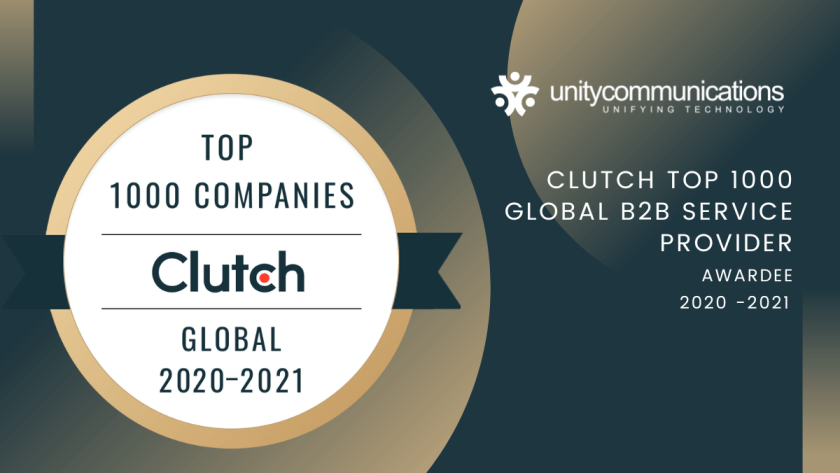 Recognized for the second year in a row as a Top B2B Service Provider for Back office, Non-voice, and Voice services. 
B2B ratings and reviews platform, Clutch revealed its exclusive list of the Top 1000 Global Services Provider for 2021, with Unity Communications placed at 440th from its previous spot at 810th last year. The Clutch 1000 represents the elite 1% of companies listed on the site, including different service providers from all over the world rated based on brand reputation, portfolio, services offered, types of clients, and verified reviews. 
The company is also listed as one of the most prominent leaders in the Worldwide Business Services Sector (B2B) for BPO Companies and Call center category. 
Ever since its inauguration, Unity Communications has delivered outstanding solutions to help businesses streamline workflows and processes, care for customers, and explore more opportunities for growth while maintaining labor efficiency. With 19 reviews under its belt, Unity Communications maintains a perfect 5-star rating, scoring highly in project delivery, quality of work, and cost-efficiency.
"Unity Communications has been impressively providing solutions and scaling the business operations, addressing all the needs and delivering beyond expectations. The team coordinates through shared resources and documents, keeping everyone informed. Above all, they are honest, kind, and determined. " 
—CTO and Head of E-commerce operations

Unity Communications' outstanding rankings in Clutch also earned repeated acclaim from its sister site, The Manifest. The company was recognized as one of the most recommended Global business service providers and Top BPO firms for 2021. 
About Unity Communications
Unity Communications is an award-winning BPO firm that specializes in sales support, customer service, call center, accounting, health care, and back-office services. With experience that span multiple industries such as E-commerce, Technology, Retail, Finance (Fintech), Software as a service, the company specializes in creating processes that make business operation efficient.
Founded by Patrick Brown in 2009, the company has evolved from a start-up company into an international BPO firm, serving small and medium businesses to fortune 500 companies across the globe. Unity Communications forms co-innovation partnerships with clients looking to outsource for the first time and need a "white glove" experience.
Connect with Unity Communications on Twitter, LinkedIn, Facebook, and Instagram for the most up-to-date news.
About Clutch
Recognized By Inc. Magazine as one of the 500 fastest-growing companies in the US and top 50 start-ups by LinkedIn, CLutch offers a data-driven field guide for B2B buying and hiring decisions. With its user base growing by over 50% each year, Clutch is a top ratings and reviews platform for IT, marketing, and business services providers. Learn more about Clutch https://clutch.co/
Media Contact
Contact: Patrick Brown
Tel: (480) 550.8700