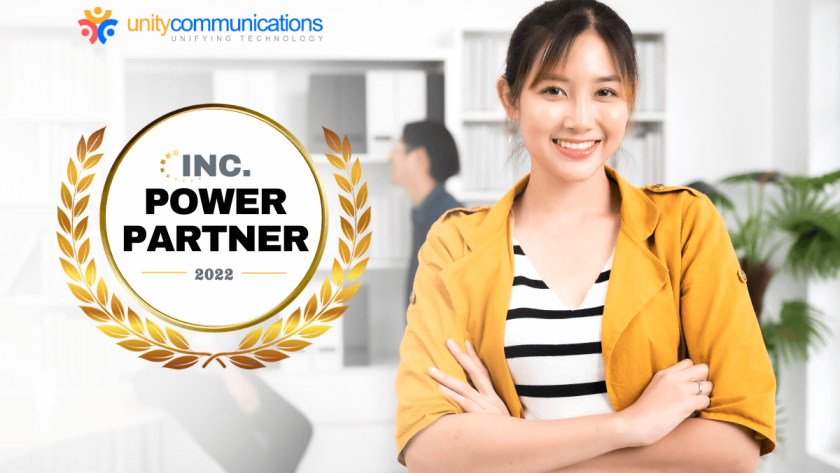 GILBERT, Ariz. – Nov. 3, 2022 – PRLog – Unity Communications, a global IT and business process outsourcing firm, was named one of the recipients of Inc.'s inaugural Power Partner Awards. Announced by Inc. Business Media, the list honors B2B service providers across the globe with a proven track record for supporting entrepreneurs and startups across diverse aspects of the enterprise, allowing founders to focus on their core missions.
In partnership with Meltwater, a leading global social and media intelligence platform, Inc. developed a proprietary methodology that uses opinions and feedback about organizations and translates these sentiments into numerical scores. Inc. evaluated companies based on commitment, reliability, trust, compliance, efficiency, and other virtues that offer value to clients.
All 252 chosen companies received high recognition for helping startups grow, focus on core operations, and navigate the challenging dynamics of the post-pandemic business scene.
"Trusted B2B partners provide guidance and expertise that founders rely on at various steps of their organization's journey. Partners with demonstrated ability to deliver quality support are at the core of entrepreneurship and help bring big ideas to life," says Scott Omelianuk, editor-in-chief of Inc. Business Media.
We Help Businesses Succeed by Complementing Their Strengths
Started in 2009, Unity Communications partners with many small to medium-sized businesses and Fortune 500 companies. The company offers services ranging from inbound and outbound calls, back-office support, and accounting to customer service, technical support, and contact center operations. Unity Communications empowers its clients by providing efficient business strategies that maximize production, reduce operating costs, and sustain growth.
Earlier this year, Unity Communications also appeared on the Inc. 5000 list of the fastest-growing companies for the second time. It is also a certified USPAACC Diverse Supplier. Other accolades the company has received for the past ten months include:
Inc. Regionals: 59th Fastest-growing Company in the Southwest Region

Top BPO Company

by Clutch

Best of B2B Awards by UpCity

AT&T Alliance Channel Solution Provider
"There are no shortcuts to any place worth going," said Patrick Brown, CEO and founder of Unity Communications. "The past three years have been transformational for Unity Communications, with many challenges and successes. It's not an easy path, but it's definitely worth the effort. And this humbling recognition is a testament to our commitment to helping our clients grow and be successful without any tricks—only sheer dedication and hard work to help them become leaders in their industries."
To view the complete Inc. Power Partner list, go to: https://www.inc.com/power-partner-awards/2022. The November 2022 issue of Inc. magazine is available online at https://www.inc.com/magazine and will be on newsstands beginning November 8, 2022.
About Inc. Business Media
The world's most trusted business-media brand, Inc., offers entrepreneurs the knowledge, tools, connections, and community they need to build great companies. Its award-winning multiplatform content reaches over 50 million people each month across various channels, including websites, newsletters, social media, podcasts, and print. Its prestigious Inc. 5000 list, produced yearly since 1982, analyzes company data to recognize the fastest-growing privately held businesses in the United States.
The global recognition that comes with inclusion in the Inc. 5000 list gives the founders of the best businesses an opportunity to engage with an exclusive community of their peers and the credibility that helps them drive sales and recruit talent. The associated Inc. 5000 Conference is part of a highly acclaimed portfolio of bespoke events produced by Inc. For more information, visit www.inc.com.
About Unity Communications
Unity Communications is an award-winning BPO company that focuses on sales support, customer service, accounting, health care, and back-office services. With experience that spans multiple industries, such as e-commerce, technology, retail, financial technology (FinTech), and software as a service (SaaS), the company specializes in creating processes that make business operations efficient.
Founded by Patrick Brown in 2009, the company has evolved from a startup into an international BPO firm, serving small and medium businesses up to Fortune 500 companies across the globe. Unity Communications forms co-innovation partnerships with clients looking to outsource for the first time and needing a "white glove" experience.
Connect with us on Twitter, LinkedIn, Facebook, and Instagram for the most up-to-date news.
Media Contact
Contact: Patrick Brown
Send an email
Schedule a Meeting