Written by Dion Jay Tality
Establishing a solid contact center is crucial for winning and keeping customers. But in addition to employing a contact center as a service (CCaaS), you must also ensure you have the best agents.
Contact center agents handle front-office functions such as customer service, sales, and technical support. Because these representatives work directly with your customers, they can make or break your business.
Unfortunately, some companies lack staffing or employ unreliable agents. If your business faces either of these problems, consider optimizing your workforce.
This article explores seven proven tips for hiring the right agent for your business.
How To Find Great Contact Center Agents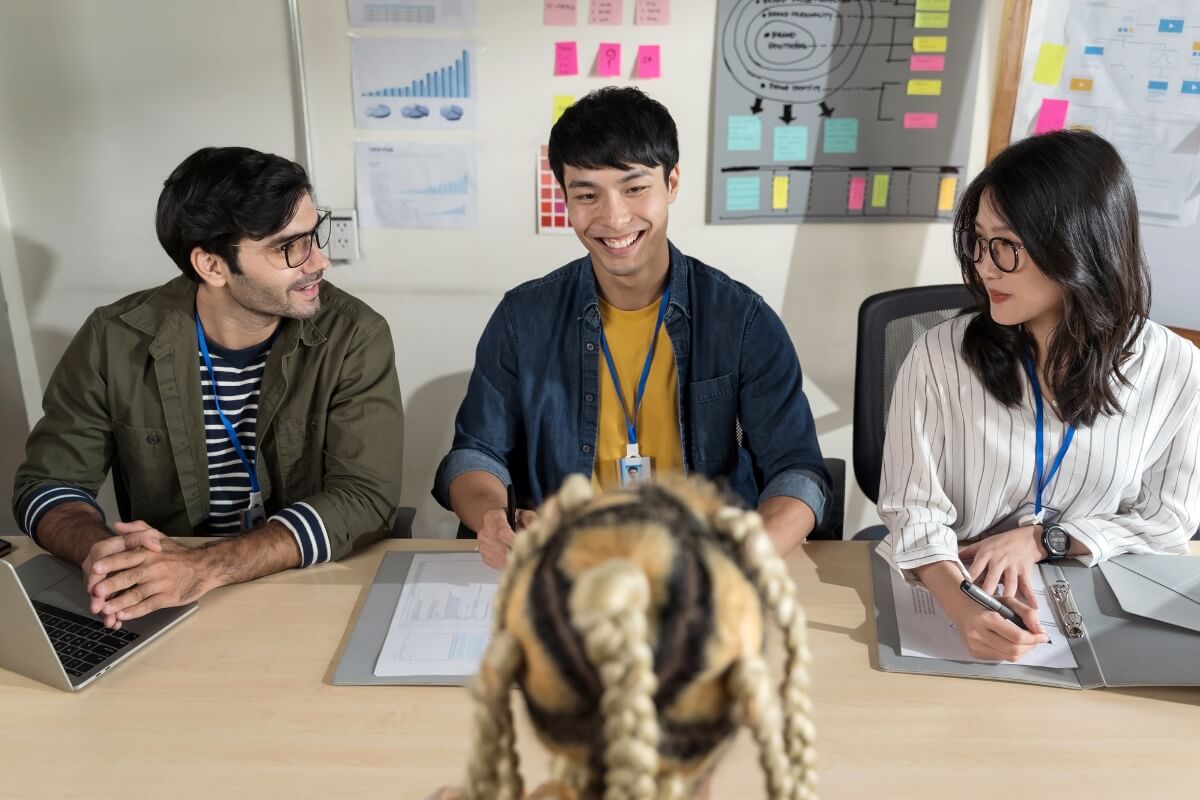 Contact centers evolved from call centers. The former adopts advanced technologies and serves multiple communication channels. But they have one similarity: agents are still the most important factor in both call and contact centers.
ICMI's The State of The Contact Center in 2021 report touched on everything from operations, processes, and technology to staffing, skills, and salaries. According to the report, 80% of contact centers plan to grow their workforce this year. They seek to fill and create new roles for their business.
Here are seven practical tips to consider if you plan to hire agents this year.
1. Start by Identifying Business Needs and Setting Objectives
Assessing your business and customer contact operations first is imperative. Before looking for available agents, audit your current operation to identify your workforce needs. Then, set actionable goals by asking what you aim to achieve for your contact center.
Customer Contact Needs. Your contact center will most likely need the following:
Sufficient staffing

Knowledgeable and skilled workforce

Experienced or readily trainable employees

Industry experts and specialized agents
Business Objectives. After identifying your needs, set clear goals for your contact center operation. You might want to achieve any of the following:
Enhance customer experience

Boost customer engagement

Improve customer satisfaction

Increase efficiency and productivity

Improve service quality

Build loyal supporters

Generate more leads

Convert more sales
List your needs and objectives because they will guide your search for suitable contact center agents.
2. Determine the Types of Communication Channels and Agents You Need
According to Hiver's 2021 report, omnichannel solutions have become the norm. About 60% of service teams use more than two channels for customer support. A whopping 83% of them offer phone support, while other platforms have the following distribution:
Email (77%)

Chat (42%)

Social media (31%)

Self-service options (25%)

Support forums (16%)
Check the communication channels used most often in your contact center to optimize your workforce. For your reference, below are the types of contact center agents you might need:
Customer Service Representatives.

Call center agents assist customers over the phone. They answer questions, provide updates, and process requests.
Sales Representatives or Telemarketers.

Agents place calls to reach prospective leads. They promote and sell products or services to potential customers.

Self-support Assistants.

Companies now provide customers with self-service options such as integrated voice response (IVR), frequently asked question (FAQ) pages and online forums. They often need assistants to regulate these channels and ensure seamless interactions.
Technical Support Representatives.

Tech support agents assist end users with computers, mobile devices, and gadgets. They perform troubleshooting, hardware repairs, software fixes, and network updates.
Chat Support Specialists.

These agents have the same role as customer service representatives. The only difference is the communication channel used—chat support versus phone service.
Social Media Managers.

Companies hire agents to engage with customers via social media platforms, including Facebook, Instagram, Twitter, LinkedIn, and Messenger. Agents can also manage your business page and answer customer inquiries.
Email Support Specialists.

These agents communicate and interact with customers via long-form emails. They also have the same roles as customer service representatives.
3. List Factors To Consider When Hiring Contact Center Agents
When you start your search for the best contact center agents, consider key factors such as:
Industry Experience.

Look for agents with experience in your industry. They will most likely have a competitive advantage over representatives without experience. They might also have the knowledge and skills required for your contact center operation, reducing the need for extensive training.
Field of Specialization.

Aside from experience, consider agents' areas of expertise. Hiring information technology (IT) specialists makes sense if you run a contact center for technical support. If you operate healthcare customer service, employ agents with medical backgrounds.
Educational Background.

An agent's educational background is not a necessary factor. But it might help determine whether they are the right fit for your operation. If you run a contact center for billing, graduates with experience in accounting or bookkeeping might bring valuable insight.
Training and Certification.

Related training and certifications add to an agent's credentials. They are a testament to their level of knowledge and skills. They even speak volumes about the agent's level of expertise.
Agent Reputation.

During recruitment, check the agent's reputation. Get feedback from the references listed on their resume. You can also conduct background checks to ensure you hire the right candidates.
4. Factor in Soft and Hard Skills
Assess the candidates' skills during the recruitment process. But remember that there are two types of capabilities: soft and hard. Below are some strengths contact center agents must possess.
Soft Skills
Communication.

The ability to communicate clearly with customers is essential in contact centers. Look for agents with good communication skills.
Interpersonal Skills.

Agents should naturally interact with customers. Look for candidates with excellent interpersonal skills.
Negotiation.

Contact centers for telemarketing should employ agents with outstanding negotiation skills. After all, they seek to promote products or services.
Active Listening.

Contact center operations do not require only good communication skills. Agents who actively listen can address customer concerns and resolve issues.
Problem-Solving.

Customer service and technical support require creative problem solvers. Consider hiring agents with good analytical skills.
Hard Skills
Process or Product Knowledge

. Hire people with knowledge and skills relevant to your contact center. Make sure to conduct process or product training before they perform the actual job.
Technical Skills.

Tech support requires agents with technical skills. They should be able to fix computers, repair hardware, and diagnose network issues.
Computer Skills.

The use of computers is a necessity in most organizations. Hire agents who have at least basic computer skills.
Typing Skills.

If you are looking for chat specialists, hire those with superb typing skills. They should be able to respond to customers as quickly as possible.

Language Proficiency.

Contact center operations deal with customers of various nationalities. Hire bilingual or multilingual agents whenever necessary.
5. List Key Attributes of Great Contact Center Agents
Unfortunately, customer service does not wow audiences anymore. According to Zendesk, 54% of respondents say that customer service feels like an afterthought. About 68% say that companies need to train their customer service representatives. But a far more critical step is to hire suitable candidates.
You should not only consider candidates' knowledge and skills during recruitment. You should also factor in their attitude toward work. That will make a big difference in your business.
When hiring contact center agents, consider such attributes as:
Goal-oriented Mindset

. The best agents set goals for their career growth. They will most likely stay at your company for the long term.
Positive Attitude.

There is a line between claiming "I can" and saying "I cannot." Look for candidates who are always optimistic.
Customer-centric Mindset.

Contact center operations are customer-focused. Hire agents who make customers their top priority.
Helpfulness.

The best agents are always willing to help. They focus on assisting others, not making their work easier and more convenient.
Sympathy and Empathy.

Sympathy entails understanding from our own perspectives. Meanwhile, empathy requires putting oneself in the customers' shoes. Look for agents who possess both qualities.
Willingness to Learn.

The best employees to train are always willing to learn. They are very open to constructive criticism and seek to improve themselves.

They acquire the necessary knowledge and skills and go far in their career paths

.
Being Solution-focused.

Contact center operations such as customer service and technical support deal with problems. So the best agents emphasize solutions and solve problems creatively.
Work Commitment and Reliability.

Contact center operations require commitment and reliability. Make sure to check the candidates' attendance records. Hire agents who are always on time and have minimal absences.
Good Work Ethics.

Look for contact center agents with a sense of professionalism. Good work ethics will ensure your team's success.
6. Consider the Drivers of an Effective Contact Center Experience
When looking for agents, ask yourself: what makes contact centers successful?
The Contact Center Satisfaction Index (CCSI) report cites that agent effectiveness remains an issue. But it identifies six key drivers for an effective contact center experience:
Demeanor.

Look for agents who exhibit qualities such as courteousness, friendliness, and professionalism.
Communication.

Hire agents who speak and write clearly. They provide straightforward, effective explanations so that customers understand.
Knowledge.

Knowledgeable agents are assets in contact centers. They answer questions promptly, understand problems, and provide accurate information.
Effectiveness.

Employ effective contact center agents. Effectiveness is determined by how fast agents can answer, whether they find the information customers need, and how they can communicate the solutions.
Empowerment.

Hiring people is one thing; empowering them is another. When hiring representatives, always have agent empowerment in mind. Create good policies, address issues, and provide solutions to achieve this objective.
IVR System.

Your focus should go beyond hiring the best agents. You should also consider offering self-service options such as IVR, which CFI identified as a criterion for a great customer contact experience.
7. Set Stringent Recruitment Standards
We have tackled knowledge, skills, and attributes. Now, let's delve into recruitment and the ways to ensure it connects you with the best contact center agents.
Below are the fundamental steps required for efficient talent acquisition:
Preliminary Interview.

It allows you to find candidates suited for contact centers. During this segment, factor in the candidates' experience, specialization, educational background, certification, and reputation.
Knowledge and Skills Assessments.

Common exams for contact centers include grammar, typing, and computer tests. This phase assesses the knowledge and skills of candidates. It helps you filter candidates who are fit for the actual job.
Personality Tests and Behavioral Assessments.

Besides knowledge and skills, you must also factor in their attitude toward work. This phase helps you gauge which candidates have the attributes needed for the contact center job.
Final Interview.

The final phase aims to seal the deal. Candidates at this stage have already met the job's minimum requirements. A hiring manager asks about their job commitment and work dedication as deciding factors in recruitment.
Bonus Tip: Provide Onboarding, Training, and Production Support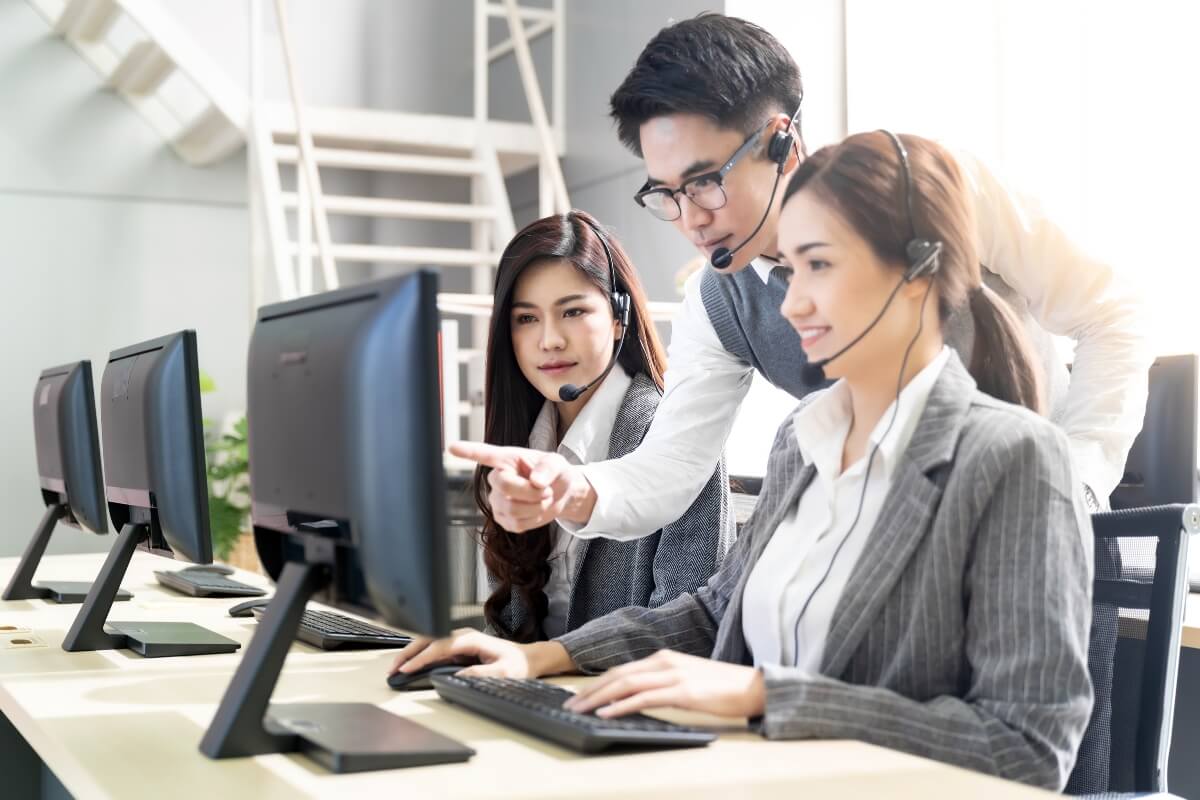 We have already covered the seven tips for finding great contact center agents. But even the most qualified candidates need regular encouragement.
As a bonus, here are ways you can bring out the best in your hired agents:
Onboarding.

Providing your employees with an excellent onboarding experience is vital. Make them feel welcome and valued. Onboarding ensures agents start on the right track.
Foundation Training.

This training program focuses on cultural orientation and soft skills. New hires are trained in customer culture and effective communication. If you hire novice employees, help them develop and acquire skills.
Process or Product Training.

This training covers processes involved in your contact center. It also includes the products and services your company offers. Lastly, it trains employees in their daily duties and responsibilities.
Production

. After the training period, employees finally hit the floor. This part is where they start performing their tasks. Make sure the management team offers full agent support. Provide constant contact center updates and regular training whenever possible.
The Bottom Line
The workforce is the most valuable asset in your contact center. Your agents handle front-office tasks by working directly with your customers. They can either win or lose customers for your business.
That said, you should hire the right contact center agents. Consider the practical tips above for finding great agents for your business. Make sure to factor in their backgrounds, skills, and attributes to narrow your prospects. Furthermore, provide them with proper onboarding, robust training, and production support.
With these tips in mind, you can employ the best contact center agents to help win and keep customers for your business. Ultimately, they will be instrumental in the success of your business.