Written by Allie Delos Santos
The Covid-19 pandemic forced companies to alter almost overnight how they did business. The result is a massive shift in how brands satisfy customers' and employees' evolving needs.
The contact center industry has witnessed many changes in the customer experience landscape. Virtual agents, cloud computing, and AI implementation became widespread. Eventually, contact center as a service (CCaaS) grew.
This article aims to familiarize you with contact center and call center trends to help you make informed decisions to improve your customer service. 
20 Contact Center and Call Center Trends for 2023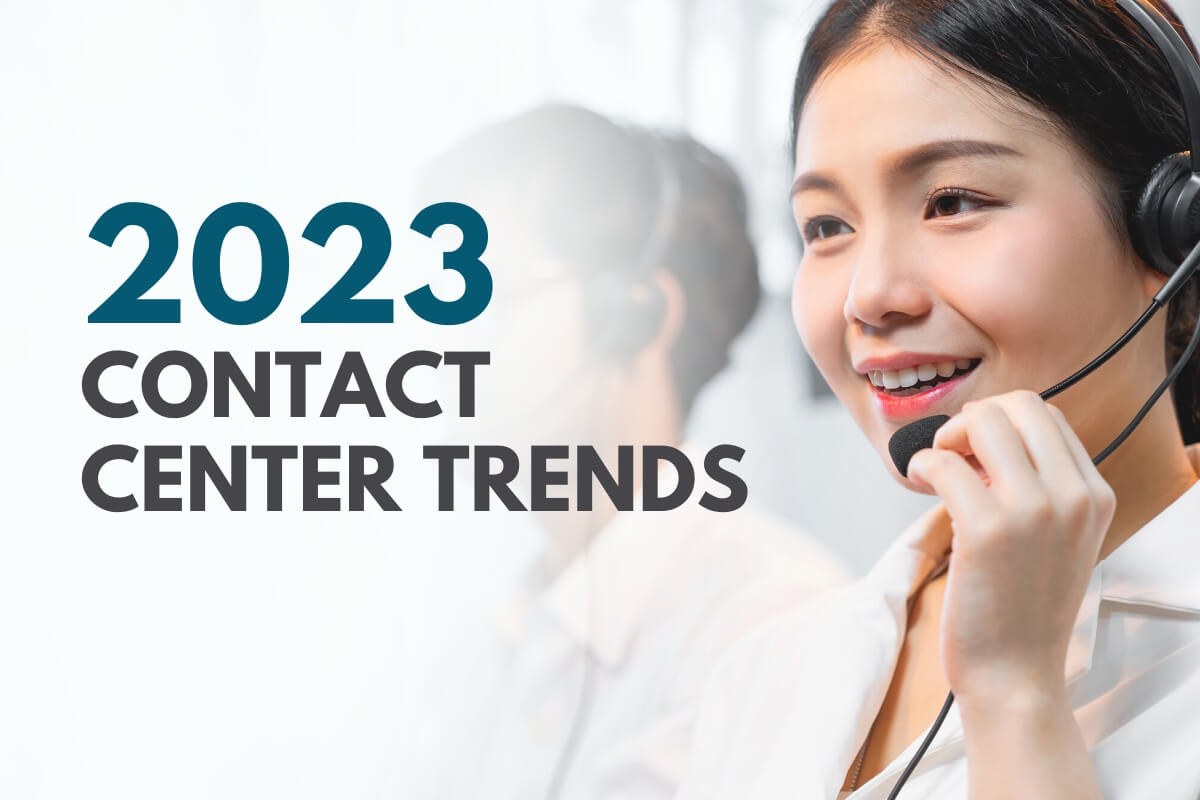 Contact center hardware and software trends allowed support teams to reduce customer issues. In 2023, call centers must implement more advanced solutions to improve internal processes. Designing policies that reflect the current customer support landscape is another goal.
Here are 20 contact center trends to help you, train agents, streamline processes, design experiences, and improve customer service.
1. Omnichannel Support Is the Standard of Customer Service
Expectations for customer support have changed. Call centers formerly delivered customer service over the phone, but new trends demand omnichannel support. Most consumers start their journey online. They browse your website, message you via social media, or send you an email.
Offering support across multiple channels is not enough because having to repeat information to multiple agents is customers' biggest source of frustration. They expect to continue their support journey when representatives answer the phone, not start over.  As a result, customers demand interconnected experiences across these platforms.
Give customers the best experience by minimizing friction when interacting across communication platforms.
2. Call Volume Is Growing, so Contact Centers Must Think Beyond Voice
Call center trends reveal that support tickets are continuously increasing from pre-pandemic levels. This puts more pressure on contact center representatives, leading to agent burnout. As a result, companies must adopt strategies to improve agent capacity and productivity.
Contact centers can tackle soaring call volumes by decreasing the number of incoming calls. At the same time, they improve average handle time (AHT). Explore some strategies below.
Boost self-service options

with help center articles, a knowledge base, or answers to FAQs. Self-support empowers customers to solve their issues. Instead of relying on agents for every concern, they find solutions themselves. 

Provide a handoff to voice support when self-service is full.

By offering a clear next step to talking to human agents, companies improve UX. Users can book a call at a time that works for both parties concerned. The agent already has the context to improve first-call resolution and handle time.

Move to a scheduled or outbound support model.

With scheduled customer callbacks, daily call volume is easier to manage. Managers pair agents with clients without hold time. Moreover, agents feel less pressure and are not in as high demand.

Use automation and AI

for customers to receive automated preliminary questions through their preferred channel whenever they book a callback. AI analyzes the response, serves alternative solutions (help articles, links to knowledge bases), and potentially resolves issues. AI creates tickets for more complex issues. 
Strategically schedule agents

to accommodate high rates of seasonal traffic. A few weeks of tracking call frequency is enough to trace a pattern. Scheduling more representatives during the heaviest call traffic helps you better manage tickets. 
Use an online scheduling platform

for customers who want to book appointments. Letting customers set, check, and edit their appointments online reduces the number of calls agents receive. 
Outsource your contact center

if your in-house team struggles to manage high call volumes. Consider outsourcing specific tickets, such as calls from clients wanting to book appointments. 
Many businesses adopt strategies to shorten the queue. They reserve voice support for high-value and sensitive tickets.
These call center trends mean companies will reassess their support setups. Instead of hiring more agents, brands continue to explore channels that are easier to scale.
3. Contact Centers as Revenue Drivers
Many perceive contact centers as cost centers. But more companies now recognize the value of high-quality support in improving their bottom line.
Offering support to customers who make high-value purchases is one way to drive revenue. About 87% of consumers say that talking to an agent makes them more confident about high-consideration purchases. Speaking to a customer service representative offers clients a chance to ask final questions about complex or high-value items.
After addressing customer needs, agents typically offer additional related products or services. They offer service plans or accidental damage coverage, for instance, to allow contact centers to boost revenue through cross-selling and upselling. This strategy also helps improve customer retention.
These call center trends are significant because they change how businesses see support centers. Don't miss out on a revenue driver by looking at customer service as just a cost center.
4. Contact Centers Adopt AI To Boost Efficiency
Artificial intelligence (AI) and natural language processing (NLP) have transformed and modernized processes. Even tools used by contact centers daily have improved.
Legacy interactive voice response (IVR) systems are a known source of frustration for customers because they are hard to navigate. Plus, it forces customers to listen to multiple options that do not apply to their needs or situations.
Alternatively, conversational IVR uses NLP, AI, and machine learning to examine what the customers are saying. These technologies connect customers to the relevant department. Conversational IVR reduces customer frustration and saves time; it allows a better experience between customers and agents.
These call center trends also streamline the process of updating customer data. NLP extracts contextual data from transcribed or recorded calls. It also automatically tags service requests, complaints, or fault reports. 
5. Cross-channel Interactions Are AI's Safety Net
Harvard Business Review reported that 55% of companies had accelerated their adoption of AI. However, this adoption comes with risks of failure. For instance, how many customers will encounter a problem while using your chatbot?
Procurement and implementation of machine learning and AI are skyrocketing but often at the cost of the customer journey. AI takes time to understand and learn from consumers; it requires inputted data to improve its knowledge. During that process, clients need a simple way to connect to a live agent.
Seamless cross-channel transitions are vital to a loyalty-focused customer experience. If customers encounter problems while talking to a chatbot or have exhausted its capabilities, they should be able to book a call with an agent. This way, customers control the transition (they schedule a callback in their available time). They bypass the need to recap. 
Dead ends are inevitable in the current state of AI. Do not jeopardize customer journey and satisfaction for AI exploration. Provide a client-controlled point of transition.
6. Remote Work Has Allowed Agents To Control When and How They Work
Contact centers are high-stress environments. Many of these hubs have high absenteeism, turnover, emotional exhaustion, and employee burnout rates. However, the shift toward remote work gives agents more control over their work environments and the freedom to change roles.
Before, agents needed to live near their workplaces. Changing jobs required relocation and added more stress. But with remote work, agents easily decide to move to any organization offering better pay and benefits and a calmer work environment.
The pandemic has made remote work commonplace for contact centers, and it's here to stay. A Gartner study revealed that 75% of remote or hybrid employees had increased expectations for flexible work.
These call center trends affect recruitment plans and employee retention techniques. Contact centers must proactively improve agents' work experience. They must balance workloads, increase pay, and establish predictable environments. Ultimately, they'll improve retention and attract more candidates.
7. Customer Experience Design Will Consider Contact Centers
Businesses used to focus on acquiring and converting new customers and digital channels. They aimed to create a better customer experience. The result was an enhanced focus on marketing and sales and relegating post-sale experience to less vital functions.
About three out of five consumers say that customer experience is a huge factor in their decision to be loyal to a brand. Many companies recognize how significant customer support can be to creating an outstanding customer experience and ensure that customer support is integral to their customer experience journey.
Including a contact center to aid your customers' experiences helps you bridge the gap between service channels and other departments. It allows businesses to establish a holistic experience for clients, from the starting touchpoint to post-sale support.
Call center trends acknowledge the customer journey, not just the first sale and acquisition. You will miss the chance to build longer-lasting relationships if you leave contact centers out of your customer journey.
8. Digital-first Interactions Are Becoming the Norm
Helping customers on digital platforms is nothing new. Companies have tried to resolve customer issues remotely to improve effectiveness for years. The World Economic Forum even reported that 84% of employers planned to digitize processes and transition 44% of staff to remote work.
Digital-first assistance is hitting a peak, and this is not surprising. The growing complexity of tickets, growing customer expectations, and the emergence of new call center automation tools drive this trend. Automation tools cover internet of things (IoT) diagnostics, augmented reality (AR), computer vision AI, and cloud-based technologies.
9. Growing Demand for Self-service
Consumers today do not like to wait; they want to help themselves through text messages, social media, the web, phone calls, and more. Additionally, they expect relevant and personalized experiences. They want interaction with agents to move seamlessly between platforms.
Self-service IVR is also a common choice, with 40% of companies increasing their utilization of IVR during the pandemic. These call center trends are crucial for companies that lack a workforce and rely on the technology's call routing to handle the daily workload.
10. Automation Tools Will Augment Call Centers
Automation is used by companies to augment contact centers, not replace them. Automation reduces costs and boosts operational processes' speed, consistency, and scalability.
Most agents without AI automation spend a great deal of time on mundane tasks. Companies and contact centers should use AI to simplify internal processes. This eliminates the burden of repetitive tasks and empowers agents to focus on complex and strategic activities.
11. Analytics Provide Important Insights
More businesses see the advantage of customer analytics. Trends show increased use of analytics to predict and prevent future issues, helping organizations improve their interaction at all customer touchpoints and become more proactive. 
Most consumers expect brands to know their unique concerns. The more agents are aware of this, the more they can assist clients with immediate concerns. More importantly, agents create a relevant and personalized experience, thus strengthening customer relationships. 
12. Ensuring Safety in Security Policies
Carefully outlined security processes are more important than ever with the growing number of agents working from home. Contact centers now routinely update their access policies and implement advanced cyber technologies. Support centers institute video monitoring for remote employees and virtual private network (VPN) multifactor authentication (MFA).
The demand for stricter security policies has increased; though only 11% of enterprise cloud users have deployed MFA, those numbers are increasing. Refresher courses for agents in call center security and compliance help companies secure data and networks. 
13. Expanding Training Possibilities
Training contact center agents ensures customers get the best experience. But the previous standard of full-day classroom-based training is no longer applicable in most call centers.
Moreover, classroom-based training is not as effective. According to RTPS, shorter training courses support long-term retention and increase focus by 80%. Hence, companies now use digital tools to improve training methodologies, such as:
Gamification

Highly personalized feedback

Short bursts of micro-learning modules

AI-driven training hypothetical scenarios
In addition to opportunities for self-paced training, these call center trends are key to reducing churn rates. Improved training significantly decreases agent turnover in an industry known for high attrition.
14. Web Chat Is Becoming an Increasingly Popular Support Channel
Customers want everything fast, including quick resolutions of problems. Furthermore, customers prefer real-time support, such as live chat over social media or email.
Shoppers are more likely to buy again from live chat support companies. That makes sense; embedded live chat means consumers remain in the flow instead of waiting for a reply, sending an email, or making a phone call.
Consumers also report having more positive experiences with completed live chat interactions. Zendesk Customer Satisfaction research shows that live chat has 85% customer satisfaction ratings, second only to phone support.
15. Call Routing Technologies Find the Best Match
Matching customers with the appropriate agents has always been a call center trend. As a result, intelligent call routing is growing in popularity. It creates positive experiences as contact centers connect customers to the best agents. 
Case-owner routing or skill-based routing underpins the matching process. Callers can also request a particular representative familiar with their history or issues.
This technology optimizes the overall experience. With a prioritized call list for agents, shorter customer wait times, and a higher chance of first contact resolution, it is possible.
16. Customer Service Agents Are Becoming Super Agents
Customers are increasingly self-reliant and tech-savvy, leveraging user communities and forums to find answers. Only complicated problems, therefore, reach contact centers. Thus, agents should be ready to handle challenging issues and identify causes.
Agents also need strong project management abilities, analytical skills, and technical training. With such skills, they understand all product or service details. They must also be willing to adapt to changes in call center trends and technologies. Lastly, they must reference data in the CRM fast.
Companies enable agents to go beyond contact centers and consult with business experts. This helps solve difficult issues and boost first-call resolution.
The ability to quickly find available resources helps companies offer better customer service. Comprehensive skill sets and quick thinking let agents easily navigate contact center demands and offer exceptional service as well.
17. Contact Centers as Relationship Hubs
Contact center representatives are the first to know of problems and advise management. They are the conduit for information between consumers and the marketing, sales, and product departments. The relationship between contact centers and clients is the core of customer support.
Agents serve as a feedback loop and can offer insights to help the marketing, sales, and product teams.
Agent insights are crucial at every stage of business development. These underpin strategies are aimed at repeat buyers and advocates. These insights are also vital data points for product development and management.
18. CCaaS and UCaaS Converge Communication
The flexible work environment and the need to collaborate and connect are trends vital to call center success. The same goes for the rising focus on customer engagement. Thus, customized, integrated, personalized, and embedded solutions are crucial; they help fulfill the needs of today's workplace.
Here are how merging CCaaS and unified communications as a service (UCaaS) solutions improve the experience for all parties:
Incorporating many communications options engages clients on their preferred platforms, including live chat, messaging, and video.

A single dashboard for all business apps gives contact center agents a better infrastructure.
The merging of CCaaS and UCaaS technologies helps businesses improve customer interaction because it addresses the demands of a hybrid workplace.
19. Customer Service Has Become the Key Differentiator
Customers expect a completely positive experience, so they have little patience when it is lacking. The Vonage Global Customer Engagement Report 2021 revealed the following actions that push customers to their loyalty breaking point: 
Overall frustration (52%).

An annoying experience repeatedly happens while interacting with a brand or service provider.

Communication dead ends (46

%). A customer calls in. No agent or other support channel is available.

Hello, human. (46%).

A caller wants to speak to a human agent, but no option to connect to one is available.

Stranded in self-help

(

46%)

. A self-help option does not solve the problem, but no option to receive other support or call an agent is available.

Stuck in a waiting loop (44%).

The wait time is too long when a customer calls in, but they have no option to request a callback.

Sent in the wrong direction (38%).

A client calls in and selects a number from the recorded list of options but gets connected to the wrong agent.

AI roundabouts (38%).

A customer has to repeat themselves to an agent after explaining the problem to a chatbot or another agent.

No changing lanes (26%).

A customer has no option to switch between communication platforms.
These actions make customers stop supporting a brand. Customers demand a positive experience and are more than happy to leave after poor service.
More and more companies have started competing based on customer service quality. They can no longer hide poor customer support. Each organization has an online footprint of its failures and successes for everyone to see.
20. Number of Difficult Calls Increased Due to the Pandemic
The number of difficult calls to customer support increased by over 20% during the early stage of the pandemic. These calls included distressed or angry callers taking their annoyance out on agents. Most agents who took these calls did not have the technology or equipment to connect calls to the appropriate experts, resulting in a 68% increase in escalation.
Meanwhile, manual routing and escalation increased by 34% in terms of wait time as agents managed customer complaints. Most of these agents were working from home. 
As the pandemic continues in various forms, more contact centers invest in training and technology. Among other skills, contact centers help agents handle difficult calls. These solutions optimize manual education and routing processes.
Now, the trend is to focus on improving connecting calls to the appropriate staff, which is crucial for WFH employees. Teaching agents to deal with distressed and frustrated clients improves customer experience. Lastly, this training program makes the call center environment more productive.
Call Center and Contact Center Predictions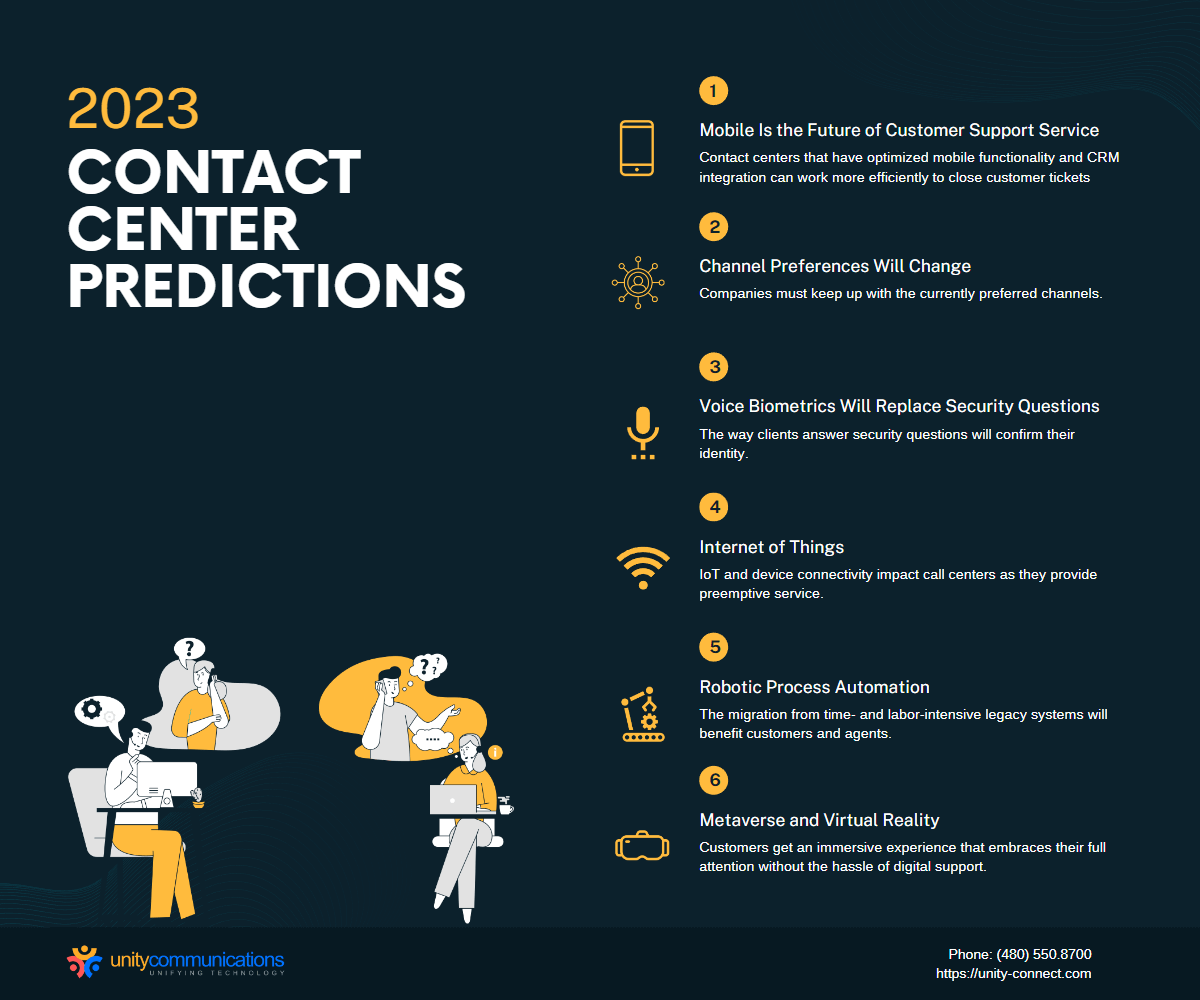 Legacy call center technology will continue to be the standard and will include analytics capabilities and smart interactive voice response (IVR).  
On the other hand, emerging technologies will alleviate overhead and put actionable data at agents' fingertips. Such technologies are the internet of things (IoT), robotic process automation (RPA), virtual and augmented reality (V/AR), and the metaverse. 
Read on for a closer look at the contact center predictions for the coming years.
1. Mobile Is the Future of Customer Support Service
Call center trends show that mobile devices are growing in importance. Clients will most likely use them to contact you via social media, live chat, or email. Likewise, call center agents can use their mobile devices to help customers. Mobile functionality is a key recruitment and retention tool because it supports flexible work.
Businesses must optimize mobile functionality and integrate their CRM and contact centers. Customers often struggle to reference their order history and other data when calling via a mobile device. But agents have access to a client's full review to anticipate their needs better and assist regardless of where they are.
CRM integrations and mobile functionality accommodate higher call traffic. They also expedite resolutions and improve customer satisfaction.
Key takeaways
Contact centers with optimized mobile functionality and CRM integration can work fluidly to close customer tickets faster and improve satisfaction.

Mobile optimization also allows customers to use their preferred platforms and give agents access to client data.
2. Channel Preferences Will Change
WhatsApp, founded in 2009, now has 2.2 billion users. It's one of the most used social messaging apps and a popular choice for customer service channels. Customers and businesses alike prefer using WhatsApp to create outstanding experiences.
How contact centers adapt to customers' channel preferences will determine their success. For instance, younger consumers are notorious for switching channels. They keep moving across voice calls, email, web chat, and more. Keeping up with them while maintaining the interaction's context is key to successful customer service.
Key Takeaways
Companies must keep up with the currently preferred channels.

Maintaining context across various channels determines customer support success.
3. Voice Biometrics Will Replace Security Questions 
Many customers use their mothers' maiden names as one of their security questions. However, call center trends to show that voice biometrics will dominate the future, with a projected market size of almost $4 billion by 2026.
Replicating the human voice is more challenging than stealing a customer's data. Voice biometrics analyze the intricacies of the human voice, from the shape or size of the mouth to the tension in the vocal cords.
Voice biometrics recognizes the unique qualities of each customer's voice and helps to quickly confirm their identity. Using their unique voiceprints helps solve security problems.
Key takeaways
The way clients answer security questions will confirm their identity.

Unique voiceprints will improve customer security.
4. Internet of Things
The world is getting more interconnected as devices connect with other devices or people independently. It might significantly affect contact centers, allowing companies to offer preemptive service.
For example, if a patient's heart monitor is overheating, it can automatically send a service request to the right people. Perhaps an air conditioning unit can self-diagnose and alert the manufacturer when a part needs fixing. That would take the user out of the equation altogether.
The implication is that consumer behavior will change. Instead of merely buying products, consumers will purchase items with built-in customer support. This will raise the stakes for companies to ensure that they're getting customer service right.
Key takeaways
Shoppers might purchase products with built-in customer support.

IoT and device connectivity impact call centers as they provide preemptive service.
5. Robotic Process Automation
Many contact centers depend on legacy systems that are difficult to navigate and require agents to accomplish multiple steps, even for basic tasks. Such time demands will not work well with impatient customers.
Call center trends reveal that RPA will become the norm, and its market size is expected to grow at a compound annual growth rate (CAGR) of 38.2% from 2020 to 2030. RPA uses bots and AI to simplify software development, implementation, and management. Contact centers benefit from RPA with a streamlined workflow.
This starts when robots help new agents through training modules. They also help agents record key data from each interaction and offer real-time information, helping boost customer satisfaction.
Other benefits of RPA include:
Reduced human error, shorter wait time, and more reliable customer service

Higher agent satisfaction and engagement

Freedom for agents to concentrate on more complex tickets or individually follow up with customers
Key takeaways
The migration from time- and labor-intensive legacy systems will benefit customers and agents.

A simplified workflow will improve customer and agent satisfaction.
6. Metaverse and Virtual Reality
Despite popular perception, virtual reality is nothing new. Homeowners have used iterations of this technology to plan and measure their home projects. Alternatively, fun-seekers tap into VR for games, concerts, and virtual interactions with their favorite celebrities.
Call center trends to justify the place of augmented and virtual reality and the metaverse in the future of customer service. These technologies are game-changers for customer tickets requiring in-person experience.
Agents guide customers through a virtual product demo or tour. They also virtually offer technical support or arrange a meeting with other staff or clients. Such scenarios are helpful for current and prospective customers.
Contact center managers can host virtual seminars or training and unite remote workers through VR. In addition to reducing expenditures and travel time, VA and AR introduce clients to new ways of interacting with brands, strengthening collaboration.
Key takeaways
Augmented reality reduces travel costs while improving customer connections.

Customers get an immersive experience that embraces their full attention without the hassle of digital support.
The Bottom Line
Businesses must recognize the importance of contact centers and support agents, especially in maintaining customer relationships and driving client retention. These call center trends for 2023 show a fundamental shift in the role and overall value of customer support within businesses.
Shoppers are more than willing to walk away when they feel they are getting poor service. Meanwhile, remote work opens opportunities for agents to jump ship.
Companies should reframe how they look at contact centers and consider adopting processes and tools that enable them to work efficiently. Remember that contact centers can help drive revenue through contact with customers and through providing customer feedback to marketing and product development departments.