More contact centers are popping up as companies prioritize improving customer engagement by investing in cloud-based communication platforms such as contact center as a service (CCaaS). 
So what are contact centers, and how do you get the best services from this new trend? 
This article explores what contact centers are—their benefits, issues, and types. More importantly, it shares industry tips to help you get the best contact center services. 
Read until the end to learn how to make the most of contact center services. 
What Are Contact Centers?

A contact center is part of your company that helps customers or users address questions, requests, and issues regarding your organization, products, or services. 
Agents from this department interact with customers using different channels such as fixed phone lines, mobile phones, messaging apps, social media, and email.
You can outsource your contact center to a business process outsourcing (BPO) company. This third-party vendor manages customer service or technical support operations for an agreed fee. With the help of a BPO company, you can achieve a better consumer experience and higher revenue. 
You will benefit the most from a contact center if you belong to any of these industries:
Healthcare 

Automotive

Banking and financial services

Ecommerce and retail

Consumer services  

Telecommunications

Consulting services
Benefits of Contact Centers
Customer expectations are typically high. Customers opt to interact with brands at their preferred time and on their preferred communication channels. They can quickly switch to your competitor if your service is poor or unacceptable. 
Below are some advantages offered by contact centers:
Enhanced agent performance

. Omnichannel functions enable contact center agents to manage more consumer inquiries and requests. The different channels are on a single dashboard, so specialists do not need to switch from one browser to another to find the right application. 
More accurate insights

. Contact centers use a single platform to unify various communication channels.

As such, they quickly gather customer information and interaction data

.

Contact center software analytics

also detects consumer behavior, problems, and patterns to help you develop actionable insights.
Greater customer experience

.

Multichannel services

make contact centers more accessible.

Multichannel communication expedites response time and issue resolution compared to individual communication channels

. Fast service improves customer satisfaction, leading to brand loyalty, repeat business, and sales. 
What Are the Issues Facing Contact Centers?
Contact centers have potential drawbacks depending on the setup (in-house or outsourced). Here are four challenges to consider:
| In-house | Outsourced |
| --- | --- |
| Building a contact center platform can be costly. You must purchase hardware, software, middleware, and other devices. | Losing some degree of control is unavoidable. The contact center service provider manages most of the operations for you.  |
| Offering 24/7 support is almost impossible. You rely on employees who are mostly available on weekdays, not weekends. | Hiring outsourced support does not guarantee that contractors are as knowledgeable about your brand guidelines as your in-house employees. |
| Running a contact center department requires employee and management training, which are costly and burdensome. | Allowing a third-party vendor to handle customer service or tech support might compel you to disclose critical customer data. |
| Hiring employees means higher operating costs and a larger human resource budget. | Recruiting a service provider that is more profit-focused than client-oriented might result in reduced quality control. |
What Are the Types of Contact Center Services?
There are three types of contact center services: inbound, outbound, and mixed.
Inbound

refers to incoming calls that contact center agents receive from customers. These agents provide callers with service and support. Inbound call features include interactive voice response (IVR), automatic call distribution (ACD), call queues, skills-based routing, and real-time reporting.

Outbound

refers to outgoing calls that contact center specialists make to existing and potential customers. They make such calls mainly to engage in sales, launch lead-generation activities, or conduct surveys.

Outbound call features include predictive dialers, call recording, agent scripting, and number masking

.

Mixed

,

as the name suggests, combines outbound and inbound. Service providers offer mixed contact center services to give clients the best of both worlds. Suppose the inbound team receives sales leads from callers. The outbound team follows up on these leads, persuades the prospects, and tries to close the deal.
Get the Best Contact Center Services: 27 Best Practices

At this point, you have a solid idea of what contact centers can offer. Next, we will discuss 27 best practices to help you maximize contact center services. 
Contact center best practices cover various aspects, ranging from employees and training to technologies and pricing. 
Let's start.
1. Implement an Effective Training Program 
To achieve maximum efficiency, conducting regular training programs for contact center agents is essential. Training and skills development must be ongoing and not limited to onboarding new hires. 
Seek assistance from your top-performing agents to teach and motivate the rest of the team. Employees are more comfortable training with coworkers than outsiders. Their pre-existing relationship helps create a safe space where people can ask questions. 
Below are some approaches to coaching team members.
Avoid negative replies.

Instruct coaches to stay away from negative answers as much as possible. Instead of saying no, they should respond positively and honestly.
Partner new agents with experienced ones

. Job shadowing is an effective method of speeding up the learning curve with new hires and underperformers.
Create roleplay scenarios

. Sharpen agents' skills by simulating the most challenging customer problems via roleplay. Give them real-life situations that need proper and ethical solutions. 
2. Prioritize Available Communication Channels 
One of the best contact center services is omnichannel support, letting agents interact with customers wherever and whenever. The communication channels to focus on are:
Social media

.

Gen Z and millennial consumers mostly use this channel

. These groups frequently use Instagram, Facebook, Twitter, and LinkedIn to contact customer service or tech support.
Phone calls

. Fixed phone lines are the oldest means of communication. Still, contact centers use them because they offer clear audio and are easy to use.

Messaging apps

.

Many users or customers rely on Signal, Viber, Messenger, and WhatsApp to reach out to customer service or tech support.
Email

. This communication channel easily monitors and records written interactions. It allows the sharing of private data.

Live chat

. This channel is simple to use. It helps customer service agents provide immediate answers to customer inquiries. 
3. Choose the Right Agents 
Hire tech support representatives with strong information technology (IT) backgrounds and certifications, if necessary. Technical skills are a requirement for IT specialists.
Soft skills are also essential for effective communication, regardless of whether an agent offers customer service or tech support. An agent should be:
An active listener

. Agents must recall and understand the details that callers share. 

Empathetic

. Specialists must emotionally understand customers' experiences.  

A team player

.

Representatives must be proactive and determined to help the team achieve its goals.

Persuasive

. Support agents must convince customers to purchase products or leave favorable reviews.

Knowledgeable

. IT or service staff must sufficiently answer questions about the company, products, and services.

A problem-solver

. Help desk or support specialists must immediately identify the source of a customer's problems. They must offer quick and satisfying solutions. 
4. Form a Solid Team
Here are some tips for building a contact center team that is well-suited for efficiency.
Determine the right number of personnel

. Your team must include a team leader or supervisor, specialists, and a consultant (to help the team during operations). If your team comprises ten agents, at least three must be top performers.
Hire the appropriate personnel

. Have a dynamic team of specialists and new hires. Experienced team members are creative and able to work under pressure. Meanwhile, rookies are energetic, curious, and teachable.
Foster collaboration and openness

. Instill cooperation, teamwork, optimism, and honesty. Encourage members to develop a smooth and effective workflow. These traits help build and maintain high morale within the team.
Select the best tools

.

Provide the relevant software to assist customer service or tech support team members

. 
5. Treat the Team as a Revenue Driver 
Making the customer service or tech support team (or both) a revenue-generating function is one way to provide the best contact center services. 
The primary responsibility of a contact center team is to help customers with product or service concerns. But they also play a vital role in building, increasing, and maintaining brand loyalty and customer retention.  
When customers experience high satisfaction from assistance, agents can persuade them to purchase different products or services. So encourage team members to upsell or cross-sell when possible. 
The team's ultimate goal is to earn consumer loyalty by consistently providing an excellent overall experience. A strong business relationship with customers translates to more repeat sales and free promotion via word-of-mouth. 
6. Ensure Data Security
Businesses must ensure critical and sensitive consumer data stays safe to provide the best contact center services. All systems must have advanced cybersecurity technologies. 
A contact center provider must protect vital private information such as bank account numbers, residential addresses, credit card numbers, insurance details, medical records, and payroll. Thus, high-level security and privacy policies must be in place. 
Moreover, privacy breaches or online intrusions due to poor data security affect brand image. 
Request that the service provider signs a non-disclosure agreement to prevent data breaches and misuse. Tech support or customer service teams must have proper authorization to access and use data. 
Airtight data security practices must comply with the federal government's regulations and industry standards. These policies safeguard the public from illegal access to confidential information. Non-compliance results in heavy fines or imprisonment. 
7. Adopt Multilingual Support 
To maximize contact center services, the team must have multilingual capabilities. Such a feature enables you to address the demands of international customers. 
Multilingual support includes voice and text. Language translation apps are available for live chat, email, messaging, and social media. Finding the right talent who speaks non-English languages fluently is ideal for oral communication.
One drawback of hiring multilingual specialists is that they are hard to find and costly. But consider the following advantages before weighing your options:
Higher sales

. Non-English buyers prefer to interact with agents who speak their native tongue. Overcoming language barriers means a higher chance of closing sales.
Enhanced products or services

. You receive feedback and reviews from local and overseas customers. More data leads to product or service enhancements. 
Bigger market

. A wider market reach gives you an edge over your competitors. 
8. Acquire the Latest Software
Advanced software is necessary for the best contact center services. New technologies offer first-rate customer experiences and high satisfaction. 
Check out these application must-haves:
ACD

is used to properly handle a high volume of inbound calls. It simplifies the communication process by dividing calls evenly among agents. 
Workforce management software

allows managers to organize and automate various tasks more efficiently. It helps them deal with staffing, productivity, and performance issues.
A

predictive dialer

accelerates outbound calls and is best for sales and marketing teams. It anticipates agent availability and connects them to the right prospects.  
IVR

is an automated phone system that communicates with callers and offers them a menu with different selections. It performs a certain action depending on the caller's choice. 
9. Go for Global Coverage  
Expand your customer base and reach new markets with contact center services. International service providers combine multilingual, omnichannel, and 24/7 support to broaden business opportunities. 
When setting up overseas operations, you have the following:
Easier access to a wide talent pool

. Remote recruitment is more effective because it taps into diverse job markets. More options for talent lead to significant cost savings. Some countries offer a skilled and educated workforce at very affordable prices.
Better safeguard from a downturn

. Expanding globally means a business can still thrive when local operations are slow. Overseas sales help recover or cancel out losses. Access to more markets and a bigger customer base enables you to distribute financial risks.
Greater revenue potential

. When a business reaches its growth limit domestically, the international marketplace becomes a gold mine. Expanding internationally allows you to reach a bigger audience and achieve more sales.
10. Focus on the Relevant Metrics
Monitor key performance indicators (KPIs) to optimize contact center services. Focus on the most relevant KPIs to avoid clutter and distractions.
Prioritize metrics that gauge service levels, such as:
Average handle time (AHT)

is the average length of time a contact center agent spends on a customer's call. The AHT industry average is around six minutes.

Call abandonment

is when a caller hangs up before an agent replies to the question or resolves the issue. The industry's standard rate is between 5% to 8%.

First call resolution (FCR)

measures the contact center's performance in addressing a customer's needs on the first call. The higher the FCR rate, the better.

Agent schedule adherence

shows whether agents comply with their assigned schedules. A low rate can lead to subpar customer service.

Average hold time

gauges the average amount of time agents put callers on hold during a conversation. The average hold time must not be more than two minutes per call. 
11. Utilize Customer Feedback
Contact center agents must ask for feedback from customers after an engagement. Callers appreciate businesses that consider their comments, suggestions, and requests seriously. It is a useful way to strengthen your relationship with them.
Use customer feedback to better understand their needs, improve their experience, and increase satisfaction. Here's how to use customer feedback to boost agent performance:
Brainstorm with team members

. Sit down with the team and discuss the unfavorable reviews and comments. Comment the team for a good job, but ensure you objectively tackle the areas that still need improvement. The sooner you fix issues, the better.
Develop a customer journey

. Receiving feedback means that customers tell you their wants, desires, and expectations of your business. You can use such insights to build an ideal customer journey to guide agents in delivering excellent, continuous service. 
12. Personalize Service With a Human Touch 
Automated solutions are helpful tools, but they cannot understand and share customers' feelings better than human agents. A personalized approach to customer support builds stronger relationships, leading to higher loyalty and retention. 
To ensure individualized service, remember these tips:
Check customer history

. View customers' history (past interactions, requests, and orders) before and during calls. 
Converse on a first-name basis

. Use their first names when chatting, talking to them on the phone, or sending an email. 
Request feedback

. Customers appreciate agents who ask about their opinions on a product, a service, or the company.
Initiate small talk

. This approach is effective, but it must be used with good timing. People like to talk about light topics.
Be human

. Engage with callers with honesty, courtesy, patience, and empathy. These traits make a big difference. 
13. Supplement Agents With Self-service Options
Experience the best contact center services using self-service options. Automated software goes a long way but will not replace live specialists anytime soon. 
Customers of tomorrow will always be humans who prefer to interact with fellow humans. Self-service options streamline basic inquiries, so live agents can focus on addressing complex customer concerns and delivering first-rate satisfaction. 
Use self-service options:
For basic or routine customer issues 

During busy hours, agents can redirect customers to these resources

To further educate customers on products and services
Self-service options consist of the following: 
Frequently asked questions (FAQ) page

Chatbots and virtual assistants

Online knowledge base

Online support forum

AI-powered chat and messaging

Product or service tutorials 
Ensure self-service options are easily accessible and contain the right answers to common questions. Supply them with the right amount of information because too much data confuses visitors.  
14. Accelerate Support Speed            
The best contact center services must save time, money, and effort. You can easily save on these resources when contact center tasks are completed at the fastest possible time. 
Quick response time is vital to improve revenue and build brand loyalty. Speedy, high-quality, and accurate services result in higher productivity from contact center agents. Business agility also contributes to industry competitiveness.
To achieve a fast response time, do the following:
Emphasize chatbots and live chats

. Both communication channels allow agents to manage different chats for quicker service and support.
Energize the team with knowledge

. Update agents on relevant product or service information so that they can provide faster and more accurate answers to questions.
Identify and improve KPIs linked to response time

. Find out which metrics shorten the time agents spend responding to customer issues. Ask the team to keep track of these KPIs and do their best to be agile.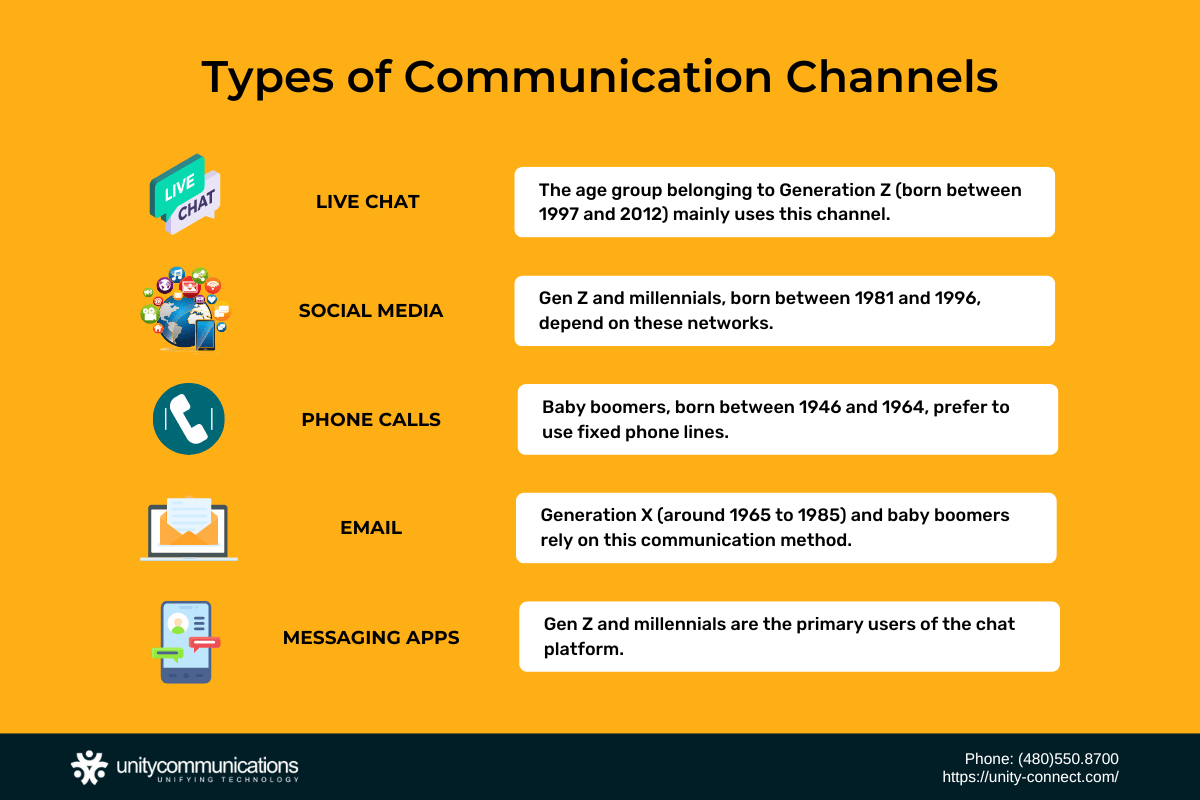 15. Meet Customers on Their Favorite Channels 
Consumer preferences differ depending on demographics. In particular, a consumer's age group is the main factor determining which communication channels they use. 
Agents must be ready to interact with buyers based on their preferred platforms and the generations they belong to. Here are some guidelines to follow:
Live chat

. The age group belonging to Generation Z (born between 1997 and 2012) mainly uses this channel.
Social media

. Gen Z and millennials, born between 1981 and 1996, depend on these networks.
Phone calls

. Baby boomers, born between 1946 and 1964, prefer to use fixed phone lines.
Email

. Generation X (around 1965 to 1985) and baby boomers rely on this communication method. 
Messaging apps

. Gen Z and millennials are the primary users of the chat platform.
Gen Z, millennials, and Generation X are knowledgeable about technology, while baby boomers are less tech-savvy. 
16. Adapt to Changes All the Time 
The best contact center services and best practices might only be applicable for a certain period. They are useful today but not tomorrow. For instance, the fixed telephone system was once the king of communication. But technological advances in the following years made it less important.
You must be open to and constantly updated on changing trends. Strive to be flexible and adaptable to enable your team to build a better strategy. Consider these points to help your business evolve:
Monitor technological trends

. AI, machine learning, the internet of things (IoT), big data, and blockchain are the future.
Watch global business directions

. Going forward, we can expect a greater focus on the environment, cashless payments, the shift of economic power from West to East, and the rise in the popularity of outsourcing industries.
Track the signs of the times

. Observe major events happening in society. Nobody expected that the pandemic would considerably change the worldwide business and social landscape. Social distancing became the norm as a result.
17. Build and Keep a Knowledge Base for the Team
Having an accessible and regularly updated database of information for agents is essential. Agents often come across difficult questions from customers. The knowledge base helps them find the right solutions. 
To maintain an effective knowledge base, you must:
Write for the audience

. Articles and FAQs are short, organized, and reader-friendly. 
Check for quality

. Review and edit each item for timeliness, accuracy, and relevance.
Encourage reader feedback

. Put in place an autoresponder that allows customers to send comments after their tickets are addressed.
Enhance content

. Add photos, videos, charts, and infographics to provide the audience with an informative and enjoyable reading experience.
Personalize articles

. Content must be designed as if it is talking directly to the reader. Make it interesting and engaging. 
18. Empower Your Contact Center Agents 
Boost agent confidence by letting them take ownership. Allowing team members to fix customer issues independently is essential to get the best contact center services. Greater responsibility leads to more success and higher productivity.
To empower agents, follow these suggestions:
Ask for feedback from team members.

Soliciting suggestions, comments, and opinions makes team members feel valued.
Involve them in making call scripts

. Nobody knows customers better than agents. Their input in developing better call scripts is useful.
Provide leeway

. Benefits improve morale and motivation. So give agents extra vacation days and flexible work schedules or breaks as needed.
Conduct different training activities

. Training and team-building activities are a welcome change for agents, especially when they are done at a different venue and in a fun way.
Avoid penalizing their errors

. Coach agents when they make mistakes and reward them when they are successful.   
19. Run the Team Like a Well-oiled Machine   
A structured contact center team ensures better efficiency, coordination, and productivity.
A three- to five-level help desk system for the technical support team is ideal for delivering the best contact center services. The tiers are:
Tier 0

lets users resolve product or service issues through self-service support options.

Tier 1

deals with simple concerns such as troubleshooting and installation. 

Tier 2

addresses problems or issues beyond Tier 1's capability. 

Tier 3

handles the toughest user issues.
For the customer service team, the typical setup is as follows:
Contact center agents

are specialists or front-line professionals who assist customers with their needs.
A

team leader

manages agents and engages with customers who have challenging concerns.
A

supervisor

is similar to a team leader. A supervisor reaches out to a customer demanding to interact with someone in a higher position. 
20. Take Advantage of Contact Center Data
Management instincts and experience are good, but combining them with analytics is better. Using math, statistics, and advanced applications reduces the guesswork of analyzing consumer behavior.
Here are some ways to use analytics:
Identify pain points

. Analytics helps you find the exact problems along the customer journey. For instance, if customers do not spend time engaging with your self-service options, then the content is poor. 
Process feedback

. Gather and analyze customer comments, suggestions, and views with analytics. Do not leave out any details. Discover useful insights using customer perspectives and take action on them. 
Monitor agent performance

. Use analytics to track top-performing agents and reward them accordingly. Use the same process to find underperformers and motivate them more.
Determine channel efficiency

. Use analytics to know which communication channels are frequently or rarely used. This information helps you prioritize channels to invest in. 
21. Provide Agents With a Bright Career Path
One method of getting the best contact center services is to retain agent loyalty. Employees often leave their positions because they see no opportunity to maximize their full skills or to grow and excel within the company.
Try these tips to help agents build a meaningful career path:
Assign substantial tasks

. Give agents more responsibilities within their capacity. Ensure these duties align with their skills and strengths.
Launch a leadership training program

. Offer leadership training to interested agents. This shows that the company is serious about advancing current employees to managerial positions.
Inquire about their career plans

. Spend time with agents and ask about how they see themselves in the company after a year or so. Discover their career needs and wants.
Provide incentives

. Top performers must be rewarded. Give incentives to those who excel in areas other than productivity and efficiency. 
22. Invest in New Technologies
Employing the latest technologies makes contact center services more efficient. They help deliver the best possible customer experience. Advanced applications and tools enhance communication lines and address consumer requirements in a short period.
Below are some technologies to consider:
Robotic process automation (RPA)

allows a software robot to perform specific tasks, enabling agents to concentrate on more urgent or critical tasks. 
AI

pertains to the imitation of human intelligence in machines. Incorporating AI technology into the workflow improves output at low costs.
Cybersecurity

requires high-quality security software to protect hardware, software, and data systems from online scams, intrusions, and identity theft.
Omnichannel solutions

are a must-have; they cover all the communication channels consumers use. The solution unifies phone calls, chats, emails, and social media into a single platform.
Cloud computing

allows all applications and software used in the contact center to function remotely or over the cloud.  
23. Outsource With the Right Service Provider
Choose the right BPO company when outsourcing customer service or technical support. Outsourcing is a recommended solution to get the best contact center services. It reduces costs, gives you access to experts, and lets you focus on the core business.
Check these criteria when looking for the ideal BPO partner:
Choose a provider with a good reputation

. Look for a BPO partner with a broad track record, with reviews from the different startups and companies they have worked with. 

Team up with a company that guarantees security and privacy

. The service provider must have strong security protocols across its systems to help meet your compliance requirements. 

Work with a partner with a dedicated team of specialists

. Ensure that the BPO firm will focus solely on your tasks. A dedicated team consists of skilled professionals able to deal with various customers.
24. Attend Contact Center Conferences and Expos
Participating in major events or gatherings enables you to share knowledge with contact center experts, professionals, and leaders. You learn about the latest trends, advancements, and industry information.
To benefit from a conference or expo, do the following:
Meet new people to resolve issues

. Network with subject matter experts who can help meet your contact center's requirements. Some offer consulting services for little to no cost.
Look for potential partners for business growth

. Find colleagues and leads relevant to your business niche. Attend all the event's activities, if possible, from the first to the last day to build a new network. 
Bring as many team members as you can

. The more participants, the higher the chance of finding business opportunities. Ensure each staff member attends different event sessions or workshops to learn and network.
25. Realize the Contact Center's Role in Competitiveness 
The best contact center services give you an edge to stay ahead of the competition. Gaining a competitive advantage allows you to:
Continue building and maintaining customer retention

Adapt to customer needs and demands quickly

Enhance workflow productivity and efficiency

Raise the agents' output and performance

Maintain and even increase revenue
Follow these useful tips to achieve a competitive edge with contact center services:
Offer a complete service

. Provide omnichannel support (to cover all channels customers employ), round-the-clock operations (to allow them to contact you anytime), and multilingual capabilities (to cater to international markets).
Retrain and upskill the team

. Employ different training styles and methods such as mentoring, online and classroom learning, live call testing, and conducting training abroad.
Adopt customer-centric policies

. Most strategies, decisions, and services must build, increase, and sustain customer experience and satisfaction.
26. Reduce Operating Expenses 
The cost of running the business (e.g., phone calls, employee salaries, hardware, and another IT spending) must decrease to determine whether you are obtaining the best contact center services.
Here are ways you can reduce costs using contact center services:
Enhance FCR

. Motivate agents to address a customer's concern on the first phone call as quickly as possible. Per-minute call costs go down considerably.
Harness other communication channels

. Increase the use of email, live chat, and social media to interact with customers. They are cost-effective methods best for questions that need short answers.
Reduce agent turnover

. Recruitment expenses (e.g., job advertising, screening, interviewing, hiring, and onboarding) are costly. Keep agents for as long as you can.
Encourage more use of self-service options

.

If customers check your FAQ pages and knowledge bases, you reduce interactions with human agents and the costs per call.
27. Define Goals, Set Targets, and Track KPIs

Your objectives must be to deliver an excellent customer experience, lead the team to success, and contribute significantly to the company's revenue. 
To achieve these goals and acquire the best contact center services, consider these tips:
Set specific, quantifiable, and realistic targets

. Emphasize the targets the team must hit periodically, such as +5% FCR, +1 to 2 on

net promoter score (NPS)

, and -30 seconds on AHT before the end of the week.
Monitor KPIs

.

Keep an eye on relevant metrics to accomplish your targets. To ensure accuracy, check all historical and real-time data. Assess performance by comparing current results with the previous ones.
Motivate and reward agents

. Meet with team members regularly to discuss their productivity. Encourage them to do their best, assure them of your full support, and reward them in cash or kind when targets are met.
The Bottom Line
Understanding the benefits, drawbacks, types, and best practices helps you make the most of contact center services. We hope this guide provides valuable insights to assist in your decision-making. 
Whether outsourcing or keeping contact center services in-house, being well-informed about the subject is vital. It increases the chance of realizing your objectives. 
The next step is to reach out to the different contact center service providers to learn more about the processes. 
Contact Unity Communications to help you move further.