Written by Dion Jay Tality
Optimizing contact center operations enhances customer experience. However, some companies lack the technology and resources to do this.
Businesses also often encounter a surge in contact volume and a rising demand for connecting with customers across multiple channels on top of employees working remotely amid the ongoing effects of the pandemic.
How do you address these multiple issues? Consider using a contact center as a service (CCaaS). It's a cloud-based, provider-hosted customer contact solution.
CCaaS scales your contact center operation and improves customer interactions – just two of the many benefits of CCaaS.
Continue reading to find out more about using CCaaS for your contact center.
Why CCaaS Is Best for Contact Center Operation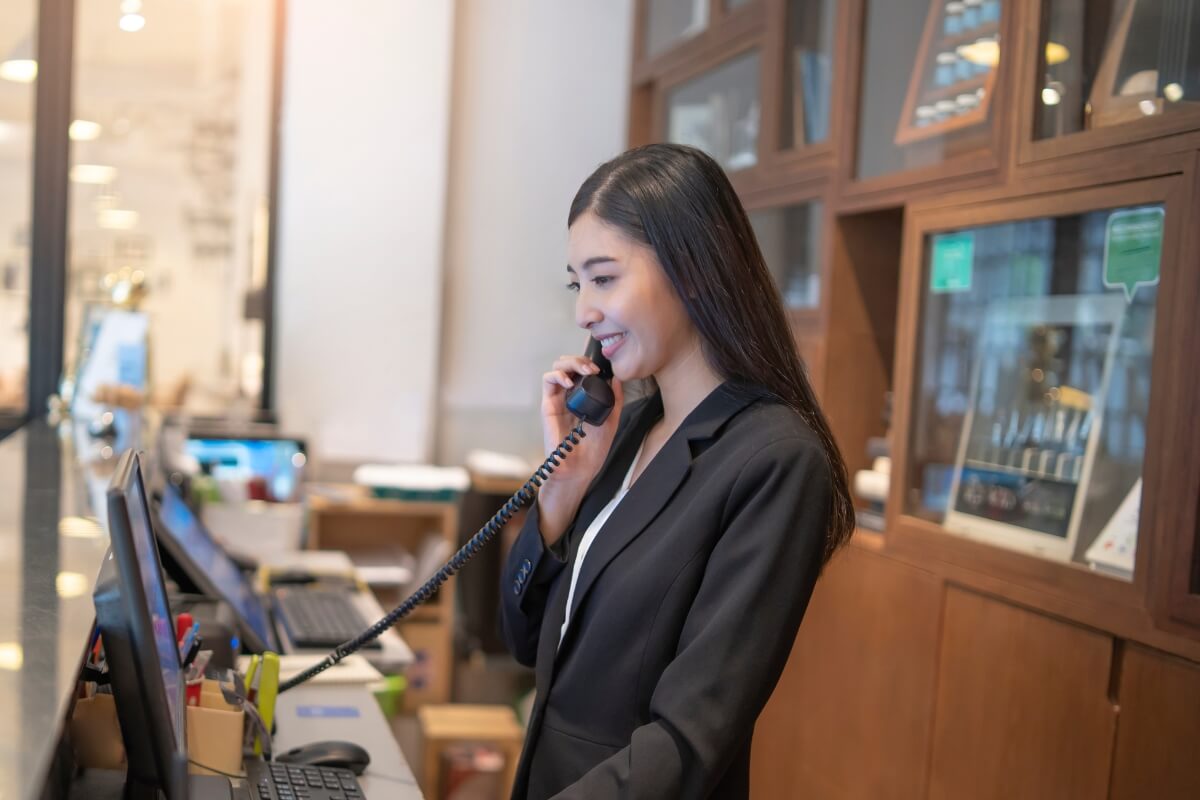 The global CCaaS market is projected to grow from nearly $4 billion in 2021 to $4.43 billion in 2022. It might hit $17.12 billion by 2030, with a compound annual growth rate (CAGR) of 18.24%. Such market growth is due to the increasing adoption of contact center technologies, which can benefit organizations through: 
Improved customer interaction

Increased customer satisfaction

Continuous business operations
However, CCaaS offers more. Here are 14 reasons you should choose this solution for your contact center.
1. Offer Multiple Channels
According to Hiver's 2021 Customer Service report, multichannel support has become the norm. About 60% of teams use more than two channels for customer support. Communication channels used by service teams include:
Phones (83%)

Email (77%)

Chat (42%)

Social media (31%)

Self-service (25%)

Support forums (16%)
CCaaS offers multiple channels perfect for your contact center. Join the bandwagon by providing customers with an omnichannel solution. It will optimize your front-office functions and improve your customer interaction.
Why CCaaS?
It provides various channels to give stakeholders options and enhance customer experience.
2. Provide Self-service Options
According to Statista, 88% of U.S. consumers expect companies to have a self-service support portal. About 79% of them have already used such outlets for customer service, and self-service options include:
Interactive voice response (IVR)

AI-powered chatbots

Knowledge bases

Online community forums

Frequently asked Questions (FAQ) page

Mobile app self-service
CCaaS offers self-service options. Third-party service providers integrate some of the options listed above for contact center operations. Ultimately, providing these options will help meet your customer contact needs.
Why CCaaS?
It provides customers with self-service options as a way to empower them.
3. Access Customer Data and Deliver Insights
Big data has become a buzzword in the world of business. Companies depend on big data for business forecasting, reporting, and decision-making.
The global big-data analytics (BDA) market might grow from $240.56 billion in 2021 to $271.83 billion in 2022 and could reach $655.53 billion by 2029 with a 13.4% CAGR.
BDA analyzes databases based on market patterns, correlations, and trends. The tool understands customer data and delivers valuable insights.
CCaaS has features such as predictive, voice, and text analytics. Leverage this technology for customer contact analysis, data reporting, and business decision-making.
Why CCaaS?
Its analytics features help in business reporting and decision-making.
4. Perform Data Recording and Monitoring
Contact center technologies have drastically transformed. These digital tools enable seamless data recording. They also allow quality analysts (QAs) to perform monitoring in real-time.
CCaaS employs digital tools and communication technologies. They do not only allow call recording; they also record email, chat, social media, and text messages.
Also, QAs perform live monitoring to assist agents and gauge performance. They seek to improve the entire contact center operation.
Why CCaaS?
Its recording and monitoring features improve quality assurance and compliance tracking. 
5. Leverage Advanced Technologies
The CCaaS market uses the latest technologies for customer contact:
Computer telephony integration (CTI)

is a technology that enables phones to work with computers.
Interactive voice response (IVR) –

this self-service option allows customers to access data and transact via an automated system.
Automatic call distributor (ACD)

engages in

intelligent call routing that forwards calls to available agents.
Customer relationship management (CRM)

is a

tool whose centralized platform helps improve how you manage customer interactions.
Quality management software (QMS) –

this software helps with contact audits and agent monitoring, ensuring compliance and quality service.
Workforce management software (WMS)

enables your workforce analysts to better forecast, schedule, and monitor staff.
Web chat platform –

this platform allows agents to chat with customers in real time.
Email response management system

enables and improves email communication




between agents and customers.
Social media –

Facebook, Instagram, and Messenger serve as communication channels




for customer support.
If you want to take advantage of these technologies, choose CCaaS.
Why CCaaS?
You get many of the latest technologies best suited for your contact center operations.
6. Empower Contact Center Agents
Employees are the most valuable assets in a contact center. They perform front-office functions by interacting directly with customers. Thus, you need to empower them with advanced technologies and the utmost support.
However, agent effectiveness and empowerment remain an issue. To address these, consider CCaaS.
This cloud-based contact center technology empowers your agents. They'll be more efficient and productive in delivering quality customer support.
Why CCaaS?
It empowers your agents and boosts their efficiency and productivity.
7. Optimize Customer Contact Workflows
Customer interaction is crucial to success – and you want to optimize your customer contact. A cloud-based contact center is an answer. CCaaS will improve your contact center operations through:
Omnichannel solution.

It allows agents to communicate with customers via various channels.
Team management.

It helps you manage your customer support teams using collaboration tools.
Recording and monitoring.

It enables you to perform live or asynchronous recording and monitoring.
Analysis and reporting.

It helps you with data analysis and reporting through automation and AI.
Workforce optimization.

It assists in automated scheduling, quality management, and compliance monitoring.
Technological integration.

It integrates all your digital tools and technologies in one place.
Why CCaaS?
It optimizes your contact center operations in more ways than one.
8. Enhance Customer Experience
Customers have higher expectations than ever before. A whopping 93% of customer service teams agree, according to HubSpot's 2020 report on The State of Customer Service.
According to the report, customers have also become wiser and more critical because they now have more options than ever before. The same Hubspot report cites the top priorities of service teams, including:
Creating a great customer experience (48%)

Retaining customers (45%)

Customer success (41%)

Customer engagement (40%)
As a contact center, improve your customer interaction to meet their expectations. CCaaS is key to enhancing customer experience and customers' priorities. 
Why CCaaS?
As a customer-centric solution, it helps you achieve one primary objective: to enhance customer experience.
9. Improve Business Performance
A cloud-based contact center will improve your overall performance. CCaaS helps tackle and hit the three key performance indicators (KPIs) below.
Service efficiency.

This metric measures how fast agents assist customers and resolve issues. CCaaS features such as automation eliminate manual work and make agents more efficient.
Quality service.

This metric measures the kind of service customers receive. CCaaS features such as data recording and monitoring help track and improve contact center performance.
Customer satisfaction.

This key metric is the most crucial KPI among the three. Its ultimate goal is to ensure customers are happy with the service they've received. The more satisfied customers are, the more they'll support your business.
Why CCaaS?
It helps you hit key metrics and improve your overall contact center performance.
10. Boost Business Profitability
About 73% of business leaders reported a direct link between customer service and business performance. According to a Zendesk report, prioritizing customers boosts your bottom line. A solid customer service team is key to winning new customers and keeping old ones.
Here are some of the report's key findings:
Ninety-three percent (93%) of customers will spend on companies offering their preferred communication channels.

Eighty-nine percent (89%) of customers will spend on companies providing self-service options.

Ninety percent (90%) of customers will spend on a personalized customer experience.
To achieve the objectives above, consider employing a cloud-based contact center. CCaaS provides customers with:
Various communication channels (phone, email, chat, social media, and SMS)

Self-service options (IVR, chatbots, online resource guides, FAQ, and more)

Enhanced customer experience
Why CCaaS?
It improves your contact center operation, yielding higher profits for your business.
11. Increase Flexibility and Scalability
CCaaS has two remarkable features: cloud-based technology and provider-hosted service. These can translate into business flexibility and scalability. How? Take note of:
Business flexibility.

Cloud computing gives access to data, manages storage, and connects networks via the internet, no matter where your agents are. CCaaS has been integral to the success of remote working during the pandemic and will continue to be in the future.
Business scalability.

A third-party vendor will not only provide you with CCaaS technology; it will also help improve your workflows and scale your business. It can be instrumental to your success.
Why CCaaS?
Partnering with a CCaaS provider offers flexible terms and helps scale your business.
12. Reduce Operating Costs
Building an in-house contact center or optimizing your current operation is costly. Think of setting up your facility, building your infrastructure, and investing in software and hardware. Also, consider the maintenance costs of maintaining them for a long time.
To avoid all these operating costs, consider CCaaS because:
It eliminates the need for a high capital outlay (no hardware investments).

It reduces your payroll expenses (less in-house IT support).

It offers a pay-as-you-go model (to help your growing business deal with any uncertainty).
Process efficiency and standardization are the primary objectives of companies tapping into global business services (GBS). However, cost reduction comes next at 88% and is an attainable benefit. That's how you'll benefit from contracting with a CCaaS service provider.
Why CCaaS?
It helps your business save money at the outset and in the long run.
13. Reduce Compliance Risks
Contact centers should ensure and maintain full compliance. For one, customer complaints can affect your reputation. Also, compromising customer data has serious repercussions for your company. Lastly, non-adherence to business regulations leads to:
Hefty penalties

Legal Ramifications

Business shutdown
Avoid all these by working with a reliable CCaaS provider. Its advanced technologies and resources will optimize your contact center operations. They will also empower your agents to serve your customers better.
Why CCaaS?
It reduces any potential compliance risks.
14. Enable Remote Work
Telecommuting has become increasingly popular in recent years. However, the pandemic has further amplified the value of the work-from-home (WFH) setup.
According to Owl Labs, 90% of employees said they were more productive working remotely than in the office. Also, 84% of employees said they would be happier working remotely after the pandemic.
The pandemic has dramatically changed the business landscape. Telecommuting is the future work setup, whether WFH or hybrid. If your contact center employs offsite employees, take advantage of CCaaS.
Why CCaaS?
A cloud-based contact center is a perfect solution for remote work.
The Bottom Line

Your contact center operation is crucial to excellent customer interaction and high business profitability. Do what it takes to optimize it for your customer-facing functions. CCaaS is the answer.
Consider all the advantages above, from offering multiple channels to enabling remote work. With these in mind, you have all the reasons you need to partner with a CCaaS service provider.
When you partner with a CCaaS service provider and smoothly and successfully implement your service agreement, you'll reap the benefits of robust customer contact – and that translates into increased customer engagement and overall business success.