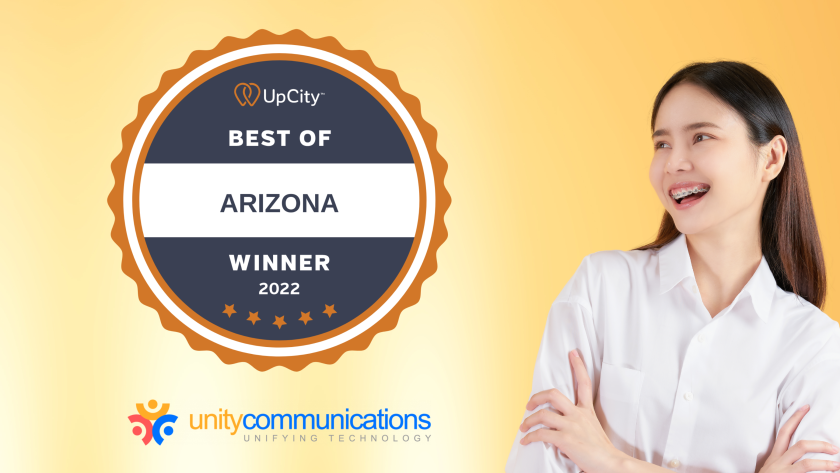 Recognized as one of the Best Service Providers in Arizona for two consecutive years
Gilbert, Arizona – PRLog — Unity Communications won the 2022 UpCity Best of B2B Service Providers Award twice in a row now. UpCity, a business-to-business (B2B) resource, gave Unity Communications high marks for its great work in the U.S. and Canada based on several online credibility ranking factors. In 2021, the leader in business process outsourcing (BPO) got its first UpCity Best of Award for IT services.
UpCity used its Recommendability Rating to screen and rate the winners. The B2B agency software company used multiple data points to create unique ranking algorithms that help business owners find a service provider they can trust. For the second year, UpCity gave "Best of" awards to the 50 best service providers in 58 U.S. states and four Canadian provinces.
Since its inception in 2009, Unity Communications has continually expanded and transformed itself into a top-tier BPO provider worldwide. The Inc. 5000 company started as a small business headquartered in Gilbert, Arizona; it now has offices in the Philippines, Costa Rica, and Mexico. The award-winning company has highly skilled team members and automation tools, helping businesses of all sizes grow their brands and cut costs.
"We're thrilled to earn this prestigious award for the second consecutive time," said Patrick Brown, founder, and CEO of Unity Communications. "The UpCity Best of Award represents our commitment to implementing best practices to help our clients grow their enterprises. We owe this success to all our teams, customers, and investors worldwide. We'll continue to work hard to deliver great outcomes and clinch our third UpCity Best Service Provider Award next year."  
Unity Communications has received different BPO awards and accolades for the past three years, showing its efforts to provide unmatched BPO services. The first-rate service provider has an Inc. 5000 Regionals Southwest badge for 2021 to 2022. It was also recognized as an AT&T Alliance Channel Champion for 2022 and was certified for the first time as a Great Place To Work for July 2022 to July 2023.
About Unity Communications
Unity Communications is an award-winning BPO company that focuses on sales support, customer service, accounting, healthcare, and back-office services. With experience that spans multiple industries, such as e-commerce, technology, retail, financial technology (FinTech), and software as a service (SaaS), the company specializes in creating processes that make business operations efficient.
Founded by Patrick Brown in 2009, the company has evolved from a startup into an international BPO firm, serving small and medium businesses up to Fortune 500 companies across the globe. Unity Communications forms co-innovation partnerships with clients looking to outsource for the first time and need a "white glove" experience.
Connect with us on Twitter, LinkedIn, Facebook, and Instagram for the most up-to-date news.
Media Contact
Patrick B.
Phone (480) 550.8700
Send an email
Schedule a meeting