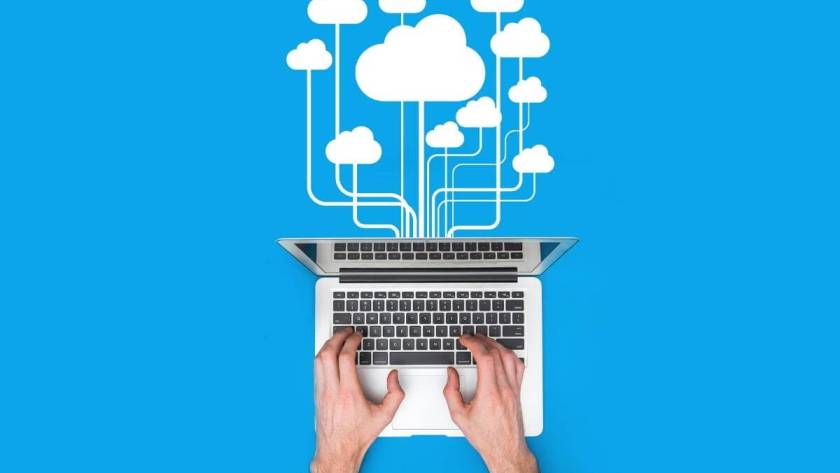 Written by Joyce Ann Danieles
Contact centers play a crucial role in strengthening companies' customer bases. Digital advancements and global issues have led to changes in buyer demands and preferences. Therefore, current offerings and strategies require constant updates to accommodate these changes.
Explore contact center as a service (CCaaS). Discover what is happening in the contact center industry through the trends discussed in this article. Use them to make informed decisions about products and services you need to acquire or develop. 
Top Six Contact Center Trends in 2022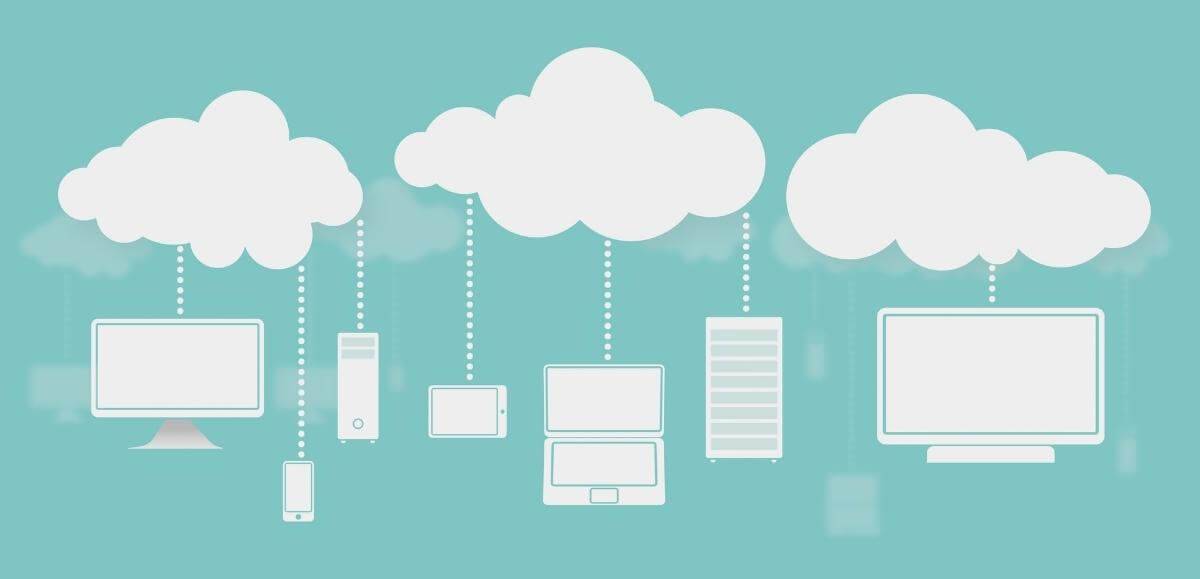 Companies rely on contact centers to manage their inbound and outbound customer service across multiple channels: phone calls, live chat, email, and social media. These centers handle responses to customer inquiries regarding products and services. Reaching out to consumers for promotional activities or problem-related follow-ups is also part of the task.
Setting up a contact center in-house requires considerable funding. Labor, infrastructure, and office space are all expenses. Because customer service is a non-revenue-generating task, companies often outsource it. This saves them time and money in hiring, training, and technology acquisition costs. Outsourcing allows them to focus on their core business functions.
But as technology advances and global issues persist, consumer needs and choices also change. These factors constantly drive contact centers to look for ways to enhance their offerings. However, they can't simply offer innovative services to stand out from the competition. They need a unified solution to deliver comprehensive value-added services.
CCaaS, therefore, becomes a crucial platform for companies to thrive in highly competitive markets. The cloud-based solution integrates all channels, services, and capabilities contact centers need. It helps them execute rapid support to ensure customer satisfaction and retention.
Understand the role of consumer support hubs and CCaaS in providing the best customer experience. Go through the following contact center trends taking over 2022.  
1. Artificial Intelligence (AI) and Automation
Quick actions and responses to customer queries help businesses survive today. Digital modernization allows them to make such activities possible but at a high cost. But hiring a third-party contact center that uses modern technologies helps them streamline customer service, reducing labor and infrastructure costs.
A study from DataM Intelligence shows that the global contact center outsourcing market will expand at a 3.4% compound annual growth rate (CAGR) by 2029. The research firm says that the increasing use of automation and AI in the industry primarily influences growth.
CCaaS platforms use AI to automate and accelerate responses to billions of repetitive customer requests. These platforms help deliver a superb consumer experience. The following advantages show how AI-powered contact center software helps satisfy and retain buyers.
Offers self-service and personalized support

Enables smart call routing and task distribution

Delivers instant replies to simple customer inquiries

Matches customer preferences with the best agents for complex issues

Provides real-time access to customer profiles and transaction history

Automates presentation of product tutorials or problem-resolution guidelines

Facilitates smooth customer-agent conversations

Simplifies data collection and analysis
CCaaS solutions contain the following standard AI-powered tools to deliver the listed benefits.
Chatbots

Interactive voice response (IVR)

Community forums

Knowledge base solutions

Customer tutorials

In-product solution prompts

Customer relation management (CRM)

Enterprise resource planning (ERP)
2. Improved Analytics
Whether through voice or non-voice accounts, massive numbers of online transactions happen daily. These deals contain crucial data showing significant changes in customer preferences and needs. Companies thus monitor and analyze such information to align and improve their offerings.
The traditional approach lets teams analyze data based on predefined business questions through visualization dashboards. But the dashboards can't keep pace with the evolving market demands. Addressing new business questions consumes more time and requires technical skills. These add to company expenses and backlogs.
To address this, businesses hire contact centers for low-cost, automated data analysis. Service providers have an AI analytics feature in their CCaaS platforms to streamline big data management. This capability includes advanced dashboards providing real-time updates on customer experiences. 
3. Streamlined Omnichannel Support
Salesforce's 2021 State of the Connected Customer reveals that  91% of surveyed consumers will make another purchase after an excellent service experience. They define such experiences as seamless and personalized regardless of the communication channel. They also seek quick support, however, whenever and wherever they want.
Businesses risk falling behind the competition if they can't meet customers' speed and convenience demands. To keep up with the contact center trends, they tap into service providers to deliver omnichannel customer support. But service success depends on how contact centers cater to consumers switching between channels, especially millennials.
These millennials are well-known for channel-switching because they can quickly shift to using voice calls, email, and web chat. Meanwhile, some people prefer using a single channel to get their needed information immediately. Service providers need to keep track of these channel hops to ensure customer support success.
Contractors provide these capabilities through cloud-based CCaaS platforms. More companies are acquiring the pay-as-you-go solution. Real-time responses to all inquiries are possible with CCaaS. Companies thus unify communication media and accommodate varying customer preferences. Ultimately, they raise customer satisfaction and brand loyalty.
4. Expanded Cloud Adoption
Enterprises of various sizes have adopted cloud technologies. They aim to make their in-house communications and data management flexible. But when the pandemic hit a few years ago, businesses suddenly shifted to telecommuting and expanded their use of digital technologies. Cloud communications, in particular, have become vital for contact centers.
Service providers use CCaaS platforms to streamline collaboration and communications. Thus, remote agents can work seamlessly. The cloud-based technology gives teams a real-time overview of daily processes and transactions. It also simplifies confidential customer and enterprise data storage, access, and retrieval.
Cloud solutions have become one of the most prominent contact center trends. However, some companies still believe these platforms are unstable. Deloitte found that 60% of companies are skeptical about the cloud migration of workforce management capabilities. Inaccessibility during network and server failure are the barriers.
Nevertheless, CCaaS offers significant benefits for contact centers:
Cost Reduction.

Eliminate expenses on installing, operating, and maintaining on-premises infrastructure. Businesses just have to pay monthly subscription fees for their desired capabilities.
Flexibility.

Enable customer service teams to continue work even at home. Cloud technology allows agents to access crucial data in real time.
Data Protection.

Prevent data theft and hacking through strict security measures such as multifactor authentication and encryption.
Functionality.

Include application programming interfaces (APIs) to sync data with business systems such as CRM and ERP. The solution lets agents manage users, gain statistics, and perform outbound campaigns. 
5. Extended Remote Work
The public health crisis has significantly changed every company's strategies and operations. Employees have also altered their lifestyles because they must work from home to ensure safety. Meanwhile, customers rely heavily on online transactions to obtain their needs.
Due to these factors, businesses enhance their collaboration tools. They intend to help their remote workers provide excellent customer support consistently. Decreased overhead, improved flexibility, and increased productivity have made telecommuting a stable contact center trend in 2022.  
6. Increased Employee Retention
As the pandemic subsides gradually, businesses have started to reopen their offices. Employees have divided opinions about returning on-site. In Owl Lab's 5th Annual State of Remote Work study, 32% of polled employees said they would quit their jobs if they couldn't work remotely. On the other hand, 78% of them feel more included when working at the office.
Aside from fulfilling customer expectations, companies must also meet employee demands. Workplace dissatisfaction leads to high inefficiency, especially for contact center agents. Hence, businesses implement a hybrid work setup to accommodate workers who want to work on-site and from home.
These measures ensure consistency in how agents deliver superb customer service. Providing sufficient resources and flexible working hours also helps increase their work productivity. It enables companies to retain loyal employees and keep up with the fast-paced competition.   
The Future of Contact Centers
Technology advances and worldwide challenges, such as the pandemic, have influenced customer demands. Customers want online services broadened. As such, more businesses rely on CCaaS to provide real-time accelerated support.
Straits Research predicts that the global contact center software market will reach $165 billion by 2030. The company noted in its latest study that the market will register a 21% CAGR from this year through 2030. The increasing demand for automated customer care primarily drives market growth.
So expect companies to keep acquiring or upgrading cloud-based contact center technologies to allow them to deliver accurate and fast customer service. Expanding AI adoption further is also something to expect. Companies want to augment agent performance, streamline quality control, and provide enhanced support.
Alongside automation, self-service will become a more crucial option for cost-efficient customer service. Emplifi says in its recent research that 39% of consumers consider self-service a vital part of a good customer experience. They want full access to the platform to resolve their issues fast without agent intervention.
Organizations will develop better products and services by understanding current customer preferences. Using such learning lets them predict future needs. Unified tech solutions allow them to deliver more consistent, superb customer experiences. These capabilities help satisfy consumer expectations and encourage them to stay loyal to the brand.
The Bottom Line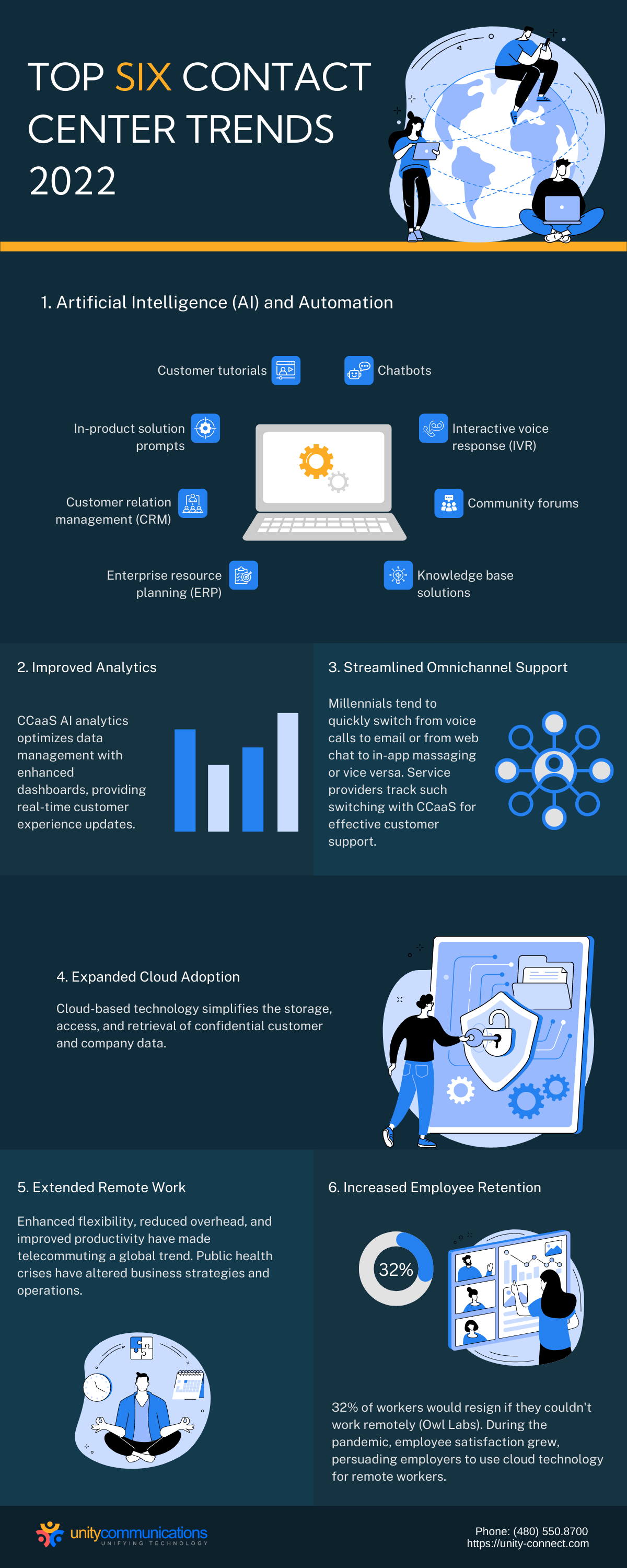 Buyers continue to seek simple approaches to resolving problems or getting support. However, they have varying tastes in communication channels. Such differences in preferences challenge organizations' ability to provide unmatched customer service.
Many businesses tap into contact centers like Unity Communications to deliver an excellent buying experience. These hubs offer a cost-efficient, cloud-based solution. They help streamline responses to massive consumer inquiries.
But companies need to know the latest and upcoming contact center trends to take advantage of CCaaS fully. The resulting insights guide their efforts to produce more innovative products and services that meet customer demands.