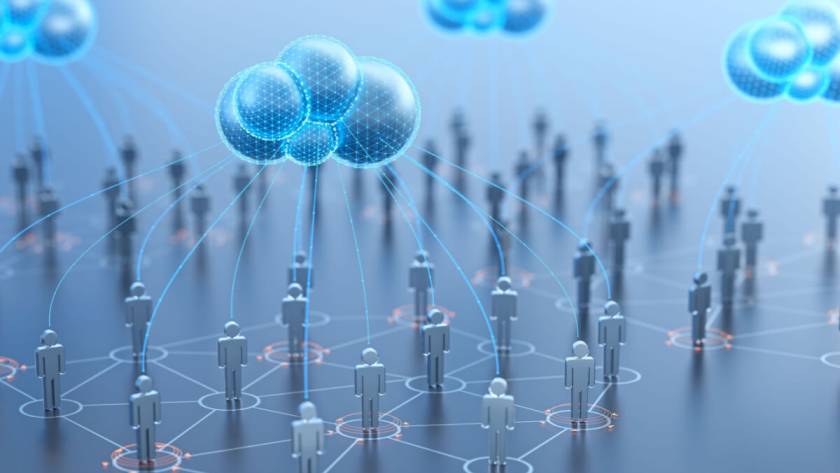 Written by Joyce Ann Danieles
Technology upgrades and worldwide challenges increase the need for fast and reliable customer service. As remote processes become the norm, more enterprises rely on cloud-based contact centers. These hubs optimize contact center as a service (CCaaS) to deliver a cost-effective, personalized customer experience. 
This article explores the factors influencing the CCaaS market expansion. We'll also look at the future of cloud-based contact centers.
The CCaaS Market and Its Continued Growth

Contact centers are crucial in expanding the loyal customer base of small, medium-sized, and large enterprises. These support hubs can be managed in-house or outsourced. Their primary responsibility is to respond to customer inquiries on products and services. Promoting company offerings and conducting market surveys are also part of their work.
Voice and video calls, digital messaging, email, and social media ease inbound and outbound services. However, consumers increasingly seek quick and personalized customer service. The demand for instant responses heightened during the global health crisis. As a result, service providers implemented CCaaS to address those customer demands.
This cloud-based solution integrates multiple communication channels to address massive customer inquiries quickly and efficiently. The platform also streamlines data collection and analysis to inform business innovations. It incorporates the new technologies listed below to make these offerings possible at reduced costs.
Cloud Computing.

Enables data storage, access, and retrieval through the internet.

Artificial Intelligence (AI).

Simulates human intelligence to streamline repetitive tasks.

Machine Learning (ML).

Uses algorithms and statistical models to analyze datasets.

Robotic Process Automation (RPA).

Automates customer responses and processes.

Natural Language Processing (NLP). It helps

 computers understand text and speech.

Speech Recognition.

Identifies and converts spoken words into readable text.

Voice Biometrics.

Authenticates identity using customers' unique voices.
The global CCaaS market offers many advantages. Grand View Research (GVR) reveals that the market was worth almost $4 billion in 2021 and that the need for automated customer care drives the market's growth. Other factors influencing the industry's expansion are detailed below.
Pandemic Boosts Cloud-based Customer Support
The pandemic forced many businesses to transition suddenly to remote or hybrid work settings. This led to significant disruption in major industries. But it also positively impacted the cloud contact center software market. Because most transactions occurred online, organizations expanded their cloud adoption to support their customer service teams. 
CCaaS technologies help accelerate responses to repetitive customer inquiries. Moreover, the model's omnichannel approach enables consumers to seek support through their preferred communication platforms. It also accommodates companies' need for enhanced workforce management, scalability, and flexibility.
Call Routing Segment Contributes to Market Growth
According to GVR, the call routing segment dominated the CCaaS industry in 2021. Call routing, also called automatic call distribution (ACD), automatically routes incoming calls from customers to specific agents based on predetermined rules. The consulting firm said that ACD accounted for over 20% of the global market revenue.
Contact centers use the CCaaS solution to handle large volumes of inbound calls. Such capability is beneficial during hectic times such as a public health crisis or seasonal peaks. It enhances the customer experience by reducing response delays and avoiding long wait times.
Large Enterprises Lead CCaaS Adoption
More than 55% of the CCaaS market value was attributed to big companies, based on data from the same GVR report. Corporations have a worldwide customer base. So they invest in cloud contact center solutions to ensure fast and efficient customer service. 
Large enterprises reduce labor, infrastructure, and real-estate costs with the help of CCaaS. They spend fewer dollars on equipment and office maintenance. CCaaS also includes automation tools that handle the most time-consuming, repetitive tasks. As a result, corporations need to hire fewer customer support agents. 
Financial Sector Spearheads Expanded Cloud Use
GVR noted that the banking, financial services, and insurance (BFSI) sector primarily contributes to the CCaaS industry's growth. In fact, the BFSI segment held over 25% of the global CCaaS revenue. The growing digital-based customer interactions accelerated the deployment of cloud contact centers in the finance market.
Customers don't want to keep repeating information when they switch communication channels. They expect banks and financial institutions to deliver continuous support across multiple channels.
This demand suggests there will be increased adoption of cloud-based contact center solutions. They optimize and strengthen customer relationships.
North America Initiates CCaaS Development
GVR reported that North America spearheaded the CCaaS segment's expansion. The region was responsible for more than 35% of the market's revenue globally. Numerous regional players are working to advance CCaaS to improve customer service further. 
The research firm cited the November 2021 launch of Microsoft's Dynamics 365 Customer Service platform as an example. The offering provides agents with a 360-degree view of customer transactions across all communication channels. Such programs bode well for the regional market growth of cloud contact center software. 
The Future of the CCaaS Market
Future Market Insights expects the global CCaaS industry to reach $4.5 billion in 2022 and approximately $16 billion by 2032. The business intelligence company projects that the sector will register a compound annual growth rate (CAGR) of 13.52% during the forecast period. 
According to the report, the increased use of advanced contact center technologies to enhance customer interaction will drive the industry's expansion. Specifically, cloud computing and AI-powered chatbots are expected to increase market size. The study also highlights the following predictions.
The IT and telecommunication sectors will accumulate 42% of the global CCaaS revenue.

The sector might potentially become CCaaS' primary end user with this number.

Small and medium-sized enterprises will dominate the CCaaS implementation worldwide.

North America will continue to cover 35% of the total cloud contact center market share in 2022.

Europe will significantly contribute to the market growth at a 12% CAGR until 2032.

Asia Pacific will register a 12.3% CAGR from 2022 to 2032. It might become the fastest-expanding region in the CaaS sector.
Cyber Threats Remain a Growth Barrier
Despite significant progress, drawbacks remain. A surge in digital technology adoption has led to increased cyberattacks in contact centers. A Federal Trade Commission (FTC) report showed that 65% of nearly two million fraud reports were linked to these communication channels.
The FTC confirmed that customers using social media as their primary communication tool experienced the most dollar losses due to fraud. The agency noted that social media cases cost $796 million in total losses. It was followed by phone calls, registering a $692 million loss.
Such security issues will continue to hinder the growth of the CCaaS sector globally. Customer service requires data sharing between agents and customers. Naturally, it risks exposing confidential information to cyber threats. In addition, improper data management damages reputations and creates high mitigation costs. 
Companies and contact center providers will continue to prioritize cybersecurity. CCaaS and data security are always at risk without strict compliance policies, and the industry must step up security. The industry will suffer if client organizations find it unsafe to invest in cloud contact center software.
The Bottom Line
Digital transformation and global issues boost the widespread adoption of CCaaS. The increasing demand for quick and personalized customer support further drives its expansion.
Understanding the growth trajectory of the CCaaS market helps you identify business expectations. Companies can use these insights to set measurable goals and deliver unmatched customer experience. You can also adjust your contact center strategy to match your enterprise needs.
If you're looking for a provider that fits your cloud-based customer service requirements, Unity Communications has the best offering for you. The Inc. 5000 company provides a robust CCaaS solution to empower your contact center.